When organizing an upcoming trip we have to face a great amount of information nowadays. There are so many good blog posts from amazing bloggers out there it can be overwhelming to do the first research. At least I feel this way when doing the first research. And this is why I put up this guide to Kuala Lumpur!
I wrote this guide to get you a general overview of this amazing city and how to organize your stay. I wrote about things that are beneficial to you and how to make the most of your time. So let's start right away with my five tips on how to have the best time in Kuala Lumpur.
This post contains affiliate links. If you buy something that I recommend, I will earn a small commission. As always, this commission won't make you pay any cent more, it only helps me to provide more helpful postings.
Tip 1: How to Find The Best Base For Your Stay
It is now time to book your base. My best advice in Kuala Lumpur is to look for an Airbnb. We had a room in the Face Suites/ Platinum where we could also use the sky pool on the rooftop and enjoy the panoramic view directly at the Petronas Towers.
But even if you are not into Airbnbs, make sure to get you a hotel with one of those incredible infinity pools that are in KL. You are unlikely to get those views somewhere else!
My tip is to either look for accommodations in KLCC so you can reach the Petronas and the rooftop bars by food or to look for something in Bangsar as it has the best cafés. If you want more information on this check out my guide to KL's best cafés!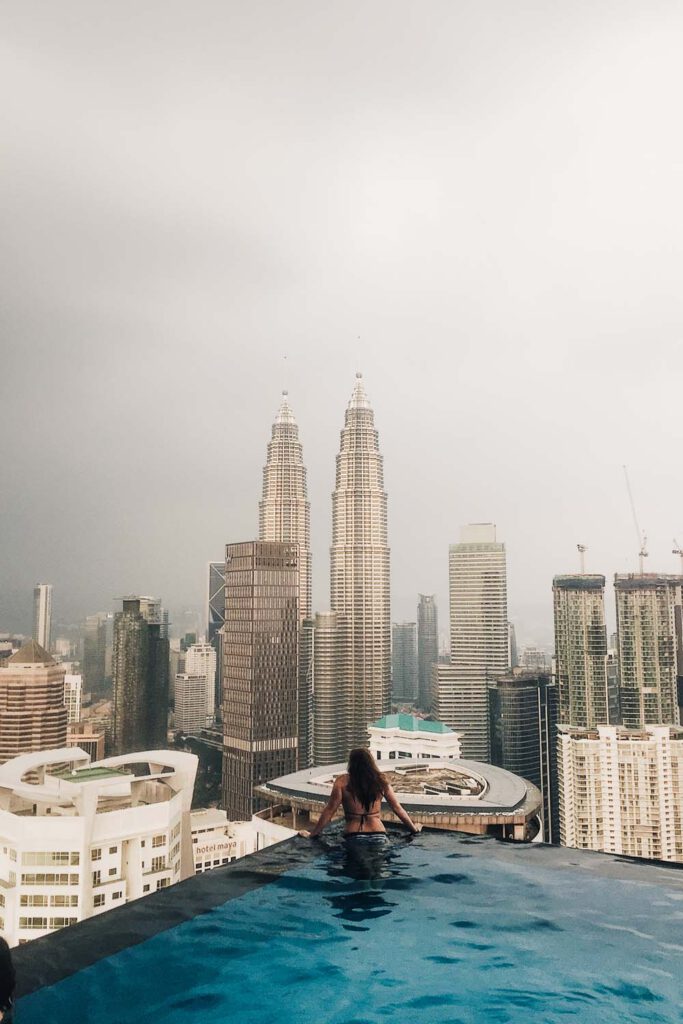 Check Out These Hotels:
The FACE Suites – The place with the most incredible pool in Kuala Lumpur.
The Reggae Mansion – is the best place to stay, if you are into party life!
The Grand Hyatt – as recommended by my friend: "one of the most spectacular places I have ever been to. Located centrally, great bar and incredible pool!"
Tip 2: How to Get Around (+Airport transfer)
Congratulations! You just arrived in an amazing country and you are heading to an amazing city, the capital of Malaysia! You will eat delicious food and see wonderful sights. But first of all, you have to get there.
Before you arrive you should download the apps Grab and Uber. You simply create an account and then you are able to book a driver. Insert the address of your hotel and go. It works like a taxi service but is WAY cheaper. We drove about 1 hour to our hotel and only paid 15€. So this is a pretty cool deal. When you share a Grab it is even cheaper than taking the train!
Kuala Lumpur also has a great train system and it is very affordable while get around the city. The only thing you must be aware of is that they are very cold from the inside and that makes them dangerous because it is 30 degrees outside! So make sure to bring you a scarf.
Tip 3: A Small Food Guide to Kuala Lumpur
Kuala Lumpur is a melting pot. There are a lot of cultures living together side by side and they all contribute a great part of the culture for us to try: their cuisines. I will now give you a short overview of what to have or where to have it while being here.
Related: Food Guide to Kuala Lumpur
Nasi Lemak
One of Malaysia's most popular dishes is Nasi Lemak. No guide to Kuala Lumpur will be complete without it. You can find it in food stalls, restaurants, malls, or even in 5-star hotels. And you can find it in the morning, in the afternoon and in the evening. So basically you can get it any time and at any place.
It is rice that is made with coconut milk, making it very creamy and fatty. (That's why it has its name. Lemak means 'fat'.) Usually, it is served with cucumber, egg, peanuts, fried anchovies, and some chicken or squid. It is so popular that even Mc Donalds adapted it for one of their burgers.
Mee Mamak, Mee Goreng, Nasi Goreng,
So I bet you either know these terms or not. For your general understanding, it is important to know that Mee means noodle and Nasi means rice. You can have in a lot of variations and it is usually served with some chicken. You can have this chicken in other variations too. It is either fried, grilled, black peppered, or so on. Just try something to find out what you like the most.
Dim Sum
This is not only a typical Malaysian dish as it is delicious everywhere. A small number of various ingredients in a steamed rice noodle. My favorites are the ones filled with shrimps but there are also some delicious ones filled with scallops or grounded beef.
As a personal tip, I suggest ordering 2 dishes with dim sums that you know you like and to have one thing you never have heard of. This way you won't end up hungry or with the feeling you weren't adventurous. The tip for the brave-hearted is ordering chicken feet.
Satay
This is one type of food you can't go wrong with. You will find it at the Jalan Alor or anywhere else too. It is just some ingredients wrapped around a small wooden stick that is grilled. It can be meat or vegetables or something more exotic like tiger prawns or jumping chicken. (Jumping chicken is only for the brave Traveller! Can you guess what it is?)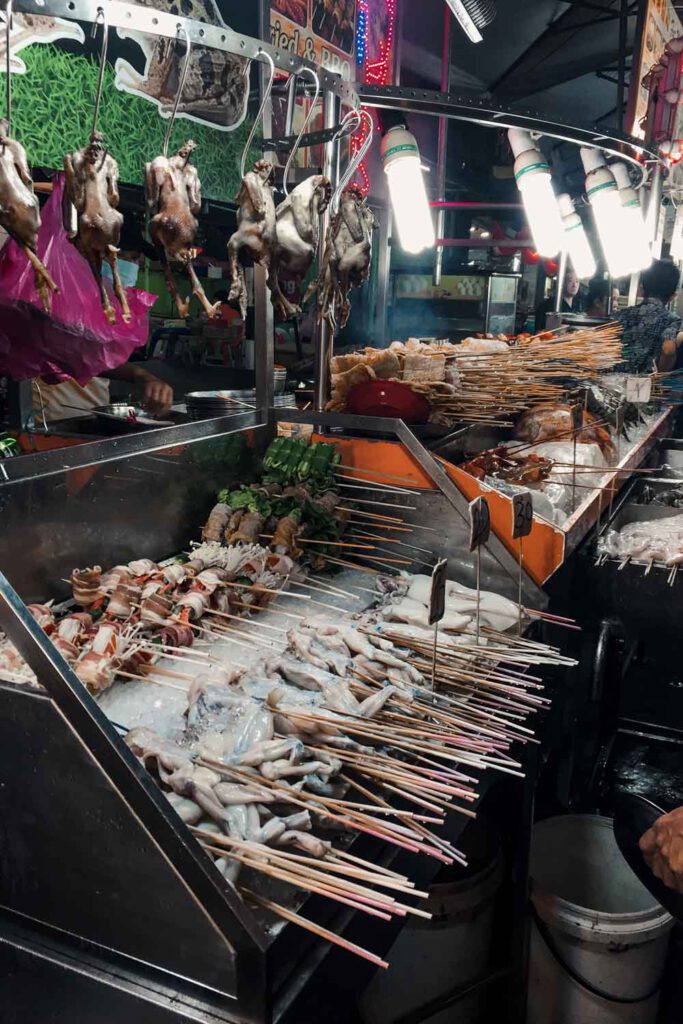 Tip 4: Guide to Kuala Lumpur's Sights
Petronas Towers and the Suria
There is nothing Kuala Lumpur is more famous for and therefore my guide to Kuala Lumpur has to hold it. Build from 1992-1998 they were once the highest building in the world and today they are the highest twin towers in the world. At the front, you can take the most amazing pictures of them and if you walk through the mall named Suria inside of them you can walk through a great park. It is a lush green and wonderful place. You can really enjoy a while there.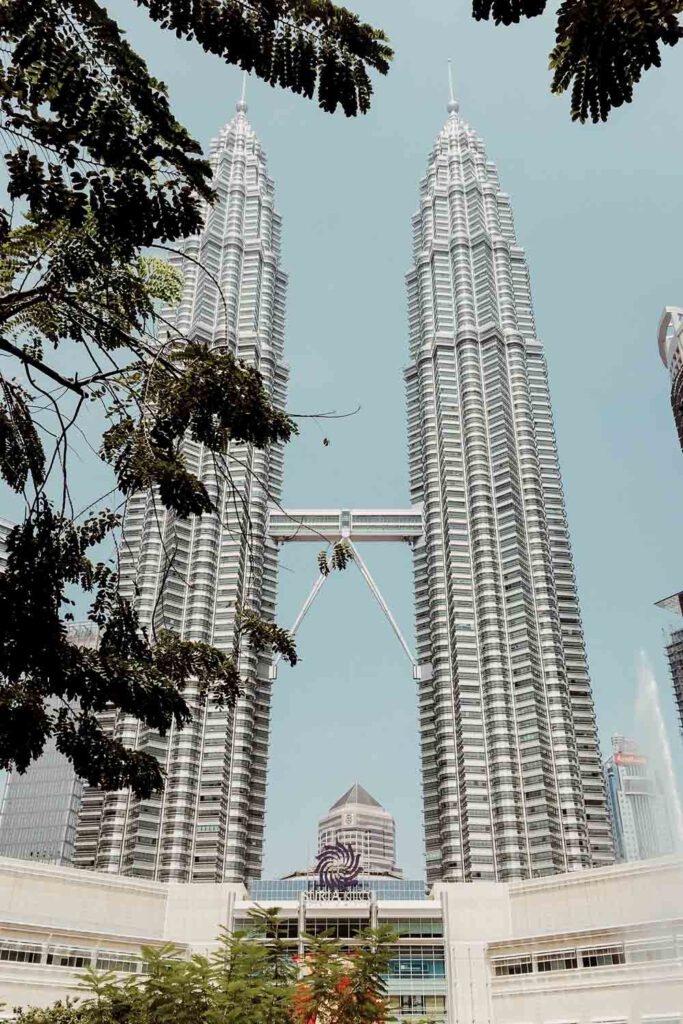 Batu Caves
The Batu Caves are one of the most interesting sights in Kuala Lumpur and if you get the pleasure to be in there you need to see them.
When you arrive, you can see the golden statue that stands there. It is enormous and so beautiful. As you reach its feet you have to walk up the stairs but be aware that you shouldn't carry any drinks or food, because there are loads of monkeys in the area that are trained to see the difference between a bottle of water and a bottle of Coke.
Once you made your way up the stairs you can visit a dark cave where animals live that evolved completely without light and therefore can't survive with it anymore. You can book a tour to see these animals but it isn't an activity for everyone as those animals are mostly scorpions, bugs and bats.
If you don't go to the dark cave you will come to the main cave which has the most interesting attractions. It holds some impressive limestone rooftops and two beautiful temples that are just too impressive. But if I am being honest with you, I couldn't decide what I liked better. The cave or the temples. Nevertheless, the Batu caves are an amazing adventure to experience.
For a more detailed fact about the Batu Caves, check out Becksplore's blog post about this mystical place!
Thean Hou Temple
This temple really made us fall in love with it. It is so beautiful and created with so much love for details. For me, this is a must-see of Kuala Lumpur! So please leave a donation for it and buy one of the amazing souvenirs!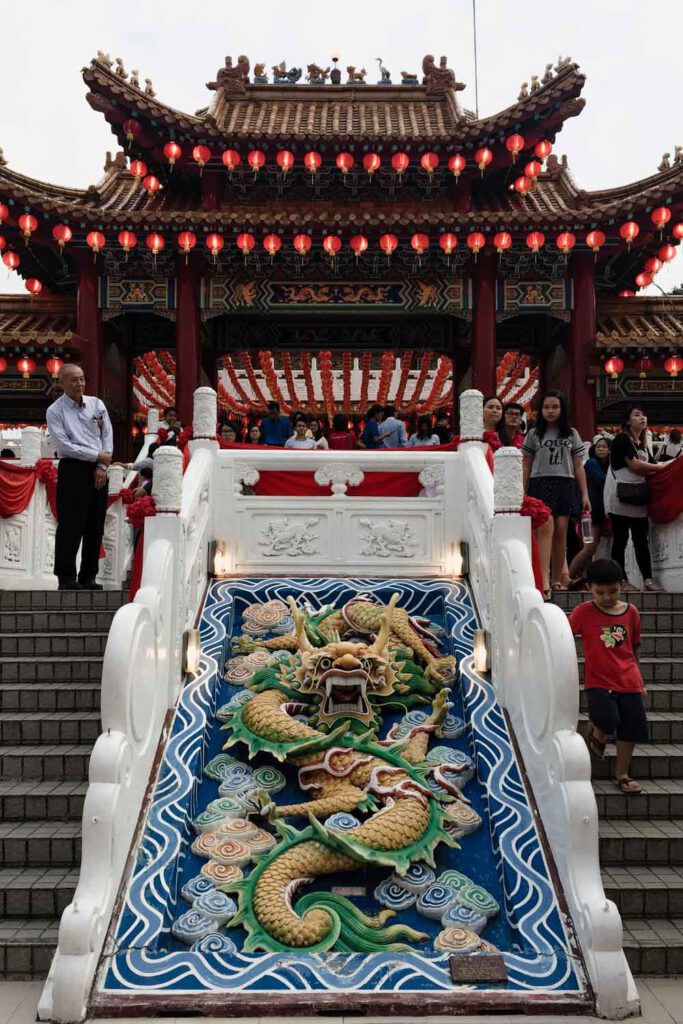 Recommended: The Most Instagramable Places in Kuala Lumpur
Botanical Gardens of Kuala Lumpur & Bird Park
For nature lovers and perfect to escape from the buzzing streets for a while. The Botanical gardens contain an orchid garden and a wider range of beautiful landscapes.
Something we really enjoyed was visiting the bird park although you have to pay 67 Ringgit for the entry. But you can see so many breathtaking birds. Most of them are able to move freely in their area and so you can be eye to eye with pelicans, peacocks, and other beautiful birds. Most of the more tropical species were caged but it didn't stop them from being extremely fascinating. Above all, we liked to be in a parrot hall where you can feed them for 2 Ringgit. They will sit on your hand and shoulder to get their little snack and we really loved it. You can read more about this adventure here!
Petaling Street, Chinatown, Sri Mahamariamman, Temple, and Central Market
The caption may contain many many sights but as they are all in the same area it is pragmatic to sum them up in one paragraph. We started by walking down Petaling street which is a buzzing place where you can get a lot of designer stuff like handbags, pens, suitcases, and scarves for an insanely cheap price (they are plagiarists but well made.) We may not all like this but it is definitely worth a visit.
Almost parallel to Petaling streets is a Hindu temple which is really beautiful. You have to leave your shoes at the entrance and cover your shoulders and legs before you enter. The temple itself is a peaceful place with lots of colorful decorations and statues.
On the other side of the same road, you can find a temple too which is stunning too. I liked that it is a bit more intimate than Thean Hou because it isn't that crowded. But the best message is that these two churches are on the same street and coexist peacefully side by side.
Just a few minutes away is the Central Market Hall and it was one of my favorites so far. You can buy the most authentic souvenirs there and more. There are so many beautiful stalls to discover. And we loved the Thai restaurant on the first floor!
Tip 5: Keep an Eye on What The Locals do
Something I loved about the Malaysians is that I met a lot of people who had their own businesses. Some of them created awesome eco-friendly products, that I don't want to miss anymore. I wrote a post about some of them in my post about zero waste in Asia in case you want more information. And if you visit the R!iuh in the city you will get the pleasure to meet entrepreneurs that I didn't even discover first.
I met Malaysians as people who are eager to be creative and to create something. This is why they have so many amazing cafés, shops, and bars. You can have amazing talks with baristas, artists, musicians, and people like this. I hope that you will find the Malaysians as open-minded and kind-hearted as I did. I really miss my friends there and I hope that I will go back soon.
So this is my guide to Kuala Lumpur. Have you been there too? Do you know some things I might have missed? Please, leave me a comment!
Liked This Guide to Kuala Lumpur? Save it For Later!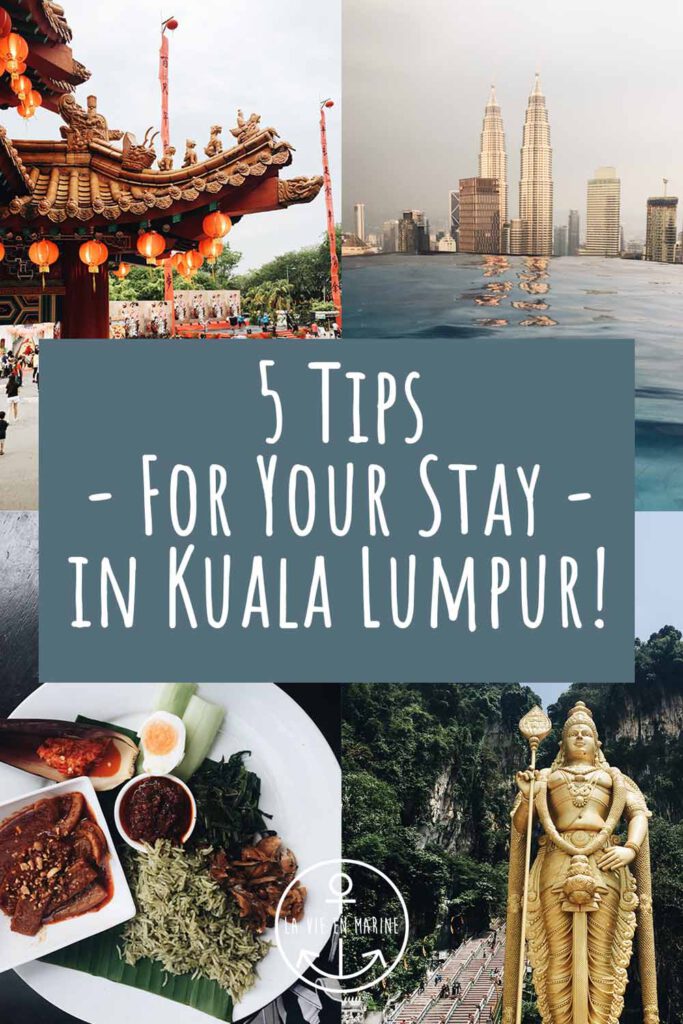 Looking for more adventures in Malaysia?
Then maybe you should visit the oldest rainforest in the world, named Taman Negara or see the most beautiful island in the entire world, Pulau Redang! For more information about bucket-list-worthy experiences in Asia, check out my Asia Bucket List!