If you are looking for what do to in Prague, you came to the right place! This blog post focuses on the top ten highlights of Prague and which things not to miss in Prague! Therefore it makes the perfect 2-day Prague itinerary if you go through the tips chronologically! So it is absolutely perfect to serve as your Prague guide for your weekend in Prague!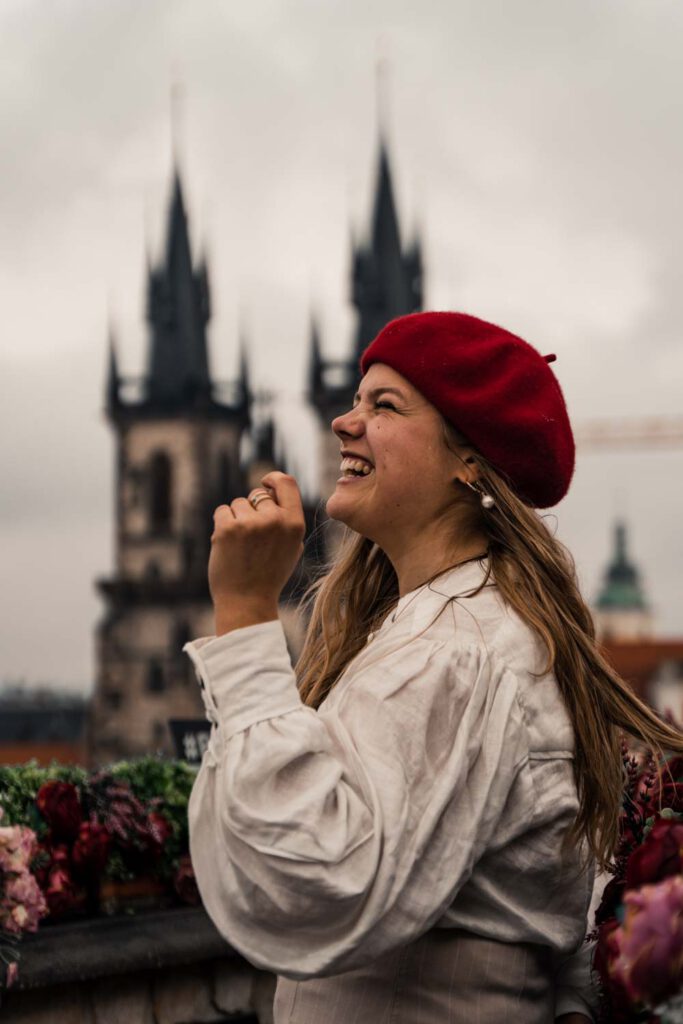 This post contains affiliate links. That means that if you click on the products and buy via this link, I can get a commission. This service won't cost you a cent more and allows me to provide you with more travel content. 
Charles Bridge at Dawn
The number one thing to do in Prague that came to mind whenever I thought about Prague was Charles Bridge. This picturesque place has already been shown in many movies such as Mission: Impossible and Spider-Man Far from Home! However, this weekend it became my personal photo location! Because I wanted to take some pictures and also not to have many people in my pictures, I knew in advance that I had to be at Charles Bridge by dawn. So when the first light touched the bridge, I was there already together with my camera. It was the most perfect moment and I can't believe any place more gorgeous than Charles bridge when the rest of the city is still asleep.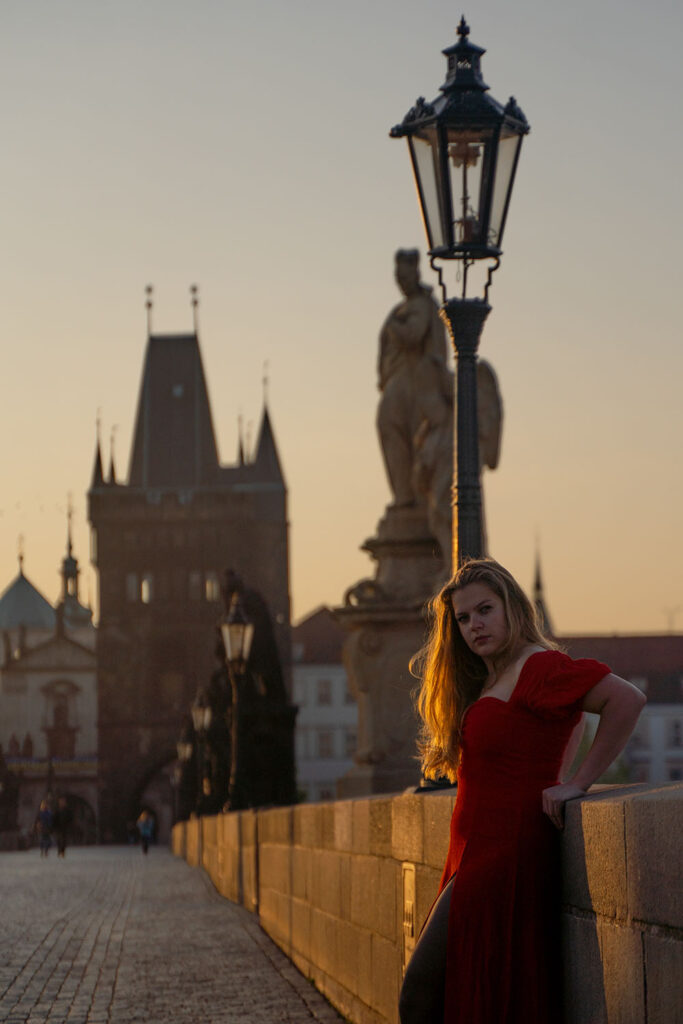 This peaceful and serene moment didn't last very long because when I left, the first groups of tourists were already stepping their feet onto the bridge, so if you want to enjoy the most peaceful atmosphere at Charles bridge, just be there early!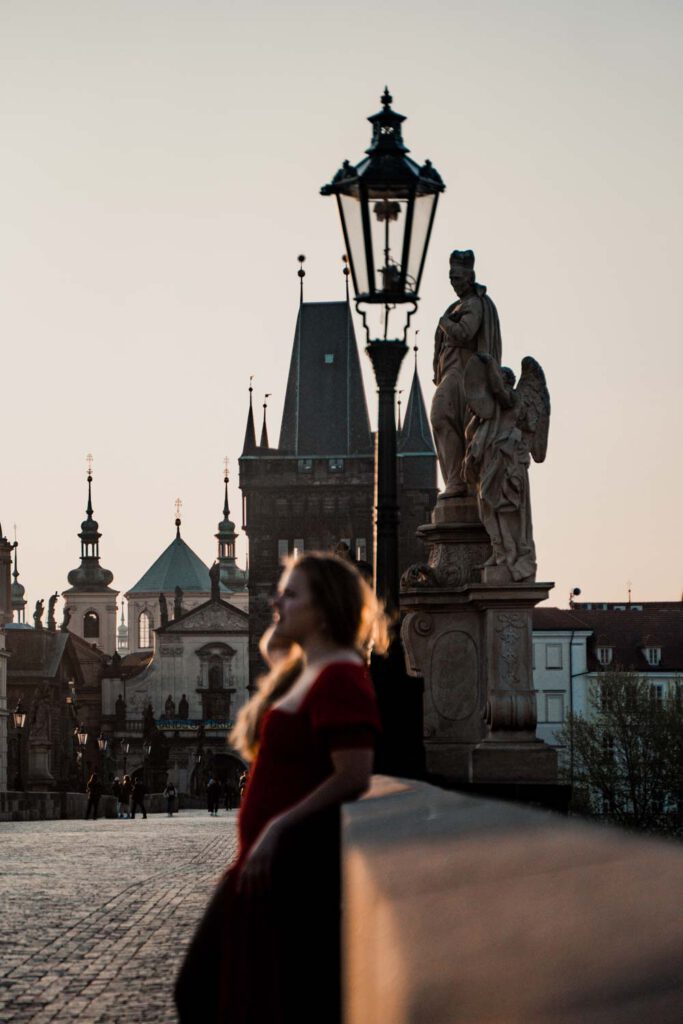 And because it is also important to gather some knowledge about the places you visit, here are some historical facts about Charles Bridge:
It is the oldest bridge in Prague
It is decorated by 30 sculptures in the Baroque style, aligned symmetrically on the bridge
However, these sculptures are more and more getting replaced by replicas in order to protect them. The originals are stored in a museum in Prague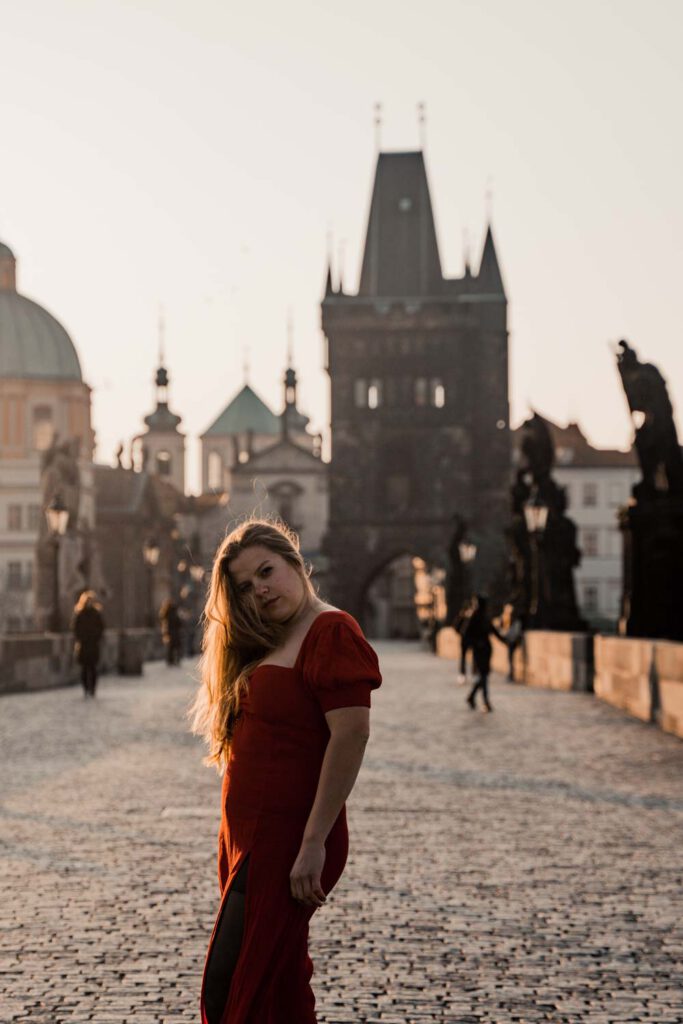 Prague Astronomical Clock & Church of Our Lady before Týn
Right within walking distance from Charles Bridge, you can find the next magnificent sights. If you want to make sure, you have it mostly to yourself, walk there straight from Charles Bridge. This way I was able to take some pictures and marvel at both the entry of the Astronomical clock which is incredibly beautiful and the Church of Our Lady before Týn, which you will definitely see again in this blog post!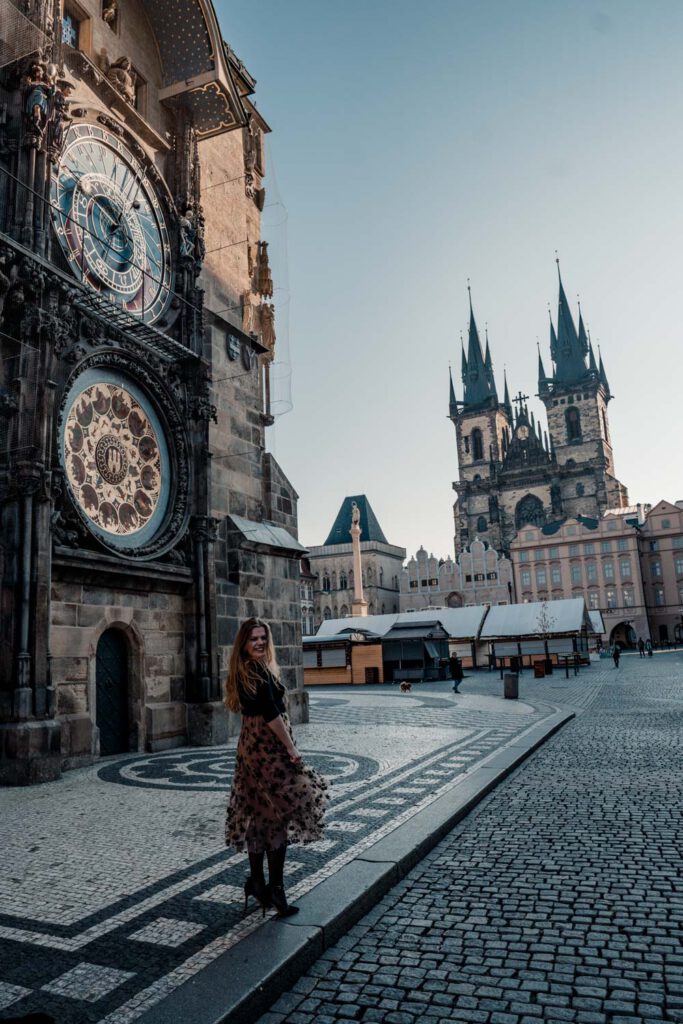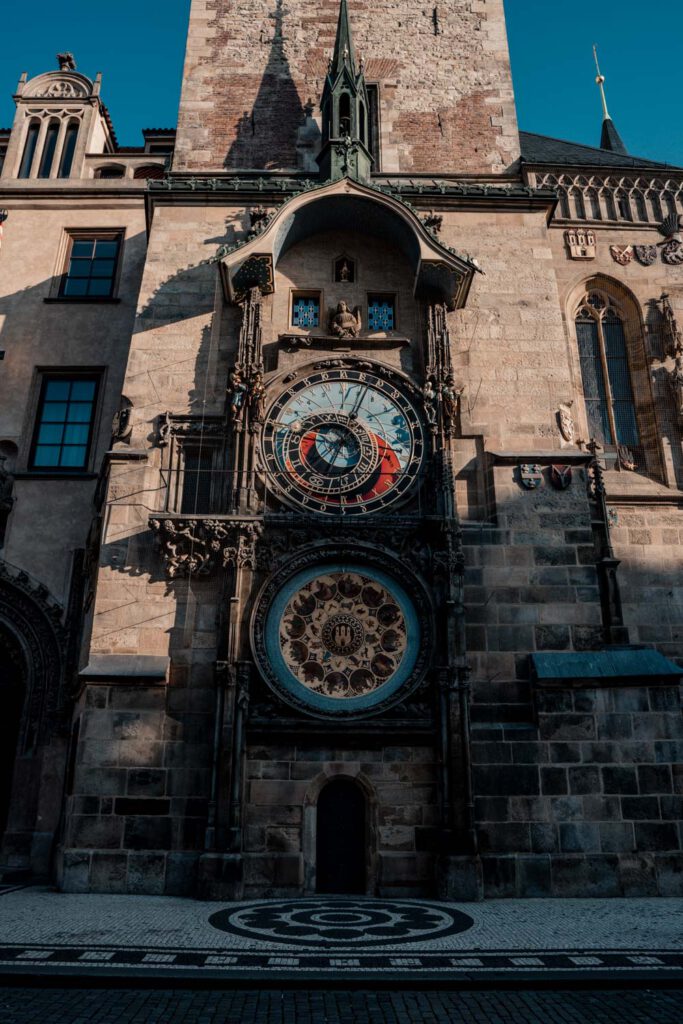 See the Dancing House
One of the sights Prague is the most famous for is the dancing house! It stands out compared to the rest of the city's classical design but maybe that is its charm. I walked past them and admired them for a bit but to be honest, I mostly prefer the beauty of older buildings. However one of the architects working on the dancing house was Frank Gehry and for those who know, Frank Gehry also contributed three very picturesque buildings to my own city Düsseldorf.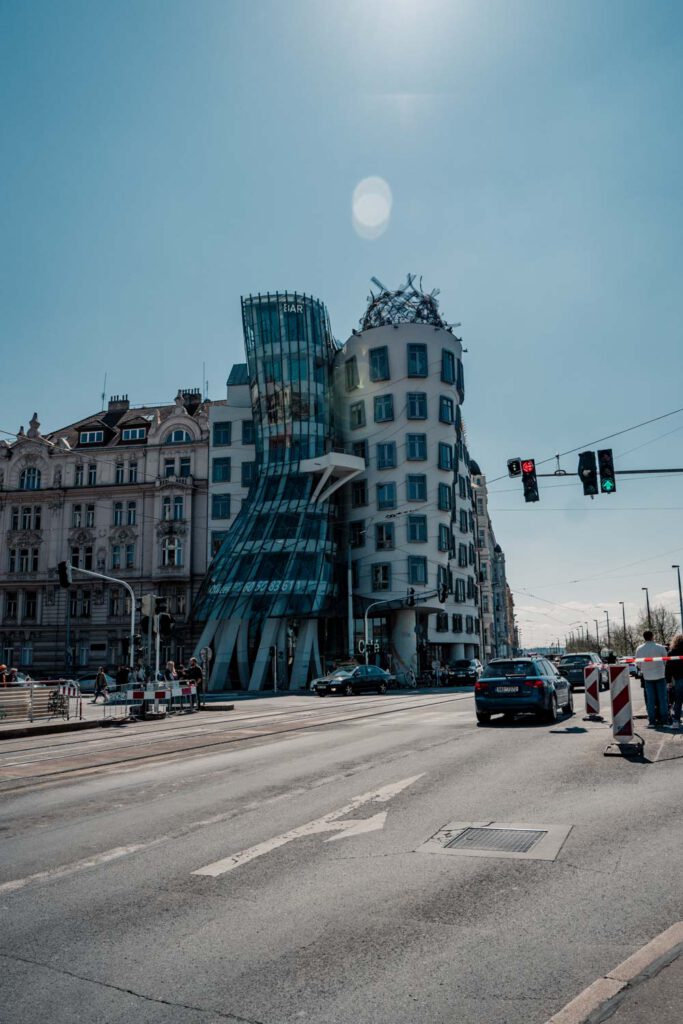 Enjoy the local cuisine
After walking around for quite a while, my tummy was telling me that it was time for lunch! When in Prague I was sure to have something traditional Czech, which would traditionally consist of hearty dishes and beer! Little fun fact – beer is actually cheaper in Prague than water! In other words: Prague is a wonderful place for the party people! However as I am counting myself as those dedicated to the granny lifestyle (in bed by 10 pm), it remained at the one beer for lunch.
The lunch spot for the day had to be a place serving traditional Czech food and that is why I went for U Parlamentu. There, I and my boyfriend ordered two meals and shared both of them. One dish was a rabbit in a creamy sauce and the other one goulash, which were both absolutely delicious! Both of them had Knedlíky, which is a Czech bread dumpling that is a specialty that you should definitely go for!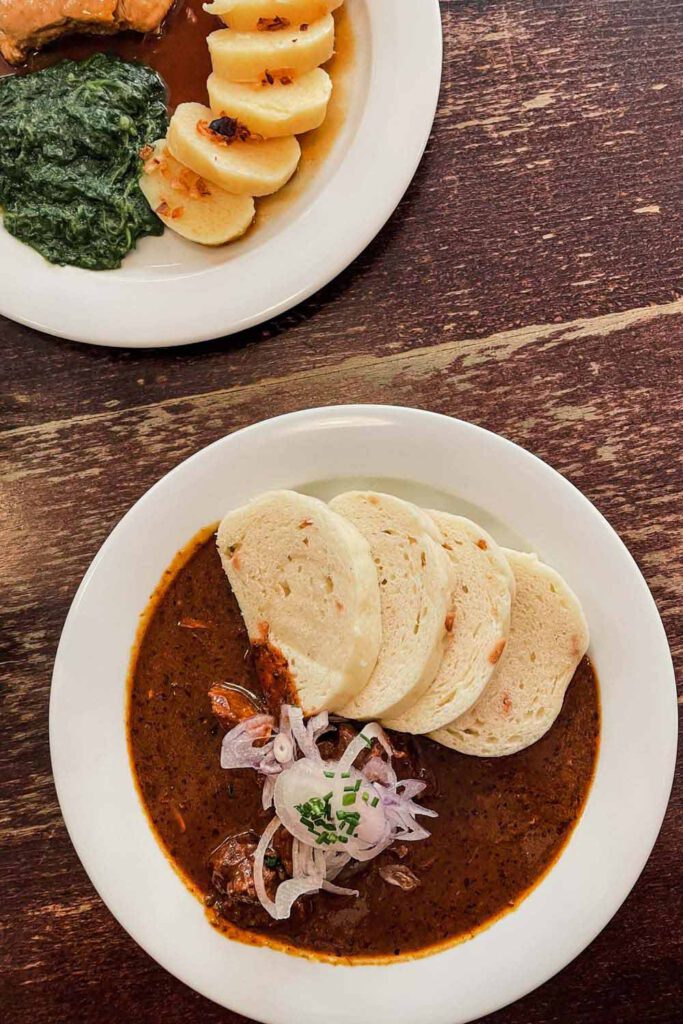 Chill at Letna Park
With a belly full of hearty and warm Czech food, it is time to do some walking, exploring, and after all some relaxing. Therefore I strolled to Letna park right after finishing lunch. Getting there was a bit exhausting since I had to walk quite far and climb a set of stairs to reach the park.
The special thing about Letna Park is its metronome, which is so impressive to look at!
Have Something To Eat at the Hanau Pavilion
After the stroll and relaxing hard in the sun, I was ready to take some more pictures and seek one of the best viewpoints in Prague, which happens to be located directly next to a restaurant. This restaurant is in a Pavillon and couldn't be any cuter or couldn't get you a better view. It is the perfect place to have early dinner which was baked Camembert in my case. As the sun went down, I could see the sun sparkling on the river, separated by Prague's many bridges and it felt like a fairytale.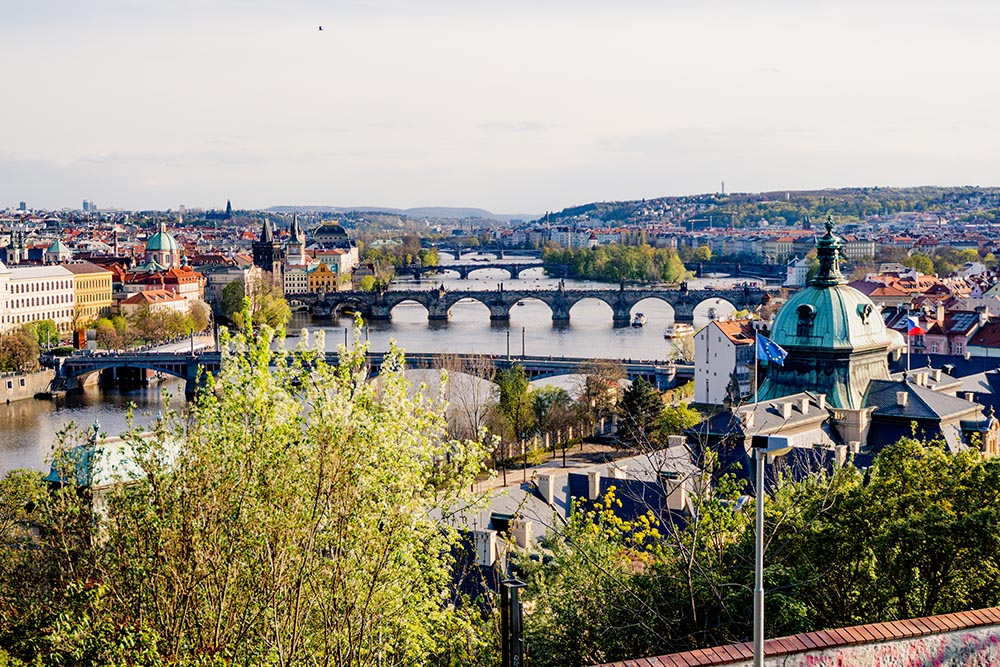 Have a River cruise
Having mentioned the river that flows through Prague it is time to take a closer look at it! I already went on a river cruise during my time in Budapest and I enjoyed it so much, it was my first thought to look for one in Prague too! 
As usual, I booked the cruise via Get Your Guide, my go-to platform when looking for tours and experiences. With Get Your Guide I receive a ticket for my wallet and get the easiest access to my tours. Also, they have a huge range of choices when it comes to tours. 
As I do love a cold frizzy drink every now and then, it was important to me, that in this romantic boat ride in front of the beautiful city backdrop a glass of champagne was included. With the one I booked it was and it was truly magical. The city is magnificent by night and I enjoyed every single moment to the fullest.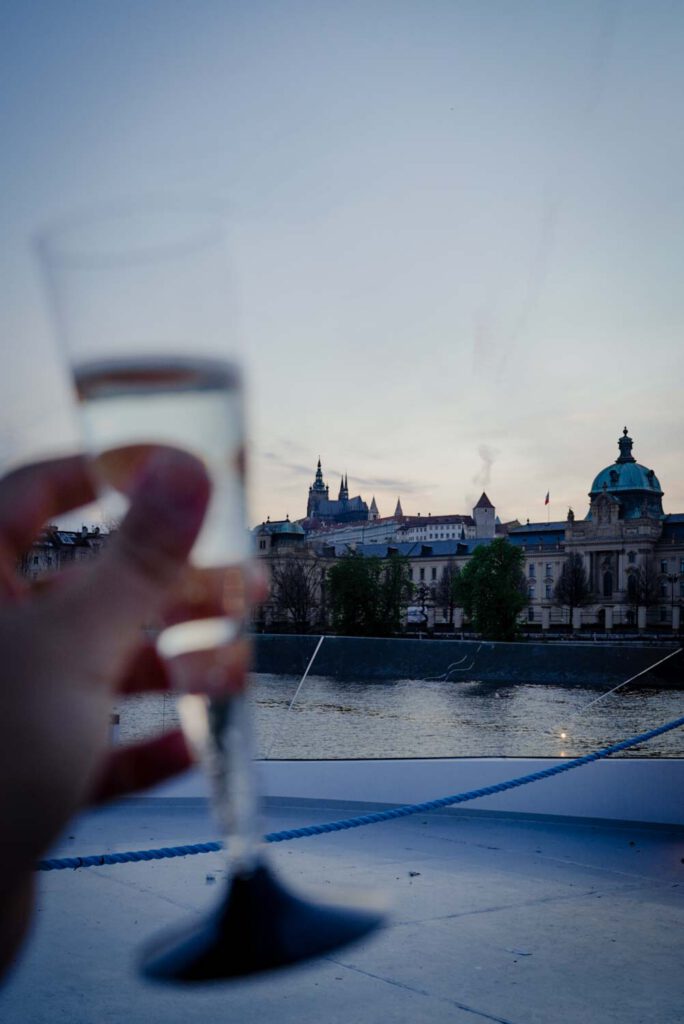 Visit the Most Amazing Library and Viewpoint at the Klementinum
Waking up the next morning I found out that it would rain the entire next day. (Which is also when I made a funny observation – for most of my two-day trips I get one day with the most perfect weather you can imagine and one with rain all day. It has been like this in Rome, Paris, and now Prague. Coincidence? Fate? I will have to take examine this in the future for sure!)
The question arose of what to do with my day now – the answer was an easy one, as I would just enjoy Prague's indoor beauties.
The one I went for is one I would even recommend to you for sunny days! The Clementinum is a tower in Prague that you can climb. Sounds easy but I shall say that you should only do this if you are feeling well as it can be quite steep! Up in the tower, your tour guide will tell you more about the history of science in Prague. As many important scientists have held residence in Prague, it is still jam-packed with knowledge.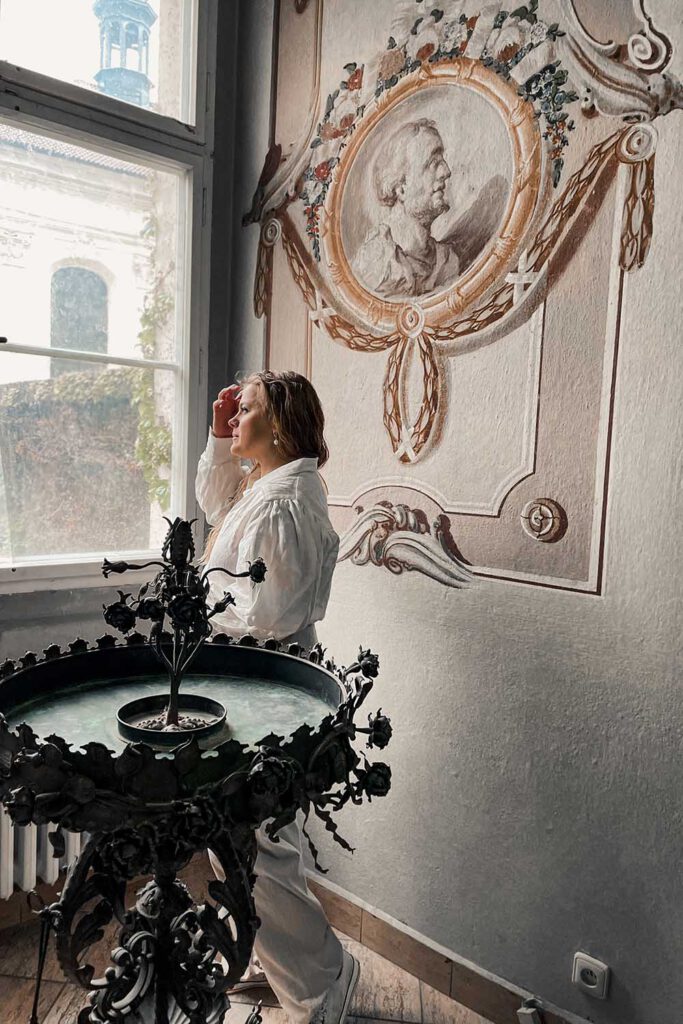 You will get to look into an old library that looks like it fell straight out of a Disney movie. Old books galore, massive globes and so much old and beautiful decor, I almost fell backward when I saw it. You are not allowed to even take pictures of it. You could maybe look up pictures in advance but I promise you to be completely taken by surprise when seeing them.
After the library, you get to climb even more stairs to get on top of the tower and enjoy an almost 360-degree view of Prague! It is breathtakingly beautiful even when it is rainy, I may not even imagine the view on a sunny day!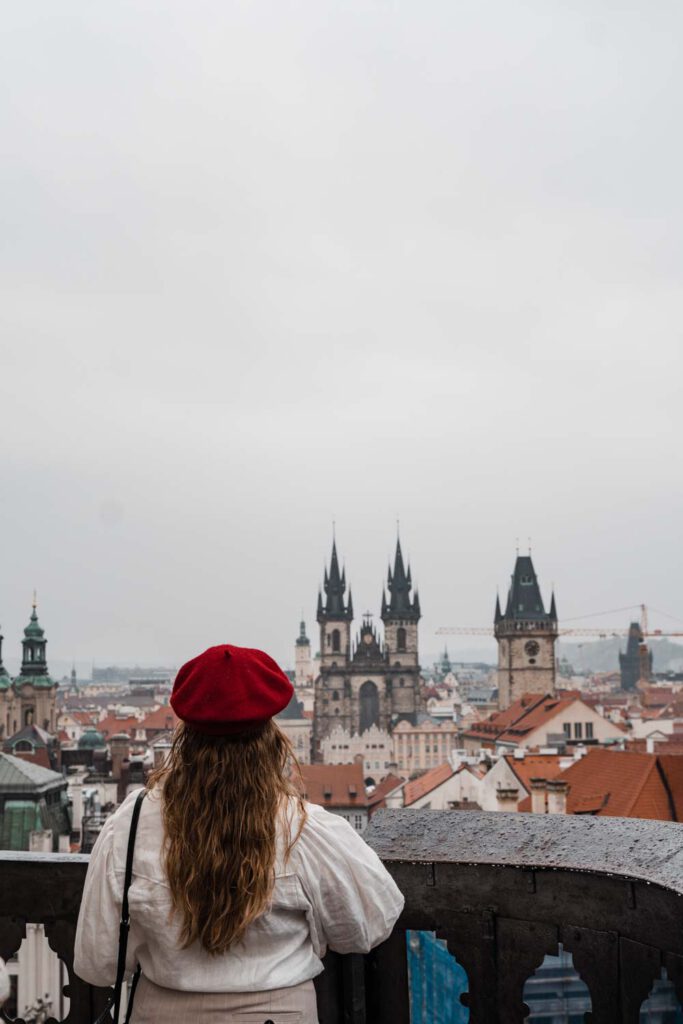 Enjoy the View and Delicious Food at Terasa U Prince
The final stop on my weekend in Prague was one that combined delicious food and amazing views. The Teresa U Prince is a restaurant/bar from a restaurant and I promise you it is one for the gourmets out there! Originally I just wanted to go there because of the view but the amazing menu almost cost me catching my flight, as ordering one of the dishes may have gotten me into time management problems.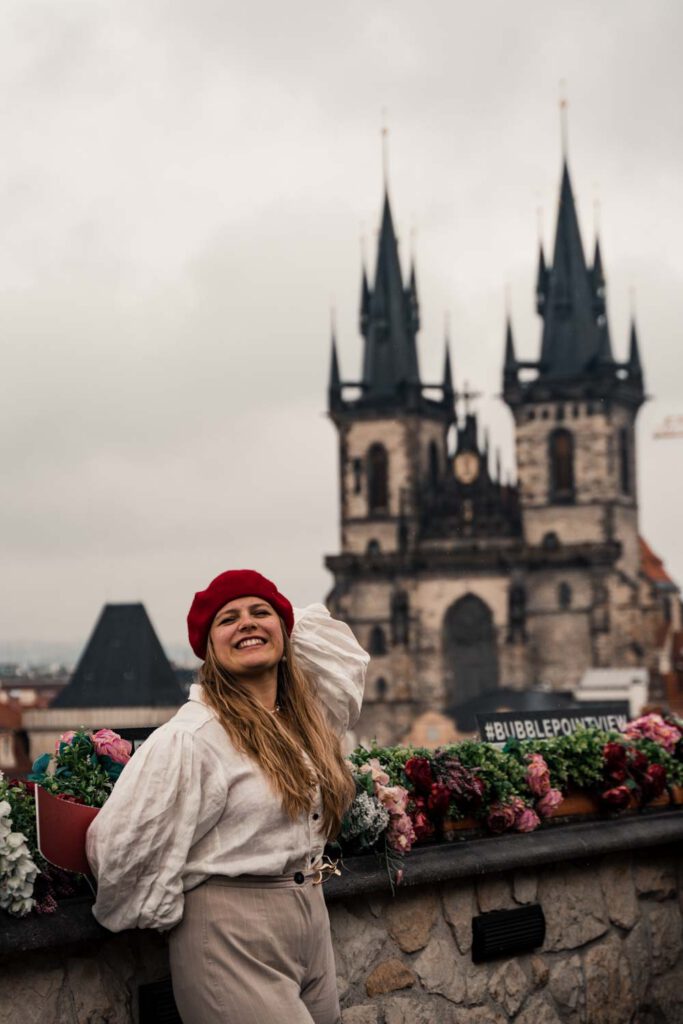 Have a Chimney Cake!
Last but not least, I advise you to have a chimney cake every day when you are in Prague. This delicious piece of pastry can be found in a big number of places around the Old Town and to say the least. You didn't see all the highlights of Prague if you missed out on Chimney cake!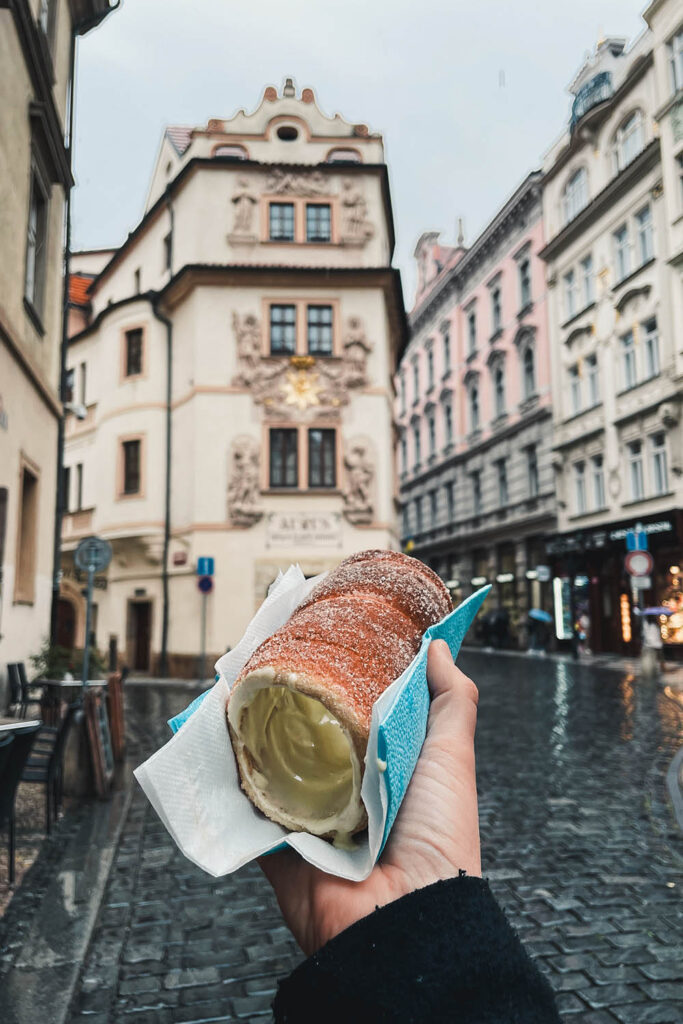 Did You Like These Highlights of Prague? Make Sure to Pin it For Later!