Hello and welcome back! If you are following me on Instagram, then you know that I recently visited Shanghai for a weekend. This is possible as my mother is a flight attendant and brought me to her work! We stayed in Shanghai for only 48 hours, which is quite a limited time frame. On top of not having a lot of time, we also got in trouble with the weather. We were punished with a never-ending rain and therefore we had to change the plans we made in advance. This is sad on one hand but also inevitable. But let's stop being sad about it and dive right into Shanghai (in only 48 hours)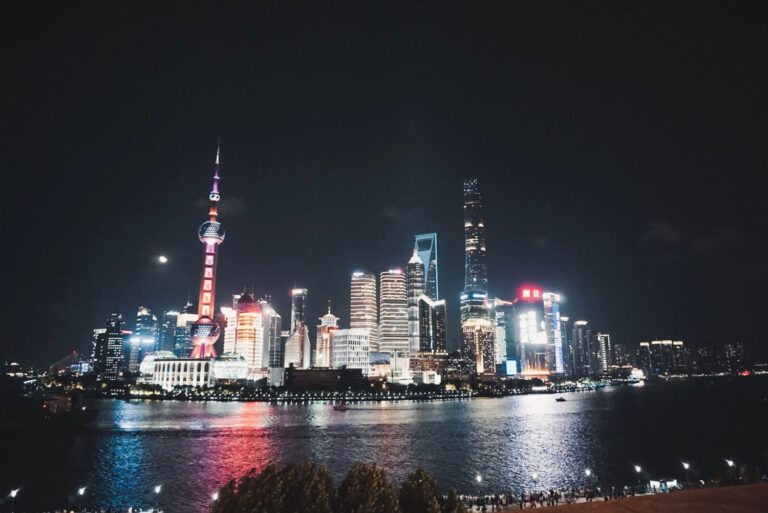 This post contains affiliate links. That means that if you click on the products and buy via this link, I can get a commission. This service won't cost you a cent more and allows me to provide you with more travel content. 
Accommodation
The place we stayed in was the New World Shanghai Hotel and a very nice place to stay. It has a pool, spa, and restaurant, so whatever you may wish for!
Day 1 of my 48 Hours in Shanghai
We arrived in Shanghai at noon and directly started our program. This day was cloudy but not too warm, which is actually the perfect weather for Shanghai. We had the most amazing time, enjoying these activities below and it is a day I will never forget!
Massage
After a long flight, we decided to go for a massage first, to relax a bit and gather some strength for the power shopping (more about this later). We went to the closest studio, which also happens to be the best one in this area. The studio is nice and the massage comes with a great value for money. We paid 30€ for a two-hour massage. This might not be the cheapest possible, but the place is nice and it is still way cheaper than a studio in Germany.
The studio is called Butterfly Massage and is located in Regents Park. 
Shanghai Science and Technology Museum
Shanghai is heaven on earth for cheap designer fakes. You can get an amazing fake high-end designer bag for 30€ in seconds! A new designer suitcase? No problem. Brand new backpacks for less than half the price of the original ones? You name it. The place where all of these amazing offers come together is the department store at the train station of the Shanghai Science and Technology Museum and it is one of the best places in China to get stuff like this!
Three extra tips for your visit to this department store.
The sellers will try to rip you off by giving you prices that are very high. The basic rule is to never go for the first price. Tell them a cheaper price and if they don't agree, pretend to simply go away. They will give you a better / the best price then!
Actually, it is not legal to sell these designer fakes. Therefore they hide the really good stuff. Simply ask the vendors if they have a certain brand that you are interested in and they will show you better ones.
If you see something that looks like a certain brand but is missing the logo, simply ask the vendor for it. They will add the missing tag for you!
Lost Heaven
For some reason, we got very hungry after the shopping and the massage (who would have guessed?) and we got ready for dinner. My mother knew this restaurant in advance and it is a wonderful place to have dinner! Located almost directly next to the Bund, we had an amazing time there! The Lost Heaven serves delicious traditional Chinese dishes in a wonderful atmosphere. However, if you come with more than two people, make sure to make a reservation in advance.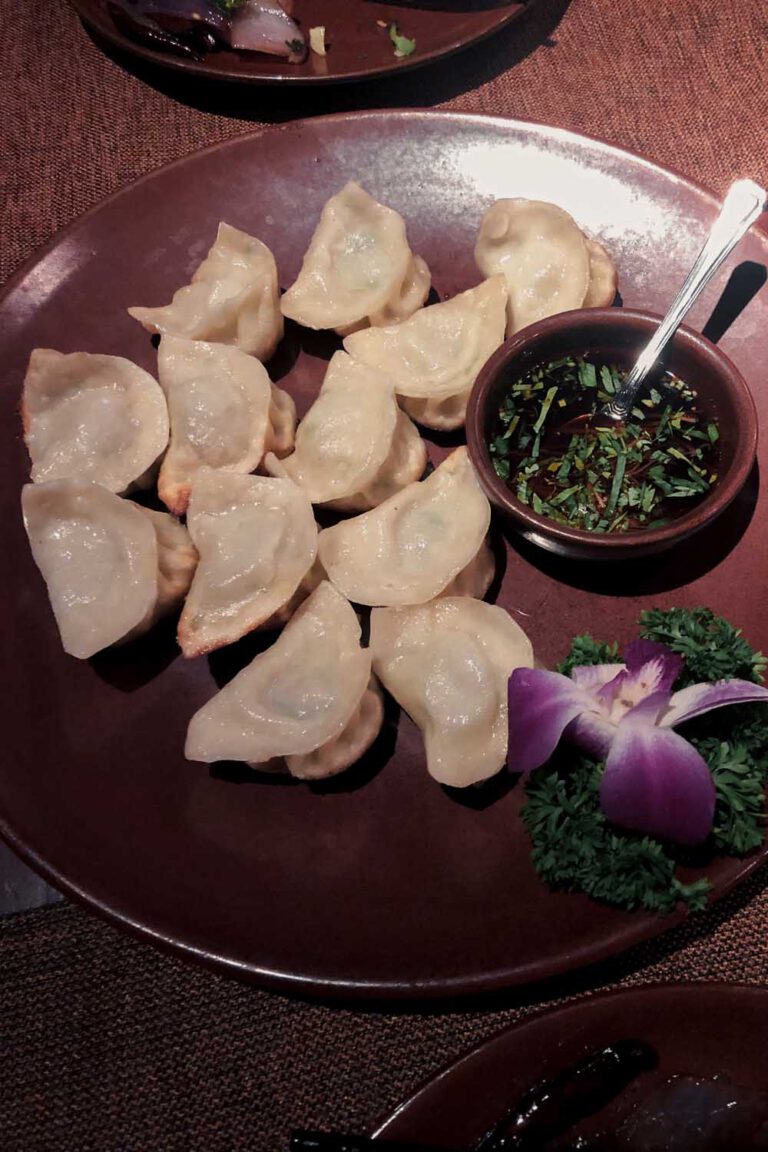 The Bund at Night
I have been to some pretty amazing skylines already. But the Bund of Shanghai really blows every single expectation that I had on skylines. Even if you only have one day in Shanghai, that's the one spot you have to see in any case! Standing there in the dark with a clear sight of the skyscrapers is a highlight as you will be blown away by these incredibly beautiful towers and light shows. I promise you won't be able to put down your camera.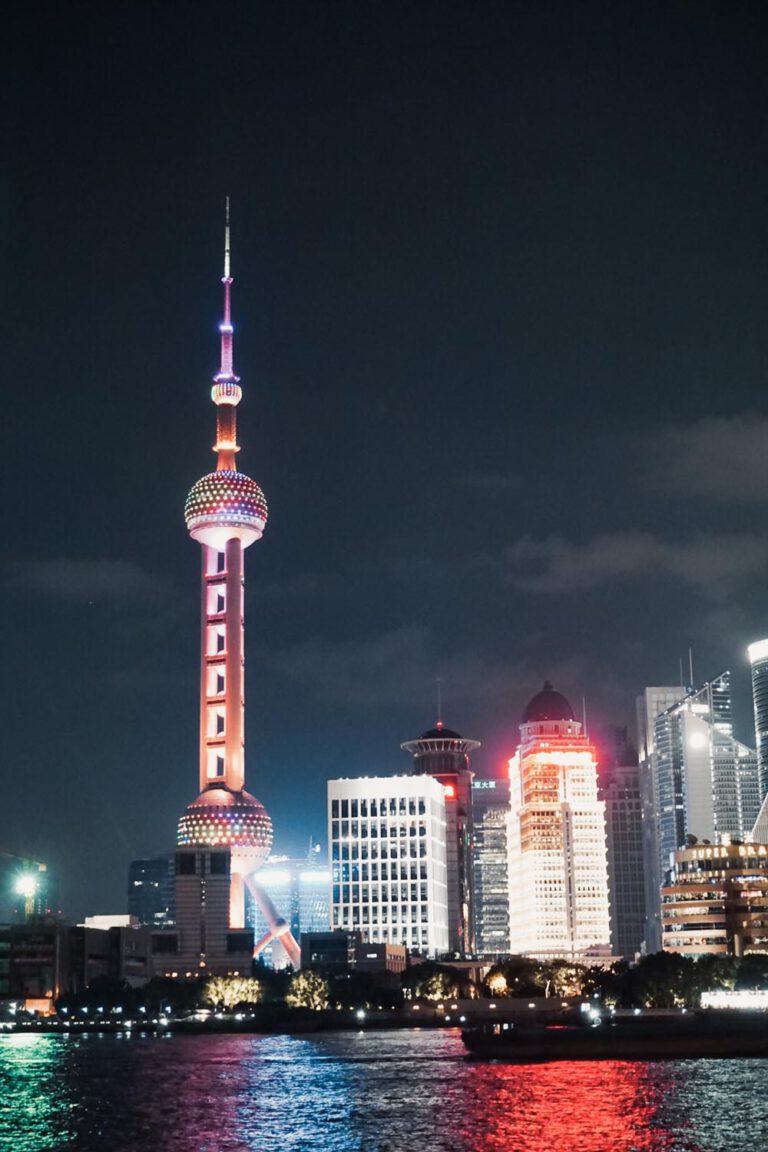 But no matter how mesmerized you are by these skyscrapers, don't forget to also turn around to see old colonial-styled buildings, creating a beautiful contrast of old and new architecture!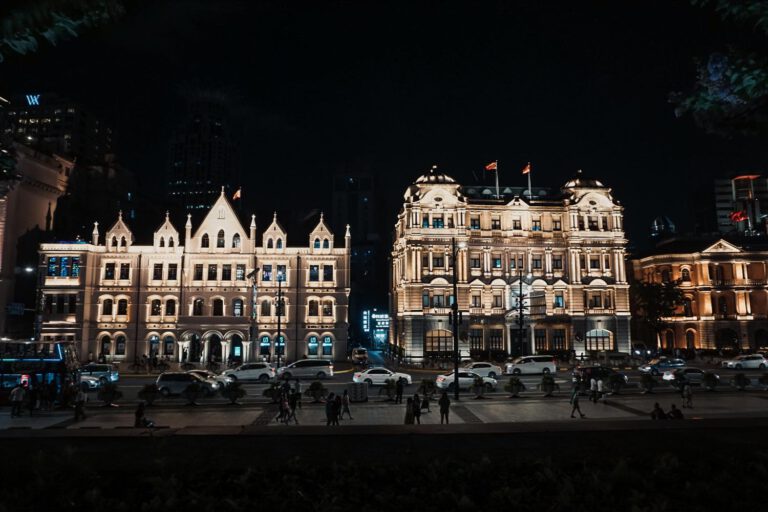 Bar Rouge
Sooner or later you will have to put down your camera (even if it is hard, I know) and say good night to Shanghai. But before you go to bed, why don't you enjoy a drink with an amazing view? My tip for you is to visit the Bar Rouge and have a passion for fruit mojito there (such a delicious drink!). But finish this read! The trick is not to visit the Bar Rouge but the restaurant that is one floor lower than the bar. As the bar is usually crowded with crazy party people, the restaurant Will offer you amazing drinks with a more private and relaxing atmosphere!
Day 2
For our second day, we had some awesome plans. Unfortunately, life got in our way. Instead of some windy but warm weather (what we prepared for) we were hit by a never-ending rain, that lasted until the next morning when we had to leave.
So for now I will give you two planned days, the one we originally planned and the one that we actually had, so you can plan them as the weather evolves for your trip!
Yu Yuan
Even if it was raining we simply had to see the Yu Yuan area. This area is simply incredible and if you don't look too closely at the souvenir stores and the Starbucks you will feel as if you traveled back in time! It holds temples, a food court, many traditional buildings, and the Yu Yuan Tea House, one of the oldest tea houses in China. We spent a while there and explored every corner of this place.
My extra tip is to arrive around 8:00 am, so right before the crowds hit the area. Even if it is hard to get up that early, you will enjoy some serene and peaceful moments before the crowds hit this place.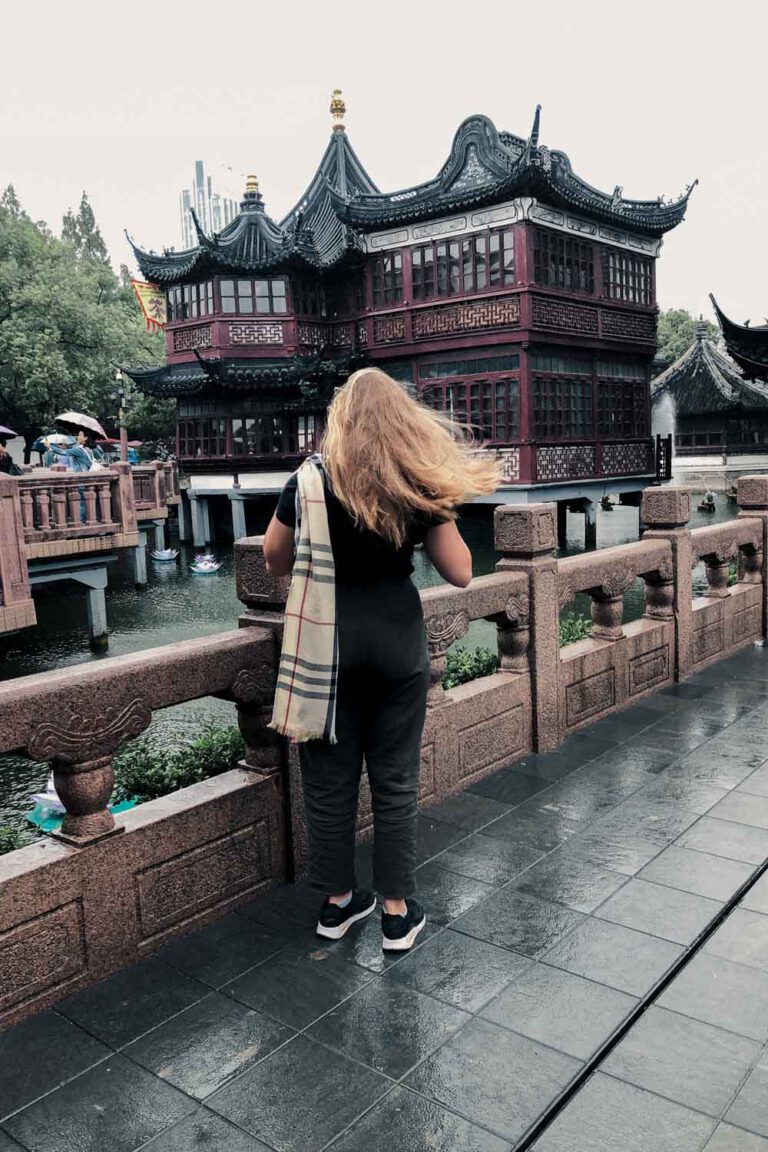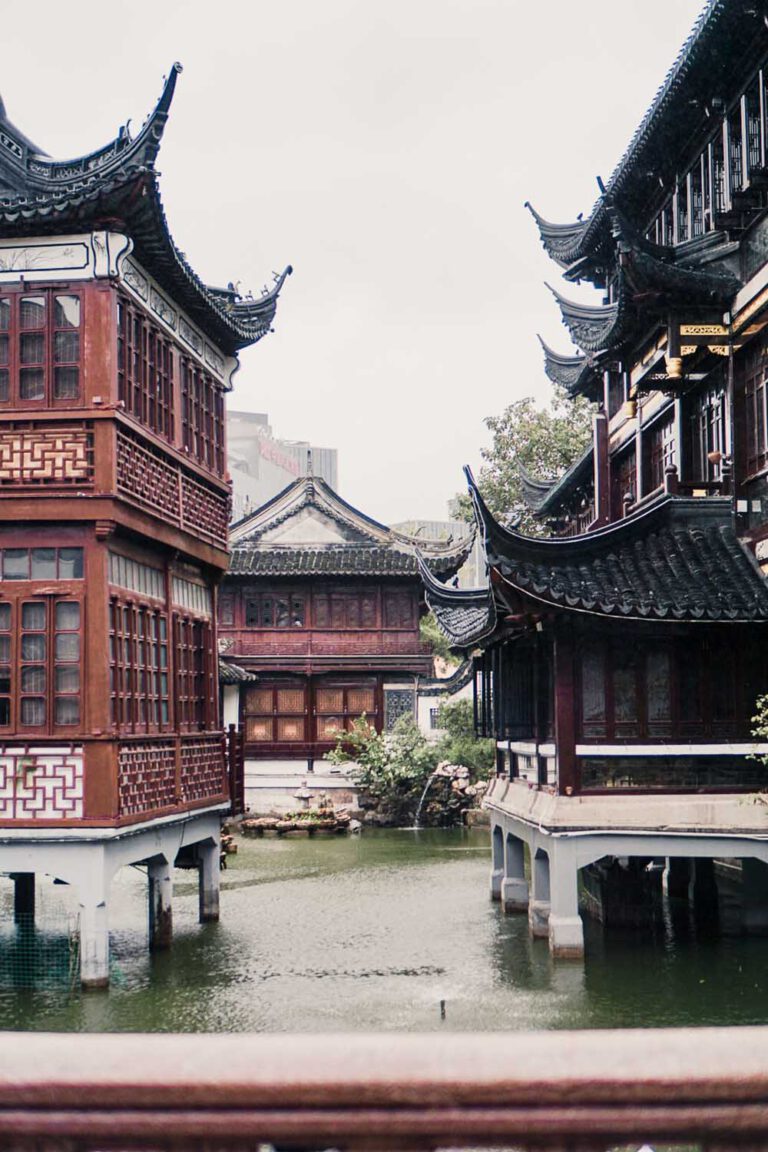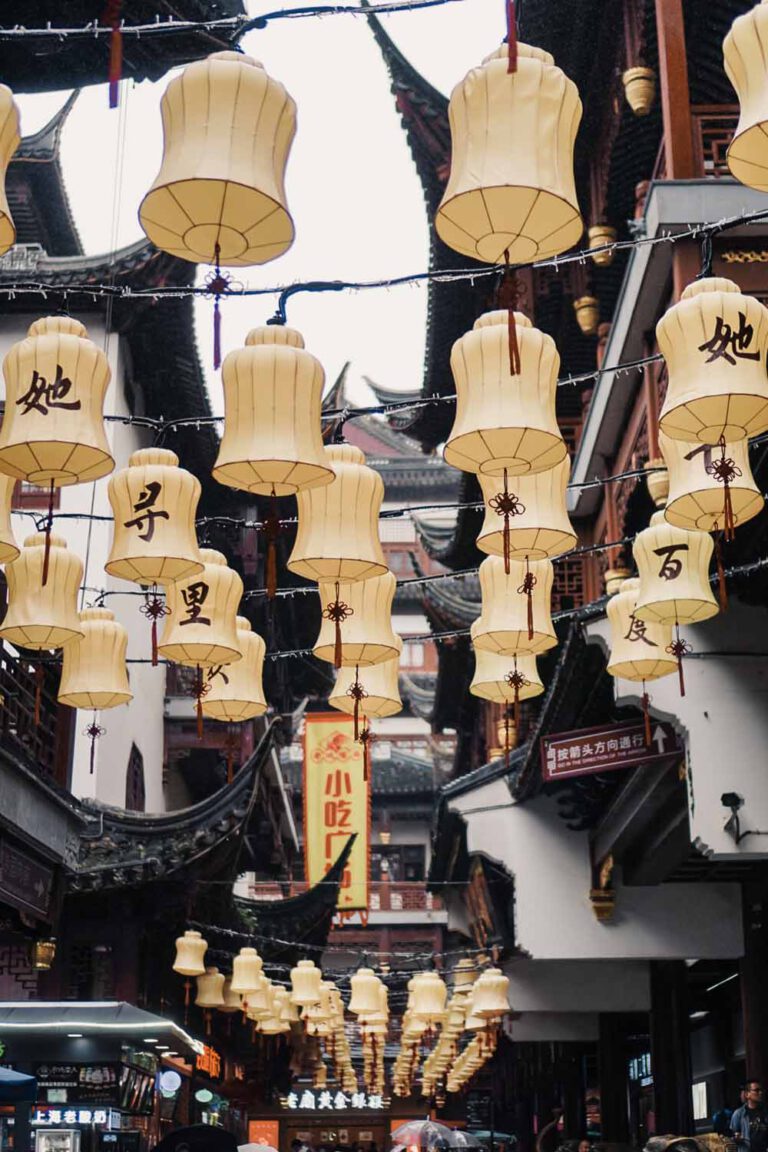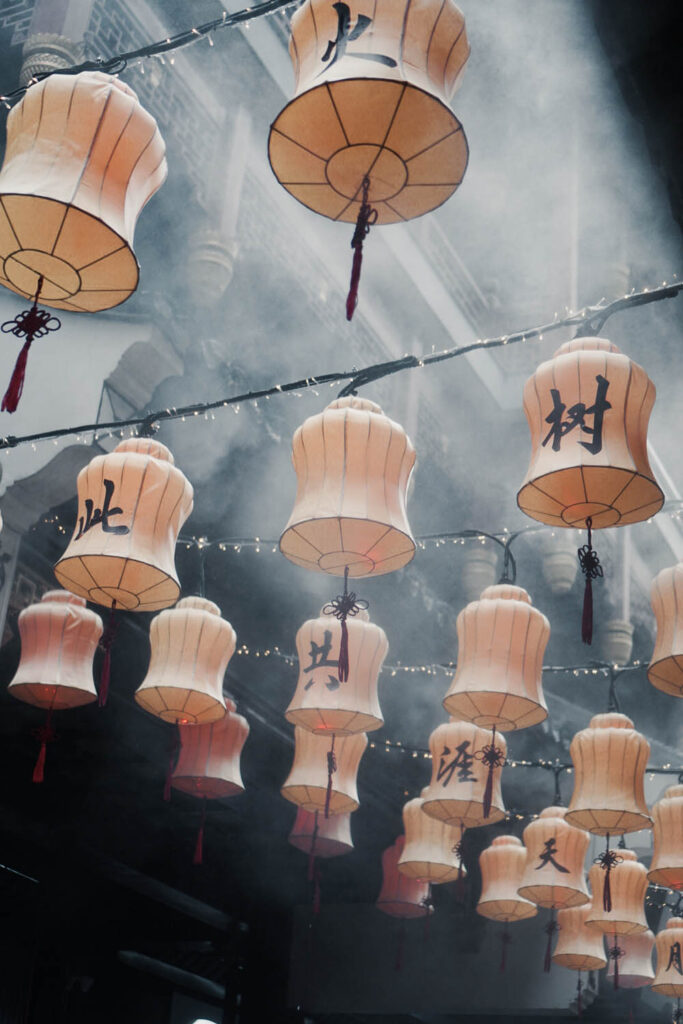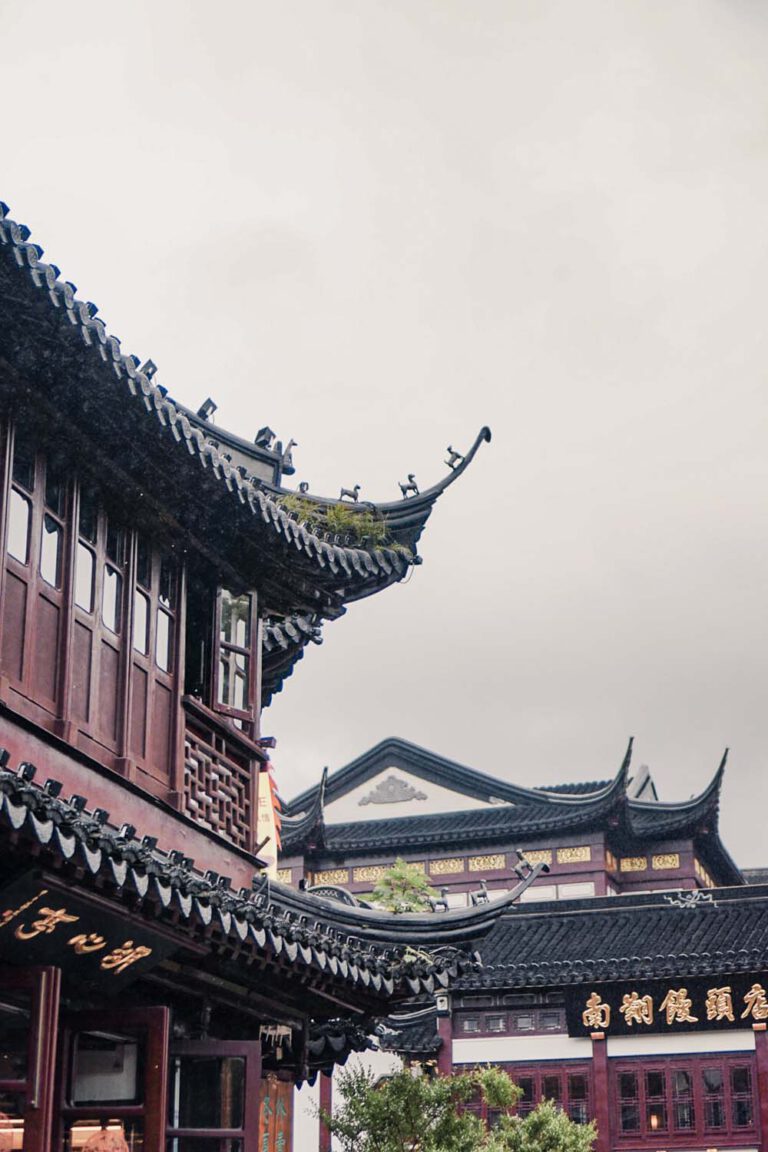 The Bund at Day
After Yu Yuan, we walked to the Bund again to see it during day time and I really recommend it to you too! The only problem we had was that the rain didn't stop and we were totally drained after a few moments. Our umbrella got destroyed by the wind within seconds and my feet were completely wet. We stayed just long enough to take a few shots and then escaped into a cab and went back to the hotel!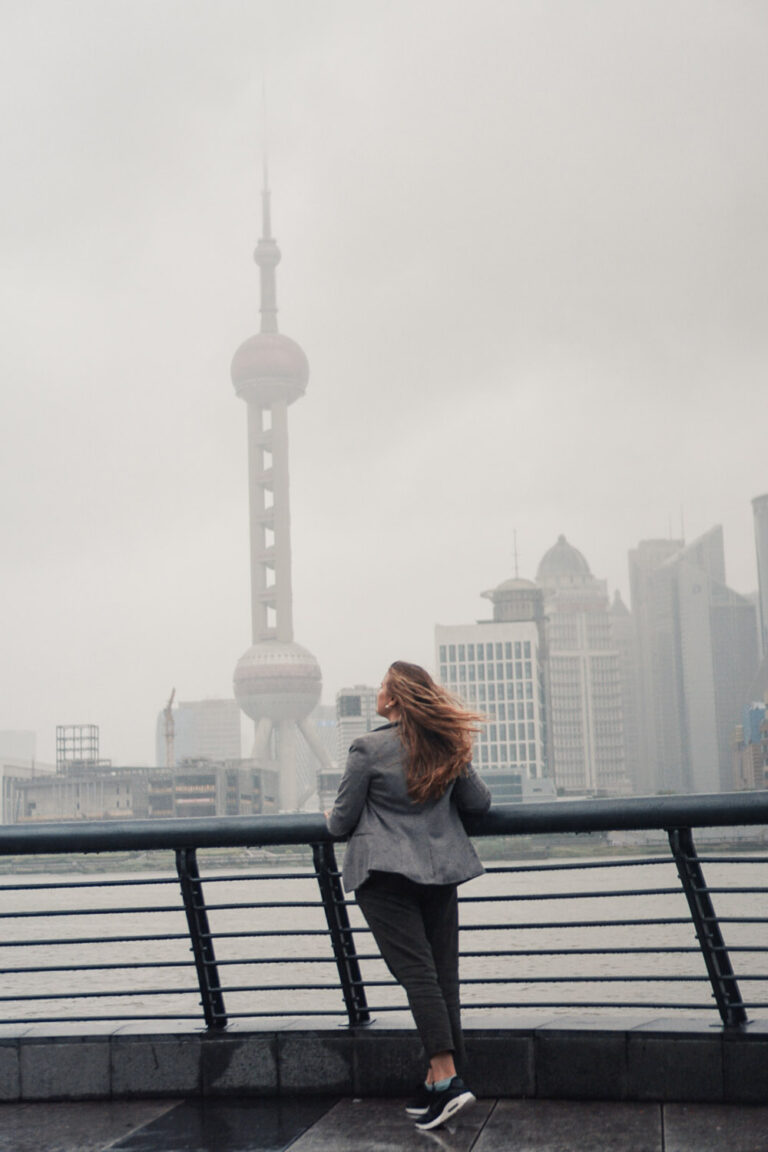 Recommended: Asia Bucket List
Alternative Plans
Back in the hotel we changed clothes and made up our minds about our plans, as it wasn't possible for us to visit temples in this pouring rain. Nevertheless, I am going to describe the places that we planned to see, so you might enjoy them! Afterward I will tell you, what we actually did, so you have a plan B for rainy days in Shanghai
Plan 1: Temple Tour!
Let's keep it short and simple: the temples we planned to visit were the Jade Buddha Temple and the Long Hua temple! If you get to visit them, take a picture and share it with me, so I have some pictures to share here!
Plan 2: More Massages, Wonton Soup and Nanjing Road!
As we were a bit frustrated with the rain, we had to cheer ourselves up again. That's why we indulged in more massages. Also at Butterfly massage and also two hours! It was amazing and we were relaxed and happy afterward!
We were still a bit freezing, so we went to a nice restaurant and had an amazing Wan Tan Soup, that warmed us. The restaurant is nice and offers both, Chinese and western cuisine!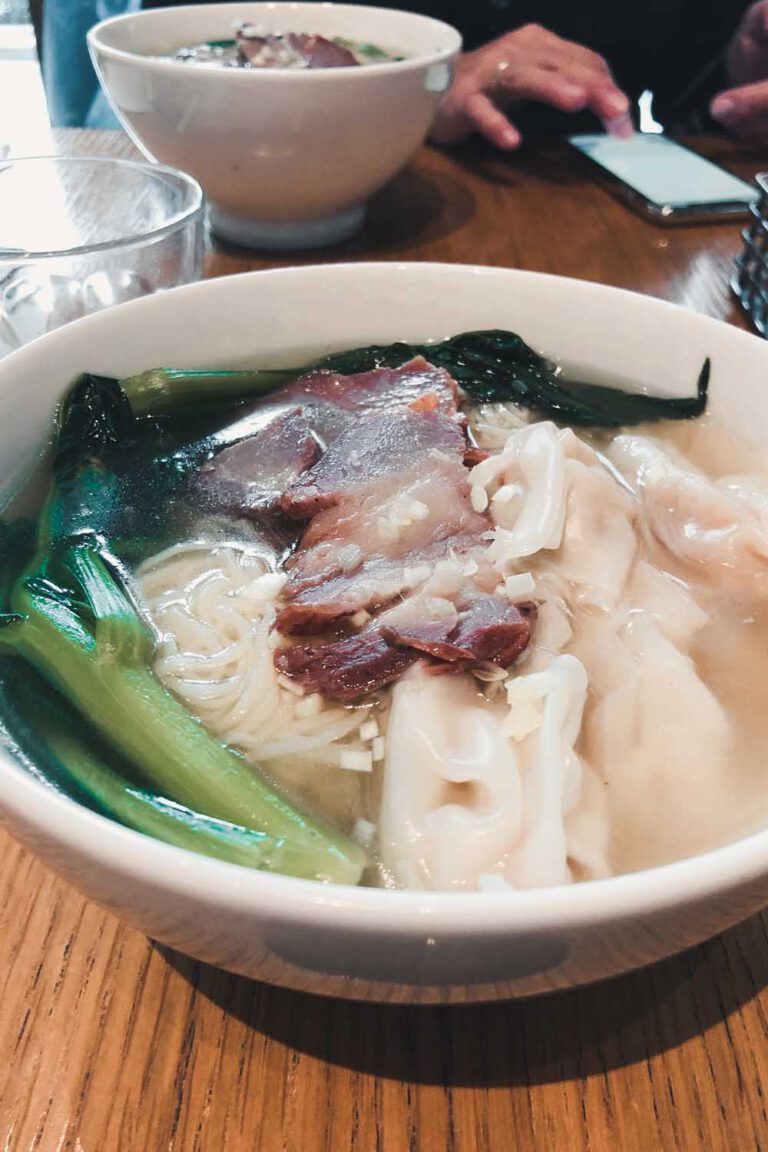 To escape the rain we went to Nanjing road and strolled through the malls that are there. It was quite nice and fun!
Dinner at The Thai Gallery
After our small shopping tour, we went out to have dinner and let me tell you, this dinner was fantastic! We went to the Thai Gallery and had the most amazing Thai food in the most incredible surrounding!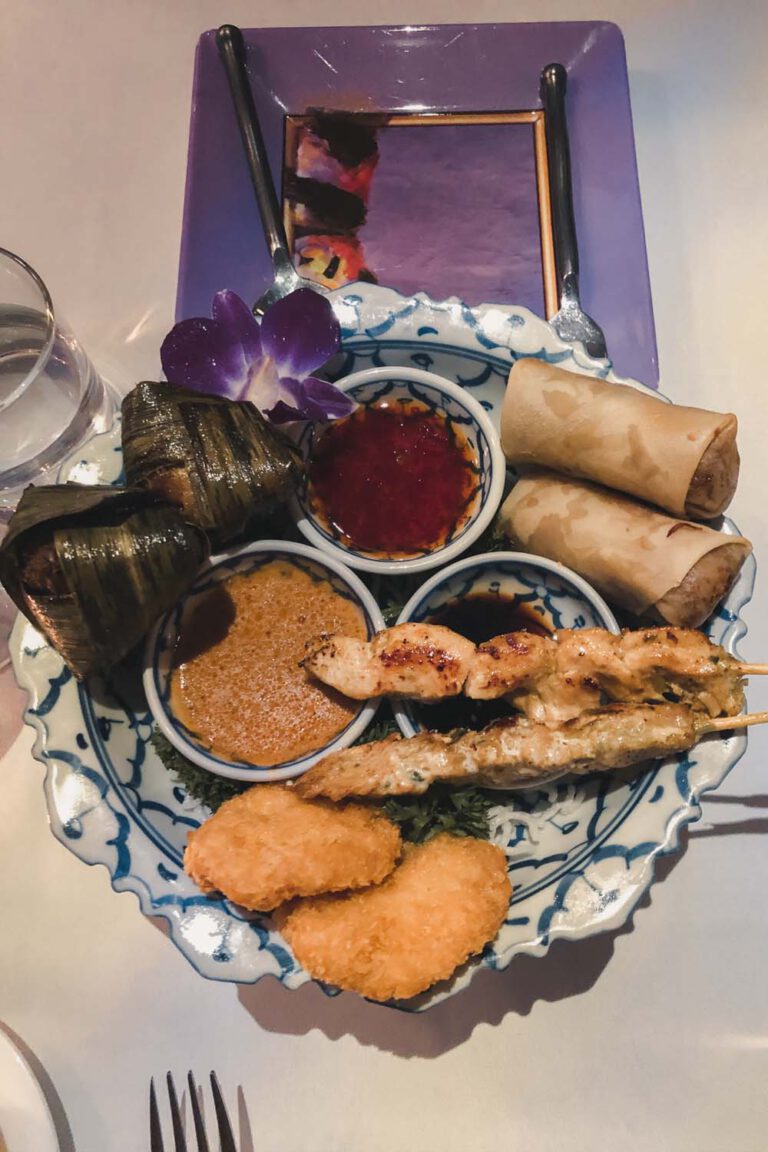 The restaurant is located in Jing'an Park and offers incredible scenery! The only thing that is annoying is the fact that the restaurant is not correctly on Google Maps. When looking for "Thai Gallery" you will find a false address. The correct one is the one put below. I guess the former name of it is Bali Laguna, which is still in Google. I put the map of it down below!
And that's it! Our whole trip squeezed into a blog post! I hope this will help you to plan your own trip to Shanghai. If there is something that I missed, please let me know in the comments so I can add it to this post!
Liked This Post? Pin it For Later!