Hello and welcome! Are you still looking for a place to spend your summer holiday? Then came to the right place! In this post, travel bloggers (and me) will share their best summer destinations of Europe with you. If you don't know which vacation to book afterwards, it might be due to being overwhelmed but not by feeling uninspired!
Lago Di Garda – Italy
Italy is, without doubt, one of the top destinations for a summer holiday. (It could possibly appear on this post more than once) but one place actually swept me off my feet: Lago Di Garda is, without doubt, one of the top summer destinations of Europe. It might not be a classical beach vacation, but it offers amazing sunny weather, a lake to have a refreshment in, picturesque Italian towns and most importantly: Gelato.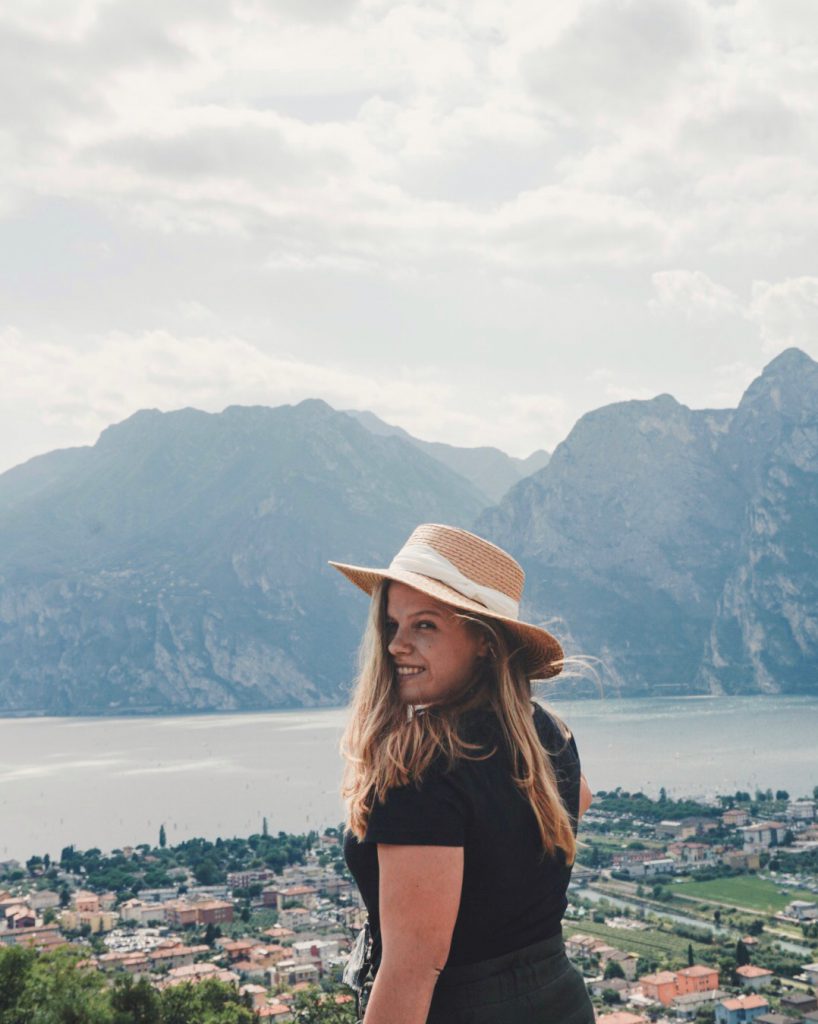 Where to Stay in Lago di Garda
My favourite place to stay at Lago di Garda is the small town of Malcesine, Italy. It is located at the northern shore of the lake and gives you the perfect conditions to learn how to windsurf!
Want to learn more about Lago di Garda? Check out 5 Experiences not to miss at Lago di Garda!
Barcelona – Spain by Emma from Emma Adventures!
Barcelona is the beating heart of Spain, and the perfect destination to visit in summer. With incredible art, architecture, beaches and good food (don't forget the sangria!), Barcelona is the perfect summer paradise! Spend your mornings admiring the impressive architecture of Gaudi, and wandering the Gothic Quarter, before heading down to Barcelonetta Beach to laze in the sun and eat ice-cream. Catch a soccer game at Camp Nou Stadium, and fill up on delicious Tapas at the Mercardo de La Boqueria, an authentic Spanish market.
If you are looking to get off the beaten bath during your summer getaway, why not stay on a Finca close to Barcelona, for an authentic farm stay experience that you won't forget. In summer the streets are filled with street performers and good vibes, lined with markets and pop up bars. The best thing about Barcelona is that there is something for everyone, and you will never get bored. It's the perfect destination for a summer getaway, so get packing.
Recommended: Free Things to do in Barcelona!
Sicily by Marjut from The Smooth Escape
Sicily, the largest island in the Mediterranean Sea, is the perfect romantic summer getaway and offers an abundance of activities for every kind of traveller.
One of the best things about the island is its amazing beaches. With more than a 1000 kilometers of coastline, there's no shortage of secluded pebbly coves and stretches of sandy beaches. My personal favourite is Spiaggia di San Vito Lo Capo which boasts a long strip of soft white sand and some of the clearest waters I've ever seen!
Aside from the beaches, Sicily is home to some incredibly picturesque towns. Admire the baroque churches of Ragusa Ibla, stroll along the charming waterfront promenades in Ortigia, or relax at the medieval seaside resort Cefalu. I also highly recommend visiting a small fishing village called Marzamemi. With its vibrantly decorated houses, beautiful beachside restaurants and quaint piazzas, this place just can't get more idyllic!
Another reason to visit Sicily is its food. The island offers an exciting culinary scene with lots of local specialties such as arancini, cannoli and granita which you simply can't miss! Also, the pasta dishes in Sicily are just phenomenal. For a unique dinner experience, try spaghetti with squid ink.
If you're up for some hiking, climb Mount Etna, the highest active volcano in Europe. Its steaming landscape, massive craters, and the views over the surrounding areas are nothing short of incredible!
Ibiza in the Balearic Islands of Spain is a world famous party spot during the summer. It has been an annual tradition for decades for the worlds most high profile DJs to flock to the island to take up residencies in some of the biggest and best super clubs on the planet. There is a suite of world-class talent on offer every night! Monday to Thursday being the biggest nights while the rest of Europe grinds through it's work week.
Aside from the nightlife there is diverse mix of interesting places to visit and activities to enjoy:
You can walk the streets of the old Spanish town of Dalt Vila. A two thousand year old city that has a unique mix of traditional buildings mixed with modern, high-end commercial stores.
Towering above it all is Ibiza Castle. It is a challenging walk to get up there after a big night! But it offers unrivalled views of Ibiza Town and the harbour.
When you want a break from the busier towns you can hire a car and spend a day driving around the island. There are some stunning beaches on offer in pockets that cater more to family travellers than the party crowd.
Cala Tarida and Cala Llonga are both worth a day trip, and if you headed further south you could catch a glimpse of the beautiful rock formation of Es Vedra.
With boat cruises, water sports, horse back riding and hiking also available you can see that there is far more to a vacation in this renowned party spot.
Porto – Portugal
Portugal must be one of THE summer destinations! As it directly located at the Atlantic, there are many beaches to discover and Porto is the gateway to it! The beaches of Porto will sweep you off your feet, I promise. Despite this, Porto offers some of the most incredible highlights and sights to see!
Where to Stay in Porto
When I was in Porto, I stayed at the Travel & Live Hostel and had the most amazing time! Check them out, they are simply perfect for a stay in Porto, as they are super central.
Looking for a unique summer destination in Europe? While all your friends go to Spain or France you can try something different this year. Head out to the United Kingdom as there is nothing better than exploring Cotswolds villages during great British summer!
Cotswolds AONB, the area of outstanding natural beauty, is visited by millions of tourists every year. It is also one of the favourites spots in England amongst Brits – it's not hard to see why! Spending a week in the Cotswolds is an enjoyable experience as this historical part of England is filled with culture and amazing sights – from the stunning Bourton-on-the-Water to lovely Chipping Campden – this part of England is a truly fascinating and a must visit place during summer holiday in Europe.It is also worth visiting Castle Combe, named one of the best villages in Cotswolds!
So, are you ready for your summer adventure in Europe?
Santorini – Greece
Is your summer really perfect if you haven't been to Greece? It is basically the perfect summer destination in Europe, simply because of its unique and incredible views! The blue sea combined with these breathtaking white houses that are clinging to the caldera: you won't trust your eyes. All these incredible things can be found on Santorini!
If you want to make sure not to contribute to the Mass Tourism that Santorini is struggling with, make sure not to visit it in July or August.
The region of Puglia in the southern part of Italy is among the prettiest in the country. You will find some of the most beautiful beaches, natural pools and unique city centers, many that have been certified by UNESCO as World Heritage sites in this lesser known region of Italy.
Since I moved to Italy in 2017, Puglia is one region I have been visiting every summer. The region is well connected by public transportation which makes traveling internally pretty easy. The region also boasts of some delicious local fare. Cheese like Burrata and Stracciatella di Buffala are also originally from the region and can be found at little stores around the towns.
Places you must visit include the Grotta Della Poesi- a natural pool formed in a huge rock formation right next to the Adriatic Sea, the Bauxite Caves which are found near the city of Otranto, Alberobello which is known for it's unique city center, Cala Porto beach in the dreamy town of Polignano a Mare and the sandy beaches of Gallipoli among many others.
Mallorca – Spain
Oh Mallorca. I talked about it countless times and it never fails to amaze me. This wonderful little island in the Mediterranean sea will take your breath away. From the Serra de Tramuntana in the North to Palma in the West, to the beautiful beaches in the East, to the matas in the south: there is so much to do on this island and the Mallorca Bucket List is long. If you haven't booked your trip yet, what are you waiting for?
Special Tip: My mother bought her own wine shop, dedicated to sell wines from Mallorca. Check out her shop, if you are keen to find that one wine, you had with your pimientos de padron!
Hvar Island in Croatia by Martina & Jürgen from Places of Juma!
A fantastic place to spend a summer vacation in Europe is definitely the breath-taking beautiful island of Hvar in Croatia. Why? Since many years Hvar holding the mantle of the sunniest place in Croatia – perfect for all who love to soak up sun and get some nice tan! And on top, the beaches of Hvar are just amazingly beautiful. Located in the Adriatic-Sea most of them are pebble beaches, with crystal-clear water and surrounded by fragrant pine forests.
But that's not all! This island is rich in cultural and historical heritage, has countless impressive sights and places to discover. There are lots of opportunities for exciting activities and unforgettable excursions. One of the highlights here is definitely Hvar Old Town, which insiders often refer as the most beautiful town in Croatia. Best to visit the famous Spanish fortress, from where you will enjoy one of the most beautiful views of the island.
Lugano is a beautiful lakeside city in the Italian speaking Ticino region of Switzerland, sandwiched in between Lake Como and Lake Maggiore. It might be lesser known than its neighbours, but it is definitely worth exploring for its beauty alone, and makes a great summer holiday destination.
Lugano is easily reached by train from Milan, or by bus or ferry from Lake Como. You can also fly there directly. It is a sunny Swiss city with an Italian feel, full of pretty churches, coloured houses and narrow cobbled streets lined with bars and restaurants. It's main draw is the lake, Lake Lugano, which is a centre of calm in the city. You can rent a boat or pedalo, take a cruise on the lake or have a swim at one of the beaches.
The lake is surrounded by lush green mountains, the closest of which are Monte San Salvatore and Monte Bre. You can easily visit both of these via funicular railway for unbeatable views of Lugano and the alps in the distance. Monte Bre is known as the sunniest mountain in Switzerland and has some great hiking routes via pretty Bre village. San Salvatore offers equally stunning views, mountain top dining and a hike to the pretty nearby village of Moorcote.
With the perfect mix of city, nature and lakeside views, Lugano is a perfect place to spend your next summer vacation!
Liked This Post? Pin it For Later!