Hello and welcome back! Hostels are something amazing. They are cheaper than hotels and give you the opportunity to meet some like-minded people along the way. Before I booked the first hostel, I was so skeptical. Sharing a room with complete strangers got me feeling so vulnerable. And I still do. I like my privacy, hygienic standards and knowing that my belongings are safe. Oh and good sleep. I like good sleep. So I put together this ultimate packing list for hostel!
This post contains affiliate links. If you buy something that I recommend, I will earn a small commission. As always, this commission won't make you pay any cent more, it only helps me to provide more helpful postings.
A Large Scarf / Sarong
Probably my best tip. A Sarong is such a versatile object. It can be used as a towel, for beach days, as a dress, a scarf or a curtain. Yes, a curtain! Some hostels I stayed in had a curtain attached to each bed, generating some lovely privacy. But unfortunately some of them only have those open bunk beds, and I personally like to sleep with a bit of privacy. A large scarf / towels can be stuffed into the upper part of the bed, turning into a curtain, so you have a nice and peaceful sleep.
Of course this mostly works when you are in the lower bed, but I still think that it's a pretty good trick!
A Lock
A lot of hostels offer a locker for you to safely store your belongings. But sadly not every single one actually offer a matching lock for it. So if you actually want to keep your precious things secure, make sure to bring a lock in advance. This will guarantee you that your backpack is safe and you won't need to pay for a locker provided by the hostel.
Flip Flops
Two lifesaver's you will be very thankful for bringing them! In hostels you won't have a private shower. They are used by a lot of people and if that's won't make you wish to keep for feet clean, please bring some rubber flip flops. No more touching the ground.
My absolute favorite Flip Flops come from Bali and are made from recycled car tires. One of my personal sustainable fashion highlights!
Read more on Zero Waste in Asia
Sanitizer
#germaphobe alert right here. But openly speaking: if you are not disgusted by public toilets, there is something wrong with you. Cleary. Of course a Hostel's bathroom or toilet is not quite public but still a lot of people are using it and that's why you should always carry a bottle of surface cleanser with you. I promise you that it will make you feel more comfortable! For me, this is one of the most important essentials for staying in hostels.
Oropax
I belong to the people that would do anything for good sleep. And no matter how carefully you choose the hostel you stay in, there can always be some people snorting in their sleep. Therefore oropax are an essential part of my luggage. Oh sweet silence. Also works when there is a karaoke night in the hotel bar. On the other hand it might also work for your alarm, so make sure to set at least two.
Liked This Post? Pin it For Later!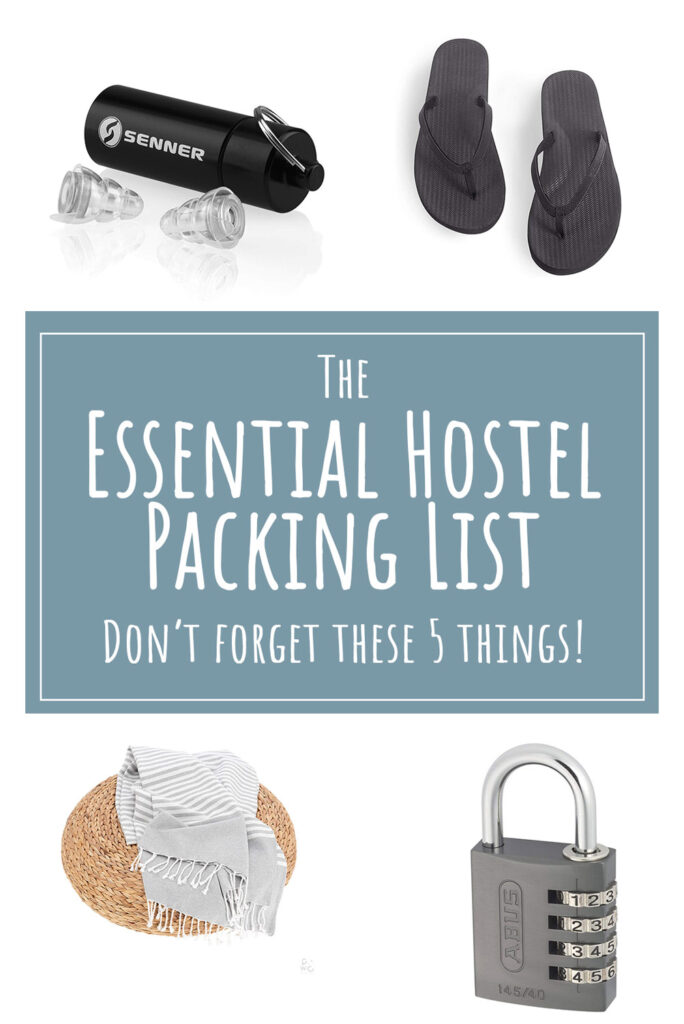 If You want to learn more about the things that I can't travel without, read the following: