Are you here to research magnificent places in Slovenia? Well, I got you covered for that! Down below you will find a list of 15 places in Slovenia that you shouldn't miss. This list holds some of the most magnificent places I ever saw in Europe. And I am just so happy to be able to share them with you, helping you to plan the most perfect trip to Slovenia.
Sadly enough, this list, for now, remains unfinished, as I only had one week in Slovenia and couldn't visit all the places I had wished to see! However, I thought that the places I got to see will give you an amazing first impression of Slovenia. Because it did for me. This one time in Slovenia wasn't even close enough and I will definitely go back for more.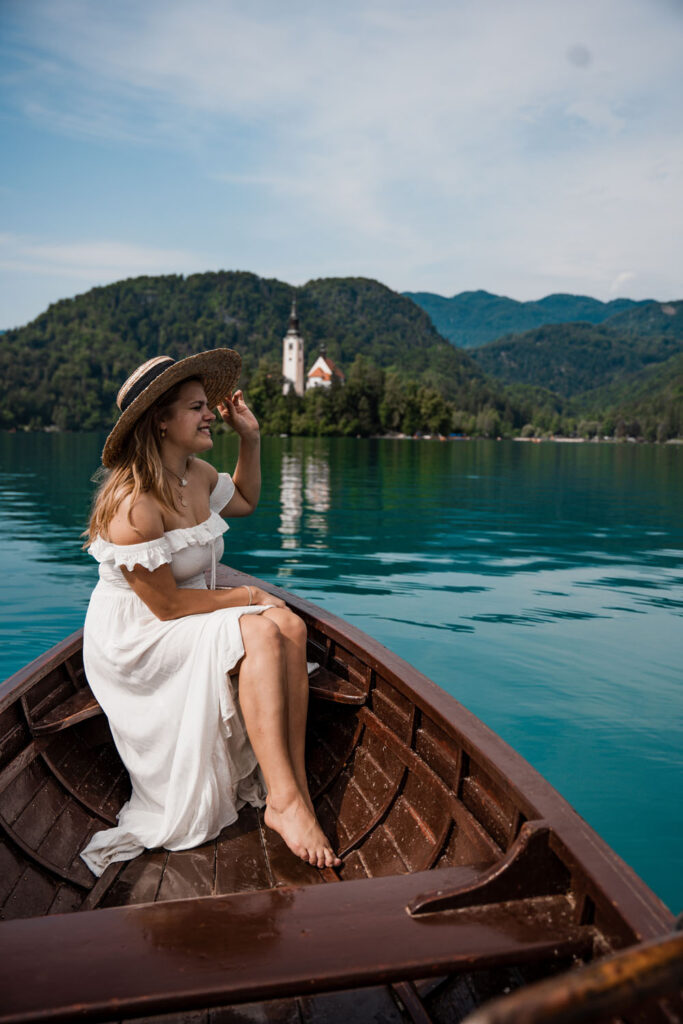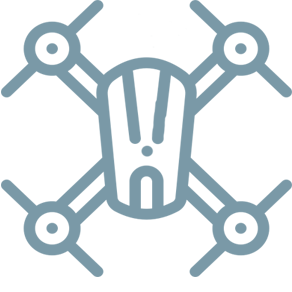 In this post, I point out the places where I flew my drone and where you aren't allowed to. I tried to be helpful with my tips but this does not mean, you should not do your own research on where to fly your drone in Slovenia.
Naturreservat Zelenci
Let's start with a small but incredibly pretty spot. The Naturreservat Zelenci is a small hidden spot close to Kranjska Gora that will for sure take your breath away. On our journey, it was the first place we visited and until then, I didn't even research it in advance. But well, it left me quite impressed. From the parking lot you see on the map below, you have to walk through a small but charming forest until you reach a wooden pathway, leading to the prettiest emerald-colored lake I can imagine.
And when you lift your head up and turn around, you will see that the view only gets better. The mountains surrounding you have the perfect reflection in the crystal clear water. Of course only if the ducks that inhabit it, sit still for long enough. Besides ducks, you can also watch snakes, if it is quiet and you are patient. Unless you are scared of snakes. Then you should make a little bit of noise to give them a little heads up that you are there!
The Naturreservat Zelenci is the most wonderful peaceful location to have a little picnic and wait for the sun to set. Just a little tip from my side: make sure to bring bug spray, when visiting in August! The mosquitoes were quite big and bold.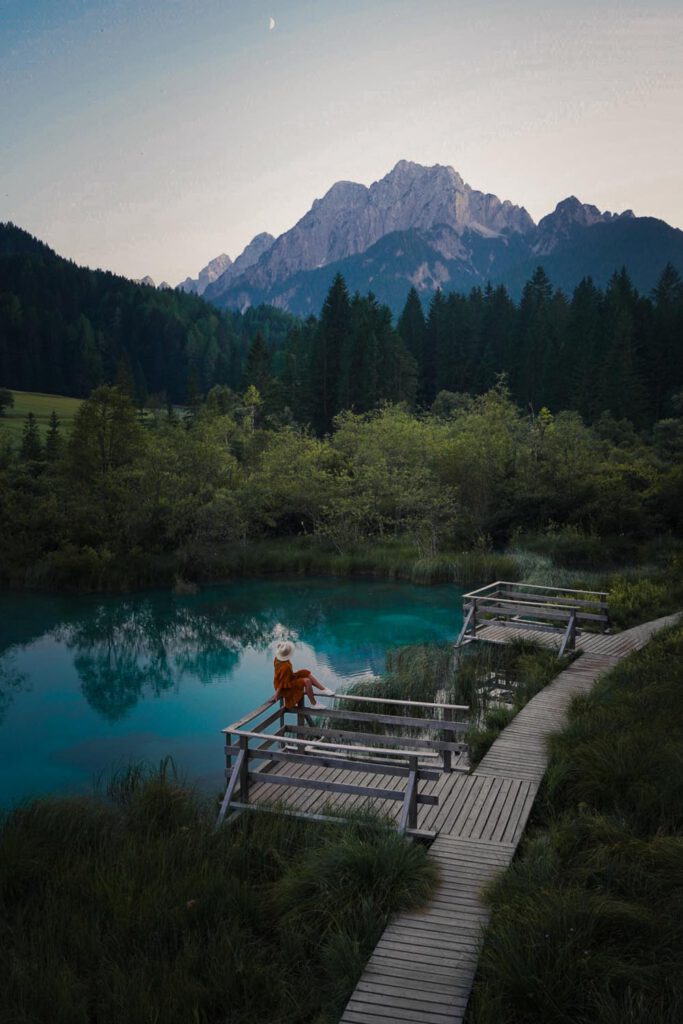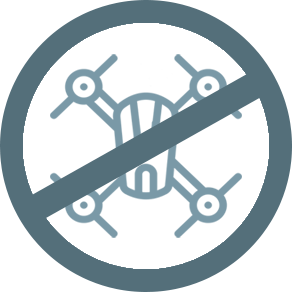 Unfortunately for us but fortunate for the bugs, birds, and snakes, it is forbidden to fly a drone in the Naturreservat. For me, following the rules on this one is very important. You will only find a note of it being forbidden on the observation tower next to the lake. Luckily you can also get nice "aerial" shots from this exact tower, so I wasn't too sad to not fly the drone!
Lake Jasna
Slovenia is filled with gorgeous turquoise-colored bodies of water and my favorite one might be Lake Jasna. The wonderful lake has the prettiest reflection and is incredibly serene when you visit it early in the morning. If you visit it later in the day, there is also an amazing beach bar right next to the lake, where you can also rent stand-up paddleboards if you want to go for a little workout! If you want to take a picture or two, check out the little dock. Also, the stone pathway right to the dock gives you some nice angles!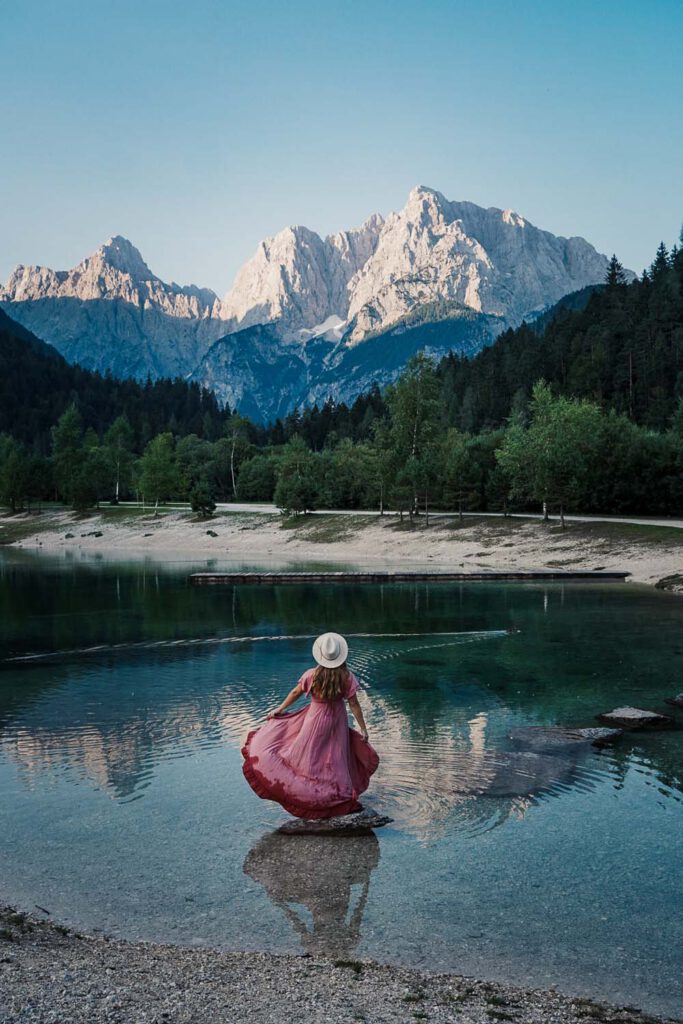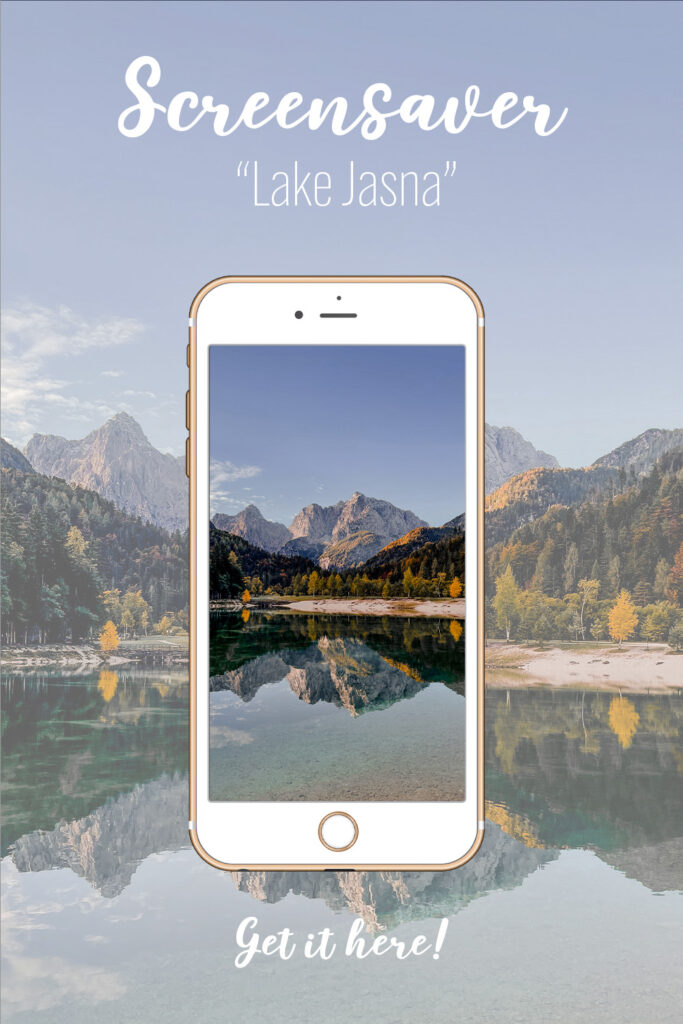 Waterfall
I am not even sure if this place has its own name, because I couldn't find it on Maps. But as it is located directly next to lake Jasna, it is almost impossible to miss! To find it, just park at the parking lot that is linked above. From there you will find it underneath the bridge which is right next to the parking lot! From the said bridge, you can see the three-leveled waterfall from above.. However, if you want to see it up close, make sure to follow the little pathway next to the other side of the bridge and follow it until you see the waterfall!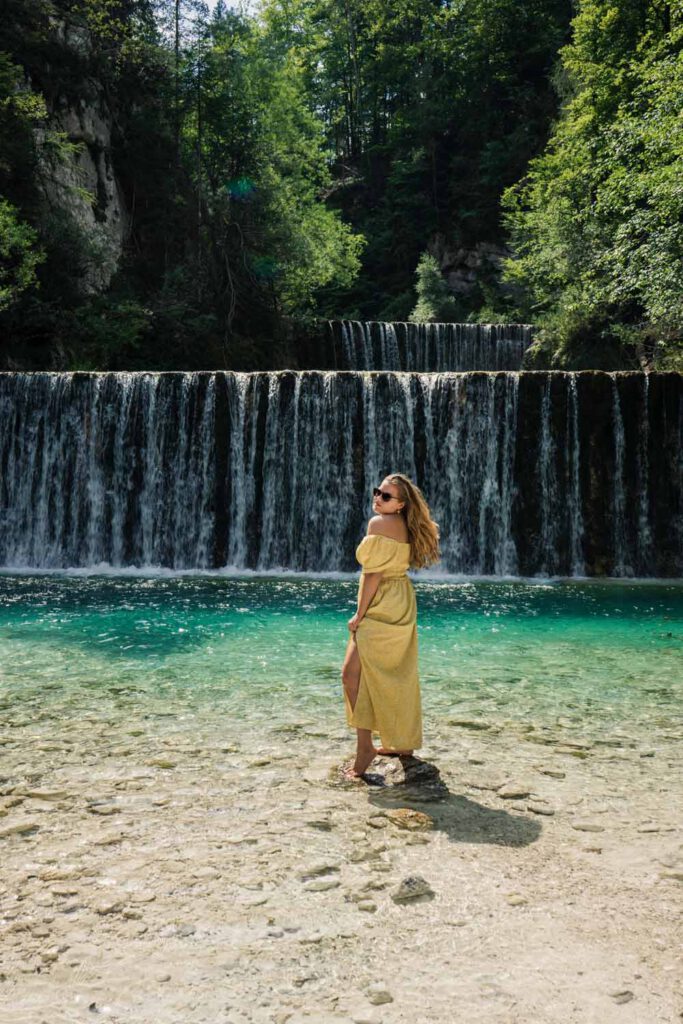 Ruska kapelica
Following the road up to Vršič Pass, you will pass the Ruska kapelica, the Russian Chapel. This wooden church and the surrounding little forest look like they sprung straight out of a fairytale. The forest and the little river flowing in it are serene and peaceful. Yet the chapel is a reminder that it hasn't always been that way. In fact, the very road you are driving up that mountain on was built by Russian war prisoners. Many of them died building that street, still known as the Russian Road. The chapel remained as a memorial to them. Up to this day, the chapel is there to remind us of their sacrifice and the Slovenian-Russian friendship that there is today.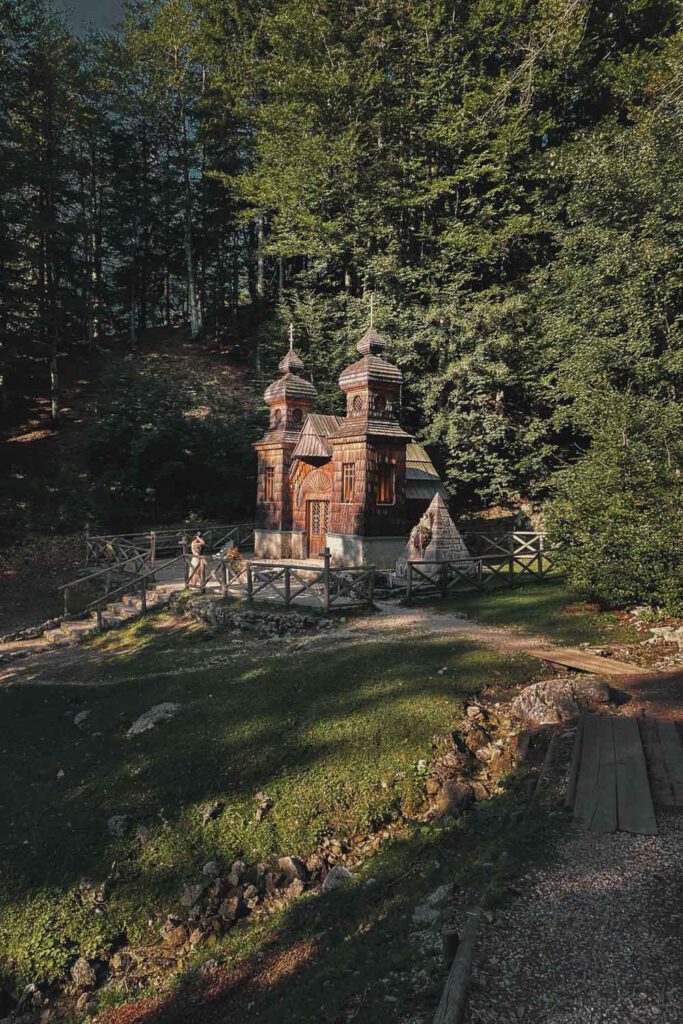 Vršič Pass
If you continue your way up the mountain, you will eventually come to the point where you are asking yourself "how much higher is this going to be?" and that's about the time when you will reach Vršič Pass, the top of the mountain you are on. Depending on the time you arrive there I would suggest you either have your breakfast or lunch at the Tičar Lodge on the Vršič Pass. They have an awesome apfelstrudel, pancakes and if you like that, the cutest little house kitten that is in for some cuddling.
Apart from the pastries, this place also has a gorgeous panoramic mountain view which will make you feel like you are standing on top of the world!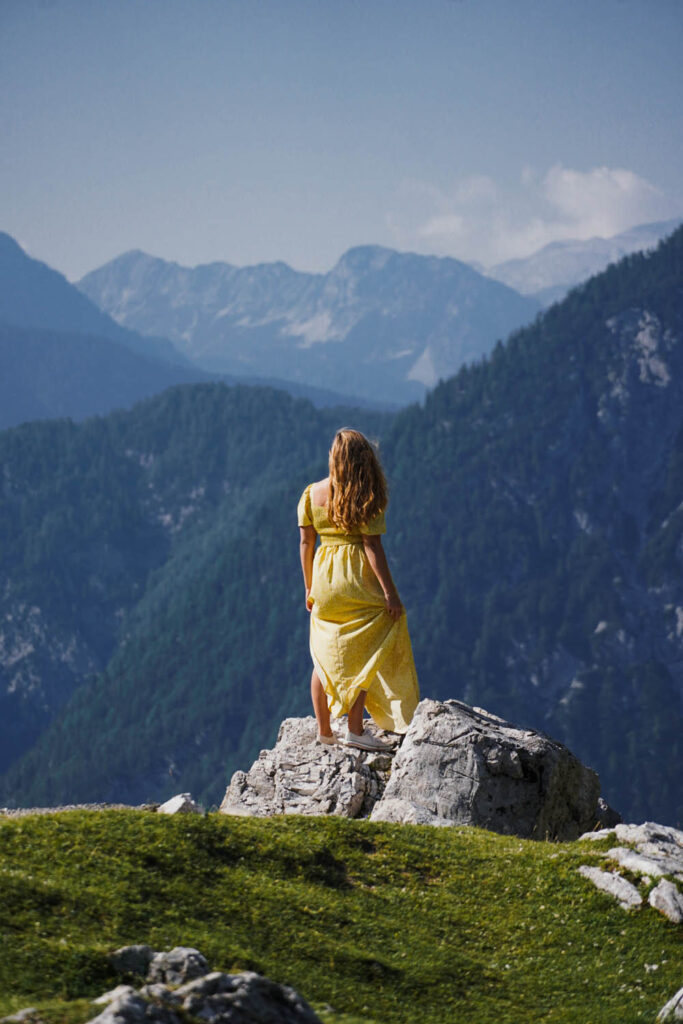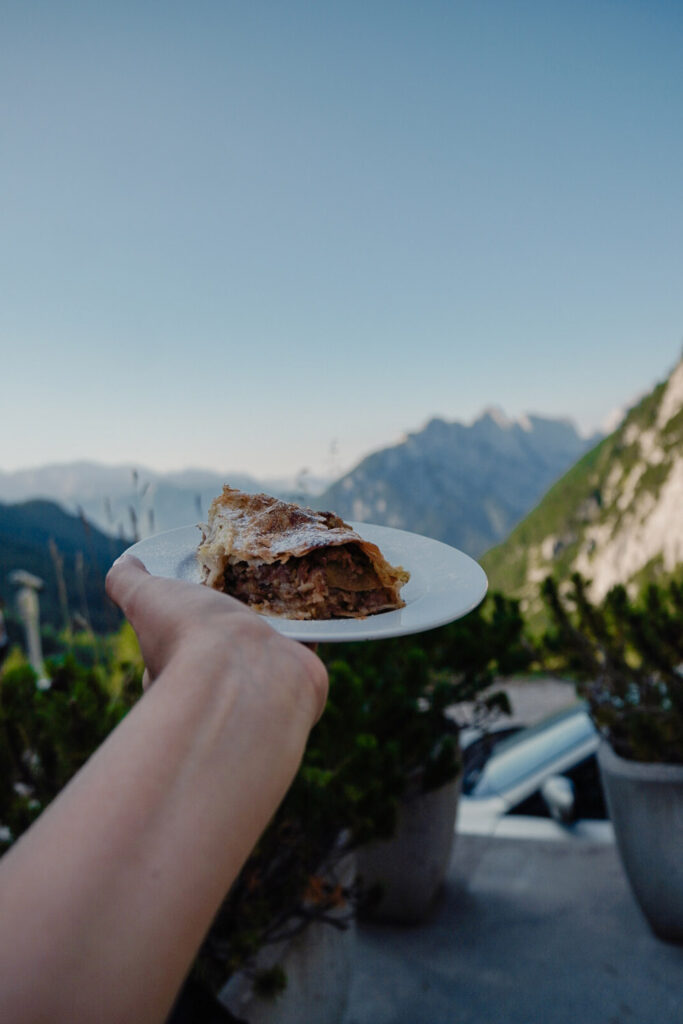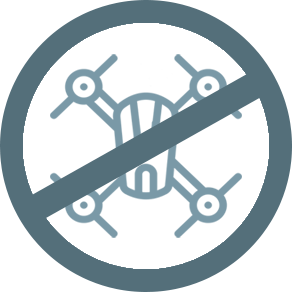 Flying a drone is forbidden on top of the mountain. I only saw one small sign close to the parking lot, stating it. However, even if the sign is small, it is there and please follow the rules!
Velika korita Soče
If you follow the route that brought you to Vršič Pass you will start your way down the mountain again. At some point the streets go along the Soča River, a magnificent emerald-colored river, which you will now follow until you reach the valley. You will get some awesome views of the river and there is one particular one that I really think you should stop at. The Velika korita Soče is a canyon that the river has been carved into white stone. This contrast makes the canyon so pretty to look at!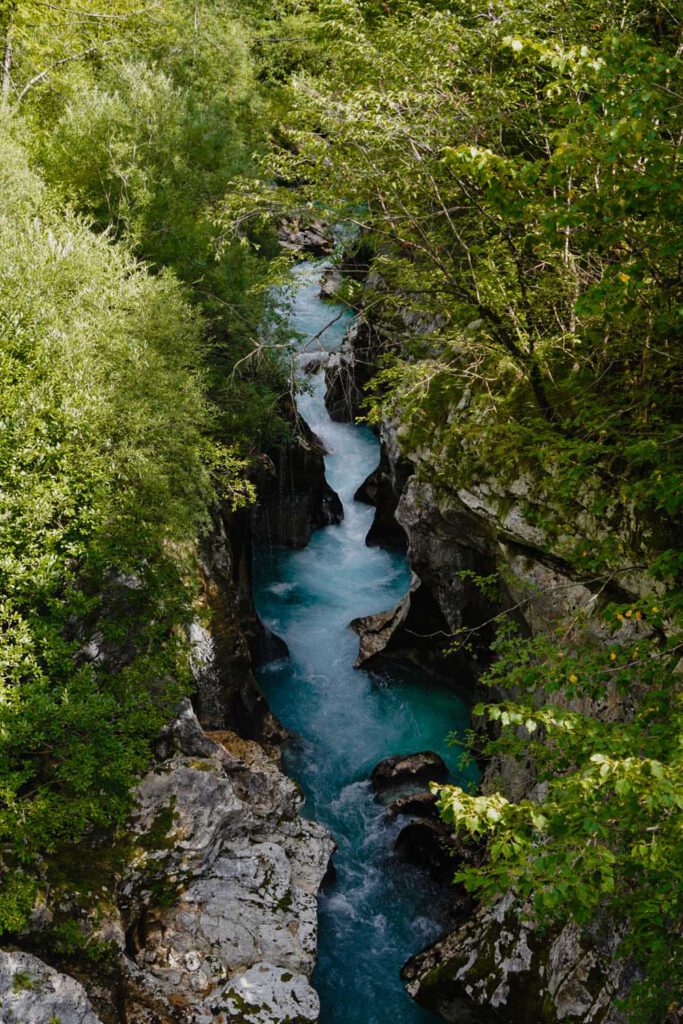 Brv čez Sočo
Time to spend more time in Soča valley! The Brv čez Sočo is a small suspension bridge across the river. From there you can get the most amazing drone shots of the water and the river. The contrast between the green forests and the clear water is amazing. Each view upon it left me in awe. Just don't get too jumpy with your steps, as the bridge will get just as shaky as you want it to get.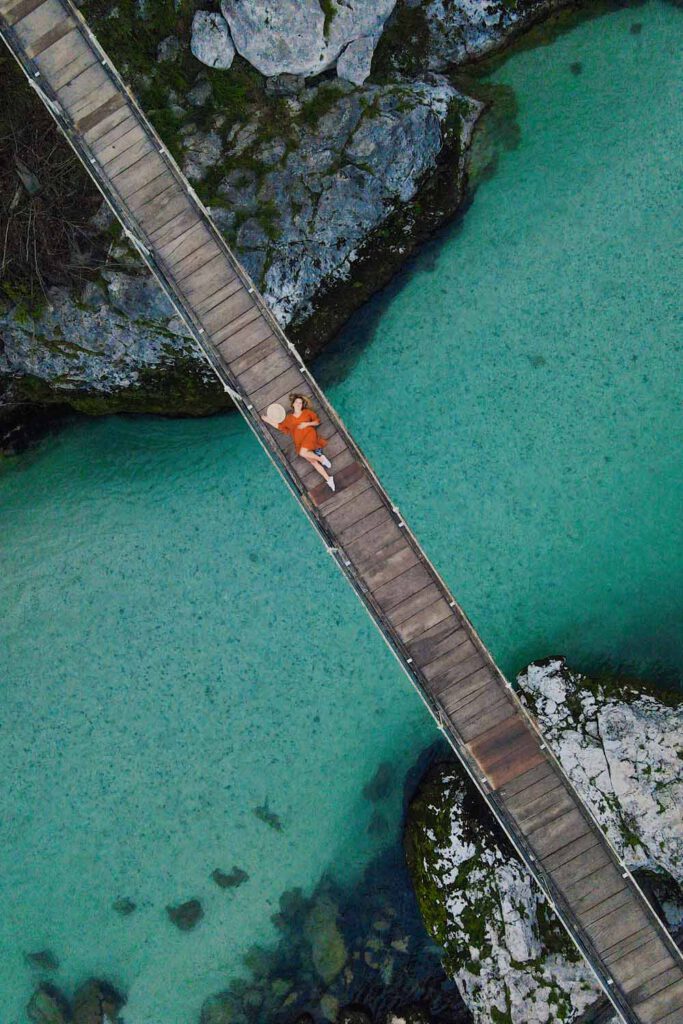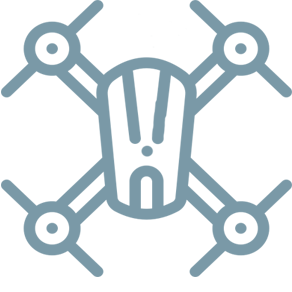 As the bridge is not located in a National Park and we didn't see any other signs prohibiting the usage of drones, we felt confident enough to send our little pal into the sky to get some nice drone footage! Isn't this an awesome sight?
Brv čez Sočo – Places in Slovenia that you shouldn't miss – La Vie En MarineOnce you crossed the bridge, you can either go left or right and if you choose to go right you will come to a little wooden viewpoint from where you have an even better view of the prettiness of this place!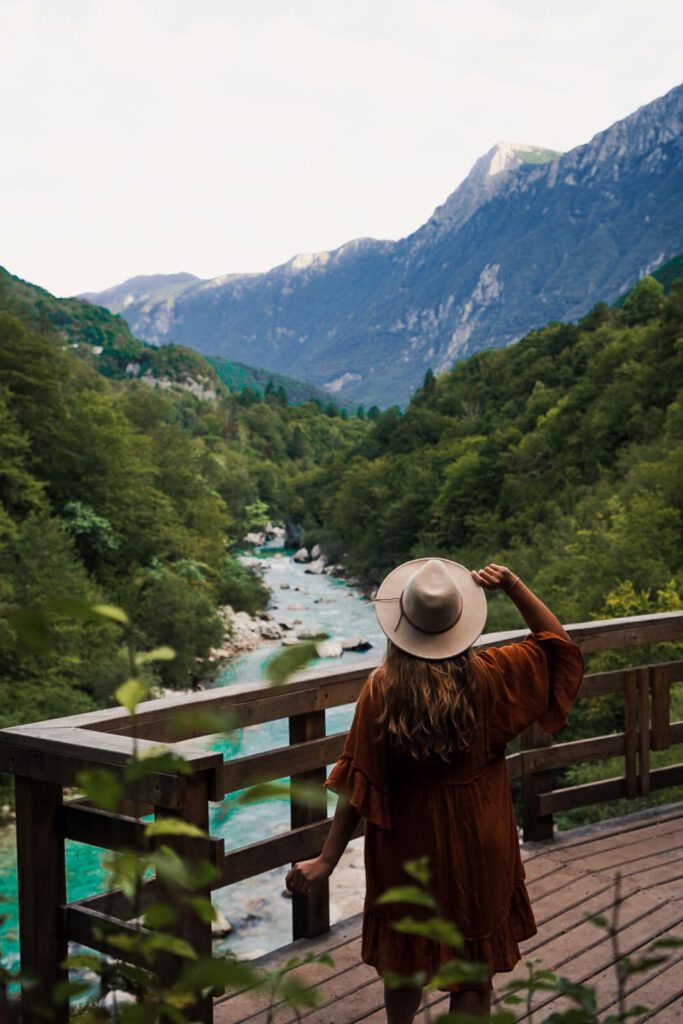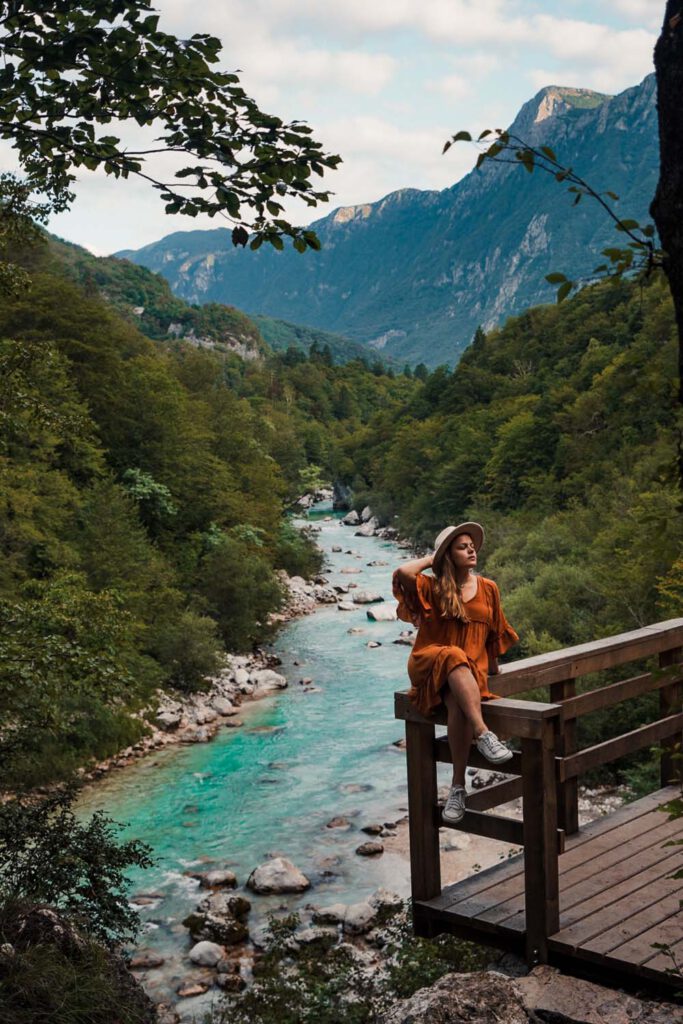 Slap Kozjak
If you follow the pathway that is described in the paragraph above, you will eventually find Slap Kozjak. It is not out in the open like you see in the following picture, you have to do a little rock climbing to get there. From the pathway, you can already see the top of the waterfall, but if you want to see all of it, you have to find a smaller path behind the bridge that will lead you to the lower end of the waterfall. Make sure to stay a little focused there, as the way is quite rough and steep.
At one point you also have to cross the river, where you should take good care protecting your camera gear and shoes! We were so focused on getting my friend's camera across the stream safely, that I actually slipped and had my foot in ice-cold water. As I stood there I realized there is no way back anyway and put my second foot in there too. That way I got to the other side without falling in or dropping expensive gear. Oh, the things we do for our beloved cameras.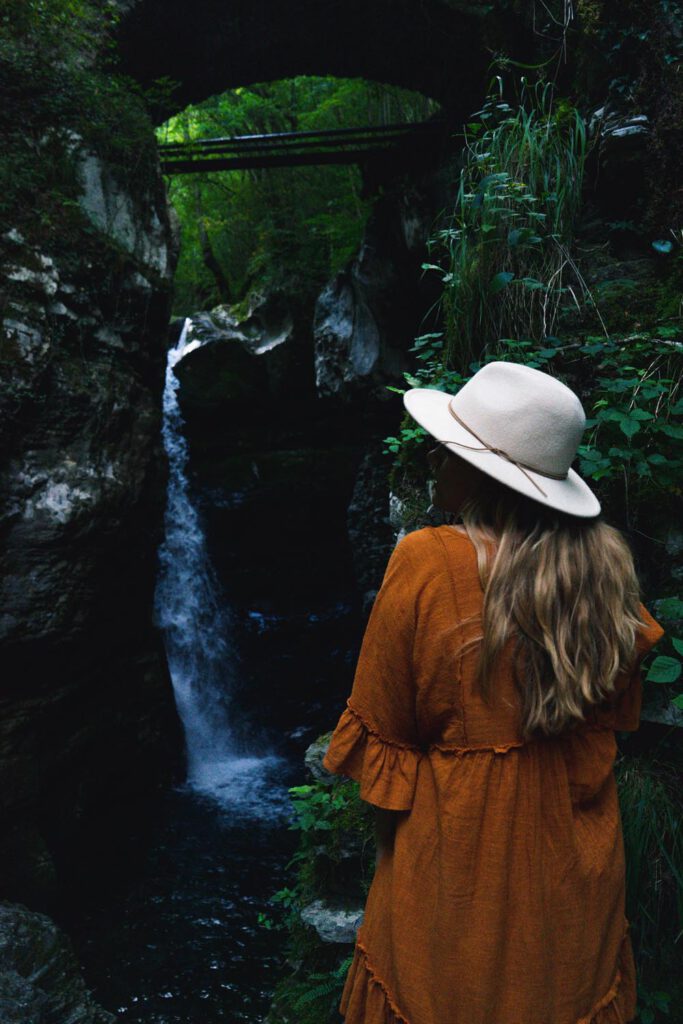 If the water wouldn't be so insanely cold, the little basin underneath the waterfall would be the perfect place to go for a little swim far off the pathway. However, as the whole scenery is almost completely covered by trees, the sun barely reaches the waterfall and stream. This results in the water being too cold for me to swim in
Kanal
So, so far I couldn't swim in the Soča River for it is way too cold to handle even in August. Luckily we still had this place on our to-see list for the day and it turned out to be the perfect place to go for a swim at! Kanal is a cute little town that comes with a wonderful little beach! We loved to roll out our towels and have a little rest underneath the big fig tree for a while. We also went for a swim, a short one, due to the water's temperature but nevertheless a swim!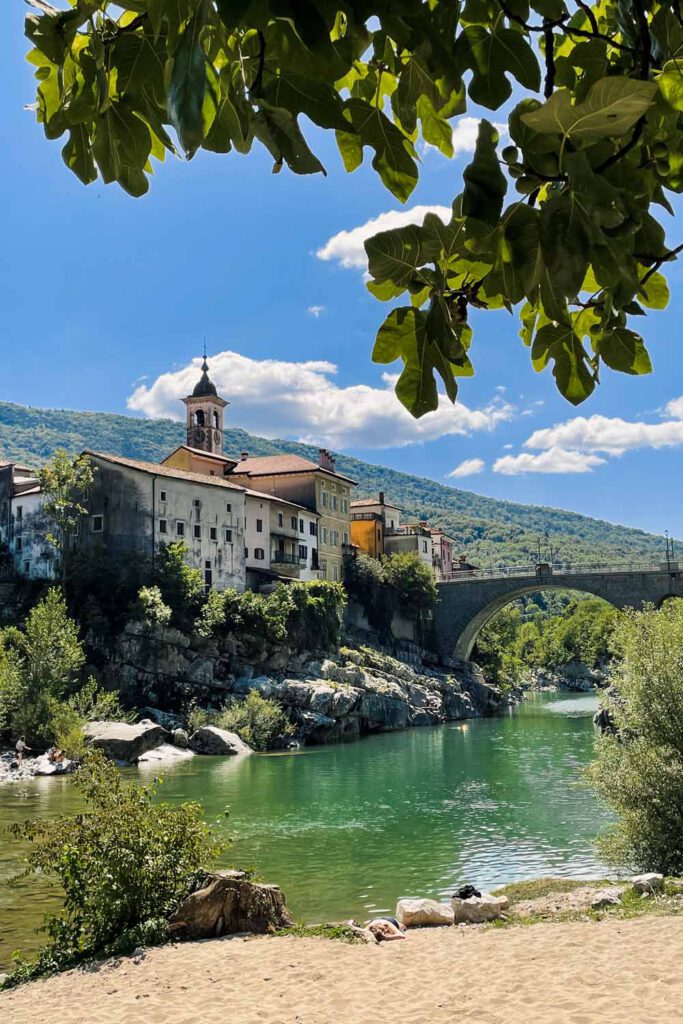 Llubljana Old Town & Promenade
Ljubljana might be one of the most underrated cities in Europe! Before I left for this trip, I never really heard much about it, nor did I do a lot of research in advance (bad travel blogger here). In the end, I ended up just fine, because Ljubljana is just a relaxed and laid-back, cool city. We spend our day walking along the river, visiting all of Llubljana's sights. Furthermore, we had lunch at the promenade, checked out the cute stores around for some local products and second-hand fashion.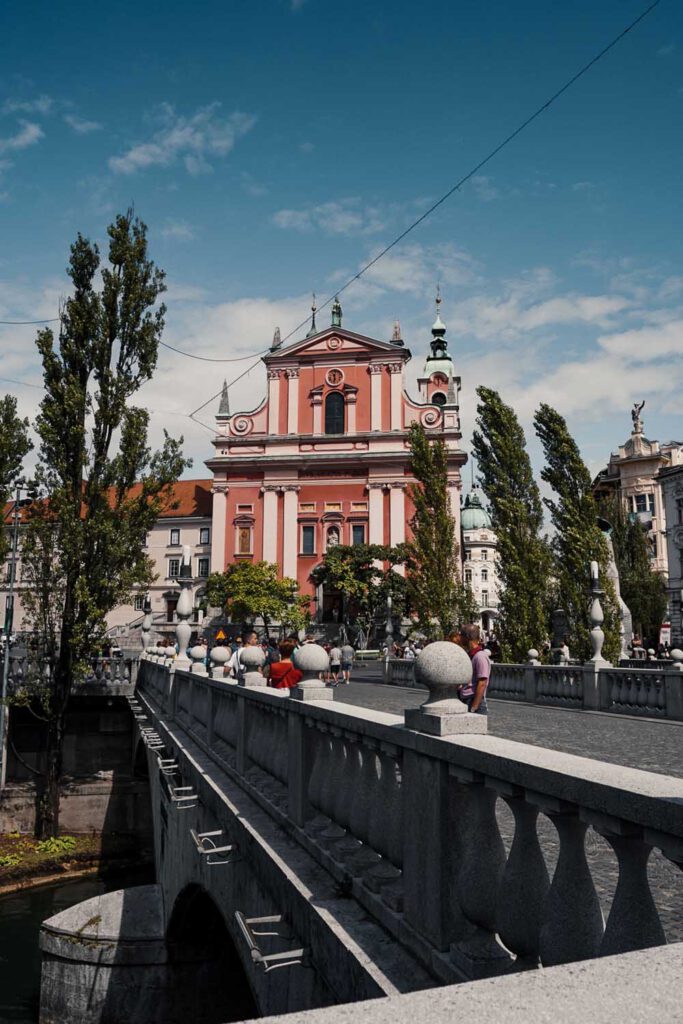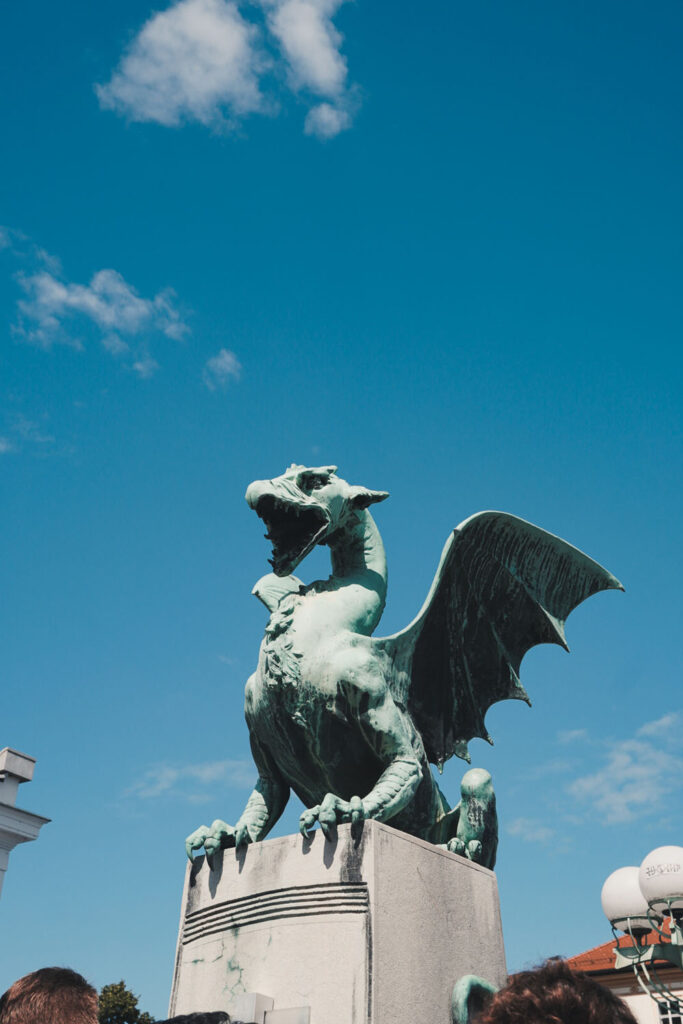 Nebotičnik – Skyscraper
As we arrived in Ljubljana in the late afternoon, we visited Nebotičnik in the evening to cheer for our time in the city! The drink you see in the picture is a cosmopolitan and it tasted absolutely fabulous, especially considering the amazing view we had while drinking it! The city laid down to your feet on top of that tower is so beautiful and maybe you can spot one or two of its awesome sights from above too!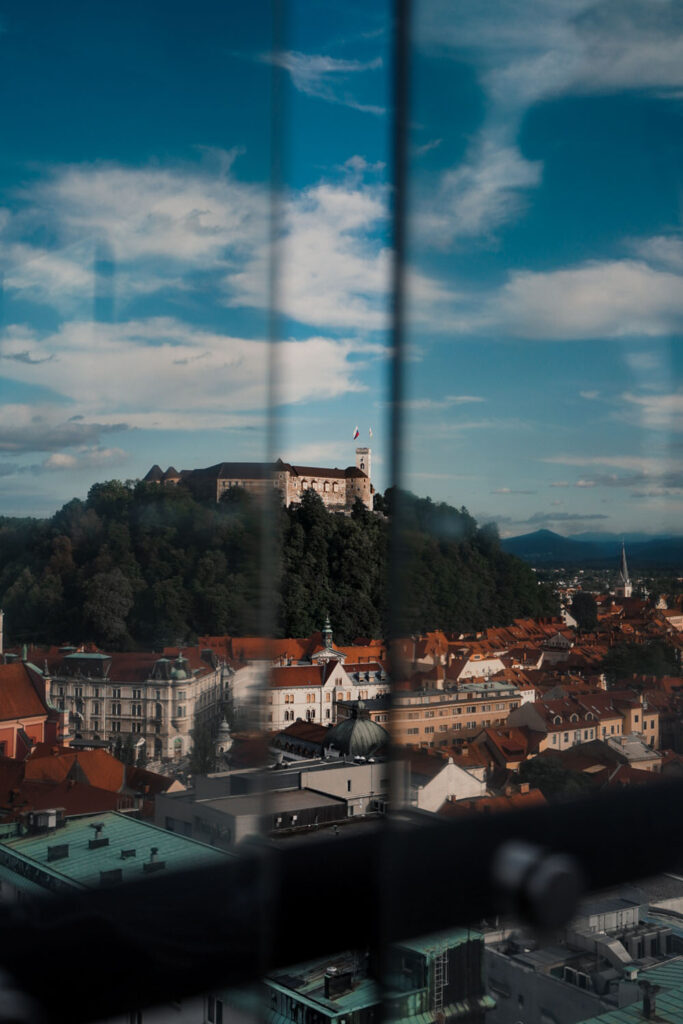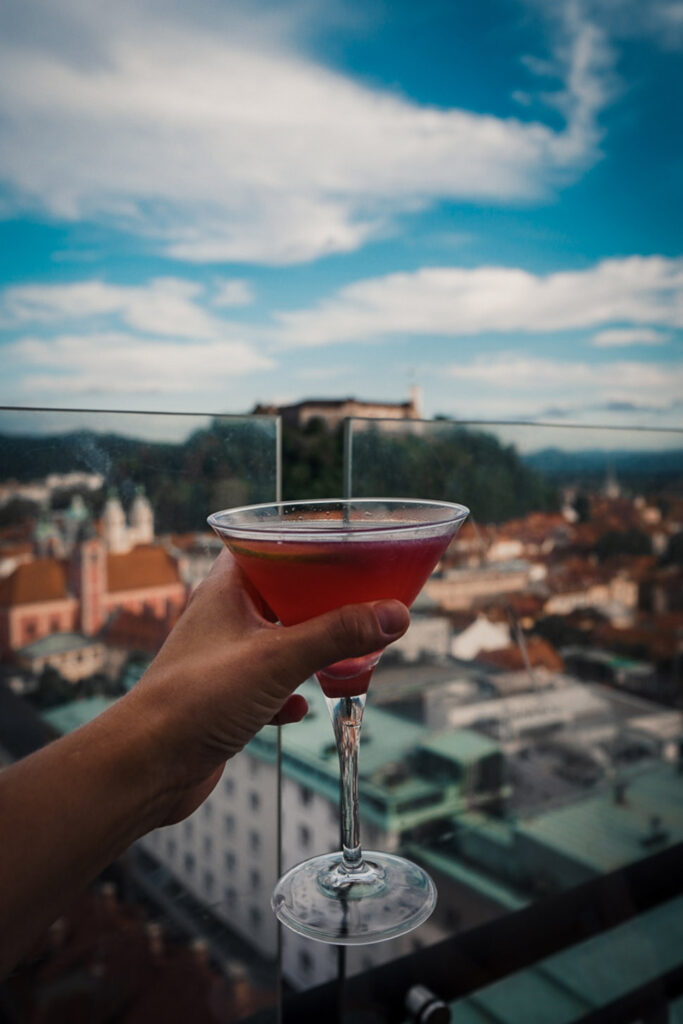 Lake Bled
Lake Bled might be Slovenia's most famous attraction! And it is definitely well-deserved! Lake Bled and the attached town of Bled are insanely charming and extraordinarily beautiful. The turquoise-colored lake is wonderful to swim in and row in! For me, to have to most fun at Lake Bled have breakfast at the promenade. Once you have finished your coffee and omelet, head out to rent a boat for an hour or two. From the boat rental, you can row to the middle of the lake and visit the little island in it! The rowing can be a bit exhausting but is also so much fun! Just make sure to do a few arm and back workouts in advance!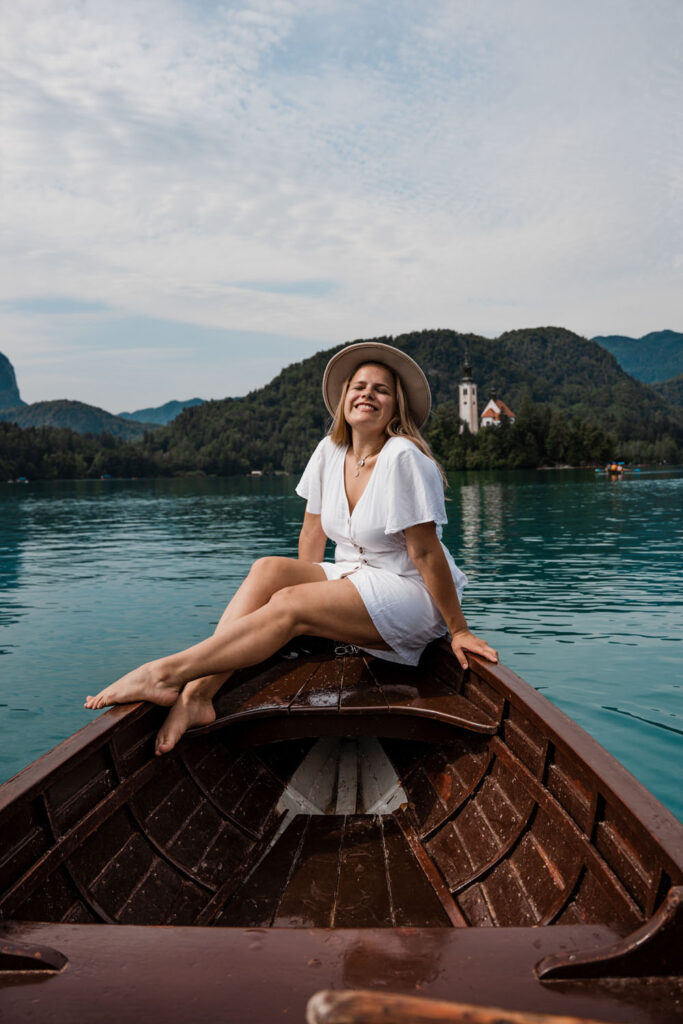 After your little workout on the boat, you can spend the rest of the day, swimming and enjoying all the things to do in Lake Bled! We were blessed with good weather in Bled and we made the most of it, by relaxing and sunbathing. You can also buy snacks there like fries and ice cream, all with the prettiest scenery in the background!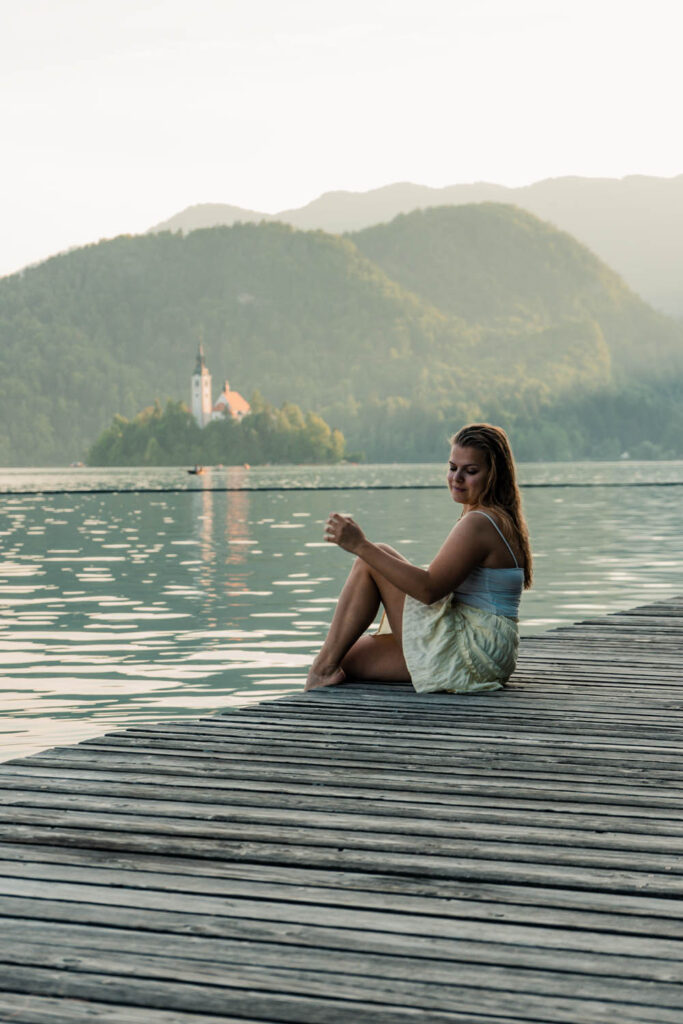 Ojstrica
I love sunrises and I for sure love hiking every now and then! One thing that combines both of them is the Ojstrica! It is a viewpoint that grants you a perfect look at Lake Bled and the little island in the middle of it. To get there, you should park your car at the parking lot next to the camping ground that you can find directly next to the lake, quite close to the point on the map linked below. From there you can hike up to the viewpoint. Just keep in mind that the road up to the viewpoint is very rocky and steep. Make sure to plan enough time as especially the last part of the road involves a little climbing.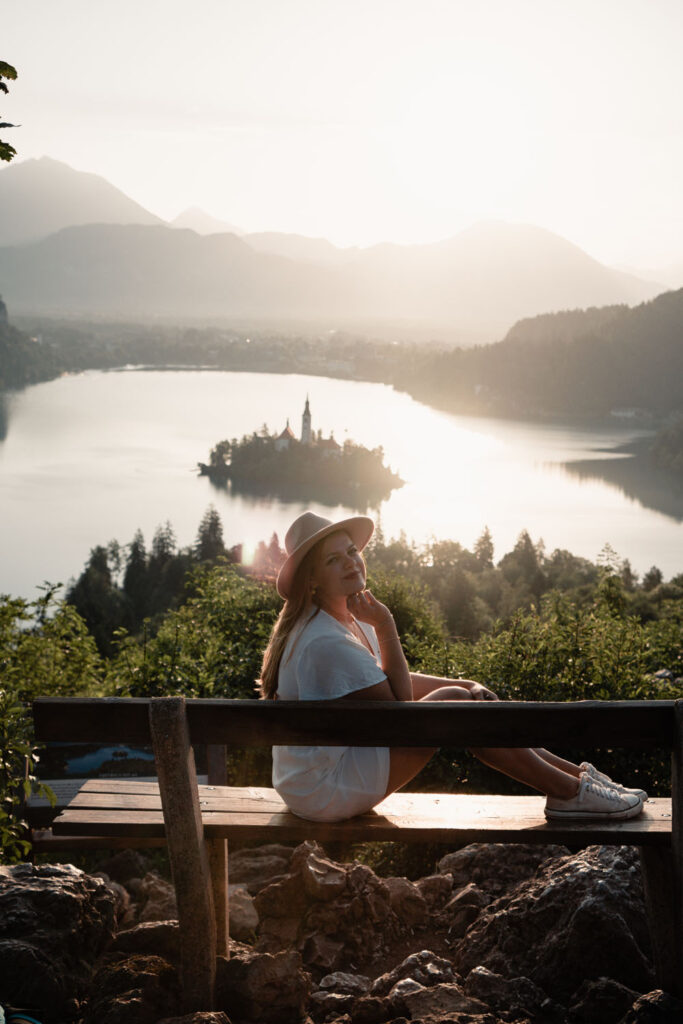 The Church of St. Primož and Felicijan
Between Lake Bled and Ljubljana, you can not only find some pretty cool mountains but also a church that is located at the most unexpected place. Right on top of a mountain with a panoramic view of the valley, if you come to visit on a clear day. It is so stunning and a very special little stop on your road trip from Lake Bled to Ljubljana.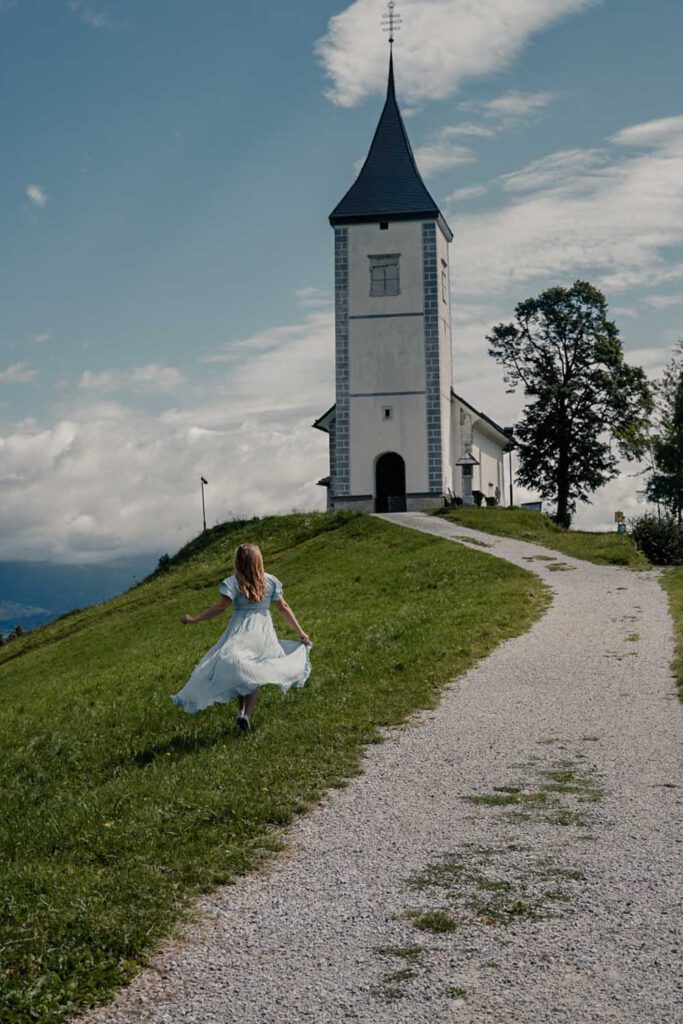 Skofja Loka
On that very same trip from Lake Bled to Ljubljana, we also came across Skofja Loka, a picturesque small town where we decided to stop for lunch. It turned out to be the prettiest stop on our trip that day. In Skofja Loka you can find pastel-colored houses, decorated with flowers and vintage signs. We also had some great coffee with an even greater barista who gave us amazing tips on restaurants in Skofja Loka, which led us to a pizzeria, which is just around the corner from the big town square and next to the river.
Liked This Post About my Favorite Places in Slovenia? Save it For Later!