There are hardly any places that I love as much as Mallorca. I went there every year since I was basically a baby and before I was born, my parents went there when they were kids too. Traveling there that often made me some kind of an expert and right now I want to pass you my personal Mallorca Bucket List. Have fun reading and prepare to be hit by all the Fernweh!
This post contains affiliate links. If you buy something that I recommend, I will earn a small commission. As always, this commission won't make you pay any cent more, it only helps me to provide more helpful postings.
Activities & Experiences
Roadtrip Traumuntana
Let's start with the one thing that I do each and every year when I am in Mallorca. The Serra de Tramuntana is certified World Heritage and has some of the most incredible views to offer to you. The mountains are just stunning and will take your breath away every single time you will drive past another serpentine.
If you are planning a route through the Mountains of Mallorca, make sure to see Valldemossa, Port de Sollér and the both Lakes.
Markt von Santanyí
I mentioned it before but I am in love with the market of Santanyí. The arket that takes place in the narrow roads of this beautiful town is something for everyone. No matter if you are looking for the vegetables for your next dinner or for a brand new bikini or a new hand woven basket: you will find just anything that you didn't know you dreamed of!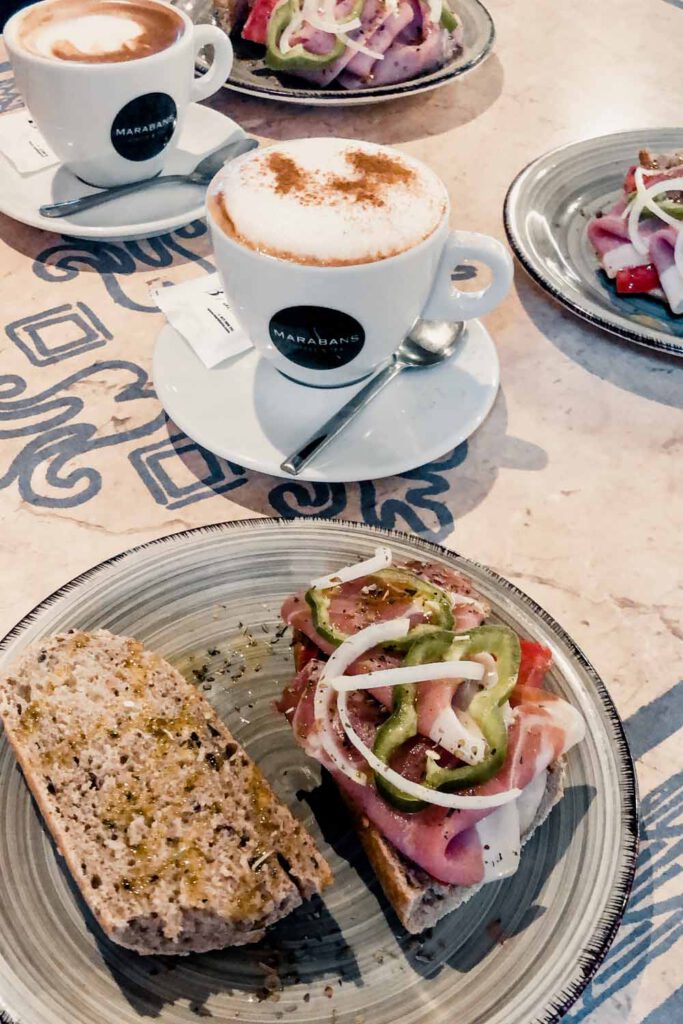 Recommended: How to Explore Mallorca
Shopping in Palma
Palma de Mallorca is one of my favorite cities in the entire world. Why? Because it is one of those cities that didn't got swallowed by those huge fashion brands. Of course you will find H&M and other fellows there but if you are willing to walk just oone street further than the Rambla, you will find the most amazing small boutiques filled with unique clothing and accessories.
Some of my favorite stores in Palma happen to be:
Les Cousines
I have a big flaw: I loose every sunglasses that I have ever bought. To prevent this I bought some really fancy glasses that I just don't want to lose. The brand that I brought them from is called Les Cousines and the glasses are amazing. Mine are polarized, so they will filter a lot of sunlight, which is extra good if you have eyes of a lighter color like blue or green.
Find their website here.
Ese O ese
Are you looking for stylish clothes? Look no further! Ese O Ese is a beautiful boutique that sells beautiful fashion items suitable for every style! I got the prettiest floral skirt there and I am sure, that I would have spent hours in there, if it wasn't time for dinner.
See Incredible Rock Formation in the Island's South!
Similar to incredible Portugal, Mallorca can show off with incredible rock formations and beautiful cliffs, mostly on the island's south east & south side. One of them can be found close to Cala Sa Nau.
Incredible Beaches on the Island's East
It amazes me to discover corners of this island that I didn't know existed yet. For those who don't know, I traveled to Mallorca with my parents since I was only 1,5 years old and I still find places on the island that I haven't been to yet. This summer the one place that swept me off my feet the most was a beach on the island's west called Cala Mesquida.
This wonderful place comes with the prettiest ocean view I had seen in a while. Being there was one of the major highlights of my summer 2019. As it also comes with one of the best beach bars, I have ever been to! You will love it there and I hope that you will think about me, when you will have these delicious garlic gambas.
See The Sun Rise in The Island's South East
I admit it. The town called Cala Murada is not the prettiest or picturesque there is. But I have been there with my parents for all of my live. When I stand there on the pier I do not only feel home but also complete.
And therefore it is easy to me to name the best sun rise spot on the whole island. Right there, where I belong, you can stand to witness one of the most breathtaking sun rises you will ever see.
But the spot isn't only perfect for sun rises but also for sunsets. Look at this perfect shot that I got this winter on the last day of our winter holiday.
Hike The Sant Salvador
Besides Cala Murada, the area between Porto Colom and Felanitx is the one where I spent the most time when being on Mallorca. This perfect little piece of landscape is filled with almond trees, the scent of pine cones and the bleh-ing of sheeps that are living on the landlord's yards.
Each year we would get a Finca where we could either look at the mountain called "Santueri" or the "Sant Salvador" which you can also climb. It is a beautiful hike with some breathtaking views. And if you dare to close your eyes for a moment, inhale the fresh air. Trust me, you didn't feel that alive in a long time.
Up there you will find a church that also comes with a small café for you to take a small rest. Have a Café con leche or a Café Cortado and be happy to be alive.
See One of The Clearest Skies There Could be (And in August Watch The Shooting Stars)
My auntie just recently said that the sky on Mallorca is the clearest one she has ever witnessed and that not even the sky in South Africa would come close to it. I am not quite sure how to feel about it, as it would mean that I am spoiled forever. The night sky on Mallorca is so clear that you can see all the stars and the STERNZEICHEN.
If you are on Mallorca during August, it is almost obligatory to grab some pillows and lay down outside and watch the sky as it is the month where you can almost be certain about seeing at least a dozen shooting stars. Make sure to wish upon it.
The Food To Dos
Ok I run out of experiences for now. But this doesn't mean that there is nothing more to discover on Mallorca. As it belongs to Spain, it is also a culinary Eldorado for every foodie on earth. Besides the classical tapas, Mediterranean cuisine and fresh fish (ohh all the fresh fish) the Mallorquín came up with some extraordinary specialities that you need to try!
Pamboli
Starting with a classíco that you can't really unsee on Mallorca. Pamboli is a sort of sandwich but very unique in the way that the ingredients are chosen. It starts with a special pan de cristál and is covered in olive oil and a tomato paste. Then it is either left blanc or covered with Jamón de Iberíco or Queso de Mahon, a special Mallorquin cheese. Served with some olives it is just the perfect simple meal that once again proves, that simpleness is key.
Ensaimada
As kids, my brother and I would be crazy for Ensaimadas. The sweet pastry from Mallorca is some kid of puff pastry, covered in powdery sugar and sometimes even filled with vanilla pudding. Doesn't sound this to die for?
Butifarón
Hold onto your guts, this one isn't for the faint hearted. But it is a Mallorquín specialty and therefore I need to mention and you need to try it. The Butifarón is a blood sausage that looks like someone forgot a regular sausage in the flames of a BBQ and left it there for solid two hours. Definitely not something that you would like to try.
But with some pan de cristál, fresh tomato, salt and pepper this sausage suddenly turns into a delicatessé! Try it and you won't be disappointed!
Tumbet
Ready for one last tip? I promise you, this one is an easy one. Tumbet is mallorquin vegetables and is serves with an sunny side egg on it. In my family we even had it on Christmas Eve. The vegetables are cooked in a sugo of tomato sauce and nothing tastes as Mediterranean as this dish. Simply delicious and none should miss it when on Mallorca!
And it is a wrap! There are my 12 tips on what to do on Mallorca. I hope you liked this post and it helped you to plan your next holiday. If I forgot something that I really need to experience on Mallorca, let me know in the comments!