Hello there! Are you looking for some special restaurants in Mallorca? I have everything you are looking for on this wonderful list! And the best thing? It is one list I will keep on updating, as I am spending 3 – 4 weeks on Mallorca each year. That's also the time, I explore more and more of this island, that feels so much like home to me. On each trip, I usually discover and test a few new restaurants or cafés, which will then make it to this list. Only if I can recommend it of course.
The restaurants on this list are loosely sorted by location as I try to gather them by region. As for me and my family usually spend a lot of time in the area around Cala Murada in the eastern region of Mallorca, you will find a lot of restaurants from there. But I also love to drive around and explore and more places all over the island, which you will find here too!
Sa Llotja in Porto Colom or Cala d'Or
One of my absolute favorite restaurants in Mallorca is definitely the Sa Llotja! The restaurant serves modern mallorquín food made from only the freshest ingredients. To be fair, it might not be the easiest to visit when you are vegetarian or vegan. But for anyone fond of fish or meat, the Sa Llotja has something for you! They have two restaurants, so make sure to check in advance in which you made your reservation. The first location in Porto Colom has a magnificent view of the old harbor of the town, including the town's lighthouse! On the other hand, they also have a location in Cala d'Or at the Yacht harbor, which is fancy to look at but not quite as romantic as Porto Colom. But I promise you, you won't find any restaurant with such a fancy interior as the Sa Llotja in Cala d'Or! It is a spectacle to visit them there. Their delicious food and chic ambiance combine to a wonderful dining experience for me, every single time!
What to have: Last time I ate at Sa Llotja I had a wonderful fried artichoke with parmesan cheese, which was incredible! Furthermore their Frito de chipirones "Sa Llotja" are amazing. And our friend always LOVES the spicy Escalope de ternera Relleno de queso y jalapeños!
S'Arenal comes as close to my personal paradise as it gets. It is a fancy beach bar with turquoise decoration, where you can have white wine and seafood, while sitting in the shade, looking at the ocean and having your feet in the sand, getting sandy toes. Paradise, I promise you! A visit is compulsory for every single trip to Mallorca for me. Sitting there is the essence of a great summer and will fill you with so much serotonin that you will easily make it through a German winter with the amount you are getting from it.
What to have: Let's start with your drink of choice! When we are there, we usually order Miquel Oliver's Orig, an amazing fresh white wine, made out of a grape, which originated in Mallorca. Then my absolute favorite dish from S'Arenal is the Tuna Tataki, their grilled pulpo, or for special occasions like birthdays, their lobster! Also, make sure to ask for the Catch of the day for some rarer goodies!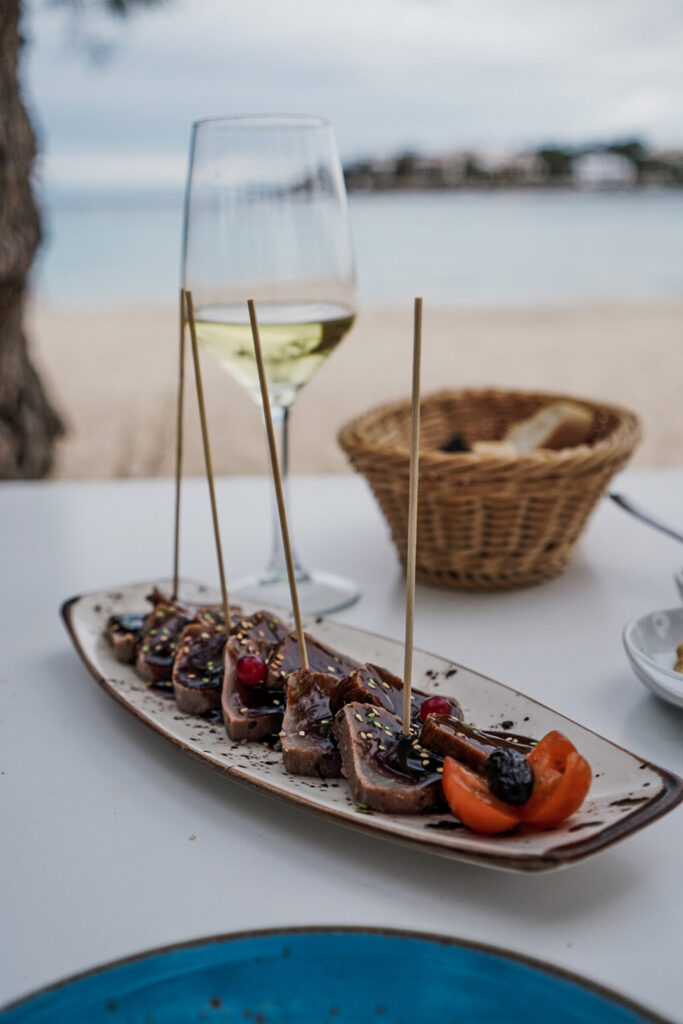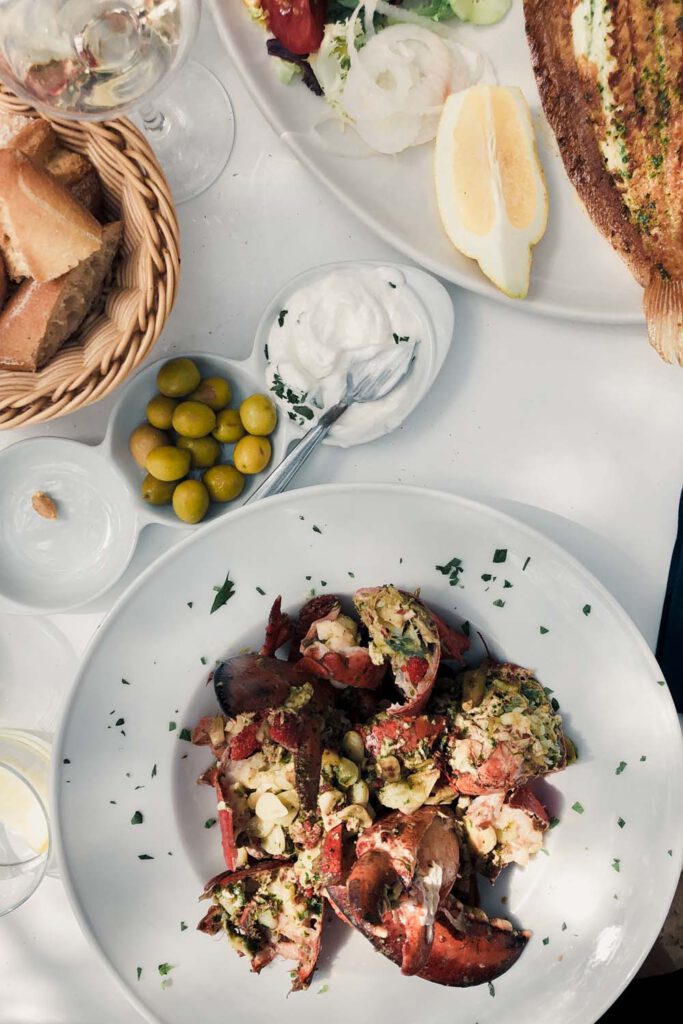 S'Arenal is already mentioned in another blogpost of mine, about how to explore Mallorca! On 4 day trips, you get to explore a big chunk of what is great in Mallorca if you follow these tips. Restaurant recommendations are included as well as sightseeing and beach time!
I mean, to be honest, no place would make it to this list if I wouldn't absolutely love it. But I have to say that the Sa Farinera means even more to me. Each vacation this is the restaurant we go to first as a family. It is a tradition that our first and last evening is spent there, often with even more friends on our side. Here we celebrated my Dad's 50th birthday and a lot of other occasions when we could!
What to have: They serve classical mallorquín food, which is a bit more meat-focused. For starters, we usually have Pimientos de Padron, Butifarron, Sobrazada and sometimes also Chipirones. Along with it, you can order Ribas Sio, a very famous mallorquín wine! As a main dish, I would always go for backed lamb shoulder or Paletilla de Cordero Asada with some patatas fritas as a side dish! If you can still fit some dessert after this feast, have the Muerte de chocolate. No chocolate cake ever comes close to this one, I promise!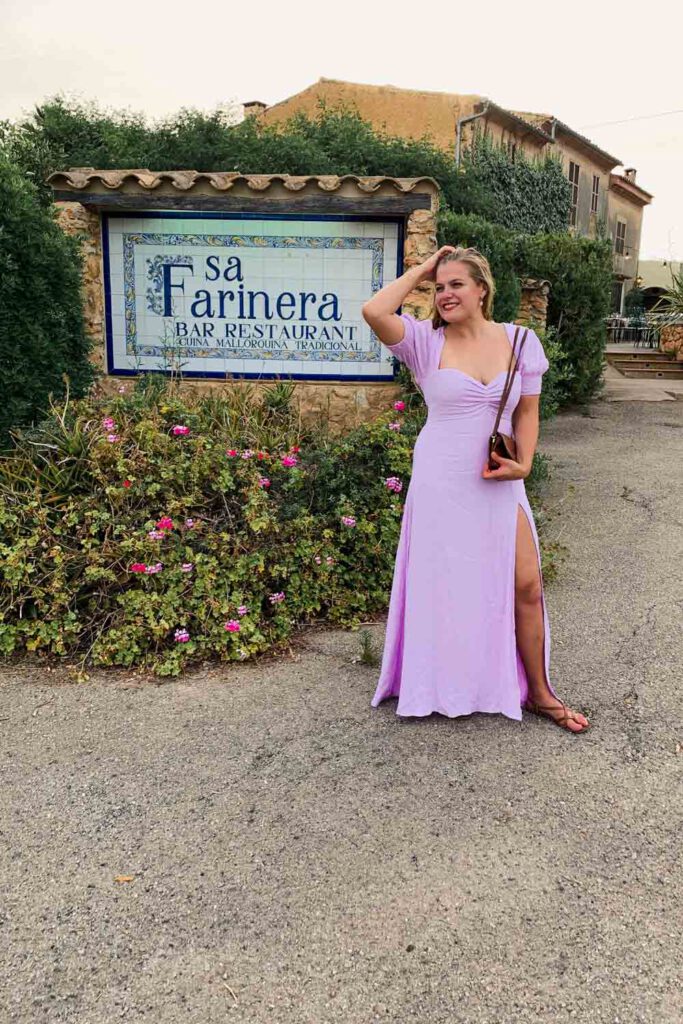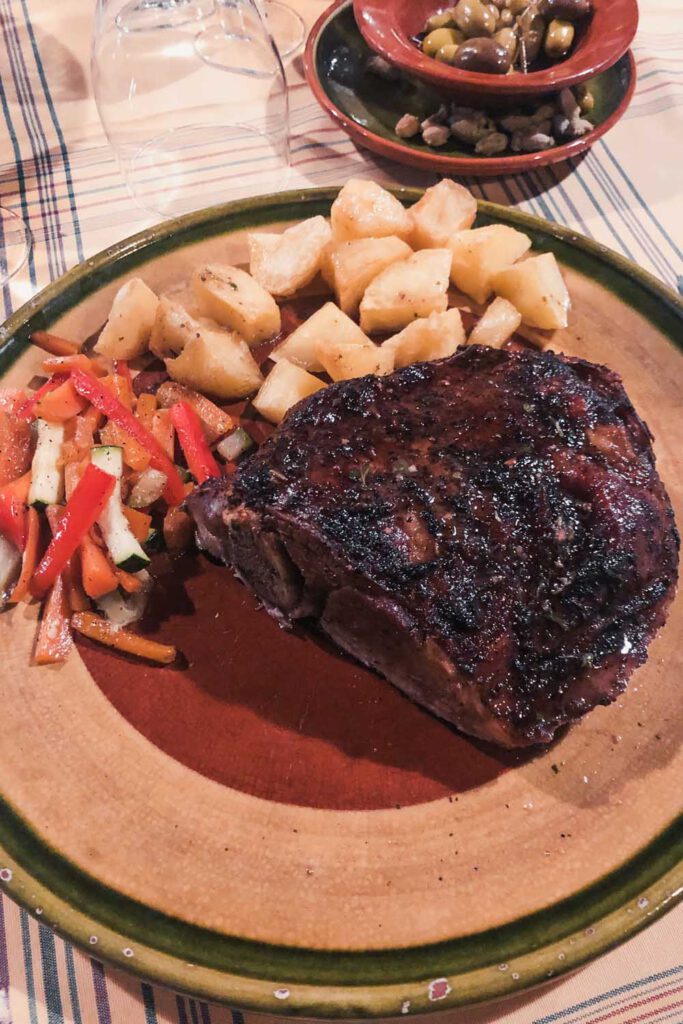 The Sa Farinera is very close to the Finca where my family and I stayed for each summer vacation for years. If you don't know what a Finca is, I suggest you check out my 5 Reasons why you should go on a Finca vacation in Mallorca!
Mirablau Beach Bar & Restaurant in Cala Mesquida
Long time no beach bar on this list! Well, here is the next one! First of all, Cala Mesquida is one magnificent beach to spend a whole day at. It has fine, white sand and a gorgeous blue ocean right next to it. And if you get a little hungry after swimming and tanning the Mirablau is the best place to go! They have a beautiful wooden terrace from where you can watch the waves crash onto the beach and the cliffs that are surrounding it.
What to have: for lunch we shared Gambas al ajillo and a Pa amb Oli, a classical mallorquín sandwhich. Both were delicious and an absolute highlight!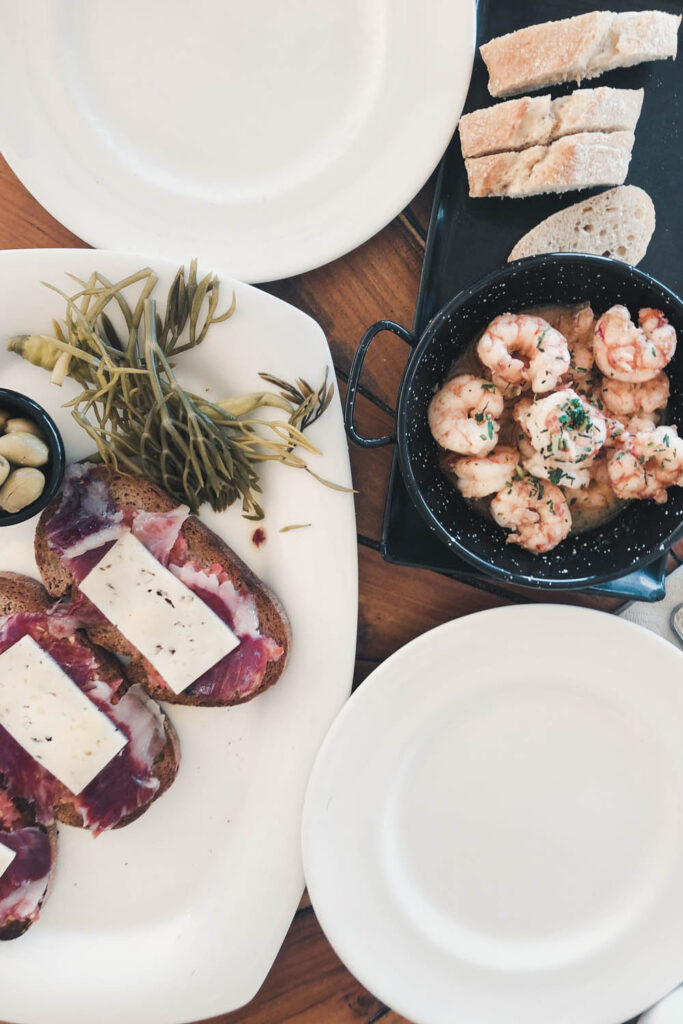 Ca's Patró March in Cala Deia
To some restaurants on this list, I have a special connection too. See, when your parents spend all of their vacations on Mallorca ever since they were a child, you collect a big share of memories. And my family has a very important one combined with the Ca's Patró March. This is the place where my mother fell in love with my dad. This marks the beginning of the story of me being born and made and that's why we still go there every now and then! And I mean, to be fair sitting there on a sunny day, next to the blue ocean in this awesome, fairytale-like scenery, makes it easy to fall in love with a person or maybe life itself. This spot is also perfect to incorporate into a road trip through the Serra de Tramuntana!
What to have: this is a fish restaurant! So fresh fish, chipirones, some pimientos de Padron, and you are good to go!
La Boveda in Palma
My favorite tapas bar in Palma! La Boveda is a beautiful small tapas bar in Palma, which just offers one of my favorite dining experiences in Mallorca! It is very cozy and everything from the old stone flooring to the collection of old wine bottles gives you the feeling of sitting in a place of tradition, where the Padron has been frying pimientos ever since he was a little boy!
What to have: La Boveda offers all the wonderful tapas variations you typically look for when eating tapas! As you might recognize already, I am a big fan of seafood tapas, so I recommend a lot of these especially. The pulpo a la gallega is amazing as well as the fried squid and croquetas de bacalao. For vegetarians, I can heavily recommend the tortilla, cheese plate and setas!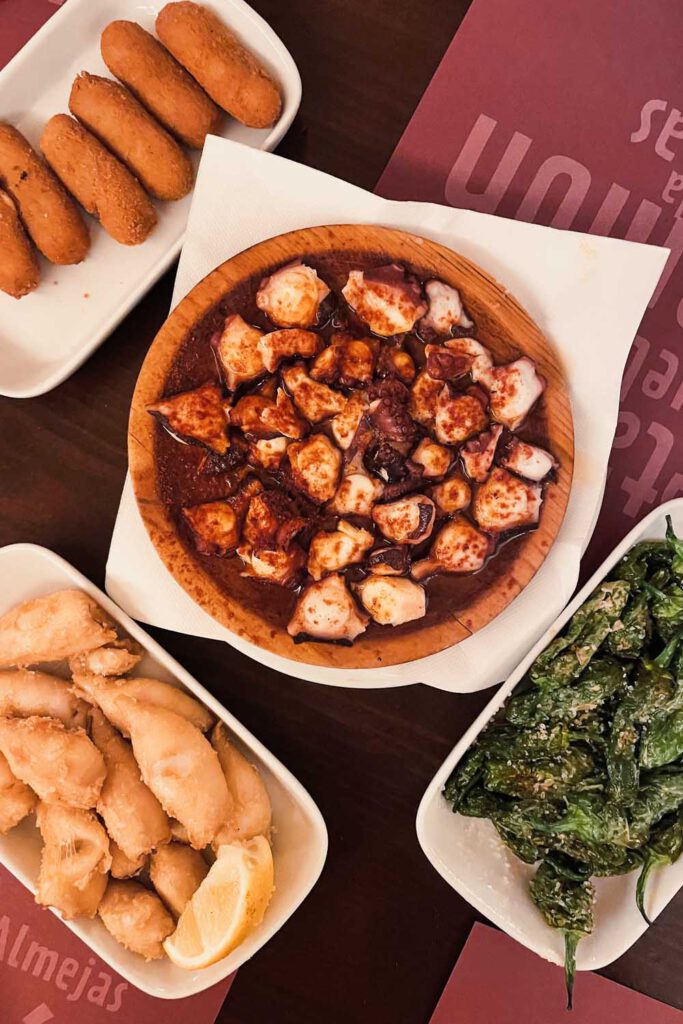 Liked this post? Pin it for later!