Hello and welcome back! Last week I was on a trip to my favorite island in the entire world; Mallorca. This island, famous for its party scene, feels like home to me for many reasons. It is the place my parents met & fell in love and where we would spend all our family vacations together. Some time has passed since then and by now I love to share wonderful things and experiences on this blog and that's why I put together this list for you to know how to explore Mallorca. I tried to put together a kind of itinerary, with a pre-planned schedule, for you to hopefully find some inspiration.
If you decide to follow my itinerary, keep in mind that you don't have to do them in a certain order. Some of them can't be done on certain days but in general, there are no restrictions.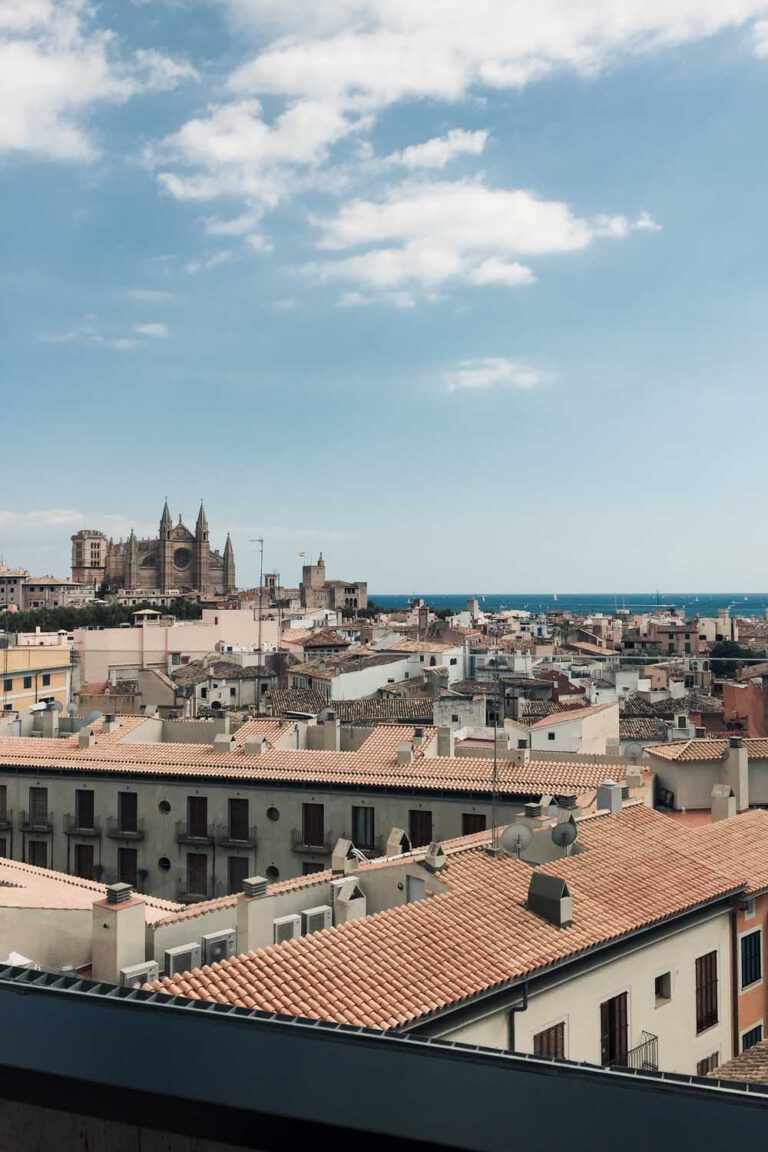 This post contains affiliate links. If you buy something that I recommend, I will earn a small commission. As always, this commission won't make you pay any cent more, it only helps me to provide more helpful postings.
So Let's Begin With How to Explore Mallorca!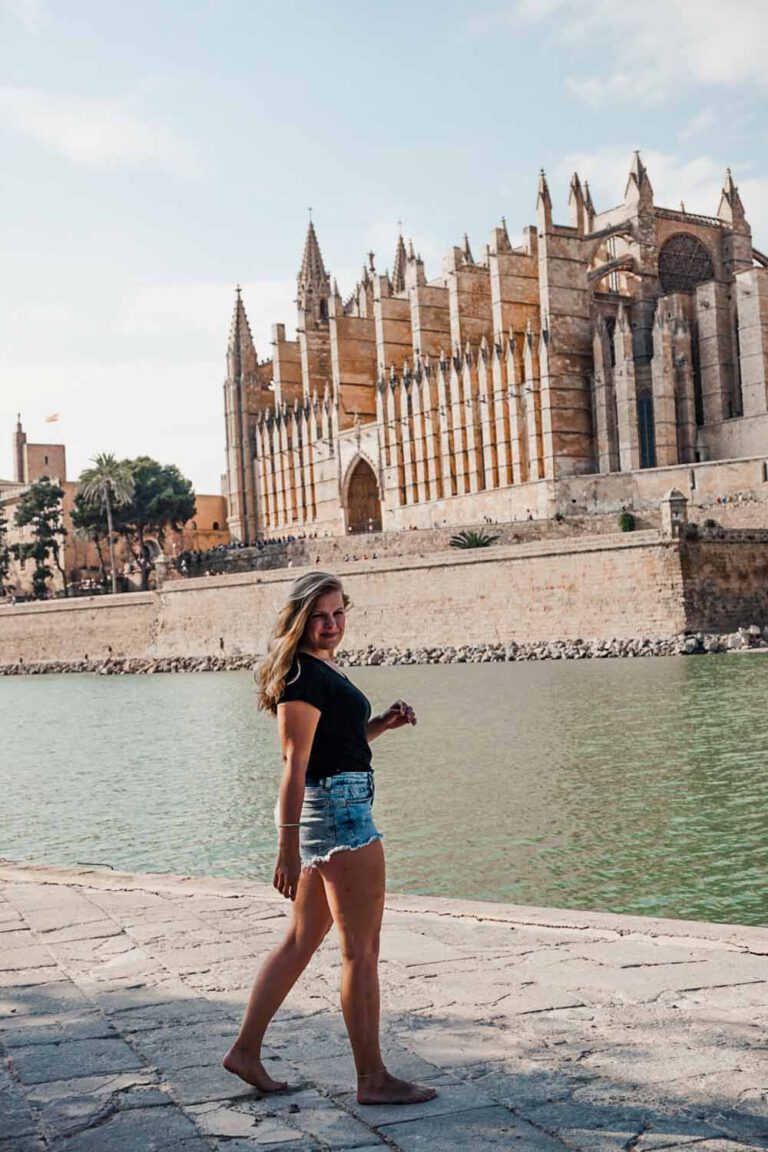 Mercado de Santanyí , Porto Colom & Sa Farinera
This is a day trip that can only be done on Wednesdays and Saturdays as only then Mercado de Santanyí will be open. But it will combine a lot of different things to do. You start with strolls around a wonderful town, followed by being at one of the most wonderful beaches I know, seafood lunch, and dinner at my all-time favorite restaurant.
Recommended: How to Spend a Week in Spain, if you are in love if culture and history!
Santanyí
The very first stop of this day is a town called Santanyí. Santanyí itself is a wonderful town, with many boutiques and narrow cute alleys but I love it the most when the market is open.
The wonderful thing about it is that you can get almost anything you desire. You can buy beautiful handmade baskets, fresh Mallorquin fruit and produce, a new dress for beach days, and everything else that you can think about! Some of the clothes I love the most were once bought at this market. Strolling around there will make you very happy, I promise! It is for sure one of my highlights when exploring Mallorca!
But my tip for you is to arrive early, best before 10 am. It will be very hot in Santanyí and as the market is quite popular also very crowded. And trust me, walking in the utter heat while being surrounded by a bunch of slow-walking tourists is a pain in the butt.
Once you saw everything I recommend stopping for a little breakfast at the Can Gelat. It is my favorite café in Santanyí with the most adorable malorquín charme. You can either have some sweet pastries there or my tip: some pamboli, the mallorquín bocadillo. If you are up to this have it with jamón and your day will be made.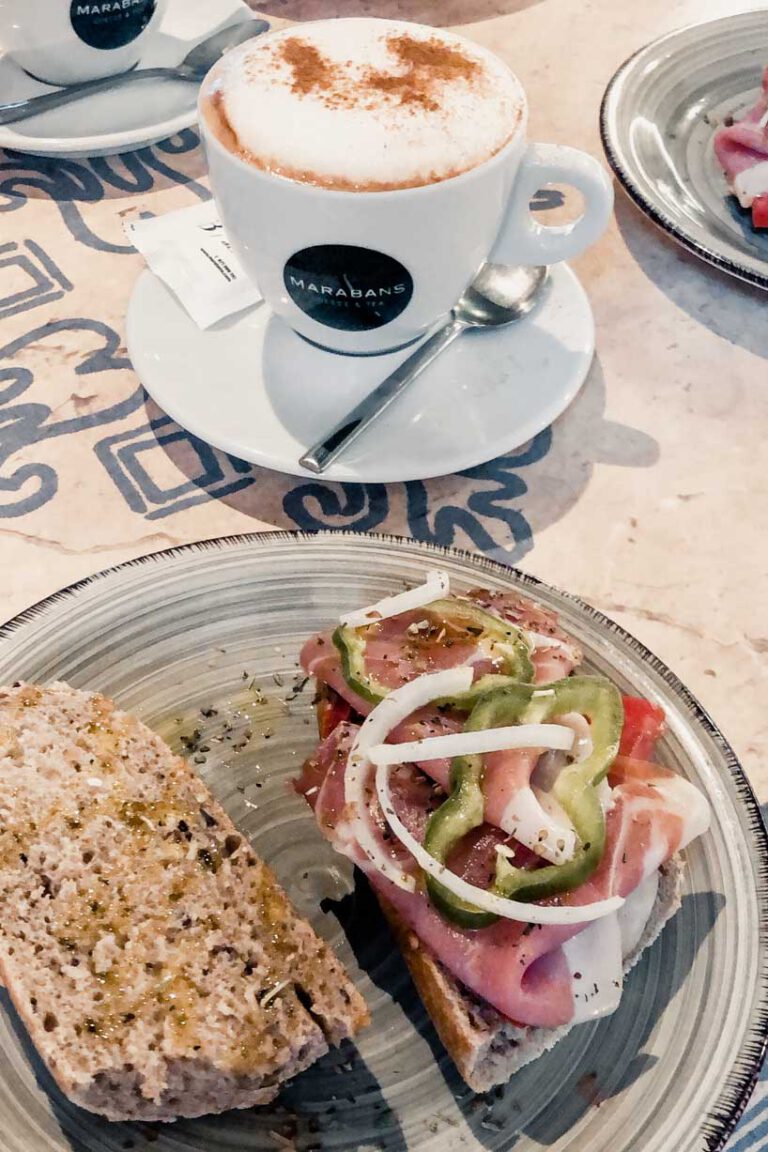 Related: Enjoy Madrid at a Slower Pace!
As the next stop will be a beach stop, I recommend you pack your towels, dive masks, and bikinis, as it is time for you to come to the wonderful bay of Porto Colom!
Playa S'Arenal Gran de Porto Colom
This might be one of my favorite beaches! Playa S'Arenal is a small beach next to the picturesque town of Porto Colom (which is also worth a visit if you are into harbors and beautiful rivieras!). The small beach has wonderful fine sand and also offers umbrellas and sunbeds for rent. Nevertheless, our favorite place is underneath the tree on the stone steps. Shadow is for free there and with two towels the ground isn't too hard.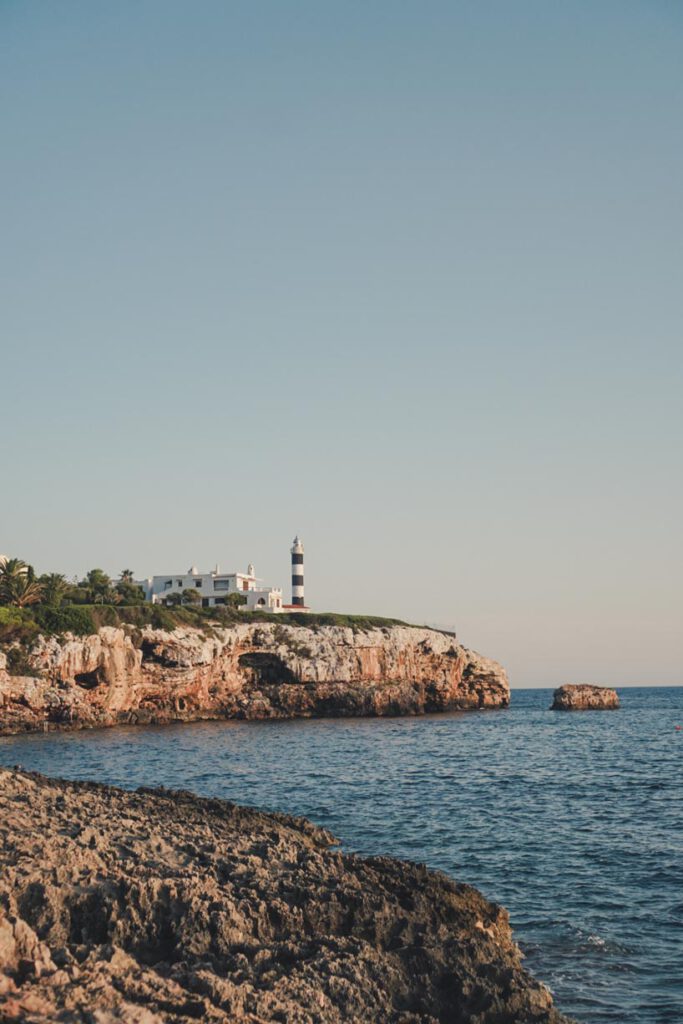 The one thing you shouldn't miss when being at S'Arenal is having your lunch at the local beach bar. They serve the best fish there is. I promise having the pulpo a la plancha there will change your life. But you have to make a reservation in advance, as this beautiful place is highly visited! After dinner, you still have time to sunbathe or to swim (but have a 30-minute break between lunch and your swim!). You can swim to a floating island that has a small waterslide and a diving board. Be ready to show off your best cannonball!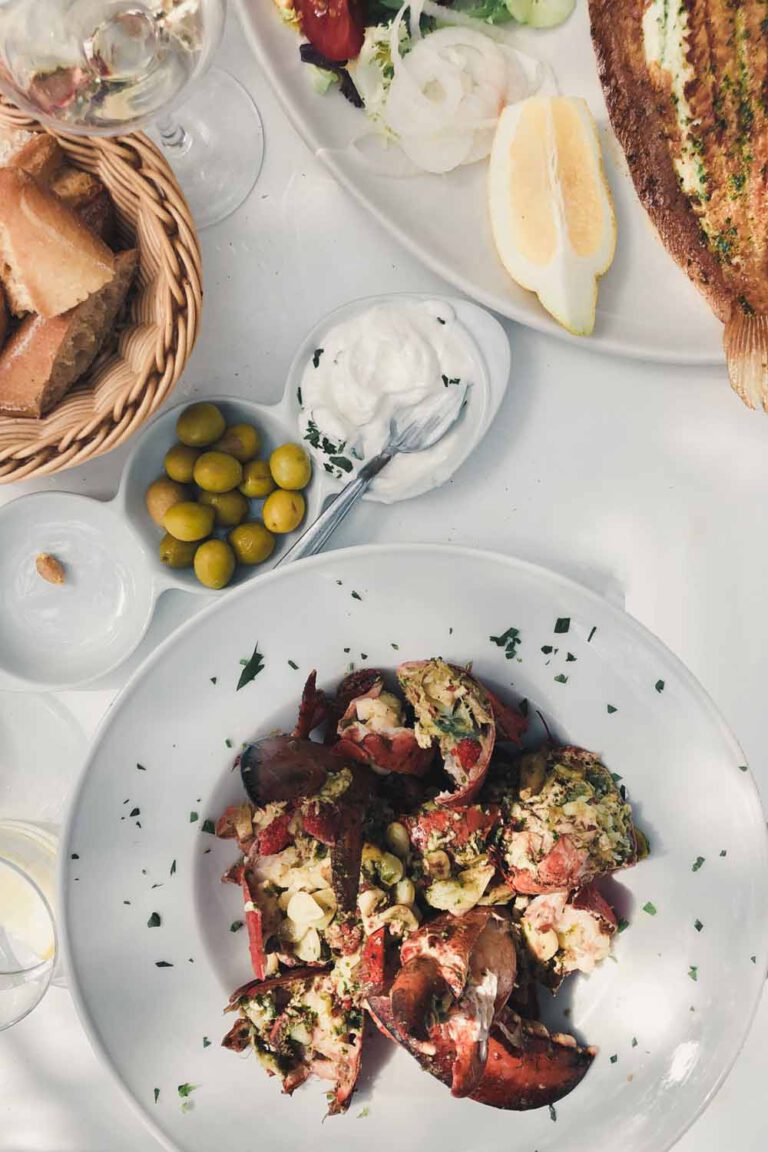 Sa Farinera
After your beach time, it is time to head for dinner! And I recommend my favorite restaurant of all time to you! It is the Sa Farinera in S'Horta and it will forever hold a special place in my heart. It is my family's favorite restaurant and each year we would go there multiple times, almost always ordering the same dishes. For it is lamb shoulder what I love the most. It is simply delicious and without the patatas fritas that you can order as aside. A trip to Mallorca without having dinner there is not complete.
Palma Tour & Quinta Puñeta
What's one of the biggest things that you shouldn't miss in Mallorca? Its beautiful capital of course! If you get there by car, look for the car park that is next to the beautiful cathedral. When you are leaving it, you will be granted the most awesome view of this exact building. It will take your breath away. Feel free to visit the cathedral but most importantly: the attached gardens. It is like a dream! After the classical sightseeing, I recommend you to visit the El Corte Inglés; not for the shopping but for your lunch. On their top floor, they have a small restaurant with the most impressive view of the cathedral, the harbor, and the city. I promise you will love it!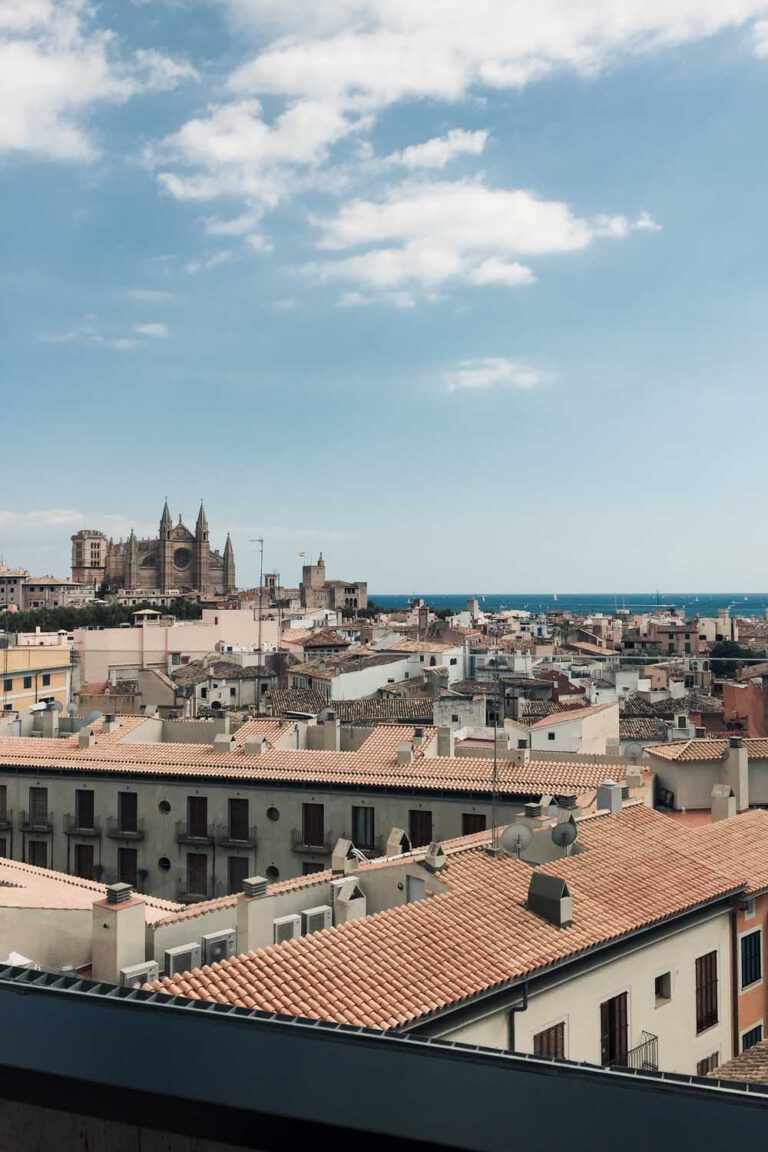 Now that you are full it is time for you to discover the beautiful streets of Palma. Our favorite area is around the Plaça Major. Walking the narrow streets, doing a little shopping is simply the best. Palma de Mallorca is one of the places that I can easily imagine moving to. I just love the flair and the atmosphere of this beautiful city.
After a long day of shopping and walking, I always get very hungry. And what do we eat when we are in Spain? Yes, Tapas! You are completely right. There are two places that I want to tell you about. In my opinion, you should try to see both of them. The first one is a more traditional restaurant where you can get all the classical tapas, like tortillas, chipirones, pimientos del padrón or aceitunas (olives). I really don't want you to miss this but there is one restaurant that really stands out.
La Boveda
So my first tip for you is the wonderful La Boveda. As mentioned earlier it has a lot of wonderful tapas to offer, mostly the classical ones. I love its atmosphere with its giant wine barrels and colorful tiles it just has the most amazing atmosphere. My favorite things to have there are the tortilla and the pulpo a la gallega. It is clearly something that I don't want to miss when going to Palma. The only reason that we didn't visit it this year was that we exaggerated my second tip.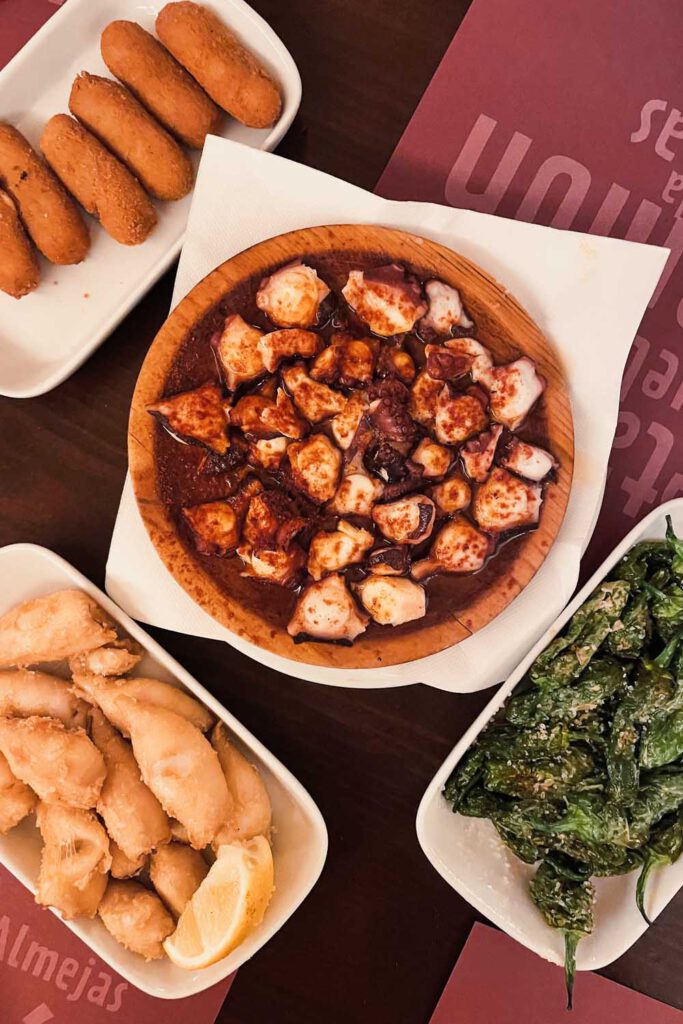 And that's the end of your Palma day! If you are not ready to go home yet, have a drink at the Marina and enjoy the view that you will have of the beautiful cathedral!
Capdepera, some beaches, Cala Mesquida and the Mirablau
Now let's talk about one of the most beautiful days of my summer 2019! This day, my friend and I decided to have a relaxed breakfast and afterward took our rental car for a tour around the island. Usually, we would always go for a tour towards the northern part of the island but this time we decided to head for the Eastern side of the island! Before we researched some beautiful beaches of Mallorca and set Cala Mesquida as our final destination, but we decided to have a small stop at a beautiful small town. I just love to see new places when I explore Mallorca.
Capdepera
Capdepera is a small town on the east side of Mallorca. It is one of those villages that look like your imagination of Spanish small towns. Beige houses that line up around narrow streets with Mediterranean plants peeking up behind the local's gardens. We parked our car and walked down the main road and had a lot of fun visiting all the lovely stores and look at a wide range of floral dresses and sandals with colorful pom poms. Our highlight turned out to be the Tortuga shop, a small boutique, and gallery that also has a wonderful café inside. Strolling around Capdepera was really a blast.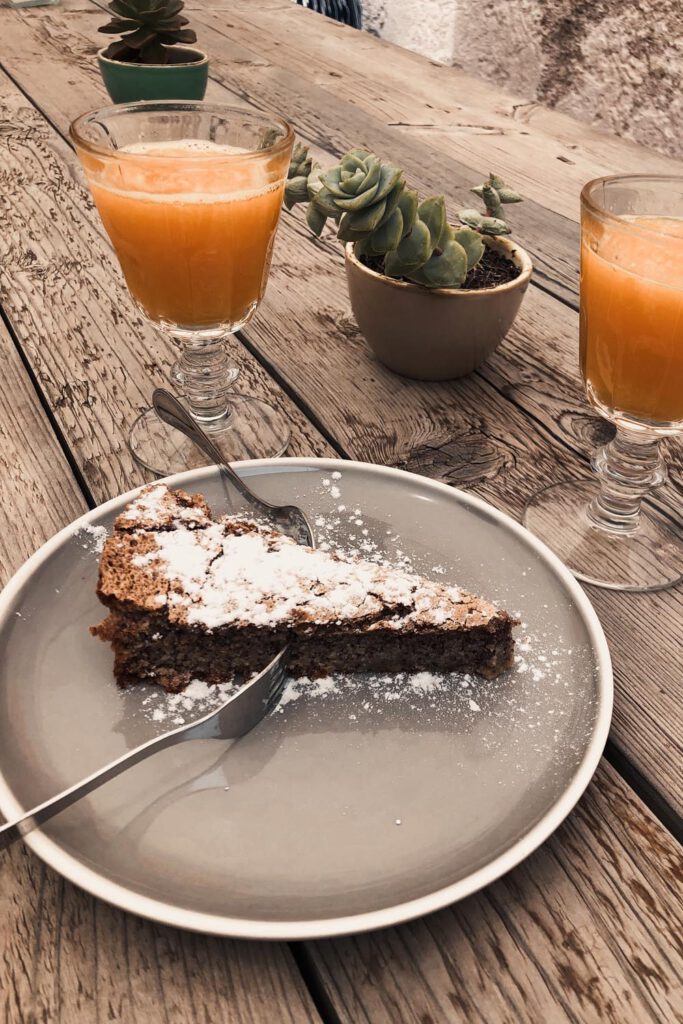 Cala Mesquida
After coffee and walking around in the summer sun, we were up to some beach time! We headed to Cala Mesquida and were actually blown away by its beauty. It sounds weird but we use to stay at the beach in the town where we had our apartment, so we never really went further. And to be honest, that's a pity. Cala Mesquida itself must be one of the most beautiful places I ever saw. The dunes in the back of it transform into a bright beach and the rocks around it align to impressive scenery.
Unfortunately, the weather conditions didn't allow us to go for a swim that day but simply being there was joyful too.
Sailing Adventures in Mallorca! (This is an external link – by clicking on it, you are leaving this website)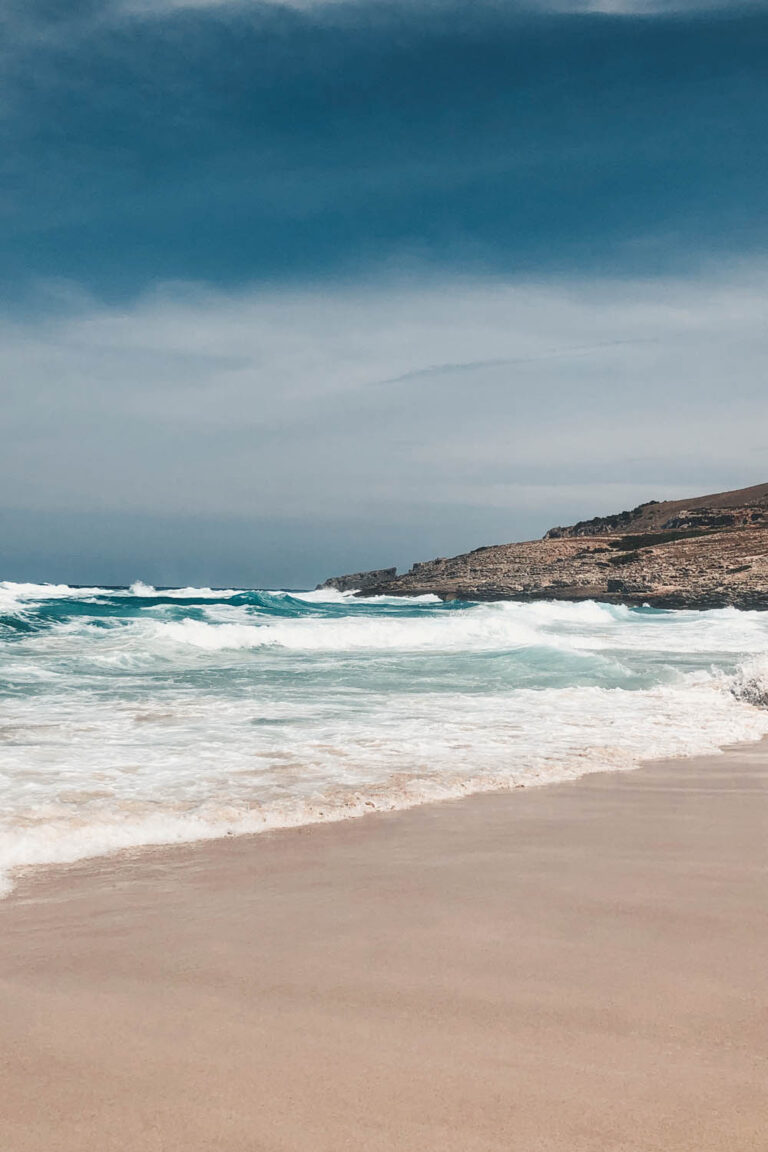 Mirablau
When you go to see Cala Mesquida while you explore Mallorca, don't miss having your lunch at the Mirablau. The beach bar does not only offers you some of the most wonderful views on Cala Mesquida but also serves some delicious tapas! Honestly, I didn't plan to leave this bar anymore. The pamboli and gambas were simply divine and both of us had to be very quick with eating before the other one could finish it faster.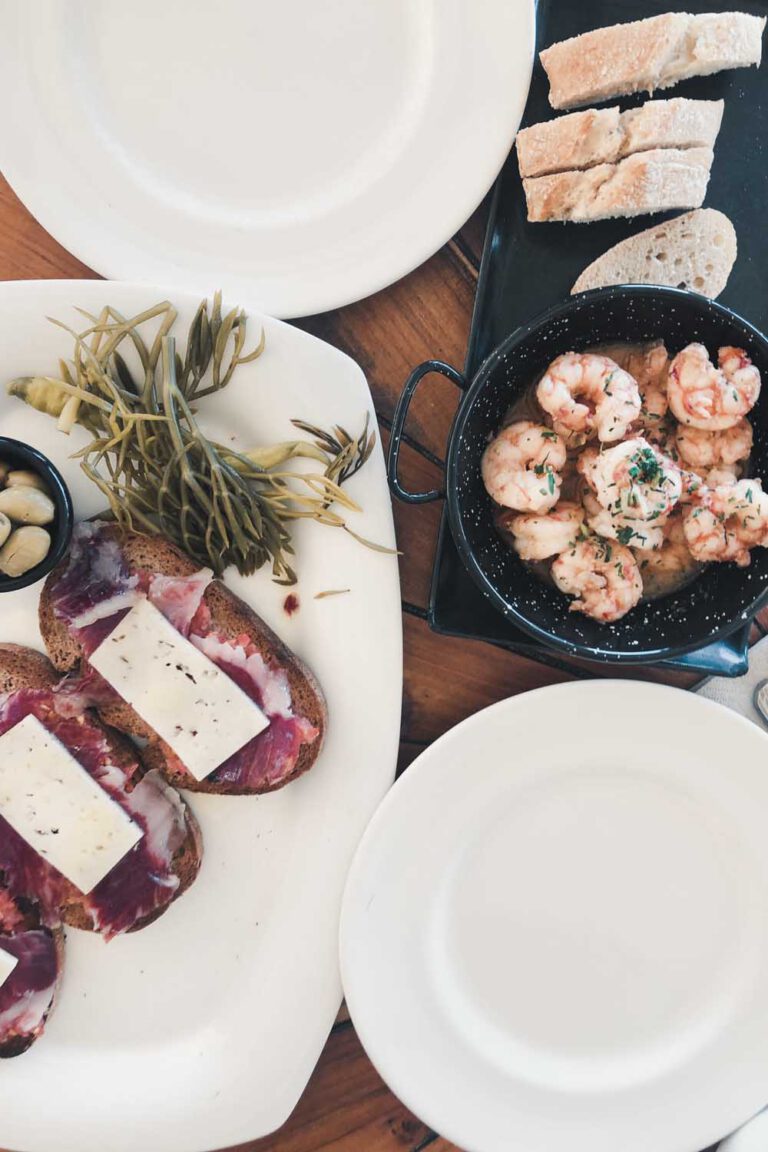 That's also the end of this day. If you aren't done with the beaches on the Eastern side of the island, check out other options like Cala Torta or maybe Cala Estreta!
The Northern Area, Tramuntana & Cala Deía
So by now, I covered how to explore Mallorca in the south, the east, and west so now the northern part is left to be discovered by you! The northern region is known as one of the most beautiful ones on the island and there is a lot to see and to do there. One of those things would be to take the historical train from Palma to Sollér, which I didn't end up doing this year. Furthermore, you should also visit the wonderful town called Valldemossa, but as we always stay in the southeastern part of the island, we skipped it as we have to drive a while to get there.
Tramuntana
The most incredible landscape! We always use our rental car to discover the mountains of Tramuntana and basically I don't think that you can do it the wrong way. Make sure to do a lot of stops for taking pictures and head out to see the beautiful Gorg Blau! I swear it: you won't trust your eyes!
Cala Deía
There is no way that I could write about how to explore Mallorca and not write about Cala Deía, as it is the place where my mother first fell for my father. Such a place of significance for my family! The bay is a perfect place for taking a swim after a long day of driving through mountains; make sure to bring a mask and a snorkel! But for sure have your lunch at the wonderful beach bar that is built into the mountain. You will get fresh fish served with the wonderful scenery of the open ocean. And maybe you will also fall in love with your soulmate at this special spot.
And that's a wrap! These were my four suggested day trips that can be done on Mallorca. I hope I covered all possible activities and that there is something for everyone to try out! Is there anything you missed? Do you have a personal highlight on Mallorca? Something that nobody should miss when they explore Mallorca? Please let me know in the comment section!