Hello and welcome! Writing about Greece wouldn't be complete without writing about my time in Santorini! And as I had the impression that I only ever got to see pictures of Oía, when looking at pictures of Santorini, I had to change this! With this post I want to inspire you with telling you more about the beautiful things Santorini has to offer.
About Santorini
As you may know, Santorini is one of Greek's islands. Its most popular place is Oía, with its blue domes and white houses. Of course it is a must see, even if only for one day!
Santorini has its own airport and you can get there from Athens per direct flight. But if you are coming from another island, maybe a ferry is the better solution for you!
Related: The Best Greek Islands to Visit
Getting Around on Santorini
I was surprised how small the island actually is! You can even visit it in only one day! Getting around is no trouble as there is a bus system that brings you everywhere. If you choose Fira as your base you can go anywhere just by hopping onto the bus!
The prices are very cheap and fair, and therefore I really enjoyed riding the bus in Santorini!
Due to the bus system I also wouldn't recommend getting a rental car. With the bus driving with high frequency and being more or less on time, you are very flexible & agil, so I don't see a need for a rental car.
Regarding Oia, Santorini
Santorini's most visited place is undoubtedly Oía. But as you could see at the title of this post, I want to show you, that Santorini is filled with adventures that are not only happening in Oía.
Staying in Fira, Santorini
So let's start with the town, I recommend you to set your base (at least for a few days!). Fira has the same white walls as Oía, but it has the huge advantage, that it is the most central point of the island and therefore holds the major bus stop. From there you can get to anywhere on the island, and that's important, if you don't want to have a rental car.
But Fira is also more than just a bus stop (don't let me fool you!). It is a wonderful small city with wonderful houses, white walls, small alleys! Furthermore there are cute shops and nice restaurants! You see; there is so much to explore!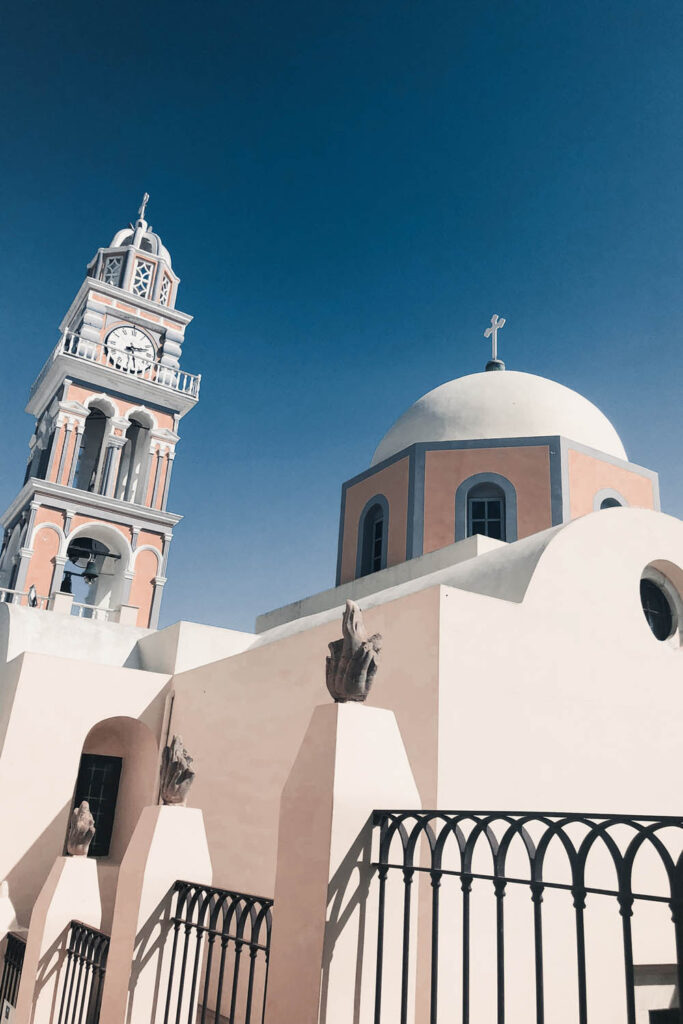 Kamari & Perissa Beach
After discovering Fira and using the bus system, I would also recommend a few days in either Kamari or Perissa to you. In my opinion, relaxing at the beach is one of those things you simply have to do every now and then.
The cool thing about Kamari is that the beach is a black sanded beach. Due to volcanic activity the sediments in that area are black, so therefore the sand grains are black too.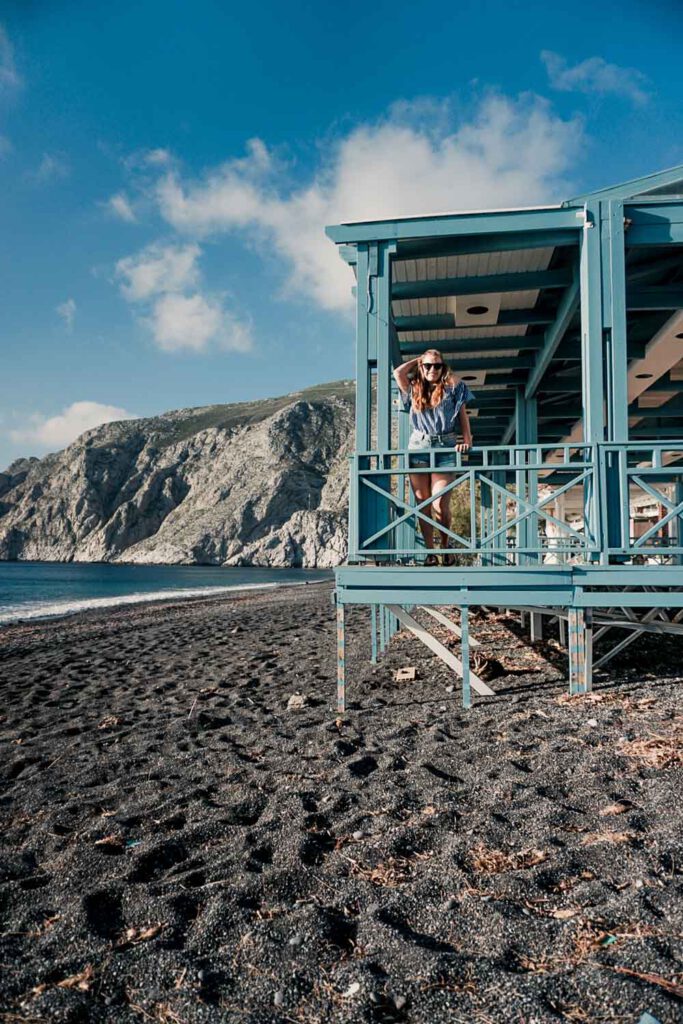 Laying on the beach is not the only thing to do in Kamari. You can also hike from one black beach to another as there is a way from Kamari to Perissa. All you have to do is to hike up the hill & follow the signs! And I promise you, you will be rewarded with the best views!
Recommended: Read more about how to travel Greece with this unique Greece itinerary!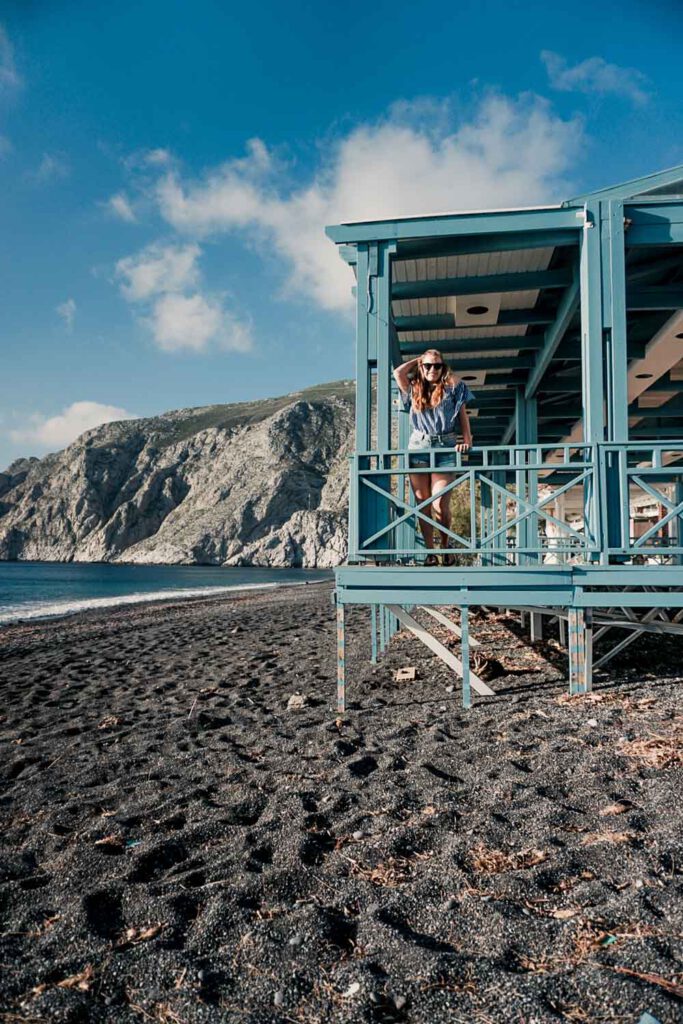 Red Beach
Santorini does not only gives you black beaches, but also a red one! To be honest it is not really red sanded, but at least it is close to being red. The name comes from the colours of the cliffs. But be careful, the cliffs are way too unstable to climb them. I tried to take a picture but it wasn't possible to get up there.
To get there just take the bus to Akrotiri & follow the signs!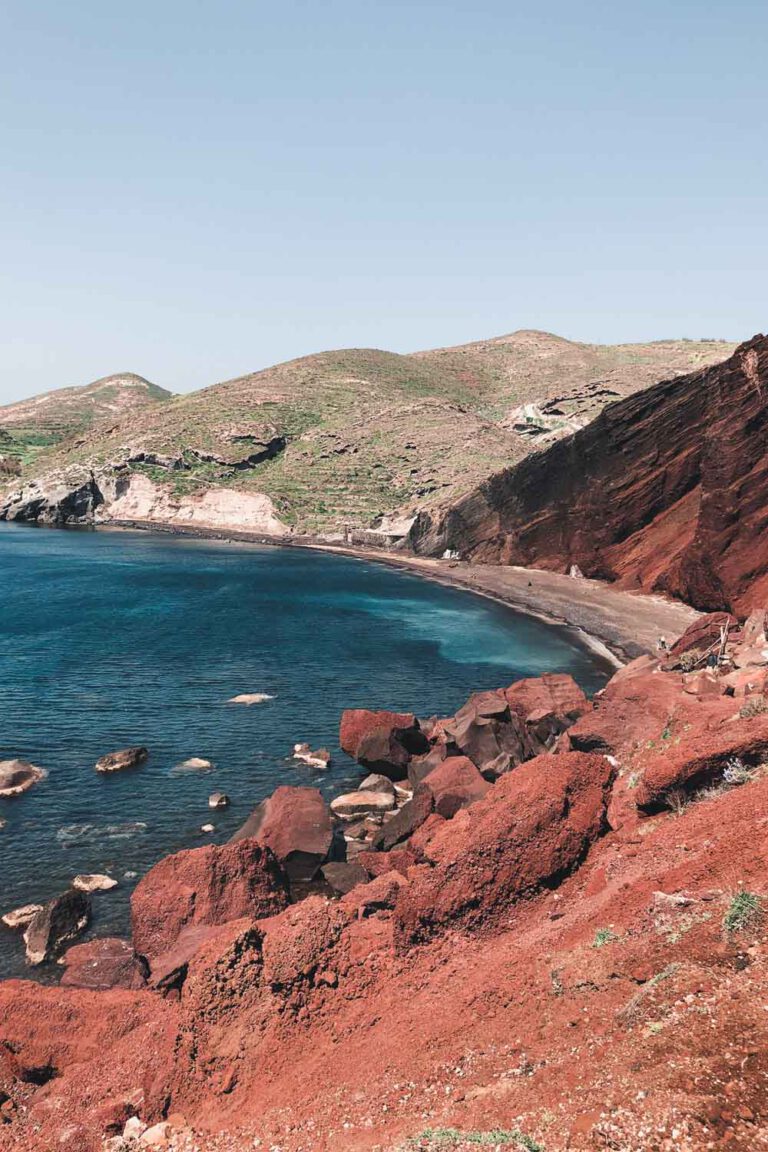 If you don't mind a small hike, you can also cross read beach and follow the signs to more beautiful beaches. One of them is called the white beach, and guess what? This one doesn't have white sand but white cliffs. Heckin bamboozeling right?
When you continue to follow the cliffs you will see more stunning beaches until you reach the Akrotiri lighthouse. And in case this hike wasn't already long enough for you, you could continue to walk to Kokkinópetra, a viewing point that allows you to see all of the wonderful cliffs!
And in case you are not into beaches (that was a lot of them for now, I know) close to the beach there is also an interesting ancient sight, where you can admire the an ancient village, that witnessed a lot of history. Learn more about how the villagers lived and experience a bit of Greek history right there!
Thank you so much for reading this article to the very end! I hope it was helpful to you and that you enjoyed it!

Are you planning a trip to Greece? Check out more postings about this marvelous country!