Hello and welcome (back)! I just came back from a week in Athens and now I am super excited to write about the wonderful time I had. I was thinking back and forth about how to put my time into words and then I decided to write my own Self-Guided Athens Walking Tour!
This tour will cover all the important archeological and non-archeological sights of Athens and might be able to get done in one day. Especially when you want to walk the sights, you will see, that you might spend a little bit extra time there, just to enjoy it. So my tip would be to plan Athens for 2-3 days, so you have enough time to really enjoy this beautiful city.
Besides the route, I will give you some tips on where to stay, eat and drink, so you don't have to waste precious time for hourlong research.
This post contains affiliate links. That means that if you click on the products and buy via this link, that I can get a commission. This service won't cost you a cent more and allows me to provide you with more travel content.
Accommodation / Starting Point
In Athens it i,s important to choose a clever starting point. It was super important for me to stay in a hostel that is not only clean and comfortable but also close to all the attractions.
The place that offered this best was the Athens Studios. It is quite affordable, has clean & nice rooms and even has breakfast included. So far so good but the most important thing about it is that it is about 5 minutes walking distance away from the entrance to the Acropolis. There is almost nothing that is more central and for me this, is the perfect argument for it.
Preparation
This post includes a lot of archeological sights that require a ticket. As a student of a European country, you are allowed to enter each of them for free. Otherwise you ,will have to pay for the entry. There is a pass that costs you 15€ off season or 30€ in peak season, that you get at any of those sights or book in advance.
One of the things that I like about Athens is that it was built a long time ago, what means that it was built when most people would walk by foot. This makes it very easy to walk all the distances I described down below, so you won't need any public transport or taxis.
Keep in mind, that summers in Athens can be super hot and draining. Make sure to bring water with you & rest anytime you need to. Of course my pro tip here would be to travel it off-season. It is just more fun, not to be overrun by stampedes of people at any single sight.
Acropolis
The Acropolis is the heart and soul of Athens. The mesa mountain is crowned by the Parthenon, a temple dedicated to Athena.
As the Acropolis is the most famous sight in Athens, my tip for you is to visit this first. And by first I don't only mean that this is the first place on your tour but also to be the very first person up there. That way you can enjoy all the temples and the slopes on your own without all the masses of people that are usually up there.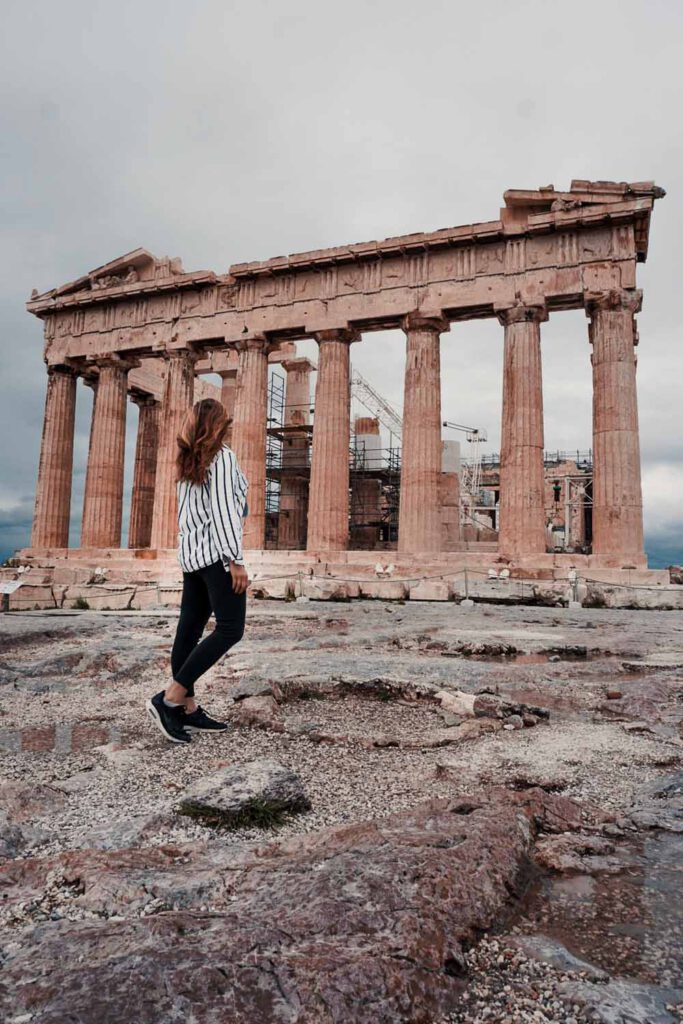 Walk The Plaka
After the Acropolis, our next stop is a beautiful place, but to get there, we first take a walk through Athens's most beautiful neighborhood, the Plaka. It is filled with restaurants, cafés, and shops which makes it a very vibrant area, where you can see & taste a lot.
Make sure not to miss the famous photo spot "Plaka stairs", a picturesque cute place with awesome scenery.
Regarding my plan, you will hit the Plaka quite early, depending on how much time you will spend on the Acropolis. Try to be there between 9:30 and 10:00, so that you are likely to find a place to have some coffee. If you already had breakfast in the hostel (what I did, but I could never say no to a second coffee!), you can just skip my two café recommendations here and continue at the point Roman Agora.
Some Lunch / Café tips
Café Plaka – a cute small café, that has amazing waffles and crepes. Perfect for a small stop after climbing the Acropolis. Check out their rooftop terrace for some beautiful views and furniture goals!
Yiasemi – directly next to the Plaka Stairs & such a cute little place! Their interior is beautiful and due to their house standing on a hill, quite a bit extra, as you almost have to climb it! They have amazing cakes & if you are eager to return to Plaka during lunchtime, they offer a lunch deal for 12€, which includes wine, salad, pie & cake!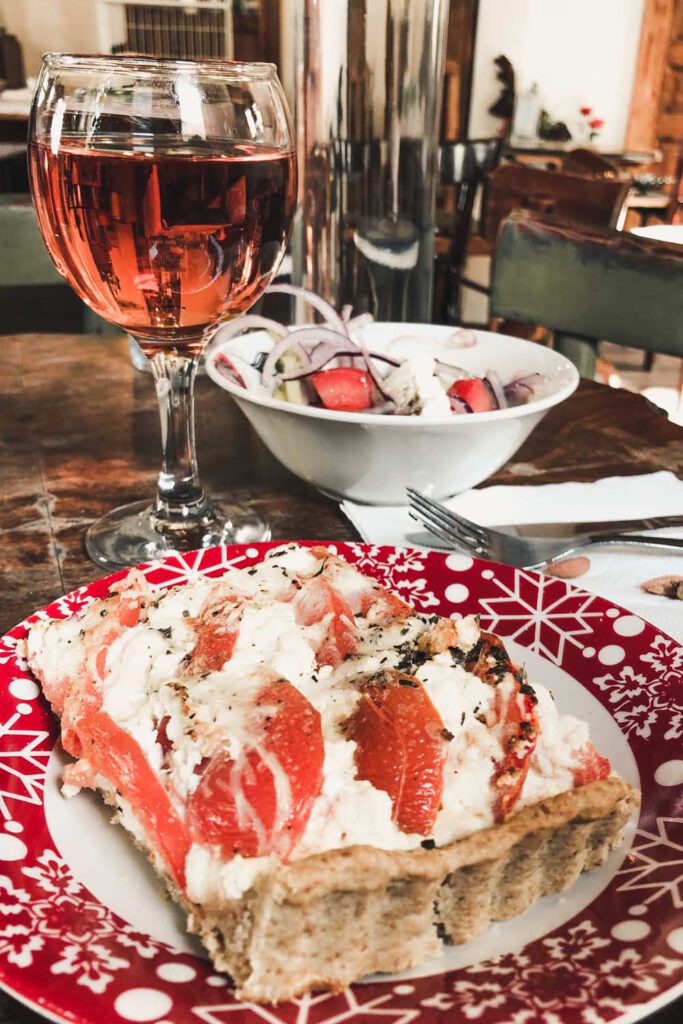 Next Stop: Roman Agora
Time for the next archeological sight! The Roman Agora in Athens is one of the sights that I really enjoyed, as I was there quite early without having crowds of people around me.
Agora is the greek equivalent to the Roman forum and is a place for markets and socializing. Seeing all the pillars and structures is super interesting.
Agora & Temple of Hephaestus
After the Roman Agora, we are about to visit another Agora. This one is also beautiful and filled with ancient stones and stories. It also holds something very impressive: the Temple of Hephaestus, god of fire and blacksmiths. This one is not as big as the Parthenon or other ancient temples, but it is the best preserved ancient greek temple there is! It is almost complete and therefore gives you a glance at how the world looked many years ago.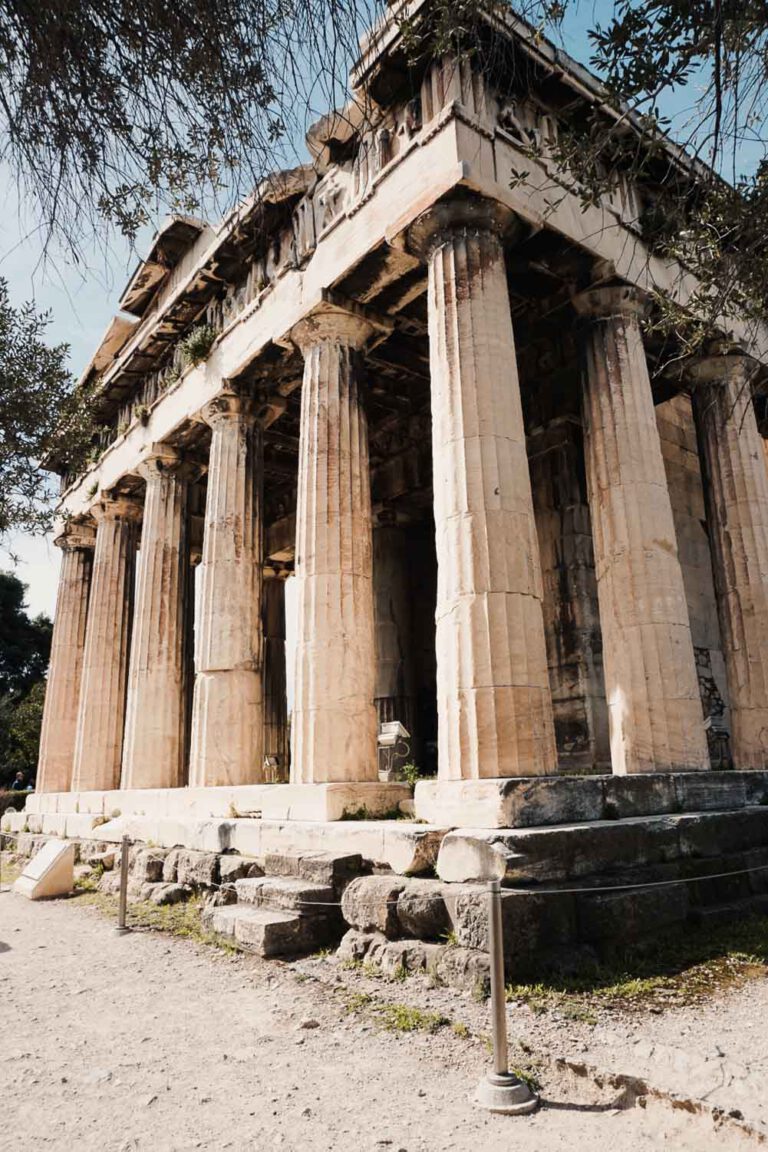 Hadrians Library
Are you still open to visiting another ancient sight? It is the last one for now, I promise. Hadrian was a Roman Emperor, that didn't only give Athens a gate and declared himself as powerful as Zeus (more details later).
This ancient sight is very interesting, although it might be smaller than the others. But what I liked the most are the well-preserved Corinthian pillars at the very beginning. If you are very hungry by then, just take a picture of them and continue the walk.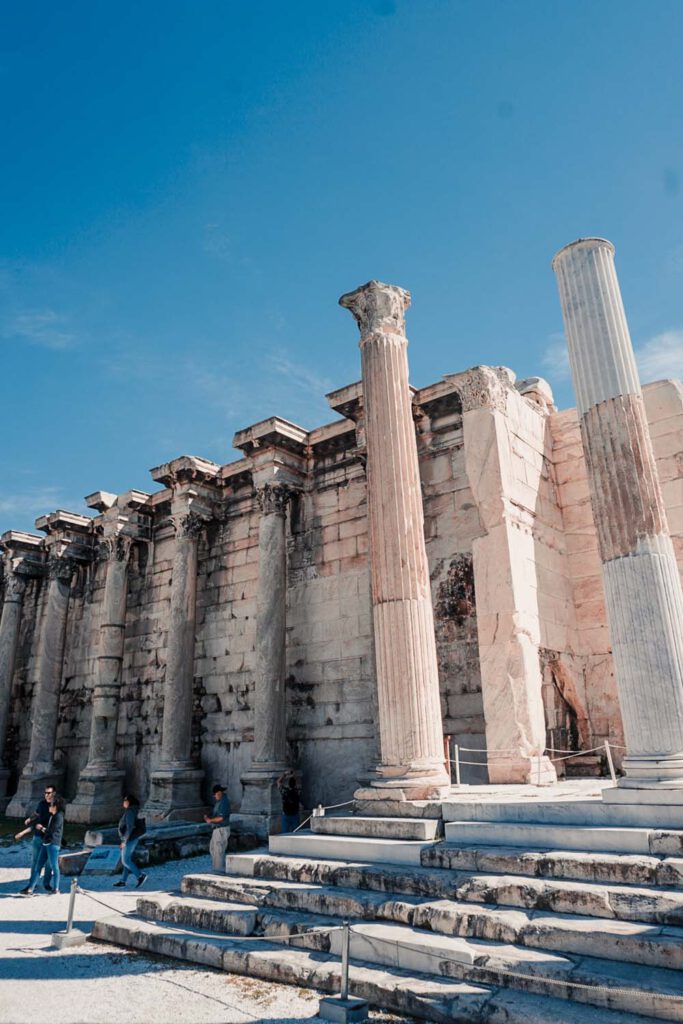 Monastiraki Place
After leaving Hadrians' library, you will cross Monastiraki Place. You should cross it, and only as you reach the end of it, you should turn around to admire the beautiful Tzistarakis mosque.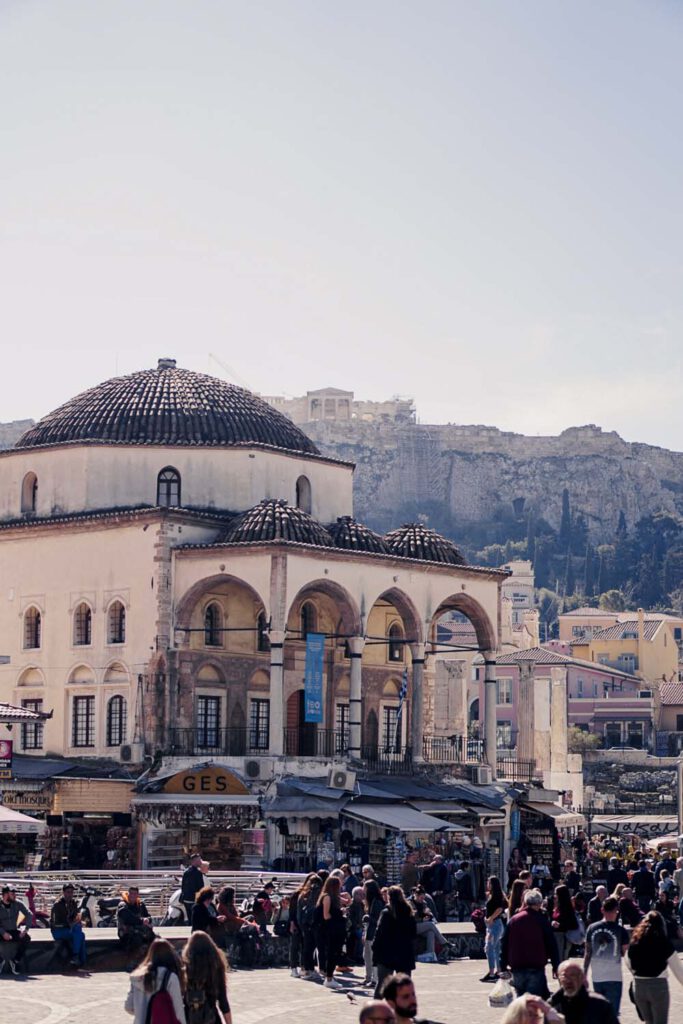 Lunch Ideas
If you aren't hungry by then, I am impressed. I checked out a few restaurants in that area, that I can recommend to you!
Ather – a very nice restaurant with beautiful interior & nice food. Perfect for a small stop, to get some rest!
Pax Burgers – not directly at the Monastiraki place, but a super nice restaurant with great burgers and fries. I sat there to hide from some rain & really enjoyed it!
Syntagma
After lunch, it is time to do some shopping! Or maybe at least walk down Athens shopping mile. Even if you don't buy anything, you will find a small church in the middle of it and at the end of it, there is the Syntagma place & at the end of this, the parliament.
The place has a beautiful fountain but is always very crowded. Make sure to keep your hands on your mobile phone and wallet to secure it.
If you are at Syntagma, keep an eye on demonstrating people. Sometimes some riots happen there and as a female solo traveler, I always avoid situations, that could be dangerous for me.
National Gardens
After walking the vibrant and buzzing city for a few hours now, it might be time to relax a bit. For me, the perfect place to do so is the  Nationalgarden of Athens. It is a beautiful and peaceful place, filled with wonderful trees of all kinds. Wander through it and enjoy the Mediterranean flora and smell the pines and orange trees.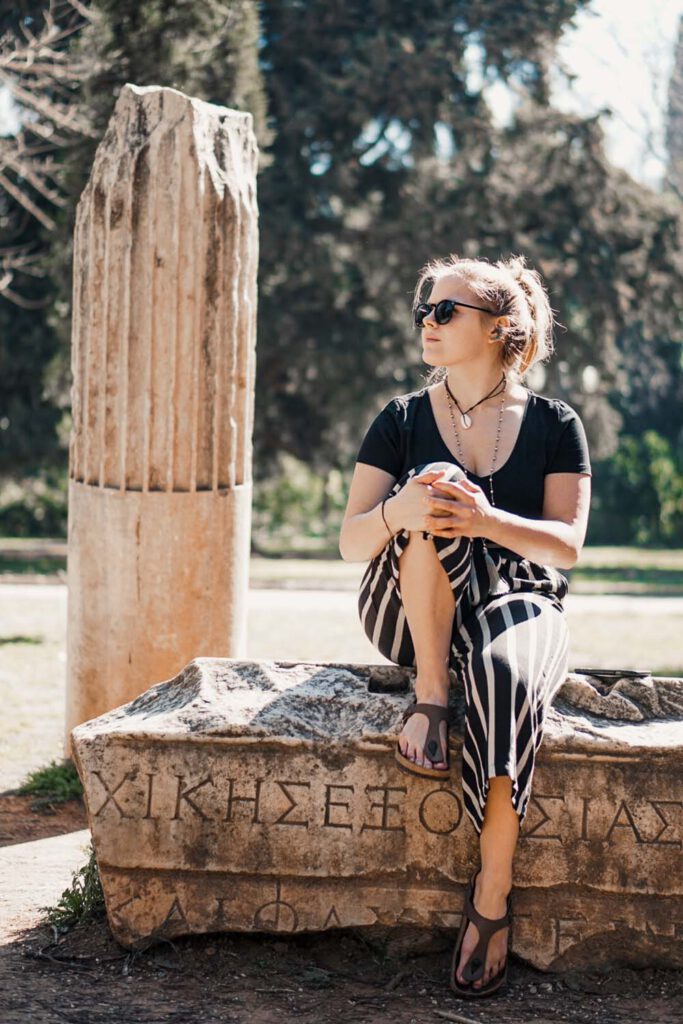 Panathinaiko
Almost our last stop, I promise. The Panathinaiko is an olympic stadion and hosted the opening and closing ceremony of the Olympics in 1896. Before it was rebuilt on top of the ruins of a stadion that was built ca 330 BC, where it was used for the Panathenaic Games. After the rise of Christianity it became more and more abandoned.
This sight is not included in the Athens pass. However it would have cost something to get in and as I am not that interested in sports, I skipped to go inside & only took a picture.
Zappeio Hall
Another beautiful building with a very fascinating history. It all started with Evangelos Zappas, a greek salesman, who is also the founder of the modern Olympic games. Before his death, he proclaimed that his remaining money should be used to create a home for the Olympic games. After its finalization, it was used for many purposes such as fairs, Olympic Games & as an Olympic Village, or as the press center for the 2004 games.
But my favorite event, that this beautiful building hosted was the signing of the documents that finalized Greek's accession to the European Union.
Olympieion
The very last stop on this walking tour. Did you make it in one day? I would be interested to know this. Nevertheless, we now arrived at the Olympieion a temple dedicated to Zeus himself. It took over 600 years to be finished and it didn't even last very long before it was turned into ruins. Today only a few parts of it still exist but nevertheless, it is fun for me to imagine how it might have looked back then.
The End of our Athens Walking Tour
Well, that's it! It has been a long day, but you saw and did a lot today! Now it is time to get some rest & maybe have some nice dinner. Luckily the Athens Studios (if you decided to stay there) has a lot of nice restaurants nearby (my favorite is the balcony, directly at the corner).
If you did this tour let me know if you made it & how you liked it! In case you want to read more about my adventures in Europe, check out my post about Madrid or maybe my Europe Bucket List!

Planning a trip to Greece? Here's is some more helpful information: