Hello and welcome back! This year I seized my semester break to visit Greece for the very first time! I started my time in Athens and originally planned to see Meteora, before going to Santorini. But well plans change, and therefore I skipped monasteries and decided to do a Day Trip to Delphi instead!
This post contains an affiliate link. If you book the tour via this link I will earn a small commission from your purchase. As it is a commission, you won't be charged an extra fee.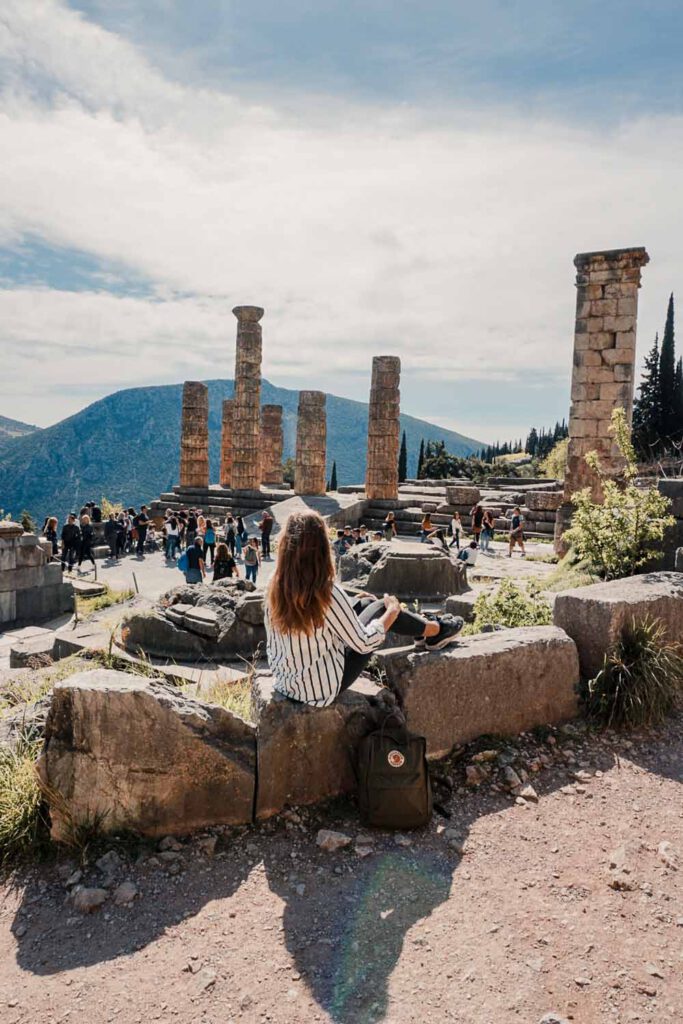 Going to Delphi
Instead of taking the train to Meteora, I booked a tour via Get Your Guide and had to get to Key Tours at 8:30 in the morning. No problem for me as a person that likes to get up early in the morning. The bus was huge, spacious, and had a working cooling system. We left Athens early and drove about three hours through beautiful Greek landscapes.
Our guide, Costa was lovely and told us lots of stories about ancient and modern Greece. We learned a lot about Athens, how it evolved as a city, its kings, its current situation, and so on and on. On our way, we also saw lonely landscapes and cultivated fields of fruits, vegetables, and …cotton! Did you know that Greece is one of Europe's largest producers of cotton? They actually export it to Turkey or sell dresses made from it in the streets of Athens.
After a short pit stop, we continued our drive through the Greek mountains until we saw our first highlight on our day trip to Delphi. A small village was built into the mountain's slopes. It was super picturesque and I wished we would have spent more time there. But this only sparked my dream to go back to Greece with a rental car and more time on my hands.
Athena Pronaia Temple
From the village, it was only a 15-minute drive to our first bigger stop, where we actually got to see some ancient sites. The first one was the Athena Pronaia temple. Our guide told us some information about this, for example, which parts were used for which purpose and so on. It was very interesting but I couldn't wait to finally see the ruins of Delphi. We got back to the bus and only a few moments later we arrived at our destination.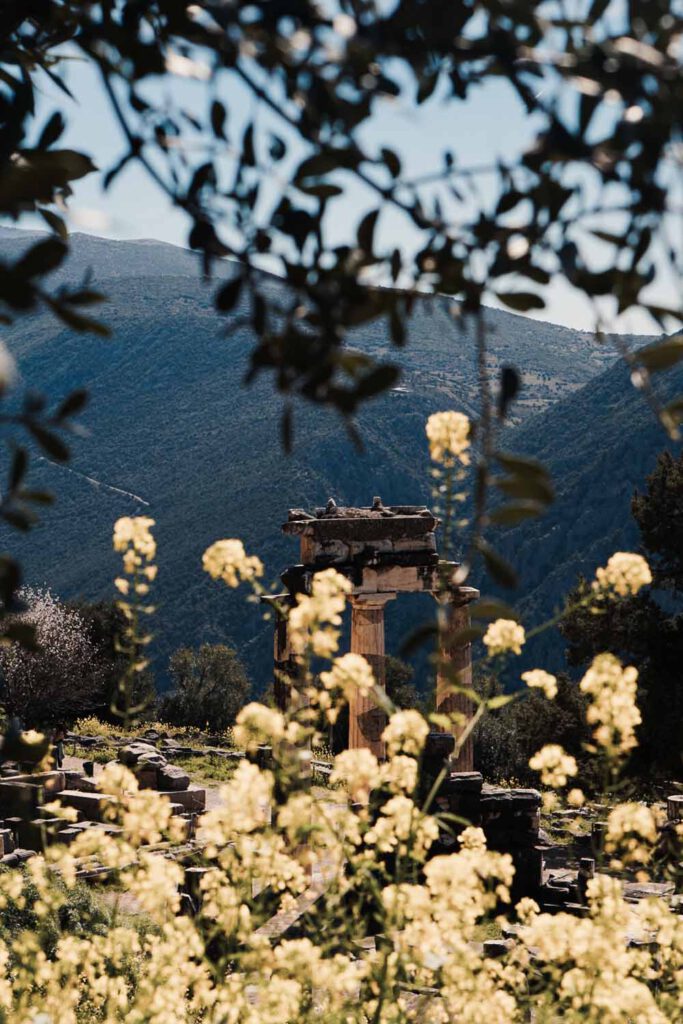 About Delphi
Before I tell more about what is left of Delphi today, I want to tell you what it looked a few hundred years ago. Our tour guide told us, that Delphi once was a place where people would ride to for days. They came to hear the prophecies of the Oracle of Delphi. The Pythia inhaled some methane gases and then she was able to receive the prophecies. Then these prophecies were interpreted by other priests of Apollon. If the prophecies came true people tend to give presents to Delphi, turning it into a kind of open-air exhibition. It was filled with sacrifices to the god Apollon and a place of music, art & architecture.
A Tour Through Delphi
Now knowing these things I will talk you through the remains of Delphi and its buildings.
The Roman Pillars
The first thing we came across were some Roman pillars. They were made during the times when the Romans ruled Greece. And why I added this to this post, that Costa shared a fun fact with us, that I never really thought about and therefore completely blew my mind. Do you know the difference between Roman pillars and Greek ones? Greek ones are made of serval compartments, while Roman ones are formed of only one whole piece of marble/stone!
Before there were only a few pillars left, this area held a hall that was meant to store the stolen weapons from enemies.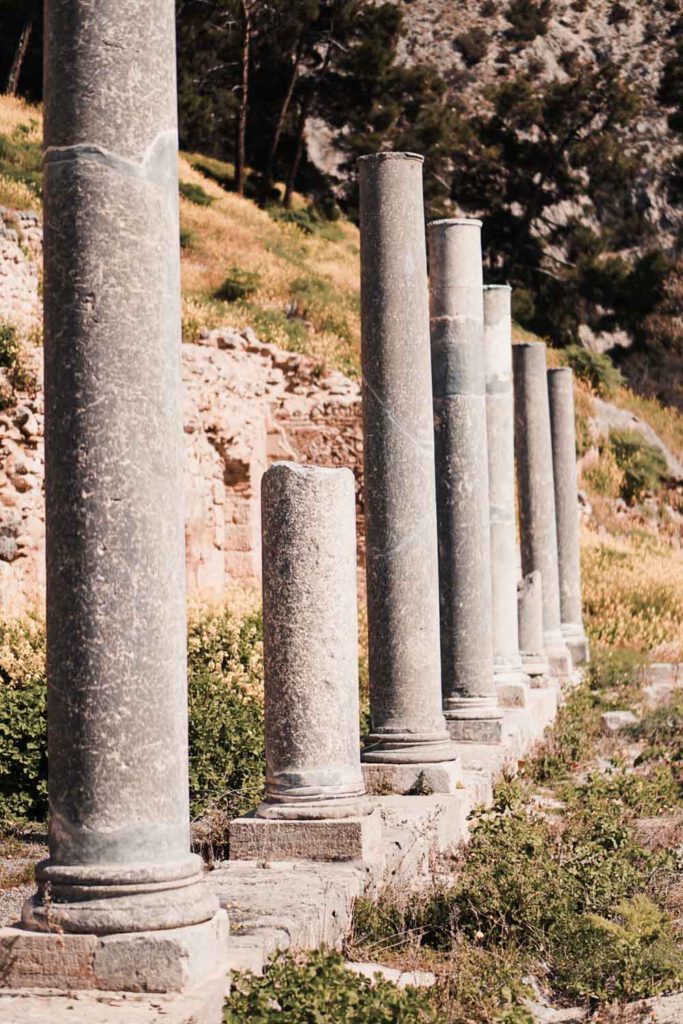 Treasury of Athens
The so-called treasuries are all spread over the area of Delphi. In there, the Greeks thanked the Oracle for the prophecies and keep valuable offerings in there. Most of them were destroyed.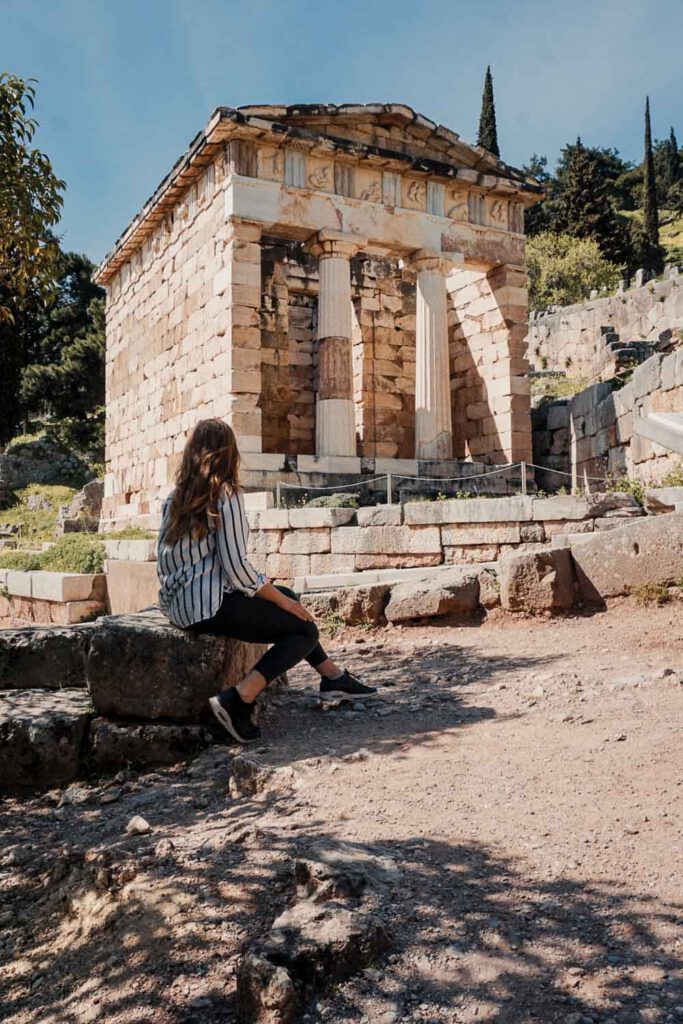 Temple of Apollon
The most important building of Delphi; the temple of Apollon was the temple where the oracle would receive the prophecies while inhaling gases. Once this was a giant temple, but today only a few pillars remain. But can you imagine its whole dimensions?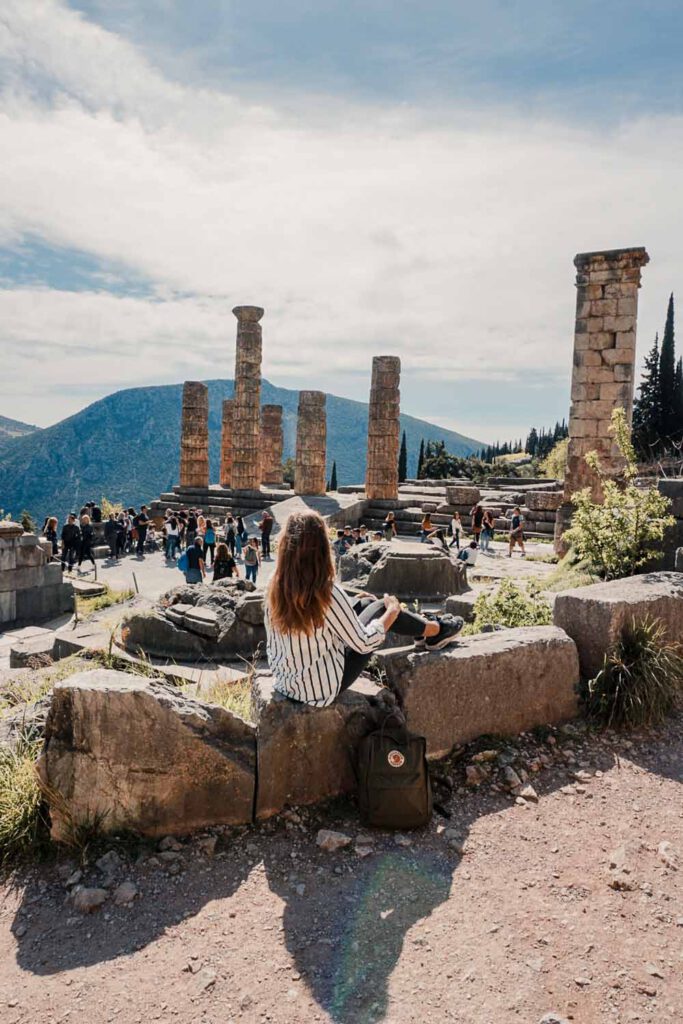 Theatre
As Apollon and Dionysos were some kinds of pals, it sounds logical, there is a theatre built next to the temple of Apollon. And the special thing about it is that it is still used today! Just imagine how magical it would be to sit there, watching a play with this ancient scenery around you. I would really want to experience this!
Museum of Delphi
After the theatre, we left the site and went to the museum of Delphi. Costa told us a lot of stories about all the exhibits and it was awesome to learn more about them! Especially to get to know where it stood and what it represented!
And That's It! That Was my Day Trip to Delphi!
After seeing the museum, we had our lunch at a nearby restaurant. It was organized by key tours and was very delicious. We were surrounded by mountains and blooming almond trees. It was a wonderful day and I just want to recommend this trip to everyone visiting Athens! My only extra tip would be to bring a power bank and some spare batteries for your camera! The bus ride is long and I had to be very careful, that my phone wasn't dying and the sights were so beautiful that my camera almost died, as I took so many pictures!
If you are interested in reading more about my adventures in Greece apart from my day trip to Delphi, check out my post about the Acropolis or learn more about the plenty of beautiful sights of Santorini!
Liked This Post? Save it For Later!