My time in Kuala Lumpur has ended a few months ago but nevertheless I am still a pod of knowledge about it. And this is why I try to improve your stay in Kuala Lumpur by giving you some of the best recommendations of where to eat there! The restaurants on this list have been visited and approved by me and I wouldn't give you a recommendation that I don't ship with all of my heart. So let's start right here with my Food Guide to Kuala Lumpur!
If you are like me and still hesitating about trying new dishes (sensitive stomach over here!) I recommend to you to always order one thing that you like in any case and something you are interested in. This works good with the dishes I recommend here, as most of them come in smaller portions. And of course be brave! Eating Durian is scary at first but maybe it will be your new favorite fruit!
Dolly Dim Sum was a recommendation of a friend and I really can't recommend this place enough! They describe themselves as the modern interpretation of a traditional Chinese Tea House and they really mastered it! The Dim Sum are delicious. My personal favorites are the classic prawn dumplings, but if you want to order something extraordinary you should order some spicy chicken feet!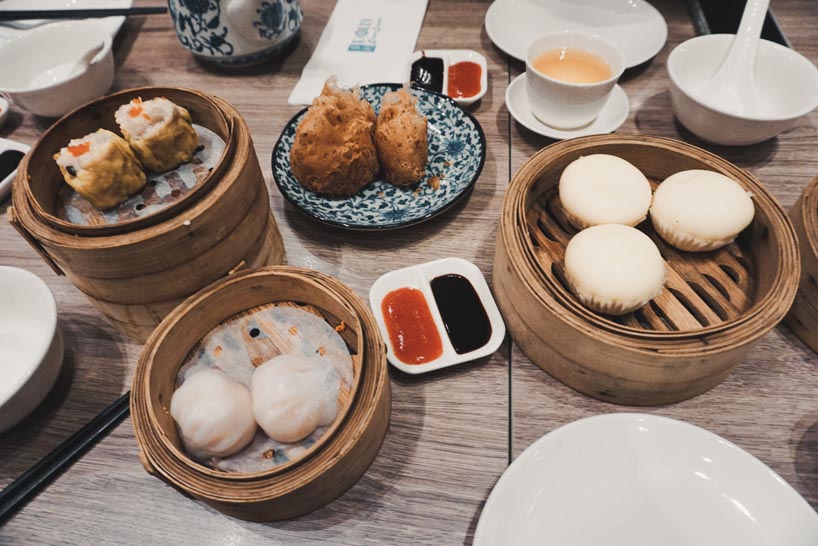 By the way: This post is all about restaurants. But if you are rather interested in Cafés, check out my post about Kuala Lumpur's best cafés!
Grand Imperial
If Dolly Dim Sum is not enough for you (because you can basically not have enough Dim Sum), I really recommend the Grand Imperial to you! I had the pleasure to have lunch there and it was amazing! The Dim Sums will be the best ones you will ever get to try. Furthermore they offer a huge variety of dishes with seafood and fish. If I ever get to return to Kuala Lumpur this would be the place to celebrate coming back to Malaysia!
Recommended: 3 Week Backpacking Itinerary for Malaysia!
The House & Co
As you may know Nasi Lemak is one of the most famous dishes in Malaysia. You can get it almost anywhere but I tell you, where to get the best one in Kuala Lumpur! The House & Co offers a great variarity of Malaysian Cuisine and a lot of options of Nasi Lemak. I decided to go with spicy squid on that particular day and it was super delicious. Paired with a fresh pineapple juice, this lunch was really memorable!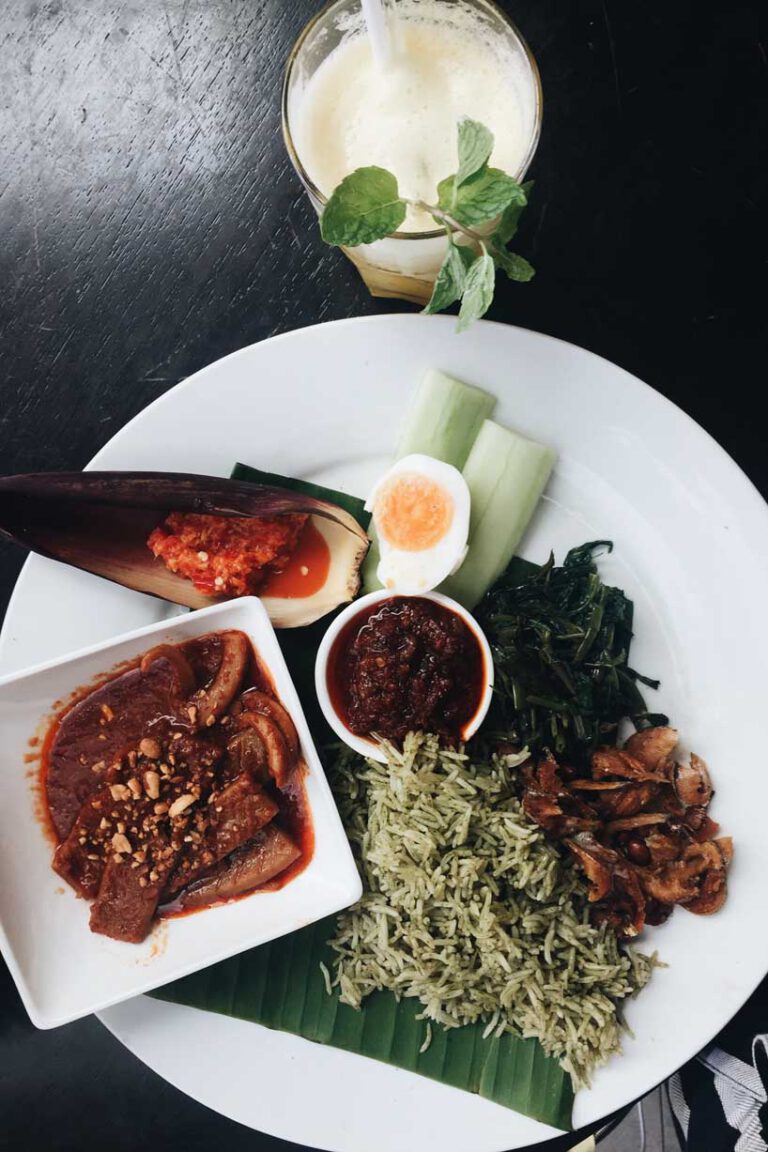 Recommended: Asia Bucket List
Halab in Bukit Bintang
When we are going back to Kuala Lumpur one day, this will be the first restaurant we return to! The Halab offers a traditional Arabic cuisine along with the best fruit juices you will ever get to try! My personal highlight and recommendation is to have the falafel paired with the lemon-mint juice! Simply divine! Sometimes now when my boyfriend and I wonder what to eat, he says: "I want to go to the Halab" and we both get sad and have to hug.
Jalan Alor in Bukit Bintang
The best place to go, if you only have a short stay in KL! It is a wonderful vibrant place, where really everyone finds something that he will like! But nevertheless there are some things that you have to try!
Jumping Chicken – Fried frog! You should at least have one single bite!
Durian – Here aswell: Have one bite, so you can claim you had it! (Side note: I couldn't even swallow it!)
Satay – Have your own small Satay Feast! Be sure to also try some veggies, it is amazing!
Something fried: My personal favorite are shrimps!
A coconut- as a drink. Super healthy and incredibly tasty!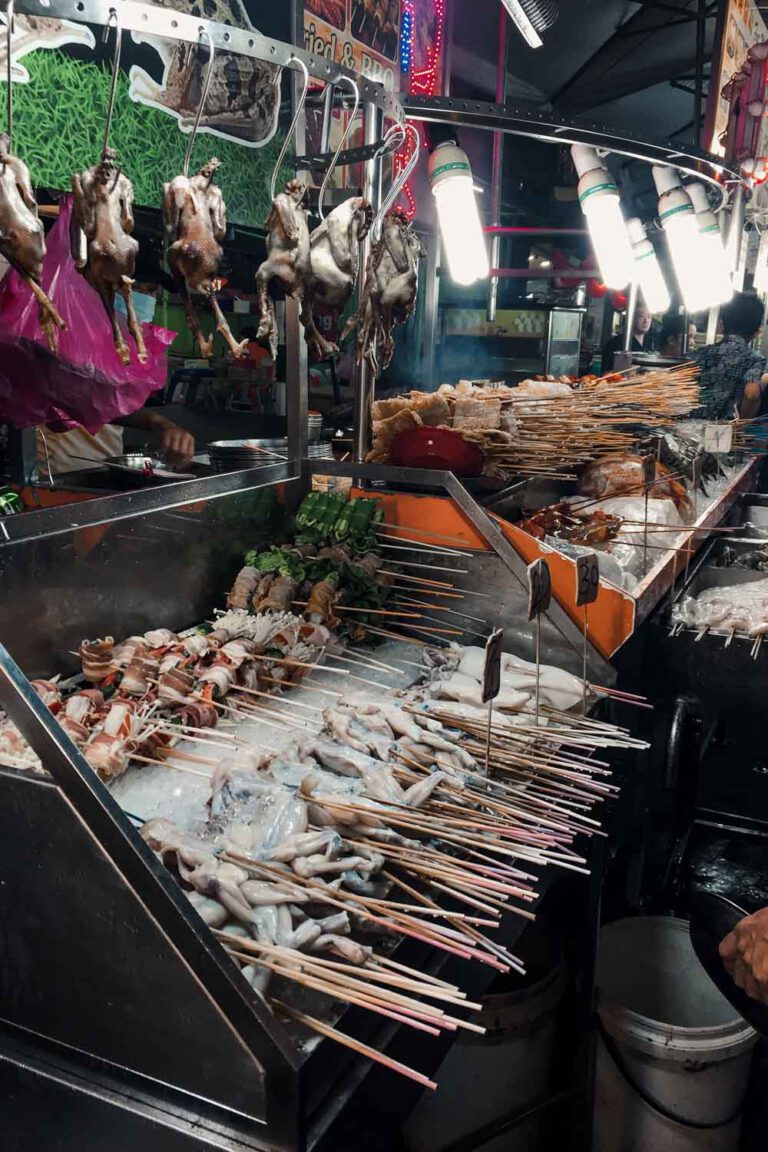 Related: The Best Food Street in Kuala Lumpur
Marinis in Kuala Lumpur City Centre
This is the most extravagant tip on this list. And to be honest a bit more expensive. But the Marinis was one of the most beautiful experiences we had in Kuala Lumpur. The food was extraordinary delicious and the staff super kind. As we told them that we were there for our last evening in Kuala Lumpur they even brought us personalized dessert.
But nevertheless the best thing about the Marinis is the view. The restaurant is directly next to the Petronas towers, offering you the best view over the cities rooftops!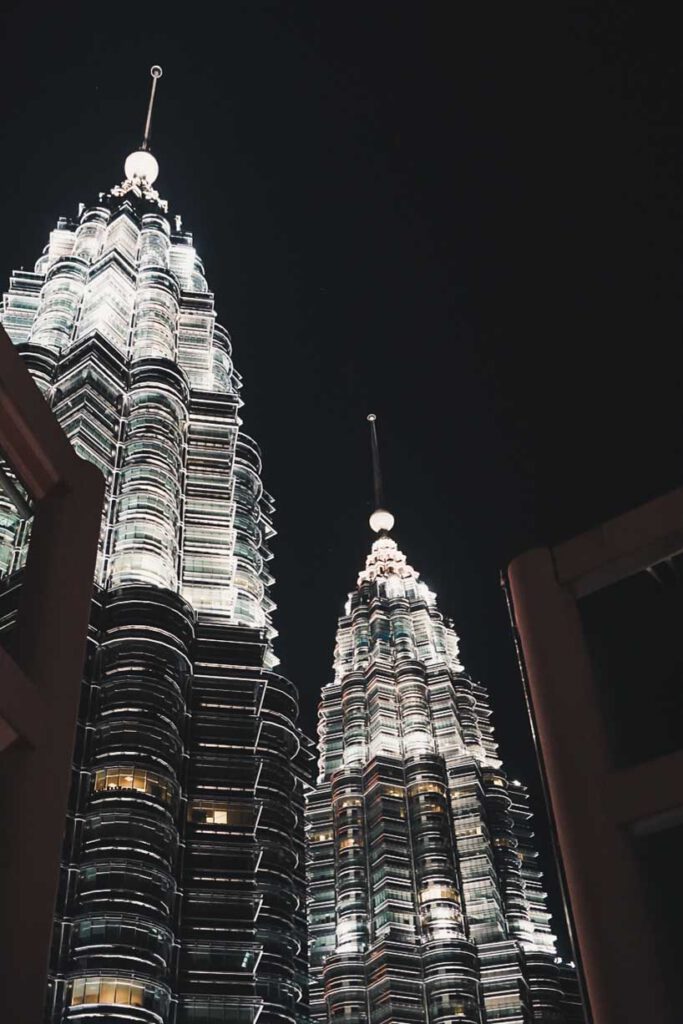 So this is my Food Guide to Kuala Lumpur! Did I miss something? Let me know & will add it to this little list! Thank you for reading it and sticking here until the end!
Liked This Food Guide to Kuala Lumpur? Pin it for later!
Looking for more tips on your Malaysia Adventure? Check Out: