Hello guys! Some of you might know that I am a passionate zero waster and always looking for more ways to reduce my environmental impact. Thinking about Asia I always thought about a massive use of plastic and a huge pollution and littering. Indeed there is a lot of plastic and I spent my days at the beach collecting plastic but never before I saw so many people fighting against it. This is why I decided to write a guide about zero waste in Asia!
Thinking back, my zero waste game was so weak before going to Asia. I was lacking so much knowledge and items, that are so helpful to reducing your waste. Now going back to Europe I am so much more prepared to combat this nasty plastic! And I want to help you to get those items too!
Zero Waste is something that changed my life and the way I travel! If you are not familiar with Zero Waste Traveling yet, check out this helpful post about all the gear you might need for traveling with less waste!
Kuala Lumpur
The city where I lived for 4,5 months. Of course, I can now tell you some more brands that come from this city as I had more time to do my research. And I found a whole network of wonderful companies that do their best to act environment-friendly and offer a great range of products. I will provide you with a short description of each so that you know what they are about.
The Hive – Bulk Foods and Zero Waste Accessories
The center of my new knowledge. The Hive offers food that you can buy in Bulk. It is possible to bring your own container or to borrow some if you like. There I bought my first package free snack (mixed nuts and dried cranberries.)
Furthermore, they have a lot of things that are good to have if you want to maintain a zero-waste lifestyle. E.g. they have metal straws, organic soap, deodorant, Menstruation Cups, Wooden Toothbrushes, etc., etc., etc.. So especially as a ZW starter, this is a good place to get you the basics.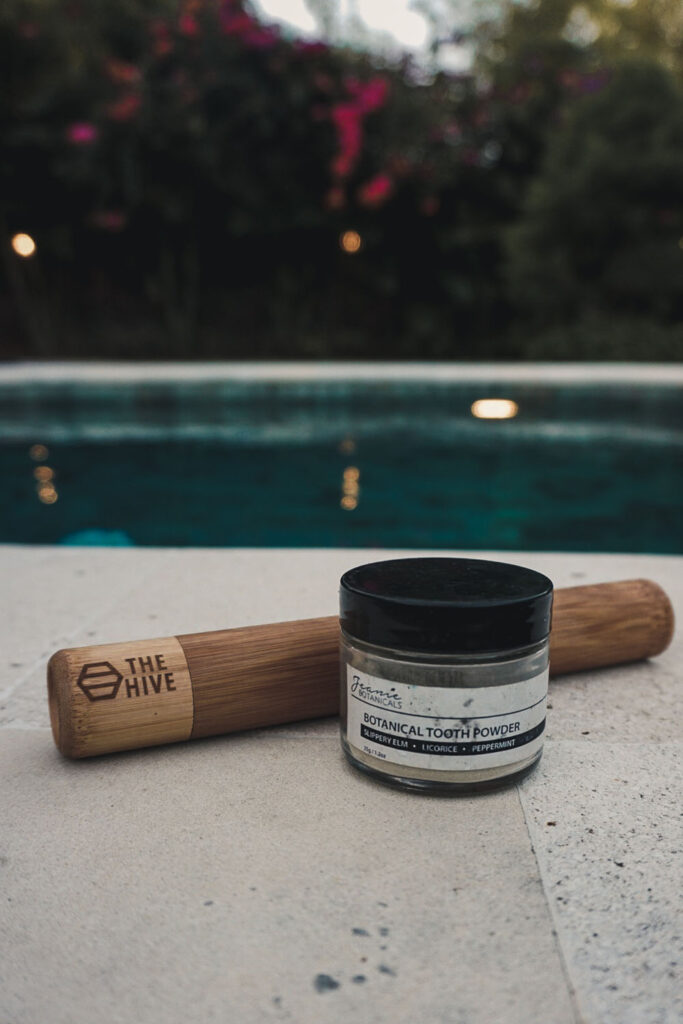 Fireworks House – Sustainable Shoes and Fashion
One of the things you start to think about as a zero waster is all the microplastic that ends up in our system which comes from syntactical clothes. You can combat it by having a closer look at the material your clothes are made of. Linen is a natural fabric, that does not require as much water and pesticide as cotton when being produced.
Fireworks produce one of my favorite blouses I ever owned. Made of linen and it has the best fit I can imagine for me. It is available in a lot of different colors and retails for 250RM (50€) but I got a discount of 50RM (10€). Furthermore, they have plastic-free shoes and beautiful weekender bags!
They have a small stand at the Bangsar Village within the Pilgrims area where you can shop their products.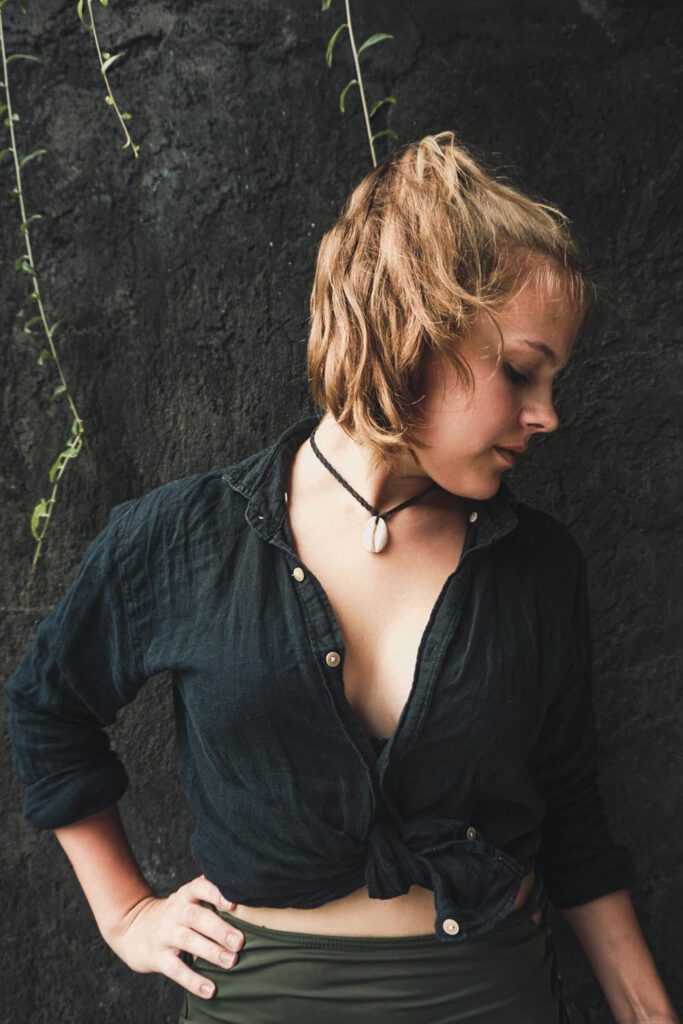 Serasi – Natural and (Almost) Plastic Free Care Products
It is amazing to see the network of sustainable brands in Kuala Lumpur. I found Serasi at the Pilgrims Area in the Bangsar Village and later in the Hive store. And a few days after this on a market.
They offer a wide range of care products covering all kinds of facial care. They have cleansers, lotions, serum, powders, and so on. I bought an all-natural sunblock which I really enjoy. It is very gentle to the more sensitive parts of my face. I can highly recommend it to you as it comes in a small glass tin.
Only their lip balms and lipsticks are not completely plastic-free why I claimed it is almost plastic-free.
As already mentioned, you can buy Serasi products in the Bangsar Village at the Pilgrims area and at the Hive Bulk store.
Related: Food Guide to Kuala Lumpur
Apothecary – Smart Zero Waste Perfume
One of my favorite things to travel with is solid perfume. As mentioned in 'Body care on the Go' I love to have a solid perfume as it is smaller and more convenient to travel with. It won't spill in your bag and is way smaller than a bottle of perfume.
Apothecary has one of the best fragrances I have found as a perfume. I have the scent called 'Admiral' and it is fantastic! I bought it on a market where they had a stall.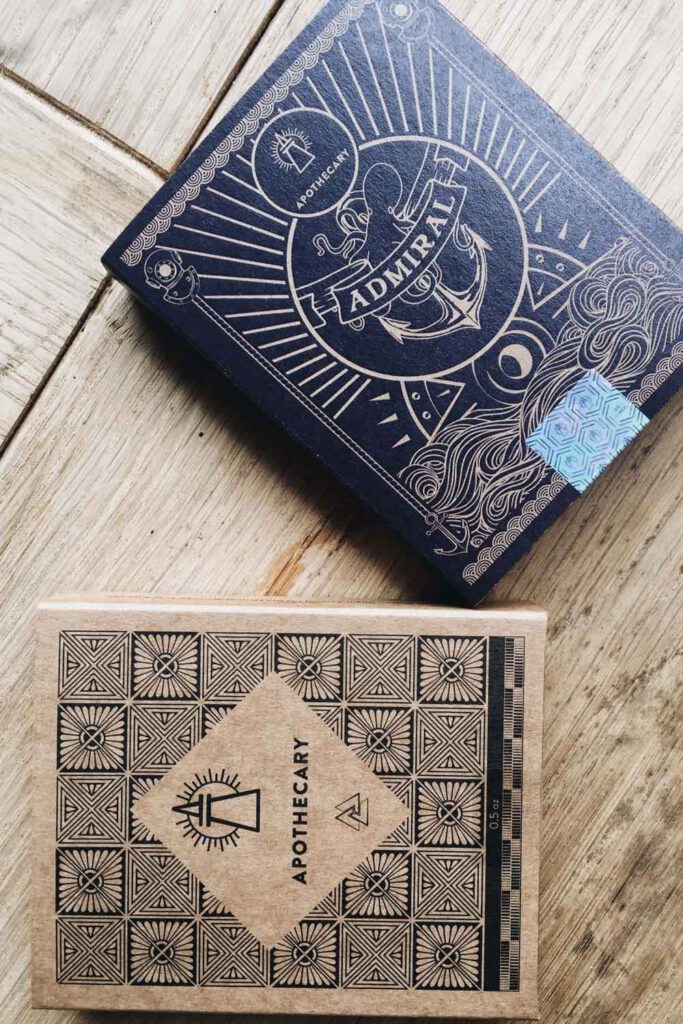 Phnom Penh
My stay in Phnom Penh was very short so I just had the honor to visit one fantastic shop. It is not zero waste in particular but a shop that has handmade bags, pouches, and other neat things. Furthermore, all of the products are hand-made and those who made them get paid fairly. This is the principle that rules!
Khmer Crafts Center – Hand Made Fair Traded Accessoires and Gifts.
I just stumbled upon this cute little shop in Phnom Penh after visiting the Tuol Sleng museum. I desperately yelled at my Tuk Tuk driver to stop when I saw the sign saying 'fairtrade' (the things I do for ethical shopping.)
They have a bunch of beautifully crafted pouches, bags, and wallets. I couldn't stop myself from buying three of them. One wallet for my mother and two pouches for storing some camera stuff like cables and extra batteries. Furthermore, they sell beautiful jewelry made from recycled materials. I would have loved to buy even more from them, but as a backpacker, I couldn't afford more, or I couldn't fit anything else in my backpack.
All of the handicrafts provided in the shop come from a village in the rural area of Cambodia and their workers are paid fairly.
So if you are in Phnom Penh and you want your presents for beloved ones to be something meaningful (and not a phallus-shaped bottle opener or something like this.) take a look at their products.
You can find their website here.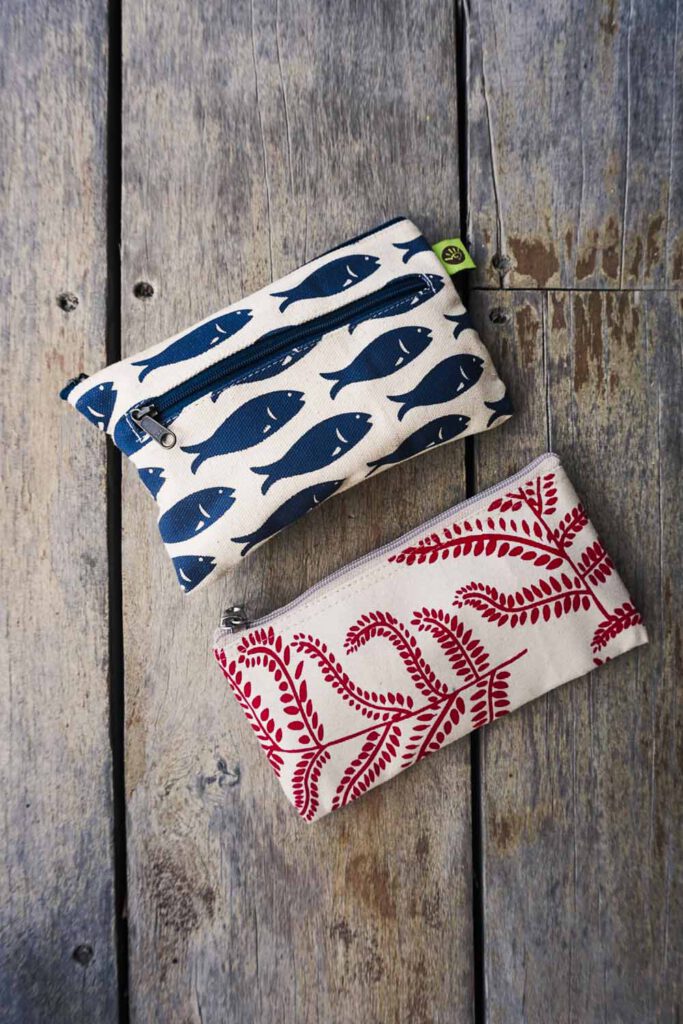 Ho Chi Minh City
I was so surprised by all the litter in Vietnam especially. But I also found a lot of people to fight it there! I even met a German, living in Ho Chi Minh City and selling Zero Waste goods. Seeing the zero waste news being spread is so wonderful!
The Craft House
It is quite funny that the first shop I went into already had some amazing plastic-free options. Not only they hand me a paper bag, but most of their products also were not wrapped in plastic. I bought a fancy camera strap for my boyfriend there.
But especially if this is your first time researching zero waste in Asia, this shop has a super starter kit. It is a pouch containing a bamboo toothbrush, straw, and cutlery. This can help you to eliminate a lot of waste with only one purchase.
For the shopper of minimalist and 'green' fashion they also had super cute tees made from cotton.
You can find their website here, but as it is in Vietnamese it might be hard to read.
Wild Earth Designs Saigon – Upgrade Your Coffee Like a Zero Waste Pro
It is common in wide areas of Asia, they hand you your coffee in a single-use plastic cup and to make it even worse they give you a plastic bag, tailored to your cup, so you can hold it easier (Not my style but ok. I wear my cup of coffee proud like an accessory. Stylish like Carrie Bradshaw.)
However, Wild Earth Designs sells not only reusable straws but small handcrafted coffee cup straps to eliminate the nasty cup holder bag. For you, this might be a way to make your coffee a bit more individually tailored to you.
As they don't have their own website, you can find their Facebook page here. There they also announce where they sell their products, as they don't have an online or a steady shop.
Royal Saigon Restaurant – The First Restaurant to be Zero Waste in Asia
Now this is not a shop in particular, but I had an amazing chat with the zero waste ambassador of Vietnam (I met him at a stall in a mall and he told me that he works on his own metal straw business while being a consultant for other businesses to be plastic-free.)
He worked on this project zero-waste restaurant. They are currently working on reducing the plastic they use (Straws, bottles, packaging for delivery services). Furthermore, they offer you a refill station for filling up your water bottles. Especially in Asia, this can come in so handy as you can't just drink the tap water there. This way by visiting them you don't just get amazing food but also clear water without harming the environment (yay!)
You can find their website here.
As mentioned earlier this lad I met is working on his own Zero Waste items. Coconam sells all sorts of zero waste goods. Especially for starters, this is the ideal place for getting your items for ditching plastic. Actually, I bought my first beeswax wrappers from them!
Furthermore, they sell straws, cutlery, pouches, bags, and my favorite from them: bowls made from coconuts. Perfect for your next homemade Acai bowl, isn't it?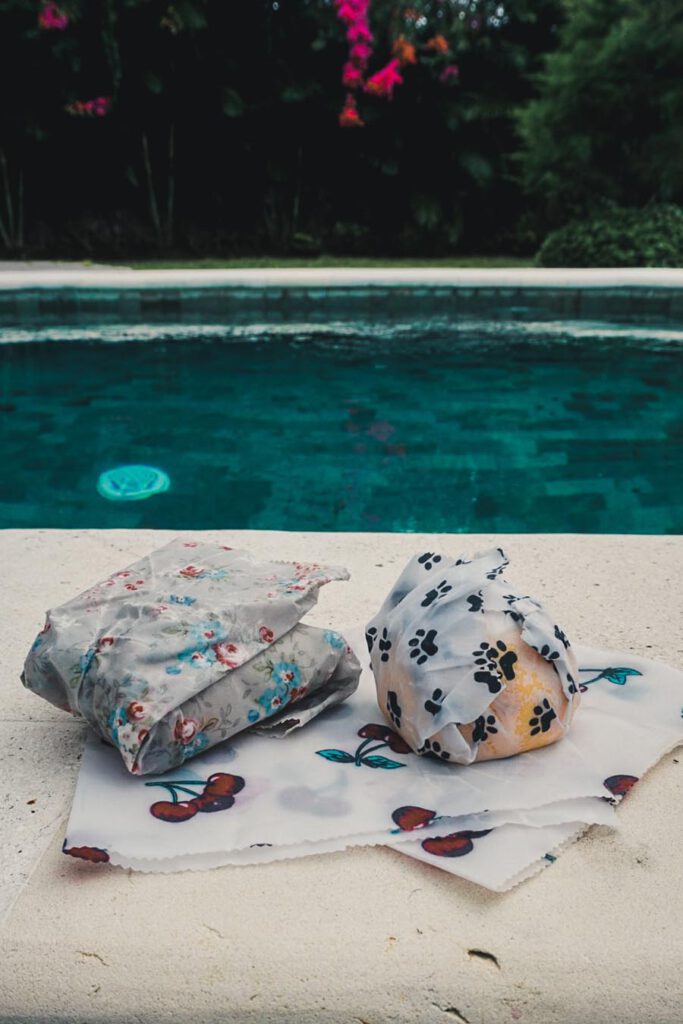 Bali
Bali was my last stop on my Asia adventure and I was so pleased that I found a lot of Zero Waste-ish things. Our villa even had a water dispenser, which was the best after using plastic bottles for four months. But you will see that I tried to focus rather on fair fashion in Bali as I already own my Zero Waste items but still have to work on my wardrobe to be 'green'.
Beachgold – Seminyak
Beachgold offers a wide range of beautiful clothes for women. Their products all have beautiful patterns and are handmade and fair trade and the fabric they are made of is Rayon. This is a vegan alternative to silk.
I got myself a beautiful dress from them and I love it! Right now I am looking for outfit ideas so I can wear this summer dress not only in the summer but in the winter too because I can't imagine wearing it only in the summertime.
The double win is that you don't get a plastic bag but a canvas bag with a pineapple on it. Screw every other bag you had before, grocery shopping was never fancier.
Here you can find their website and Instagram.
Indosole
My new favorite flip flop. Made from recycled tires and natural materials, this shoe is your new best friend. They offer shoes for men and women in serval colors. I bought my pair (and my father even bought one too!) in Seminyak at Drifter Surf Shop & Café another stylish shop in case you need more clothes or surf supplies.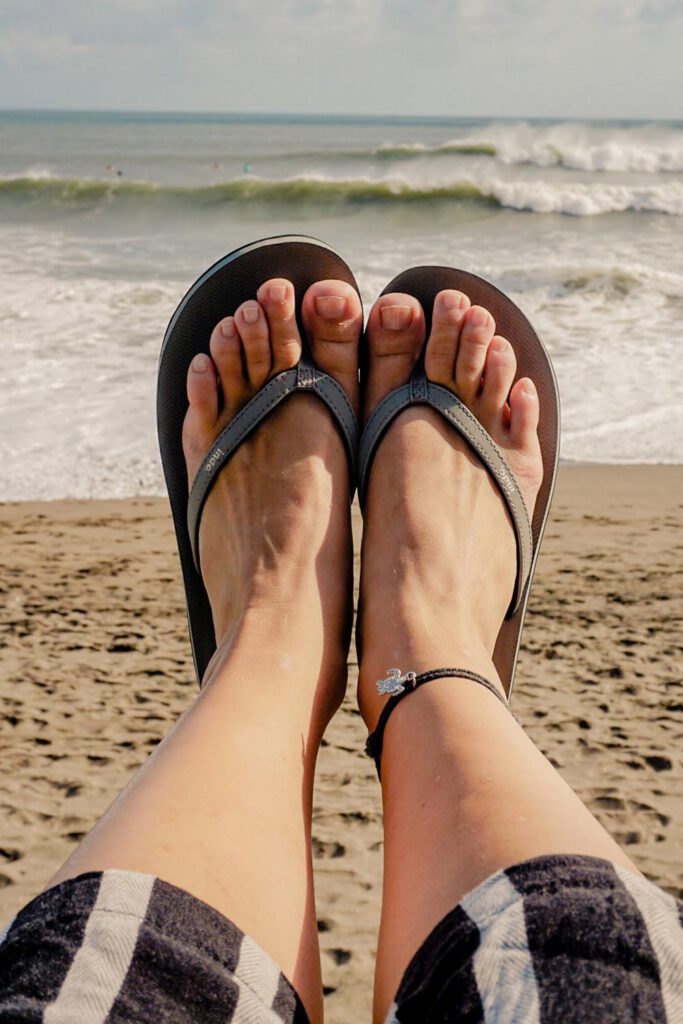 Click here for Indosole and here for Drifters website.
Above the Clouds – Ubud
This might be not something for everyone, as it is a shop for men's wear only. But some of you might have husbands or boyfriends who could use some ethical fashion too. They have beautiful tops and bottoms, made of ethically produced linen. They offer a wide range of natural colors and fits.
Here you can find their website.
Zero Waste in Asia – my Opinion
Humankind has a long way to go to solve the problem with waste and plastic. But thinking about all the things I learned and the people I have met in the past five months I get optimistic. If we all continue to refuse plastic and litter in our lives & educate our fellow human beings we might actually turn things to a better end.
If you are interested in my further adventures, check out my post about Kuala Lumpurs Rooftop bars! (But be sure to bring your metal straw with you!)
Liked This Post About Zero Waste in Asia? Pin It For Later!