Kuala Lumpur is so underrated compared to other destinations in Southeast Asia and so it is no wonder that its rooftop bars are underrated too. That's why I will now present the top rooftop bars of Kuala Lumpur!
This list pictures my personal opinion and if you know other rooftop bars there please let me know, so I can try them the next time I am in Kuala Lumpur! I put this list together with the intention, that you should visit them chronologically, depending on how many evenings you have in Kuala Lumpur!
Skybar at the Traders Hotel
If you have three evenings in Kuala Lumpur, you should start with the Skybar. It is located at the KLCC park in the Traders Hotel. The hotel's staff will kindly guide you to to the elevator that you have to take to the top of the building. Afterwards, you even have to take a safety control that is more serious than the one at the KLIA airport.
You will be overwhelmed by the view you get. As it is on the complete opposite of the Petronas towers you can have the direct view on them! And well they are so beautiful it is just perfect to get the best view. Furthermore the bar has a pool, that can be used when you are a guest at the Traders Hotel but only until 5:00pm.
Regarding the seating, I would recommend using the regular seats when you are alone or two persons. But if you are a few more persons, the window seats might be interesting for you. There you have the best view but to get it you have to pay at least 500RM (100€) on drinks or snacks there. Regular cocktails retail about 25RM (5€). This is actually quite fair for Malaysian prices as you can enjoy the fantastic view!
You can find their website here!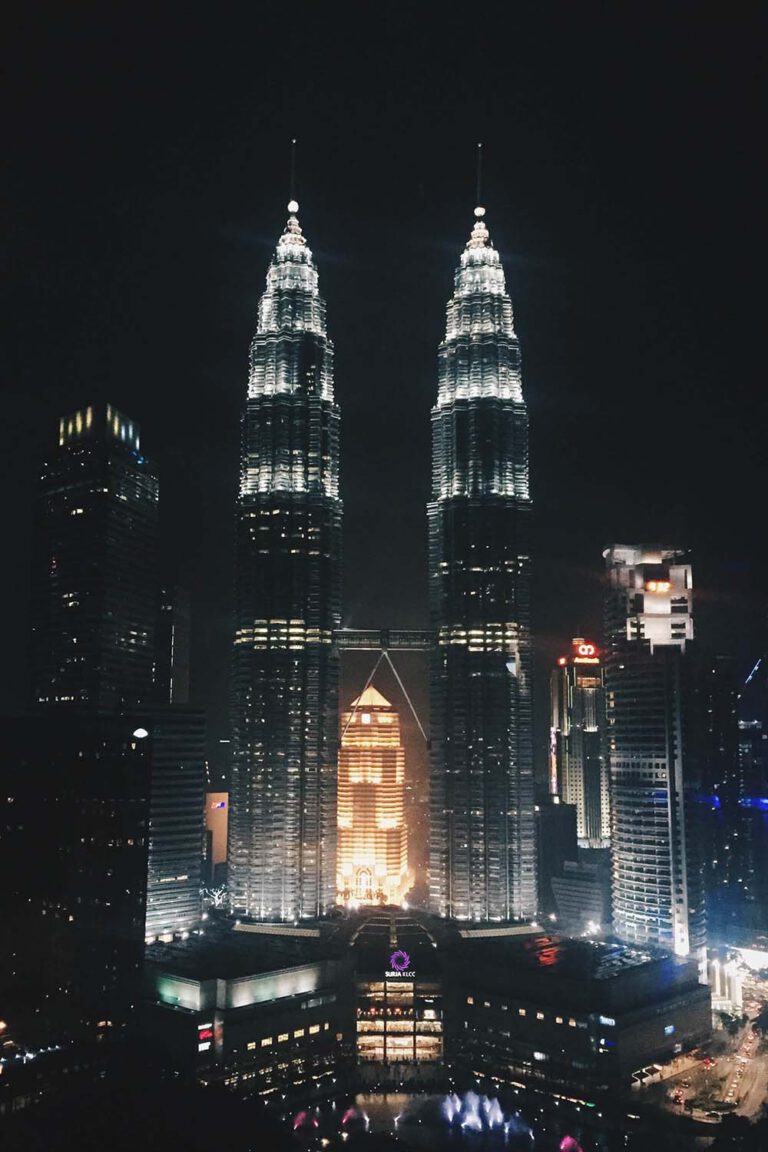 Recommended: A Foodie's Guide to Kuala Lumpur
Heli Lounge Bar
If you only have two evenings in Kuala Lumpur OR you have visited the Skybar the evening before, you should now visit the Heli Lounge Bar. Daytimes this is a helipad but in the evening they place a small rope around the edges and turn it into a fancy bar!
Be sure to be there before 9:00 pm, because afterwards they won't let you in without fancy clothes and I know usually backpackers don't carry a lot of festive dresses with them. You will have to order your first drink downstairs (this way they male sure, you don't go upstairs without drinking something.).
And if you want to eat something you will have to do this downstairs too. Once you've got your drink you can go upstairs and enjoy the breathtaking view!
Marinis at 57ths
If you visited the bars listed above OR if you only have one evening in Kuala Lumpur, you should visit my favourite one.
You get to the Marinis by using a special entrance to the Suria at the side of the Mandarin Oriental in Kuala Lumpur. To get to the top you have to take three different elevators and a security check.
Up there the Marinis has an overwhelming restaurant which is quite expensive tho. But if you really want to treat yourself you shouldn't hesitate to dine there. The food is simply amazing and the staff treats you like royalty.
But if you are not a big spender you can enjoy the view from their bar even better. As their tower is directly next to the Petronas towers, you have the most fascinating view ever. Photos really fail to picture the feeling of standing there correctly. You just have to have a drink there to complete your Kuala Lumpur experience!
You can find their website here!
This was my guide about the best rooftop bars in Kuala Lumpur, Malaysia! I hope it is helpful for you. Let me know if you visited these places and how you liked it!
If you want to read more about Kuala Lumpur, check out my café guide or my general guide to this beautiful city!
Liked This Post? Pin it For Later!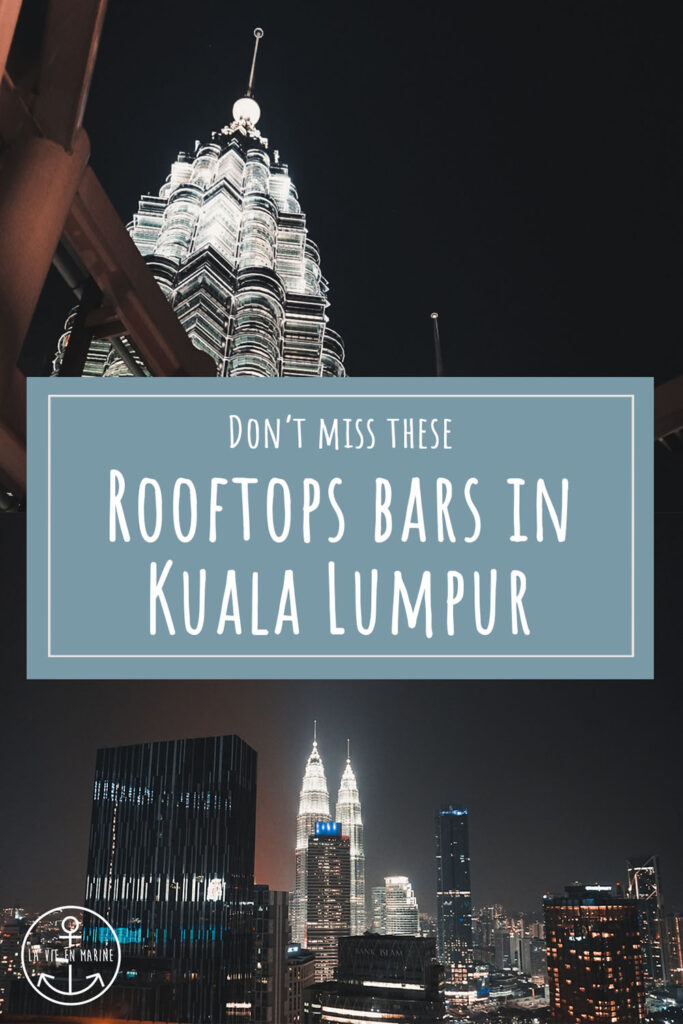 Need more inspiration for your trip to Malaysia? Then you came to the right place!