Cambodia is a beautiful place and there is so much to see and experience. Angkor Wat, Phnom Penh, the islands, the jungle, and so on and on. I loved my time there and I am very glad I did it the way I did it. But nevertheless, I wish that I had known some things in advance that had made my trip to Cambodia even better. That's why I want to show you how to plan your trip to Cambodia
Well for me it is too late now, but I want to share my insights with you to make your stay perfect. How does that sound? Hopefully wonderful. So let's start with how I planned my trip and what I would do in a different way if I would go on this trip again!
This post contains affiliate links. That means that if you click on the products and buy via this link, that I can get a commission. This service won't cost you a cent more and allows me to provide you with more travel content.
First Stop: Siem Reap
The Arrival
I arrived in Siem Reap late at night. Around 10 pm I got through the immigration. The first tip here is to have the exact amount of money for the Visa on Arrival with you. This makes things faster and the employees tend to give you a false amount of change. So check the current fee on the internet before you arrive. Afterwards I also got myself a SIM card with mobile internet so I could be available all the time.
So Tip No. 1: For a smooth arrival make sure to bring cash with you and get yourself a SIM card as fast as possible. They are super cheap and came with surprisingly fast internet.
Outside of the doors, it was raining and a storm was raging. I got in my Tuk-Tuk and made my way to my first hotel. The driver was very nice and brought me there safely. But let me tell you it was a hell of a ride in this small Tuk Tuk while it was shaking, the wind was blowing, all dark, and outside I could hear thunder and rain. I felt braver than I ever did and I think I will never forget this 30-minute ride.
As you may know, I am eager to learn how to live and travel more responsibly and therefore I can recommend this guide for responsible travel in Siem Reap!
My Hotel and the Next Morning
Looking for accommodation in Siem Reap was a bit challenging for me. There are super cheap hostels for about 2€ a night. But I decided to check in at a hotel which was about 15€ per night. It was a nice place and it felt good to arrive somewhere where I felt safe on the first evening. After all, you have to keep in mind, that it was my first bigger solo vacation.
Nevertheless, it was a short night. I arrived at 11 pm and at 4 am my driver would come to bring me to Angkor Wat. But I mean who needs sleep if you hear the adventure call you?
Entering Angkor Wat
Next pro tip for your trip to Cambodia: For exploring the temples of Angkor Wat I arranged my driver via Instagram as I got a recommendation from a fellow traveler. His name was Lem and he was great. He came on time and was super smart with the schedule and kept up with me.
The first thing we did when he picked me up was to get the entry ticket. I think you can get them in advance but I didn't think about it earlier. But as Lem was super well prepared we arrived at the ticket office before the gates were open. This way I was the first in line and didn't have to wait hours to get my ticket.
Pro Tip No. 3: Make sure you either book your ticket to Angkor Wat in advance or to be at the ticket office 10 minutes prior to its opening time. It saves you a lot of nerve and waiting time.
The Temples
Then Lem and I got to the temples where I observed the sunrise which was one of the most unforgettable views I had the pleasure to see. When the sun got up I walked around the temple exploring every corner of it.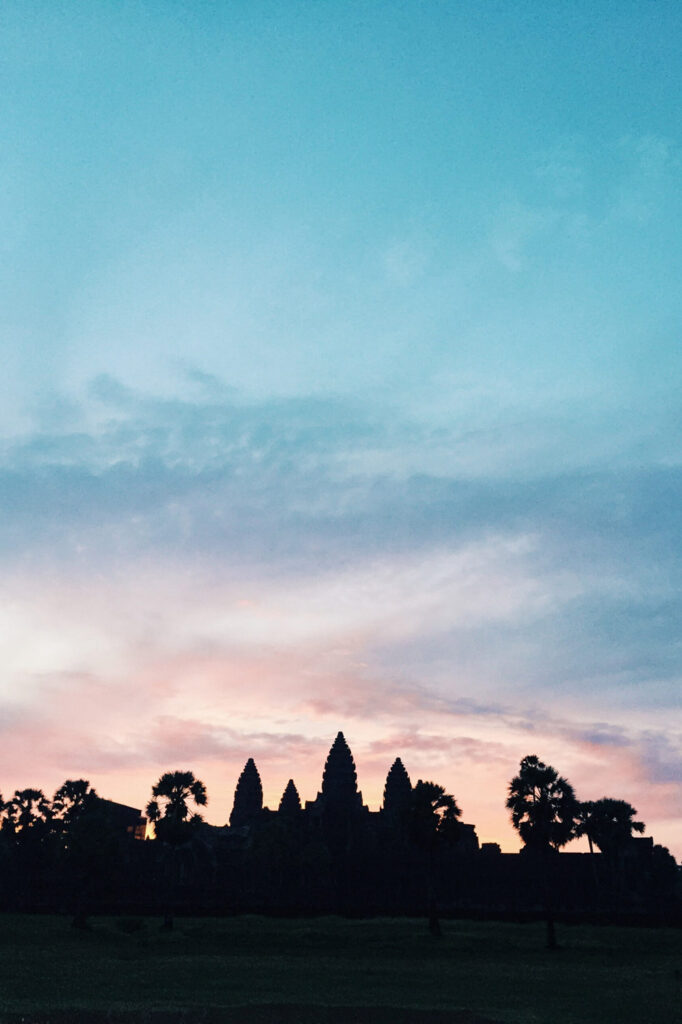 Pro Tip No. 4: Even though the temples are beautiful it can be a bit exhausting. Bring some lemonade, a snack or breakfast, and a book (maybe a guide about the history of the temples?) and enjoy the view for a while.
We continued visiting temples and walking around. It was so hot and humid but the temples were wonderful. Lem is an amazing guide and even had water there for me. Nevertheless, I recommend having a fresh coconut every now and then. I mean is there anything more refreshing than a fresh coconut?
Around 12 pm after 7 hours of exploring and walking around, I gave in and asked Lem to drive me back to my hotel and I had a relaxed afternoon at the pool to gather some energy before I would leave Siem Reap the next day.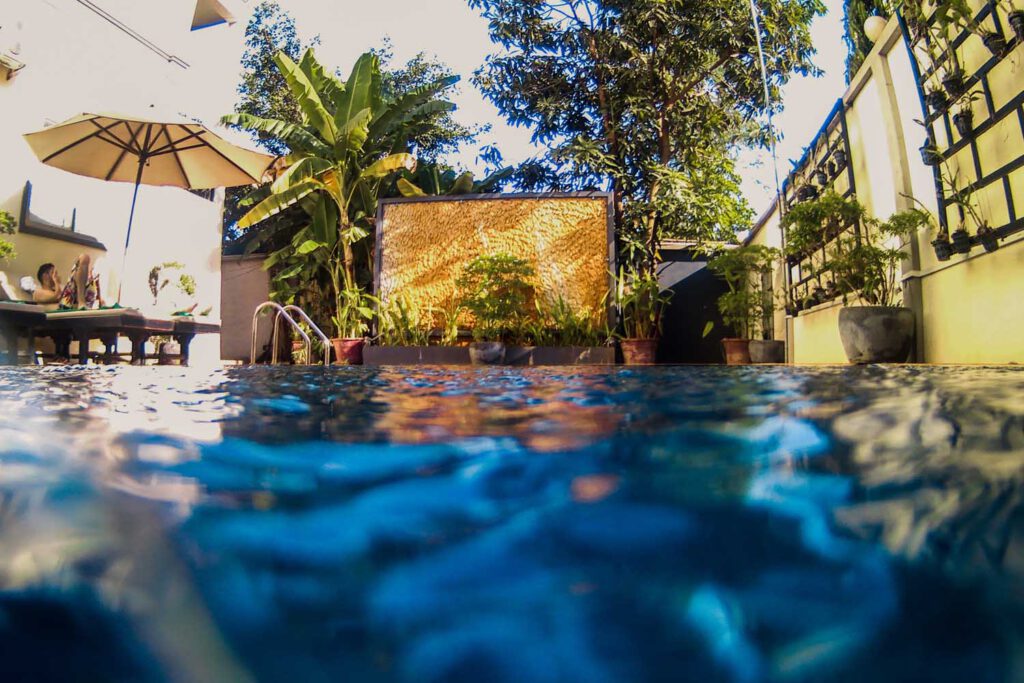 If you want to read more about how to get the best experience in Angkor Wat, check out Meli's 10 tips for visiting the Angkor temples! 
Second Stop: Sihanoukville
The Bus Ride or How-I-Totally-Underestimated-The-Size-of-Cambodia
The next day started early as my bus picked me up at my hotel at 6 am. It would take me to Sihanoukville, where my island adventures would begin but I didn't quite understand that Cambodia is a lot bigger than I imagined. I thought the bus ride would be around four maybe six hours but well… It was actually 14 hours long. As I am a person who loves to drive around by bus (I know I am a weirdo..) it was ok for me because I saw a lot of things on the way and it was great. Furthermore, I don't know if I would have been brave enough to take a night bus where I could sleep as I was alone on this trip and a bit afraid of not paying attention to my surroundings all the time.
Pro Tip No. 5: Before booking hotels and bus rides, make sure to do a quick research about the distance. It might be longer than you would think.
Sihanoukville And your Accommodation
I arrived at my hostel in the middle of the night and I was so glad that I finally could fall to sleep this day. The hostel I stayed in is called OneDerz and it has one location in Siem Reap, Sihanoukville, and Phnom Penh. It might be even more but I just researched it for the three locations.
The hostel was affordable and super clean which is the bare minimum I expect from the accommodation. But on top of this, the hostel offered nice tours, had a great restaurant/bar, and had a small bookshelf. I borrowed 'The Girl on The Train' the next morning and wanted to have a walk at the beach.
First of all, I heard that Sihanoukville is a tropical paradise, so I planned to spend two nights there. I was a bit disappointed when I arrived and saw how it actually was. It smelled terrible, it was dirty and all my instincts were shouting at me that this place isn't a safe one. After a short walk to the beach which was all dirty, littered, and smelly I went to get some breakfast at a restaurant I had heard about but it was already closed, leaving me quite frustrated this morning. So I went to my hostel and curled me to a ball next to the pool, reading the whole day.
The only good thing that happened to me this day was to meet a wonderful girl who stayed in my room and we had a great pizza for dinner.
So Pro Tip No. 6: In my opinion, you shouldn't stay a long time in Sihanoukville. There are by far more beautiful beaches in this area than in this place of sadness. But if you have some time on your hands check out Olive & Olive Mediterranean Restaurant. The pizza is amazing and even better if you have it with great people.
Third stop: Koh Rong
Arrival and Accommodation
The next day I and two other girls in my room got up early to take our ferry to our next stop: Koh Rong Island. The boat was quite slow but we finally arrived at the pier where another smaller boat picked us up and brought me to my hotel.
I booked my stay at Treehouse Bungalows in advance and my stay was the biggest adventure. I promise you that this isn't something for the faint-hearted, as you will sleep in a small hut. As it is handmade of wood its concept is quite open. That resulted in me waking up with a cute gecko hanging above my head.
Especially at night when the jungle awakes, it will get super loud, as most of the animals are nocturnal. Therefore you will hear geckos, frogs, and insects screaming in the hope to get laid. As I was alone, I was wide awake the whole night and didn't dare to get up as of fearing meeting some little fella in my bathroom. To be honest, it was scary as hell but looking back it was a fantastic experience that I am super thankful for.
Pro Tip No 7: Staying in the middle of the jungle can be hard and scary but I also never felt more adventurous. I think you really need to give it a try and sleep in the jungle for at least one night!
Activities in Koh Rong
Well, Koh Rong is a tropical island. If you didn't come here to the beach, why did you come? You can go on boat trips, snorkeling, etc. etc. And even if you aren't a person that loves swimming and being in the water, simply being at the beach and reading is a pure highlight too!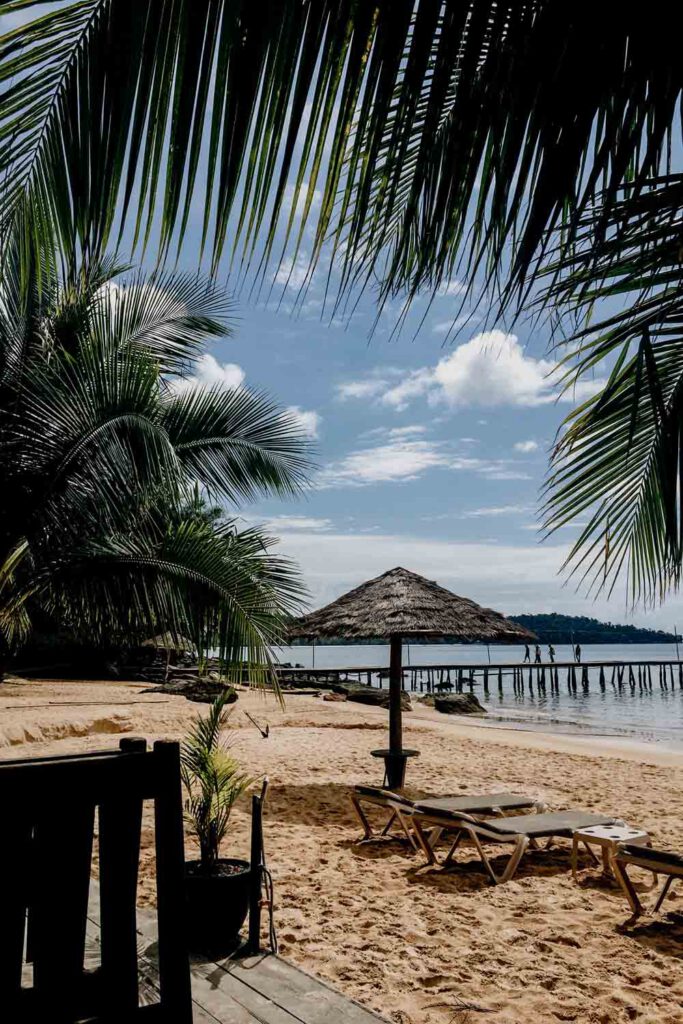 Besides relaxing and swimming there is one thing that you really MUSTN'T miss. It is seeing the glowing algae of Koh Rong. I heard about it and it was on my bucket list for a while, before I could check it off just now!
Around the island of Sihanoukville, you can find a specific type of algae, that glows in the dark after a sunny day. It is either on the beaches or in the water where you can swim in it. So after you booked your tour, you grab your mask and snorkel and meet your boat at the pier. There you and your co-passengers will be taken onto the ocean, where they will stop at a random place. From the boat, you will jump into the water.
The water is super dark. You can't see anything and as soon as the captain turns off the light you are completely and utterly lost. But if you just keep swimming and keeping your head underneath the surface, you will see shiny glitter around you, as soon as you move. It is all around you, making you feel like a fairy. It was such an amazing experience and I am so glad that I didn't miss it.
Pro Tip No 8: No matter whether you are afraid of the ocean or the dark you should definitely go on a tour to see the glowing algae. It is such a bucket-list-worthy experience, that I don't think that any of your lists are complete without it!
Related: Swimming With Turtles in Malaysia
Fourth Stop: Koh Rong Sanloem
So after two nights in Koh Rong, it was time to move on. I booked my shuttle to Koh Rong Sanloem and I could have just left smoothly. But that wasn't meant to be. As soon as I took place in the boat that should bring me to the pier, I got completely drenched by a heavy shower. When I finally unpacked my raincoat from the back of my bag everything was already soaked. Due to the humid conditions, I couldn't get anything to dry either.
Pro Tip No 9: If your clothes get wet, treat yourself with laundry service. It is super cheap in Asia and you get to have dry comfy clothes. So worth it.
Well, I go on the ferry that would take me to the next harbor. I had a chat with a fellow backpacker before I reached my next stop. Luckily enough I met a couple who stayed at the same resort as I did. Together we started to look for the resort as we knew that we had to have a little walk before we could reach it.
Hiking in a Jungle
We met a guy who told us we had to go on an hour-long hike to reach the other side of the island to reach the resort. I was quite shocked because we had to walk over a mountain and a jungle. It is a quite beautiful trail but after this heavy rain, I was really exhausted. Furthermore, the guy that showed us where to start warned us to keep an eye on the snakes.
Luckily we made it and found our hotel, the Robinson Bungalows quite easily. It was a peaceful place, directly at one of the most beautiful beaches I found during this time. We checked in and enjoyed the waves. It was a lot of fun and we all enjoyed the evening. I befriended another girl who worked at the hotel and we had dinner and a few drinks together later.
This part of the island is so peaceful and remote that it doesn't even have a phone signal. It is the perfect place if you wish to stay on an actual remote island, as you will really feel lost. However this whole stay was so incredible, I think everyone should add it to their Asia Bucket List!
Pro Tip No 10: If you want a remote getaway to make sure to stay on the reverse side of the island. If you want the internet and a little bit more connection to humans stay on the other side.
The next morning marked the end of my time on the islands. Usually, I would have had to walk all over the mountain again but luckily I could take a boat that brought us to the other side of the island again. From there we took the ferry that brought us back to the mainland. From there I took a bus to the capital of Cambodia, bringing me to my final destination on my trip to this country.
Last stop: Phnom Penh
I made it to Phnom Penh late at night and just checked in at the OneDerz again. It was super clean and super nice to stay there. It is directly located at the river and offers a lot of nice tours. I would have loved to do some of them especially to take part in a Cambodian cooking class and market tour but unfortunately, I just planned to stay one night in Phnom Penh as I heard that it isn't quite nice and not always safe.
So I planned to leave Phnom Penh around 1 pm this day and so I woke up early to get to see the Tuol-Sleng museum as it was the thing I wanted to see in Phnom Penh the most. I wanted to see it as I wanted to know more about this crime and this horrible place. It left me heartbroken and sad. And I can't say more about it. You need to experience places like this on your own. Neither am I able to say if you should visit this site or not. Everyone needs to make this decision on their own.
On my way back I found this cute little shop, that I talked about in my guide to the Zero Waste Shops that I found in Asia and I really recommend you to check out this small shop as it really tries to make a difference in the lives of their employees. I bought three small pouches and I would have loved to buy even more but the space in my bag was quite limited.
Some Extra Tips for Phnom Penh
No 11: First of all stay at least two nights. I deeply regret that my time was running out and I couldn't see more of the city. Stay in the OneDerz and take part in the cooking class and market tour and tell me how it was. (I would have LOVED to do it!!)
No 12: Make a smart decision on what to see during your stay in Phnom Penh. There are a lot of things to see and I don't want you to be sad if your time there is limited.
No 13: Get a Khmer massage and shop at the fairtrade shop I mentioned earlier. Enjoy the prizes and spoil yourself (and at the fairtrade shop you will get cute things while even doing something good!)
Let's Come to The Close of my Trip to Cambodia
My time in Cambodia was challenging but nevertheless amazing. It taught me a lot about myself and how I want to travel. I learned that I love to stay in hostels and hate to be alone in the dark jungle (well who would have thought this..). That I want to learn more about culture on my next trips and that I need to prepare more for further trips. But hopefully, you will learn something if you were interested enough to read this whole text. But for now, it is long enough. Have fun and please tell me how you planned your trip to Cambodia and what I missed.
If you want to read more about my adventures in Asia, check out my guide about Hanoi, Vietnam!