I am very sure that you watched the Jungle Book when you were a kid. Name me one person who doesn't know how to sing along 'bare necessities'. And there is one place on earth where you can't shake off the jungle rhythm and this is Taman Negara, Malaysia.
Famous as the oldest rainforest in the world this place has been around for almost 130 million years! And I had the very pleasure to see it! It was such an amazing trip and I want yours to be it too. That's why I want to share my experiences and recommendations with you.
This post contains affeliate links. That means that if you click on the products and buy via this link, that I can get a comission. This service won't cost you a cent more and allows me to provide you with more travel content.
How to get to Taman Negara
You can either get there by renting a car or riding the bus. We decided to go by bus and we booked a ticket via Han Travel. There you meet your driver, bus and co-travellers at the opposite of the LTR station 'Pasar Seni' where we handed them our passports and got a coffee.
Then when everybody arrived we got into the bus and started our drive to Taman Negara. We had some jam on the way but this was because of Raya, a public holiday. I can't recall the length of the drive because I took a longer nap while driving but my mother told be it was about 3 hours.
After the bus ride you get to a small stations for ferries. You get to pay a small for each camera you plan to use in the jungle and a general entry fee. Both are ridiculously cheap so you shouldn't bother it.
Once you get your passes you can enter a ferry. If you have a sensitive bottom you might bring a pillow because the seats aren't very comfortable and you are going to sit on them for two and a half hours (can be three hours too.). But you shouldn't think that you will spend those hours in boredom. If you are interested and attending enough you can spot a lot of interesting animals like birds, buffaloes and monitor lizards.
Once you made your way up the river (congratulations you adventurer!) you reach a floating restaurant. Depending on your accommodation you will now choose to stay on the side you arrived or the other one.
As we stayed at the Mutiara Taman Negara Resort we had to cross the river once more (for 2RM only!).
Your Accommodation: Mutiara Taman Negara
We had our bungalows booked in advance and so can you via Booking. There are serval other hotels and hostels too but with the Mutiara Taman Negara you are directly in the jungle.
Furthermore they don't just offer the more expensive bungalows, we stayed in but also a hostel and a camping ground too. They also have a spa, restaurant and an own natural swimming area (we were not brave enough to swim there, as it is all natural and small part of the river.)
The rooms were clean and cozy. Compared to other jungle bungalows I visited during my time in Asia this one was honestly superior. Let me tell you it is far more comfortable to listen to the jungle's noises at night while being in a neat place than laying there, hoping that the jungle's residents won't come to cuddle with you.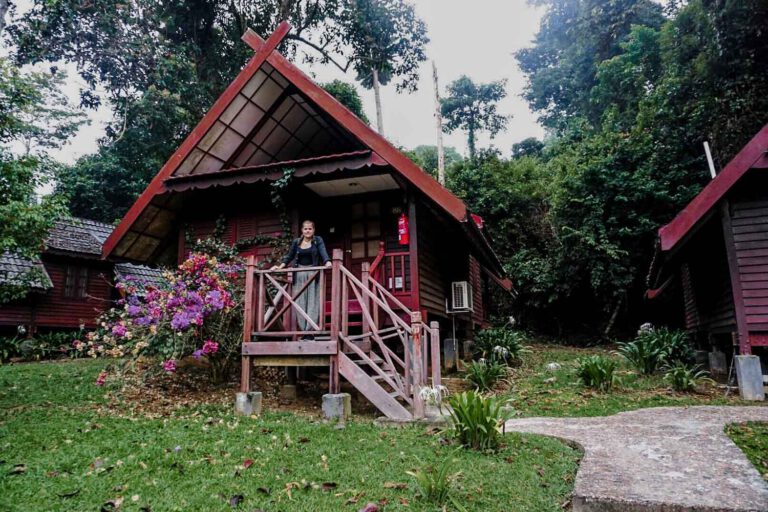 But nevertheless you should be aware that some of the bungalows are quite far away from the reception and walking home at night might be a bit scary! For example we saw some wild pigs between the houses while they were looking for food. During daytime you are also able to see monitor lizards and monkeys. But do yourself and every guest that visits after you a favour and don't feed or interact with them at all. They just become sugar-addicted and aggressive.
Recommended: Asia Bucket List
The Activities in Taman Negara
Once you are there you can book a variety of different activities. To experience them all, you should stay at least three days or longer. As we only did two of the available tours, I will talk about them first.
Jungle Trekking & Canopy Walk
Jungle Trekking with Camil
The highlight of the tour and the must-do. You get to walk through the jungle with a guide who explains a lot about animals and the plants you can find in the jungle. If you get to do this tour, you should definitely ask for Kamil. We guided us and he was the best guide ever. He knew so much and was so friendly.
We saw so many interesting plants and animals before we left the path and took a small climb through the jungle. We were sweating before but this was the most exhausting thing I might have ever done. But it was so much fun! When we got back to the path we were completely covered in sweat and it was dropping off our faces. And a few more meters and we reached a view point where you get to see the river and the jungle. This point is really beautiful but not compared to the one you can walk to if you want. It is another walk of 5-10 minutes but the view might be one of the most rewarding I have yet experienced. (You can feel the jungle rhythm there like nowhere else!)
Canopy Walk
The next fantastic thing you get to do on this tour is the Canopy Walk. It is the largest suspension bridge on the world and for the lighthearted you can be sure that its security is tested by the TÜV. When we get there some parts were closed because they were not perfectly safe. If you plan to visit the bridge be sure, not to do the tour on a Thursday, as the bridge is closed on this day.
Walking on the bridge can be very shaky but you get to have the best view on the tree tops (If you dare to take your eyes off the shaking bridge.) You just have to check that the bridge doesn't get too full as only a limited amount of people is allowed to be on it. And don't be so mean that you would start to swing the bridge. Some might get a little bit scared. But apart from this it is so much fun! Just be brave and have fun!
After the canopy walk you can go back to your bungalow and take the shower you will need so bad. (Yes you will crave it so bad!)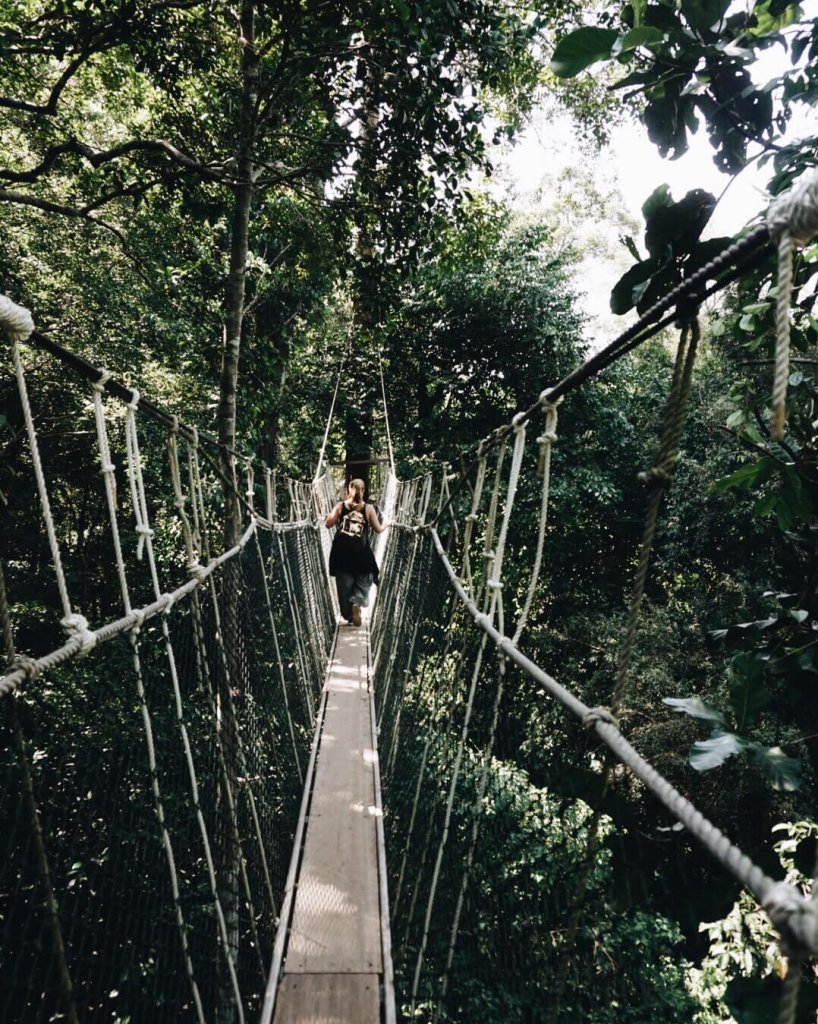 Night Jungle Walk
The other great activity we did was the Night Jungle Walk. Unfortunately as it was a public holiday the jungle was full with people so we did not get to see that many animals. But Camil still managed to show us some cool creatures. We saw a frog, some scorpions, a giant spider, some enormous ants and so other exotic little fellows.
If the jungle is not crowded you can be lucky and see even more animals like birds or snakes but this is only possible if there are not stampedes of humans on the paths. But nevertheless we enjoyed the tour and were happy to have seen these other animals.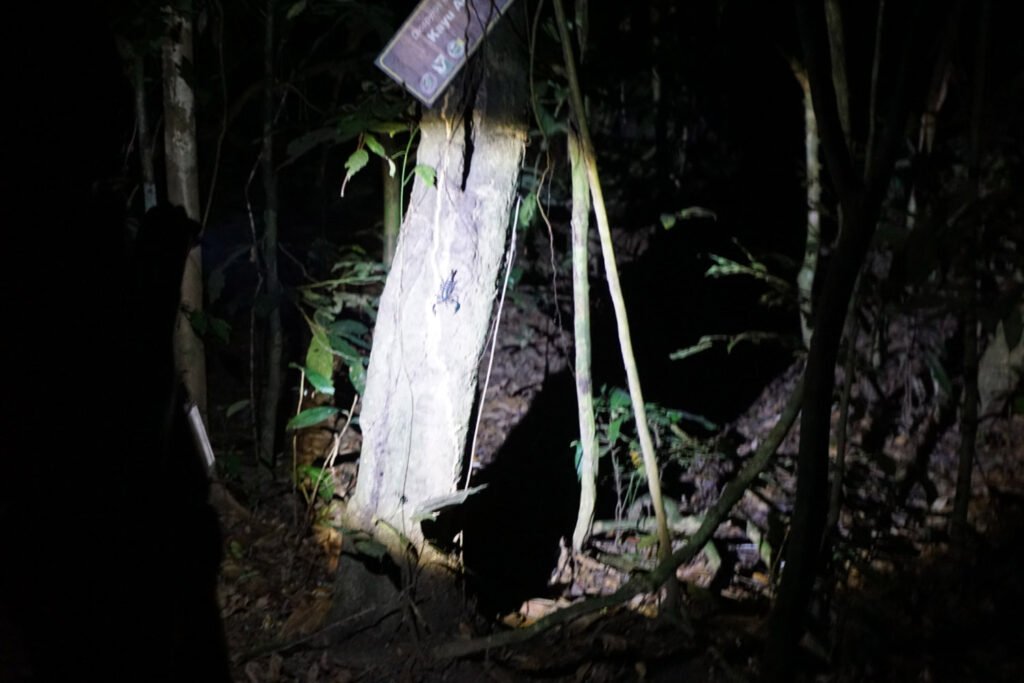 Other activities
Despite these things to do you can also do more boat tours (in different variations. Some are floating and others are rather rafting.) and something that's quite untypical experience. You can visit the orang asli, an aboriginal tribe who lives in the jungle. Camil already told us a lot about the way they live especially what kind of plants they use for different occasions like for treating sicknesses.
Related: For further information about how to plan an amazing vacation in Malaysia, check out this Two Weeks Itinerary to Malaysia!
The Way Back.
Now we already are at the close of this guide to Taman Negara. I just want to drop you one final hint. Forgoing back to Kuala Lumpur you don't have to take the three hours boat ride again, as you can just take a bus from the town on the other side of the river. It is a little bit more comfortable and gives you a little bit more time for a long relaxed breakfast at the resort.
If you want to read more about my adventures in Malaysia, check out my guide to Pulau Redang. This is another great destination for experience Malaysia.
Thank you so much for visiting my side! Please let me know if this guide was helpful for planning your trip to Taman Negara!
Liked This Post About Taman Negara? Pin It For Later!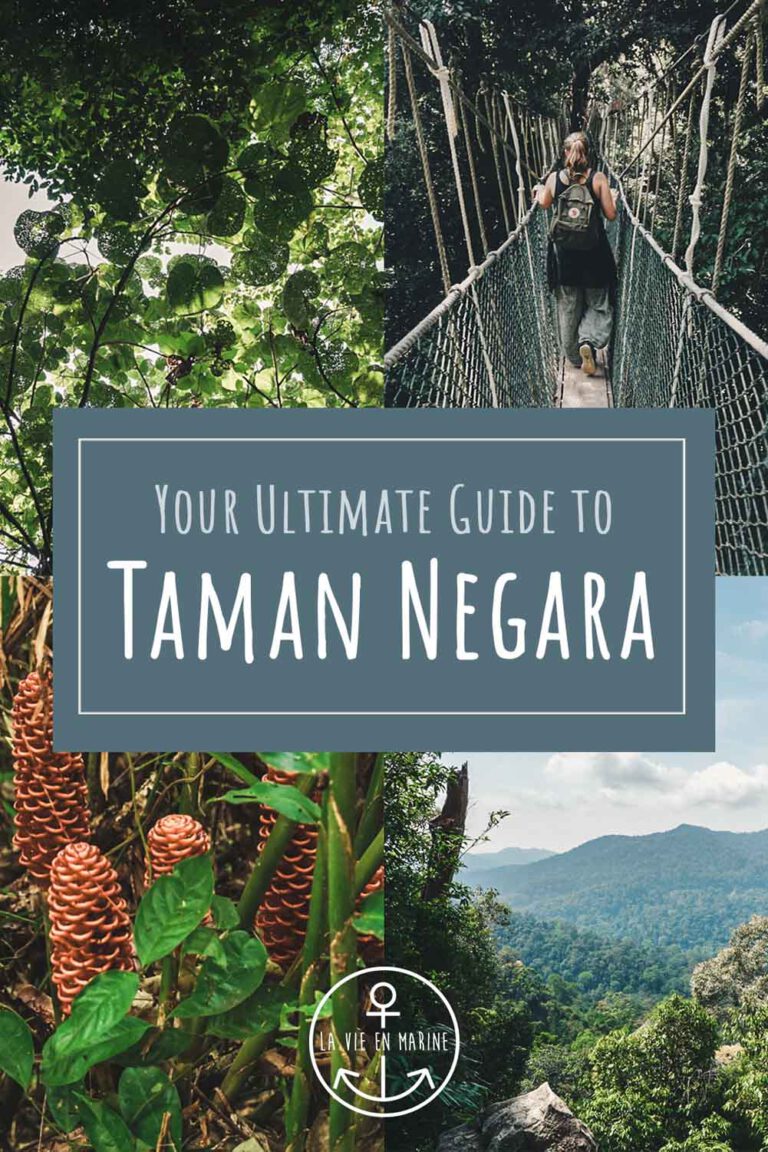 If you are planning a trip to Malaysia, make sure to check out my posts about Kuala Lumpur. They will help you to have the best stay ever!