Are you looking for the perfect road trip in Tuscany? Look no further, because you found it here! There are only a few places as iconic and breathtakingly magnificent as Tuscany in Italy. The green hills only interrupted by terra cotta colored houses and cypresses that are perfectly aligned along winding driveways are utmostly inviting to all those who love the mediterrean flair. This itinerary takes you on a week long adventure through the Italian country side and its most wonderful cities and villages. Without further ado, let's dive right in!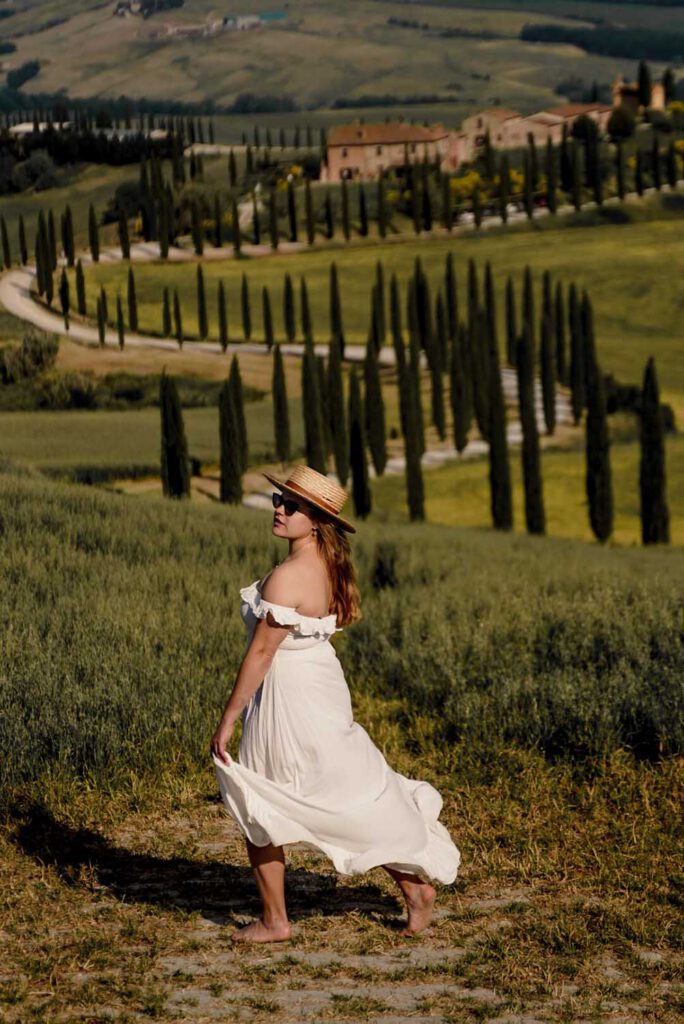 Day 1 – Firenze and the Perfect Airbnb
Our road trip in Tuscany started with a day in Firenze! We arrived at this magnificent city in the early afternoon and looked forward to spending more or less 24 hours there. However, if you do have some more time on your hands, I would advise you to bring a day or two more to explore Firenze, just because I felt like I missed so much!
As I knew that time in Firenze would be fairly limited, I planned ahead. Therefore I booked an Airbnb located directly next to the Duomo of Firenze. This way I saved a lot of time on transportation because every single sight was within close reach.
So as you may have guessed by my stay being less than 24 hours in Firenze I didn't have time to visit the Uffizi Gallery or plenty of other sights in depth. However, this stay gave me a pretty good insight into how to see most of Firenze in a very short time!
Let's get started: the Duomo
One of the most breathtaking churches you will come across in a while! The Duomo is the heart of Firenze and you will stumble upon it eventually. Around it, you will find a big open space where you can get pricey and touristy meals. It is great if you are hungry and looking for a snack. However, if you want to get a better taste of Italian food and gelato, make sure to have it a few streets further away from this center.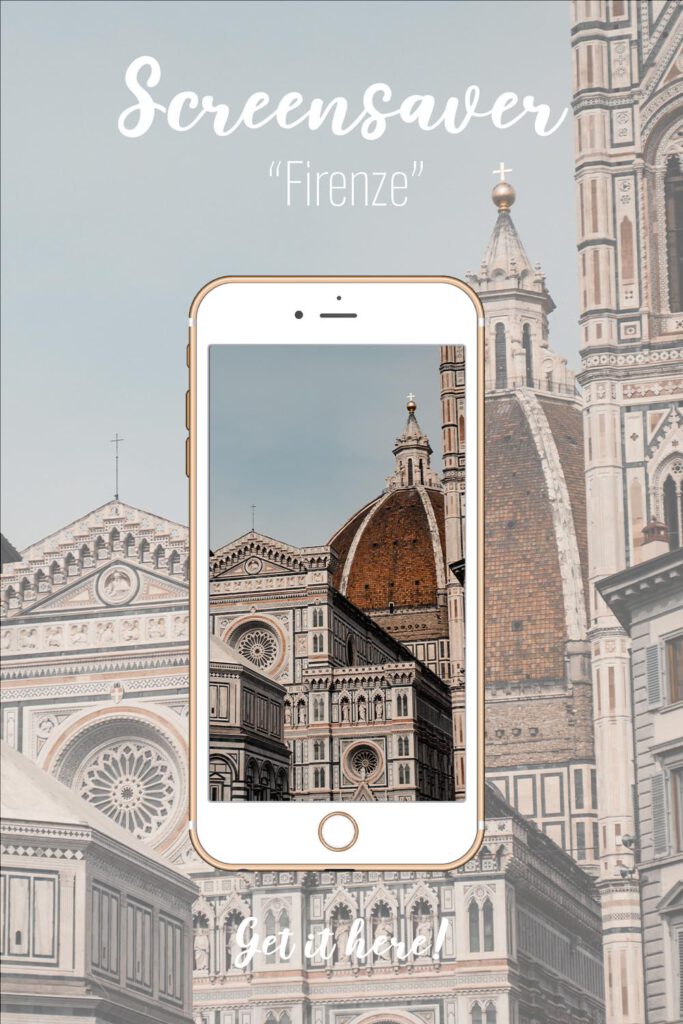 You can now also buy my photographs to enhance your phone and computer and create a little window to your favorite travel destination. It would mean the world to me if you would check out my Etsy shop and have a look!
Walk, walk, walk
Like most European cities, Firenze makes no exception and is wonderful to be explored on foot! We walked from the Duomo towards the Uffizi Gallery, crossed Ponte Vecchio, and walked all the way back to our hotel. We then had a small rest before continuing with the perfect dolce vita in Firenze!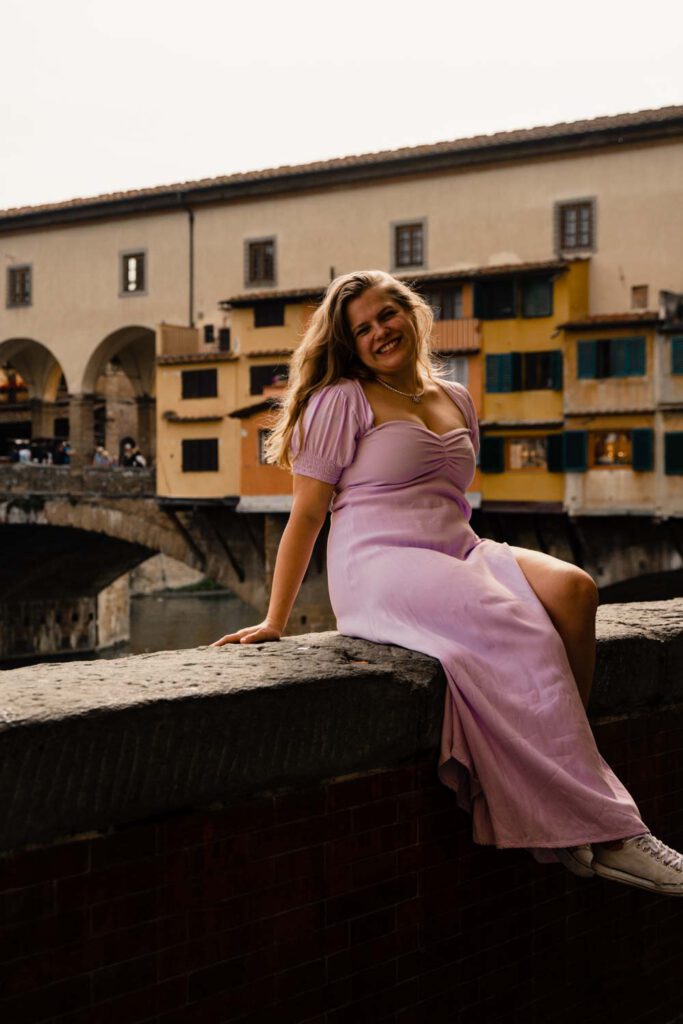 View on Art – the best drink in Firenze
I knew for sure that I wanted to go and find a wonderful rooftop bar overlooking the Duomo for our Aperitif. So therefore we made our way to the View On Art Rooftop Cocktail Bar and we couldn't imagine a better place to see the sunset while sipping on cold drinks. We made sure to book our table in advance and it was definitely the right thing to do as we were not the only ones looking for an Aperol with a view.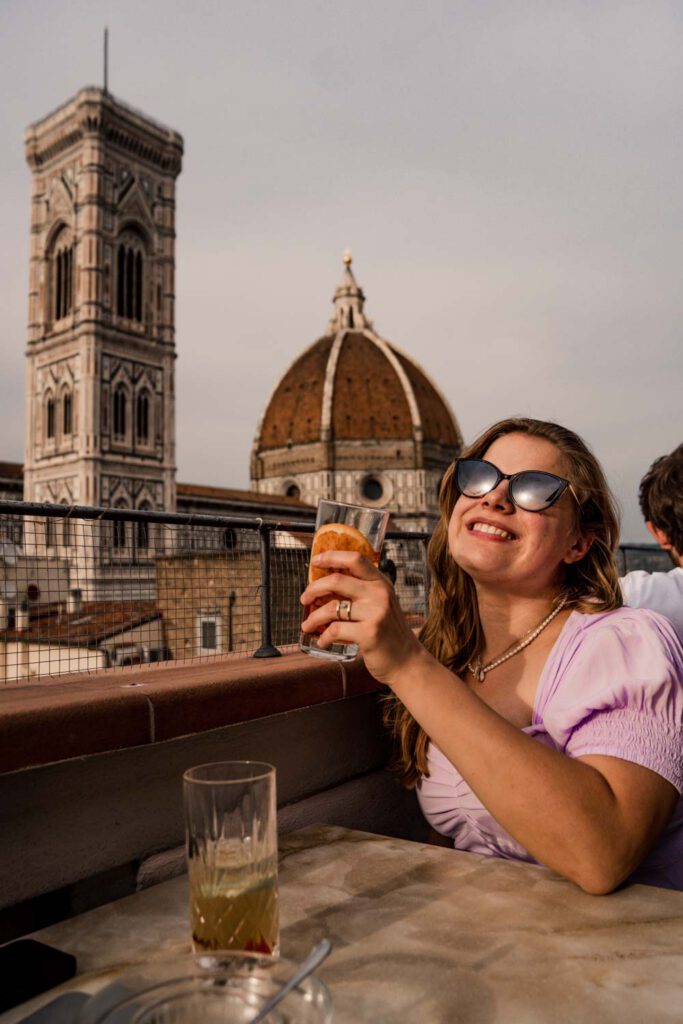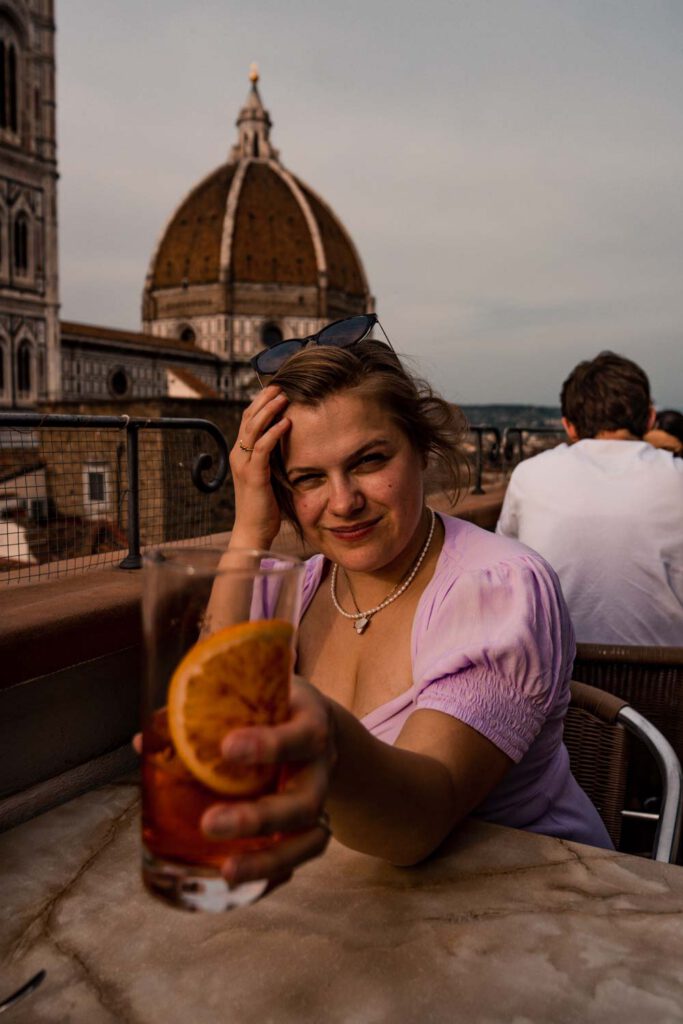 Good Food Close to the Duomo
Once you had your Aperitif you may also feel the need to have some food too! In our case, we went to the closest restaurant to our apartment and it already looked amazing from the outside.
Day 2 – Let the road trip in Tuscany begin!
Waking up in Firenze was a special experience as I got up early and took many wonderful pictures of the Duomo and the place being empty. It was wonderful to inhale all the pretty details and watch the morning sun embrace that magnificent building.
From there I picked up my bags and made my way to the car rental space. There I picked up the car that I rented for the next few days. As I embarked on my journey for the next few days I couldn't stop smiling and blasting songs like summer wine by Nancy Sinatra and Mysteries of Love from Call me by Your Name. It was the perfect moment. The winding roads were framed by yellow broom and the weather was perfect.
Volterra
The first stop for this day is Volterra, which is a charming Italian village with small streets and so much history. Make sure to have a look at the old Roman baths and forum. Within the center check out the plaza and one or two of the pretty souvenir shops. If you want to buy something that is typical for Volterra, you should opt for something made from boar or alabaster. Volterra is famous for trading with both of them!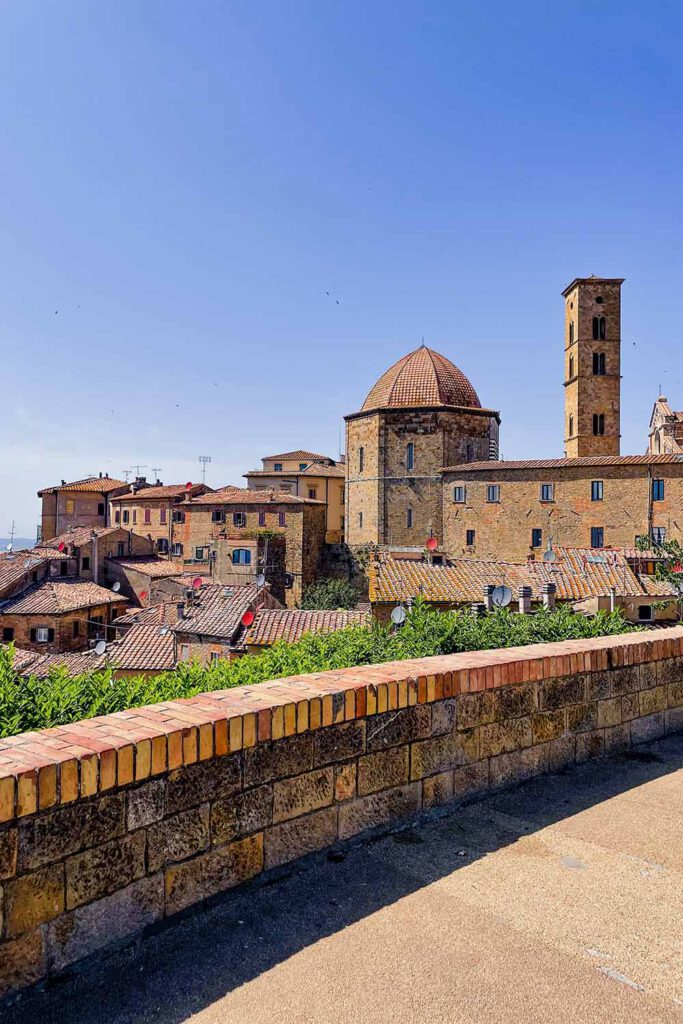 After the compulsory daily gelato, I left Volterra behind and drove off to the next stop on this road trip in Tuscany. And although it was wonderful I can't say I left light-hearted. Actually, I was quite disappointed to find out that the movie Twilight which takes place in Volterra actually wasn't filmed in Volterra but a few villages further away. So my general feedback for Volterra – is amazing, wouldn't miss it for the world. But the Twilight girlies out there should do some more research.
The loveliest Airbnb in San Gimignano
Here I decided to do a little detour from my actual plan of visiting San Gimignano in the afternoon. Instead, I arrived at my Airbnb and as the owner told me, he just opened the Pool this very day so instead of exploring another wonderful town, I changed faster than one can utter the word bikini and had a playful afternoon in the sun and pool. It was gorgeous and so worth delaying the tour for.
In the evening I went to San Gimignano's center in order to get some dinner. I opted for a charming little restaurant close to the main place of the city where I had pizza and pasta with boar ragout (a specialty in the region!) while street musicians played Italian music so it was truly magical!
Day 3 – San Gimignano & Pienza
The next day started with Espresso & Cannoli in San Gimignano. As I skipped San Gimignano for the pool the day before, I spend this morning wandering around San Gimignano exploring all that it has to offer. This is actually quite a lot considering that San Gimignano is actually not the biggest town. But in San Gimignano, you get the most incredible views of the Italian countryside, where you will see green and yellow hills stretched into the distance as far as the eye can see only disrupted by small houses and farms and separated by winding, narrow roads.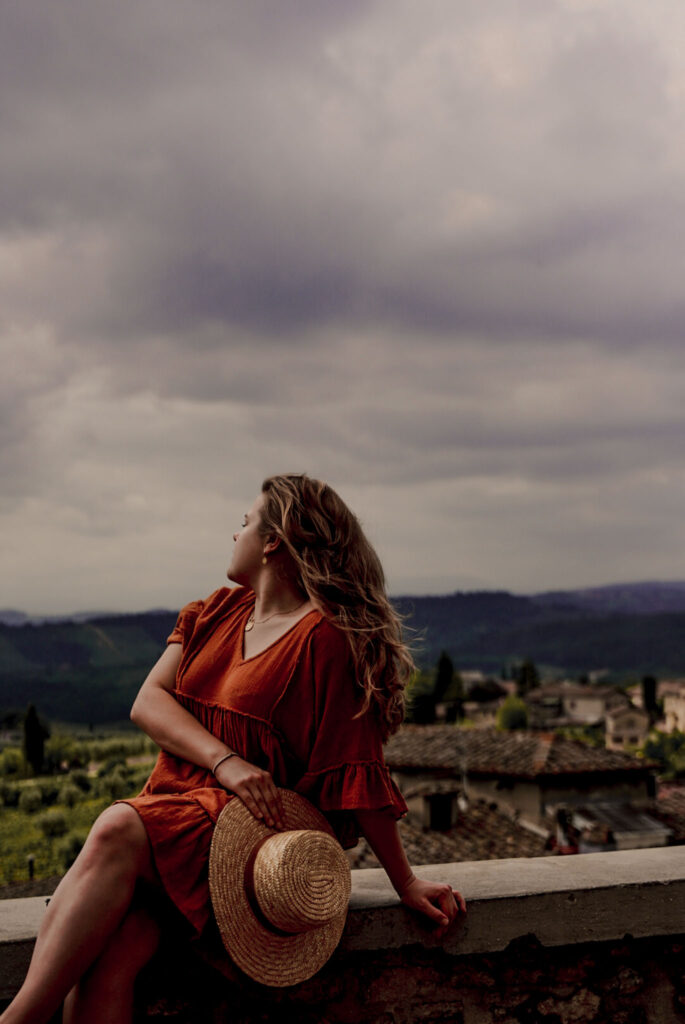 Besides shops selling local specialties like boar salami and Italian fabrics, you have a lot of cafés and small restaurants in San Gimignano but the sights, San Gimignano is the most famous for are its towers. These towers were once built by wealthy inhabitants of the city as a way to show off their wealth. Just like today bigger meant better and the taller your tower the bigger your wealth. Once they were quite numerous, but today there is only a handful left.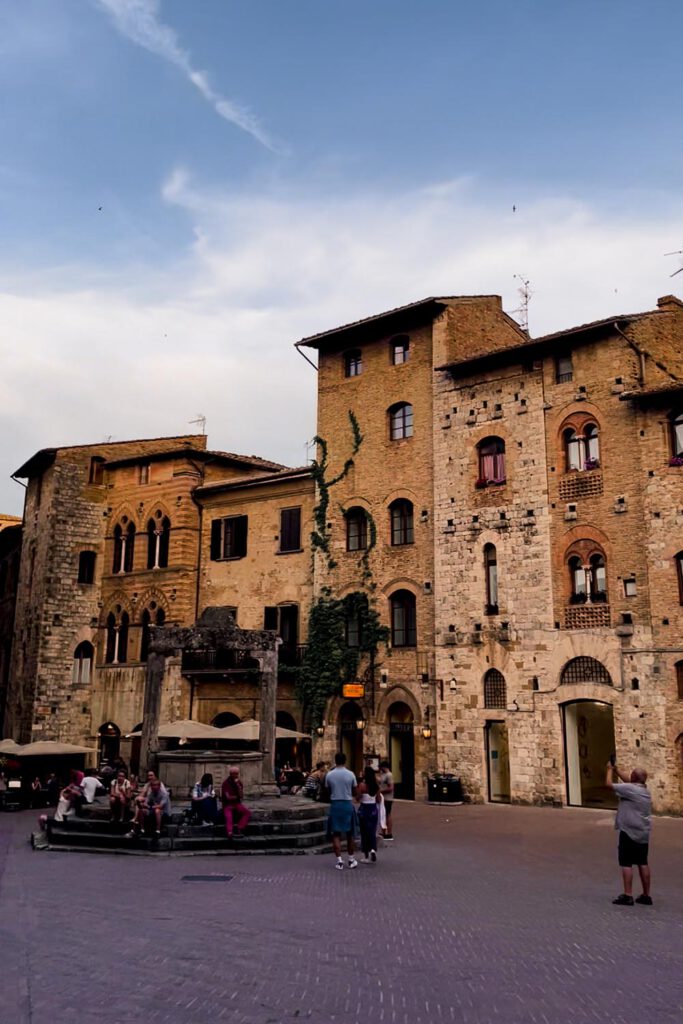 However, my favorite part of San Gimignano was the Parco Della Rocca, a park with the ruins of a medieval fort that was like a quiet little peaceful hideaway off the tourist-filled streets of San Gimignano. It also holds a serene area with benches and olive trees where I lay down and had a little nap in the middle of the day. It was wonderful and so relaxing!

Siena
If I had stuck to my initial plan, after San Gimignano I was supposed to have a stop in Siena before heading towards my hotel in Pienza. But as going to the pool was more luring the other day, my timing got a little bit overthrown and sadly I had to skip Siena this afternoon. But you know, one of my dearest travel friends always tells me that wherever you go, you have to intentionally miss one amazing sight or experience so that you have a reason to come back. And Siena is my reason to do another road trip in Tuscany.
Pienza
Having stayed in many different types of hostels and hotels over the years I am always so excited for having that moment of truth when you see if your hotel is actually as amazing as the pictures on the website did promise you. And the Relais Il Chiostro di Pienza did not disappoint! Located in Val'd Orcia, the heart of Tuscany, the former convent is the Tuscan hotel of your dreams!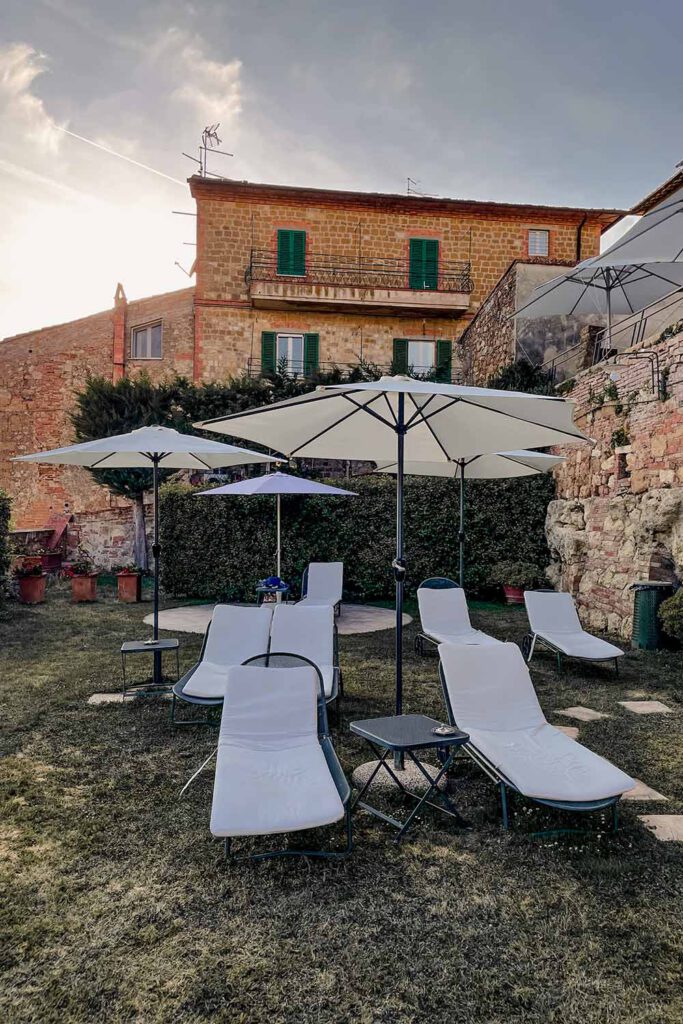 When you enter the building you will see an open space first, making it seem like you just stepped into your very own castle. And to be honest, every step I took in this hotel reconfirmed time and time again that night spent there was actually a fairytale!
The room for the night was clean, pretty, and cozy and I thought to myself that I should have stayed more than just that one night. Of course, the most important feature might be the dining and pool area that comes with a stunning view of the soft hills of Tuscany, drawing an almost surreal picture of how you would imagine Tuscany to look.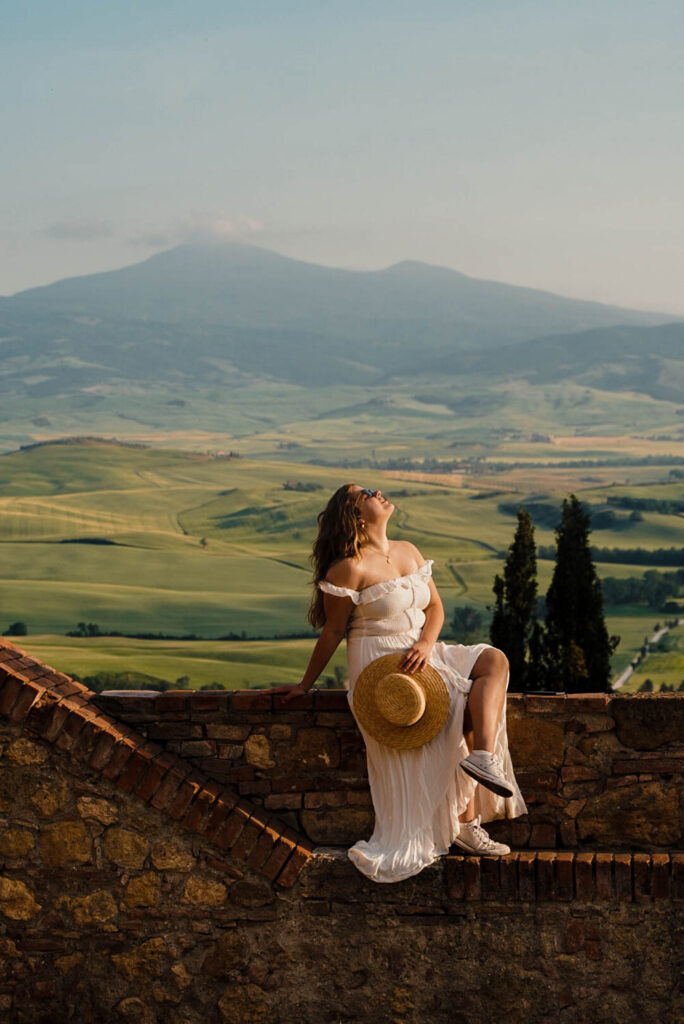 With a restaurant like the one in the Relais Il Chiostro di Pienza within walking distance, we decided to have dinner there and although it came with a price tag on the heftier side, it was worth every cent to see the sun go down over the soft green hills of Val'd Orcia.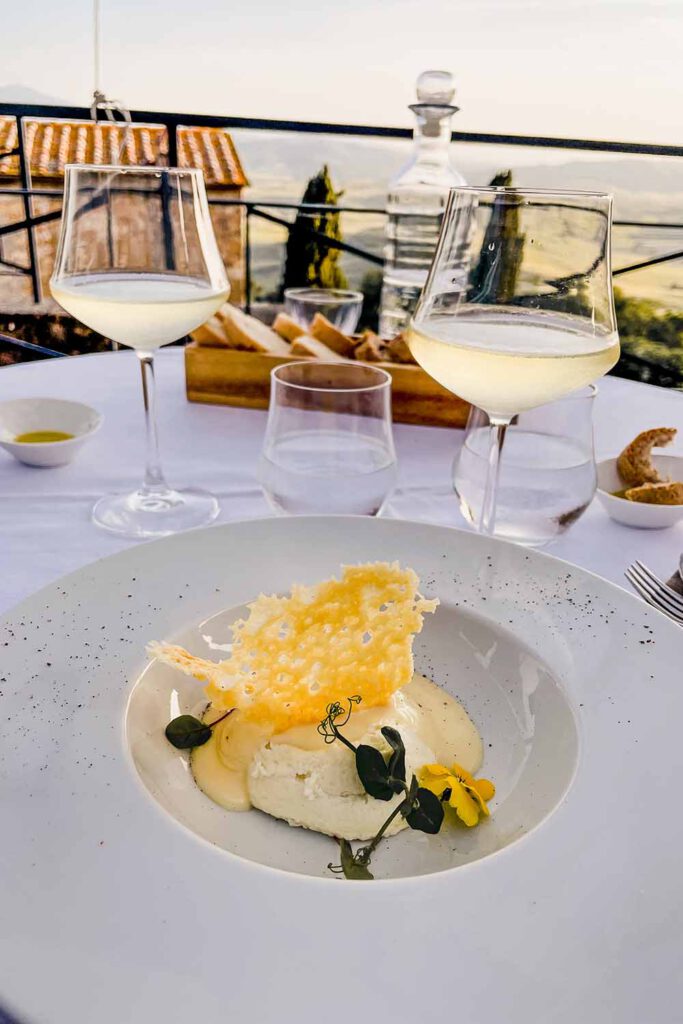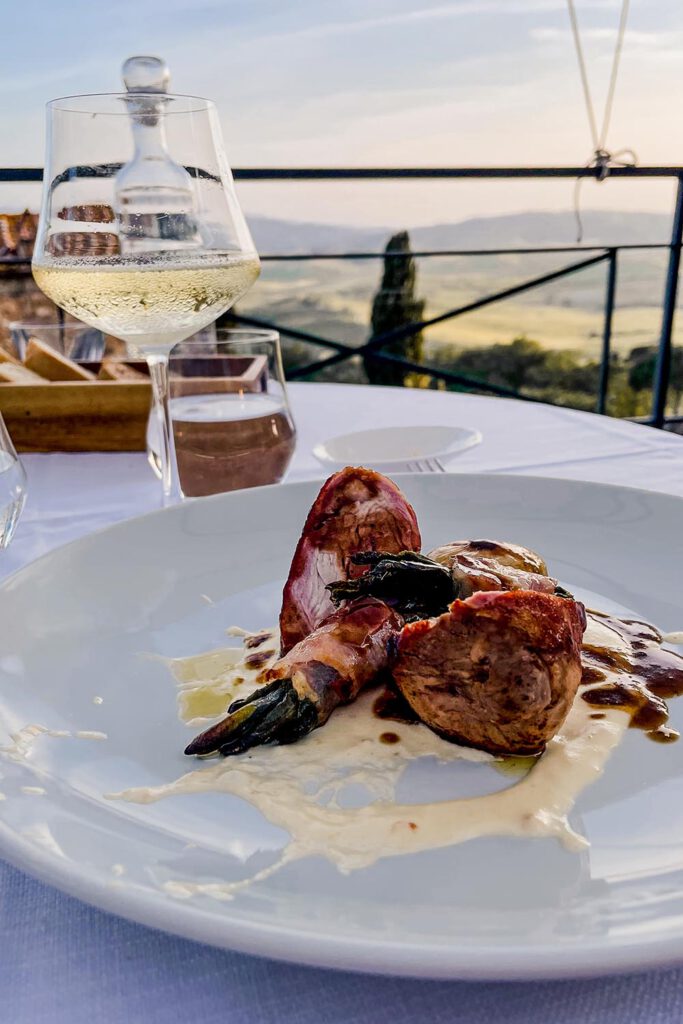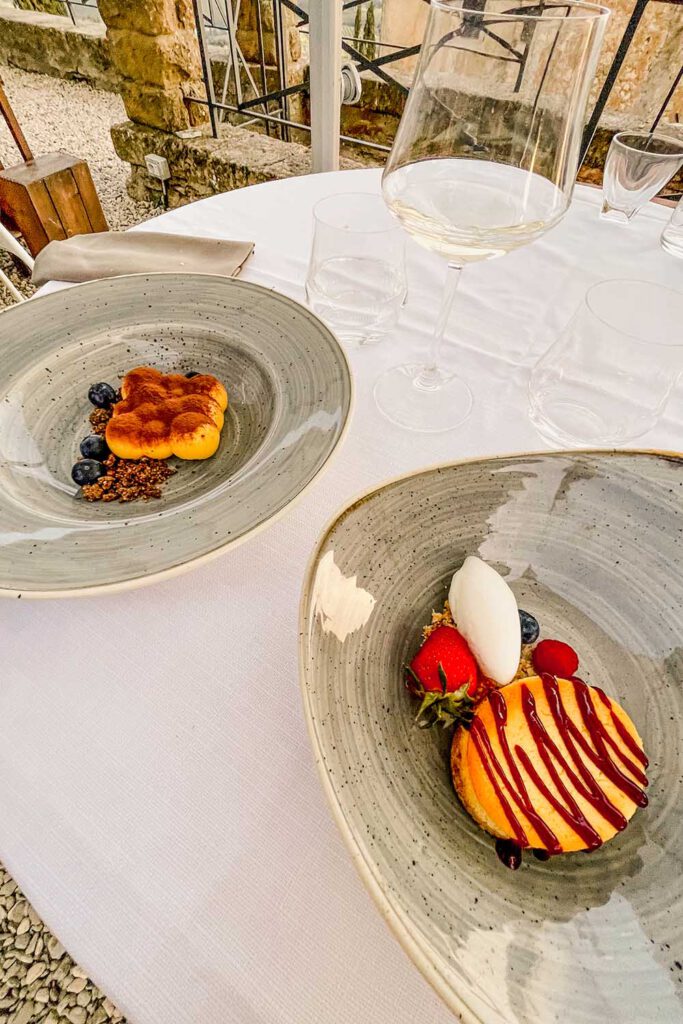 Day 4 – Val'd Orcia & Aggro Turismo
The next morning of my road trip in Tuscany I had in mind to check out a few wonderful places in Val'd Orcia before the rising sun would turn the Val'd Orcia into an oven. The places I would like to recommend to you are these typical postcard views that come to mind when you think about a road trip in Tuscany. Visiting them took until the afternoon, with only a short return to Ill Chiastrosirs breakfast buffet.
Agriturismo Baccoleno
Let's start with the most epic viewpoint in all of Tuscany which is also the perfect place to stay if you want to stay a little longer in Tuscany. The agriturismo Baccoleno is not only a gem from within but it also has the most picturesque driveway in the entire world! You can best observe it by walking the little pathway leading away from the main gate!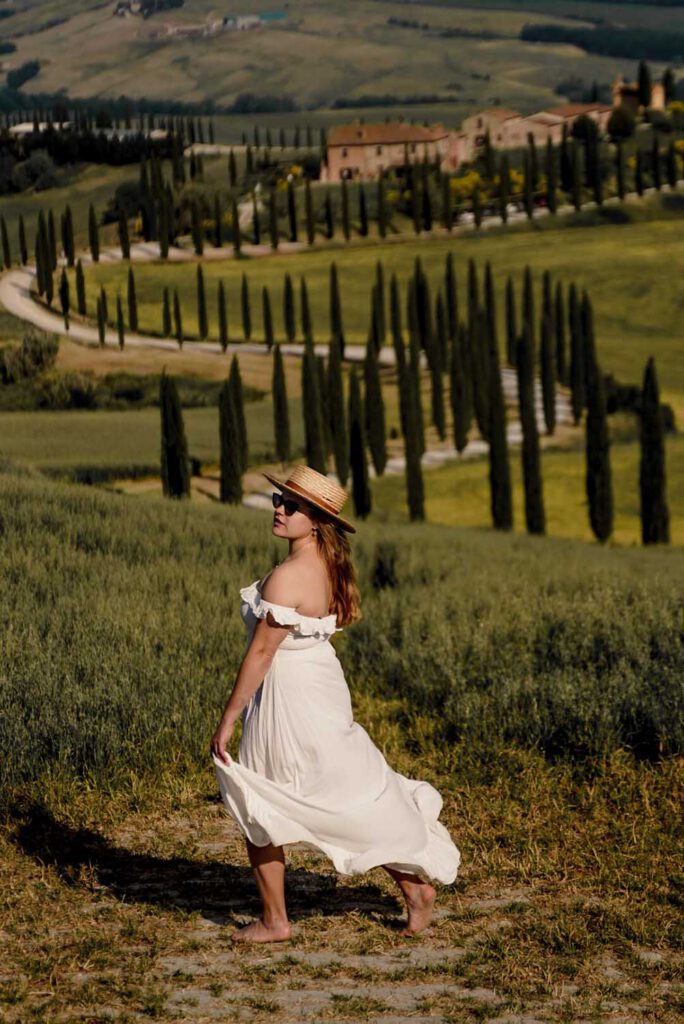 Cipressi di San Quirico d'Orcia
It looks a bit like a fairy hill and it is definitely a must-see in the Val'd Orcia. The cypresses here are aligned in a perfect circle and if you have a drone, this is the perfect spot to bring it!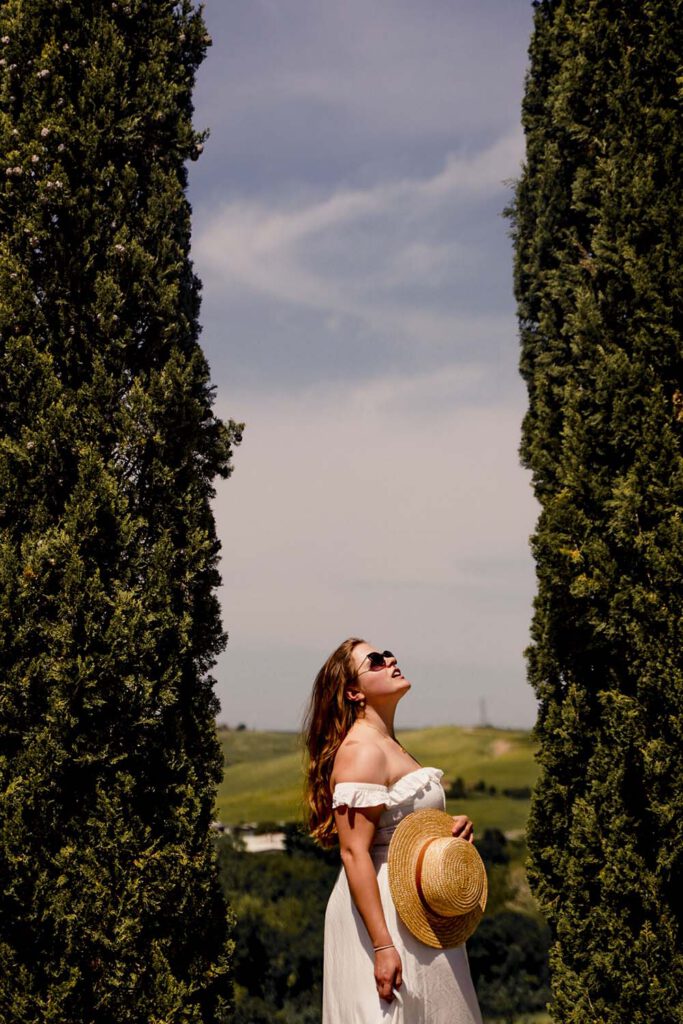 Agriturismo Poggio Covili
Next on my list and visited right after breakfast, this place is what you get when you try to squeeze the essence of Tuscany into one picture!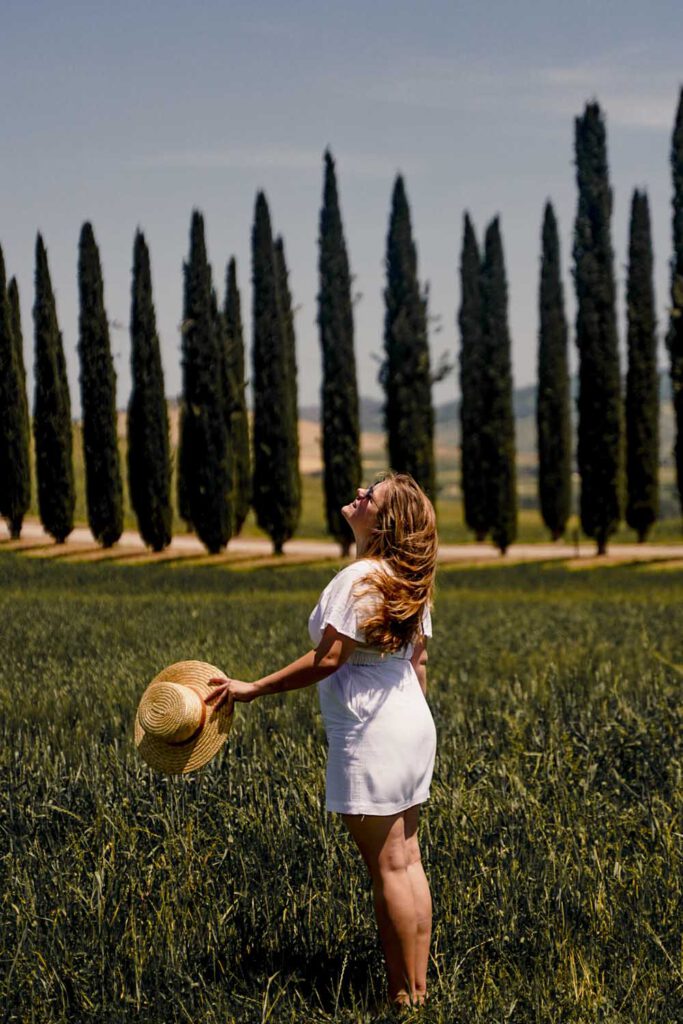 Tip for visiting all these spots:
This road trip in Tuscany took place in May. It was already super warm and when walking to Cipressi di San Quirico I could feel the heat burning in every corner of my body. Therefore I must advise you to bring sunblock, a hat and lots of water when exploring Tuscany in summer!
Driving to the next stay
After exploring the Val'd Orcia until we almost dropped from heatstroke and then I drove to the next stay for the road trip in Tuscany. The drive will give you the most amazing views and I enjoyed it very much. Next on this Tuscany itinerary will be a wonderful place that was the base for further adventures.
Day 5 – Just Vibing at the Agristurismo Poggio Aione
The hotel for two nights is the Agriturismo Poggio Aione. It is the perfect place to just relax, read and forget the rest of the world. After working full time and deciding to spend my vacation rather actively, I dedicated a whole day at Poggio Aione to just relax. I spend the entire day by the pool, reading and listening to Paolo Nutini for the vibe. It was wonderful and peaceful and it was worth every second of the day.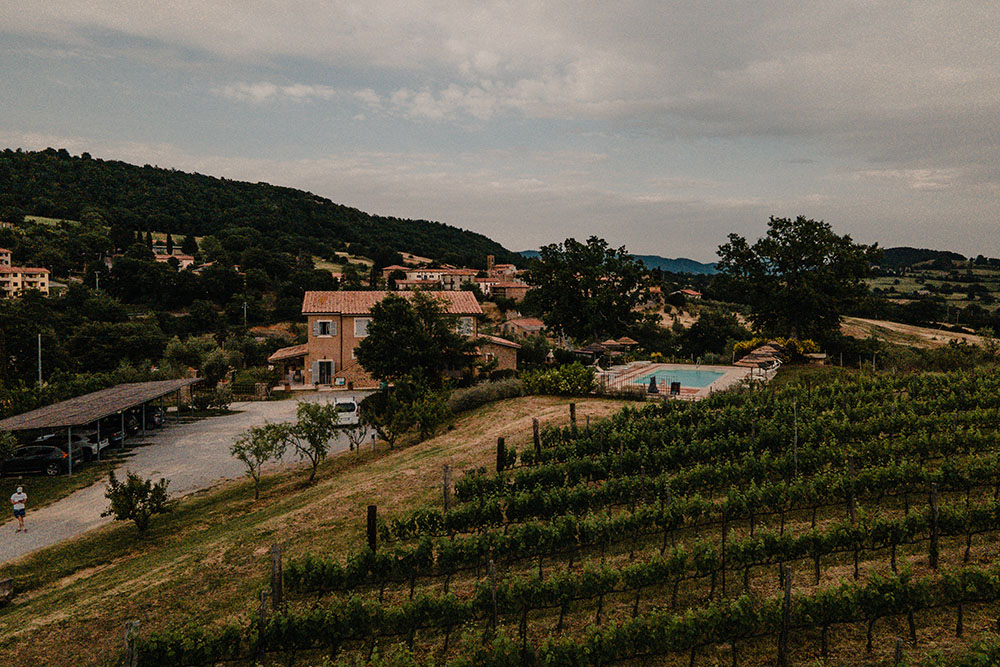 My personal highlight was also the breakfast that was included in the price! It was so delicious and plentiful, that I just couldn't stop eating. Dolce Vita at its best! That is one of my best pieces of travel advice: make sure to plan relaxation as much as you plan an adventure. Our lives are racing fast enough, we don't need our vacations to always be the same!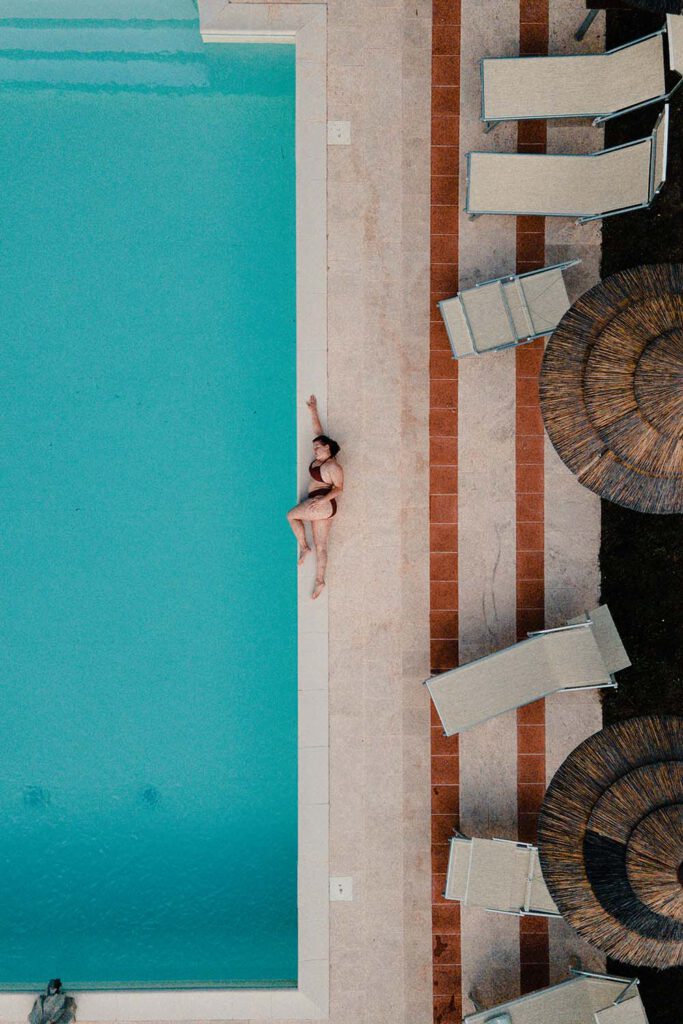 Day 6 – Saturnia Hot Baths & Pitigliano & Rome
Starting from Poggio Aione it is only a short distance to the nest most famous spot on this itinerary to Tuscany! The Saturnia Hot Baths were all Instagram-famous a few summers ago and still photographers and spa lovers flock there aplenty! It is overall a fascinating experience, but before you go, let me give you an overall report about my time there and how I liked it! To me, it is an incredible place that I wouldn't have missed in the world but I can also understand that there are bad reviews and opinions about it and I think I have gathered some tips to make the Saturnia baths a wholesome experience for you!
Things to Know & Tips
The baths are free to use which is amazing for our wallets but it also means that there are very few facilities, no lockers or changing rooms. That means that you have to make sure that all your belongings are somehow dry by either bringing a water bag or by keeping them beside the bath and keeping an eye on them.
The natural pools are made from rocks and can be very slippery; therefore make sure to bring flip-flops or other shoes you can walk in!
It gets really crowded really fast! So if you want to take pictures, make sure to come at dawn.
Depending on the season, there will be little red worms swarming in the baths. I found it quite disgusting and I was very happy that we arrived so early we didn't yet check out of our hotel. It also helped with the smell. Due to the volcanic activity, the whole place smells like rotten eggs. Being able to shower afterward made the whole experience much more pleasurable.
Pitigliano
After the long hot shower after visiting the Saturnia Hot Baths, it was time to leave Poggio Aione behind and drive towards Pitigliano, the last stop of the road trip in Tuscany before leaving Tuscany. Pitigliano is one of the most magnificent places I have come across in a while. Built on a mountaintop, it is a bit steep to get there but it is totally worth it to get your car up there.
It was the most fun to walk the small streets, roam the souvenir shops, and stop for coffee every now and then while admiring all of that being located in that breathtaking setting.
From there I drove straight to the final part of this road trip in Tuscany, which of course is the eternal city: Rome. After saying goodbye to the car that did me the best service it could do, I spend this first evening strolling around Colosseum, the Altare Della Patria, and indulging in Pizza Buratta. It was simply wonderful.
During my time in Rome, I decided to stay at the Pegasus Airbnb. It was clean, not too expensive and most importantly – it has air conditioning!
Day 7 – Rome Baby!
The final day of the road trip in Tuscany has arrived and it is time to celebrate an awesome time with all that Rome has to offer! Dolce Vita in Rome is one of the best things in the entire world, yet there are too many things to do in Rome than I can now describe in a few sentences.
Liked This Post? Pin It for later!