Hello and welcome back! Rome, an eternal city is really a place that is not worth to be visited once, but maybe twice. Or maybe three to four times. But I am not a fan of restricting myself in any way. However, it is also a paradise for content creators. One Instagram Worthy Spot is next to another and one incredible view comes after the next one. I had to recharge my camera in the middle of the trip, which is somehow a special occasion because my Sony Alpha 6600 has a super long-lasting battery. So, let me wrap up the top Instagram Worthy Places of Rome for you!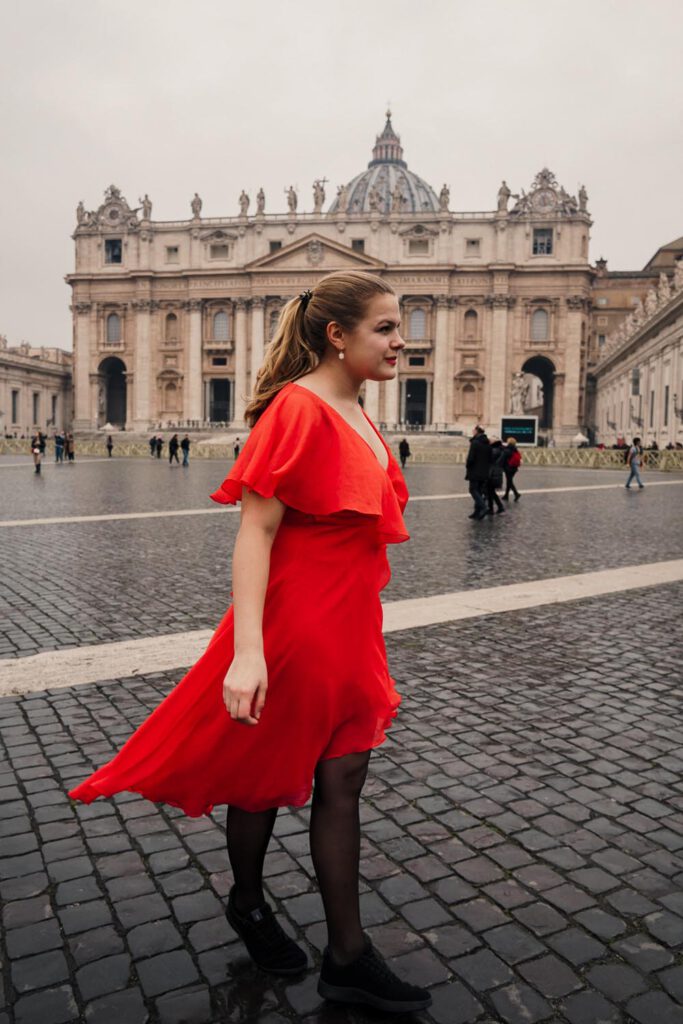 This post contains affiliate links. If you buy something that I recommend, I will earn a small commission. As always, this commission won't make you pay any cent more, it only helps me to provide more helpful postings.
One of the disadvantages of Rome might be that the city is incredible packed with tourists from all over the world (Have a look at my post about Mass Tourism Around the World for more info!). I can't blame them as I am one of them. However, the hunt for the perfect selfie can be a little bit draining and hard, especially if a person runs into your shot for the 5th time (thank you tho.) Therefore this post is focused on how to get the best Instagram shots of Rome, even when you are not the only person admiring that special sight. It might be hard, but I am sure with my tips
The Colosseum
Let's start with a sight that is easy to shoot! The incredible Colosseum remains one of Rome biggest landmarks and Instagrammers from all over the world a frolicking to go there. And the good news is that it is easy to get your shot when you are standing just in front of that little mural. To get there, make sure to walk up the Via Nicola Salvi. From there you can easily set up your tripod and sit on the small wall and promised: no one will get into your shot!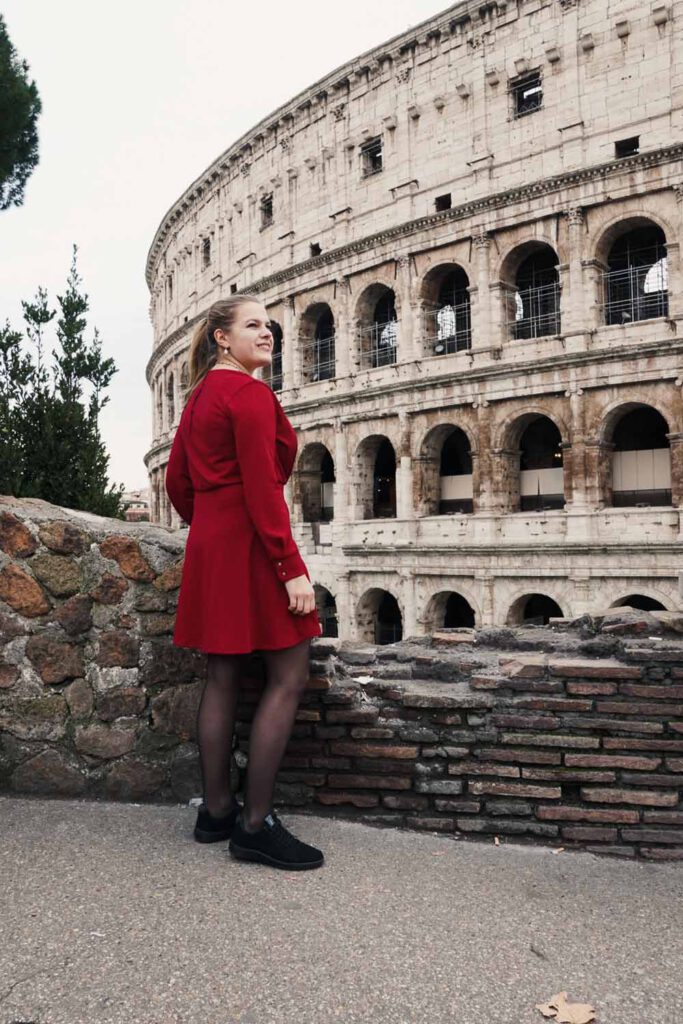 The Colosseum is also one of the biggest highlights of Rome at night! It is beautifully illuminated and you just want to start to sing "That's Amore" by Dean Martin!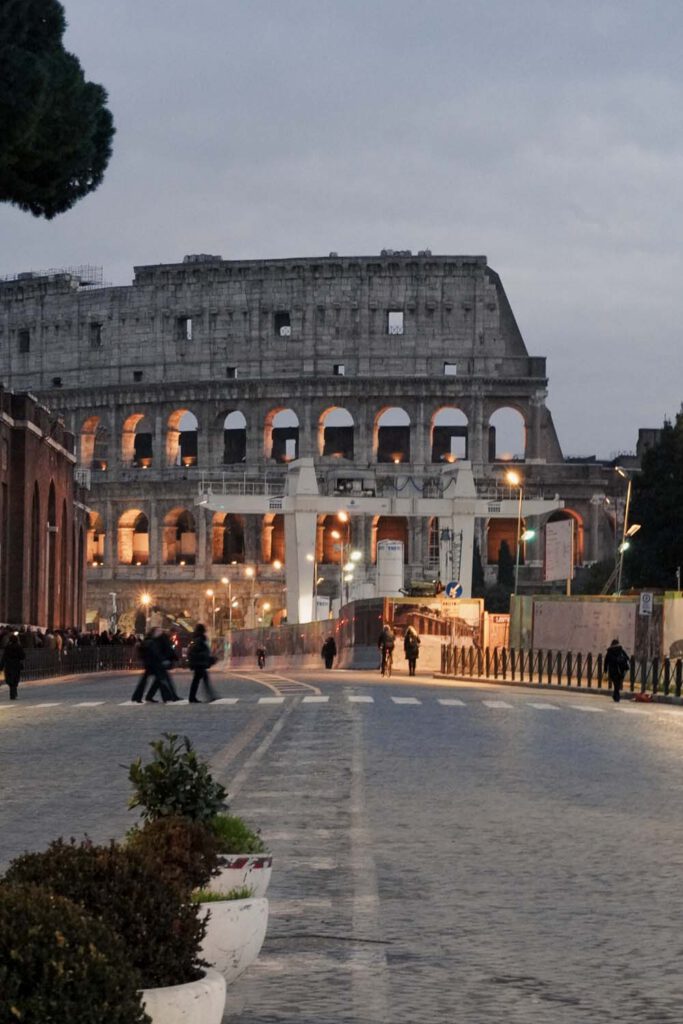 Foro Romano
Something I learned about in every single Latin lesson in school was how important the Foro was for the Romans back in their days. Today the Foro is a huge area with impressive relics lying around. If you want a shot with it, there is an easy way to get it!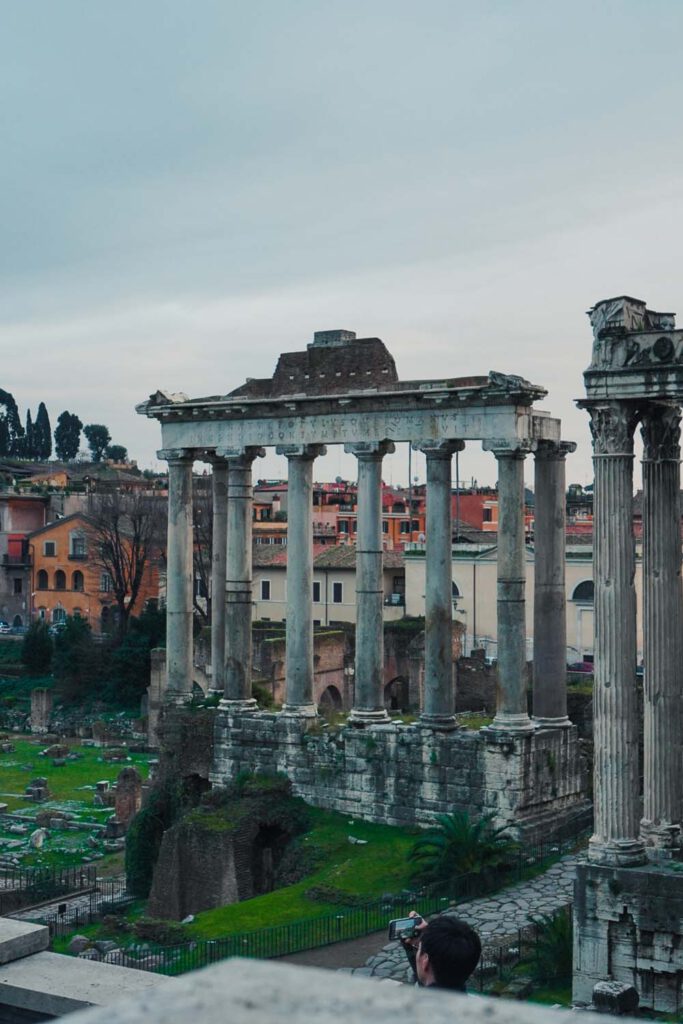 On this map, I marked a special set of stairs for you. From there you can easily get a picture. There are three of it, and I bet one of them will be empty when you look for it. Simply set up your camera and go for it!
Altare Della Patria
There are only a few buildings that left me absolutely speechless. There are a few that are quite overwhelming but the Altare Della Patria is one of the most incredible pieces of architecture that I have laid my eyes on.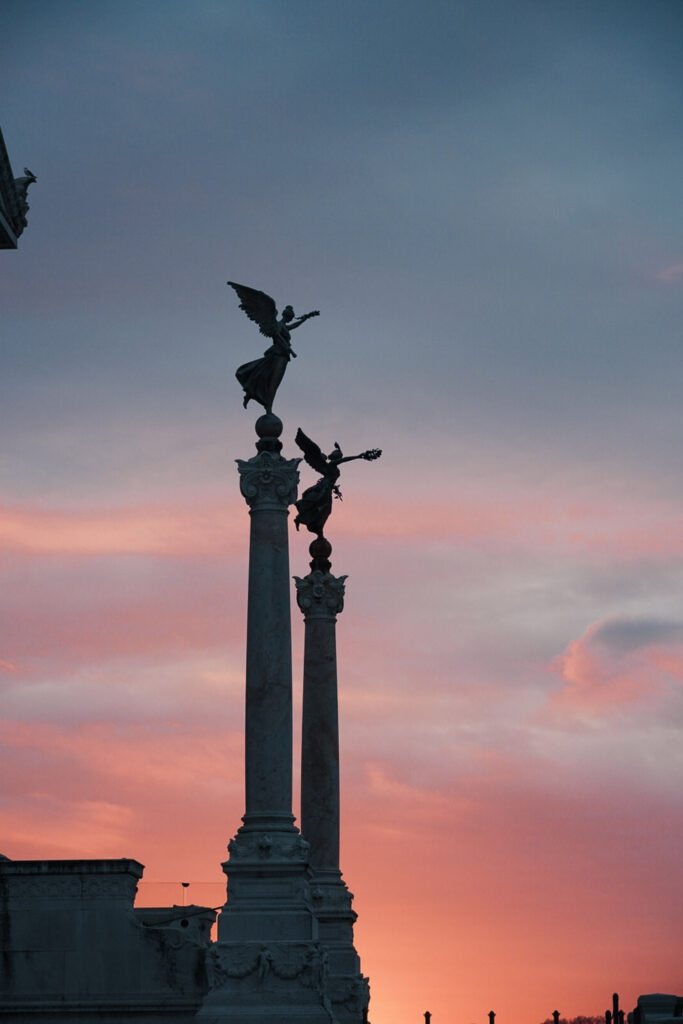 I couldn't put down my camera when I was there. The special tip I have for you is to visit it during sunset to get some of the most incredible pictures.
St. Peter's Basilica
This might be the one sight in Rome that is the most occupied. It is the one thing that you would always visit even if you have only one day in Rome. The St. Peter's Basilica is so magnificent and beautiful that you simply need to take photos of and with it!
Tip: If you want to see the inside of the Basilica, make sure to book your tickets in advance and make sure to be there super early. People start to line up to get inside even before sunrise, so be prepared!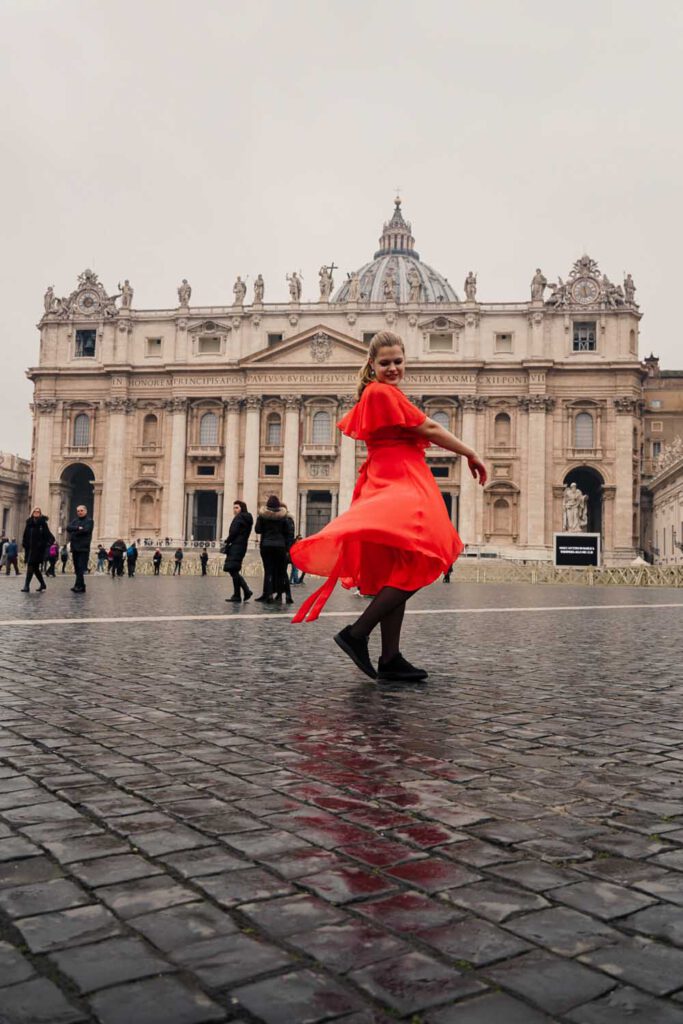 We went there at approx 11 am on a cloudy day, so we managed to get the shots we want without too many people in our shots, but of course if you go there earlier, there will be fewer people, but for me, it was ok like this!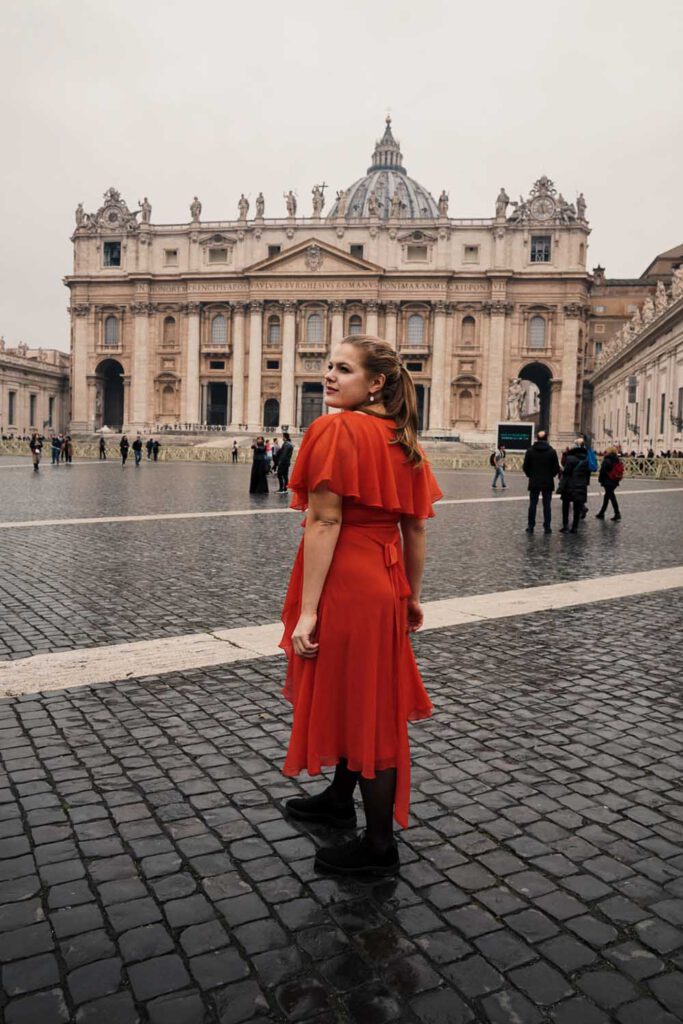 A simple trick to get the attention of the other tourists in my opinion is to simply get yourself closer to your camera. You will take up more space in the picture, drawing the attention back to you.
Castel Sant'Angelo
Quite close to the St. Peter's Basilica is the Castel Sant' Angelo. It was meant to be a mausoleum for some emperor but now it is turned into a museum. The most impressive perspective on it is the one you get from the bridge. Make sure to get a shot there, although it might be a little bit crowded.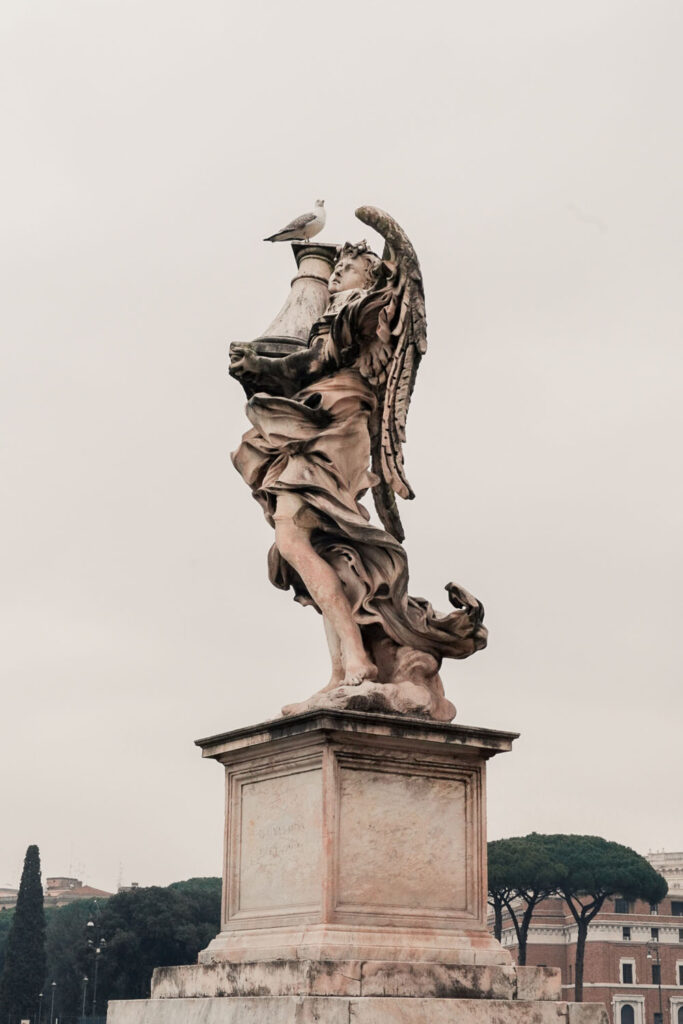 But even when you can't get that shot right away, don't be frustrated. Once you crossed the bridge, you can walk down a pair of stairs, so you can stand directly next to the Tiber. From there you will get awesome shots with no one else standing in it!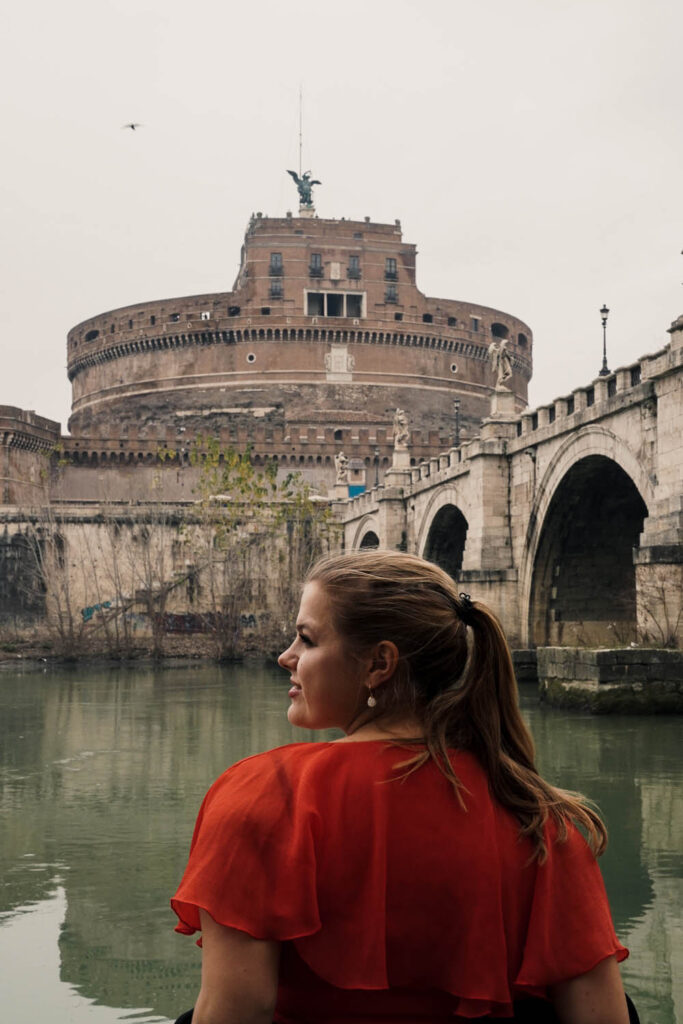 Fontana dei Quattro Fiumi e Piazza Navona
It is hard not to get overwhelmed by Rome when they are so many instagrammable places sprinkled across the city. One of my personal highlights was the Piazza Navona with the Fontana dei Quattro Fiumi! This breathtaking fountain resembles the four biggest streams across the globe (or at least the parts where papal authority had spread): Nile, Ganges, Rio de la Plata & the Danube.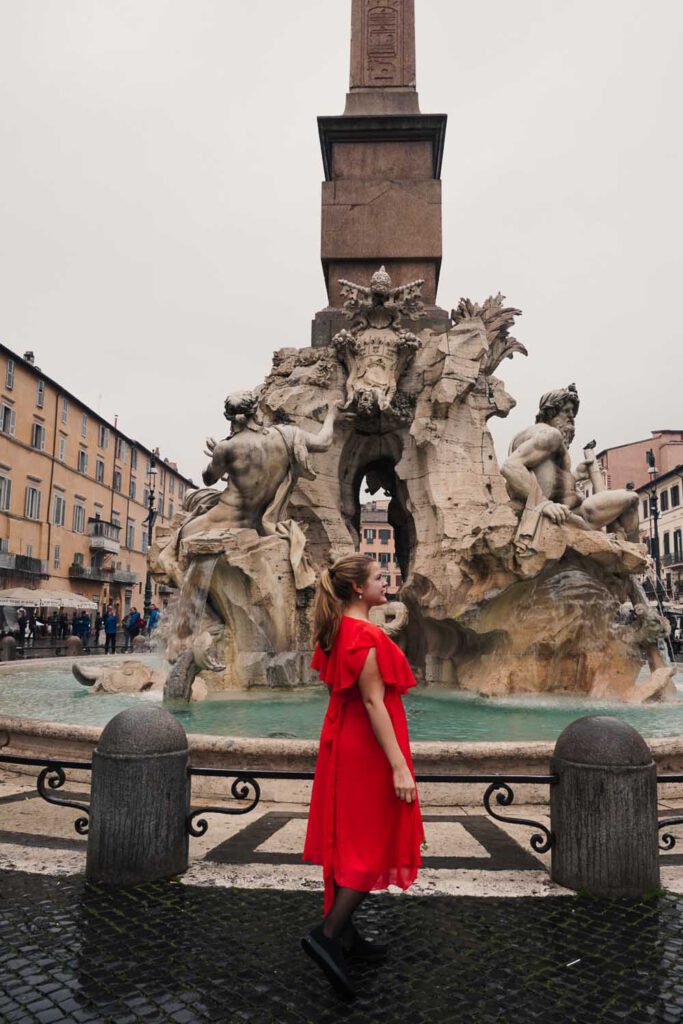 Taking pictures here was quite easy, as even during lunchtime, this fountain was not overcrowded.
Fontana de Trevi
This must be one of the most photographed places in Rome. And that gets us to the point where things start to get hard. Trevi Fountain is always PACKED. There are so many people trying to get their shot, having yours won't be easy breezy. It is also not that helpful to go there early in the morning, as due to the surrounding buildings, the sun won't really reach the fountain in the early morning.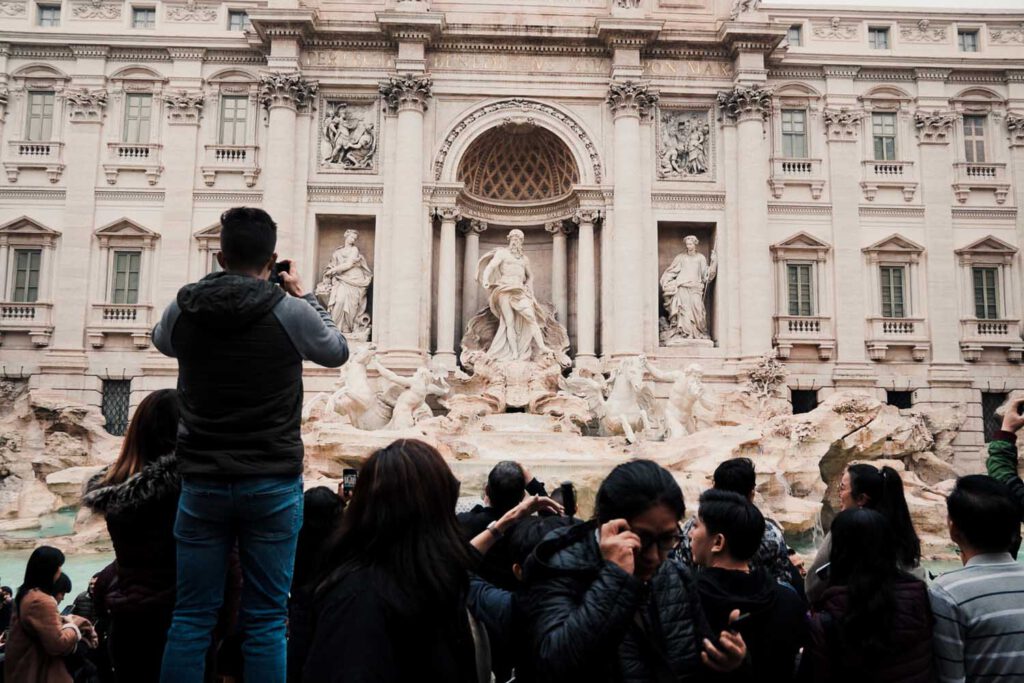 The trick is to be patient and take the time you need to get the shot. Oh and try to take as many pictures as you can and to get them as fast as you can!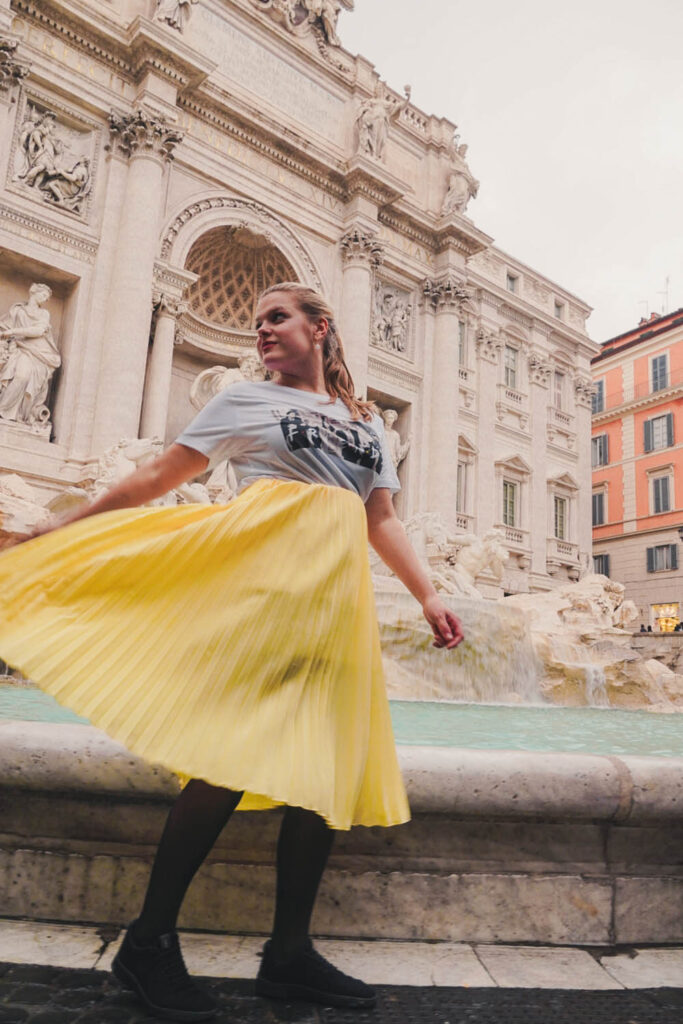 Liked This Post? Pin it For Later!