Sylt is famous for a lot of things but if there's one thing for you to know about it, it is that you can find some really extraordinary amazing food there! When we spent our week there, not a single day went by without us drooling over some delicious food. This Sylt Food Guide will feature 6 restaurants you really need to try and what to have at each one. But don't be shy to try out some new ones; there was not one that disappointed us and we could have endlessly gone for more!
Not everyone enjoys a good piece of meat equally but if you are into steaks, I promise you you will not find a more pleasing restaurant. The Butcherei is as its name suggests a restaurant that is specialized in meat. As I am not the greatest fan of steaks, I decided to go for a pulled pork burger, and oh wow it was so delicious!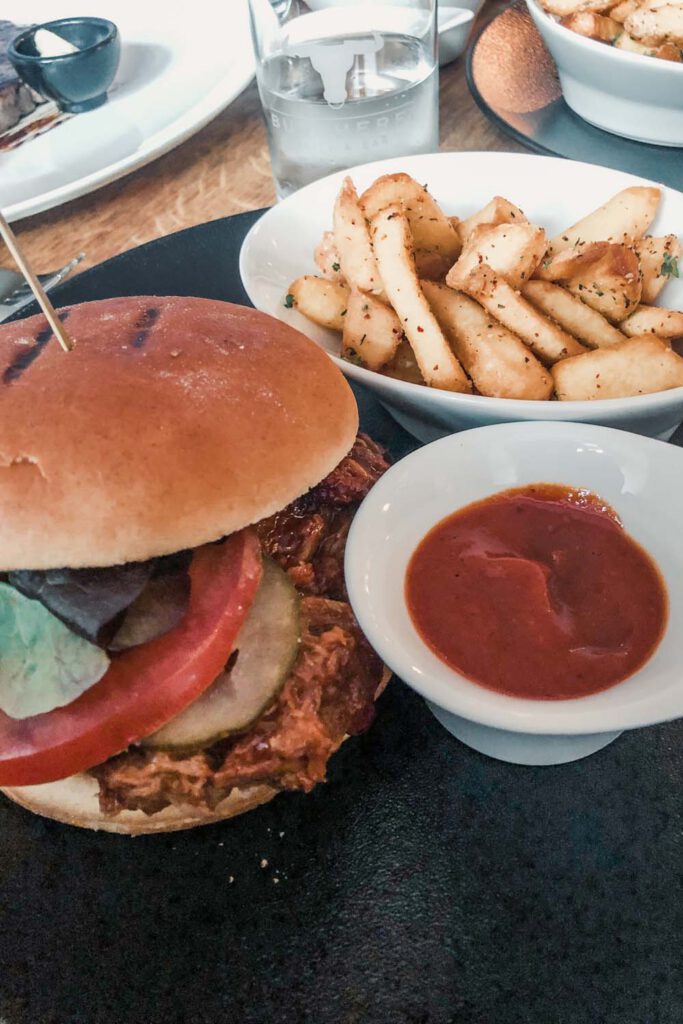 As I mentioned in my Guide to Sylt, we loved to spend some time in Morsum! On our agenda was to have lunch too, so we hopped into the Severin for a coffee and a Curry Wurst. It might be some kind of a signature dish for Sylt, so you should really consider having some! What I loved the Severin for was its beautiful cozy atmosphere that was so inviting that we stayed for a little longer just to enjoy the view and an extra coffee!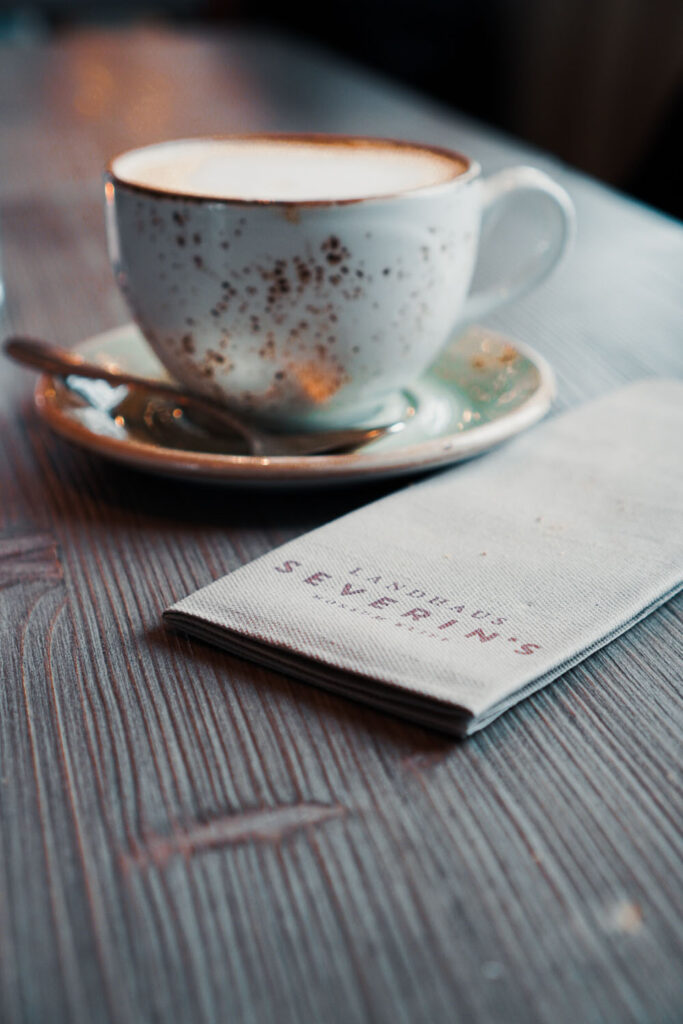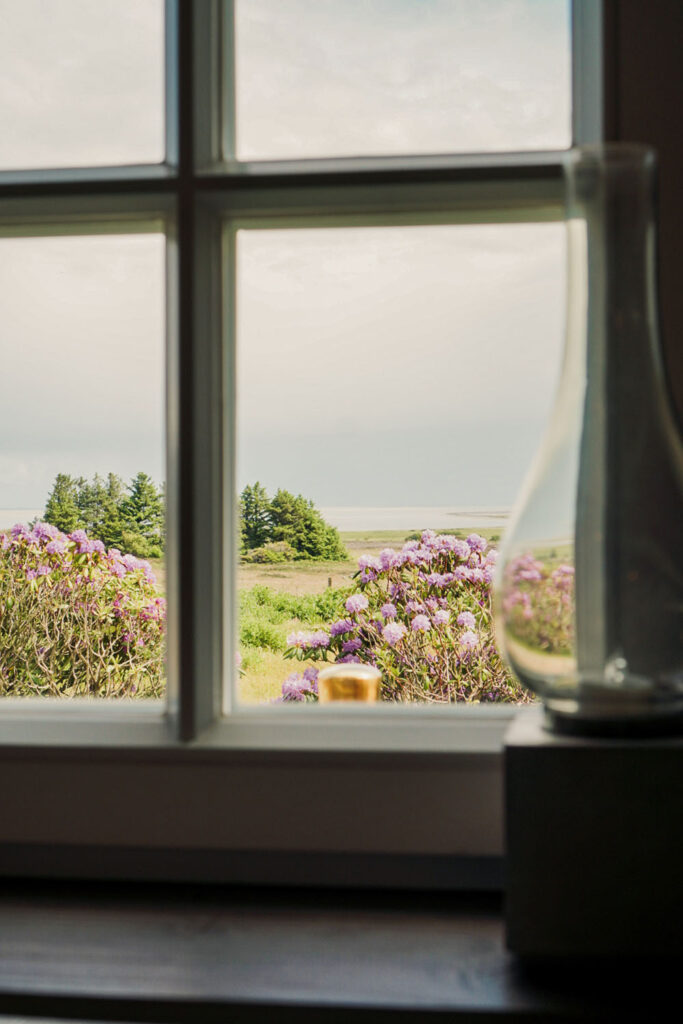 Fischbrötchen – Gosch – Blums
Whenever you are in Northern Germany, you simply have to eat a Fischbrötchen. No matter if this is one with Matjes or with Shrimps, I have at least one per day when I am in Norderney and sometimes even when I am in Düsseldorf. My two biggest recommendations are the Gosch am Kliff in Wenningstedt or any stall of Blum Fischspezialitäten.
Just take care of the seagulls, they like to attack any person with a Fischbrötchen to get your Brötchen. They are fast, furious, and reckless, so protect your Fischbrötchen and defend it with your life if needed.
Recommended: The Best Traditional German Dishes and the Best Vegetarian German Dishes!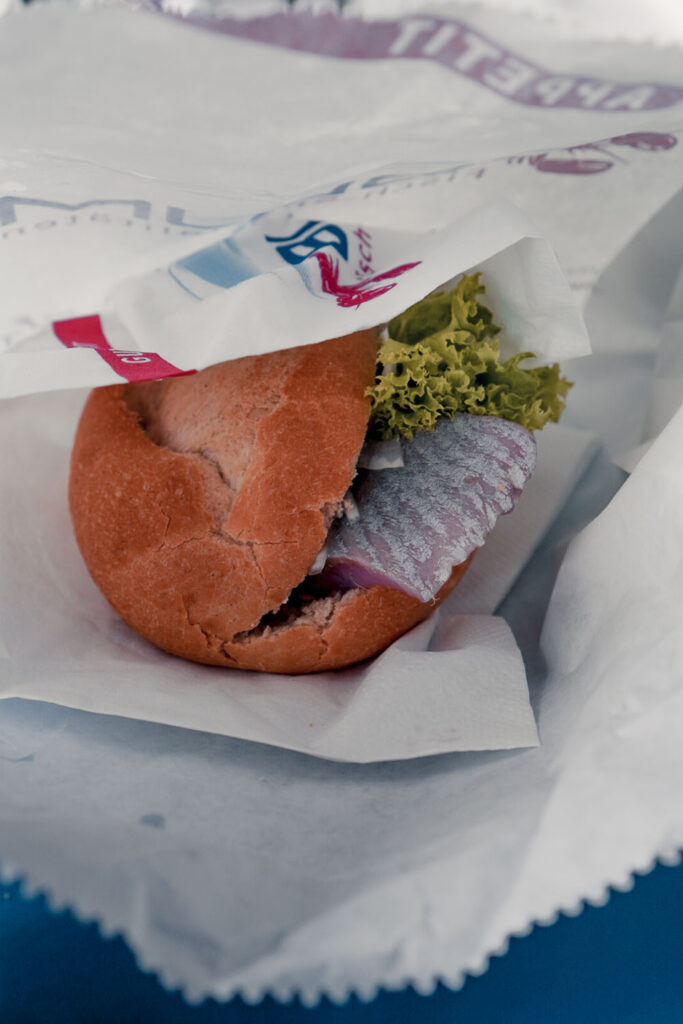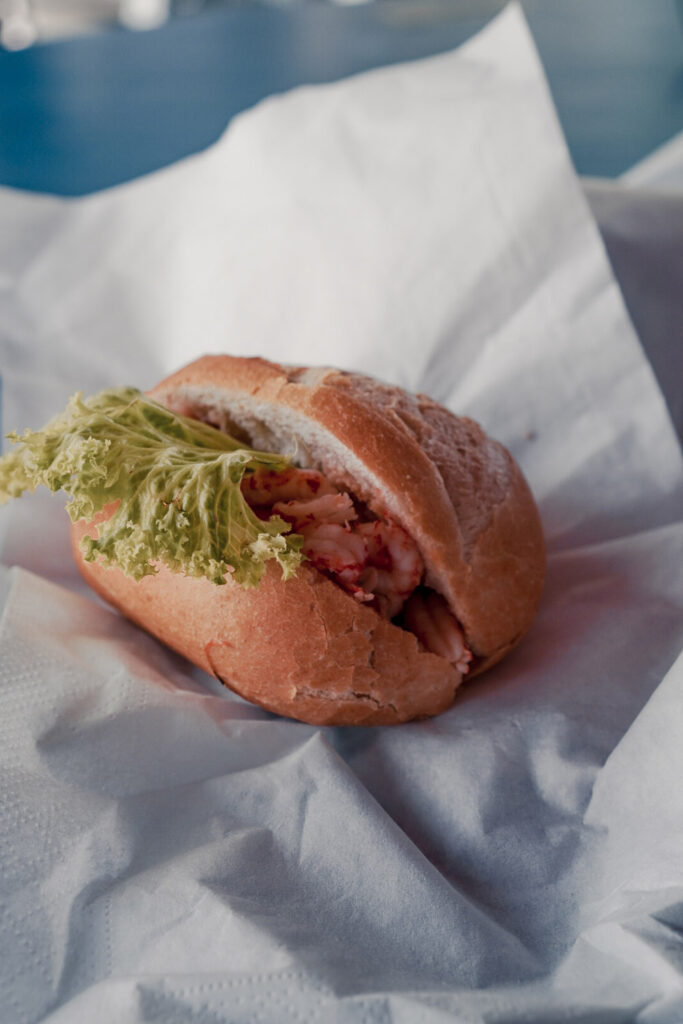 As you may know, I learned how to surf in Sylt and right next to my surf shack there was a cute little Surfer's styled restaurant. The Aloha Sylt serves great soul food like burgers and sweet potato fries that are simply to die for! My favorite burger was the one with the Krabby Patty and maybe it is my favorite burger of all time!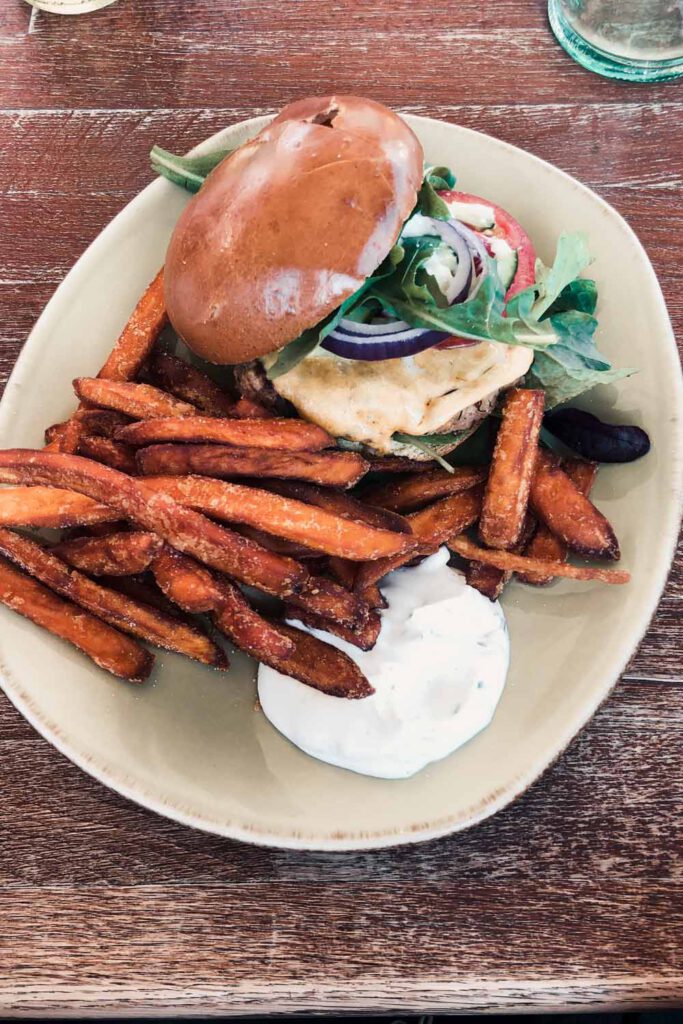 The term beach bar just got new defined: hidden between the dunes of Rantum is the Samoa Seepferdchen. Translated it means Samoa seahorse and it must have been my favorite dining experience in Sylt for sure! They have a ton of great seafood that you enjoy while sitting in the coolest location of all time! The bar is basically just a small wooden hut but that's exactly the charm of it. When you sit outside you feel the warmth of the sun and a windy breeze, indulging on scallops that's really it. Nothing can beat that.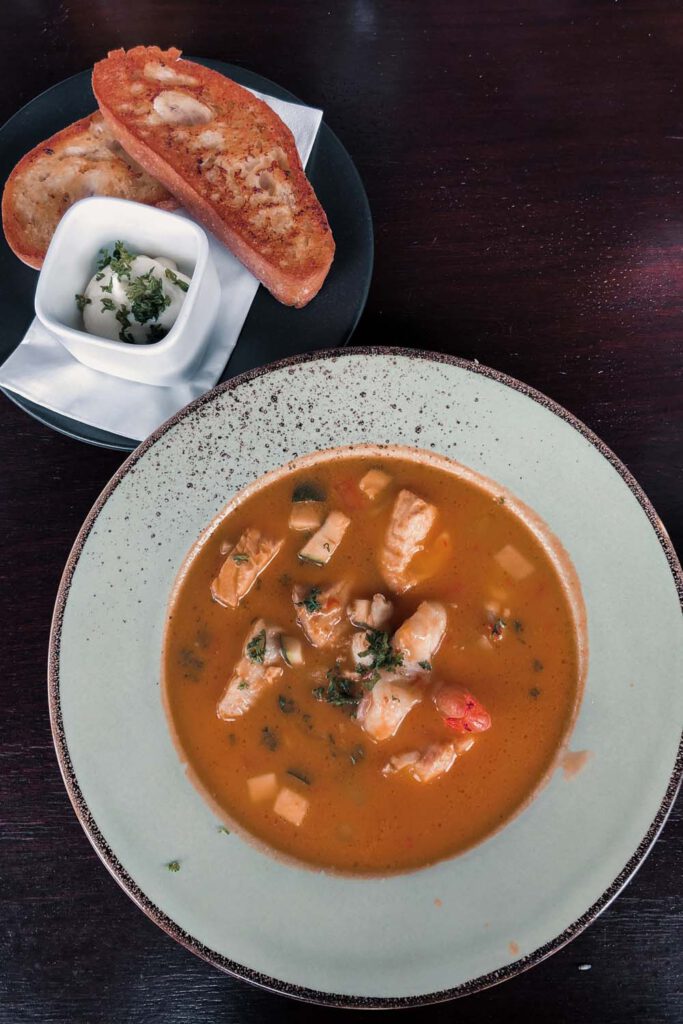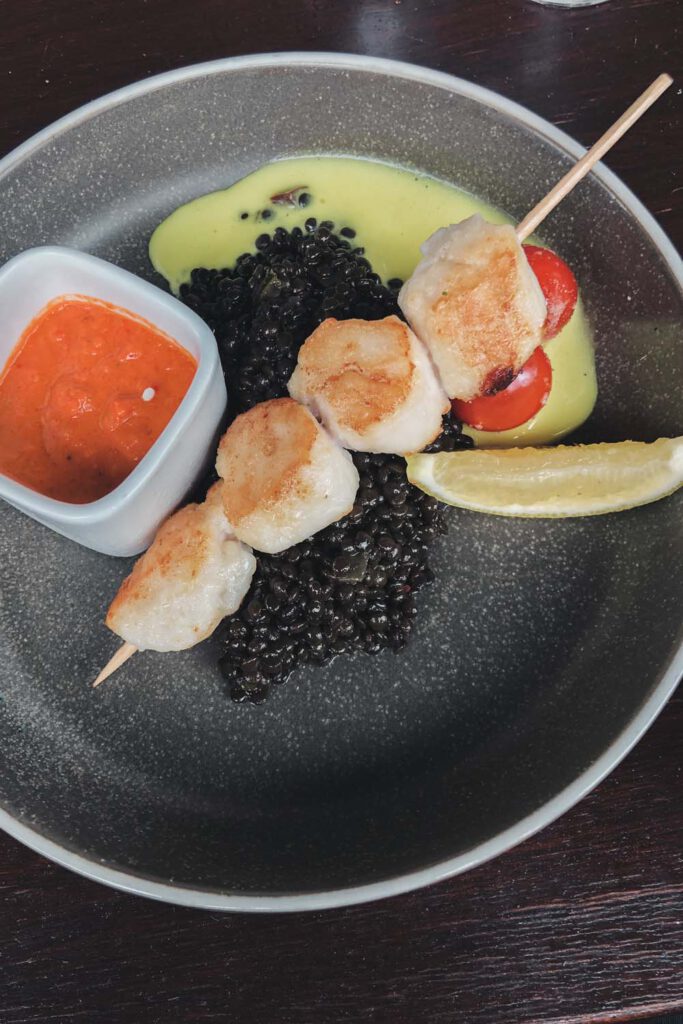 Sylter Royal Austernbar
I love seafood. It is my favorite thing to eat ever and I was a very lucky little travel blogger to be traveling with my parents. Together we shared some lobster but even more important we had some of Sylter Royal Oysters, the only German oyster there is! If you get the chance (and if you are into oysters, I know that's not everyone's kind of thing.) try some! One could say it is a bucket list item to have a real German oyster.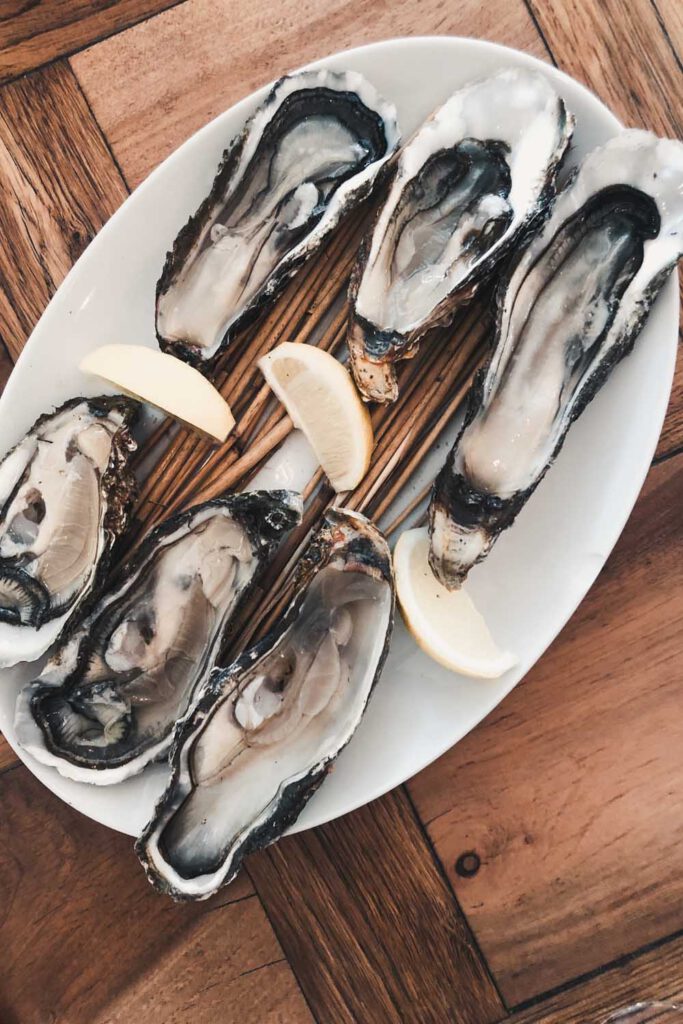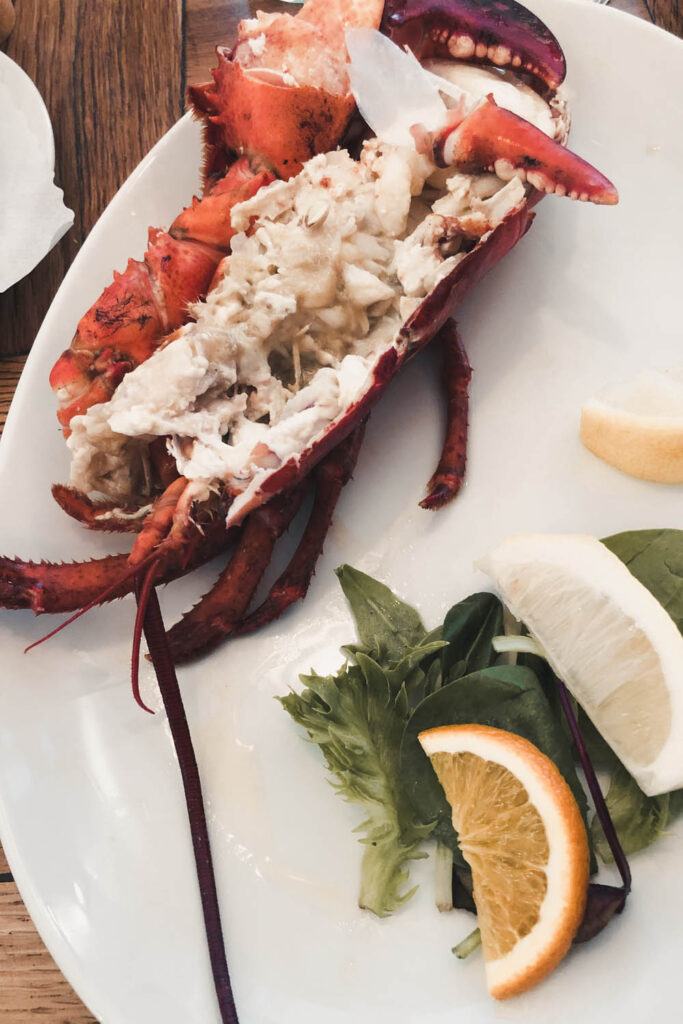 Honorable Mentions
Unfortunately our time in Sylt was limited too, although we would have loved to stay forever to try more restaurants but as always time is short! But I don't want you to miss on things too, so I decided to add some honorable mentions at the end of this post, so you can add it to your list too!
Sansibar
Germany's most iconic beach bar will welcome you with Curry Wurst, champagne and caviar. Just whatever you are up to the day. Make sure to arrive early, as lines to be seated will form very early!
Strandrestaurant Kap – Horn
If you hike around the southern edge of Sylt, make sure to reward yourself with some nice hearty lunch from this lovely little restaurant!
Strönholt
Golf is not for everyone but this restaurant with a view upon the dunes for sure is!
Ingwersen Bakery
A café that you need a reservation for! Ingwersen is famous for its cakes and coffee and I am just so sad that I missed this one!
Liked This Sylt Food Guide? Pin it Now so You Can Refer to it Later!