Hello and welcome back! As you may know, I am from the wonderful Düsseldorf. Germany actually has a lot to offer. You will now think about Berlin, Hamburg, Munich and maybe you will also remember some sights like the Elbphilharmonie, Brandenburger Tor or the Autobahn or some cultural stuff like Oktoberfest, Beer, and Schwarzwälderkirschtorte. But would you be thinking about beaches and islands? I bet no, but that's what travel blogs are there for. To inspire and to tell stories. Well, I am going to tell you more about Norderney – Germany's Hidden Gem!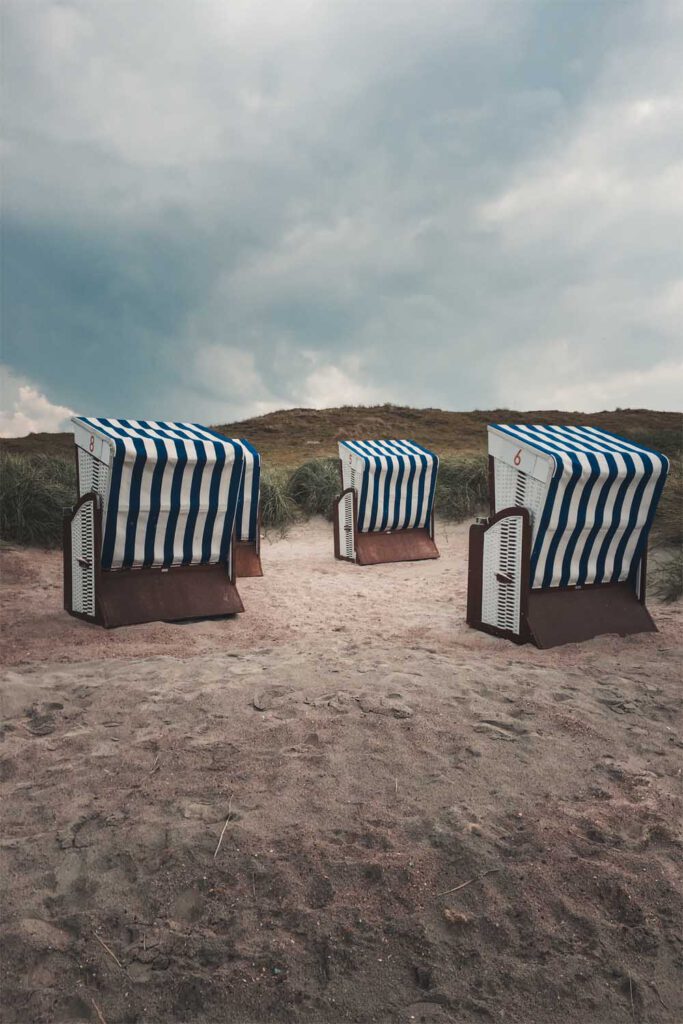 What And Where is Norderney?
Norderney is located in Northern Germany and is one of the typical Nordsee Islands of Germany. It only holds one town but is all surrounded by the sea and beautiful long beaches as well as by the UNESCO World Heritage site the Wattenmeer (for a closer description, scroll down!) The island is home to some rare species like seals and some amazing birds. A lot of them are protected and interesting to watch.
Another famous German island is Sylt, where I learned how to surf. If you want to learn more about the Nordsee, check out my Sylt Guide and my Sylt Food Guide!
How to Get There?
When coming from abroad I recommend you fly to Hamburg and then take the train to Norddeich Mole. From there all you have to do is to board the ferry to Norderney!
We usually go there by car as we are literally traveling with our whole family (not including my brother) but including our two furry babies, Maddox and Sam. They are the two horses that we love to take with us for long rides on the beach.
How to Get Around?
If you come in the car, keep in mind that you are only allowed to drive it in the city on the days of your arrival and departure. Otherwise, you are supposed to leave it in a parking lot. My advice is to simply rent some bikes to get around. It is a fun and a nice way to stay fit!
What to do?
You will be tempted to spend all your day at the beach and this is totally fine but nevertheless, I suggest you learn something about the island and its unique landscapes first and of course to see a bit of it no matter if it is by bike or horse.
Wattwanderung
The Wattenmeer is something unique in Germany. As you may know from other regions around the world, the sea goes back and forth due to the moon (anybody who watched Avatar – The Last Airbender as a kid knows what's up).
When the sea is gone, there is a wide area covered with mud and the habitat of a lot of species.
Important Side Note: If you want to explore the Wattenmeer, always book a guided tour. Never and I repeat never, go in there alone. If the water is about to return it is likely to surround you faster than you might imagine and soon there will be no return for you.
Rent a Strandkorb For The Day
One of the most iconic things in Northern Germany is the Strandkörbe or Beach Baskets. If you want to have the complete Nordsee experience there is no way that you skip renting one for the day!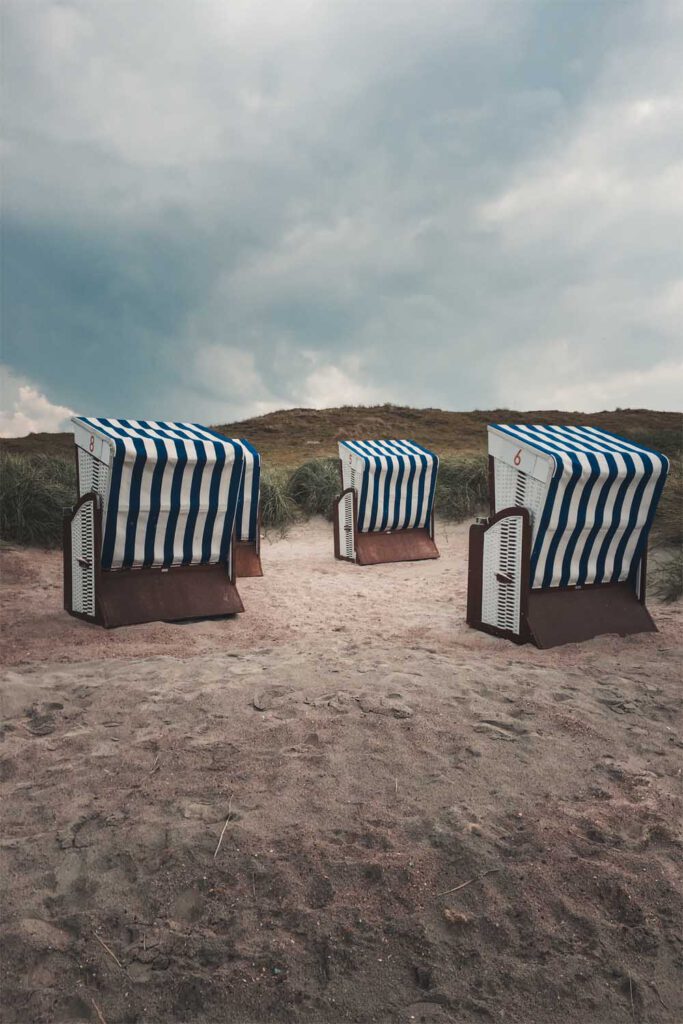 Bike Tour Around The Island
Norderney is quite small, so you can discover most of it by bike! And I promise you, hiking through the dunes will be a total highlight! It is an impressive landscape that offers you one great view after another!
Riding at The Beach
Of course, as mentioned earlier, I prefer to explore the island a bit differently. As we bring our horses, we always go on a ride with them and each year it is one of the most beautiful experiences in the whole year.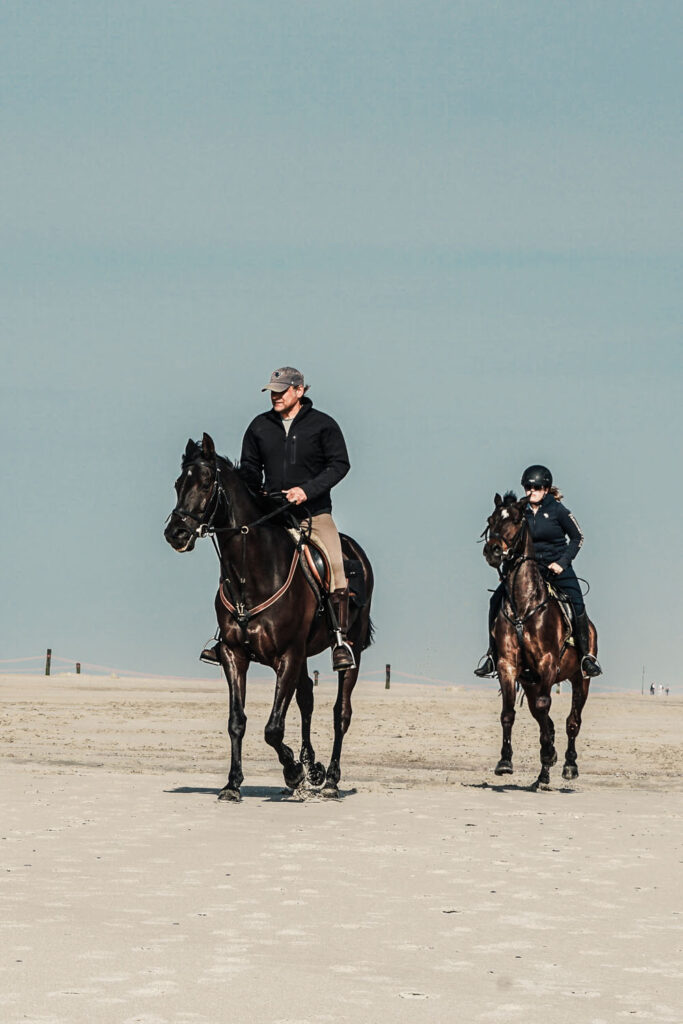 Do Some Shopping in The City
Norderney also has a nice city to offer. The small boutiques and shops are perfect for some little afternoon shopping. There are also some lovely cafés and ice cream shops around. Oh and don't miss having a Fischbrötchen!
Hike to The Shipwreck
This one is a special tip and only for the strong ones with a lot of stamina. On the very end of Norderneys beach, there rests an old shipwreck. From the nearest parking lot, you will have to walk three to four hours to get there (keep in mind that you have to walk back too!).
Make sure to bring a lot of water and snacks with you and take care.
Where to Eat?
Meierei
A new must-see for me! This year I visited the Meierei for the first time and it was perfect. Located close to the beach, the Meierei is a wonderful place for you to have your breakfast, lunch or dinner. They also have a shop where they sell all the wonderful things they also display in their restaurant. My personal tip for you is to have a woodruff lemonade and a shrimp sandwich.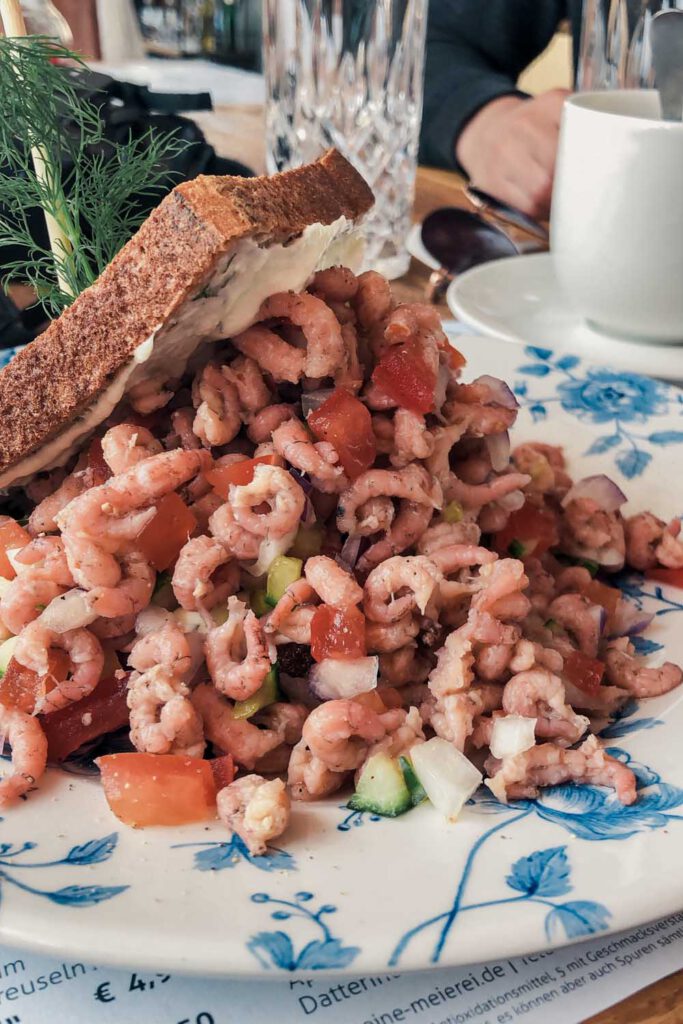 Recommended: 10 German Dishes That You Need to Try!
Weiße Düne
Imagine a restaurant at the beach. Now imagine the most stylish place you might ever visit. Congratulations, you just thought of the Weiße Düne. The restaurant is in the middle of Norderney's dunes, is connected to a wonderful beach, has its own beautiful souvenir shop, and an extraordinary wonderful restaurant. When it gets chilly, you can chill next to their fireplace and have a drink at their bar. If you have a little bit more time to spare, spend the day at their beach. Having a little pot of "Frieseneis" and sitting in a "Strandkorb" really nails the Norderney feeling! And in the evening I recommend you to have a veggie burger and the dessert variation. Life doesn't get any better than this!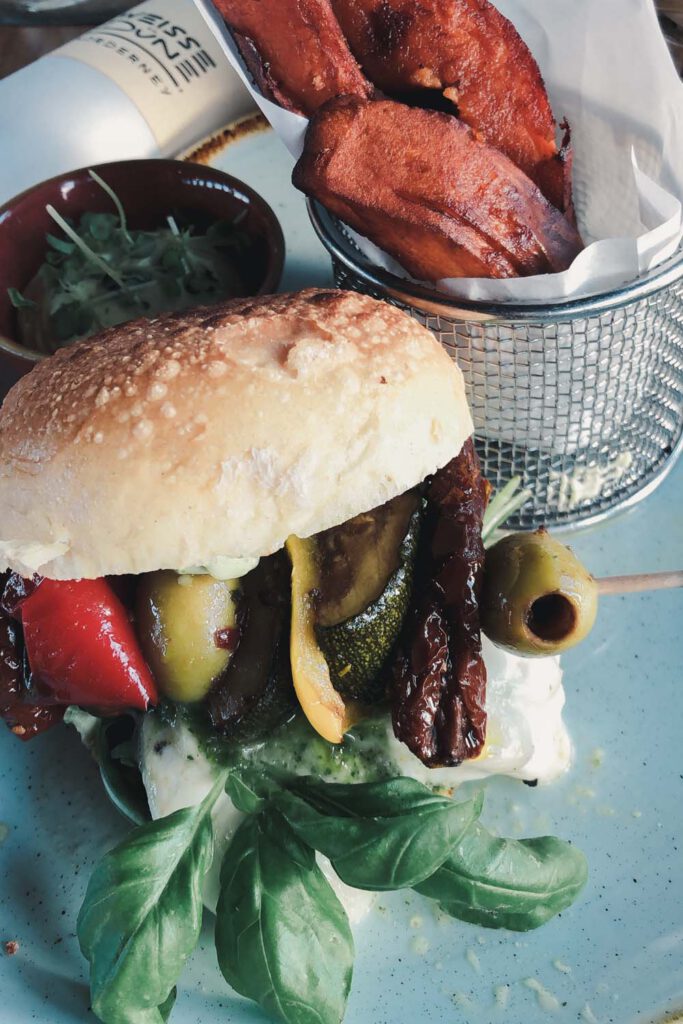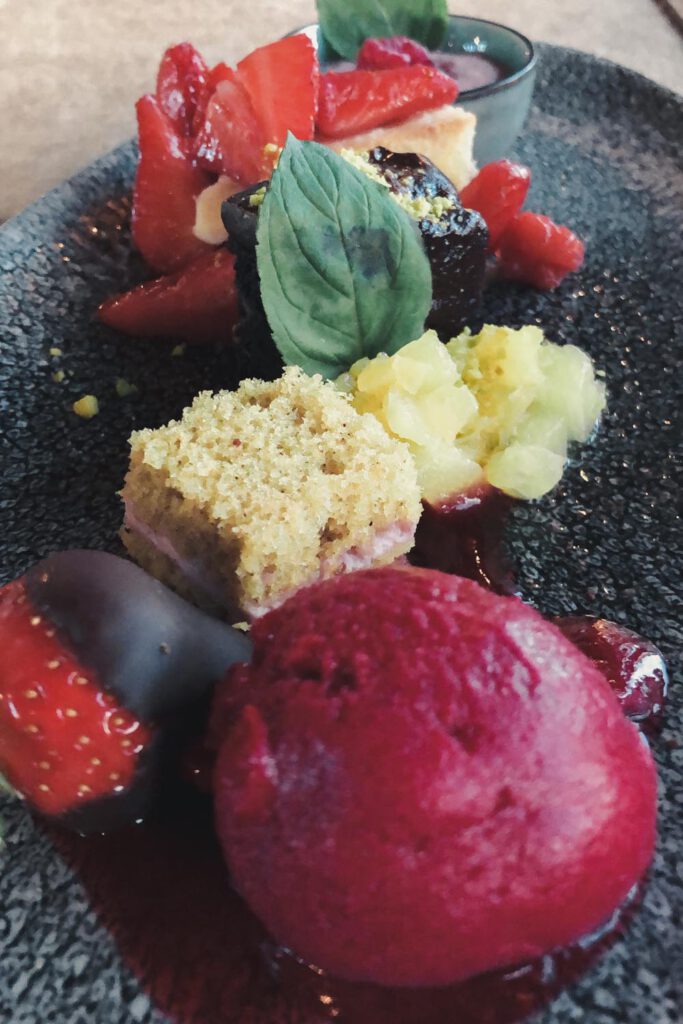 Milchbar
Hippest place in town? Look no further. The Milchbar is almost legendary. Translating into Milk Bar, the Milchbar is famous for their milk rice and their panoramic ocean view. For me it is the best place to have a look on the sunset while having a cocktail. For me, without a straw of course.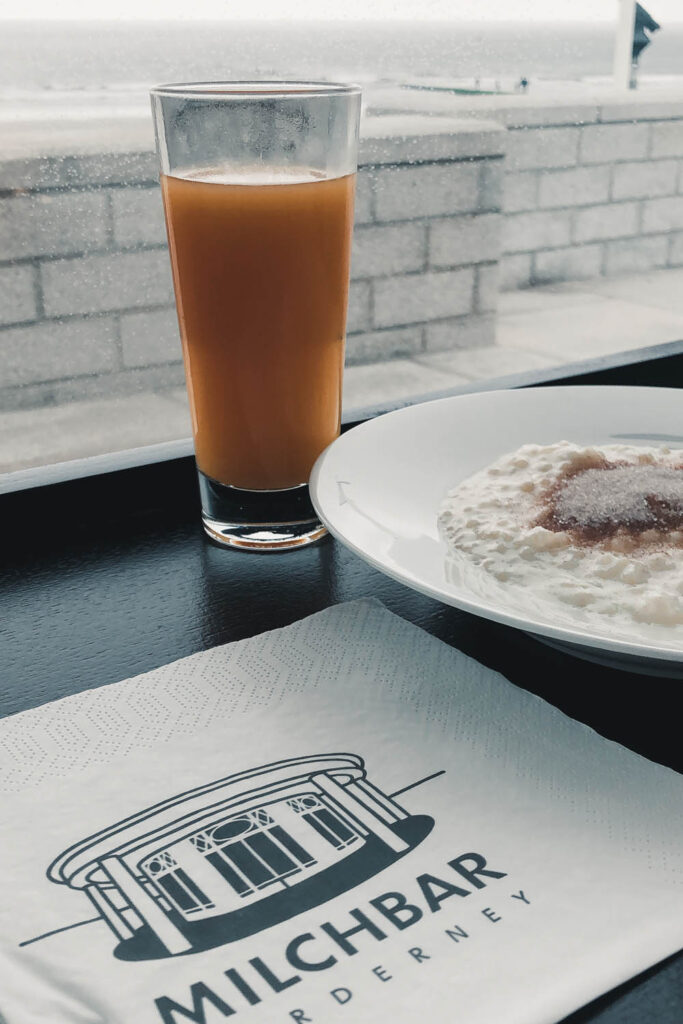 The Inselloft
The perfect allrounder. The Inselloft has a bakery, a café, and a restaurant, the so-called Esszimmer. Their whole interior is beautifully decorated and every single piece of furniture is selected with care. It is simply awesome. Their bakery is perfect for daytime visits or to have a coffee and a piece of cake in the afternoon. If you also want to eat in the Esszimmer, it is important to book your table in advance, as the restaurant is small. Their food is definitely delicious but their menu varies. My favorite dish was their prawn with kimchi and ginger!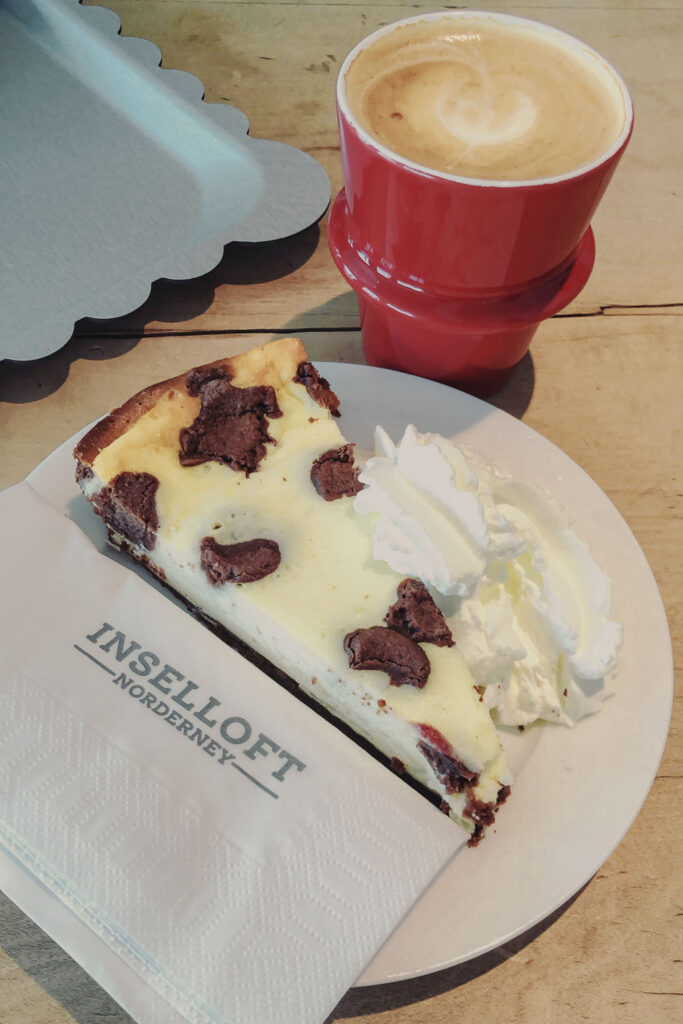 Surfcafé
Another stylish place with a lot of delicious dishes. Have your lunch or dinner with a look at the beach. Does it get any better than this?
Related: Foodguide to Düsseldorf!
Picnic at The Beach
If the Weiße Düne or Surf Café is not close enough to the beach then why not skip the restaurant and have a picnic at the beach? It will be extra perfect when you do it in some Strandkörben.
That's it for now with my tips for Norderney! Would you consider visiting it? Let me know.
If you are interested in more adventures of mine, check out my post about responsible travel!
Liked This Post? Pin it for Later!