Hello and welcome! As you may know I live in the best city in Germany (and no it is not Berlin, Munich, Hamburg. And definitely not Cologne!!) and therefore I want to introduce you to my food guide to Düsseldorf!
A lot of people visit Berlin and more of Eastern Germany but in my opinion Düsseldorf is an amazing destination in Germany for travellers from all over the world. It ranks among the top ten most livable cities in the world and once you have been there, you understand this. So in other words: It is way too underrated.
There is a lot to see in this favourite city of mine and it has so much to offer that even if you live there for years you won't get bored. And now I want to talk more about the foodie aspect of these offerings.
In this Food Guide to Düsseldorf I will tell you more about my favourite restaurants here. It will keep on growing as I will go to some places sooner or later. Just as in my guide to the Cafés in Kuala Lumpur you should stay tuned!
To be the most useful I will list the best restaurants of Düsseldorf within the area they are at.
Unterbilk / Hafen
As it is one of the coolest areas in Düsseldorf, working in Unterbilk is truly amazing. Around the Lorettostraße are tons of fancy restaurants, cute cafés and nice shops. If you visit Düsseldorf, this is definitely one of the things you really have to see. Especially as you have to visit me there.
Bernstein & Inbar
If you are looking for an incredible stylish place, the Bernstein & Inbar is the perfect place for a delicious lunch. I just love their sandwiches and their whole interior. Besides their food, they also have some great pastries and coffee.
Frida
If I have to name one thing I am obsessed with during summer it is salad with goat cheese. It is my favorite dish during the hot months and one of my favorite places to have one is the Frida. The goat cheese there is delicious and I really love the price performance ratio. For me the Frida is the perfect place to have an amazing lunch in the heart of Düsseldorf.
K in Unterbilk
One of the places that I just recently discovered is the K in Unterbilk. As I just started to work near to it, it was clear that I had to try it.
We kept it short and simple there with just having a drink and a dinner but it was very delicious and super easy going. The dinner we had was ravioli with a spinach cheese filling with a creamy mushroom sauce in case you were wondering. But while sitting there I also had a glance at a salad with goat cheese which looked as fantastic as our ravioli.
Menta
If you are looking for a good pizza that comes with a nice atmosphere in Unterbilk I recommend the Menta. But you have to ask for a place in the backyard. It is a very relaxing place and we like to have our lunch there from time to time. They also offer more than pizza, they serve amazing pasta and salads too! And they have daily changing specials, so be sure to have a look at their chalk board too!
Bob & Mary
This food experience is not that suitable for vegetarians or vegans as they only offer one veggie burger. But let me tell you for omnivores this is a great place.
Bob & Mary is a burger restaurant with an eye for the detail. Their mascots Bob a bear and Mary a bird are everywhere. On the menu, on the walls, on the paper straws and so on. So their interior and decoration is already super appealing.
But if you then get your menu you can be even more overwhelmed. They have a range of some of the most exciting burgers I ever read. Especially as they don't only serve the classic ham- and cheeseburger but also burgers with a little twist like the Senfrostburger which is my boyfriends favourite!
So basically you can say that Bob & Mary will serve you one of the best burger experiences you can find in Düsseldorf!
For reservations you can find their website here. But it might be hard for you to read it as it is in German.
Kyodaina
Pokebowls are now everywhere and therefore shouldn't miss in this Food Guide to Düsseldorf! You could easily call it a new trendfood. And that's totally reasonable! It is just delicious and an amazing way to enjoy personalized food. My favorite place to have a nice pokebowl in Düsseldorf is the Kyodaina in Unterbilk. They also serve heavenly sushi with fresh ingredients.
What to have
My favorite pokebowl is filled with: Sushi rice as a base, mango, ginger, avocado, cucumber as toppings, salmon or fried tofu as meat / veggie alternative, their teriyaki sauce and cashew and sesame as an extra!
Café Buur
Fancy a fancy lunch? If you are in Unterbilk, the Café Buur is the latest place to be. They have a delicious menu filled with so much deliciousness! When I was there, I chose to go for one of their weekly specials, which happens to be a Sushi Burger. It was so so so good, I simply couldn't stop eating!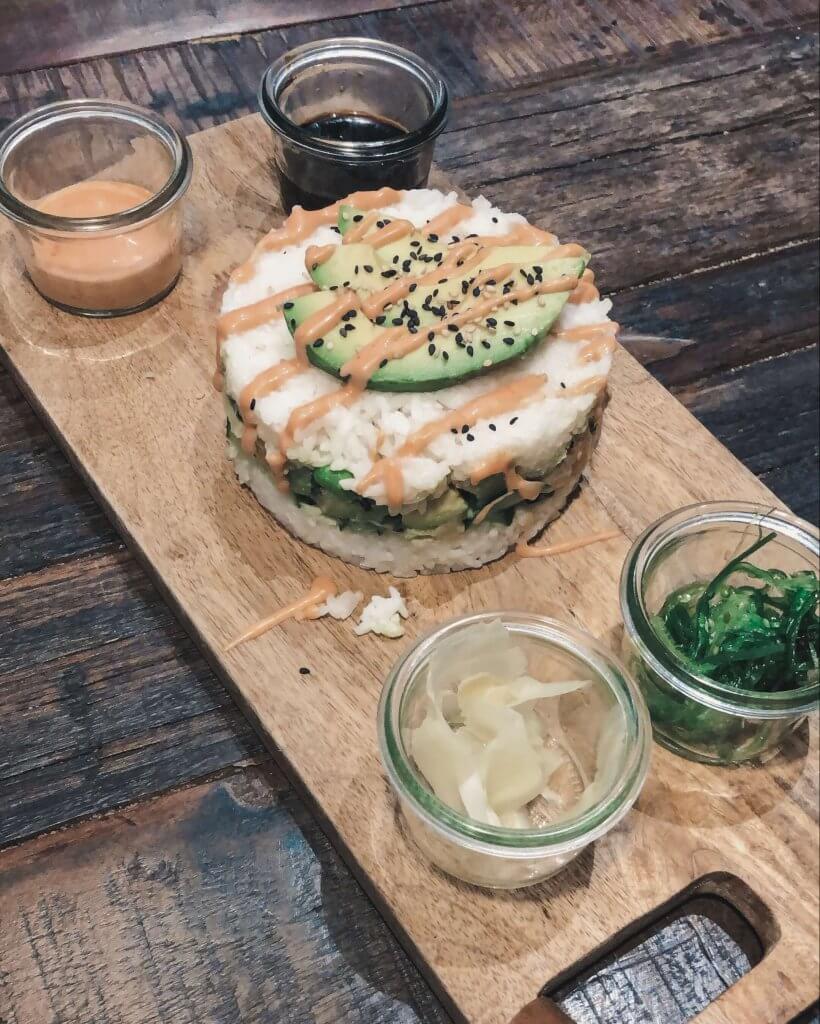 Aloha Poke
Let's be honest. We all can't have enough Poke. Poke Bowl is just life. So besides the Kyodaina, I also love to have Poke Bowl at Aloha Poke in Unterbilk. What I like here is that you can split the Protein in as many variations as you like. So you can have tuna, salmon and tofu without it getting more expensive! And their interior is just incredible pretty!
Related: Things to Do in Berlin and Dresden.
Carlsplatz / Zentrum
The Carlsplatz is something you definitely shouldn't miss when visiting Düsseldorf. It is not only a farmers market but also a meeting point for all kind of foodies! There are stalls with food, kitchen supplies & small restaurants and is for sure one of the it places in Düsseldorf!
Nine O Five
When in Rome, do as the Romans do. When in Germany and looking for good pizza, do as the Italian residents do. And in Düsseldorf, they go to the Nine O Five. It is just a place that you can't skip in a Food Guide to Düsseldorf.
Nine O Five has the best pizza I ever had in a restaurant. There is another pizza I had that was this great but it was one a friend made for me.
What to Have:
I have been there three times now and everytime I go for the Bufalina pizza which you can also see in the picture! It just has the perfect thin crust and the toppings are on point. I could eat at least 10 of them. Daily. That's how good it is! Especially when paired with their own apple lemonade. Furthermore Nine O Five won some awards for being so great especially for their wines. I just drink lemonade because I like the taste better!
You can find their website here. They have four restaurants and two of them are in Düsseldorf. The other location is not as central as the Carlsplatz so I wouldn't recommend it to you.
Fladi
One of our favourite food stalls at the Carlsplatz and more suitable for vegetarians or vegans!
Basically it is all about having your own customized stuffed bread. You can choose from two different types of bread and choose what types of fillings you like best. They have sauces and creams, salads and antipasti and a lot of other tasty options! And in the end you will have the perfect spicy stuffed bread.
Furthermore they also offer all type of culinary highlights like special olive oils, truffle or sea salt. This makes it perfect for souvenirs for your loved ones.
For more detailed information, check them out on the Carlsplatz' offical website!
Pempelfort
Baba Green
In Germany you can have a Döner (a little bit like a Kebap) almost everywhere. But I will tell you, where to have it in Style. Baba Green has the best kebap and falafel that we have in Germany. You can either choose if you want to have falafel, chicken or beef and weather to have it in a bread, a laffa or as a bowl. Then you can choose from various sauces and toppings. So you will end up with having only things you love on your food! And double win, the place is super stylish! Most kebap houses don't pay attention to the details but Baba Green definitely does!

Frittenwerk
Fries before Guys.. I hope all you people from all over the world keep this in mind. And the Frittenwerk made it their motto. They have lovely hand cut fries, either from potato and sweet potato and you can choose from either having fries only or having fries with some of the most amazing toppings.
What to Have:
My favourite variation are the Tijuana Street Fries with sliced tomatoes, sour cream & guacamole.
Hirschchen
I am a German and every now and then I really love to have some hearty German food. This usually includes some giant piece of meat with potatoes and Sauerkraut. Ok ok, not always Sauerkraut, we like some variations too! Some of the best German dishes can be found in the Hirschchen and therefore it just had to be on this list!
What to Have
I have been there quite often and my favorite dishes are the Haxe and the rib eye steak. But the lamb you see on this picture was exquisite too!
Stadtmitte / Japanese Quarter
Takumi
Lately a friend of mine and I decided to have some ramen. And we went for the best place to have ramen in town. And this happens to be Takumi. It is that good that we had to wait solid 35 minutes to be seated. Luckily they have heaters in front of their entrance. When we finally got a seat we couldn't wait to finally order and to have our ramen but luckily it didn't took to long. Needless to say, that the food was delicious and it worth waiting for it!
What to have
You should definitely go for the Gyoza. I would never leave this place without having some. Despite my favorite Ramen is the Chicken Teryaki one.
Gusan
I have been talking about German food, Japanese Food and some Italian food in this Food Guide to Düsseldorf but it has more to offer! Here we go with my favorite Korean restaurant there is! The Gusan is not that popular but it has a wonderful place and it didn't fail to make me fall in love with Korean cuisine. The only question that is left for me now: is there even a case where you can have too much kimchi?
Na Ni Wa
I was talking about Ramen and Noodles before and I usually love to go to one place over and over again. But this one day a friend of mine broke my habit for me and took me to another noodle house in Düsseldorf. And what can I say? I should be more open minded in the first place. The Na Ni Wa serves amazing dishes and I can't praise it enough.
So, this is my Food Guide to Düsseldorf for now. As already mentioned, this list will continue to grow, as I get to visit more restaurants one by one. Maybe some restaurants will even open and I get to test them. So no matter what, stay tuned guys!
If you want to read more about the food of Düsseldorf, check out my post about the Gourmet Festival!
Liked This Food Guide To Düsseldorf? Pin It For Later!
Sneak Peak