I love living in Düsseldorf! It is a vibrant, exciting city with my restaurants, cafés, and places to fall in love with. Nevertheless, I enjoy escaping from the city every now and then too! Over the past two years, I have been looking for the best day trips from Düsseldorf and I am very happy that I found a few very nice destinations to visit around the year!
Spring
I love the time when winter is finally over and one can start to store the winter clothing and watch the flowers start to bloom. Everything is wonderful during that time. Everything gets greener and the days are getting lighter. I also love to go for some blooming day trips from Düsseldorf in that time!
Schloss Benrath
This might actually not be a day trip in the classic sense, since going there is very easy and you might also not spend a whole day there, but a trip to Schloss Benrath is almost compulsory in Spring! You can easily go there with the U71 with the line ending directly in front of the Schloss.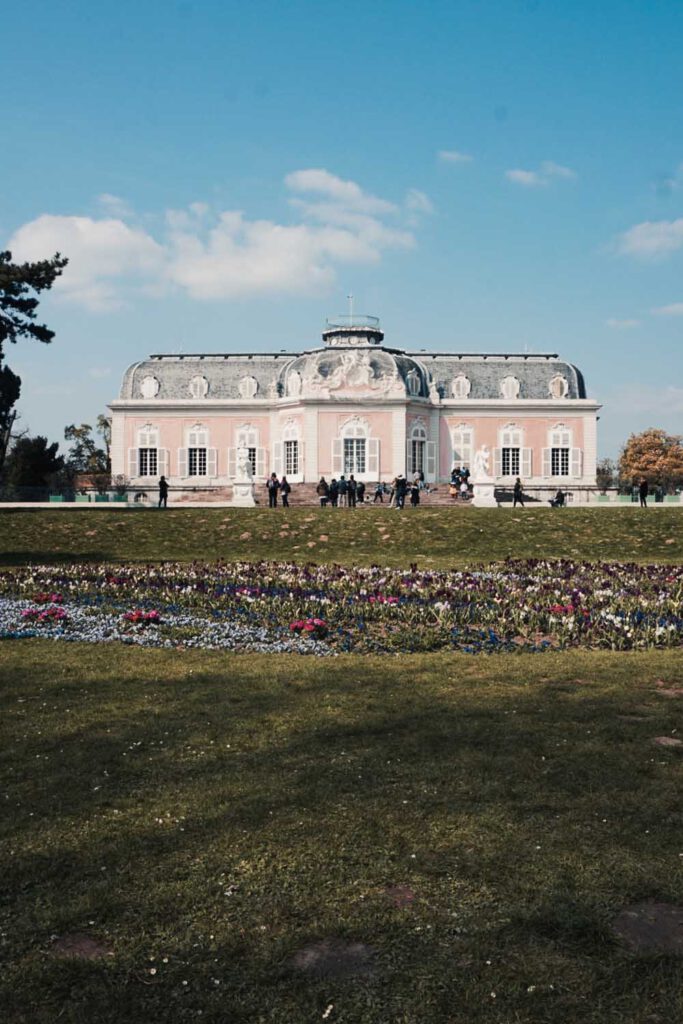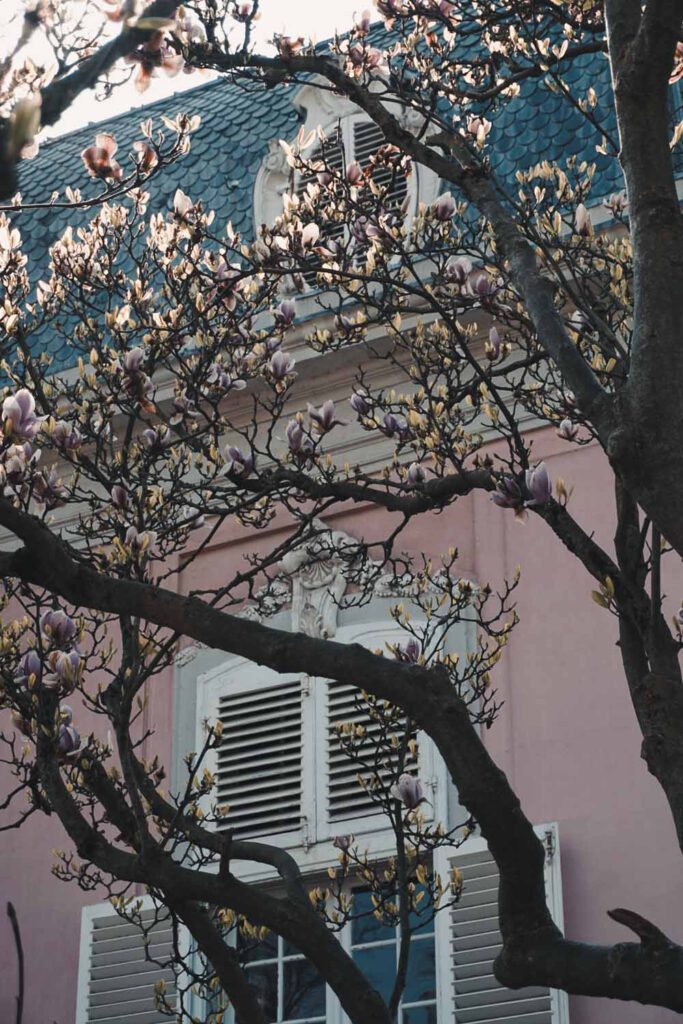 During springtime, the garden around the Schloss turns into a blossoming paradise! It is surrounded by magnolias and wonderful flowers and I promise you, you will have a wonderful walk in the garden. In some cases I like to imagine myself in the world of Pride and Prejudices, walking the gardens of some wealthy Lord.
For further reading on Düsseldorf:
Cherry Blossom in Bonn
Cherry Blossom is something beautiful indeed. If I would be the major of a town, I would plant them everywhere, just to see my town blooming in spring! One of the cities that really nailed it is the city of Bonn! There is one street in particular, that turns into a pink blossom nirvana. It is incredibly beautiful but it can get crowded, so make sure to be there as early as possible to get your shot! Traditionally the cherry will bloom around springtime and be in full blossom mid-April!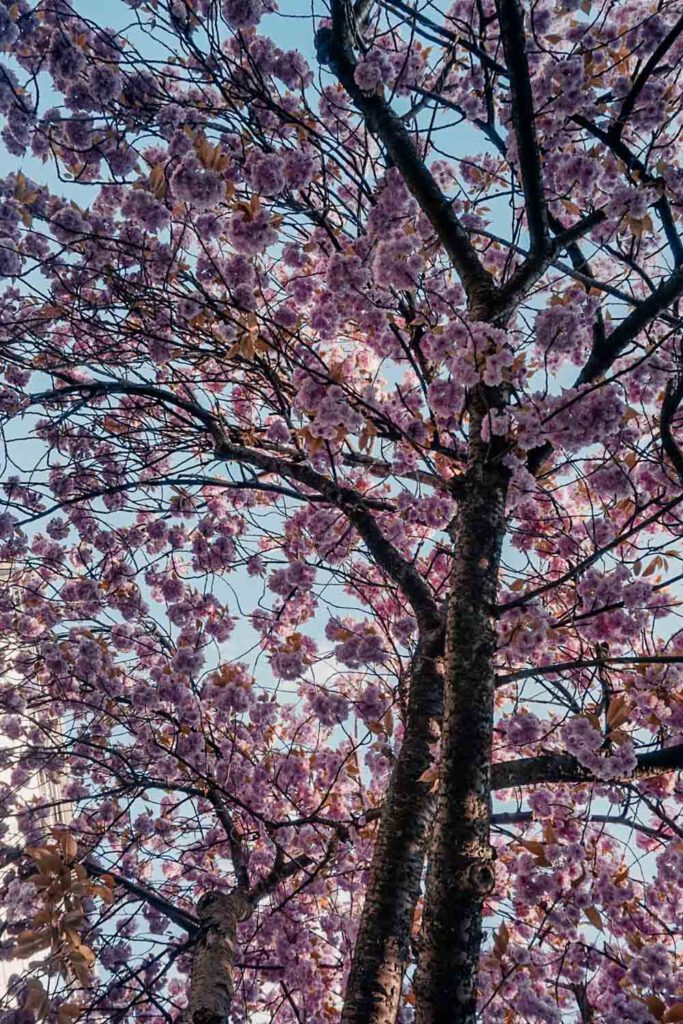 Summer
German summers can be very hot and humid, so usually I flee to the closest lake during summertime. Nevertheless, I want to include my favorite day trip of this summer.
Schloss Drachenburg
I love Disney movies! And princesses! And therefore castles! One of the most picturesque castles I found in Germany so far is Schloss Drachenburg. With its golden stags, blue rooftops and gargoyles it is straight out of my fairytale dreams! It is incredibly easy to reach by car and it is a region that comes with some amazing views! Make sure to take your time there and explore the whole region. Below you can find the exact location of the parking lot I would recommend you!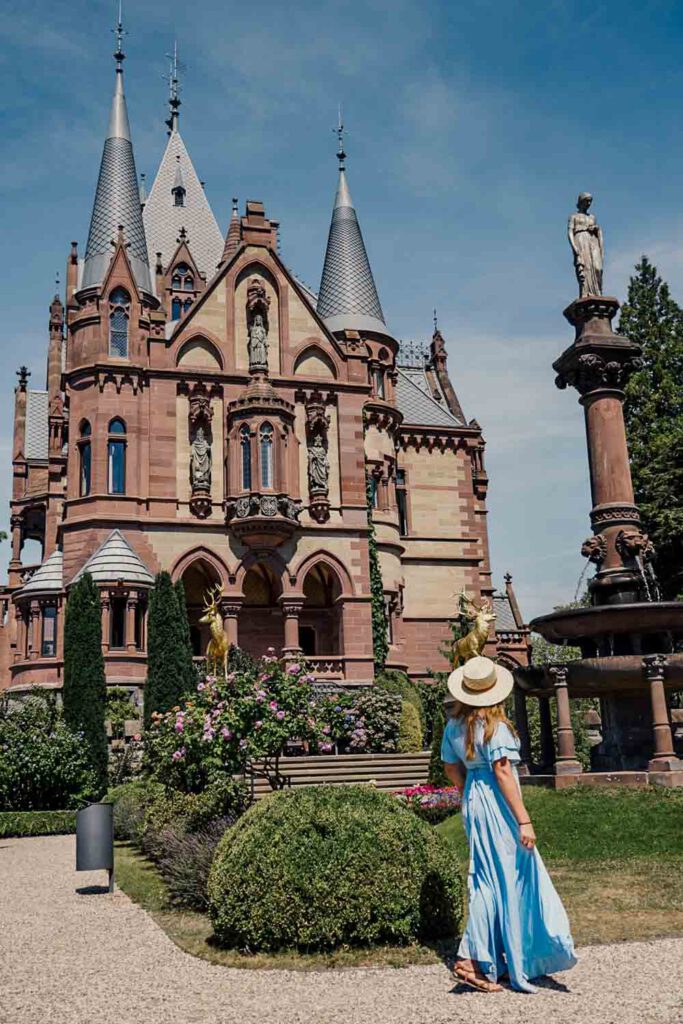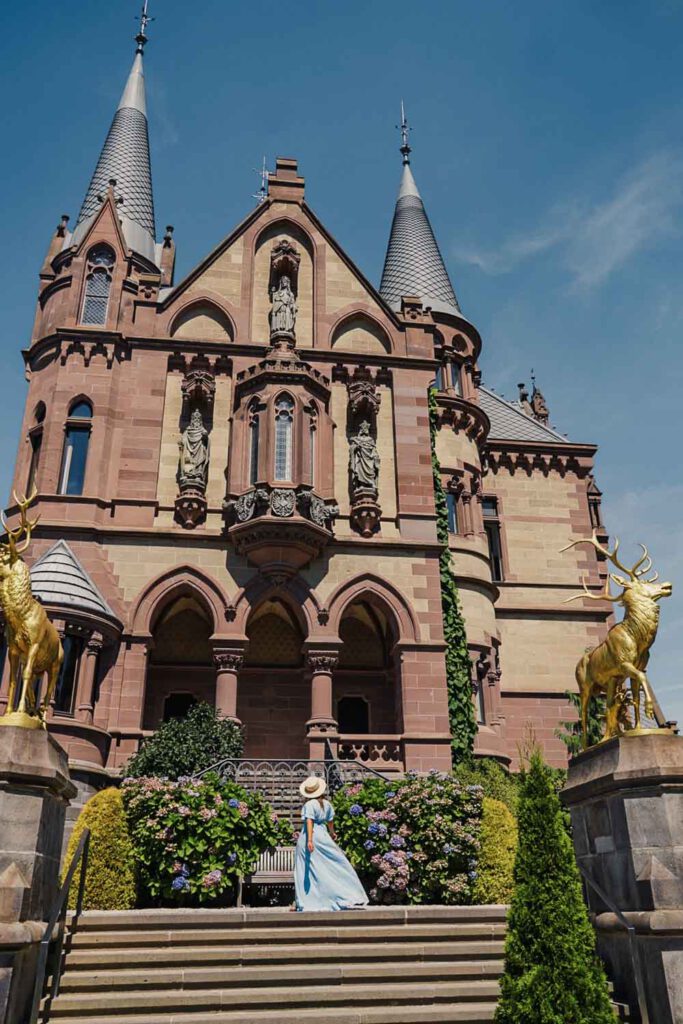 Autumn
A German Autumn is mostly grey and rainy, but every now and then it is also incredibly beautiful. You can find pumpkins and golden leaves everywhere. I especially love that time when you can still wear all the cute fall outfits before it gets too cold to wear light jackets only.
Erlebnisbauernhof Gertrudenhof
One of my favorite things to eat during autumntime is pumpkin soup. And the one and only place to buy a two-month supply of pumpkins is the Gertrudenhof with its pumpkin exhibition! You can get everything there: small white pumpkins, big white pumpkins, Hokkaido's, pumpkins for lanterns, spaghetti squash, and those funky small ones that you can't eat. And despite pumpkins, you can also get pumpkin spice latte, Flammkuchen with pumpkin on top of it, pumpkin champagne, and pumpkin jam. Really awesome. The heart of the festival marks the three-meter-high pumpkin pyramid in the center of the exhibition. Magnificent if you love pumpkins as much as I do!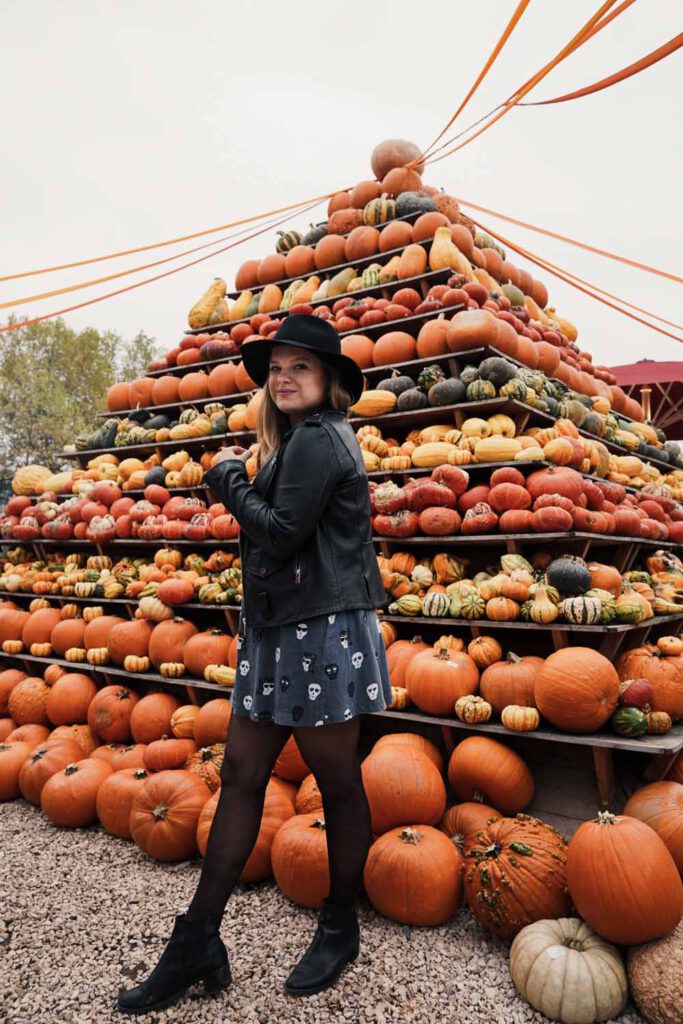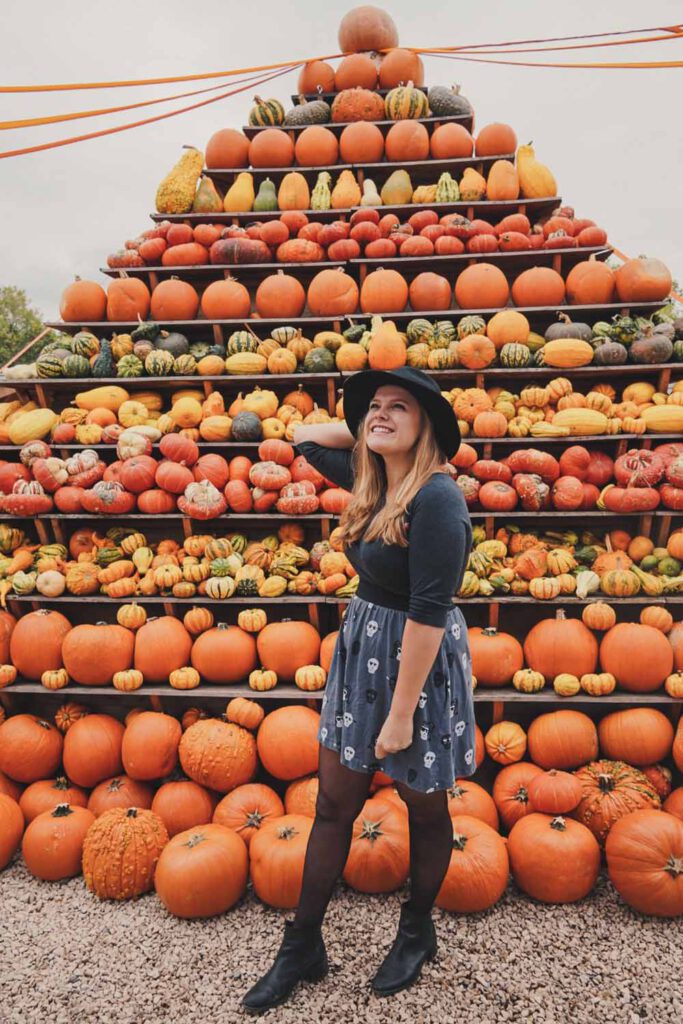 During the pandemic, we were obliged to buy our entry tickets online in advance. You can do that on the official website of the Gertrudenhof!
Cochem
One of the sunniest days this year was the day I went to Cochem. Within two hours from Düsseldorf, you will reach this wonderful picturesque place with the cute cobblestoned alleys, the wonderful half-timbered houses, and the majestic Reichsburg. It is such an awesome and unique trip and as we combined it with a road trip through the surrounding Mosel Valley. The whole area is so picturesque, that I would love to visit it for a longer time in 2021! My tip for this day trip from Düsseldorf is to make sure to bring some time and be flexible with your schedule and discover as much of the area as you can.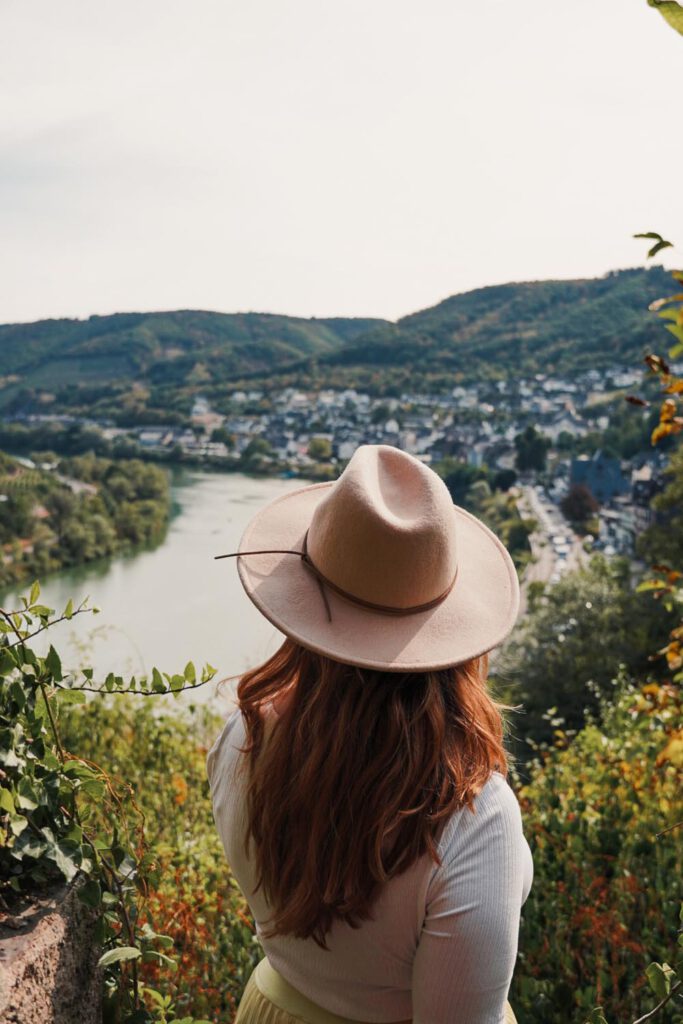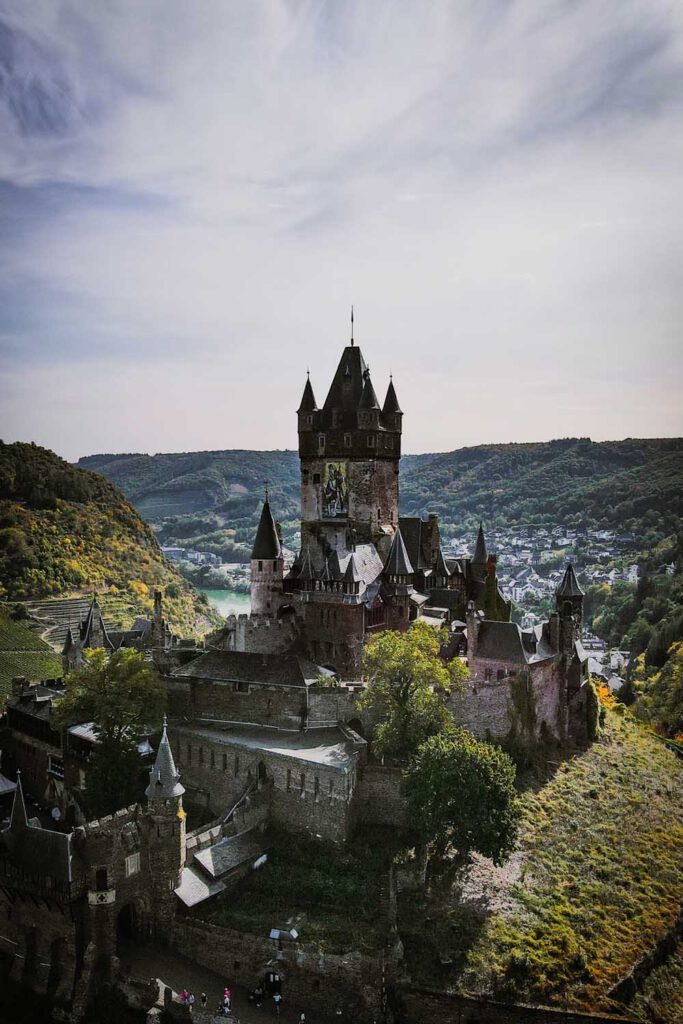 Burg Eltz
Oh, pretty Burg Eltz! This might be my favorite castle in Germany. It is just so incredibly picturesque and gives me all the Harry Potter vibes. The hike to get it is also wonderful and just shows the most wonderful side of Germany. From Düsseldorf, you can get there easily by car. The closest town is called Wierschem and from there you can follow the signs to the next parking lot. From there it is either the short hike to the castle or a shuttle bus if you are not so fond of walking!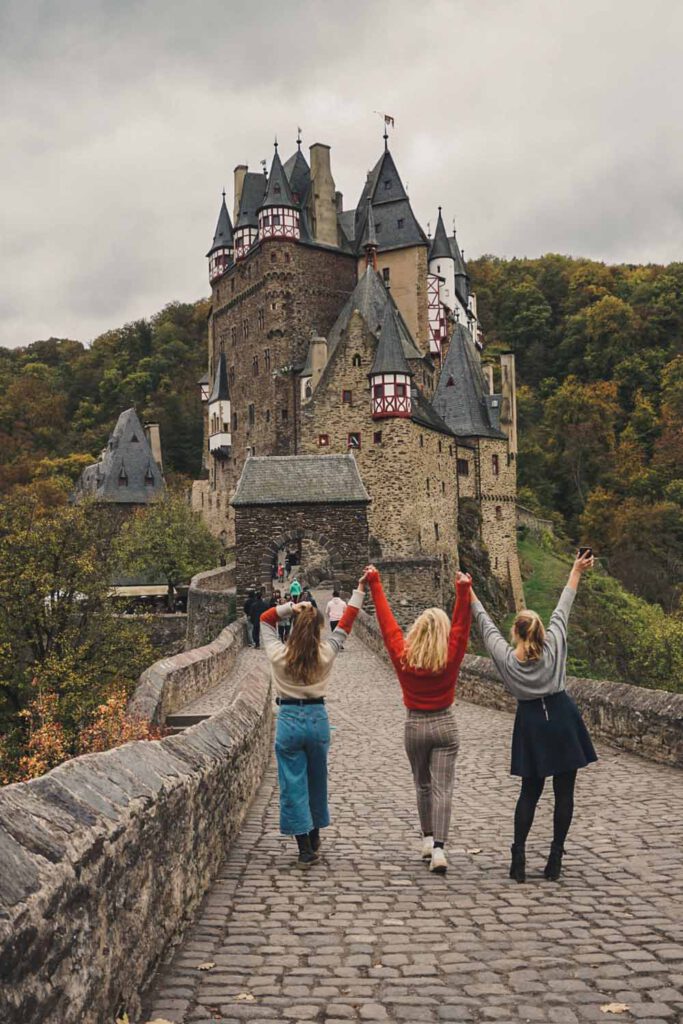 Winter
Winterberg
If you wish to walk the Winter Wonderland, your destination of choice should be Winterberg! From Düsseldorf, it is only a two-hour drive, right to the heart of the Sauerland. While you can rent skis and sleds in Winterberg, we preferred to park our car a little outside the town and simply took a long walk in the snowy spruce forest. We had the biggest fun as we were walking around in the photogenic scenery. The only thing missing was a hot chocolate with cream in a cosy café. Sadly these were closed due to the corona pandemic. Yet it was a truly amazing time and I can't recommend a trip to Winterberg's forests enough!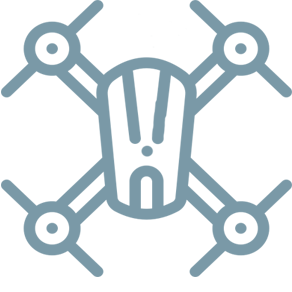 When we were in Winterberg, we seized our chance to bring Dobby, my drone with us! The snowy trees were the most wonderful thing to film from above!
Corona Disclaimer: During the holidays, Winterberg faced a huge number of tourists trying to go for a walk in the snow. They had to block whole parking lots and roads in order to prevent the masses from entering the town of Winterberg. As we did not want to be a part of this messy situation, we kept off the town and parked in the countryside. At no time we were close to other people and therefore not exposing us or others to any potential threat. The only dangerous part of the day was the lack of adequate shoes on my side.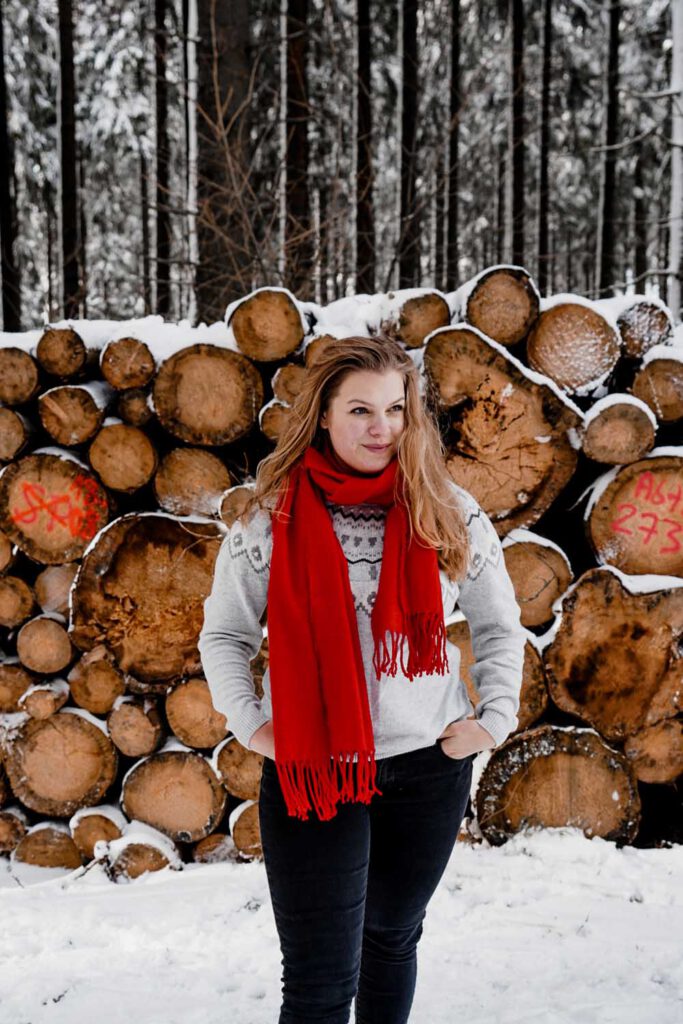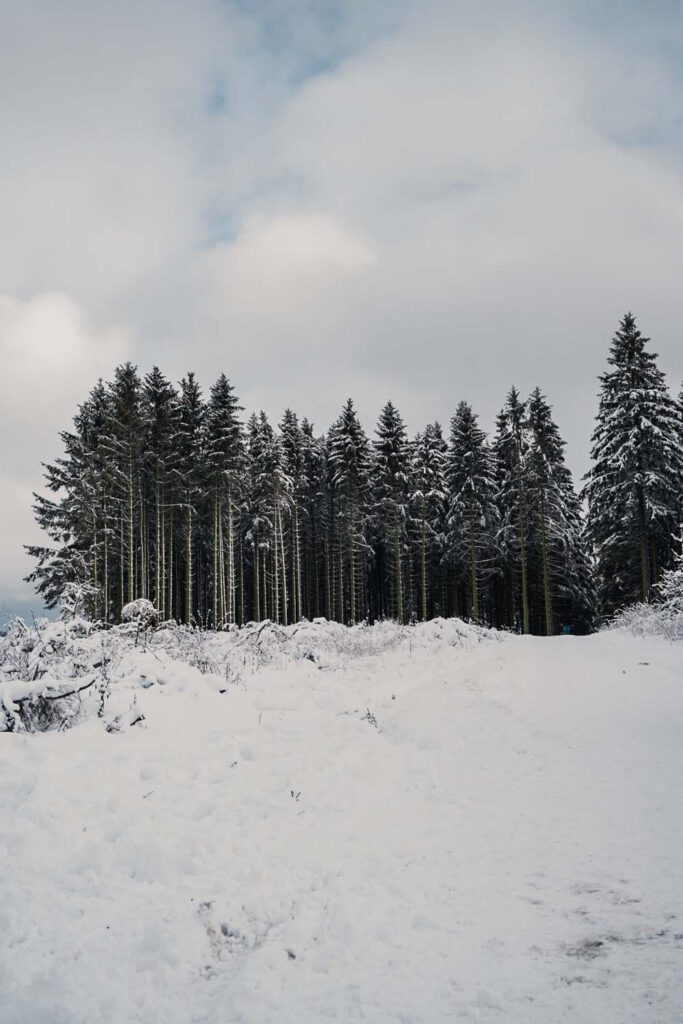 Monschau
Half-timbered houses are something very cute in my humble opinion and I really can't get enough of them. In Monschau you will find some of the cutest ones. The scenery gets even better considering that there is also a small river running through the city. Because of that Monschau is one of the most amazing fairytale-like towns in Germany! When visiting the city also make sure to visit the iconic Senfmühle Monschau to buy some of the best mustard there is in the world!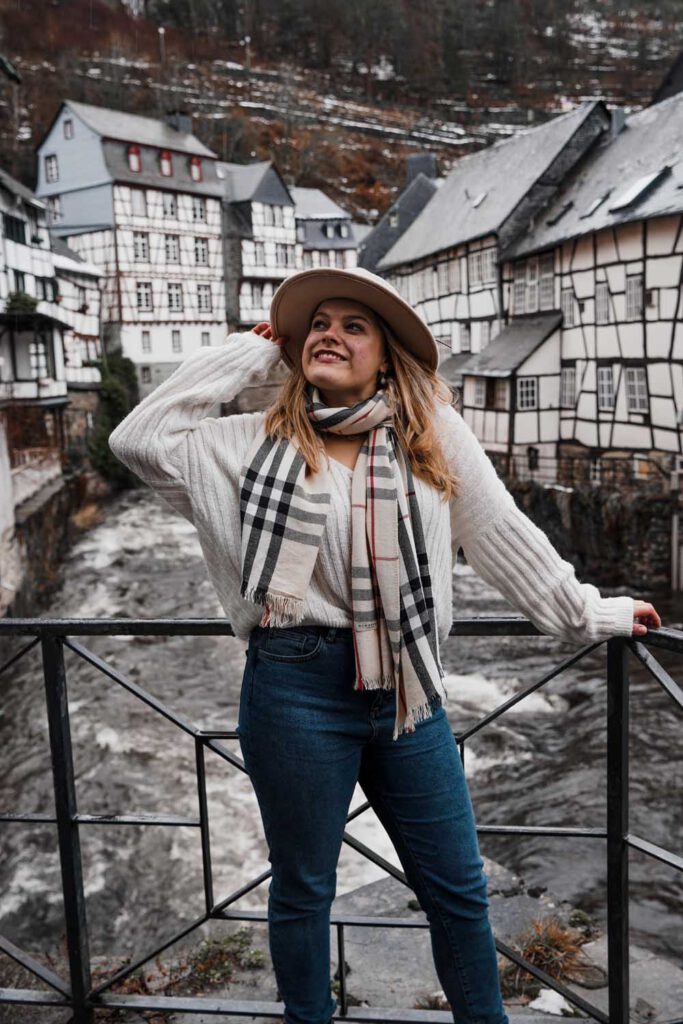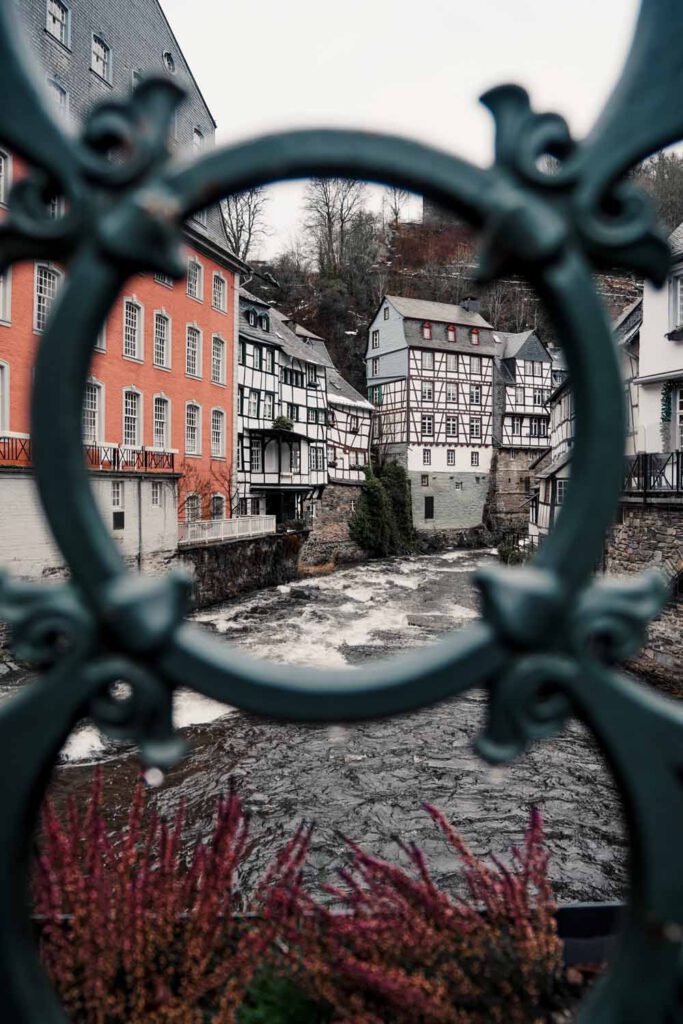 Liked This Post? Pin it For Later!