Hello and welcome back! I have been writing about my hometown Düsseldorf before and I have been writing about cafés before, so, therefore, it makes sense to write an article about Düsseldorf's Cafés. All the places that found their way onto this list are loved by myself.
As usual, this is a list that is meant to grow with time. New cafés will open and I get to visit places that I didn't know yet. And I can't wait to explore them for you!
For all those lovers of good bagels, acai bowl, and colorful salads the café Birdie & Co is the best place in Düsseldorf! The small restaurant is the perfect place for a healthy breakfast or lunch. Each dish is packed with bright fresh healthy fruits or veggies, which is something that I simply love. It lights up my mood and I instantly feel better once I had my eggs Benedict, with salad and avocado there! Also, their coffee is amazing; not bitter at all (which I hate, coffee is not supposed to be bitter), and if you ask for it also vegan. Without any doubt, Birdie & Co just became one of my favorite breakfast places in Düsseldorf!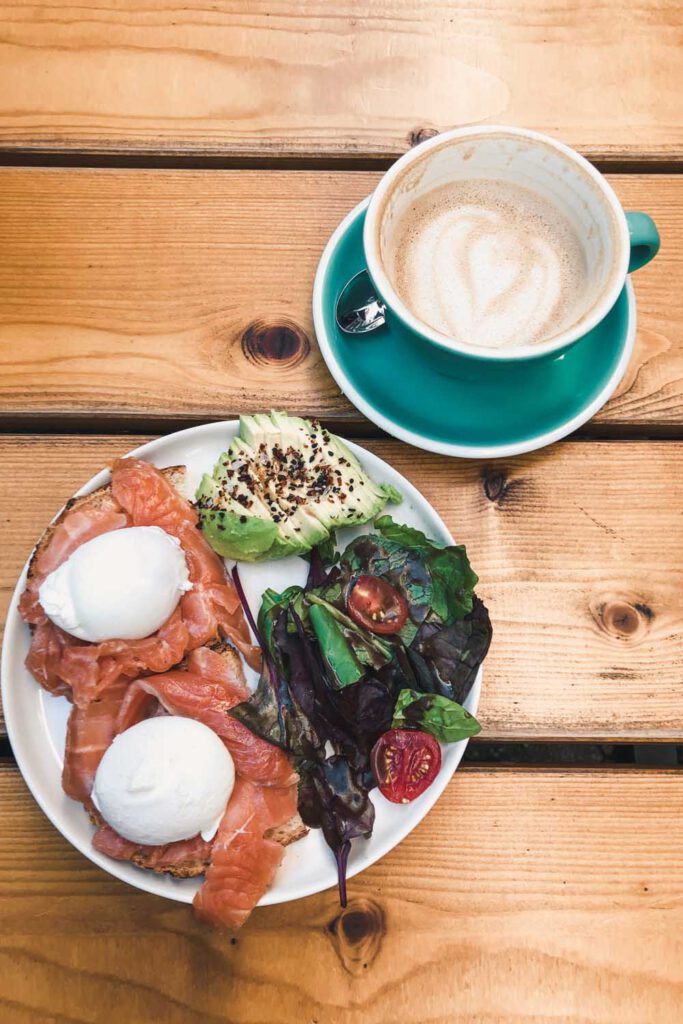 Kyto
Kyto is my new favorite place in the city! It comes with a great vegan latte and always has some lovely cakes or bagels. Especially if you are looking for a place to work or study for a while, this little place is perfect. Sitting there will definitely inspire you!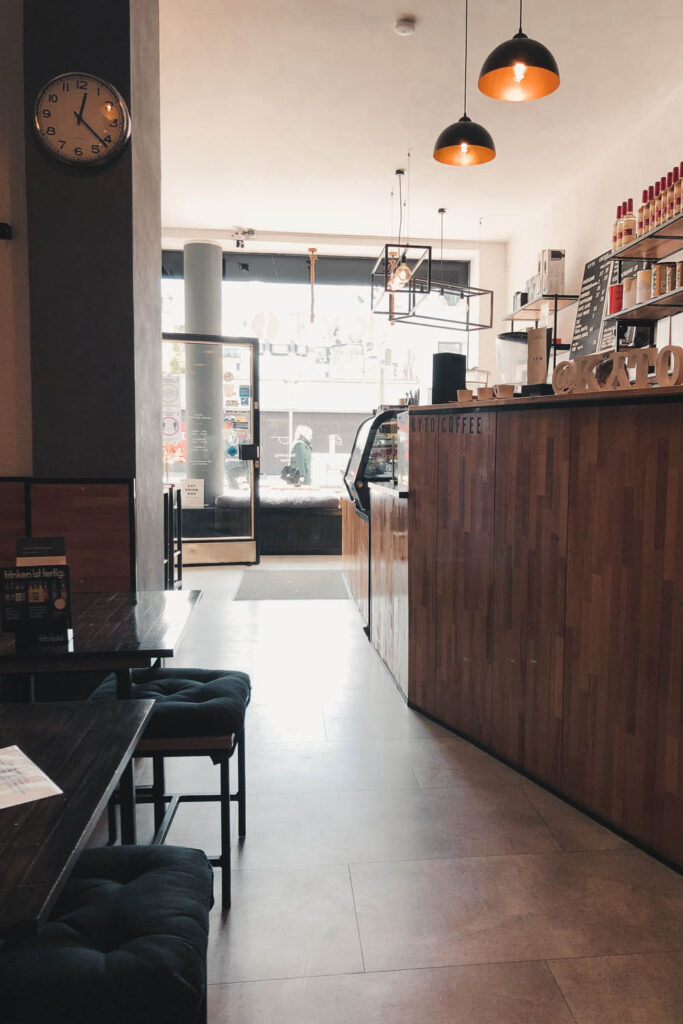 Recommended: How to Experience Autumn in Düsseldorf or about Düsseldorf's Christmas Markets!
Cøffe
One of Düsseldorf's highlights! Formerly known as a pharmacy, the Cøffe now holds a super stylish café, that offers a variety of coffee specialties. They have their own coffee, which they also sell and furthermore lemonades, tea and a small range of pastries. And they offer Oatly oat milk to get the creamiest cappuccino (making them the first café for me to get in touch with oat milk!)
Covent Garden
The coziest there is! The Convent Garden is a lovely place that seems to be decorated for you to feel at home. The coffee is amazing just as its food. It is a place to be, a place to bring your Laptop, write an essay, work a bit or simply to solve a crossword puzzle.
With the corona pandemic changing life as we used to know it, it has also changed the way you have your breakfast on a typical Saturday morning. While being in lockdown, cafés were closed but it was still allowed to sell coffee and pastries out of a window. That's where I seized the chance to visit the famous Café Hüftgold for the very first time. And I really have to say that I can't wait to go there again, once we go back to normal life! They had a wonderful oat milk latte and a delicious raspberry cheesecake. My friend Ines went for an egg and flour-free chocolate cake, so this one is approved by me too.
Due to the pandemic, it is hard to stick to certain zero waste values of mine, which makes the use of single use cutlery and paper plates inevitable every now and then. But on the bright side Café Hüftgold offered the use of a reusable cup, which made me a happy little person. At least two cups less were used that day!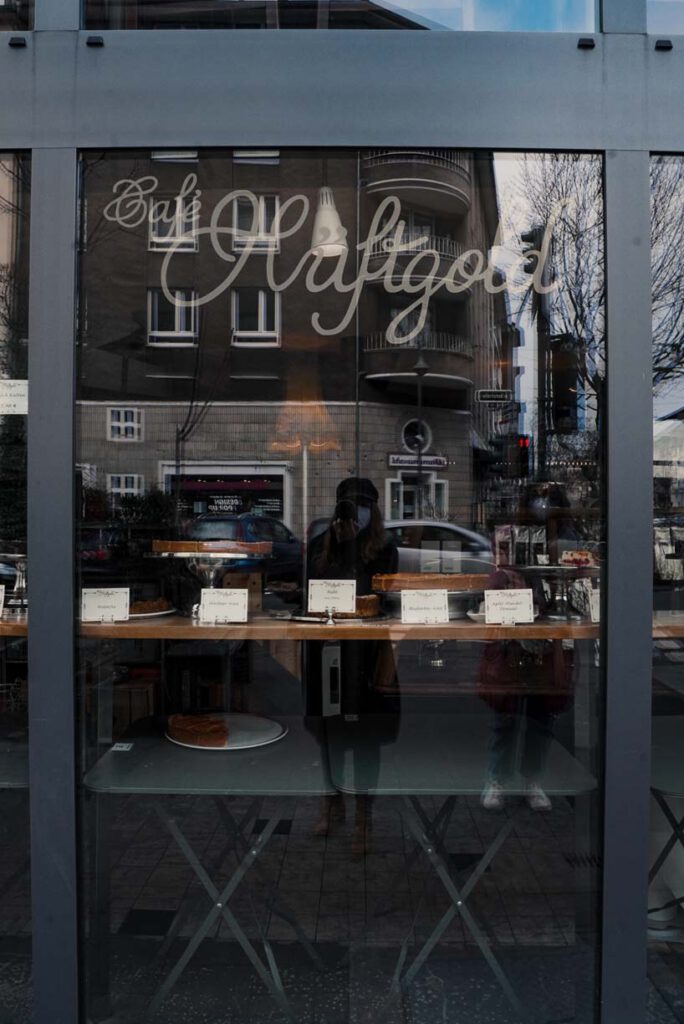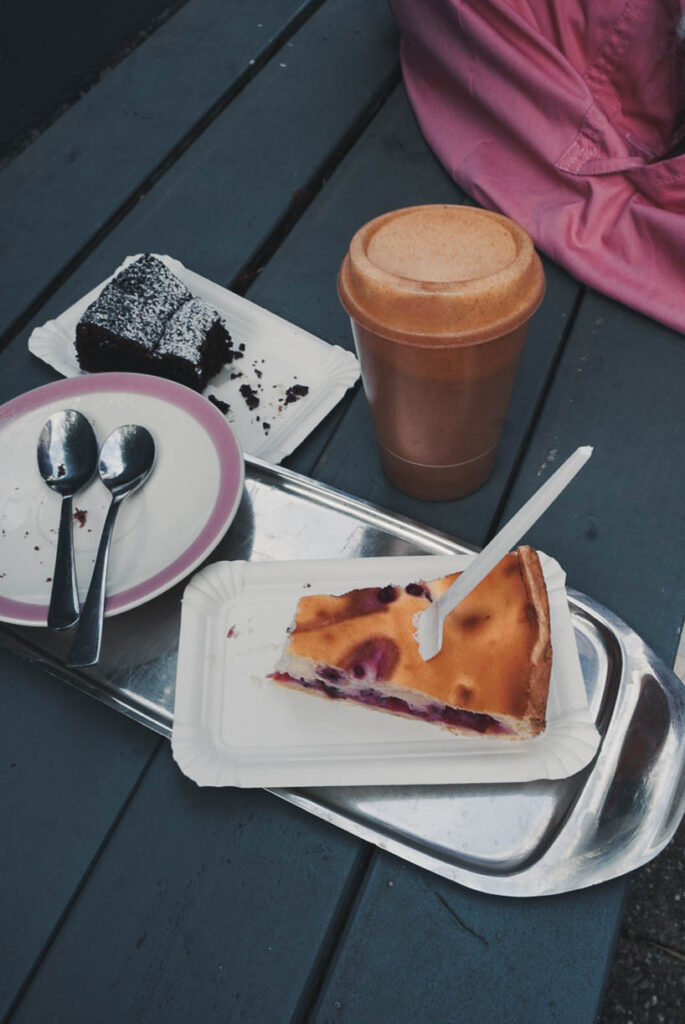 If you are into industrial interior, you will simply love the Velvet. During daytime it is a nice café and at the evening it turns into a stylish bar. You can get heavenly coffee and cake and after having an amazing breakfast, you can have a stroll in the shop that is located next to the Velvet. We just adore it!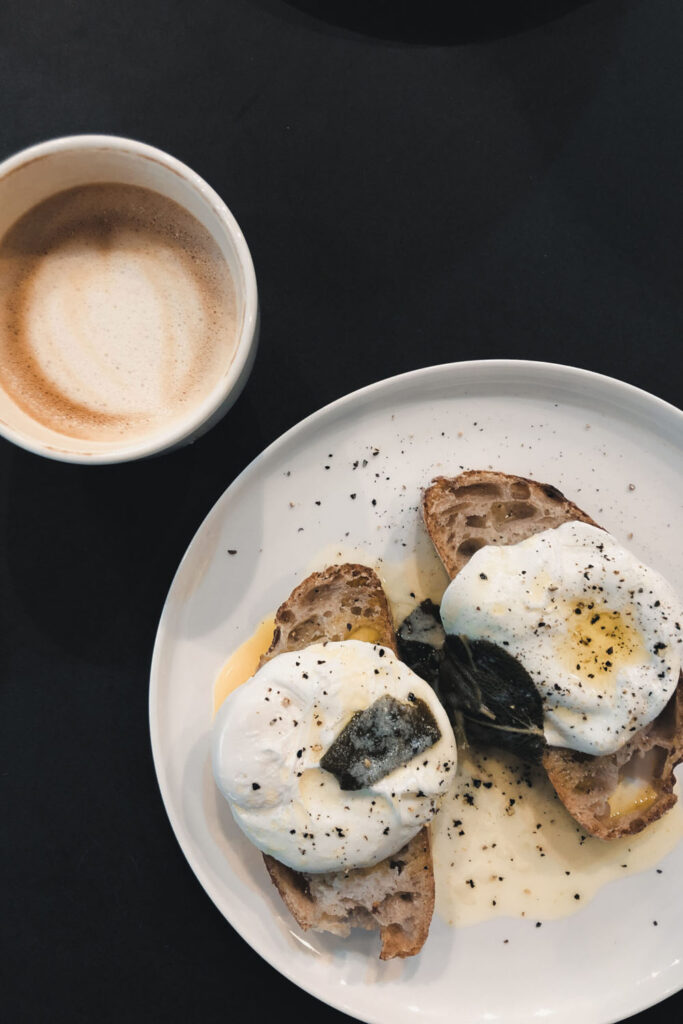 Related: Food Guide to Düsseldorf
Café am Schloss Benrath
Let's come to the most beautiful café! Schloss Benrath is a wonderful small palace in Düsseldorf and just a wonderful destination for a stroll on a sunny Saturday or Sunday. Attached to it there is a big park, that you best experience in spring and in full bloom. The café itself is so lovely and offers an amazing variety of cakes, café and more breakfast options. It is almost fairytale-like! In my opinion the best of Düsseldorf's cafés!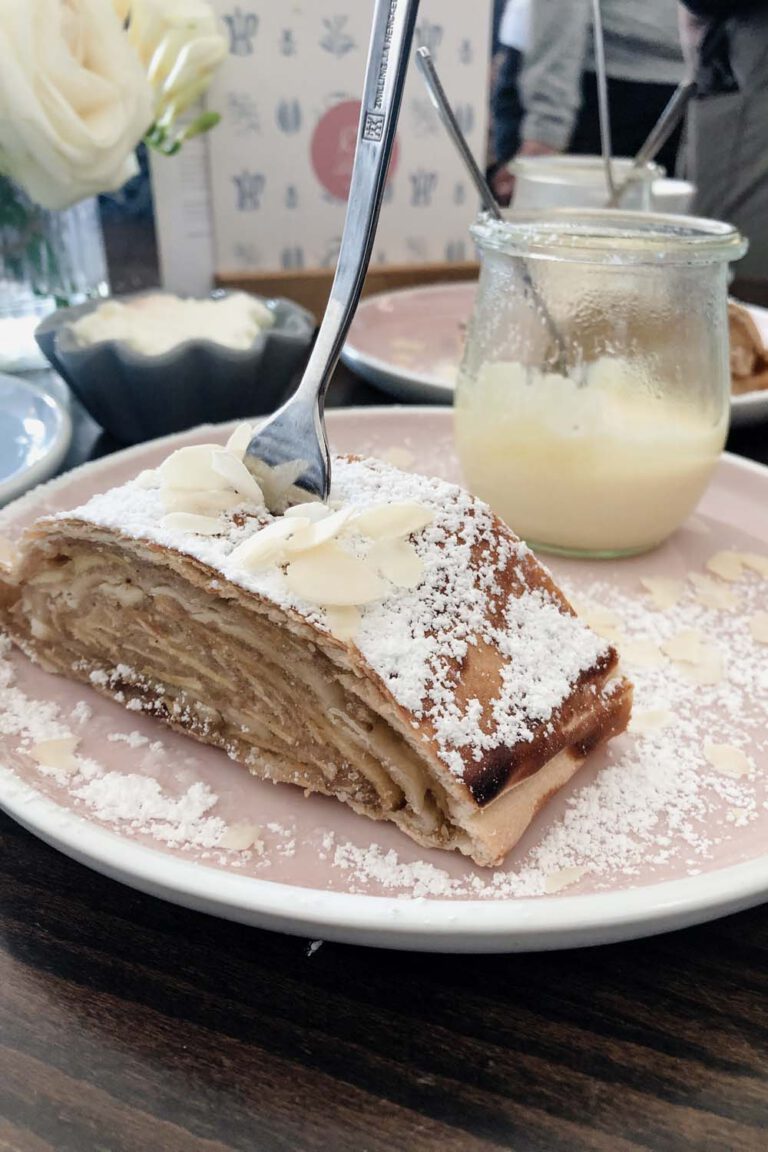 Recommended: The Best Day Trips from Düsseldorf
Löffelbar
If you are looking for the perfect place to have a long and indulging breakfast in Düsseldorf, the Löffelbar should be right on top of your list. The charming restaurant serves breakfast until 16:00 and this includes an incredible soy latte. Their Eggs Benedict are delicious and they make sure that their ingredients are regional if possible and organic too. If you are not into having breakfast at 16:00 anymore, they also have a bigger menu, where you can choose between many other delicious dishes!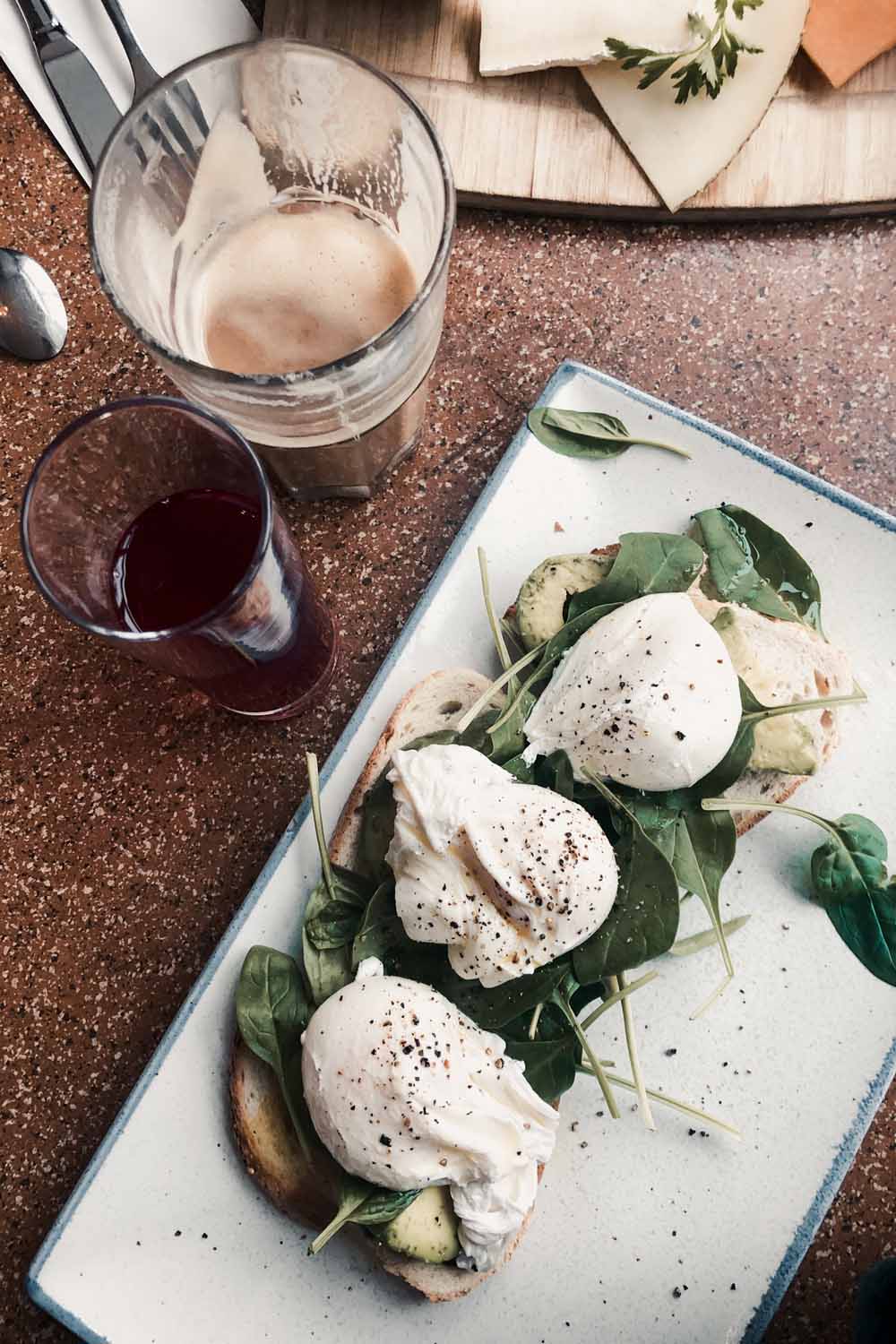 Liked this post? Pin it for later!