Hello and welcome back! It is this time of the year again where all Instagramers are twirling their ways to the Christmas Markets all around Europe. As I live in Düsseldorf, Germany I am a very lucky girl to live directly at the source of all those wonderful Christmas markets. As Düsseldorf has quite a few, let me help you to plan your perfect Christmas trip.
Unlike other bigger Christmas markets, Düsseldorf offers many little ones instead of one big one. This makes it a little harder to see all of the Christmas beauty, but otherwise, it offers a wider diversity of Christmas market magic. I will go through them one by one, ending with those that I think are the most magical!
Covid Info: It is truly hard to be wanderlusting during the Coronavirus Pandemic. Due to the rising number of people infected by the coronavirus, the city of Düsseldorf decided to cancel all Christmas markets in 2020. I am super sad about it but of course, health is more important than hot chocolate and mulled wine. However, it has been announced that stalls will open, offering you at least a little bit of Christmas magic. They are simply more spread in the city centre than they would be in any other year.
This post contains affiliate links. If you buy something that I recommend, I will earn a small commission. As always, this commission won't make you pay any cent more, it only helps me to provide more helpful postings.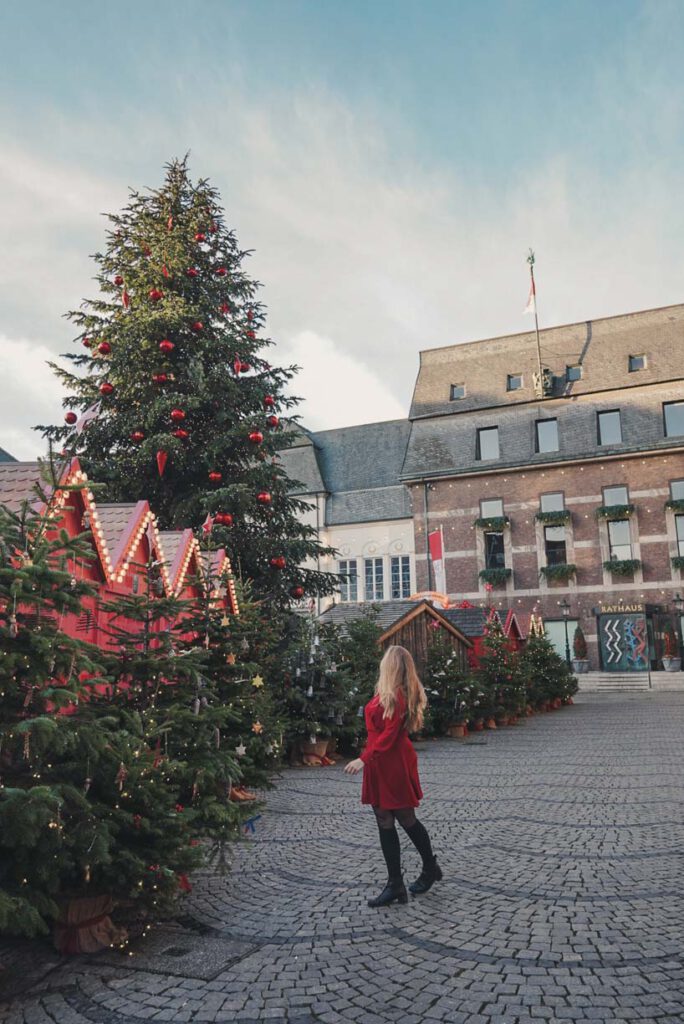 Recommended: The Best Day Trips from Düsseldorf
Shadow Platz
Entering the City at Shadow Straße will directly get you to the first Christmas Market. It starts directly next to the train station and goes all the way up to the Breuninger and Shadowplatz. It offers a variety of great food stalls such as ones wit Potato Twisters, Spätzle, and Flammkuchen. The obligatory mullet wine can be found here too but I prefer it with a little twist: have a baked apple punch. Seriously, at a Christmas market, you can find almost any classic German dish, that you need to try!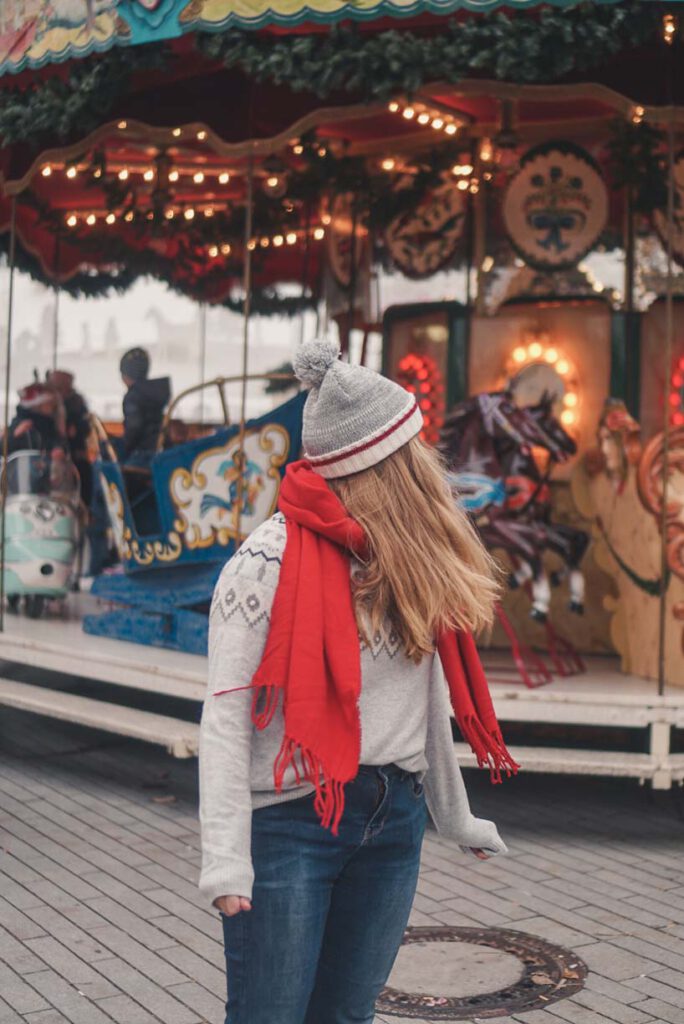 Königsallee
Walking towards the river you are 100% likely to pass the Königsallee on your way! As usual, it comes with a few stalls that serve mulled wine and waffles but nevertheless, it has something special to offer: an ice skating park. Sponsored by the DEG, Düsseldorfs local ice hockey club, it will be there until Christmas! But take good care of your fingers!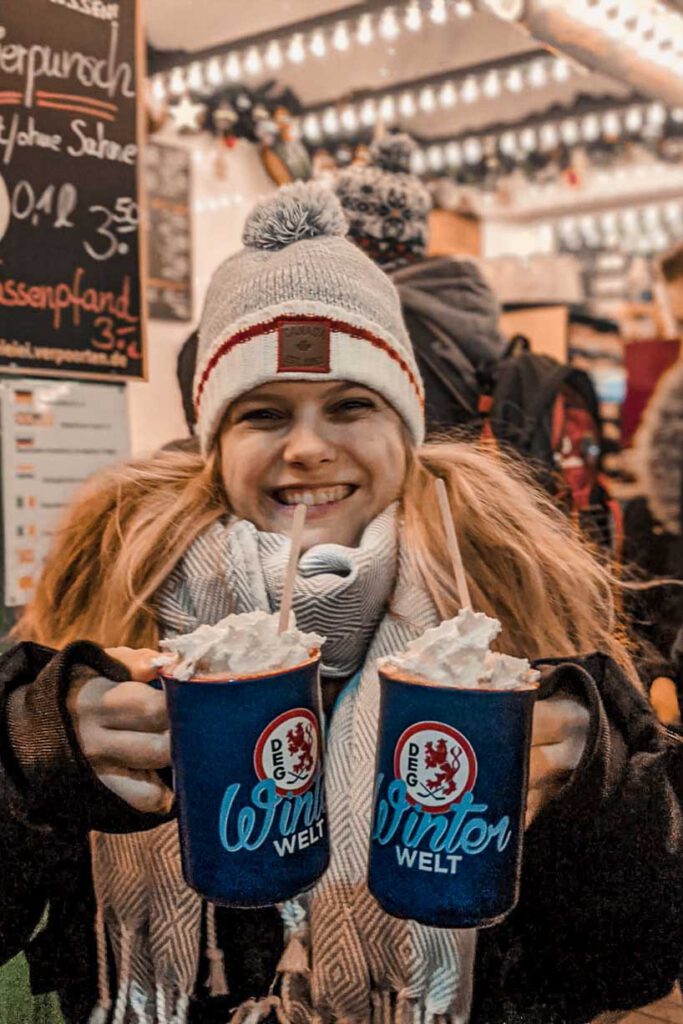 Recommended: How to experience Autumn in Düsseldorf
Heinrich-Heine-Platz or Engelchen Markt
After some graceful iceskating or slobbery sliding at Königsallee, let's walk further down to the river. On your right, you will see the beautiful golden pavilion of the Engelchen Markt. All decorated in gold and with angels, it is one of the prettiest markets in Düsseldorf. Nevertheless it does not rank high in this list, as the little alleys of the markt are quite narrow, which gives me anxiety as soon as many people enter it at once!
Sternchen Markt am Stadtbrückchen
If you pass the Engelchen Markt to the left, you will find another beautiful market, the Sternchenmarket. Altough it is quite small, it is super pretty and has a lovely atmosphere. Decorated in silver and blue it has some stalls that serve mullet wine, sausage and my personal highlight: pasta drenched in parmesan cheese.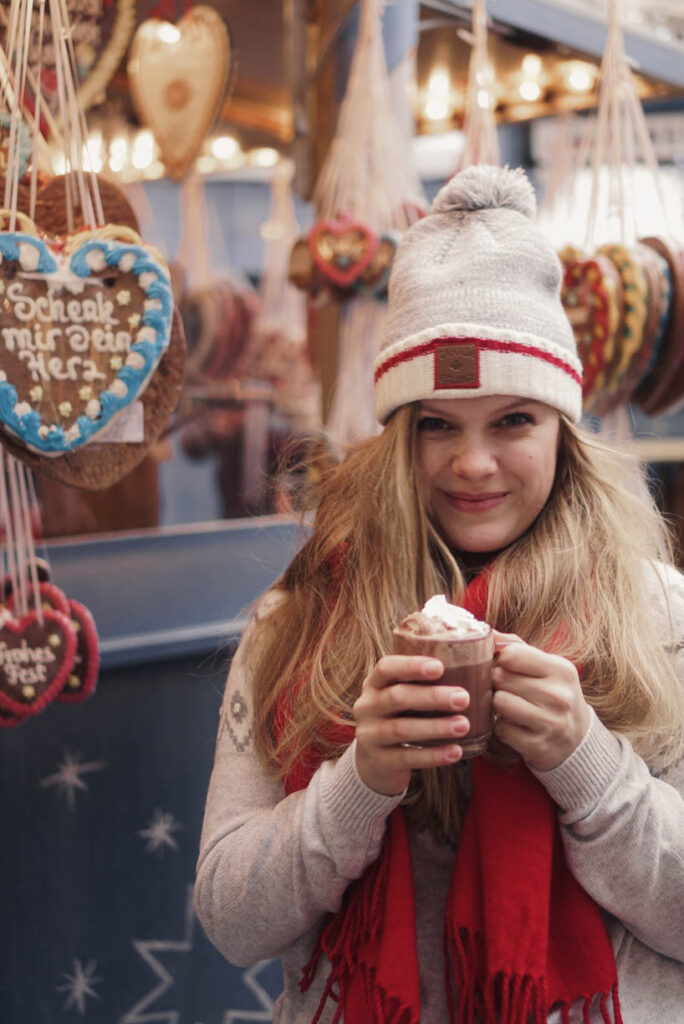 Flingerstraße
The Flinger Straße also has some wonderful stalls! My personal highlight is the one that sells all the different variations of burned almonds! For me that's the one candy that I need to have every christmas. If not, it is not a real Christmas for me!
Recommended: Warsaw – Christmas Highlights!
Am Rathaus
Let's come to my top three Christmas markets in Düsseldorf. Among these three I couldn't say which I like the most, for me, they are all incredibly beautiful and definitely among the prettiest Christmas markets in Europe!. The one at the Rathaus comes with a pretty vintage carousel and a giant Christmas tree, which gives you just the perfect Christmas vibes!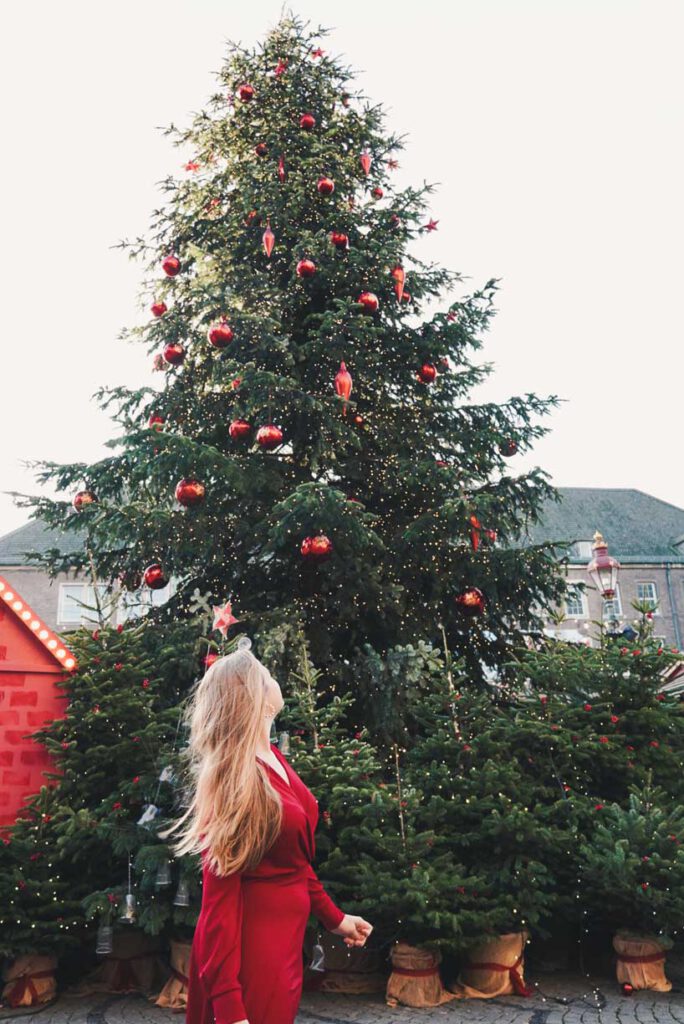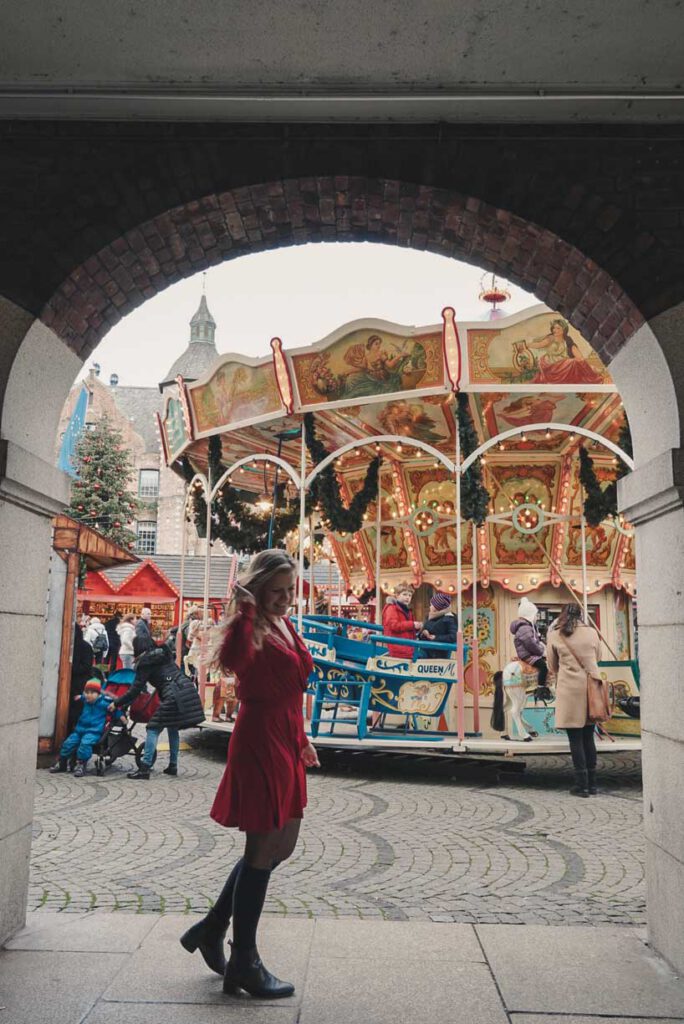 Am Schlossturm
If you walk a little further down the Old Town you will stumble upon a ferris wheel! This ferriswheel is next to one of the major sights of Düsseldorf the Schlossturm. The stalls there are incredible pretty, as they create a real small christmas village, which is just too pretty to see! Make sure to have a Füchschen beer right there and sing "Where is my Altbier?" (Little Düsseldorfer insider joke here!)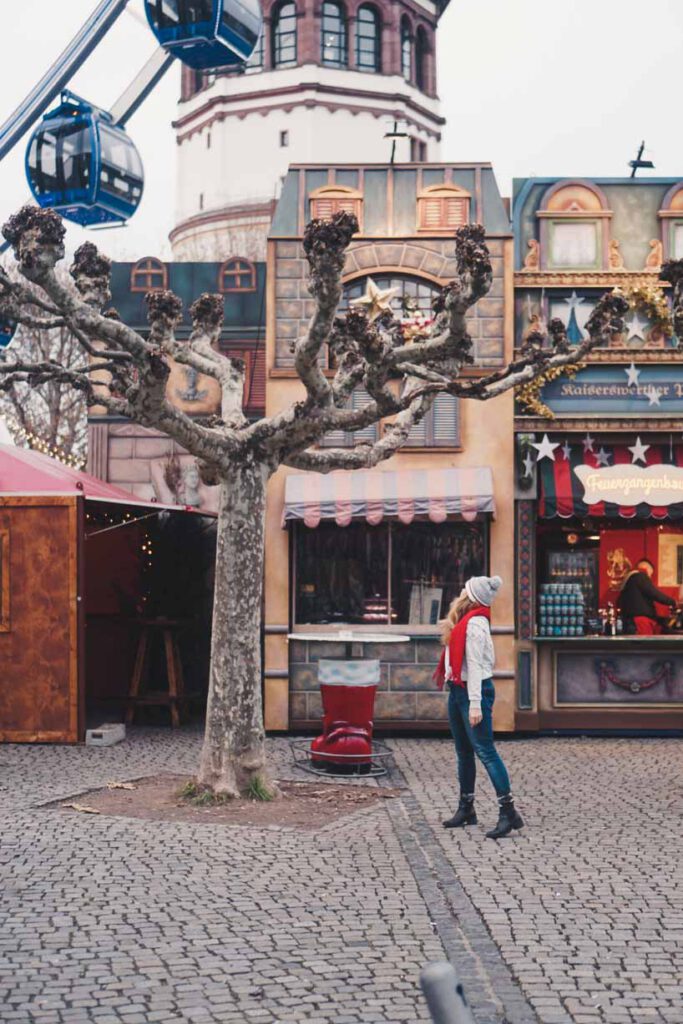 Benrather Schloss
Let's talk about the one Christmas market that I loved the most this year! The Benrather Schloss is a lovely castle with the prettiest park. During December they open up a bunch of stalls around the castle's place. They offer wonderful food such as Pierogi by Elomka, Chimney Cakes or Matcha Tea and more delicious things! Walking the park and the small market were my personal Christmas highlight this year and I loved it so much, that I went there twice!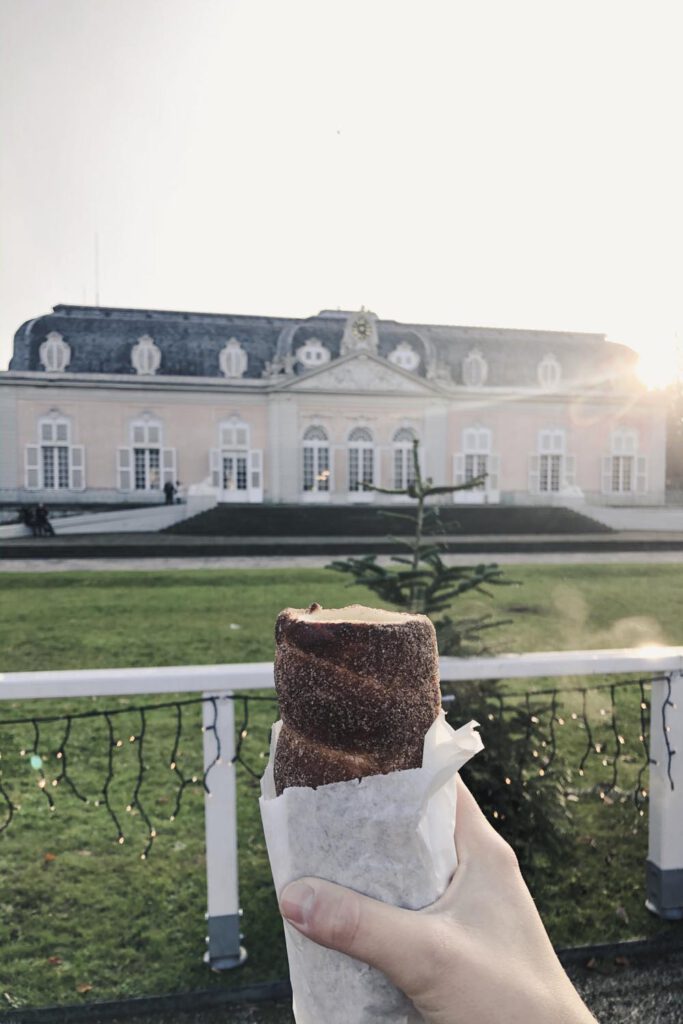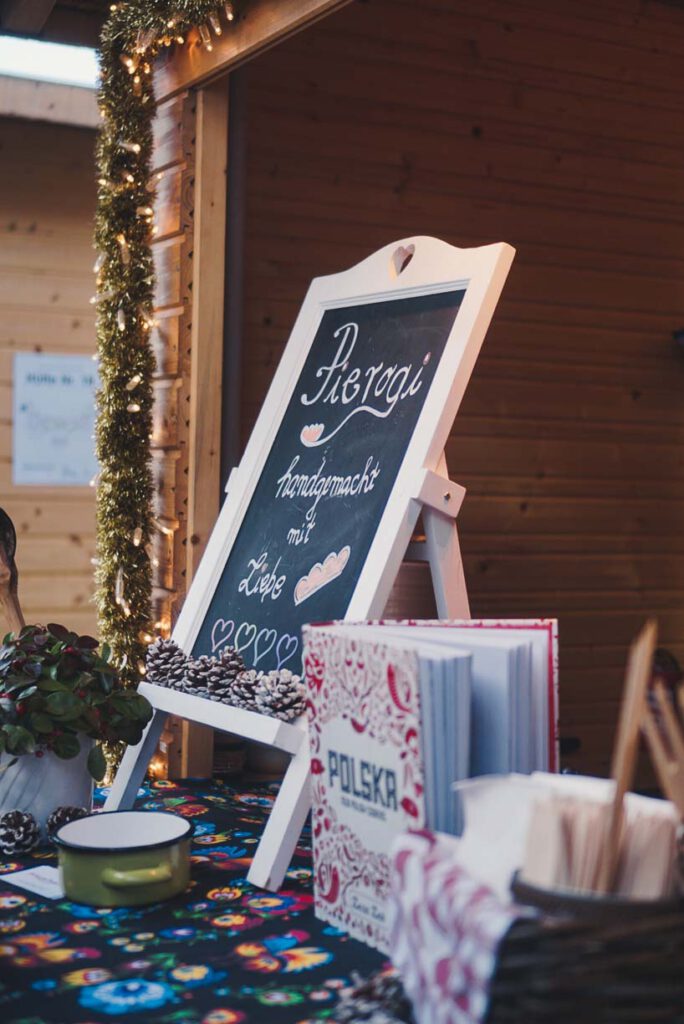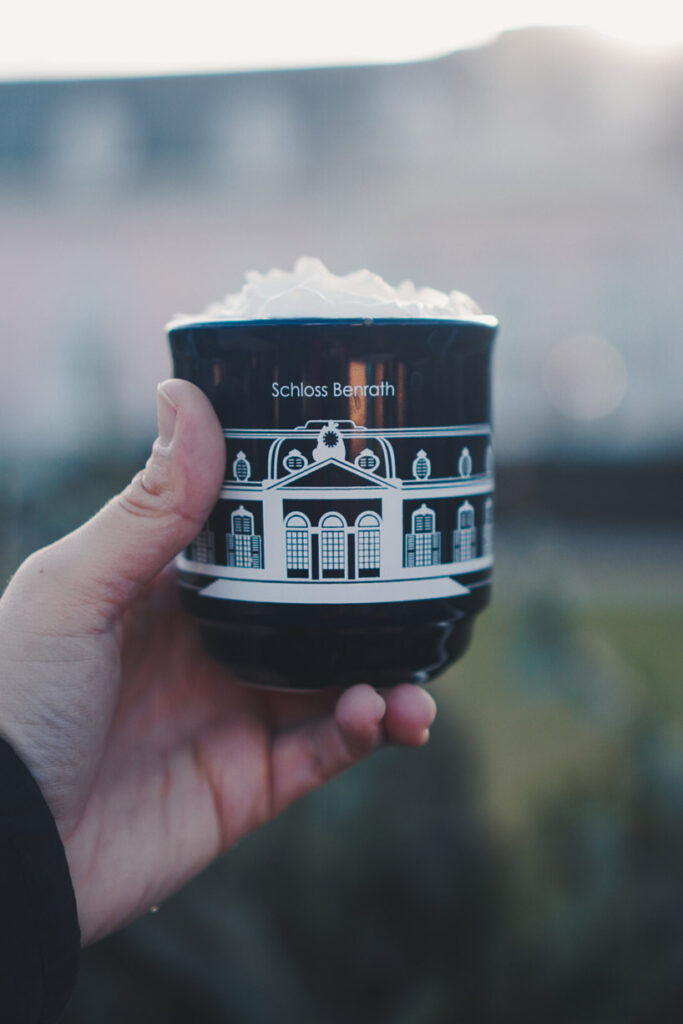 And these are my favourite Christmas markets in Düsseldorf! I hope you enjoyed it and if you are curious for more information about my hometown, have a look at my Düsseldorf Food Guide or my Düsseldorf Café Guide!
Liked This Post? Pin it For Later!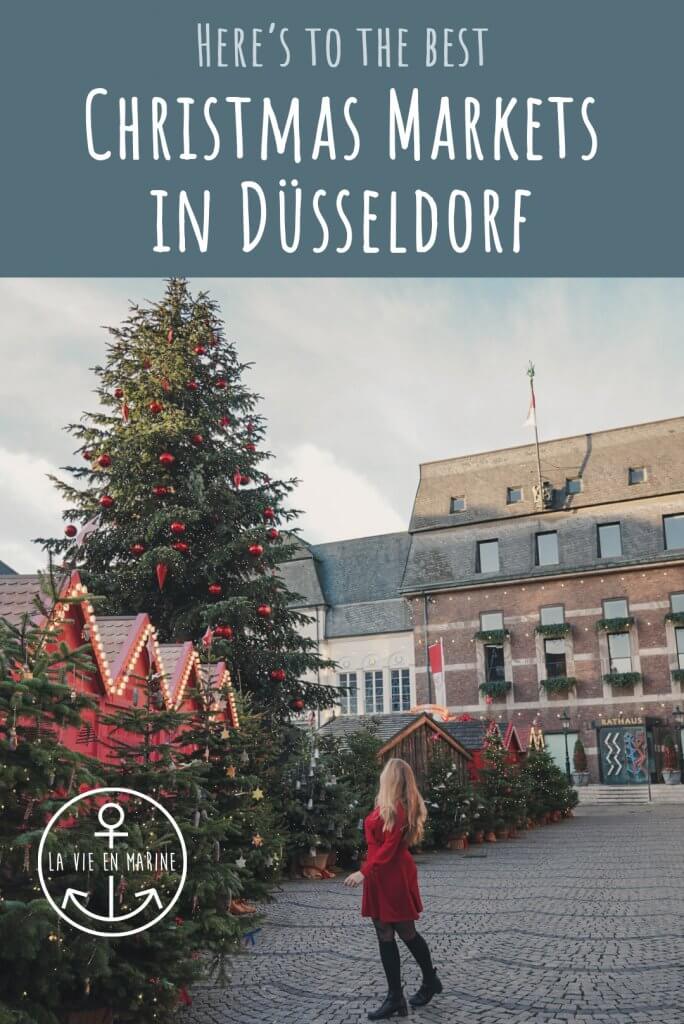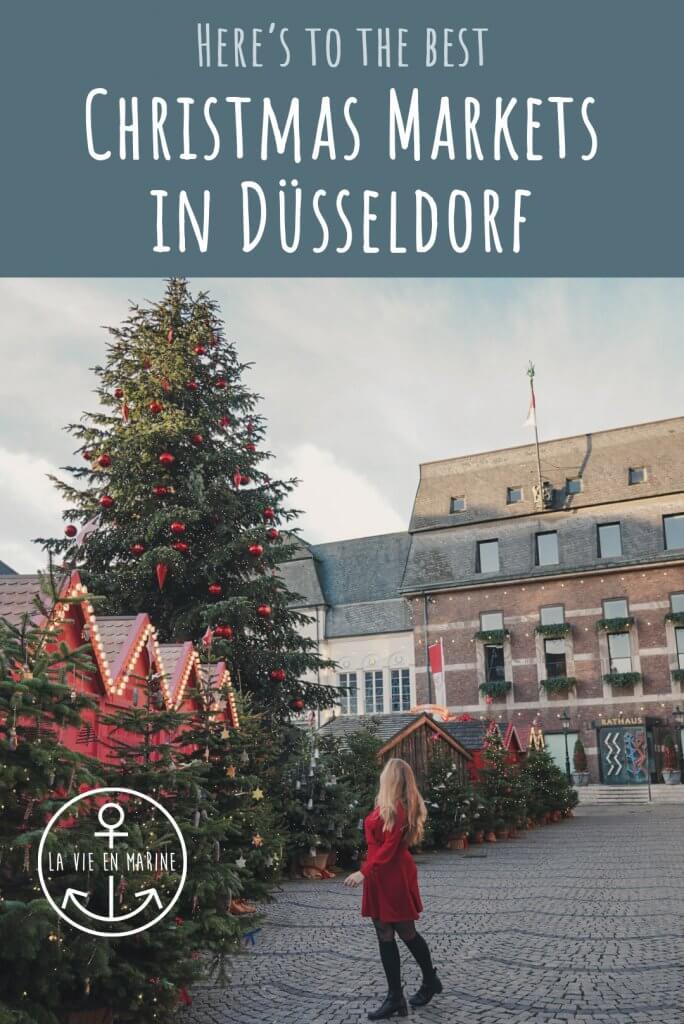 If you want to learn more about my camera and photography essentials, check out my post about everything you need for travel photography.
Sony Alpha 6600 – the best travel camera out there!
Sony 35 mm f 1,8 lense – perfect for sharp shots with blurred background!
Amazon Basics Tripod – small light tripod, that fits in any bag!
Cullman Camera Bag – well padded camera bag, that will fit your camera body and two lenses. Ideal for the light traveler!