Autumn is here! It has been for a short while already, and I seized this time to explore my hometown Düsseldorf and try to find the best autumn locations around here! Some of them are directly in Düsseldorf and some of them are a bit further away! In this post, you will find the best places for fall foliage, loads of pumpkins and Halloween inspirations. So here's to autumn in Düsseldorf!
In Düsseldorf
Wildpark Düsseldorf
Visiting the Wildpark in Düsseldorf with my grandmother is one of my favorite childhood memories. This cute little park has native German animals that usually inhabit the forests of Europe. This means it has deers, wild boars, mufflons, a fox (that I have never ever been able to see), serval birds, and some very friendly raccoons! The park is perfect for a stroll in autumntime. If you have time, make sure to visit their educational center and learn more about the animals of the forest. Furthermore, make sure to stay awhile and actually observe the animals and their behavior. This is something I can't stress enough. Do not just take a glimpse into the animals but actually take a while to fully appreciate them!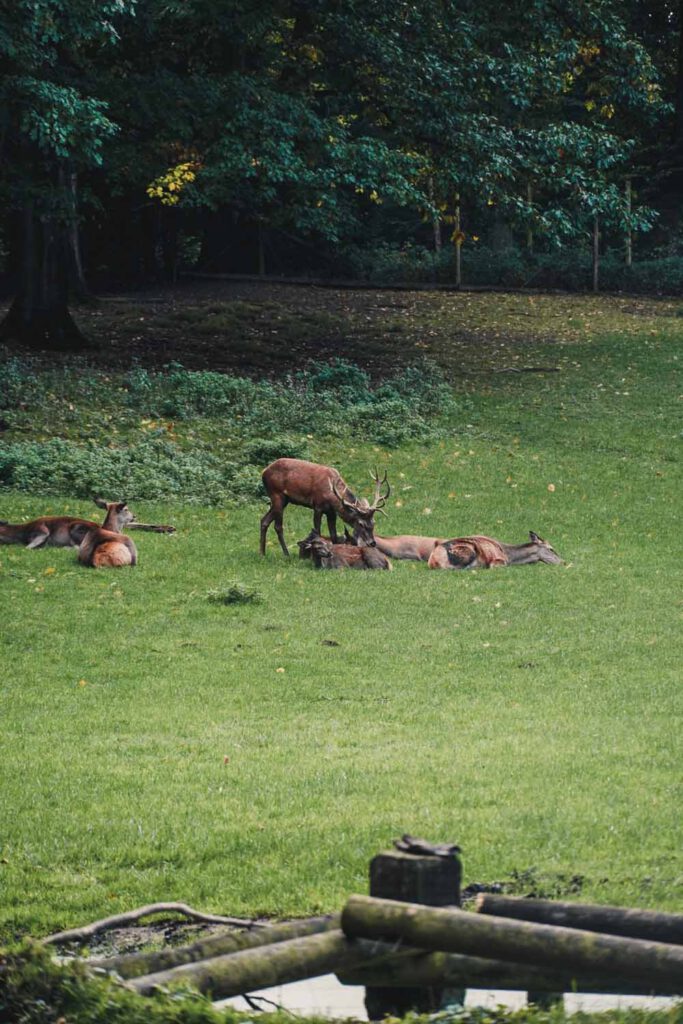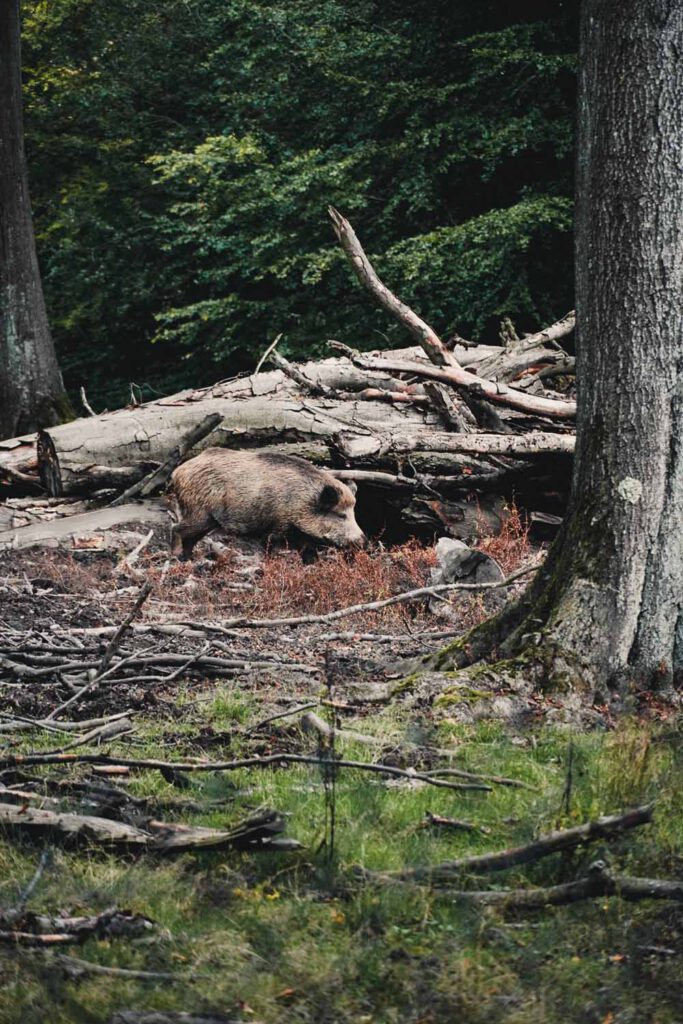 Covid Info: With the recent outbreak of the virus, they had to take precautions at the wild park by only letting in a certain amount of people at a time. That means you might have to wait a while before they let you in. And because people like to get all excited about animals, nobody in this park remembered to social distance the day I visited it. Therefore I recommend you to not go on weekends, but rather from Mo – Fr when the park is less crowded if you are afraid of the virus.
How to get there: The park has a big parking lot, so my advice is to go there by car! If you don't own one, you can also go to the tram station Auf der Hardt / LVR Klinikum. From this station, it is only 10 minutes by foot to the park!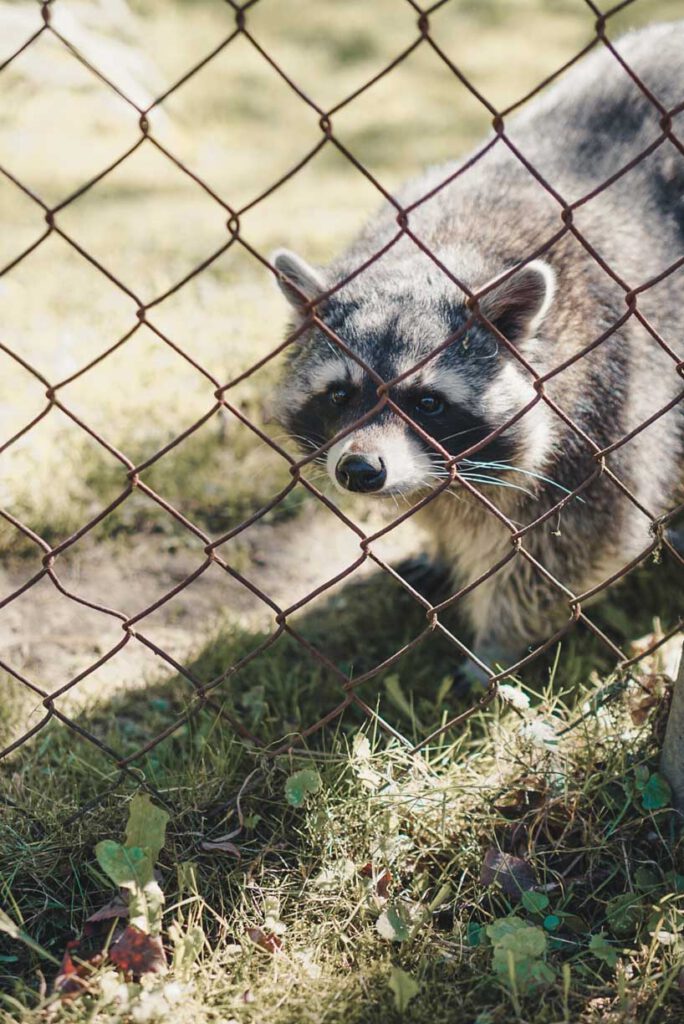 Recommended: The Best Cafés and Breakfast Places in Düsseldorf!
Aaper Wald
Around the Wildpark is the Aaper Wald, which happens to be one of Düsseldorf's biggest forests. It is perfect for a small getaway from the city. For us, it also served as the forbidden forest from Harry Potter, since we used it as our backdrop for a little creative photoshoot!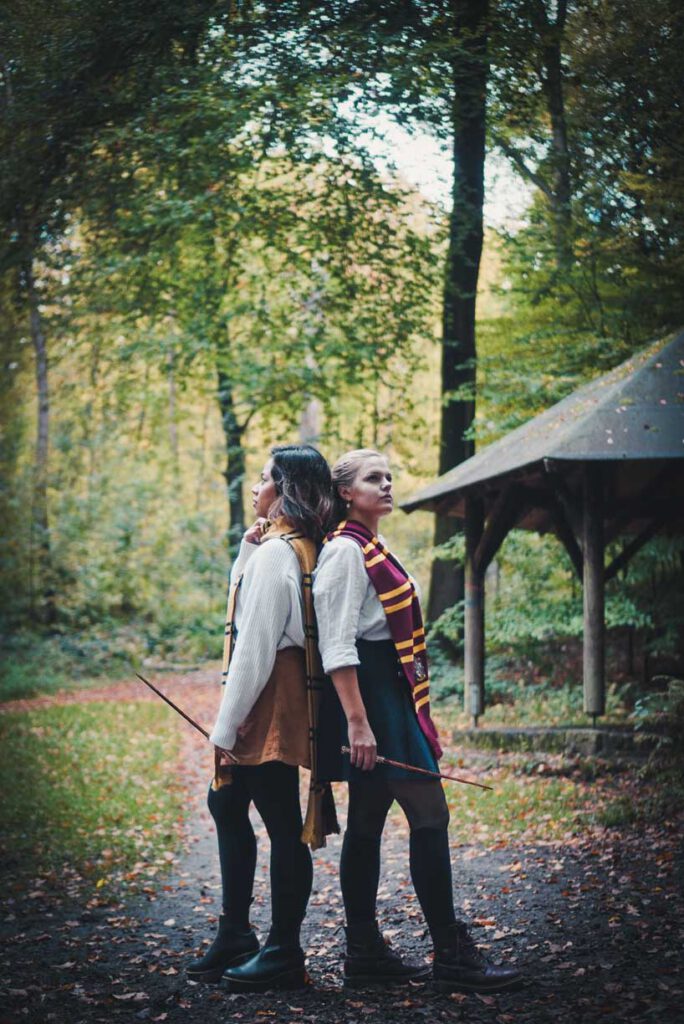 Did you know? Nowadays it is called forest bathing to go hiking in a forest. For real forest bathing, it is important to be focused and present during the time you are in the forest. Going back to nature like this can improve your health and helps you to battle stress and anxiety.
Recommended: Food Guide to Düsseldorf and the Best Day Trips from Düsseldorf
Bauerngarten Benninghoven
If you love pumpkins and organic produce as much as I do, you have to check out Bauerngarten Benninghoven. Don't like pumpkins or organic produce? Well, you should also go there for their incredibly delicious cake! The small store comes with a café and in autumn it also builds up a small pumpkin exhibition. When I got there, I was so excited and directly bought two pumpkins to turn into pumpkin sirup! So when you are on the hunt for some local homemade delicacies this is the place to go!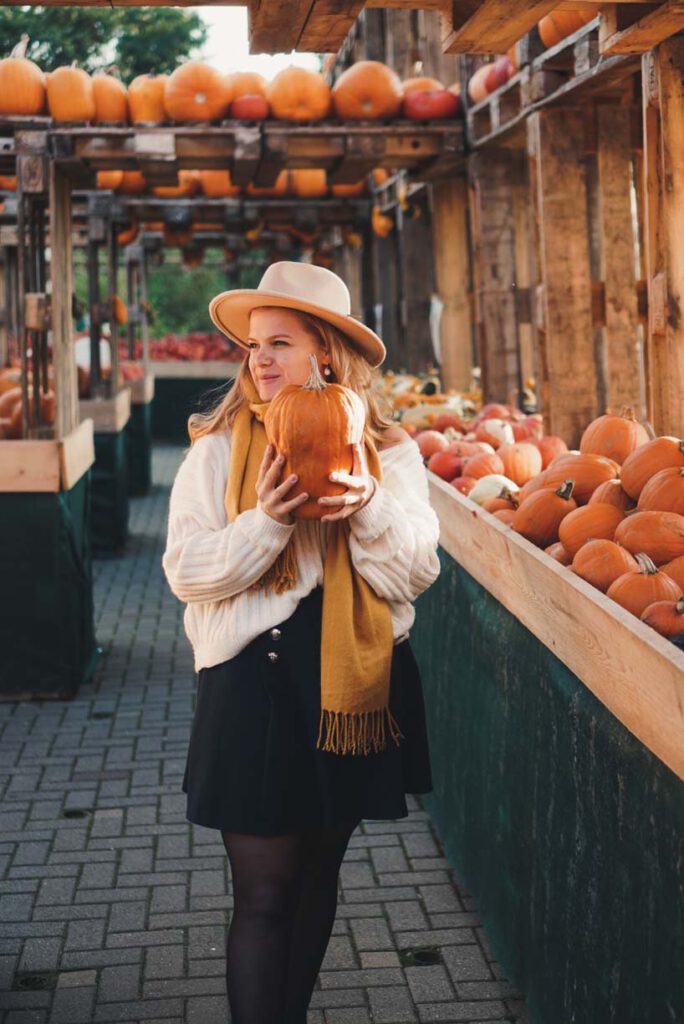 Outside of Düsseldorf
Autumn does not only occur in Düsseldorf but also outside of it! That's why I wanted to show you my favorite places to enjoy autumn that are easy to reach by car and are perfect for a day trip!
Burg Eltz
One of the most impressive castles in Germany is Burg Eltz. The pretty castle with its dreamy details is a must-destination for every autumn lover. Located in a valley, it is surrounded by a river on three sides and you have to walk over a bridge to get to it. Since it got built, it always remained in the possession of one family, which is quite extraordinary for castles. In my opinion, you should visit Burg Eltz during autumn time, when the foliage surrounding the castle is all yellow and orange!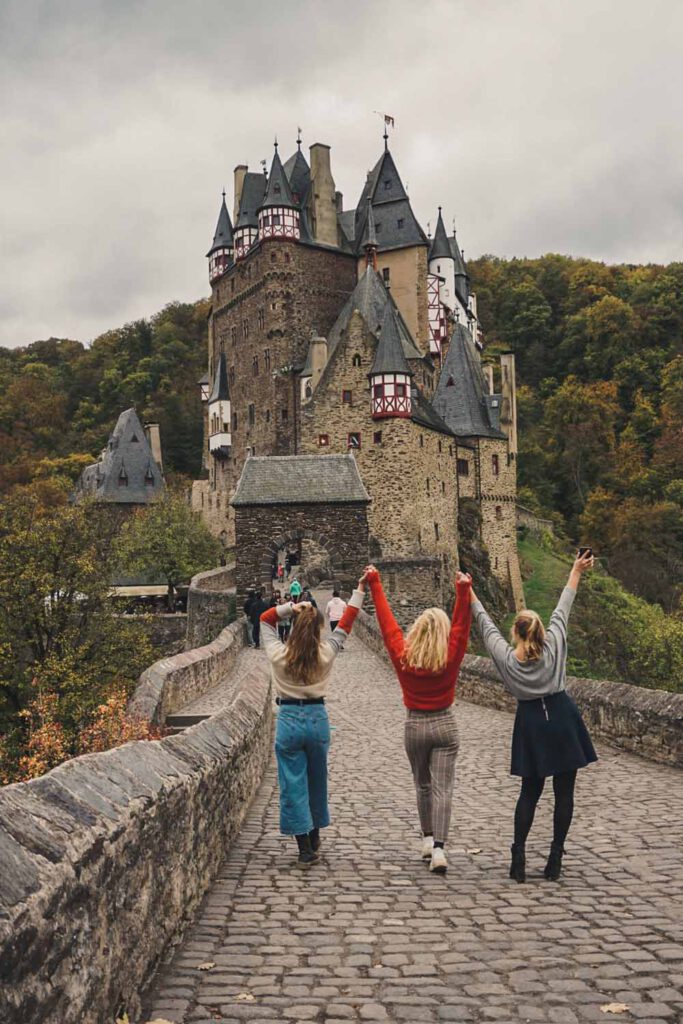 How to get there: You can reach Burg Eltz best by car. To reach it, use the following location and drive to the parking lot next to the little chapel. From there you can either use the shuttle bus or walk to the castle. If you are fit enough I recommend you to take the longer hiking route for some breathtaking views and forest vibes. From Düsseldorf, you need approximately 2 hours by car, so I recommend you to combine it with a trip to my next tip!
This one got a little bit #instafamous and it does deserve it! Gertrudenhof builds up a beautiful pyramid of pumpkins for fall and turns into a paradise for autumn lovers. There you can get everything your heart desires: pumpkin champagne, pumpkin oil, pumpkin spice latte, pumpkin pancakes, actual pumpkins, and so on and on. It is clearly a paradise during this time of the year.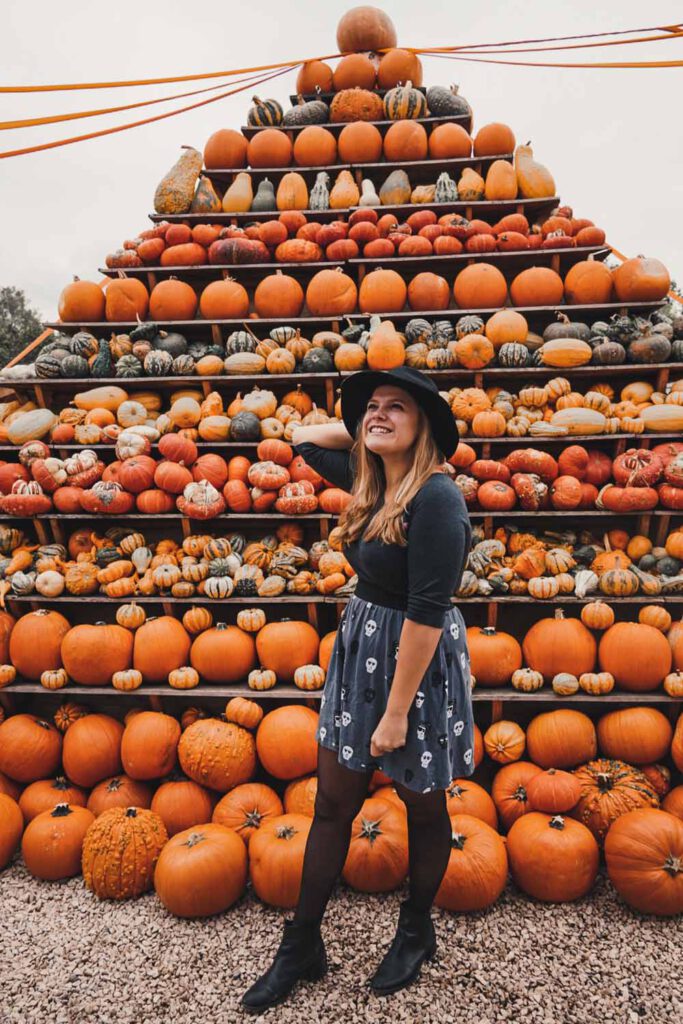 Covid Info: Since the recent outbreak of the virus, Gertrudenhof had to take special precautions. You can now preorder tickets on their website, which I heavily advise you to do. There is an early bird fare, which enables you to visit it from 9:00 am to 11:30, which was the perfect time frame for us to take pictures, buy all the prettiest pumpkins and have some pumpkin spice latte before heading back home!
How to get there: The easiest way to get to Gertrudenhof from Düsseldorf is by car. The closest tram station is Hürth-Hermülheim, but from there you would still have to walk quite a bit, so I'd definitely recommend going by car. It takes not even an hour.
Krewelshof
Man, if you are into pumpkins, do I have a place for you! Also located in Cologne the Krewelshof is a great alternative to the Gertrudenhof, if you want a smaller, lesser-known location, with fewer people around. They also have a beautiful pumpkin pyramid, which is amazing for taking some cute autumn photos but what I enjoyed, even more, was their indoor farmer's market. In this store, you can find baked goods, fruits and vegetables, seasonal decorations, and local delicacies like fresh apple juice, amazing marmalades and jams, and pumpkin prosecco! Would you like to try pumpkin prosecco?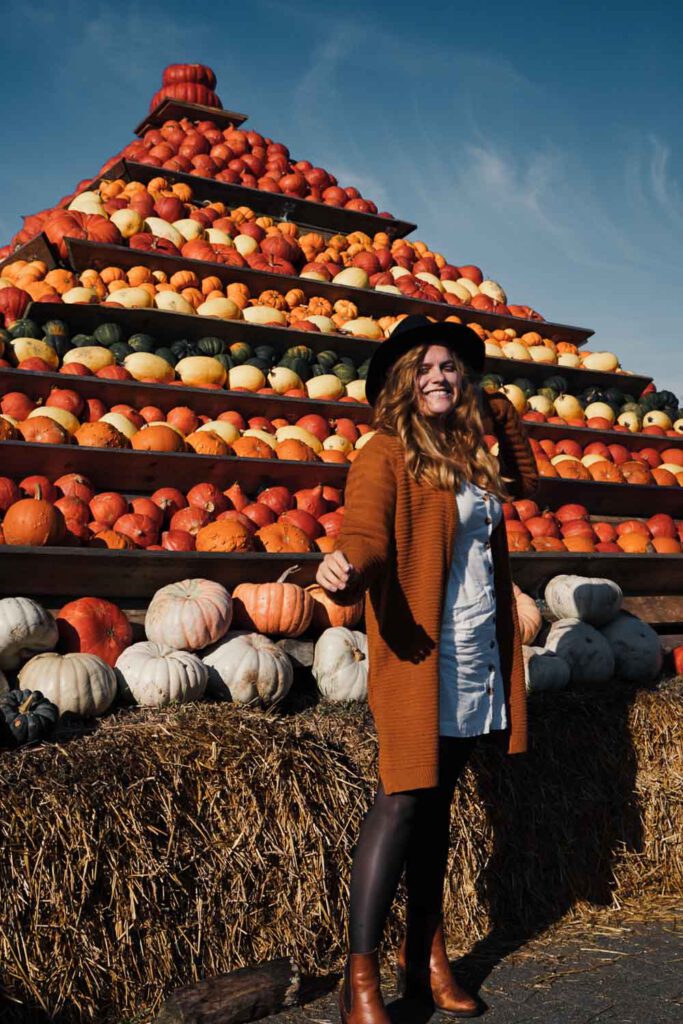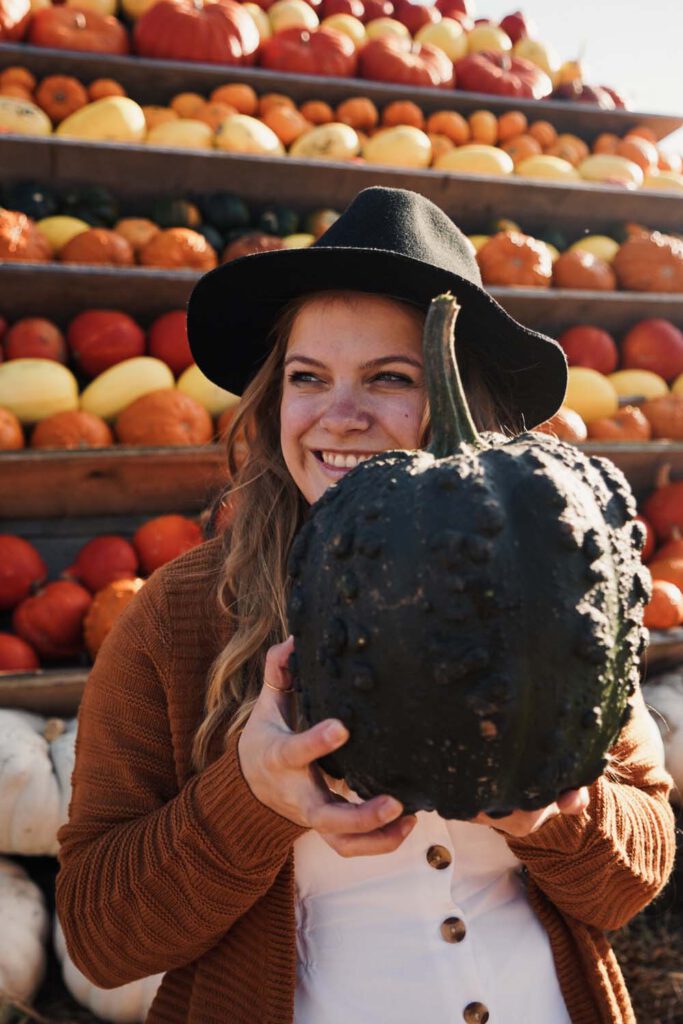 Liked this post about autumn in Düsseldorf?