Hello there! There is not a single city in the world that makes you feel like walking through a fairytale in almost every street like Paris does! The cobblestoned streets are framed by houses with dreamy facades and around almost every corner you will find the next magnificent view. When coming to Paris the first time it can be a bit overwhelming squeezing in all the sights in one weekend. As this wasn't my first time in Paris, I actually didn't feel any pressure trying to see it all and that was an amazing feeling! With this travel diary, I want to show you an itinerary for an amazing time in Paris with no rush, tons of great food, and most of the biggest sights!
Save this Post for Later if you are short on time now!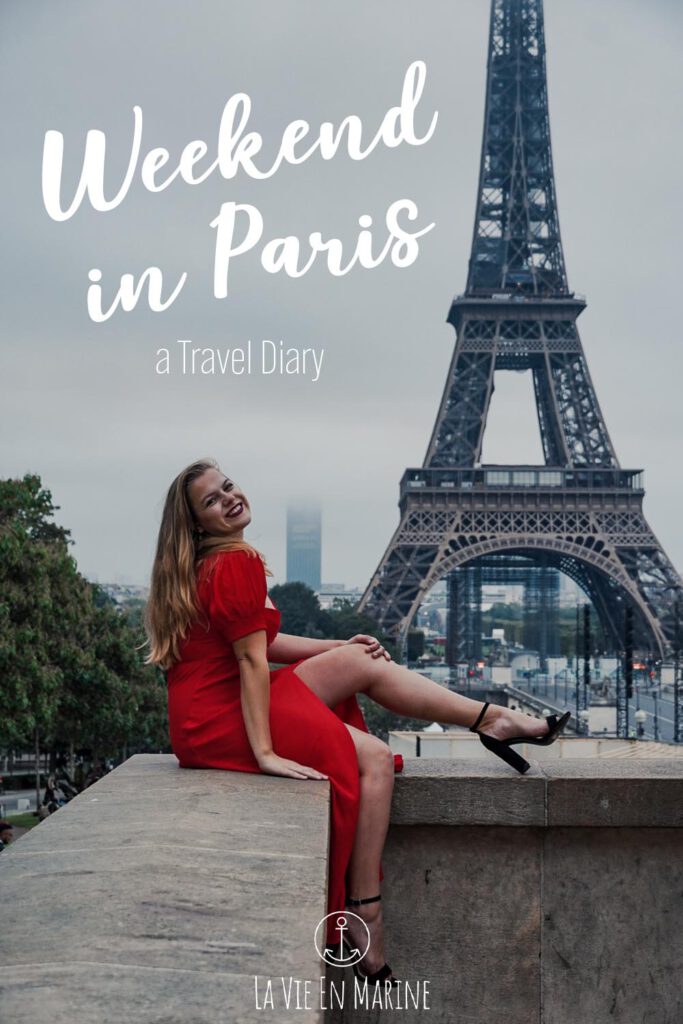 Arriving in Bercy
I am in the happy position that I can easily take the bus from where I live and it takes me directly to Paris. Therefore I could leave Düsseldorf at 22:30 on a Friday evening and arrive in Paris at 7:15. I decided to go with Flixbus and had a pleasant ride. The station I arrived at is Bercy and from there you can either directly walk to the city center or take the Metro.
When it comes to packing, I decided to go for my Wandrd PRVKE which is the perfect backpack for weekend trips, as it is quite light and still holds everything I need for a weekend and more! This includes my sanitary bag, clothing for two days, and as I am a crazy person also a pair of heels and a long dress. Just for shooting a few nice pictures. This way I was super flexible to move around with my bag, without it being too bulky or uneasy to handle.
Morning in the Louvre
Our first stop of the day happened to be the Louvre. It opens its gates at around 7:15, so it is the perfect location for a small photoshoot in the early morning. Nevertheless, it can already be a little crowded around there, so make sure to get your shots as quickly as possible, so that you have fewer people in your shot. This especially applies to shots like the left one below, as in this angle you have people in your picture that line up for entering the Louvre.
If you want to have the full Louvre experience, you can have your breakfast at Café Louvre, which has both a magnificent view of the pyramides and a pretty inside area. It seemed so appealing to me but I wasn't this hungry yet, so I decided to keep Café Louvre for another visit!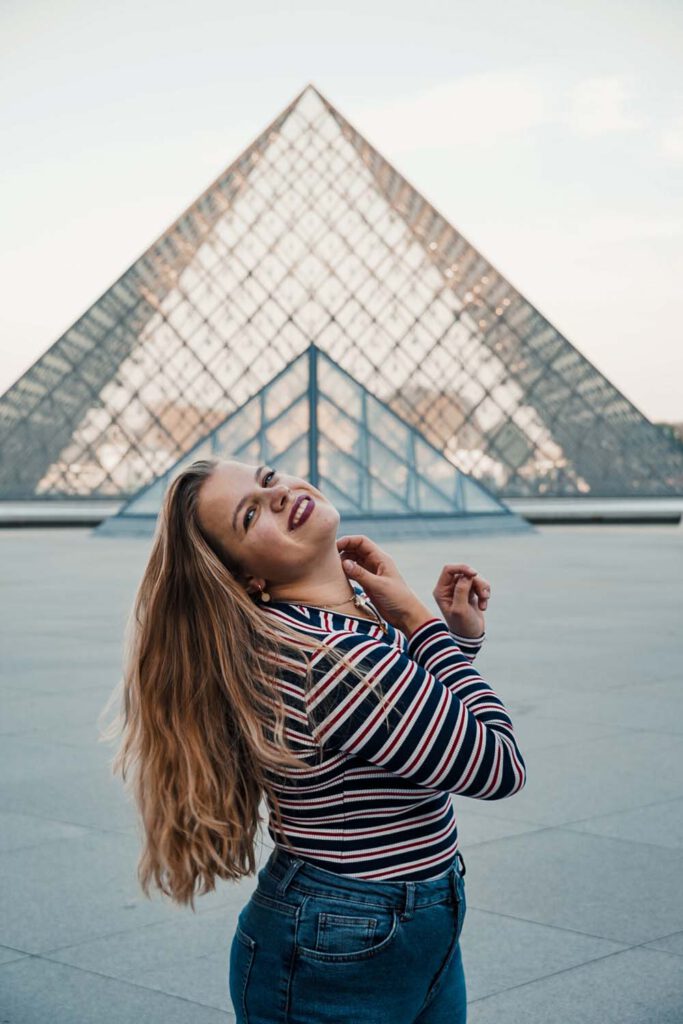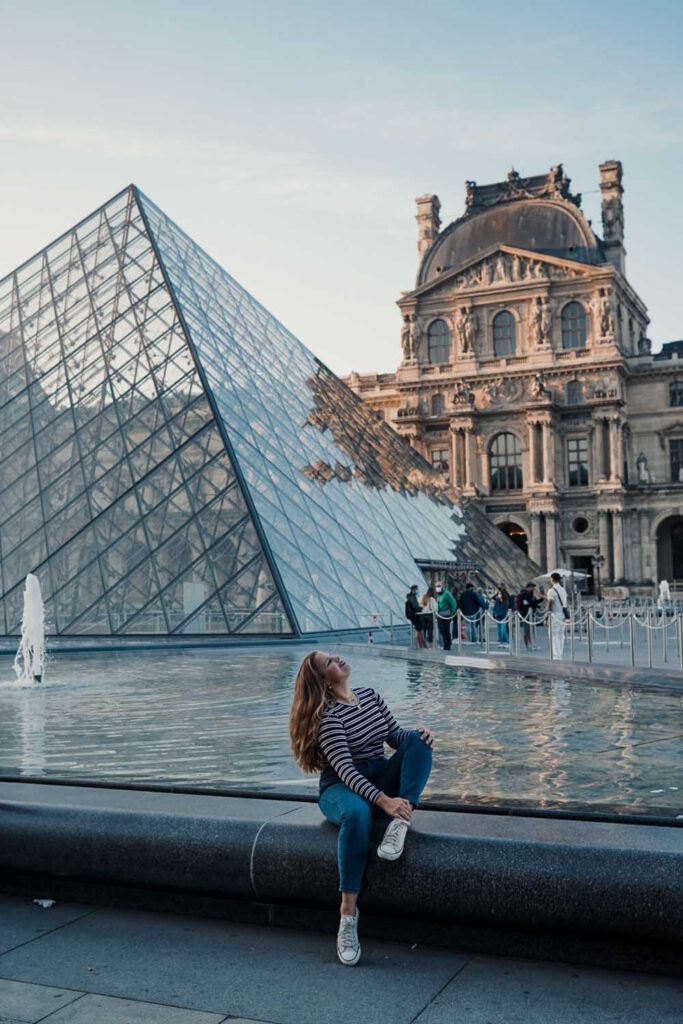 Walks Along the Seine
When exploring a city, I usually walk a lot. I try to get as many impressions from a city, its architecture, its people and atmosphere as possible and you can get this by walking. Therefore walking was the way to get from Louvre to the first café on this list and after this to our place for the night.
We walked along the Seine, which will give you some of the most amazing views of the city. I am very sure that Paris is indeed the prettiest city of them and each time I get there, I fall in love a little more.
Little Photoshoot and Breakfast at Le Recrutement Café
After walking along the Seine, we stopped for our breakfast at Le Recrutement Café. With it being located on a corner and the Eiffel Tower visible in the distance, it came to be a little Instagram hotspot. We were not really able to resist taking a quick few shots and I am so in love with the results. It makes me feel like a true Parisian!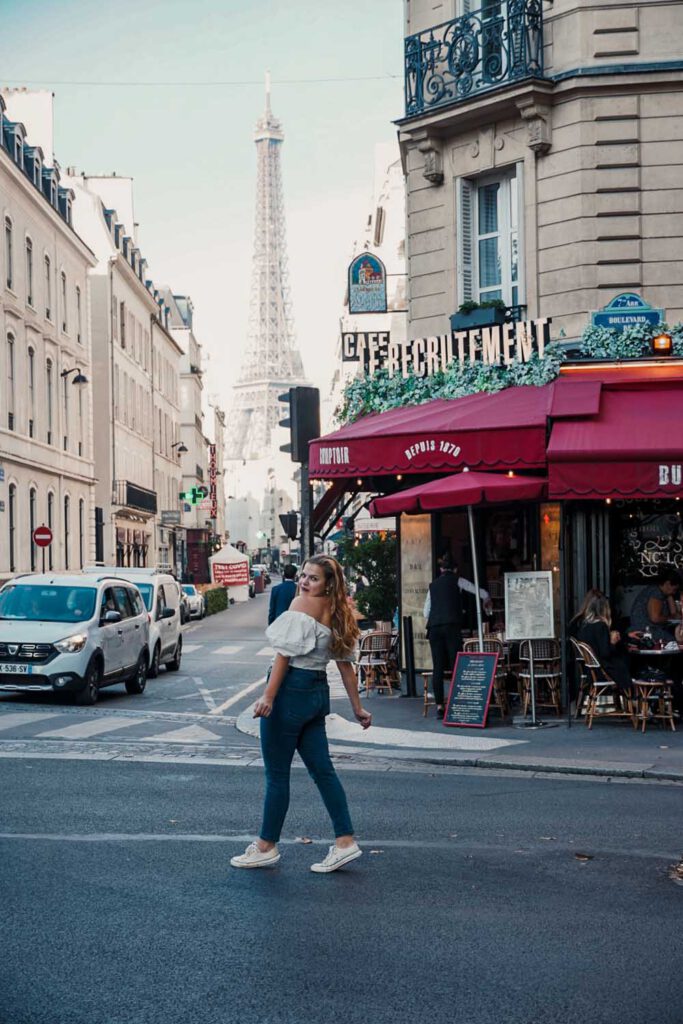 And of course, we also had our breakfast at this iconic place! I decided to go for their breakfast deal including an omelet, croissant, and a hot beverage, which in my case will forever and always be coffee. It might be a brave statement, but I honestly think that you know nothing about baking, pastries, and sweet breakfast if you never had a croissant in Paris. Always a must-try for me!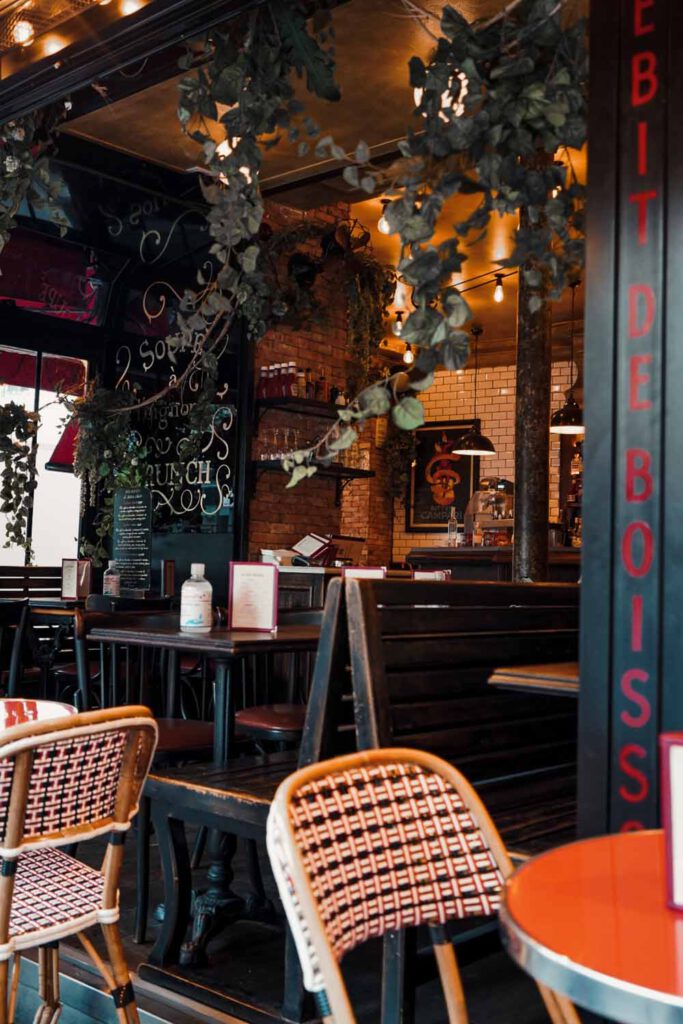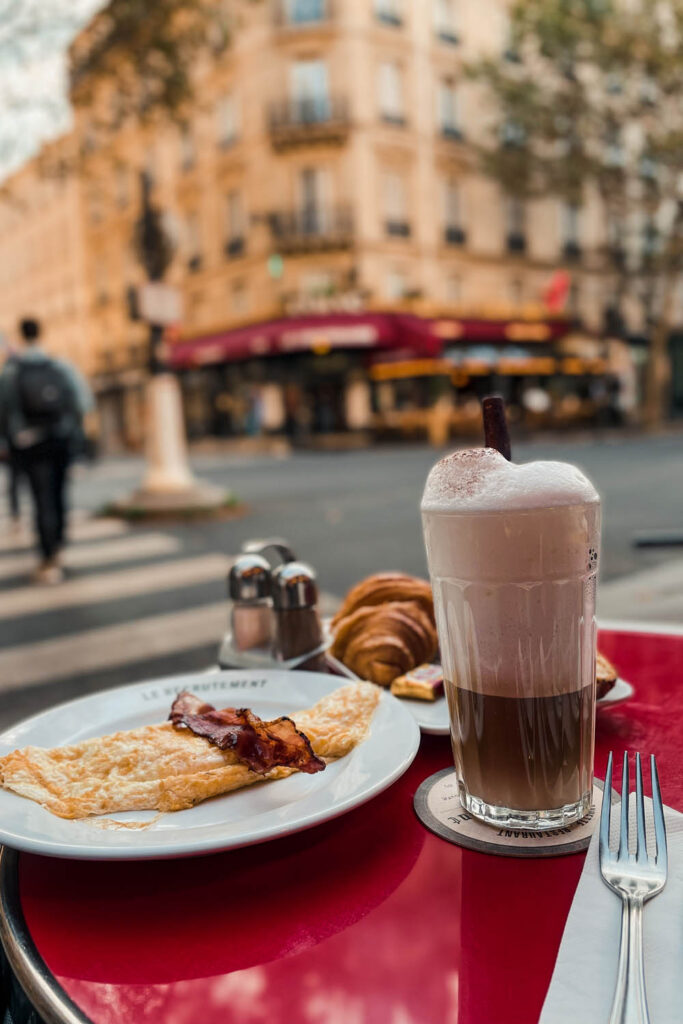 Checking in my Place to Sleep
As I was staying with a friend, I didn't have to find a hotel or hostel for the night and I felt very happy about it. Big thank you to my friend Lea from Blondie Wanderlust for hosting me and being an incredible tour guide to Paris!
Montmartre
After a short break, we decided to spend the rest of our afternoon in Montmartre! This area of Paris is famous for its picturesque scenery, cafés and restaurants and street artists. One of the very first things you can see when leaving the Metro station "Abbesses" is Le Mur des Je t'aime, an artwork dedicated to all the ways to say "I love you" in the languages from around the world! Can you spot the one in your mother tongue? I found mine!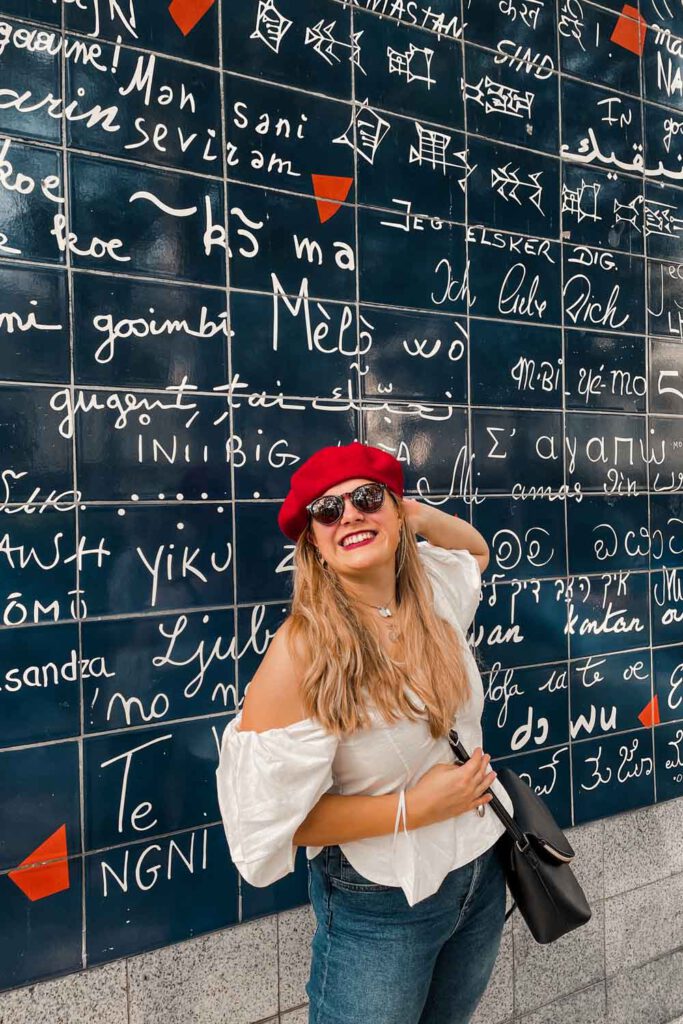 Sacré-Cœur de Montmartre
One of the biggest sights in this area is the Sacré-Cœur de Montmartre. This magnificent church draws so much attention from tourists, I usually would suggest you visit it as early morning as you can to enjoy it with fewer people around. But as we spent our morning at the Louvre, we had to improvise a little when taking a few pictures. To get to Sacré-Cœur de Montmartre you will have to take a lot of steps. I swear, I never made it to this church without being covered in sweat afterwards. But the great thing about it being on top of a small hill is that you get an amazing view of the city of Paris!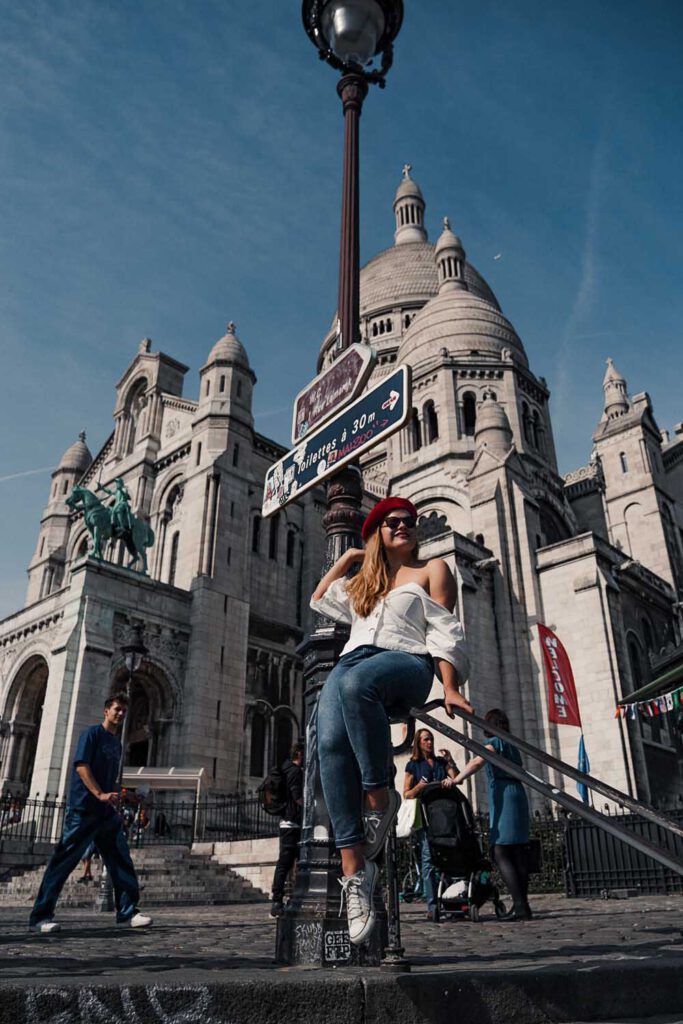 Le Maison Rose
Soon we got hungry from walking around so much and decided to have our lunch at a very iconic place. Le Maison Rose got a little insta-famous, due to being located in a rose-colored house on a corner in one of the dreamiest areas in Paris. A scenery like this draws Instagrammers like moths to the flames. Unfortunately, this unwanted fame made the owners a little bit angry towards photographers who come and take pictures in front of the restaurant. They also scolded us for taking a few pictures and therefore we felt quite bad about our lunch there. Nevertheless, the food was delicious and the atmosphere was perfect. If you want to enjoy a nice lunch, it is a great place. If you want to go there for the pictures, come early in the morning when the restaurant isn't open yet.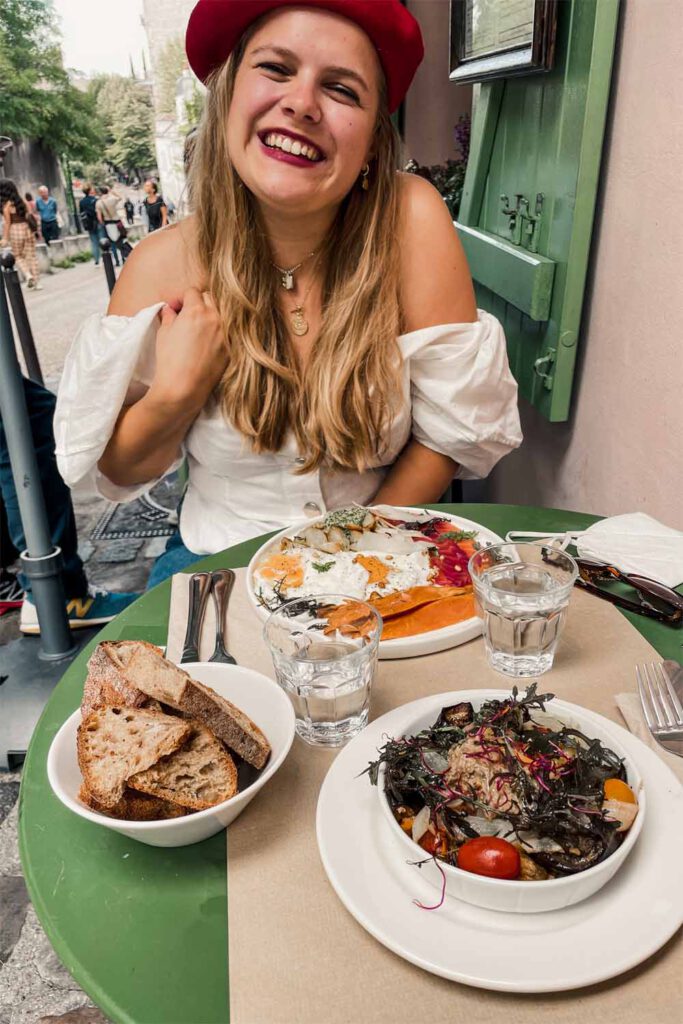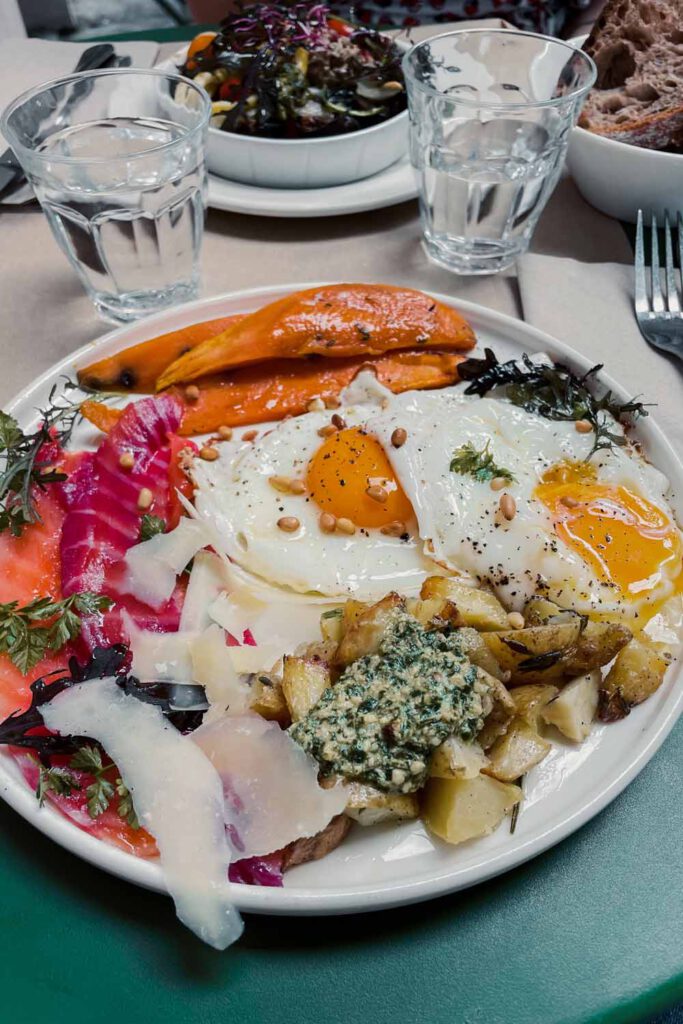 Walking Walking Walking
We spent the rest of the afternoon walking all the way from Montmartre to Pont Alexandre III, which is quite the way! The first part of the way took us through more pretty alleys and beautiful streets. A place that is very pretty is the Metro Station Lamarck – Caulaincourt in Montmartre which has the prettiest sign.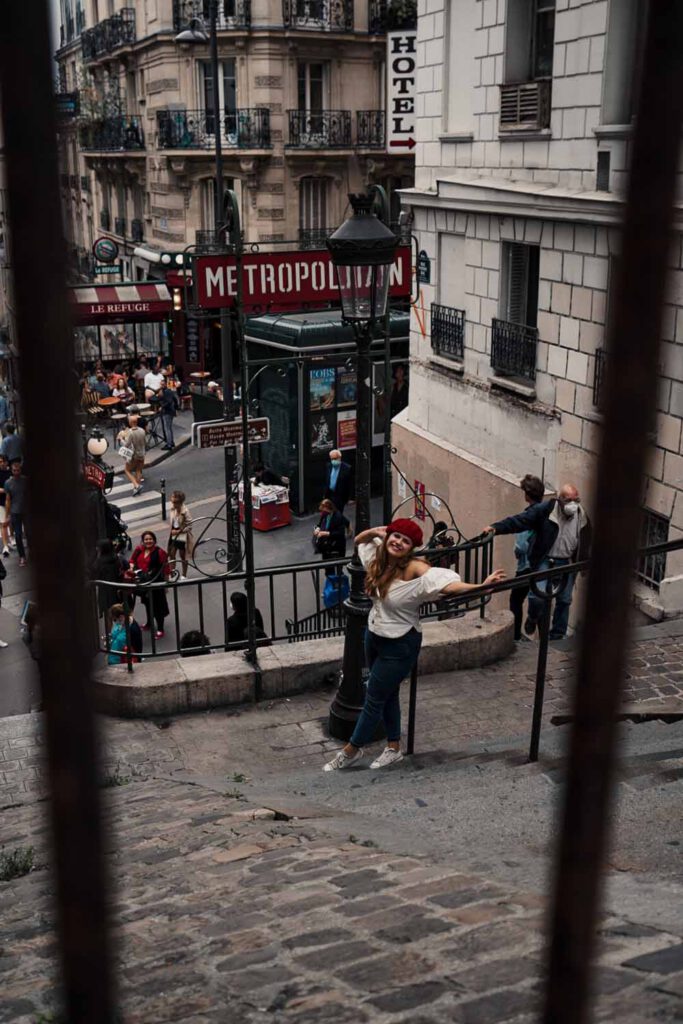 From there we wandered the streets all the way down to the river. We came across cute stores, selling produce, butchers, stores selling fresh fish, and nice boutiques. It is such a vivid and lively neighborhood, it is a lot of fun to just walk and feel the vibe of this place! Eventually, if you follow our route you will also come across the opera, which is another amazing building to marvel at.
Maison Ladurée
Another place on the way that you should stop by is the Maison Ladurée. They sell some of the best macarons you can find in Paris. They are insanely overpriced but I mean you don't get to eat Macarons from Maison Ladurée in Paris every day, so why not indulge a little bit while can? I bought six macarons and they also came with this beautiful little box which now sits on my desk as a small reminder of this awesome weekend in Paris!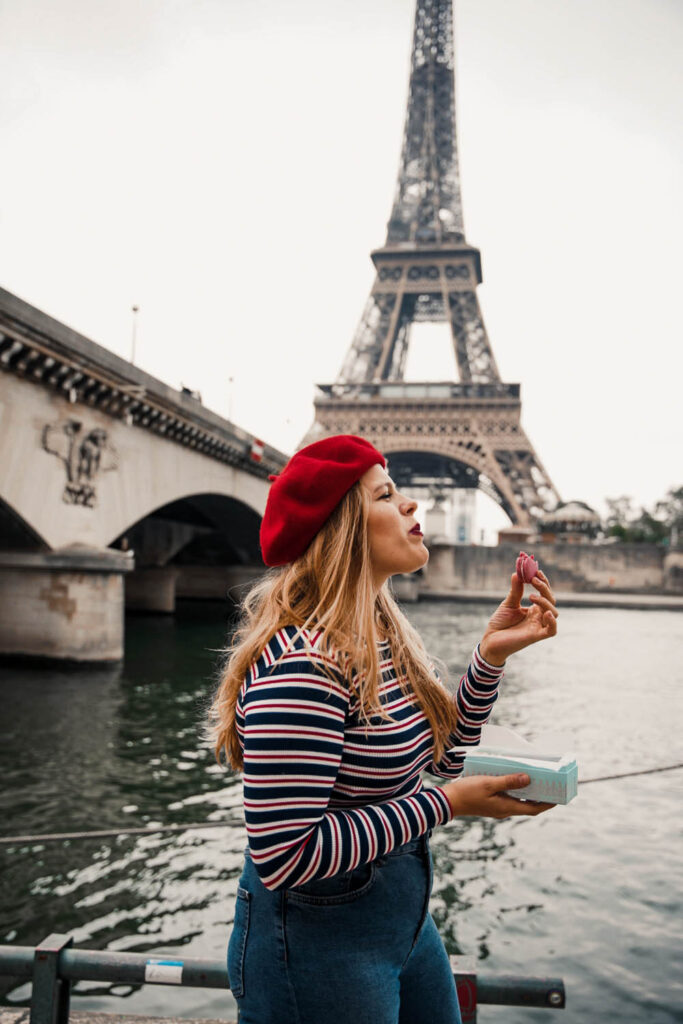 Pont Alexandre III
One of my favorite sights in Paris is the Pont Alexandre III. This wonderful bridge would be just the most perfect bridge in the entire world on its own but it is also located in the middle of Paris making it almost too good to believe. There is the golden dome of the Invalides, the Seine, and most importantly the Eiffel Tower. Whenever I am in Paris I try to have at least one sunset around this bridge as it is just too pretty not to have it there! This time around we got a little rain right around sunset time, so we were a little disappointed, but hey, some things you just can't change!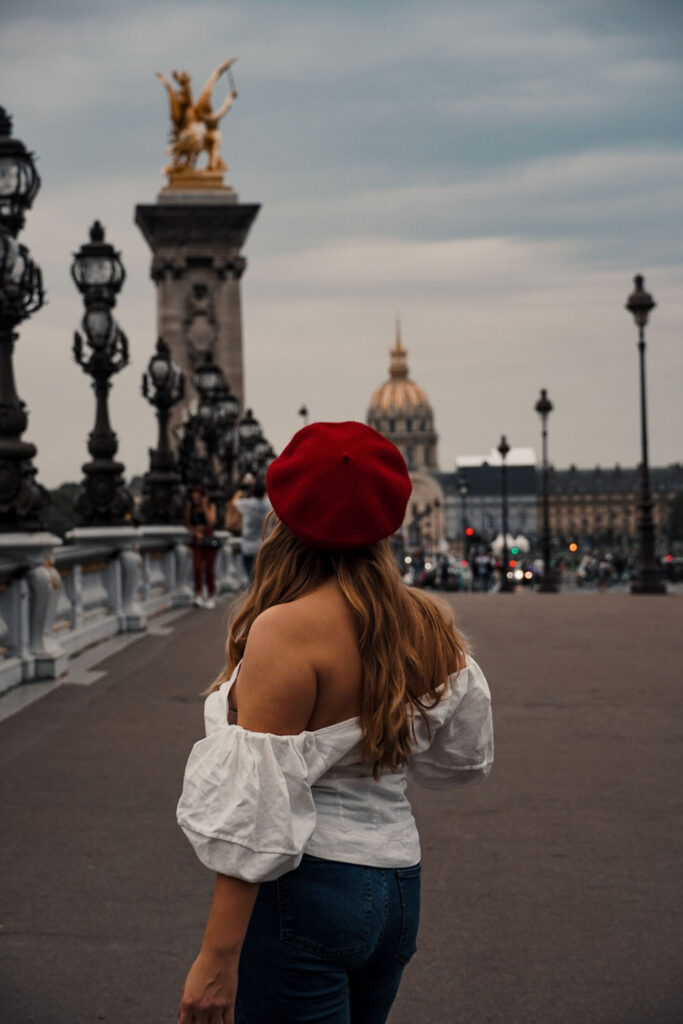 Food in Les Halles
After our not-so-special sunset, we decided to get a small rest. When we got home to Lea, it was already around 8:30 then. Keep in mind that I have been sleeping on a bus the night before and we already had been walking around for more than 12 hours. Now 1,5 hours later we decided that we still want to go out for a late dinner. The restaurant of our choice is the Le Petit Bouillon Pharamond in Les Halles. This place is the most lively and vibrant I have seen in a while! When I went there it was so late already but it was still super full with mostly Parisians and not tourists. Somehow it felt like I was witnessing Paris through the eyes of a local and this was truly magical.
Early morning around Eiffel Tower
Although we had only made it home after midnight, we still decided that we want to get up early to see the sunrise at the Eiffel Tower and have this whole place to us alone. We were alone indeed, but sadly the sun hid behind clouds for most of the day, so we ended up being a little disappointed about that. Nevertheless, we had an awesome morning around the tower, taking pictures and having the most fun together!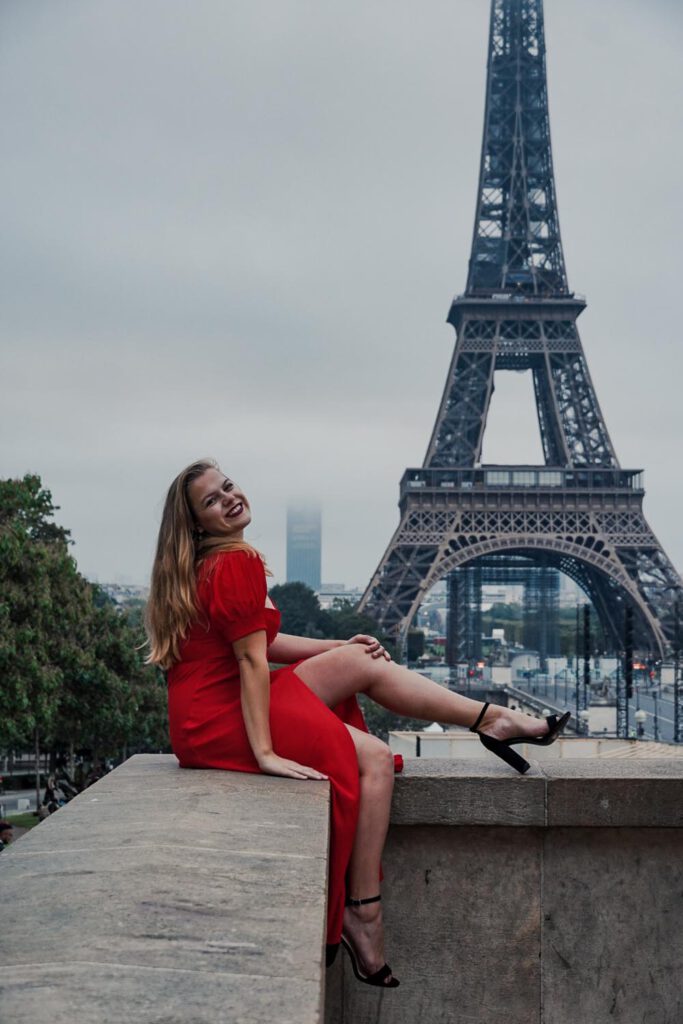 Breakfast at Café Bohème in Montparnasse
Our next stop was having breakfast in Montparnasse at Café Bohème. But before I talk more about French breakfast delicacies, let me tell you a little tip on how to get from the Eiffel Tower to Montparnasse. Make sure to take the Metro departing from the station called Passy. Once you entered the Metro 6, make sure to keep your view to the left (when sitting in the direction of travel) to be granted a stunning view of the Eiffel Tower!
Café Bohème itself is a lovely little place, where Parisian decor meets boho-chic, which is a fascinating mix! Obviously, the French are famous for their desserts and sweet dishes, so we went all in and indulged in all the lovely cakes.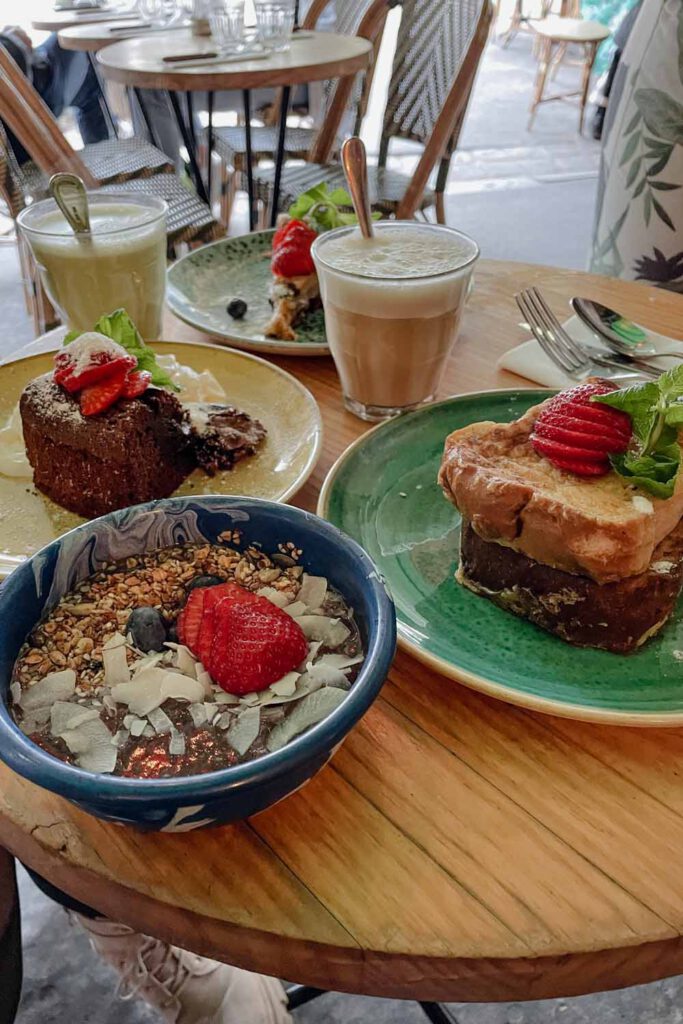 Little Rest and a lot of Rain
After our delicious brunch, we headed back to my friend's place, where we took a rest after having slept only 5 hours and already being up for a couple of hours. It turned out we made a very good decision by doing so because after we closed the door it would not stop raining! But sometimes, this is just what traveling is, watching movies and catching up with a friend!
St. Germain, Jardins du Luxembourg
Before our final dinner, we still headed out and went for a short walk in St. Germain, visited the Jardins du Luxembourg, and just wandered more streets of Paris. Exploring the city on foot might be the most important tip, I want you to get from this travel diary. Paris's beauty isn't only in the big buildings like the Louvre or the opera but in its streets. It is in the little alleys with art galleries, in the cafés and boulangeries and restaurants. If you are only traveling by Metro, you will miss out on that, which would truly make you miss out on so many wonderful experiences.
Dinner next to Notre Dame in Café Panis
My final moments in Paris were spent very wisely. They were spent in my favorite restaurant in Paris, the Café Panis. Located right next to Notre Dame, this place is so dreamy. It is a very Parisian place and I could go there again and again and again. My favorite dish of them is the tartare de boeuf, which is basically minced beef, seasoned with onions, pickles, and more. It is served with fries and absolutely delicious! The perfect end of a perfect weekend in Paris.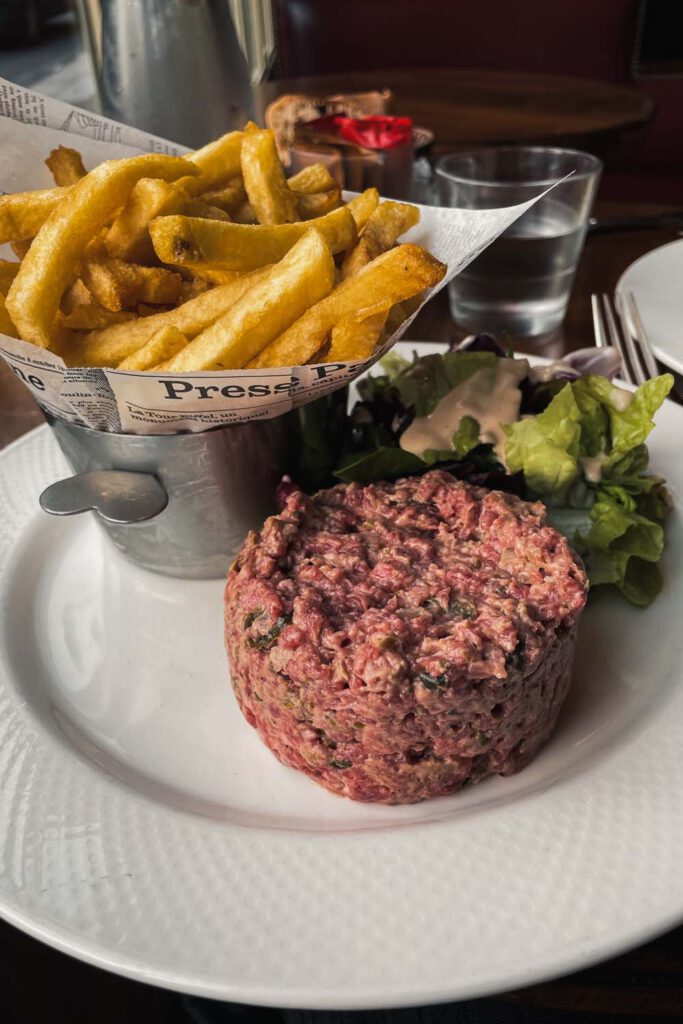 Going back to Bercy
From Notre Dame, we decided to walk back to Bercy where my bus would depart from. This walk along the Seine was simply amazing on its own, watching the sky getting darker and darker, while more and more lights were turned on as we marveled upon the city. I love Paris a lot and no matter what, I will always, always, always return.
Liked This Post? Pin it for Later!