There are probably a million restaurants in Paris that you actually shouldn't miss on. Paris is one of the cities where the restaurant around the corner can be the most incredible dining experience for you. So if I am being honest, you could now stop reading this post and just follow my one advice: don't research the best restaurants in Paris, just follow your heart (and gut) once you are there. But this would not really be a great blogpost would it? Of course not. That's why I want to share my favorite places to eat in Paris with this food guide to Paris with you! These places are meant to give you a real Parisian experience with all that comes with it! So let's start with my best tips on where and what to eat in Paris!
What to Eat
Ok, let's start with a little introduction to french dishes, so you know what you are getting yourself into! Personally, I always like to try everything once, although some things might sound scary at first. Of course, you don't have to like everything, but how would you know you didn't like certain things when you didn't try them!
French Dishes You Need to Try
Tartare de boeuf – Ground up beef with pickles, onions and spices, so delicious!
Croque Madame – grilled Cheese and ham sandwich with a fried egg on top of it!
Coq auf vin – Chicken which is prepared with wine!
Boeuf bourgiognon – slow cooked beef stew with vegetables, either served with noodles or bread!
Plats du Jour – dish of the day, which can of course vary. Usually this is a great choice to go for!
Escargots – cooked snails!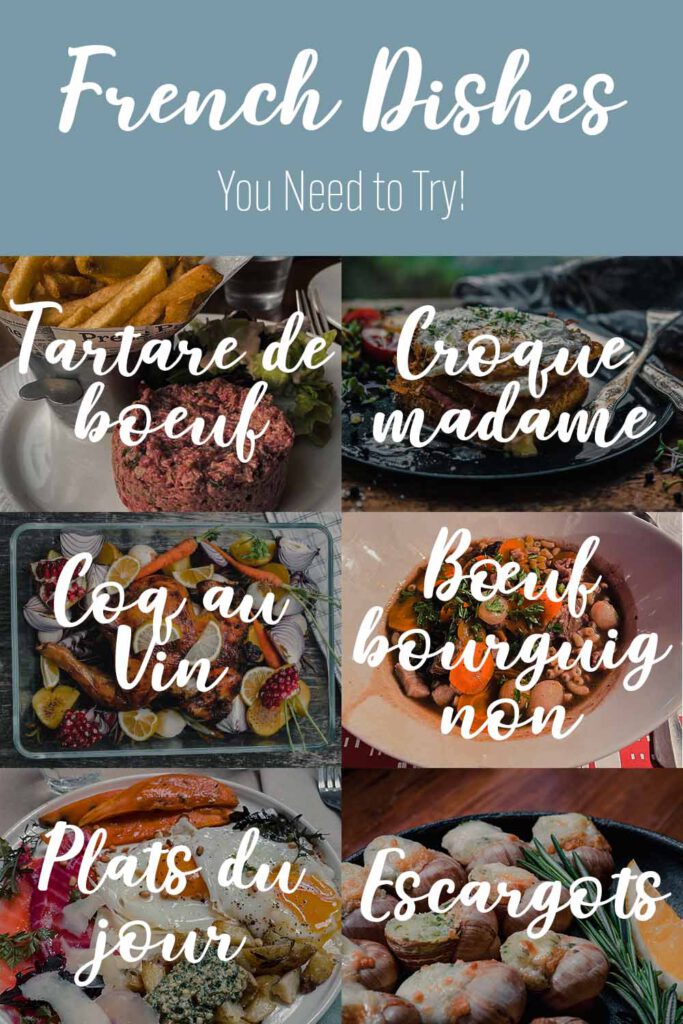 French Desserts You Need to Try
Crème brûlée – vanilla creme with a caramellised surface. The most imporant moment when eating on the the cracking through the surface with the spoon.
Fondant au chocolat – chocolate cake with a creamy core.
Crêpes – very flat pancake with toppings!
Macarons – pastry made with almond flour and creamy filling!
Brioche Perdue – sweet Brioche with different toppings like nougat creme!
Tarte Tatin – Sweet pie with apples and caramell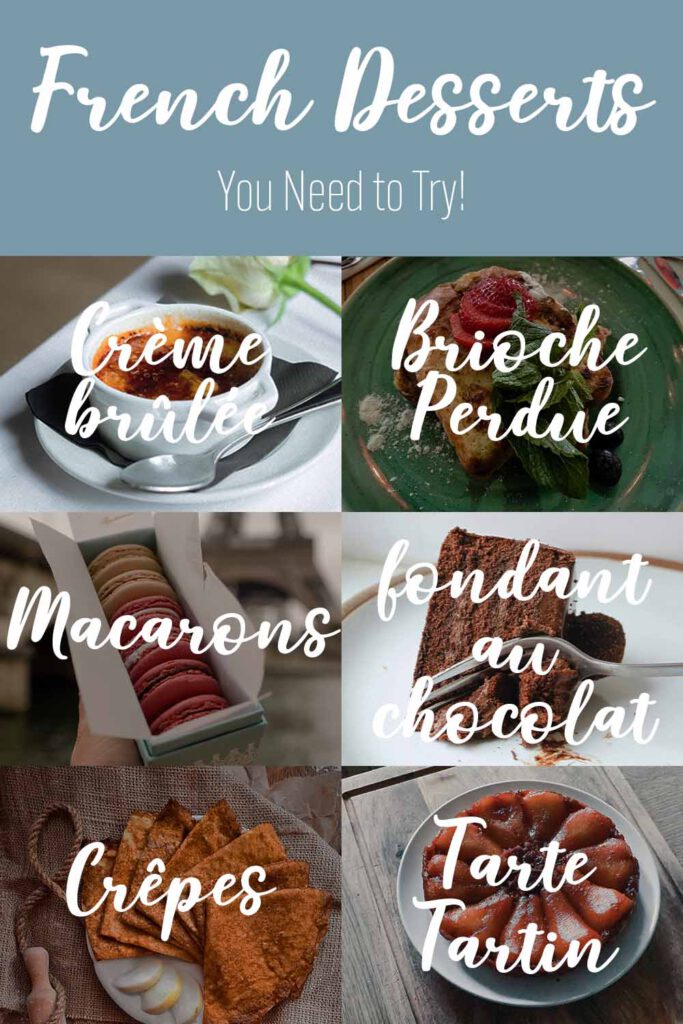 How to Prepare For a Trip to Paris & Eating Macarons at Ladurée
This is my favorite restaurant in Paris. Period. Everything about it, the location, the food, the atmosphere is simply amazing. Therefore a trip to Paris without eating there is will never be complete. It is located directly next to Notre Dame, yet it remained completely charming and Parisian, and it never became a tourist trap with overpriced and bad food. It combining great French food and this awesome view makes it absolutely magical to me and I have yet to discover a place in Paris with similar magic. Even when the rain was pouring outside, it still has this special atmosphere, which is just equal chic and comfortable! All in all, I can promise you, that you won't regret eating here.
What to have: easy. Each time I eat there, I go for their tartare de boeuf. It is amazing and incredibly delicious! Of course, it is great with some French wine. If this is not your vibe, I can also recommend their Veggie Burger or Croque Madame!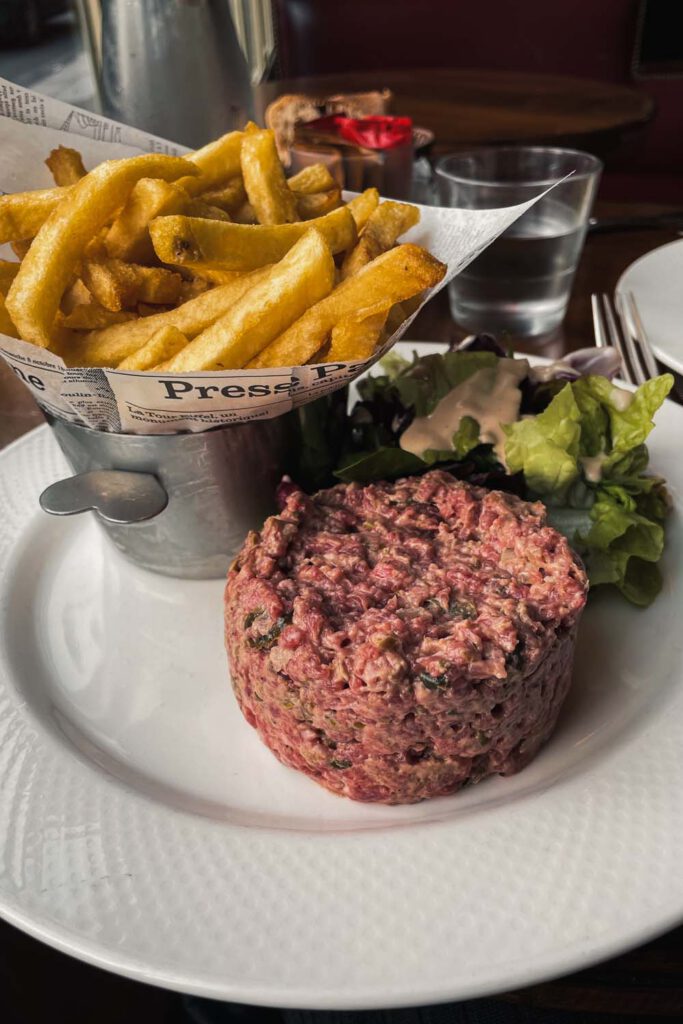 When in Rome, do as the Romans do…when in Paris… you get it. When my friend Lea was suggesting this restaurant it was already 21:00 and we have been walking around since 7 am and the night before I only slept for 5 hours. I was very eager to just go straight to bed that evening, yet we still went to le Petit Bouillon Pharamond for dinner, and boy, it might have been the highlight of my weekend in Paris! The restaurant has seats outside and inside and we sat in the outside area, which was amazing because then we sat in a crowded place, while being surrounded by Parisians! This whole moment felt like I was invited to observe the secret side of Paris, the one that takes place behind the facades which are shown to tourists. Listening to conversations in French, while eating the most amazing hearty dishes and sitting on bistro chairs was so wonderful, especially as it was dark outside yet beautiful lit, with warm little lights everywhere. I won't forget this experience so soon!
What to have: Honestly I don't think that there is anything on the menu that you won't like. But as we already established, this french kitchen can feel a bit extreme for us outsiders. Therefore I went for a safe choice and ordered their baked camembert as a starter and had the boeuf bourguignon as my main dish. It was delicious! Lea had the truffle pasta and what I tried was amazing too, so this is also safe for you to try!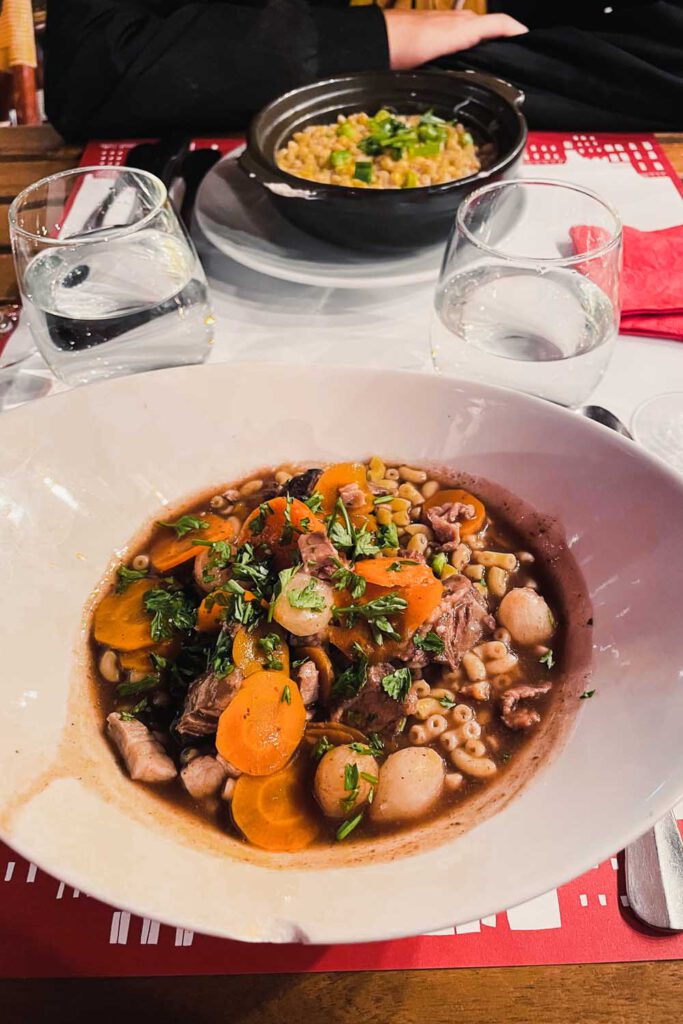 Now that you have eaten next to Notre Dame and in Les Halles, you also still need to explore Montmartre a little bit! The one restaurant I can recommend there to you is Le Maison Rose! Over the years the place got a little Instagram famous due to its rose facade but nevertheless, it is an awesome place to have lunch or dinner, as it has the wonderful Montmartre as its backdrop. Totally incredible and fairytale-like, I promise.
What to have: At Maison Rose, I went for the Plat du Jour and it was the best decision I have made! It was a lovely ensemble of little delicacies and it was amazing. At this place, I also highly recommend going for a dessert! I had a crumble with peach and nuts which was to die for! If it is still in their menu, you could also have a pavlova, which was so wonderful.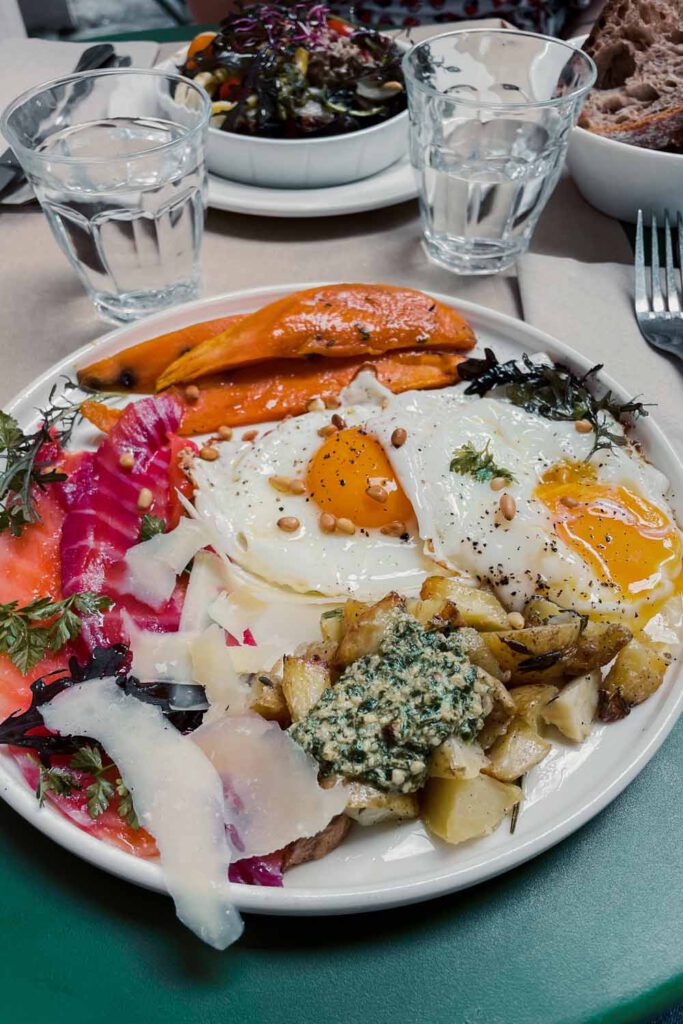 For further information about traveling France and exploring Paris, make sure to check out my other posts about France! Also check out this 3 Day Paris Itinerary!
Liked This Post? Pin it for later!