Hello and welcome back! One of my favorite places in the world is without a single doubt Singapore! I have been there a few times now and after my last trip there I couldn't wait to write a list of the top ten highlights of Singapore! Or in other words: this is the ultimate Singapore Bucket List. When you are leaving Singapore without experiencing all of these, you did something wrong!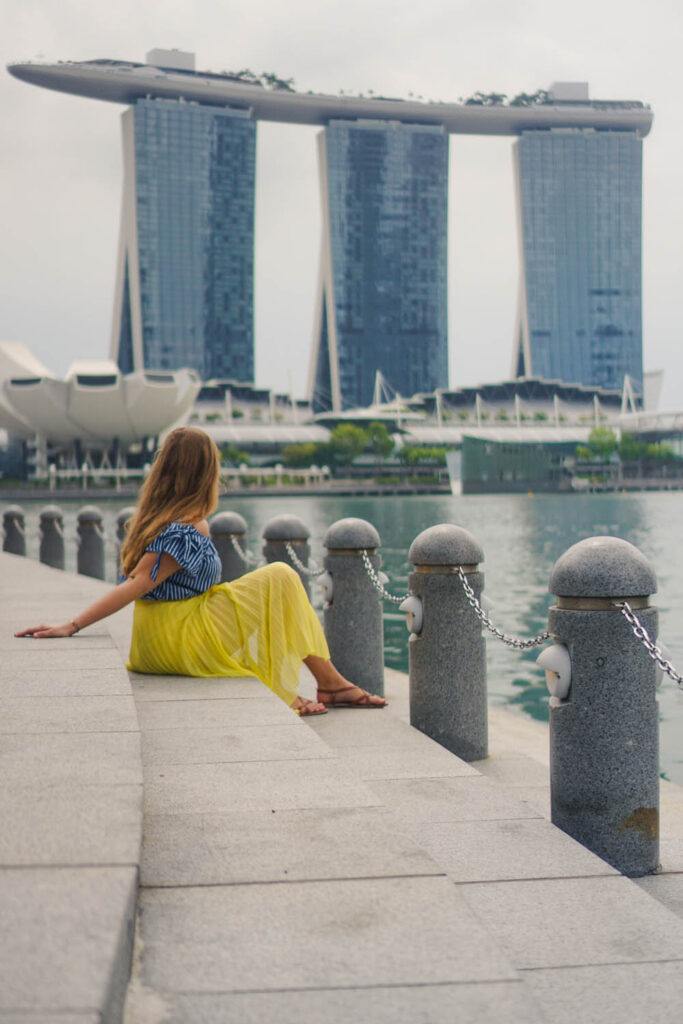 This post contains affiliate links. If you buy something that I recommend, I will earn a small commission. As always, this commission won't make you pay any cent more, it only helps me to provide more helpful postings. 
Walk in Gardens by the Bay
Let's start with one of the most impressive sights in Singapore! The Gardens by the Bay are iconic and the Supertree Grove might be on every single postcard of Singapore. Especially at night, this place lights up and has the prettiest light show there is!
When visiting it during the daytime I recommend you a certain place for taking pictures. It is a bit tricky to find, but if you know what to look for, you will find it easily! To get the best shots, make sure to go to the Super Tree Grove and look for the upper ring. Once you find the upper ranking, look for a spot, where you are having the Marina Bay Sands straight on your pictures.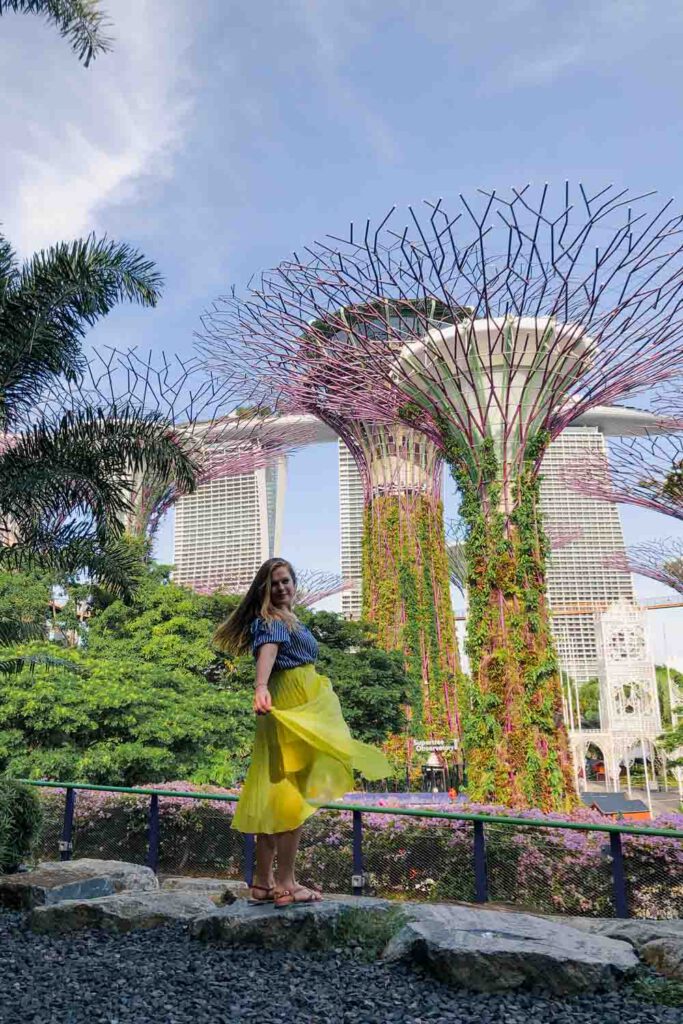 Recommended: 15 Things You Need to Know Before Visiting Singapore
Have a Drink on Marina Bay Sands
You will never find a rooftop bar that is more iconic than the CE LA VÍ on top of the Marina Bay Sands. I promise. There isn't any place that makes you feel more glamorous. You get the best view above the Marina Bay Sands' Pool and the breathtaking skyline. Have a drink there and make sure to check out the hotel's backside for a breathtaking view above the Gardens by the Bay!
Recommended: How to Spend 48 Hours in Singapore!
Walk the Helix Bridge
To get one of the best views of the Marina Bay Sands, make sure to take a stroll over the Helix Bridge, one of Singapore's amazing sights. From there you can also see the Singapore Science Museum in the shape of a lotus flower!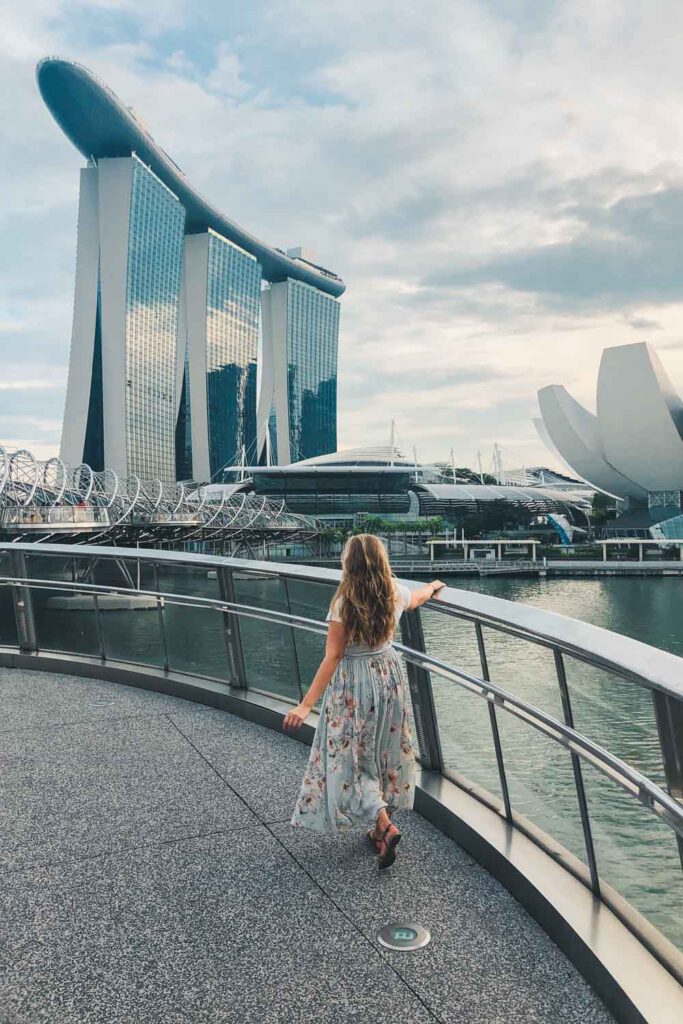 Singapore has exactly one UNESCO World Heritage site, which is its Botanical Garden. I love it so much that I go there every single time that I am in Singapore! It might be not a real jungle but it gives me all the fantastic jungle feels that I just adore. The lush plants are so photogenic that I almost used up my camera's battery completely.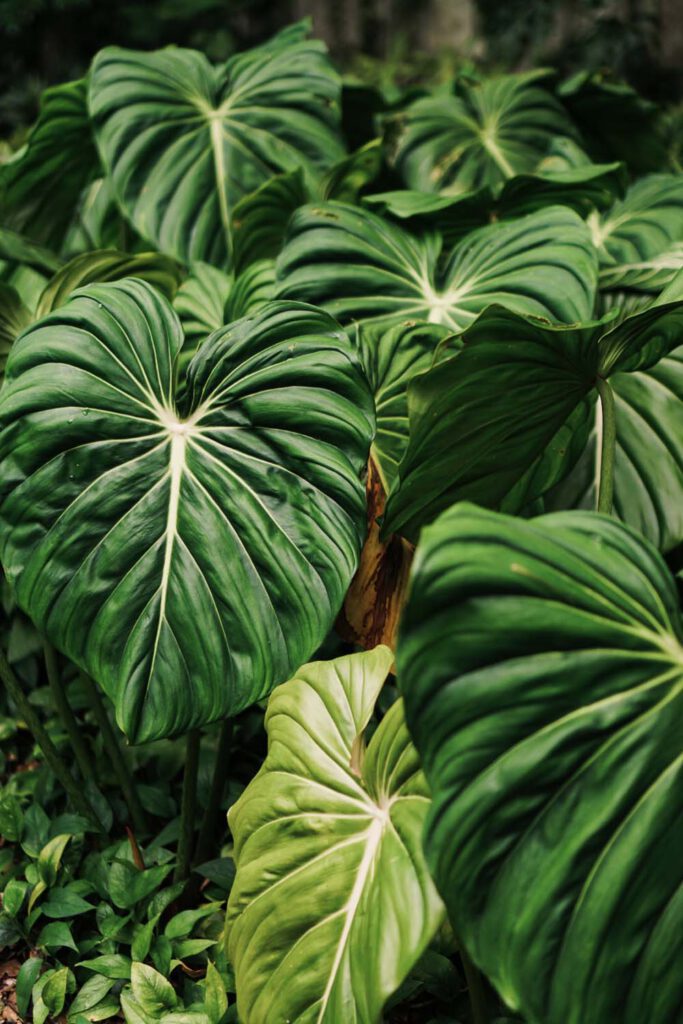 Once you entered the park make sure to watch out for the monitor lizards. They are all over the place and most of them are just tiny little dudes who are digging for worms and other deliciousness. But some of them are actually getting quite huge and are extremely interesting to observe!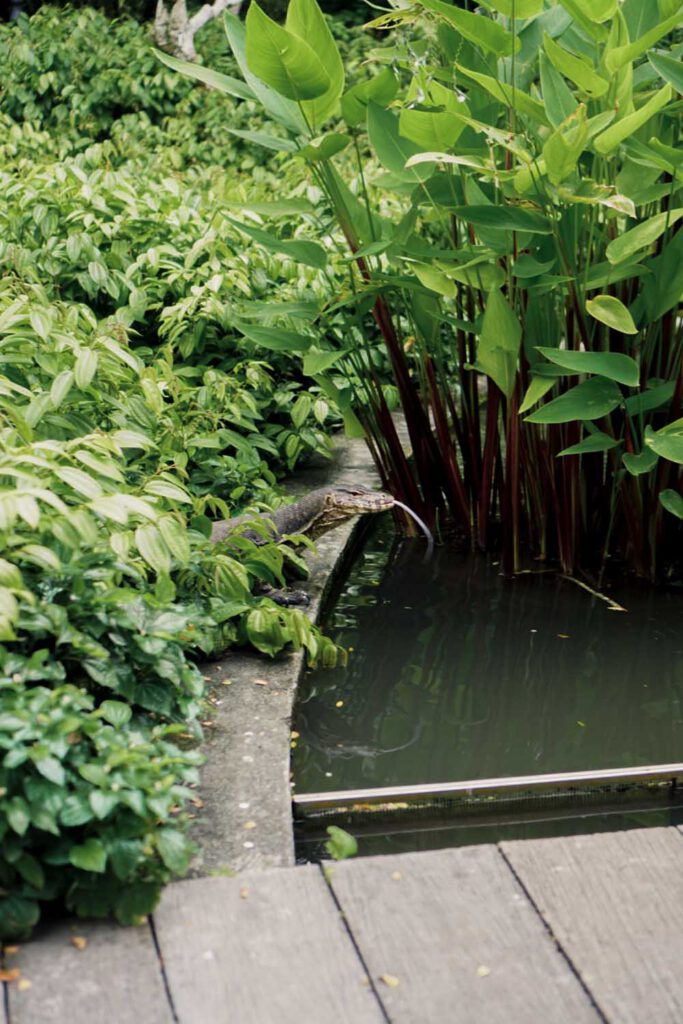 Have All The Food at The Lau Pa Sat
I said it once and I will say it again! I. Am. In. Love. With. Dim Sum. They are just so delicious and I am pretty sure that I could have at least 200 hundred of them if they'd only had enough of them. And my favorite place to have them is at the Lau Pa Sat, the single best food court in the entire world!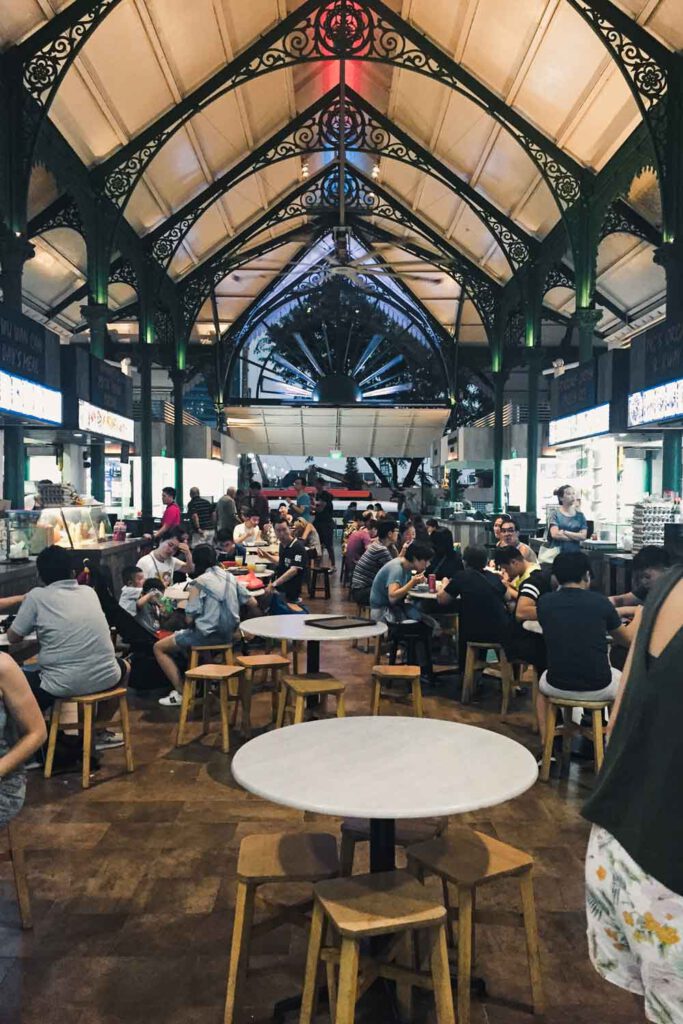 My best tip is to just go around and have as many things as possible! Try Tom Yum Soup, Naan with Chick Pea Curry, Chicken Rice, and a bunch of Satays! Everything is delicious and most of it is worth trying. Don't be afraid and just go for whatever smells or looks nice!
Recommended: a Foodie's Guide to Singapore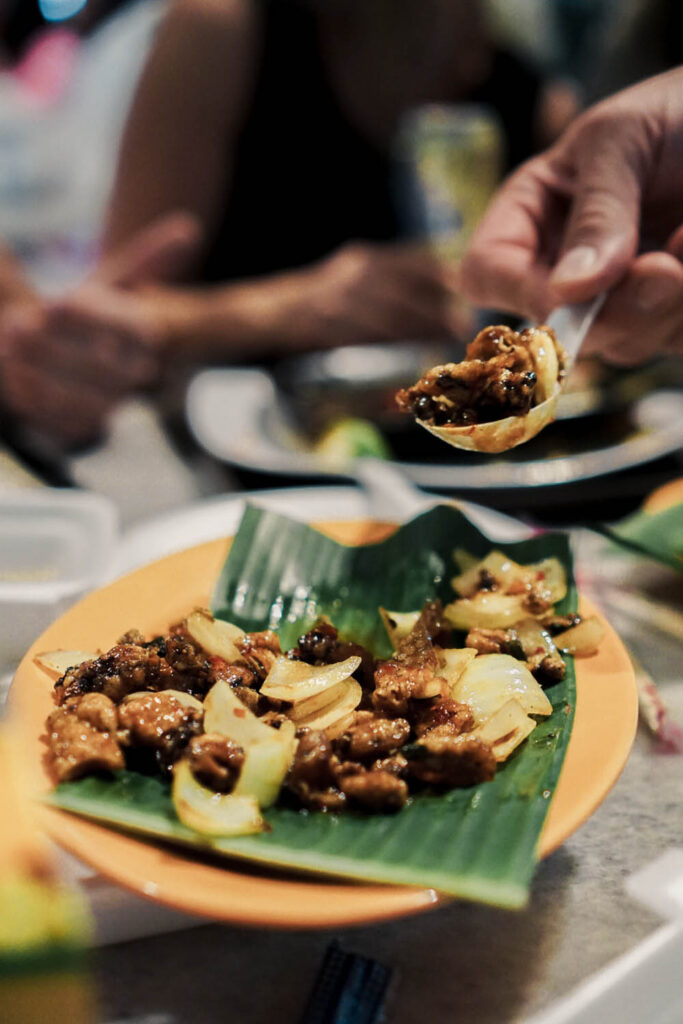 As you see in the pictures, I didn't bring my own container, which really made me sad and angry about myself. Make sure to bring your own container!
Explore All The Colors in Little India
Singapore is such a melting pot and has some of the most incredible neighborhoods you can imagine. One of the most impressive ones is Little India. This small place holds more colours than you could ever imagine. It was right there where I had the single best naan bread with chickpea curry ever. Make sure to check out all those little shops in this quarter and the colorful temple before having your coffee in the Wired Monkey, my favorite café in all of Singapore.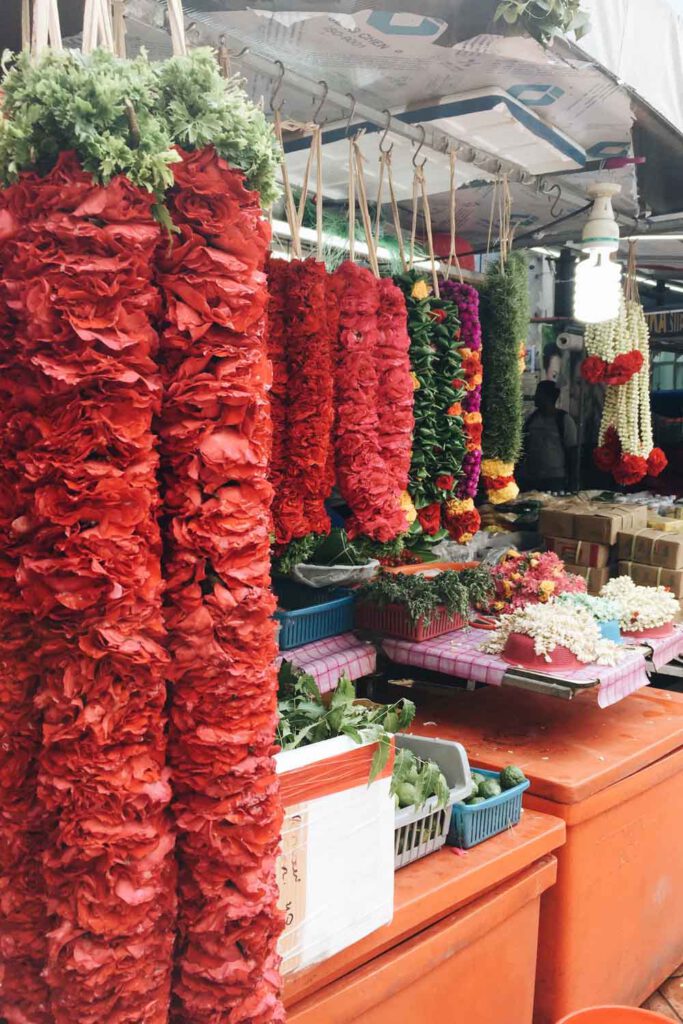 Recommended: How to Spend 48 Hours in Singapore
Soak up the Colonial Vibes in Singapore's Colonial District
Singapore has a wild past of being a British colony up until 1963 and it left its traces. Buildings like the Fullerton or the Raffles are some of the biggest ones but the most impressive in my opinion is Singapore's Colonial District. The bright and colorful neighborhood is simply amazing. Inside of those buildings is pretty cafés, exciting restaurants, and some of the most incredible rooftop terraces one could think of!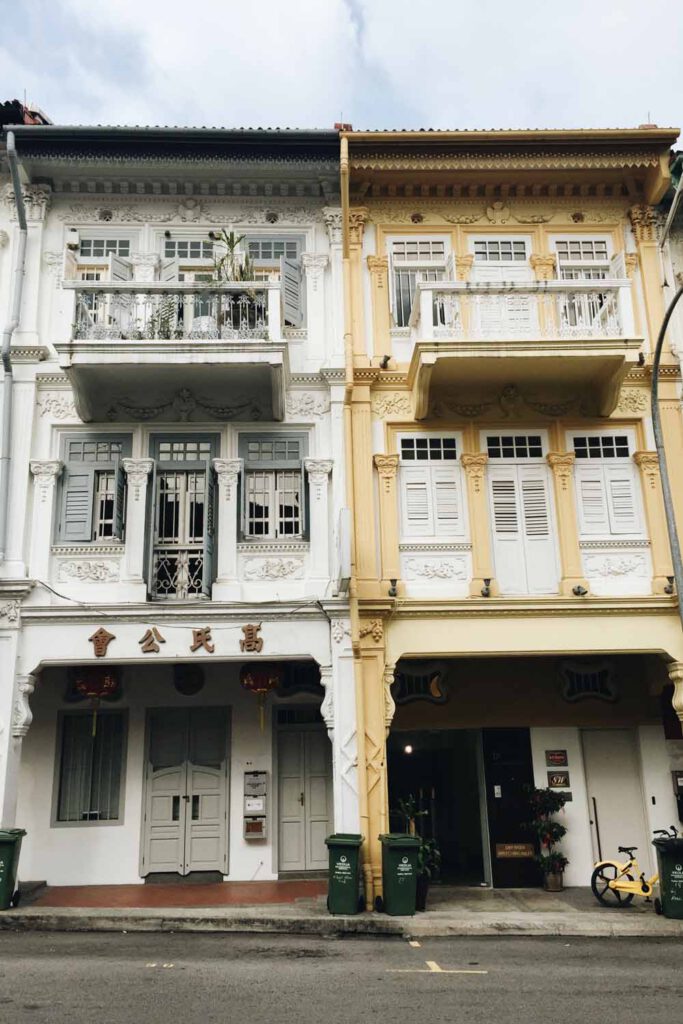 Be amazed by Singapore's Cloud Forest
Not everyone fancies a visit in the wilderness of a jungle. Good to hear that the Singaporeans took care of this and built and artificial one right in their famous Gardens by the Bay! The two domes you will face host two different permanent exhibitions. One is called the flower dome and the other one is the Cloud-forest with one of the largest indoor waterfalls in the entire world.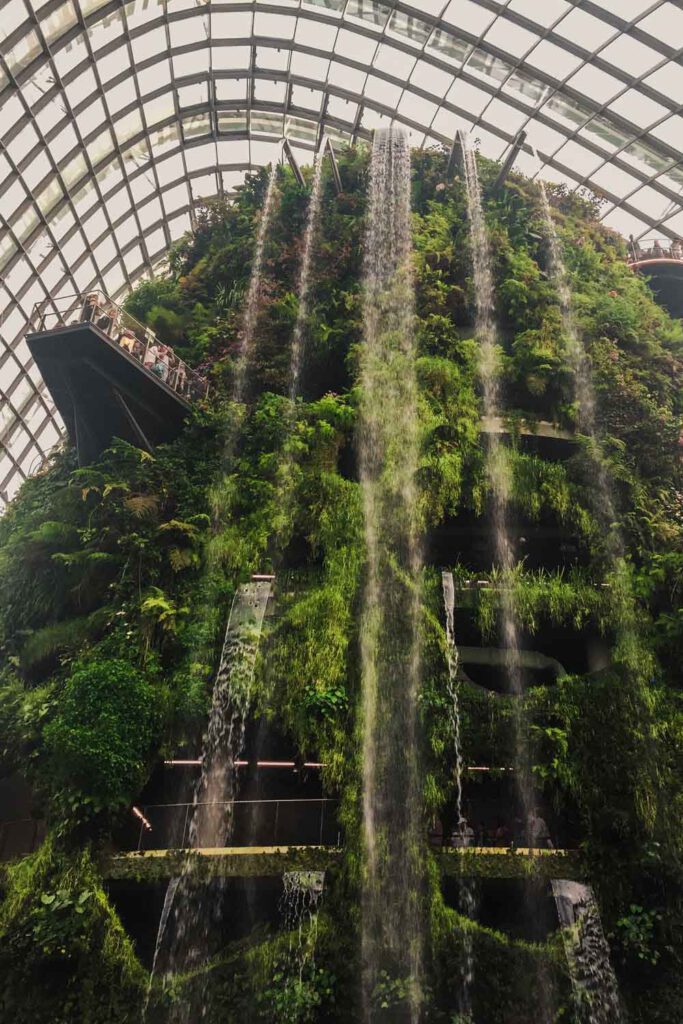 Have a Singapore Sling at the Raffles Hotel
There was a time when the glamorous elite of Singapore gathered in the hotel Sir Raffles once founded. It even made history, as once a tiger jumped onto the hotel's bar. It was the last tiger that was shot in Singapore.
Now the Raffles is a luxurious hotel and the bar is still open for all visitors and still serves one of its greatest inventions: the Singapore Sling. It is a  cocktail that was invented there. When in Singapore, you shouldn't miss this one!