Hello, my lovely readers! Nice to meet you here again. I am currently sitting at the airport in Hanoi waiting to be boarded after a week of adventures in Vietnam (and visiting Hanoi in one day).
Since I saw Forrest Gump and Good Morning Vietnam I wanted to visit it. I didn't know where this fascination came from but I was always in love with the far east. So I couldn't have been more excited to visit this country together with a new travel buddy, Corinna, a friend of mine.
Visiting Hanoi is the start of many people's Vietnam itinerary. In this article, I want to tell you about all the sights, experiences and food were able to have in the few hours we had in Hanoi.
The Arrival
We arrived at Hanoi airport early in the morning. My tip for a smooth arrival is to get cash and a SIM card directly at the airport. Afterward, you are perfectly prepared for all the adventures, Hanoi can offer you!
Another thing that you should do at the airport (or in advance) is to download Grab. It is the Asian Uber and cheap. We got into the city center for 12€, so just 6€ per person and we couldn't really say something against it.
The Best Place to Stay at
I would recommend the Hanoi Lotus Boutique Hotel to you. With 20 bucks per night, it might be a little bit expensive for the average backpacker but we loved it. It is clean & comfortable and has a charming vintage style. Furthermore, the staff is super nice and is always keen to help you with anything. We also loved the breakfast as it was stuffed with fresh and delicious fruits. You can find their website here.
Talking About How to Get Around
It is a huge challenge to get around there safely. Not because of crime or something like this but because of the insane traffic. But if you are careful and pay attention you will survive your time there. The trick is to always have one eye on the traffic. And if you cross the road, never stop walking. The drivers will find their way to go around you. But if you stop they will be confused.
Sights of Hanoi
So let's talk about all the wonderful things you can in Hanoi. We spend our limited time in Hanoi in the streets around the Hoan Kiem lake so this is what my tips will be about. But I am very sure Hanoi has a lot more things to offer. But here are my best of's.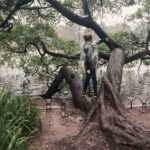 Hoan Kiem Lake
In the middle of the old quarter is a lake called Hoan Kiem what means lake of the returned sword. You can take a walk around it easily and it is the perfect way to get a little break from the traffic. In its center is a small pagoda which is called the turtle tower.
When you continue your walk around the lake you will find a red bridge that will lead you to a small temple. The entrance itself is more than beautiful and decorated with creatures from Vietnamese myths.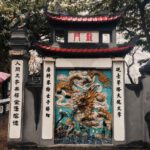 The temple is situated on Jade Island and is called Temple of the Jade mountain. You have to pay to enter but it is not that much and the temple is really beautiful! It has rooms filled with art and beautiful religious artifacts. Please make sure not to disturb the locals when they are praying. As travelers, we are responsible for treat locals with nothing but respect.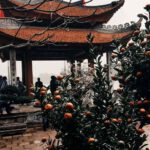 Water Puppet Theatre
The one thing you shouldn't miss when visiting Hanoi is seeing one of the water puppet shows. It is truly amazing to see the puppets dance around and on the water so effortlessly.
It is also a form of art you can only witness in Vietnam. Once practiced in the rural parts of the country, the knowledge, and skills for playing a puppet was only taught by elders to their kids. This was at a time the stage wasn't a pool but a village's pond or lake.
A ticket costs 100.000 Dong and they play a lot of times a day. But if you can, get a ticket a day ahead. We bought ours at 1 pm and only got a ticket for 21:15 pm. It was okay for us, but maybe tickets can be sold out too.
Spending Hours shopping Souvenirs (If you like)
We loved to look through all kinds of wonderful deals. You can find the best brands (they are obviously not original but they look exactly like the original ones! Exactly!) to a good price but you have negotiated with the retailers. But not everyone likes it. For me, I don't like to be ripped off by them so I try to get a fair price for both.
Train Street
Train street is one of Hanoi's hidden Instagram spots and something you shouldn't miss when visiting Hanoi in one day. You can reach it pretty easily but it has no actual name, so you just have to google for directions. For us, it was very interesting, as the people just live their day-to-day life in the middle of a railway. It is pretty picturesque, so make sure you take the perfect Instagram pictures.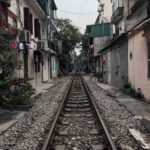 Further Trips
Hanoi is the perfect base for you to start your Vietnam journey. It is quite central to a lot of great destinations. You can easily get to Ha Long Bay and to do a one or two day cruise in turquoise water and between limestone mountains. Another great trip is to the rice fields of Sapa in the North of Vietnam.
But my favorite would be to see Ninh Binh, the most breathtaking place of Vietnam.
What to Eat in Hanoi
When you are in Hanoi, make sure to have these highlights in any case:
Phó: traditional soup; most likely with rice noodles, beef, and coriander. The perfect dish after spending the day walking the streets of a rainy Hanoi. (And it was pouring when we first arrived)
Bánh mì: vietnamese sandwich with various toppings. My favorites are made with crispy lemongrass tofu.
Gỏi cuốn: Vietnamese spring rolls. Simply divine.
Chè: sweet dessert soup. Did you ever have soup for dessert? Try it, I promise, you won't be disappointed!
Cà Phê Trứng: egg coffee – no search for the best coffee in Hanoi is completed without trying egg coffee!
The Best Restaurants of Hanoi
So we just went to one restaurant and it was so good, we had to return when we had our second day in Hanoi. It is called Fung Rong Hua and serves mostly dumplings. I got so hooked up, I could have eaten 300 pieces of their dumping filled with prawns. But also the other options were very delicious.
Another tip is to have some drinks at the rooftop bar which is directly above the dumpling restaurant. We loved it there and you'll get a panoramic view above Hoan Kiem Lake and the city. It is truly a magical place, especially while the sun sets or at night.
Related: Food Guide to Kuala Lumpur
So here are my tips for visiting Hanoi. I hope it was helpful to you. Did I miss anything, that I shouldn't have? I am sure I have, but we just enjoyed the time we had in Hanoi, even if it was just for just one and a half days. If you get to stay in Hanoi for at least two days, check how to spend your extra time properly!
If you want to read more about my adventures in Vietnam, check out my post about a beautiful day trip to Ninh Binh!
Liked This Post About Visiting Hanoi? Save it For Later!