Hello there! It has been a while since I have published my last blog post and before you read it, I want you to know that it took me so long to finish this one. Being confronted with a pandemic and more covid cases than my country can actually process per day, it is hard for me to gather the energy and courage which is needed to create and put my work out there. But wanting to write about my top 15 highlights of Budapest somehow kept me going and now, after two months since actually being in Budapest, here it is, my first post about it. I hope you enjoy it and gather some helpful information through it!
Budapest is the capital of Hungary and the perfect city to visit for 2 – 7 days in my opinion. If you are staying for a weekend only, it might get hard to squeeze in all the highlights Budapest has to offer and you might have to prioritize. Due to covid I had to rearrange plans and spent a whole week in Budapest, which I enjoyed too! It resulted in me visiting some of these things to see in Budapest multiple times, which gave me more time to admire and explore them thoroughly. However, you can do most of it in a shorter period of time! The best time to visit Budapest would be spring, as you can rely on sunnier weather, however, the city is beautiful all year round! But enough about the hard facts, for now, let's dive into the best places in Budapest!
Fisherman's Bastion
Let's start with that one sight that I couldn't wait to visit on my trip to Budapest. I wonder if there is a sight that I saw on Social Media more often than this one. That is because it is absolutely magnificent! The Fisherman's Bastion is a compound that was built quite recently with construction finishing at only 1902. This might seem like quite a while ago, yet if you put it in perspective, Matthias Church was finished in the late 14th century. So in comparison, Fisherman's Bastion is quite new!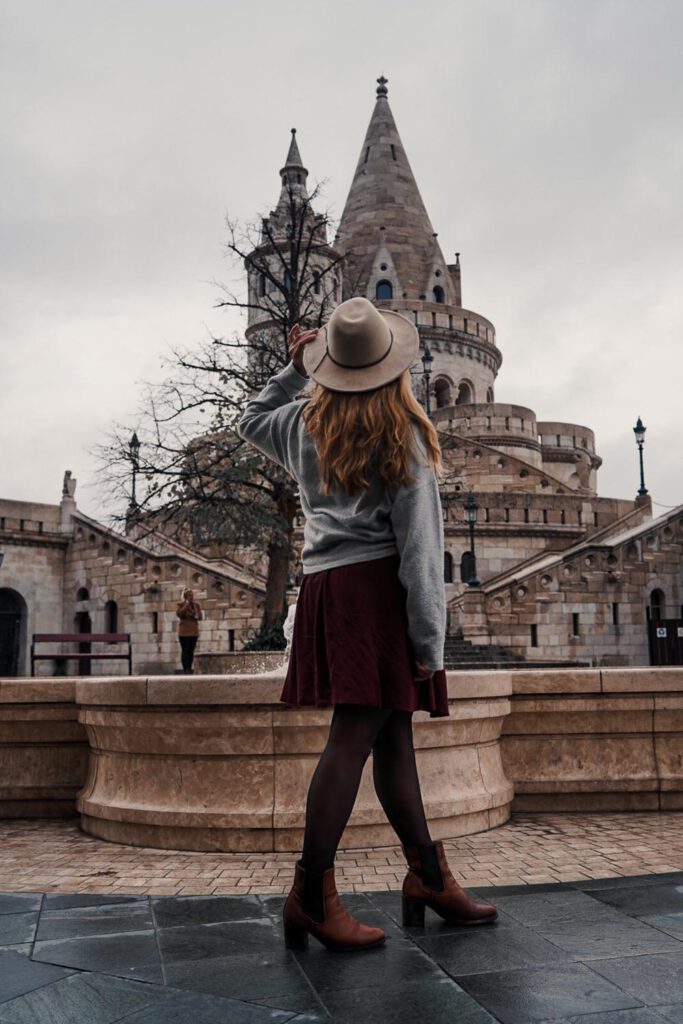 It was built to serve as a point where people could come together, sit and talk while enjoying this magnificent view of Pest and the amazing parliament. In my opinion, there is no viewpoint in Budapest that comes even close to providing a better view.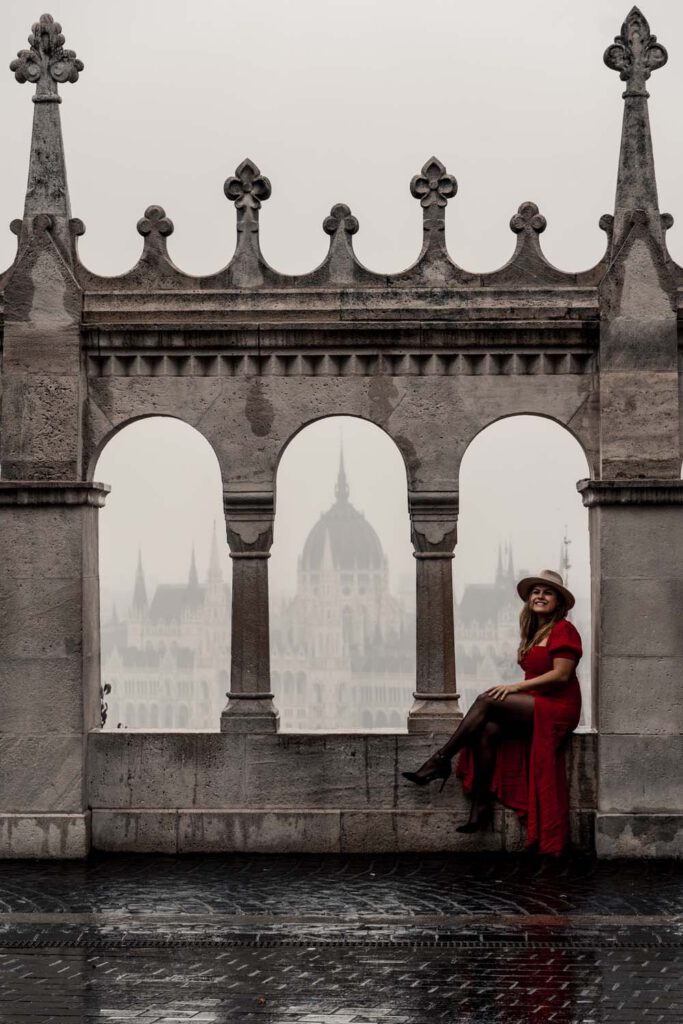 To get your perfect shot of this setting, make sure to bring a lens that has a great focal length. By placing your camera right next to the church and zooming in, you get the Parliament building closer and more prominent in your picture. Now all you have to do is to make sure the building is centered in your shot!
Matthias Church
When it comes to churches, I think we have all already seen a bunch of them in our lifetime. But I bet there wasn't one you saw that is as colorful as Matthias Church! Located directly next to the already described Fisherman's Bastion, Matthias Church is a church of great importance for Budapest as not only one but two kings of Hungary were crowned in it. For me, its most significant feature is its beautiful tiled rooftop. The tiles come in oranges, teals, yellows, and greens and create a stunning mosaic. I just couldn't get enough of looking at it!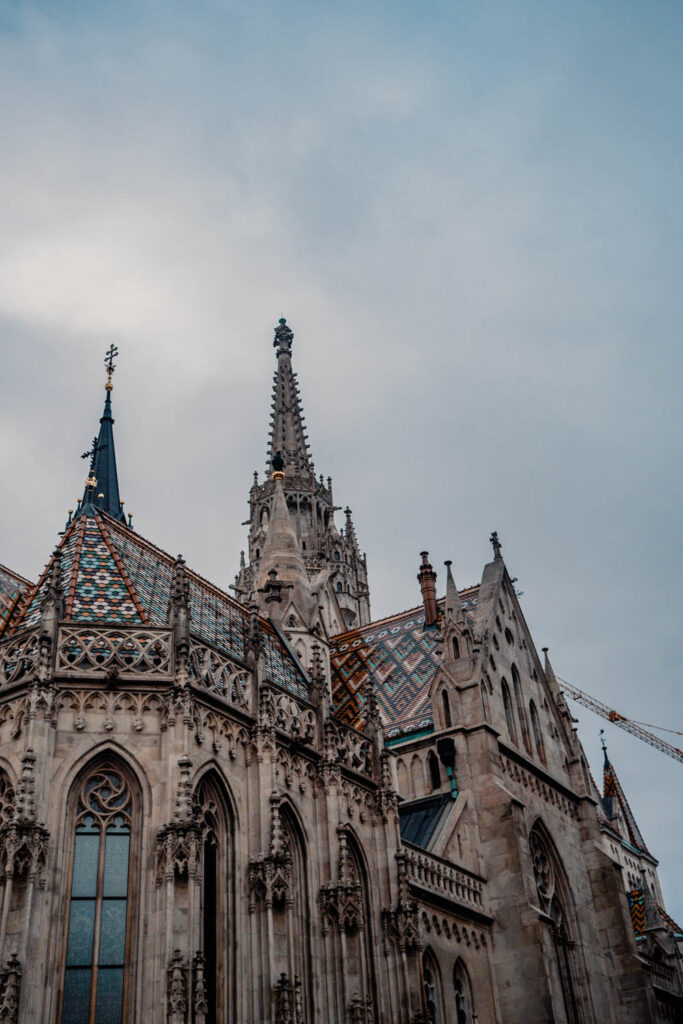 Budacastle
Let's come to one of the most marvelous areas of Europe! The Buda Castle district is in fact a UNESCO world heritage and actually includes the Fisherman's Bastion and Matthias Church too. And it deserves to be on that list for sure! I am not really sure I am repeating myself but from the area of Budacastle you get some amazing views of the Danube and Budapest! It is simply stunning and wonderful. The Castle itself is beautiful in all of its little details and opulence, with huge arches, statues and a fountain that is a serious competition to those in Rome. Seriously, it is hard to leave this place without it having a lasting impression on you!
Hungarian Parliament
Besides Fisherman's Bastion, the Hungarian Parliament is the one building I already saw plenty of pictures of before even coming to Budapest! It is the most gorgeous and magnificent parliament building I can imagine. My friend and I would say that it almost looks like a place where wizards would learn how to use their magic and already started on planning out a plot!
When visiting the building, you can walk around it entirely and look at it from all different angles! If you come well prepared, you can also book a tour in many different languages, but I advise you to do this in advance! Furthermore, there is also a breathtaking library inside which you can visit too.
Fun Fact: The Hungarian Parliament building is in fact the second-largest parliament building in Europe. The reason it is so huge is that once upon a time, Hungary would cover a lot more space on Europe's map.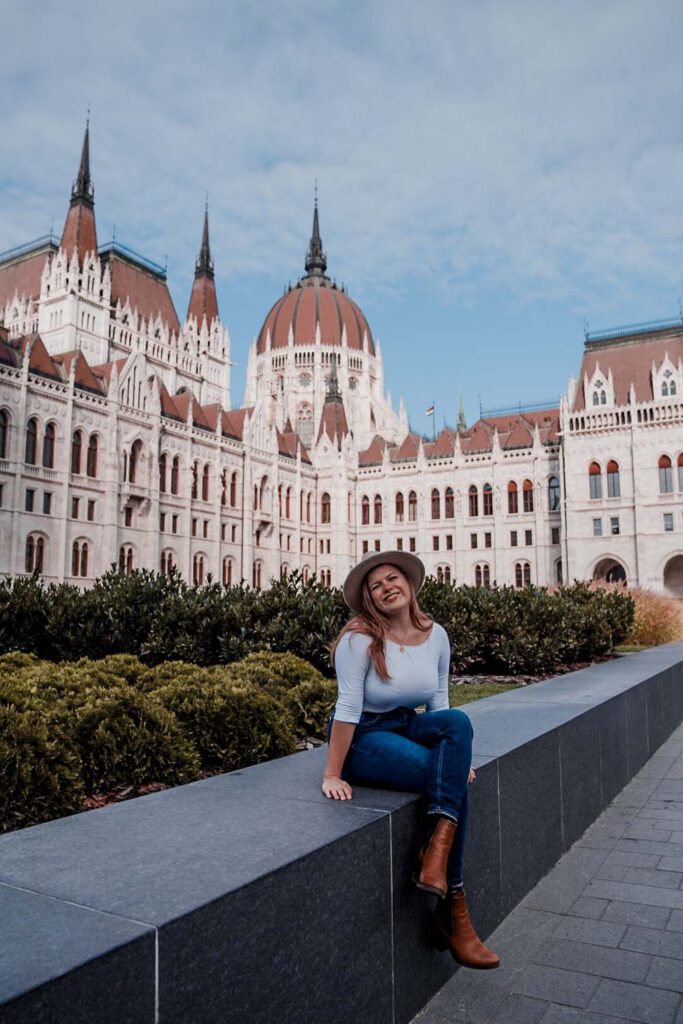 Chain Bridge
Our next highlight of Budapest is a very famous one! Why it is famous you may ask? Well, for that you have to know that Budapest is often shown in movies, picturing other cities like Warsaw or Paris. This happens because it is cheaper for companies to produce their movies in Hungary than it is elsewhere. Besides pretending to be a different city, a lot of stories actually take place in Budapest and that is why you can often spot Chain bridge in movies!
However, when I visited Budapest, Chain Bridge was closed, due to preservation work. Therefore, I couldn't take any pictures of it or even walk on it. That made me have to take some detours when touring the city and getting to some of its famous sights.
Danube Cruise
One of the must-haves or must-do's of a trip to Budapest is a Danube Cruise! We decided to go on one that is 1,5 hours and takes place after sunset, so you can admire Buda and Pest during nighttime! All buildings, but especially the Parliament and Buda Castle are exceptionally beautiful with lights surrounding them. We also got a glass of champagne on our and during our cruise, we learned so much about Budapest, its buildings and history, that I now would almost consider myself an expert myself! It was very informative and I can't recommend this tour enough!
You can book them easily via GetYourGuide, which is my favorite platform to book tickets at!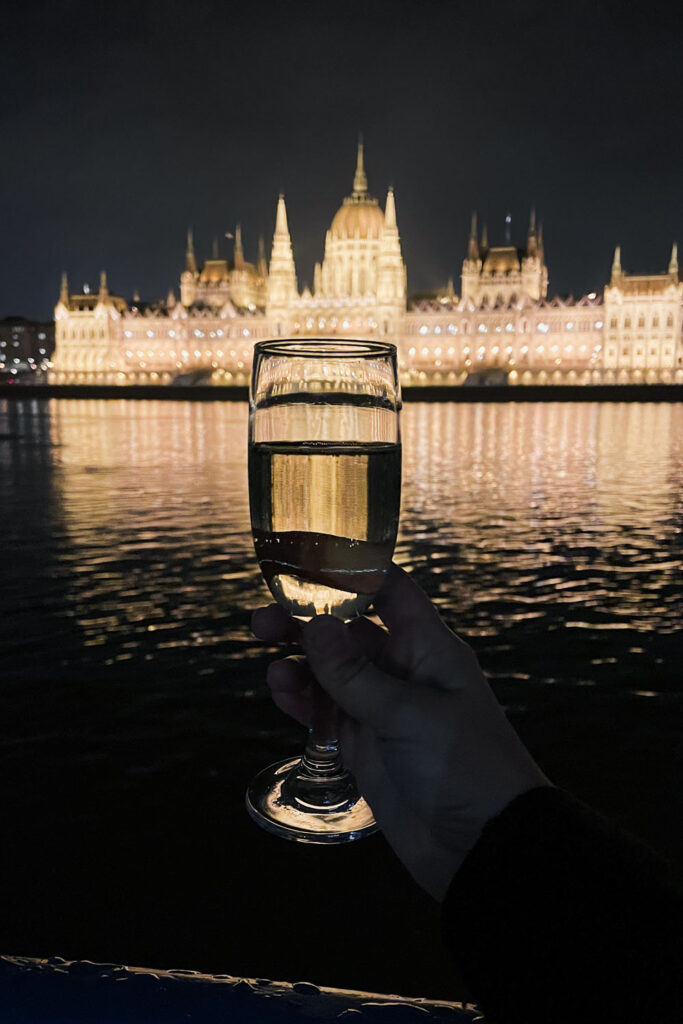 Liberty Bridge
You already know the Chain bridge as one of the highlights of Budapest, now meet yet another bridge! Liberty Bridge is the one bridge I crossed the most during my stay, as it is in the centre of countless other sights! From there you can get to Gellért Hill, the Gellért Baths & the Central Market Hall. Also it is crossed by the tram of Budapest and let me tell you: the yellow of the tram and the green from the bridge just go together amazingly!
Not so fun fact: Did you know that during World War II. all bridges of Budapest were destroyed and later rebuild and restored?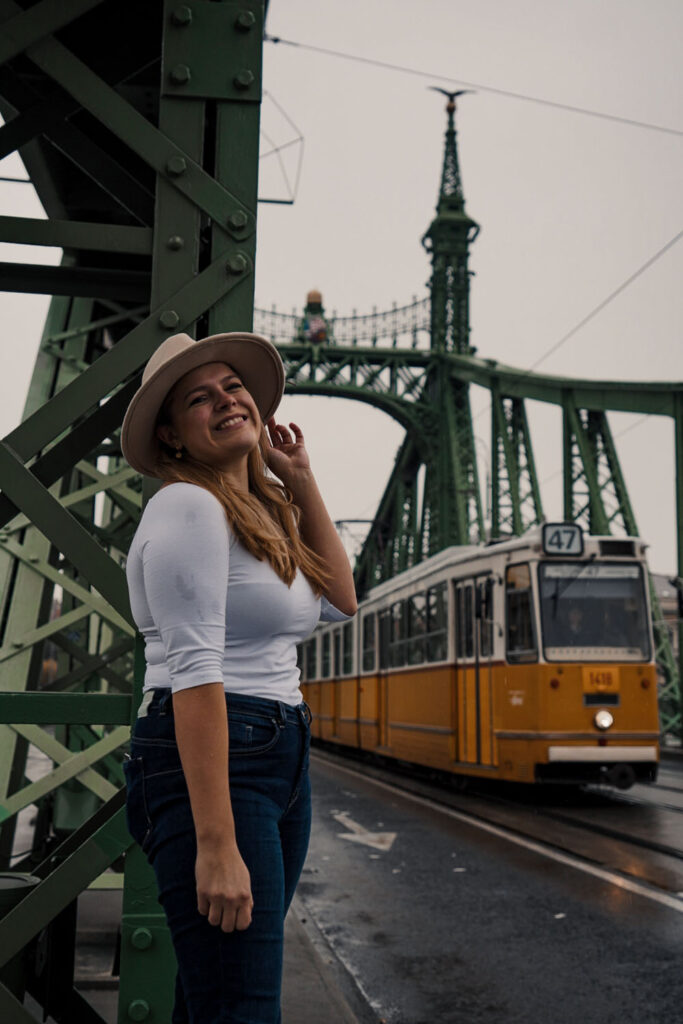 New York Café
Get ready for a breakfast experience you will never ever forget! Inside of the Anantara New York Palace Budapest Hotel is the New York Café, which might be the most incredible café in the entire world. Period. It is entire interior is insanely charming with many golden decorations and details. You won't be able to take your eyes off their ceiling!
I am very sure that I never saw a café as amazing and beautiful. But also I am very sure that I have never paid more for a coffee and two small cakes. As you expect of a place like this, the prices are very high. I think we paid 10€ for each cake and coffee. Not something for every day, but I mean for a vacation day, who cares that much? Also, the New York Café is pretty much a once-in-a-lifetime destination and you really will never have a better chocolate cake!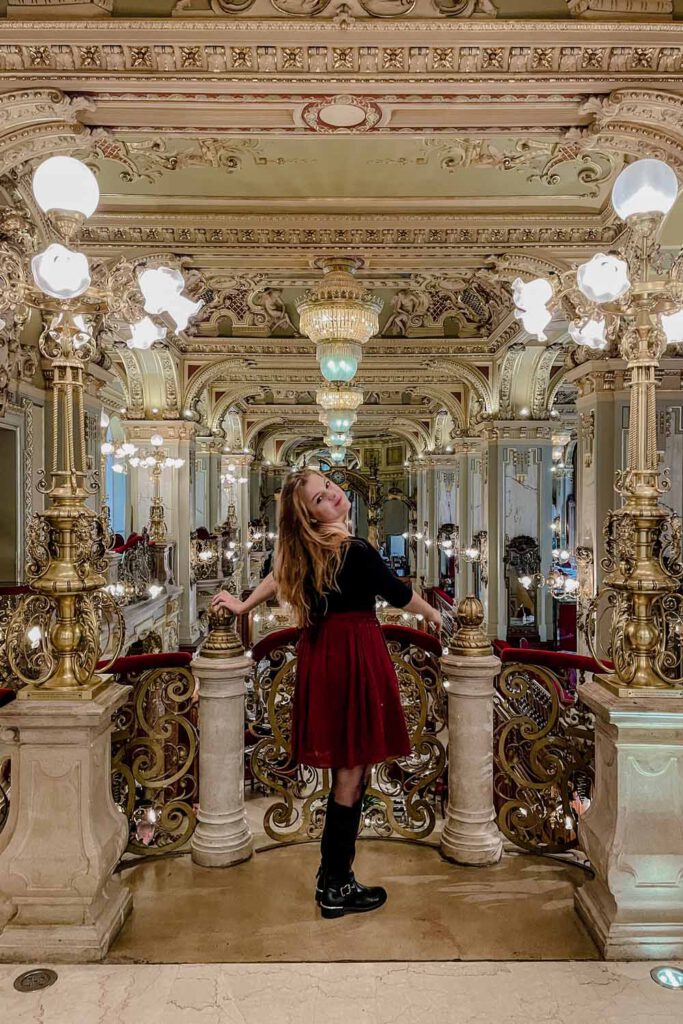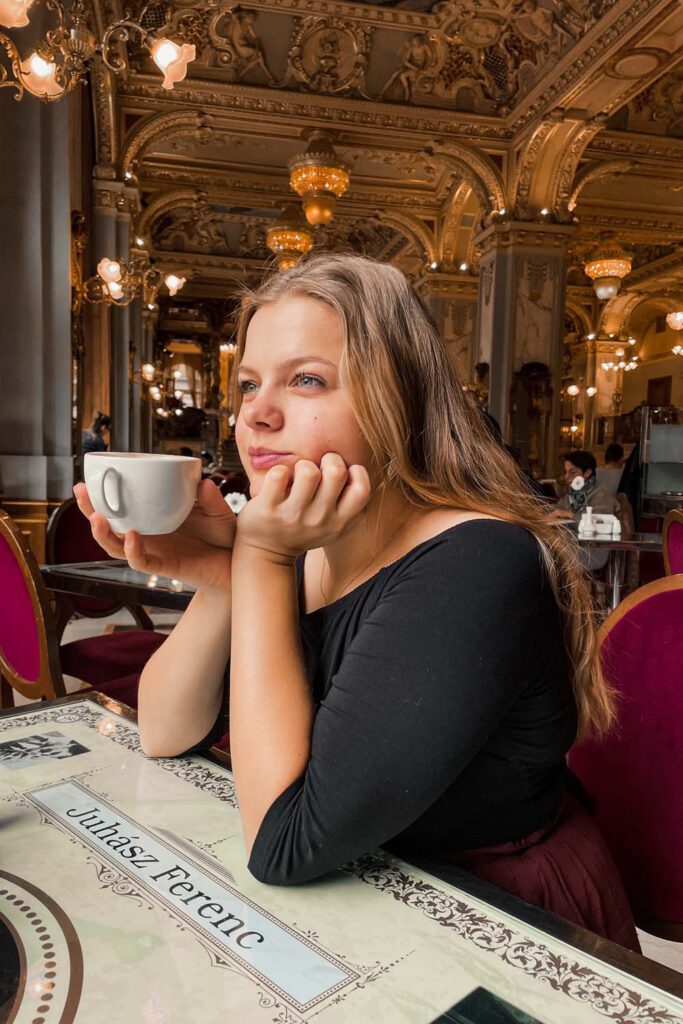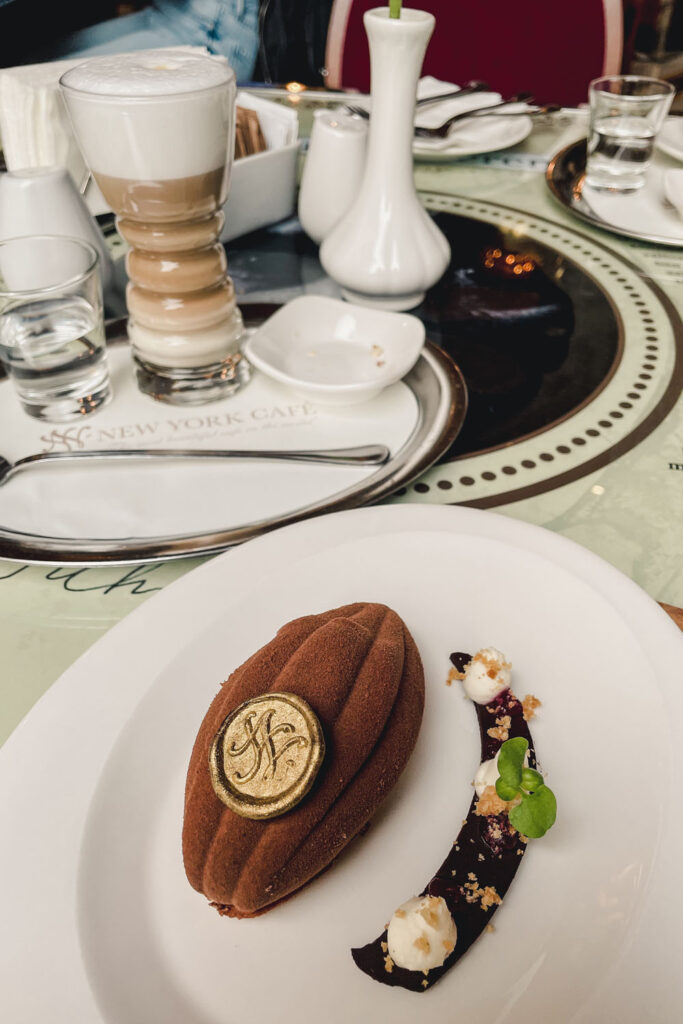 Liberty Statue & Hike to Gellért Hill
This highlight of Budapest is one for those who like to be a little more active! The destination of the hike to Gellért Hill is the Liberty Statue of Budapest. Unfortunately, it was closed when I was there. However, the real treasure of this hike is actually all the amazing views you get of Budapest! It is simply fabulous and getting up there is almost like a workout itself! A total double-win, if you ask me!
Pro Tip: My recommendation is to start your hike at Elisabeth Bridge and walk your way up and afterwards down to Liberty Bridge! This way you can directly have your lunch at our next highlight of Budapest!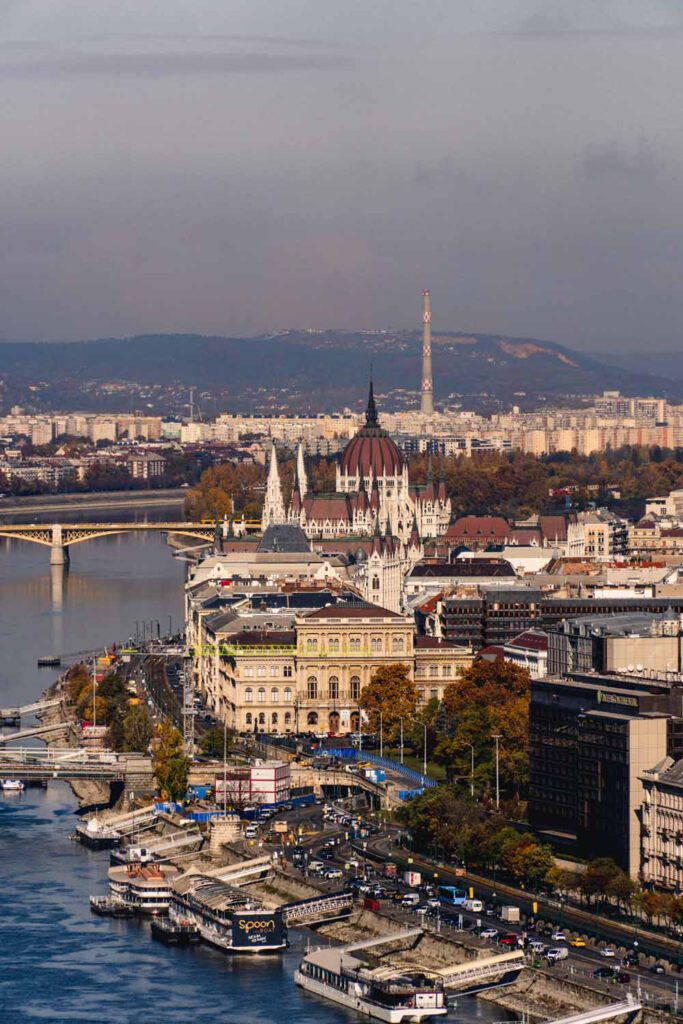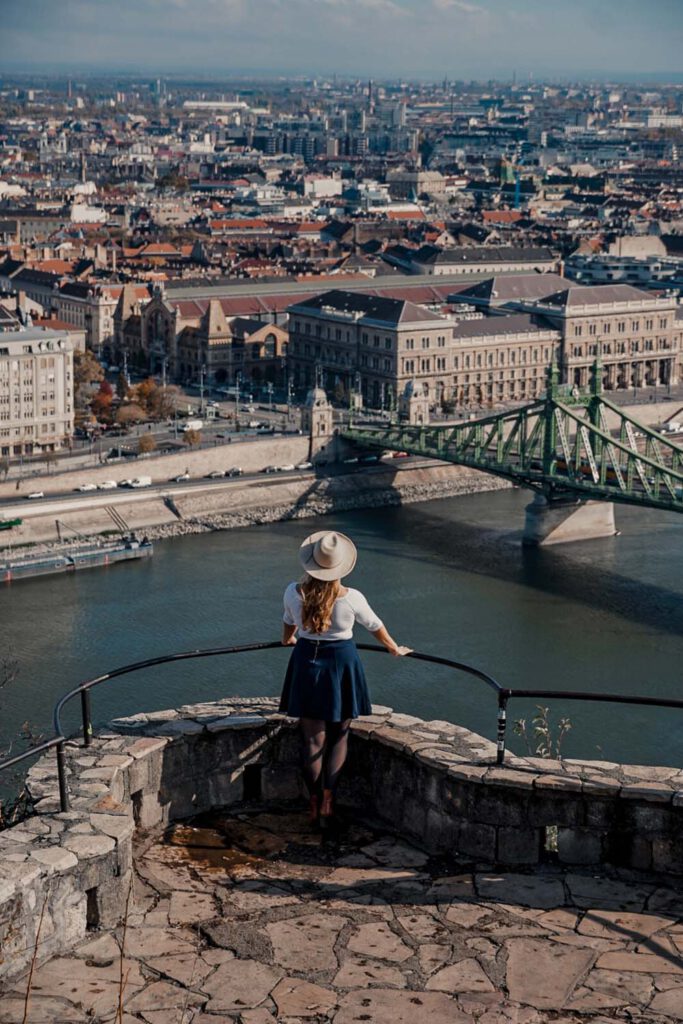 Central Market Hall
Ok, I am quite the foodie and I love to explore other cultures through their eating habits and Hungary has a lot to offer for sure! And the one place, where you can just totally have the absolute feast on Hungarian dishes is the Central Market Hall! You can find it on the Pest side of the city almost directly next to the liberty bridge. Inside you can find many stalls, selling produce, delicacies, and more. It is amazing to explore it and look at all these different things!
However, we decided to have our lunch at one of the restaurants inside of the Hall, one that is right on top of the entrance. There we had traditional Hungarian food, as I went for goulash and my friend for the typical Hungarian beef stew, you can find in almost every restaurant.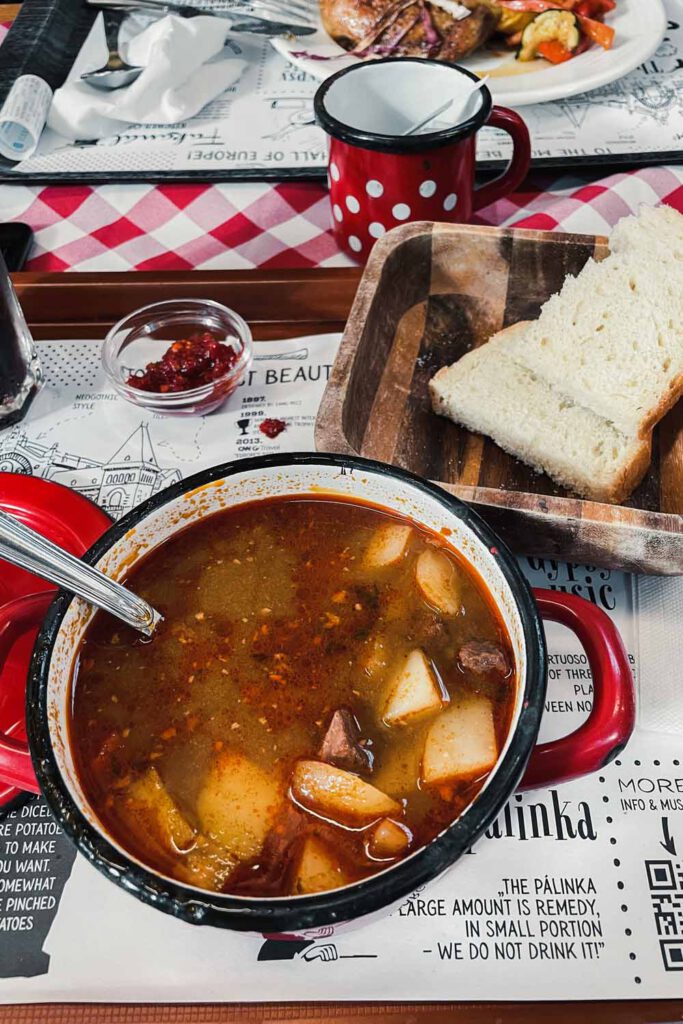 St. Stephen's Basilica (Szent István Bazilika)
This one was super close to both accommodations I stayed at, so I think I saw almost every angle of it. St. Stephen's Basilica (Szent István Bazilika) is a magnificent building and is topped and filled with amazing art. For me, it is crucial when visiting it, to approach it from Zrínyi U. to see its front first!
You can enter the Basilica by leaving a little donation that goes into restoring the basilica. Its inside is incredibly beautiful and mesmerizing and I can't recommend it enough! Truly! You didn't see this church if you didn't also see it inside! For those who still can't get enough: if you are willing to pay a little entrance fee, you can also explore the basilica's upper levels and panorama lookout!
Széchenyi Thermal Bath
One thing Budapest is incredibly famous for is its thermal baths! In fact, while I was staying there, I heard of a total of three baths, Széchenyi Thermal Bath, Gellért Bath, and Rudas Bath. When you are staying in Budapest, make sure to visit at least one of them. For this, it is also important to book the tickets in advance. This is a must, as the number of tickets per day is limited.
During my week in Budapest, I decided to go to Széchenyi Thermal Bath, the largest medicinal bath in Europe! I was quickly swept away by its sheer size and variety of baths and saunas. Besides its insta-famous outside basins, there are countless other basins inside, all with different temperatures for you to either warm up or cool down, whatever you are in the mood for! Personally, I love the feeling of sitting in hot water, until I look like a lobster. Therefore you could spot me trying to find the ones with the highest temperatures around.
For the perfect day in the thermal baths, I recommend you bring a nice robe, a towel, and a book of your choice! Take your time to wander around, relax and have the most awesome day you can imagine!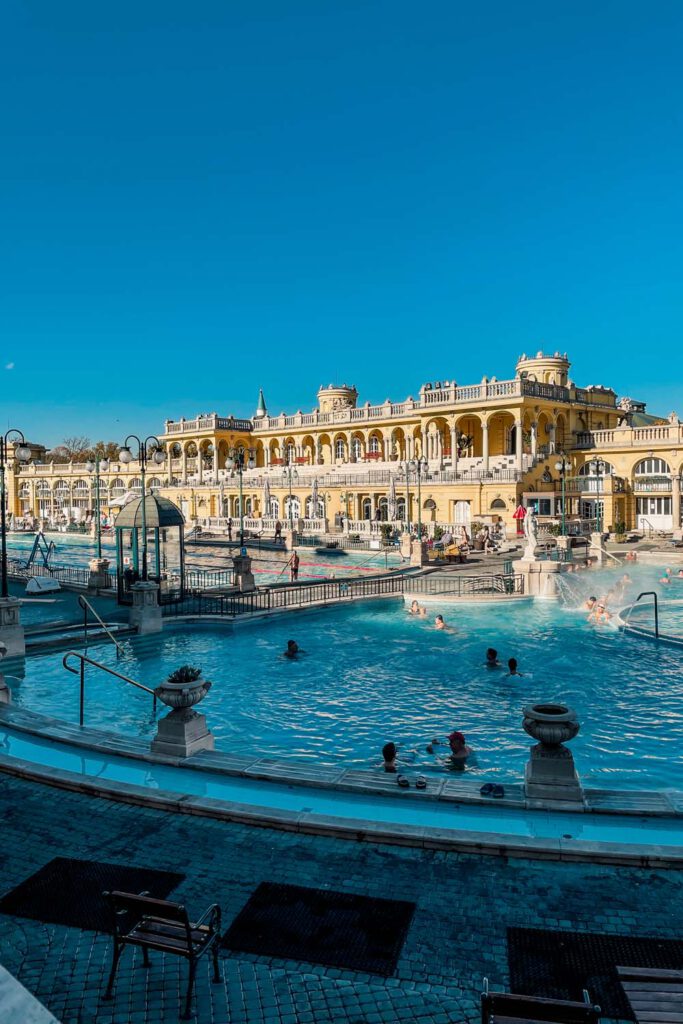 Vajdahunyad Castle
This little one highlight of Budapest is quite small and overlooked and maybe that's why I fell in love with it so quickly. Obviously, I am wrong with this, but before coming to Budapest I had never heard of it and never seen it in pictures, so I just stumbled over it randomly and it felt a little like I made a cool discovery! It happened as I was too early for my visit to Széchenyi Thermal Bath so I wjust andered around. Then I came across Vajdahunyad Castle and and it simply sweeped me off my feet!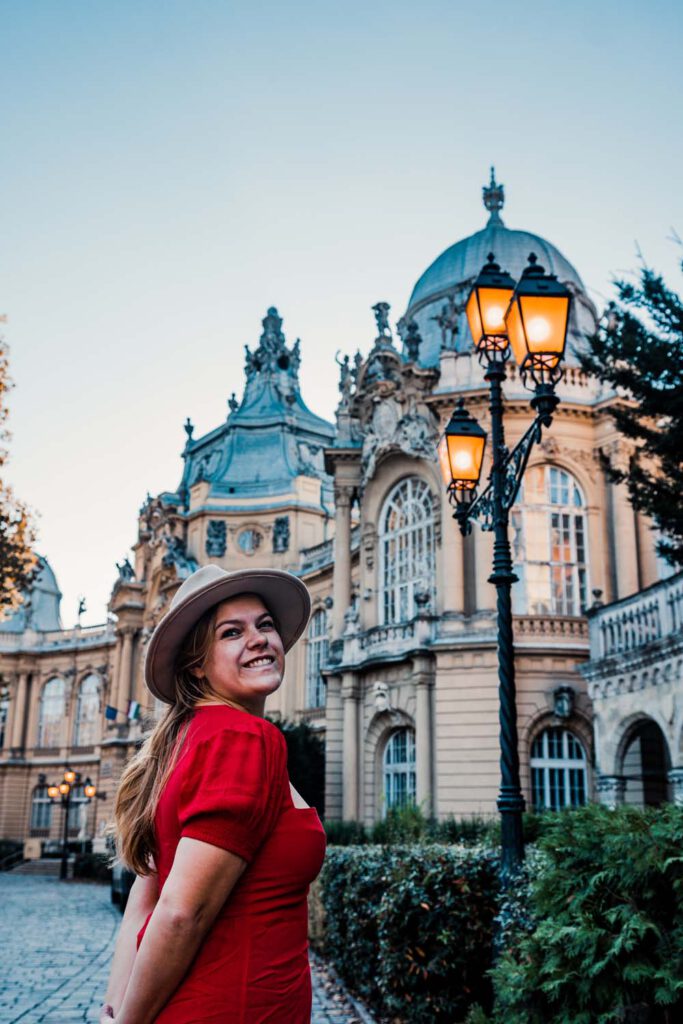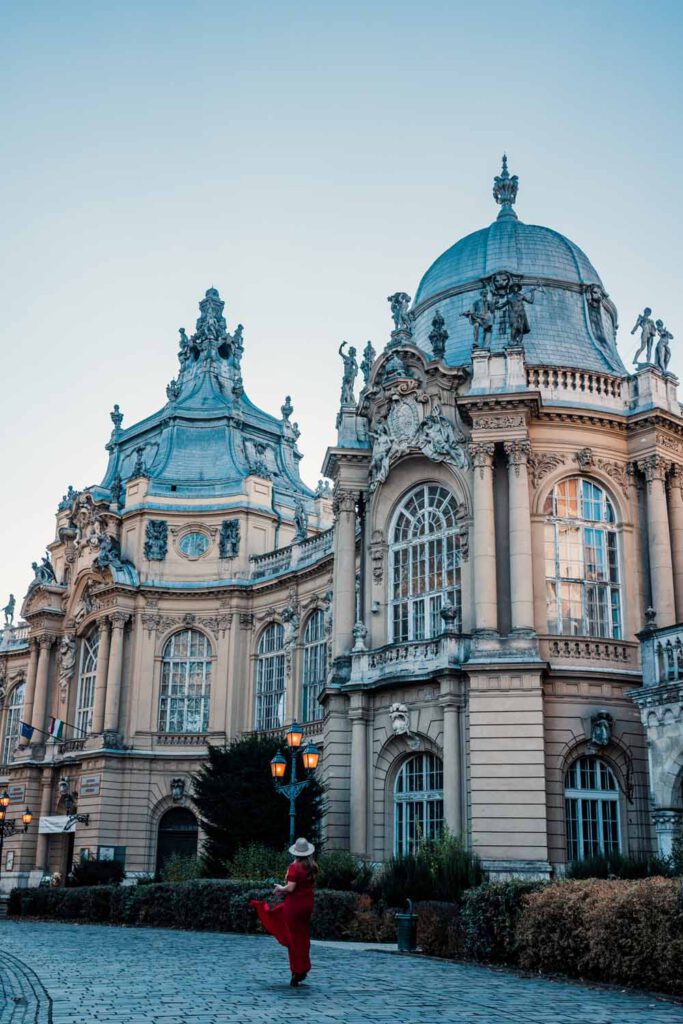 The castle is just very pretty and by being so early I caught it in the most beautiful morning light! So make sure to have a short stop here before going to the thermal baths!
Heroes' Square
Heroes' Square is the next sight which is just around the corner of Széchenyi Thermal Bath and you can pass it when you are on your way to the baths! The huge open space is simply magnificent and framed by two beautiful structures. Personally, I liked them best during sunset when everything the sun just shone on it in the most breathtaking way, dipping it into these wonderful soft colors.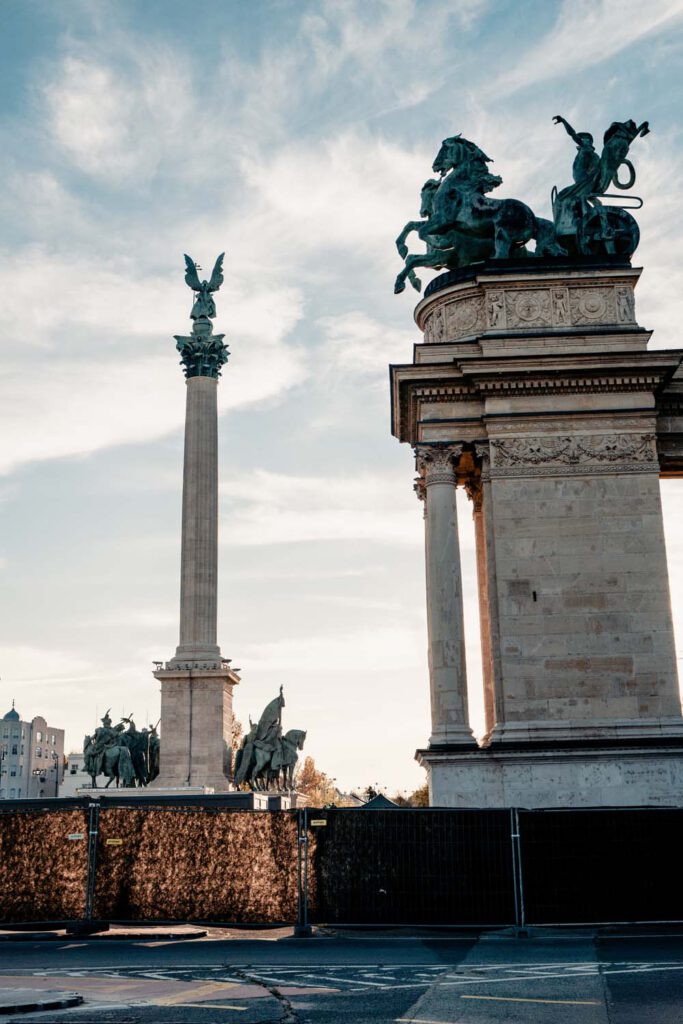 Danube Promenade
My last highlight of Budapest has to be another nice view for sure! You can spot one of the most impressive perspectives one can get of the Hungarian Parliament is on the Buda side of the river just right outside Batthyány tér station. It is the perfect location for a little walk in the afternoon or if you just want to sit down and read for a little while. Oh and for you to get the most awesome panoramic pictures of the parliament!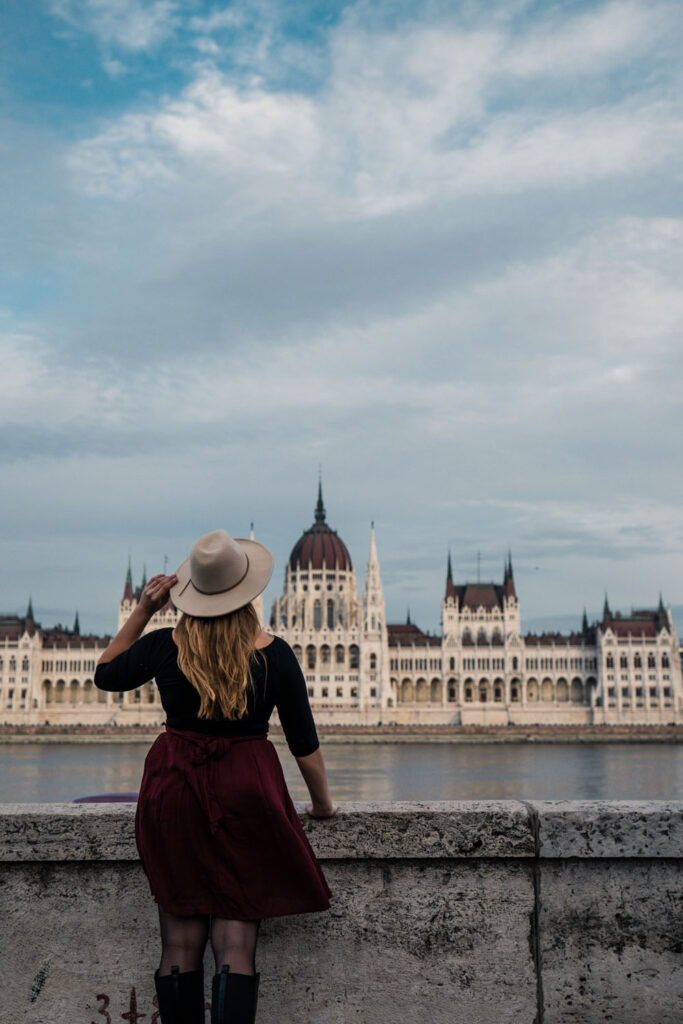 Liked this post? Make sure to pin it for later!