Hello and welcome back! Before you start reading this post about our road trip in North Wales, you should read about the first part of it, how we road tripped South Wales! Given the case that you already did that, then let's start right where we stopped; we just walked down a part of the Pembroke Shire National Coast Path. After inhaling some of the fresh sea side's air we decided to drive further north. We packed our seven things back into our car and drove off.
Our Route
Our roadtrip in North Wales only lasted for roughly four or five days before our vacation ended. We had the most amazing time but to be honest after 10 days of sleeping in a rather small car, we had a small mental breakdown and then decided to drive all night to catch the ferry a day earlier. Nevertheless we had a wonderful time in North Wales and really love to think back to it!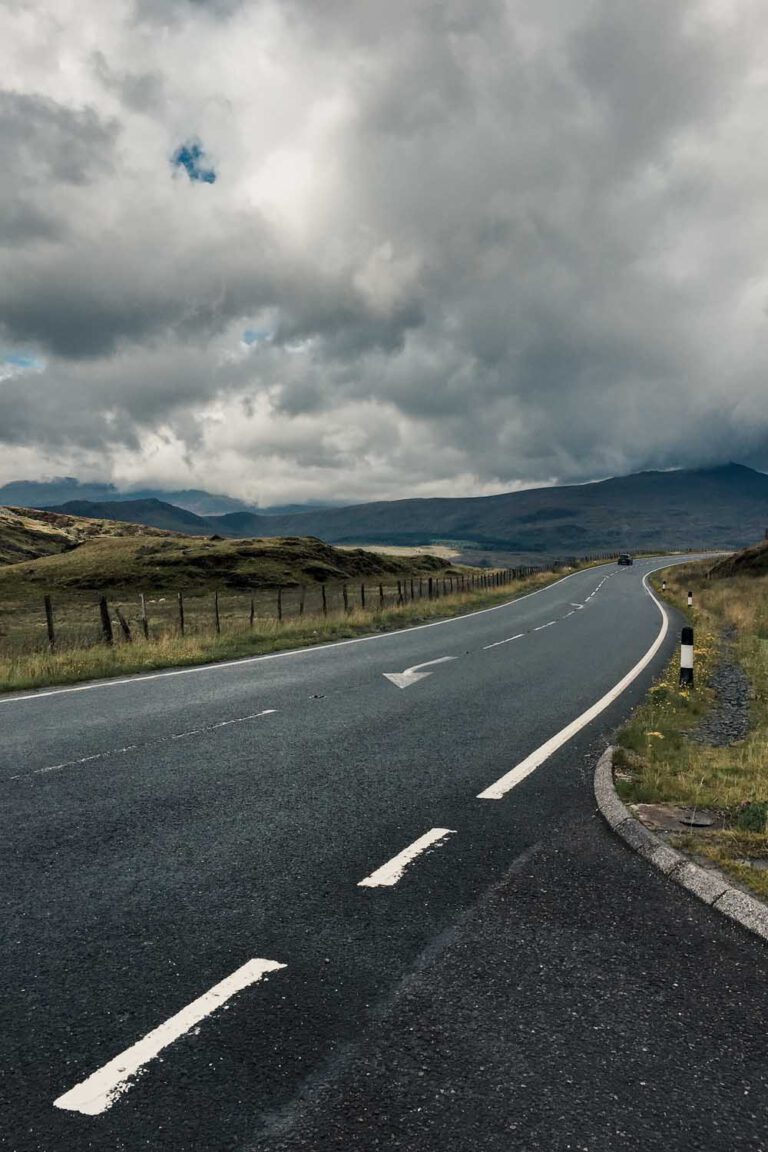 First Stop: Cardigan
After driving for a while we came to a lovely town called Cardigan! We parked our car went for a small stroll looking at small houses and neat alleys. We had a nice burger there before we checked into a nice camp site for the evening. There isn't much to say about this day, just that it was beautiful and we enjoyed this laid back time.
Second Stop: Llangranog Beach
The next morning began a bit more promising. We started our day with driving to Llangranog Beach, a beautiful place. Getting there is kinda hard, as the roads leading there are super small and tight, making it hard to enter when you are driving a bigger car. But there are still possibilities to park your car get to the beach by foot. We spend some time around the area before we had our coffee at Caffi Patio, a small café that serves amazing chocolate with marshmellows. It was a wonderful morning.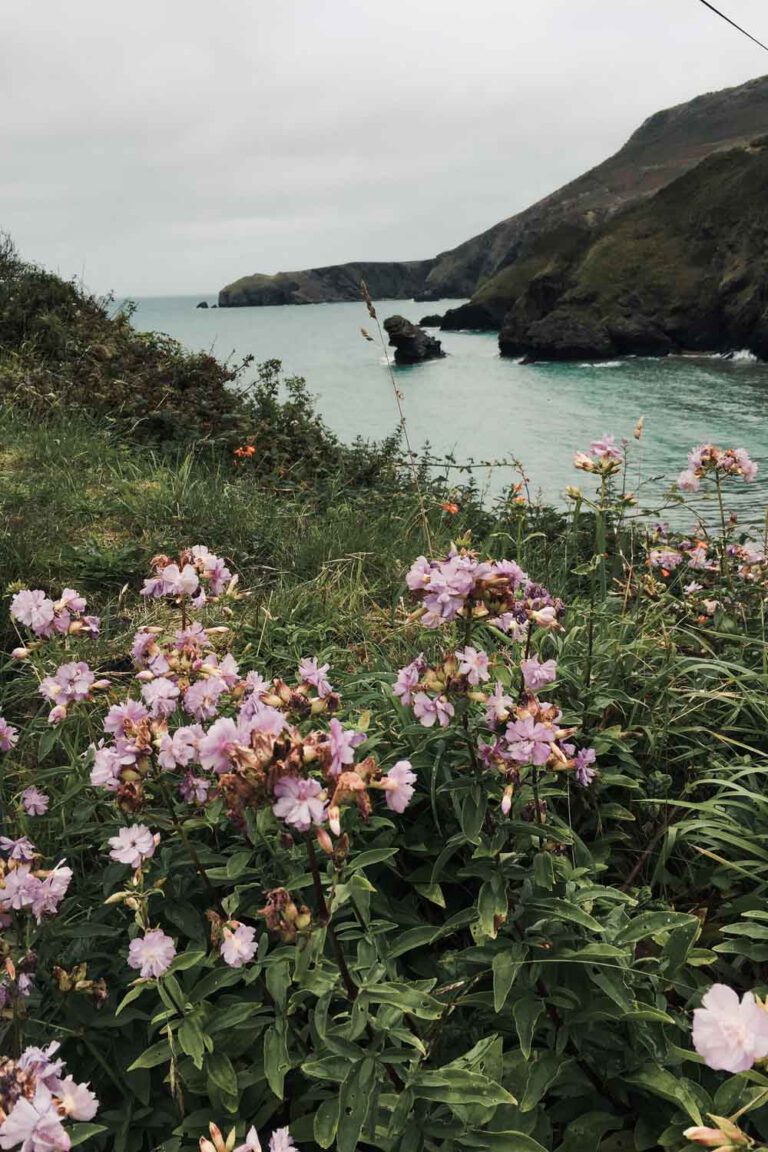 Thrid Stop: Aberystwyth
We drove further to one of North Wales bigger cities, Aberystwyth. After a little bit of shopping and a pizza, we just did some grocery shopping and went to bed early as we prepared for our net big day!
Fourth Stop: Snowdonia National Park
We woke up this morning and not only that it was my birthday, we also started driving to Snowdonia and to be honest this was one of the most amazing days of our journeys. There are many reasons to visit Snowdonia, but the most important might be that these landscapes are just breathtakingly beautiful. I didn't count how many photo stops we did that day but we did many. I want to talk you through my favorite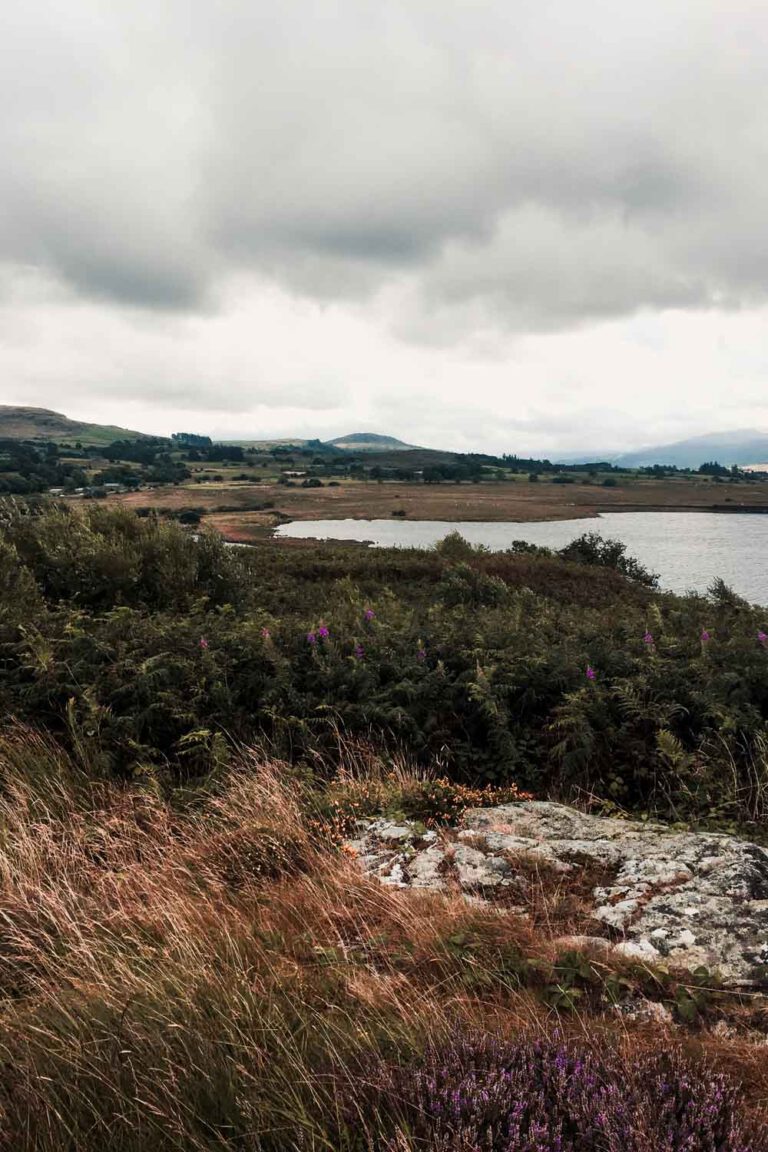 Betws-y-Coed
Another beautiful town that we fell in love with (can you even keep track?). After we drove through one fantastic scene after another, we had our daily fish and chips there. It was just wonderful. It just a town straight from a fairy tale.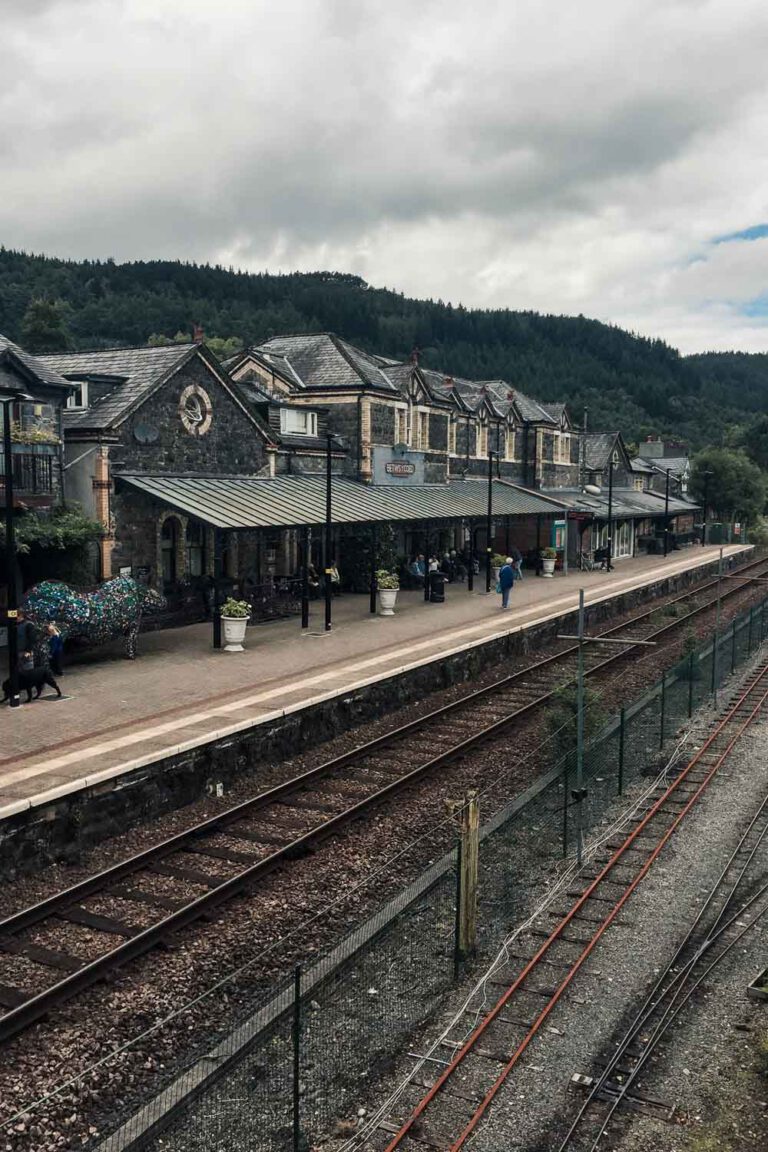 Swallow Falls
After our delicious fish and chips it was time to see our next big sight: the swallow falls! They are pretty close to each other so getting there is easy as pie. You have to pay to get in but once you entered the area you will be blown away by the sheer force of the water! The falls are wonderful and it was amazing to see them!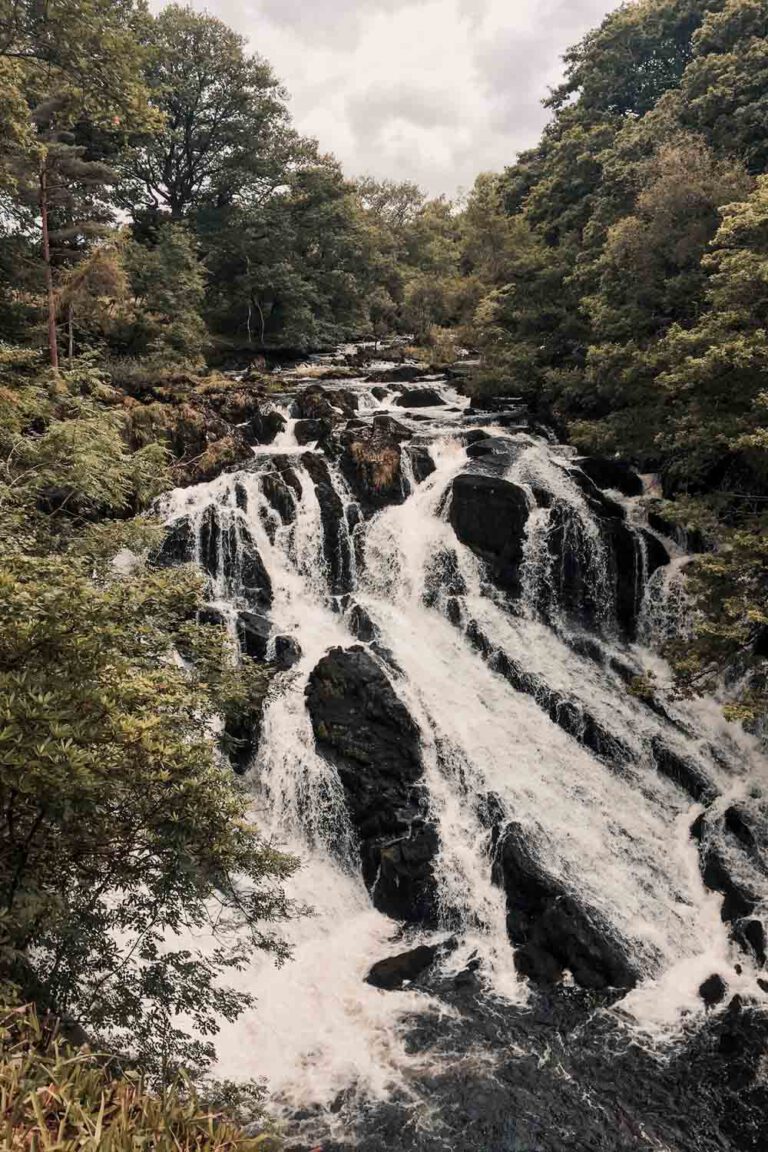 After admiring the Swallow Falls, we just crossed the street and checked into the Swallow Falls Hotel, who were so friendly to let us stay on their parking lot with our improvised camping car. We snuggeled in and were listening to audio books until we fell asleep.
Fairy Glen
The next morning we checked for our last highlight in Snowdonia. The so called Fairy Glen is a magical place and an amazing thing to experience in this area! To get there you start from a parking lot and then you can walk to Fairy Glen. It is a nice small hike through some fields and a nice forest until you reach the small river. Make sure to bring a water proof phone case, or hold your camera tight: my phone almost fell into a puddle.
Fifth Stop: Llanfairpwllgwyngyllgogerychwyrndrobwllllantysiliogogogoch
When we finished Fairy Glen we decided to go directly to our next big destination: Ynys Llanddwyn. But before we reached this wonderful place we had another nice stop. We came across the town with second longest name in the entire world. Llanfairpwllgwyngyllgogerychwyrndrobwllllantysiliogogogoch is a small town where we had our lunch but didn't stay too long. Which is ok, as I think the biggest attraction of this town is actually its name.
Final Stop: Ynys Llanddwyn
Let's be honest: sleeping in a car for 10 days was hard… But in the end, we forgot it all when we reached Ynys Llandwyn. We parked our car in the official parking lot and saw one wonderful beach. We walked for what seemed like a long long time to reach the small peninsula. With its small lighthouse and green lush grass, we were simply speechless. You can't imagine the beauty of this place if you never saw it. The fresh air, combined with the sea around us was just overwhelming. I really do think that no roadtrip in North Wales is completed without a trip to this peninsula.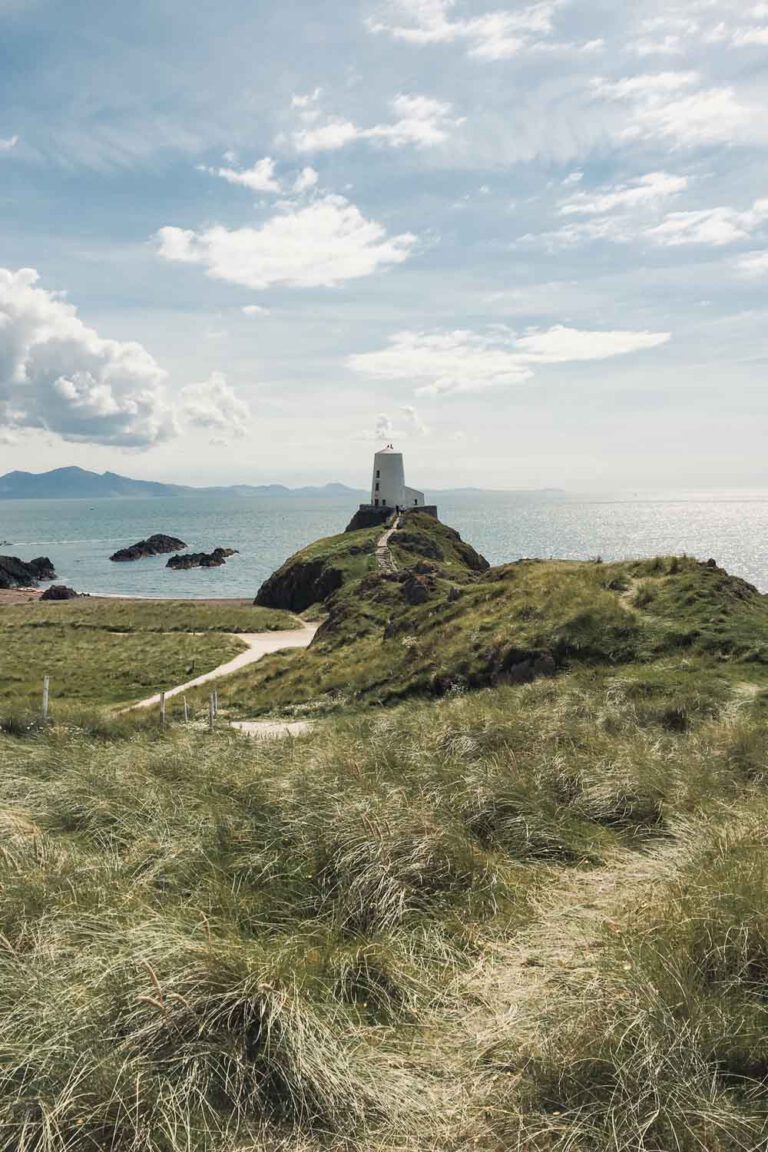 And that's it! Was this helpful to you? Did I miss something that should definitely be on this list? Let me know! I would love to add it to this post!
Liked this Post? Pin it For Later!