Hello and welcome back! This post is going to be filled with food so make sure you have a Polish restaurant close to you because you will want to eat all of the below asap. Here comes my Warsaw Food Highlights!
Lately, I have been writing a lot about food and cuisine. I didn't plan to go in this direction but I more and more discovered that food is one of the best ways to connect to a different culture! If you are interested in learning more about a cuisine you might never tasted, check out my post about the food of Riga!
So let's begin with the actual post! I will start to tell you the basics about Polish cuisine and then you will be hit with all my concrete restaurant tips!
What to Eat
Pierogi. Pierogi. And more Pierogi.
Even if you never heard anything about Polish food you probably heard about Pierogi. These famous little fellas are so damn delicious that you just shouldn't miss them!
Basically, it is a noodle filled with some delicious stuff! Similar to the Italian Tortellini, the Chinese Dim Sum, or the German Maultasche. Lovely how we are all separated by our outward appearance, language, and beliefs but still share the same love for fillings wrapped with dough.
The Pierogi is a bit more hearty than its foreign cousins as it is mostly filled with meat, kraut or onions. But honestly, the fillings vary from restaurant to restaurant. We also had some filled with feta cheese and spinach.
For dessert, you can also order pierogi filled with chocolate, berries, or cottage cheese.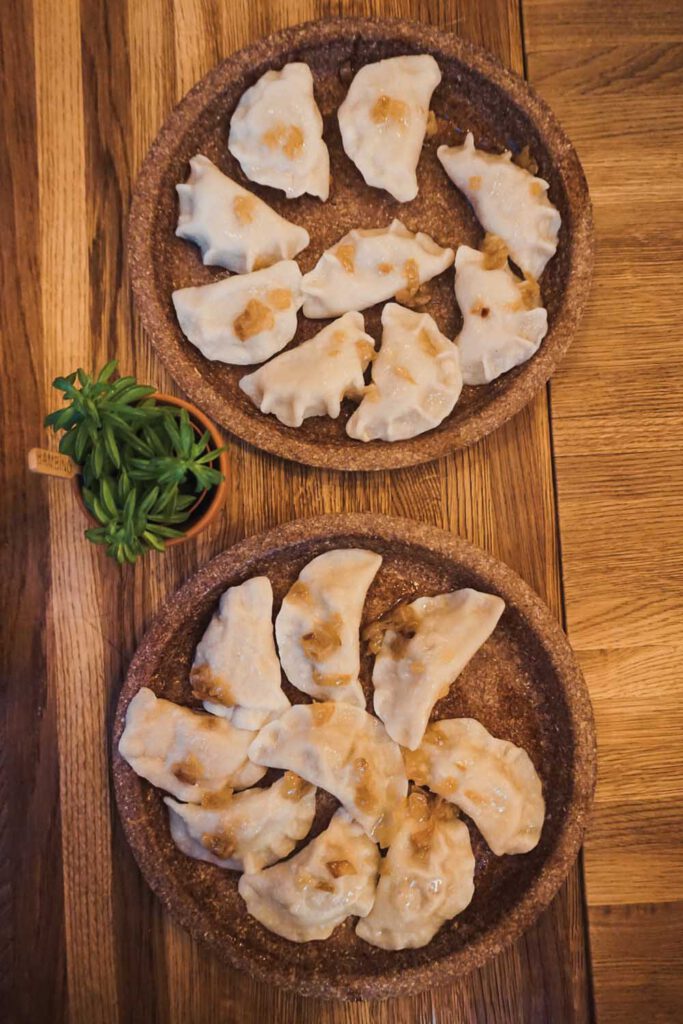 Sausages
Poland is famous for its sausages! There are all different types of it with different fillings and tastes. Mostly you will get them topped with onion and with kraut!
Soup in a Bread Bowl
I had this and it was super delicious! Warming like soup and stuffing like bread, this is the perfect combination for a hearty lunch.
The soup itself was made with sour cream, onions, sausage, and an egg!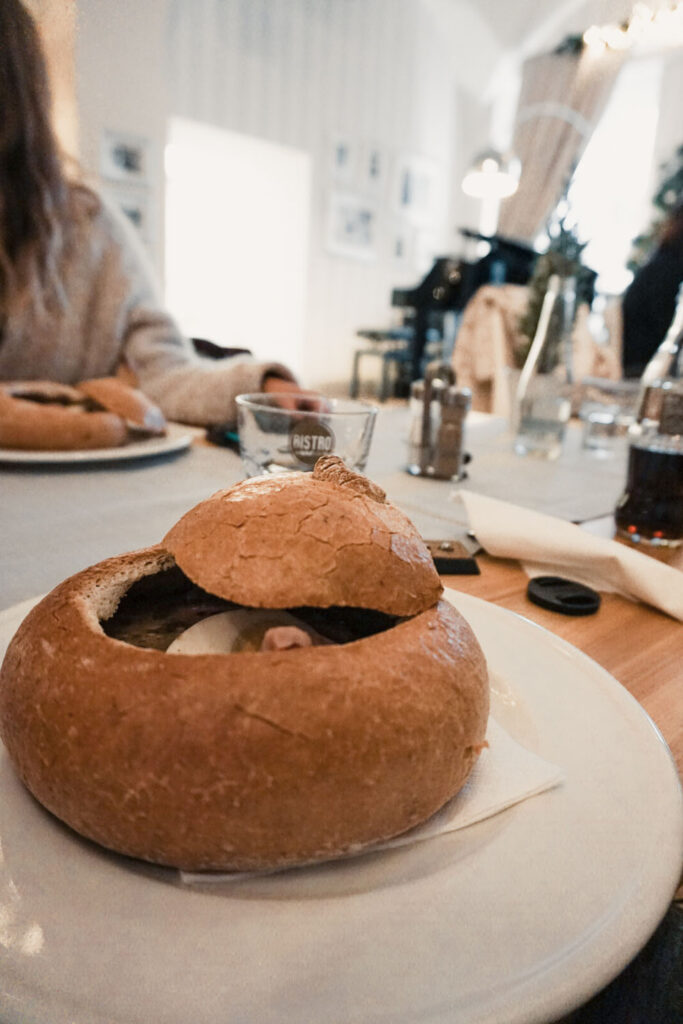 Kopitka – Potato-pasta!
We had Kopitka during our feast and it was the dish that we finished the fastest! It is a bit like an Italian Gnocci, like pasta made from potato and they are just the perfect side to any Polish dish!
Something with Kraut.
German and Poland both made up very good kraut. Polish kraut is super delicious and if you order some food, you should surely pick up kraut as a side dish!
Where to Have all those Warsaw Food Highlights!
Now I told you about the dishes I tried I want to tell you where I tried them! Of course, this list is short, as I only spend a weekend in Warsaw. But if you have a restaurant that just shouldn't be missing from this list, hit me up!
Pierogi place
When I looked for the best pierogi in our area, this place popped up on Foursquare! It is small and only has a few tables but it is lovely to see the open kitchen with all the pots, where they prepare the pierogi. My tip is, of course, to share the plate with a few guys and try as many variations as possible! My favorite ones were filled with ducks and onions! Unfortunately, this place has no entry on Google Maps, which is why I could only give you a rough position of the restaurant! I hope you can find it!
Zapiecek
We found this while looking around and we were amazed by the menu. And best: the restaurant is literally everywhere in Warsaw. Usually, I don't recommend food chains, as I want to support local restaurants and cafés but as this has delicious Polish cuisine I can recommend it with my full heart. The ribs are amazing!
Regarding the location: There is a Zapiecek at almost every corner of Warsaw's Old Town! Just keep an open mind and you will soon find one!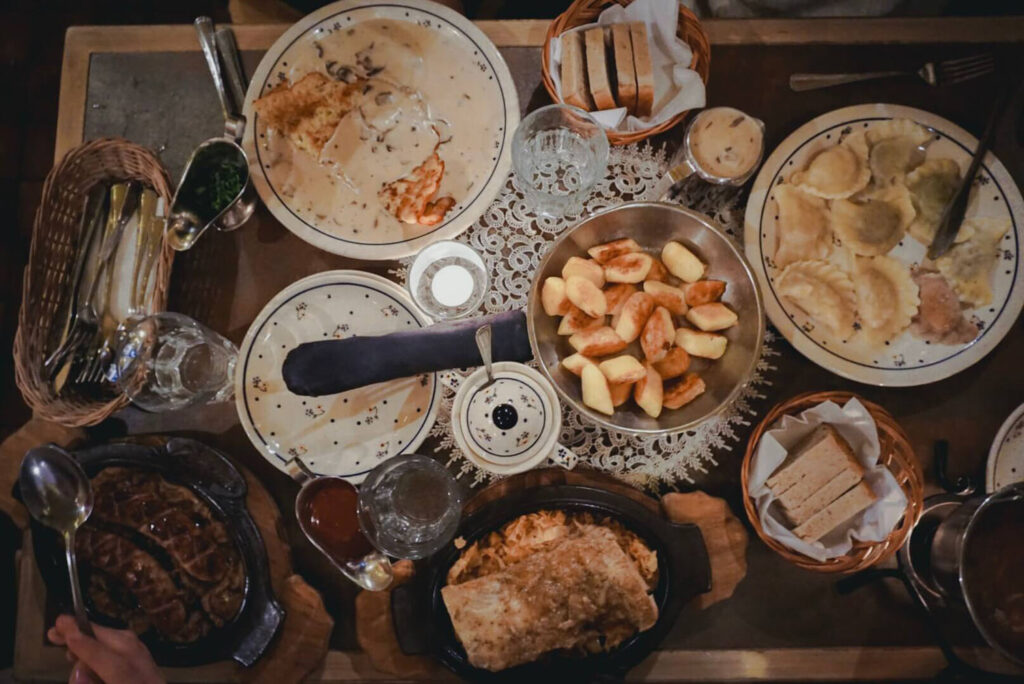 Bistro Warzsawa
This cute little restaurant is directly next to the marketplace and we loved the food and the interior. We went, therefore, to lunch and it is where I had my soup in the bread bowl. It is super cute and even has a piano. The food was super delicious and I would have loved to try more than just one soup!
Recommended: The Best Cafés of Warsaw!
Mango
After eating all this meat, you might get tired of it! So that's why you should visit the Mango restaurant! It is famous for its vegan cuisine and I had an amazing kimchi falafel wrap. Otherwise, they serve great Polish lemonade too!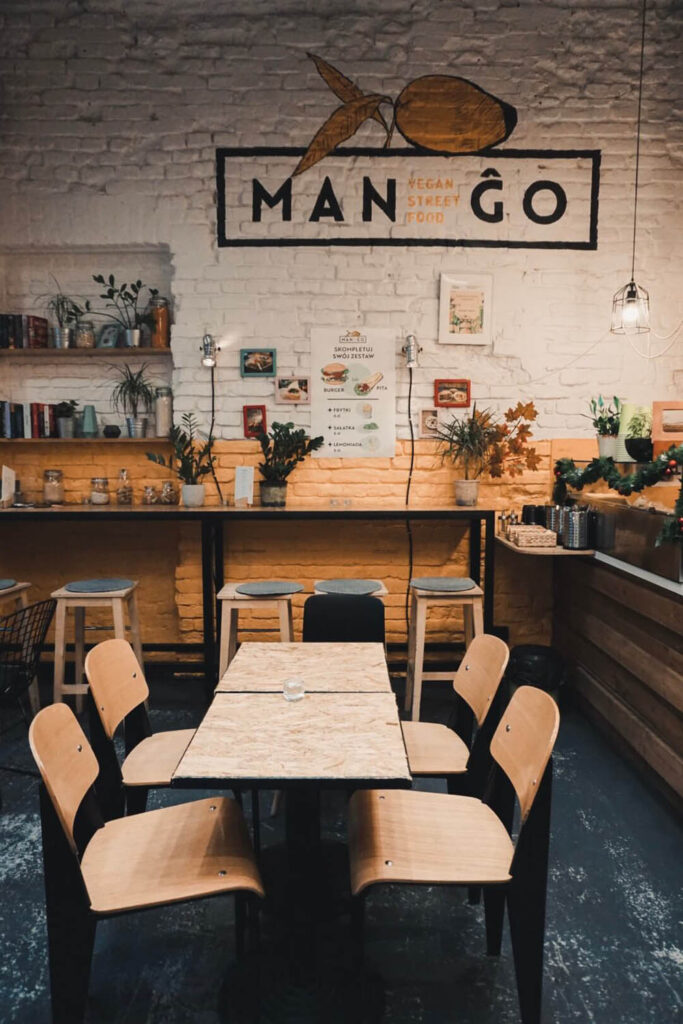 So that's my guide to Warsaw's food! If you enjoyed it, check out my latest post about this beautiful city during Christmas time!
Liked This Post? Save it For Later!