Hello and welcome back! You might already know that I just returned from a trip to Edinburgh and I really fell in love with this city! When you are walking its streets you will feel as if it fell straight out of a Harry Potter movie. Arriving on the bus really took my breath away. My friend I went with instantly said "Let's move here" (Later he took back what he said. But let's talk about this later.) Visiting Edinburgh, therefore, was a true highlight for me.
So yes, let's talk about how to plan a trip to Edinburgh, how to handle the logistics, and what to do to get the most out of your trip to Edinburgh!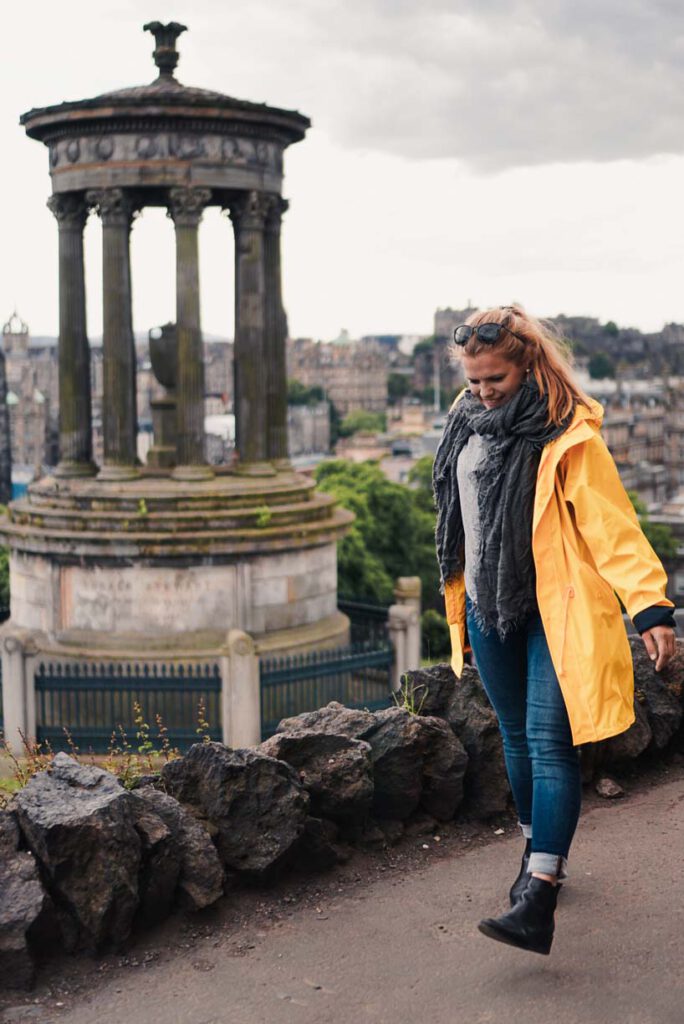 The Logistics
Flight
Wherever you come from, you will possibly have to book a flight to Edinburgh airport. We flew with Flybe and I really enjoyed all three flights we had there.
Accommodation
Edinburgh, like all bigger European cities, can be quite expensive when it comes to central accommodation. As I love to be as close to all the sights as I can, we settled for an Airbnb in Bruntsfield. The area was super nice and safe for female solo travelers. It had a lot of nice cafés, restaurants, and shops as well.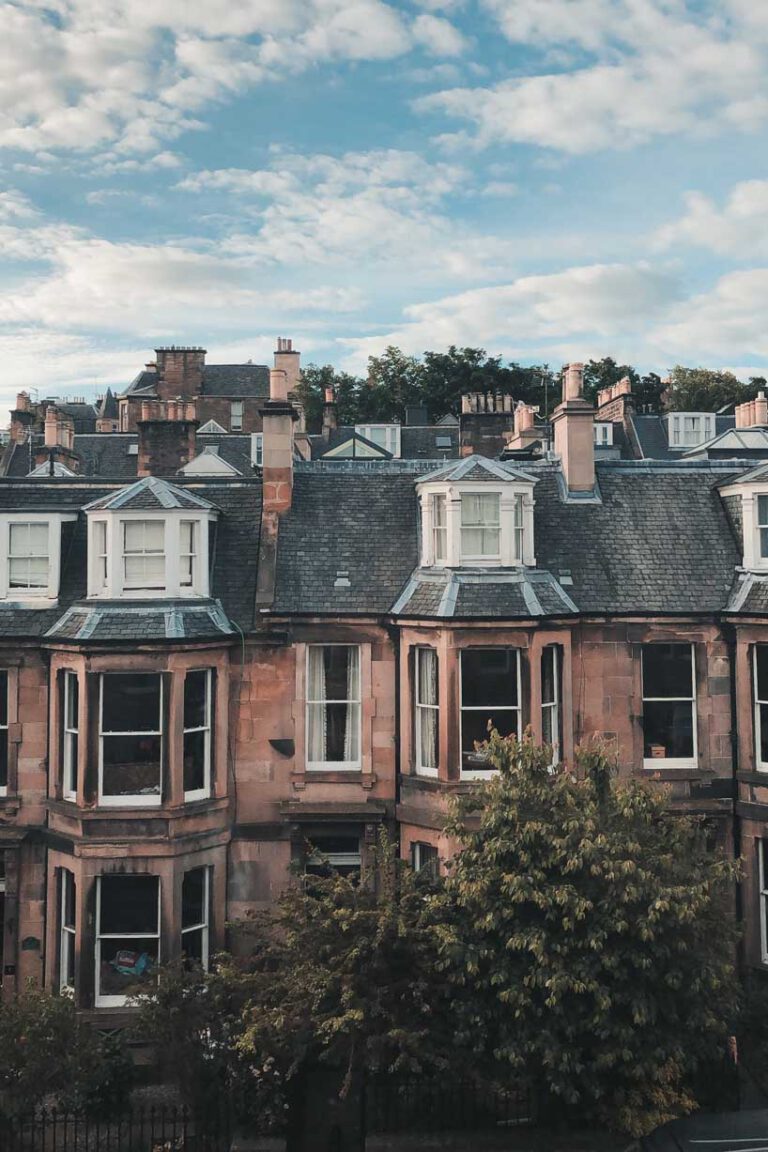 Want to learn more about Edinburgh? Check out where to stay in Edinburgh with a baby!
Getting Around & Airport Transfer
Ok, so how do you get from the airport to the city? Edinburgh came with a wonderfully simple solution: the line 100 airport link. Just step outside the airport, follow the signs to bus 100, pay 8,5£ for the bus, and within 30 minutes, you will be at Waverley Station, directly in the middle of Edinburgh. Easy as pie.
The Sights
Edinburgh is a city that I fell in love with at first sight. Everything looks so beautifully huge, a little bit dark but still friendly as if you fell straight into a Harry Potter movie (everything looks like Hogwarts there!)
Old Town
The most picturesque (but therefore also crowded) area of Edinburgh. My personal tip is to approach it via Cockburn St. and have a coffee there. You will find the cutest little shops there and the first Harry Potter Shop (one of the many to be honest. But I was still happy that I spotted it right there!). From there you will reach High St. which will lead you to Edinburgh Castle. Follow this street and be in awe of this beautiful architecture and impressive churches and monuments, until you will get to one of the most impressive sights.
Ross Fountain
Princes Street Garden is a beautiful park that is close to Edinburgh Castle and is perfect for some strolls. The place that I liked most there was the Ross Fountain. Surrounded by flowers it offers beautiful motifs for pictures. My favorite Edinburgh Instagram spot!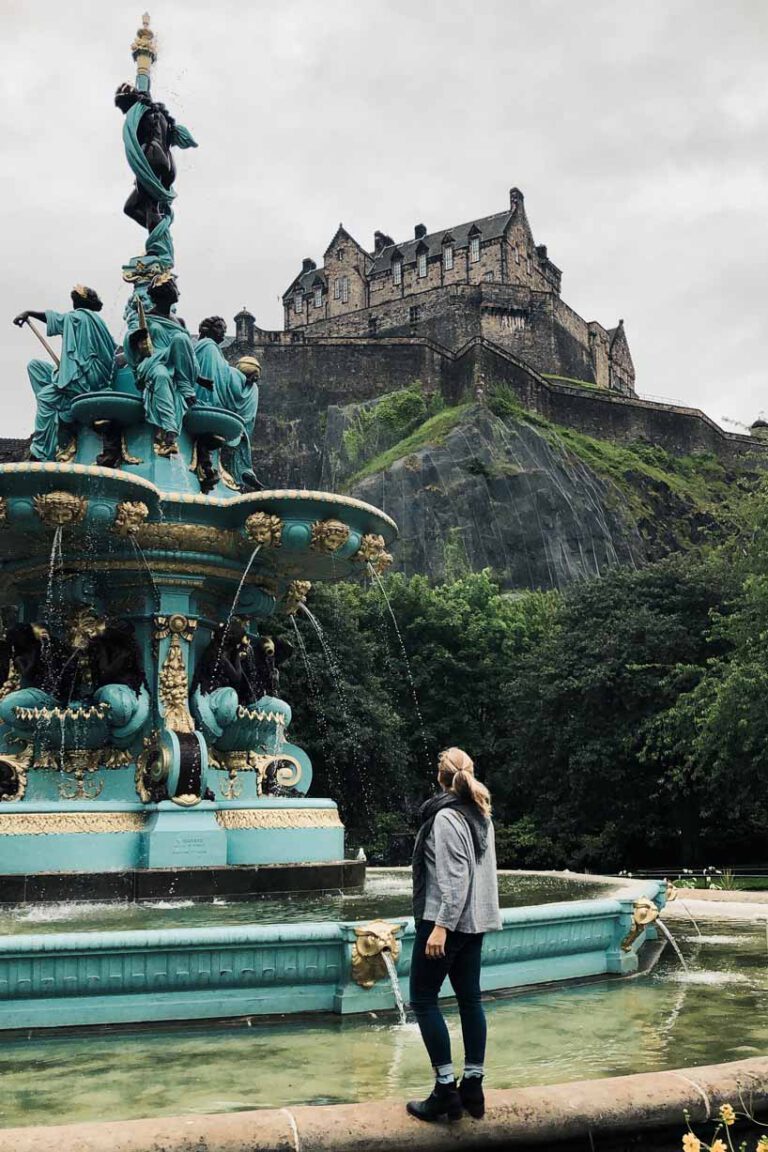 Castle
The most monumental sight of Edinburgh is the castle. When walking down High St. you will get to see it quite soon. You can also see it from the Princes Street Garden and from a lot of other angles! For those who are willing to pay for it it is also open for a visit. But as I wasn't willing to pay 20£, we skipped it, but I am pretty sure that it is amazing!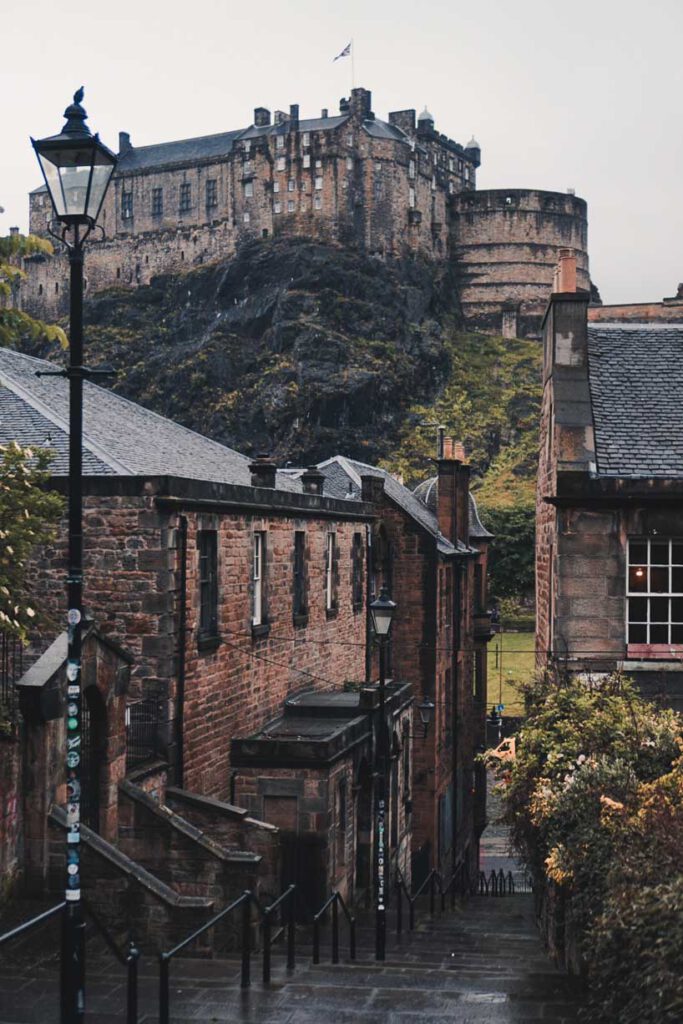 Elephant House
A must-do for every Harry Potter fan who is visiting Edinburgh. Did you know that J K Rowling started to first the first Harry Potter book in Edinburgh? To be accurate, she started to write it in the Elephant House! It is a small restaurant in the heart of Edinburgh where you can still have your lunch. But be aware that you need to be there early on, as the restaurant is quite crowded.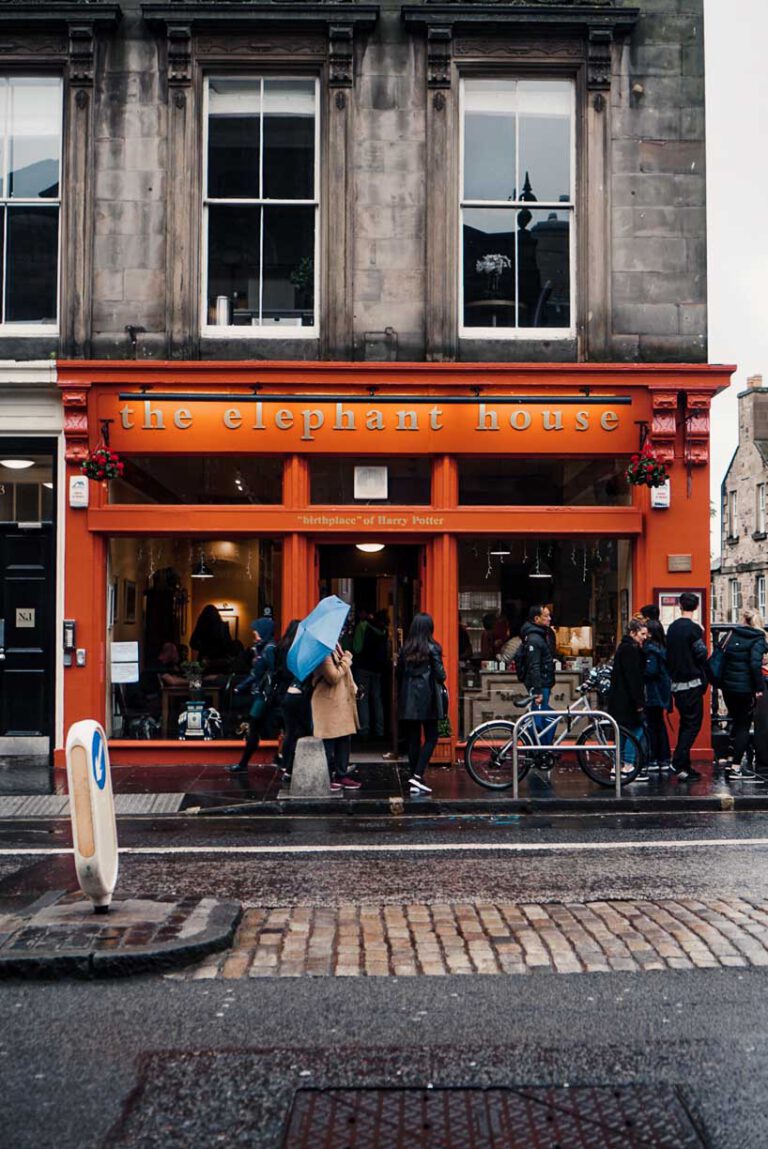 Walking, Walking, Walking
For me, the best thing to do when visiting Edinburgh was just to walk around and enjoy all the wonderful buildings while taking a stroll around. There is so much to see and so many tweed shops to visit that walking around will take up most of your weekend!
Calton Hill
This is one of my favorite Edinburgh sights by far. Calton Hill is (what a surprise) a hill. On top of it there are some amazing buildings but what I enjoyed, even more, was the view that you get when you are up there. Seeing the city in a panoramic view like this is truly breathtaking. If you follow the path around Calton Hill you will also get a wonderful view of the rest of the city and the beautiful Holyrood Par. We really wanted to visit it too but in the end, we were lacking in time.
Related: Visiting the Scottish Highlands!
What & Where to Eat when Visiting Edinburgh
As we had our dinners mostly at home, after long days of walking I don't have a lot of food tips for you. And for lunch, we had a lot of fish and chips (still the biggest tip.) but nevertheless, I want to recommend a restaurant to you. And something that is clearly not suitable for anyone. We also loved to stroll around to see the best cafés of Edinburgh, which was a highlight itself!
Guildford Arms Pub
This pub is so incredible! I didn't know what to expect when visiting a pub and it wasn't really what Guildford Arms is but it is an amazing restaurant that serves a great menu and for us the best burger of Scotland. We would always return!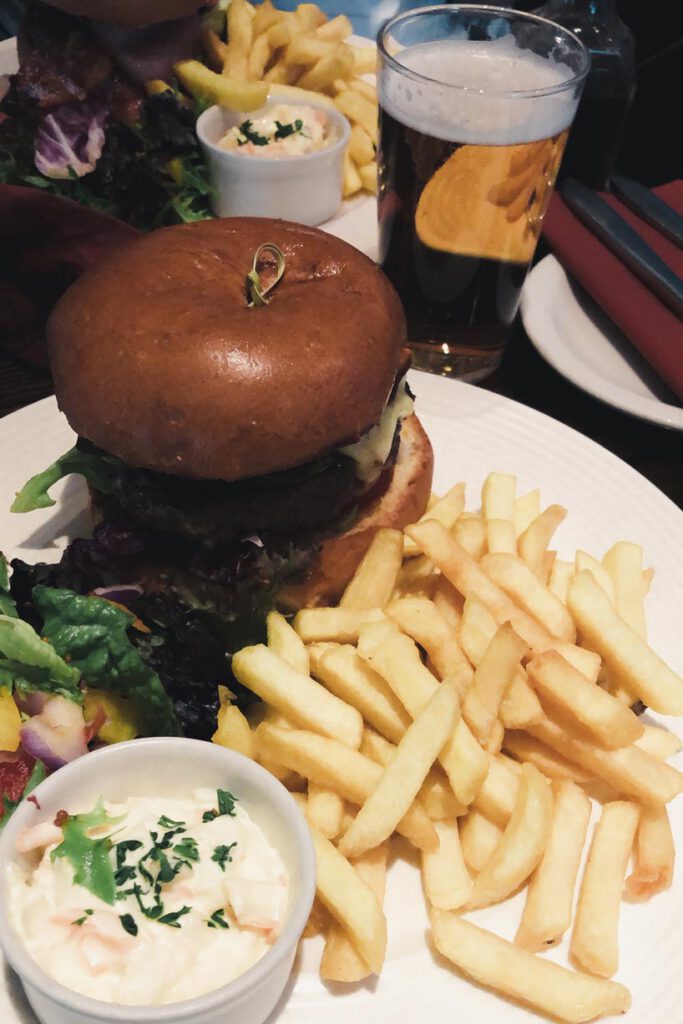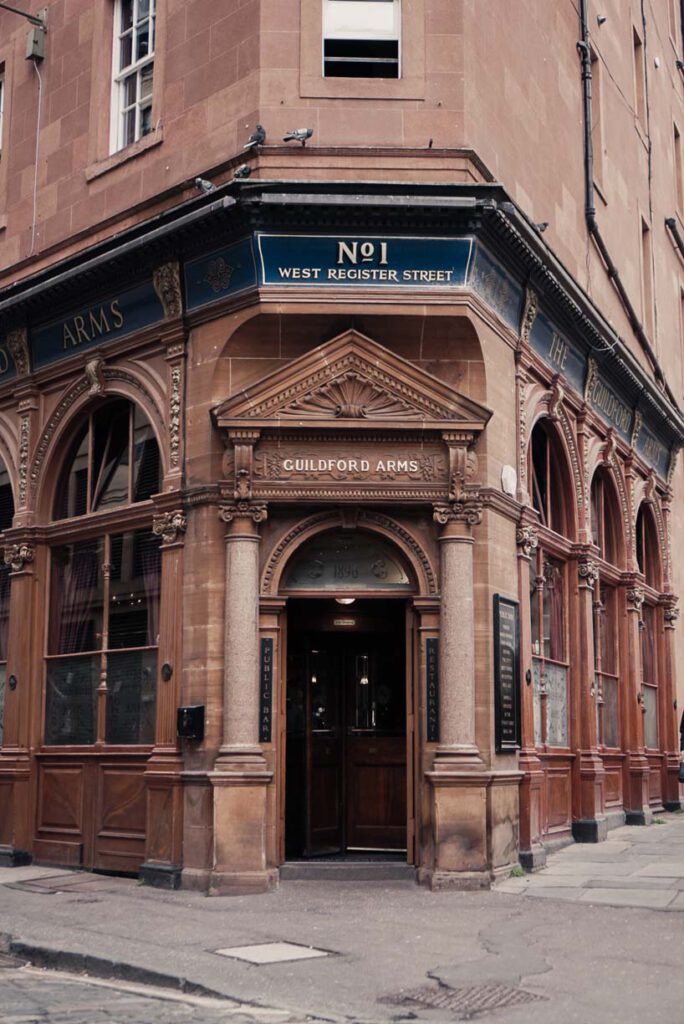 Have a Hog Roast or Oink
This is a tip that is really not very appealing to anyone. A hog roast is basically roasted hog meat in a bun with different sauces. You can also have Häggis on top of it if you like. There is no vegetable in sight, just pure meat, and white bread. Did I have it? Yes. Did I like it? Somehow. But I am still not totally convinced. If you are not a vegetarian, try it and have your own opinion. I clearly do not need to link you a map down below, as you can't oversee it. There is a roasted hog in their window.
Additional Tips
Well well well, actually I only have one tip for you but please take this one seriously: bring a raincoat. Scottish weather is almost as unpredictable as English weather and I would have been completely drained without my lovely little raincoat. Despite the rain, we still loved to explore a foggy Edinburgh as it gives a moody look to your pictures and makes the city even more mysterious and beautiful!
And that's it from my side! Have you been to Edinburgh? Did you like it? Did I miss something? Was this post helpful? Please let me know and get in touch with me!


If you want to learn more about my camera and photography essentials, check out my post about everything you need for travel photography.
Sony Alpha 6600 – the best travel camera out there!
Sony 35 mm f 1,8 lense – perfect for sharp shots with blurred background!
Amazon Basics Tripod – small light tripod, that fits in any bag!
Cullman Camera Bag – well padded camera bag, that will fit your camera body and two lenses. Ideal for the light traveler!