Hello and welcome back! It is time for another post about beautiful Porto! This time I want to talk about all the little details, that will make your trip awesome. I will cover public transport, accommodation, sights, day trips and so on. Basically everything you need to know to have the most amazing time in Porto! So without further ado, let's dive all into La Vie En Marine's Guide to Porto!
This post contains affiliate links. That means that if you click on the products and buy via this link, that I can get a commission. This service won't cost you a cent more and allows me to provide you with more travel content. 
Transport
You can easily reach Porto by the local airport. From there you can get to the city center by the lilac line. If you arrive late at night and don't feel comfortable with taking the train, you can also go for an Uber, which was about 15€ for me and way more convenient!
Getting Around
I didn't use the metro in Porto (except the train that took me back to the airport) as I walked almost every single distance! The sights are super close to each other which makes exploring super easy. But don't forget that Porto is built on a few hills, which makes exploring a bit exhausting if you are a couch potato like me!
Porto has indeed a metro system, which will take you around the city and to the airport.
If you go on day trips, like the ones I will describe later, you will have to take the train. Most of them depart at Sao Bento, which is a highlight itself.
When buying a train ticket you should know that you can buy of these tickets and can recharge it anytime you buy a new one! It might be not much but you will save a little bit of trash being produced!
Accommodations
Well, let's talk about where this Uber brought me! I stayed in the lovely Travel & Live Porto Hostel and it was really amazing! It was pretty and clean and you get your own locker. The bathroom even had colorful tiles, and that's a detail that I am in love with!
Sights
Let's start to talk about all these wonderful sights that are there in Porto! I have never seen that many beautiful, breathtaking buildings and landmarks squeezed into one place and that are this close to each other! As said prior, you can easily reach the main attraction by foot! Just grab your camera and let's get your eyes on that beautiful sights!
Capela das Almas de Santa Catarina or Chapel of Souls
Unlike most churches I know, most churches in Porto are covered in beautiful blue painted tiles. Therefore they are called azulejos. If you are staying in the Travel & Live Porto Hostel, you will have one of the most beautiful azulejos just around the corner. Like really. Just. Around. The. Corner. Like most of the churches in Porto, it has these beautiful blue tiles! If you want to shoot it, make sure to arrive there early before the intersection gets too busy and crowded!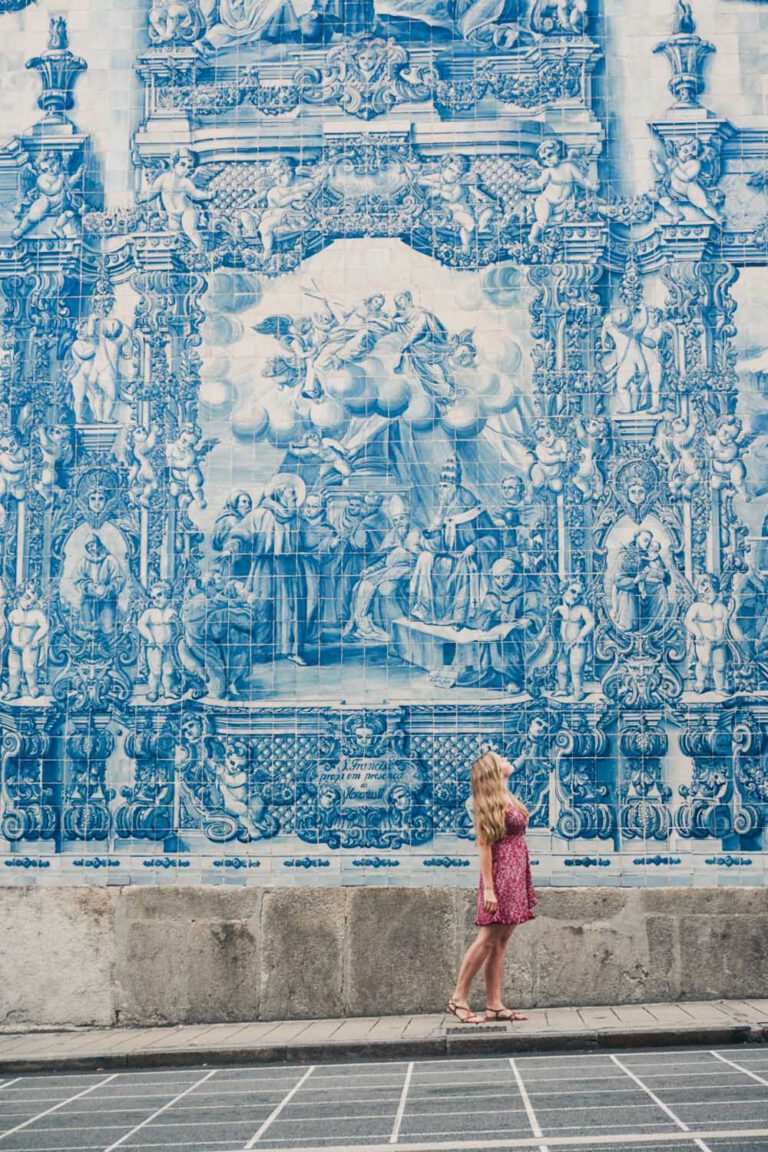 Igreja Paroquial de Santo Ildefonso
Another architectural highlight of Porto! You could actually play Church-Bingo in Porto to see if you can find all the blued-tiled places and check off all of them. Would you be in it? I couldn't get enough of them, to be honest. That's why you will find some more of them on this list here!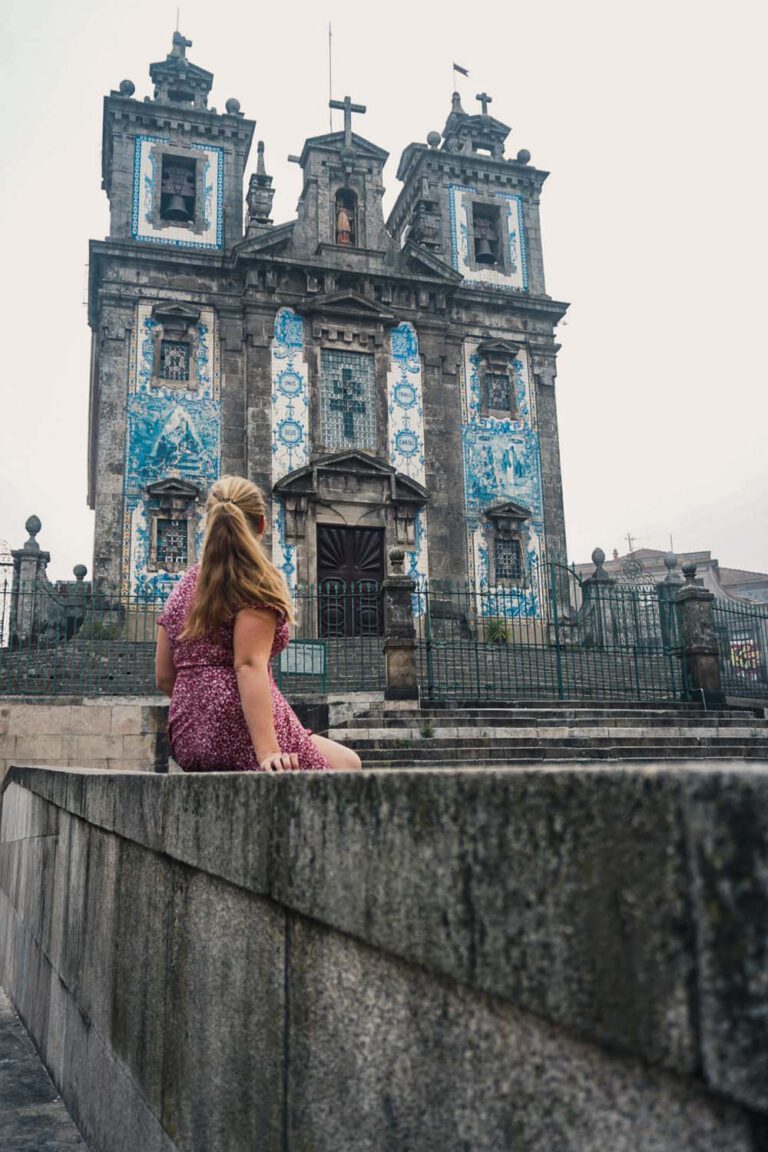 Sao Bento
One of those many picturesque highlights of Porto! The Sao Bento station is covered in those beautiful blue tiles and probably the most wonderful main station, you will ever see! It is also the gateway to Portugal's railway's system if you are taking one of the day trips that I will recommend later!
Praça da Liberdade
When staying in Porto, you will walk this place quite often! It is a huge open area, that is surrounded by beautiful buildings. It ends with the Monumento a Garrett and holds the most impressive McDonald's there is! From this huge square, you can go on exploring the Ribeira or go straight to Livaria Lello and the Igreja do Carmo!
Ribeira
The Ribeira is one of the most impressive neighborhoods of Porto. The old colorful buildings create an unreal scenery that stretches all the way down to the river. My tip is to just walk as many of those streets as you can! You will just love it and around every corner, there is another wonderful view!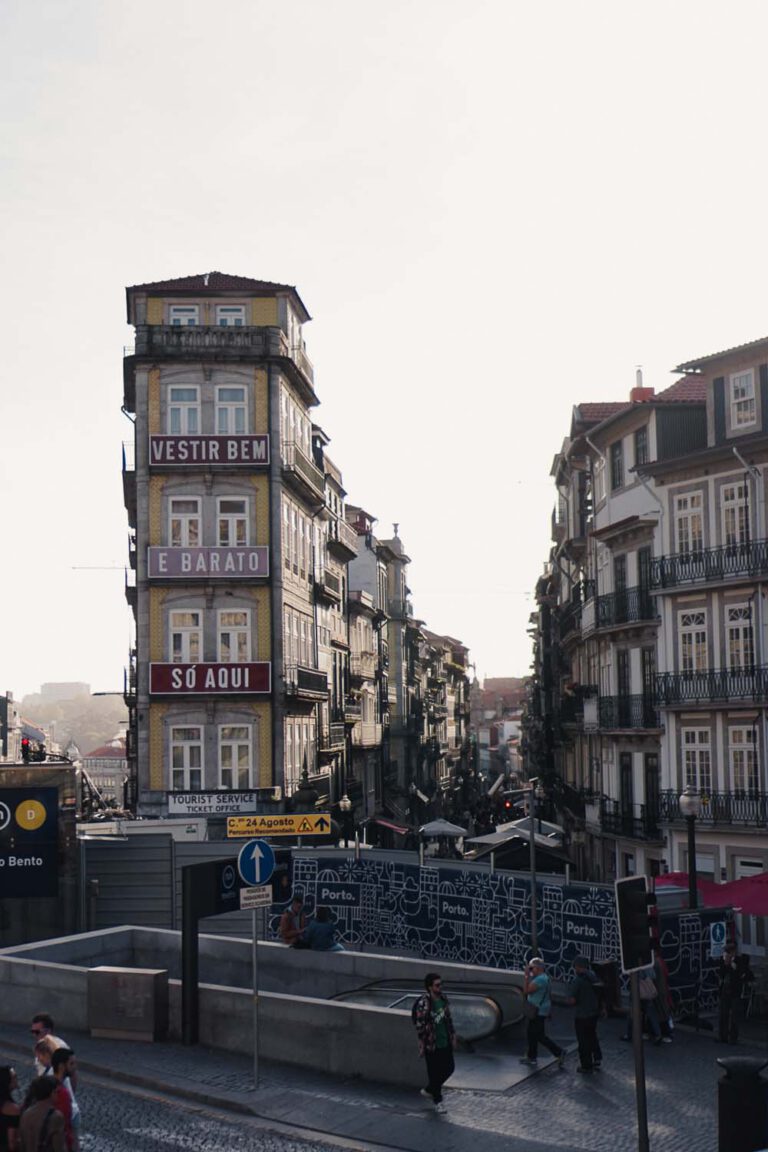 But the best part of the Ribeira is the Esplanade. From there you can walk all the way to the bridge. Another interesting fact is that the Ribeira is one of the areas that inspired JK Rowling for her Wizarding World. If you really want to feel the Harry Potter vibe, look for the students of Porto's university. They are wearing robes that inspired the classical Hogwarts clothing.
Ponte Dom Luís I
After walking the Ribeira, you really need to cross Porto's iconic bridge, Ponte Dom Luís I. You can either cross it on the upper or the lower level. While the upper level gave me a major please-don't-let-me-drop-my-phone-into-the-river the lower level suited me way better. It is also on the same level as the Marginal de Gaia, which is the next big sight, you should see!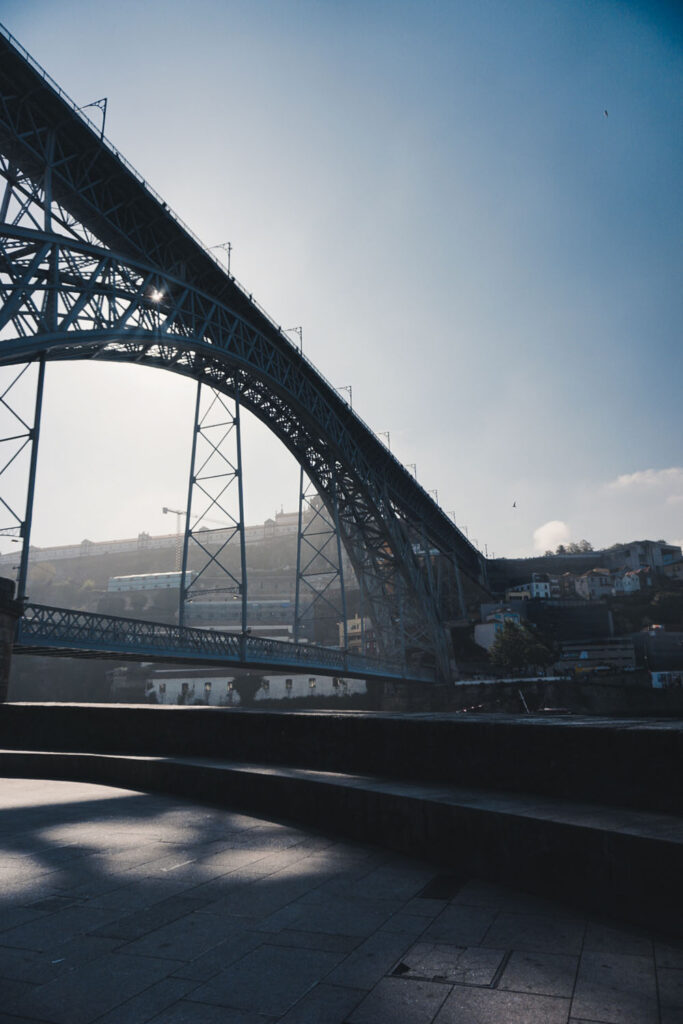 Marginal de Gaia
There are some awesome skylines around the world and one of them belongs to Porto and the best way to enjoy it is from the Marginal de Gaia. It is perfect to enjoy it in the afternoon and then have your lunch here and indulge in Port Wine. This is also something that you shouldn't miss when being in Porto!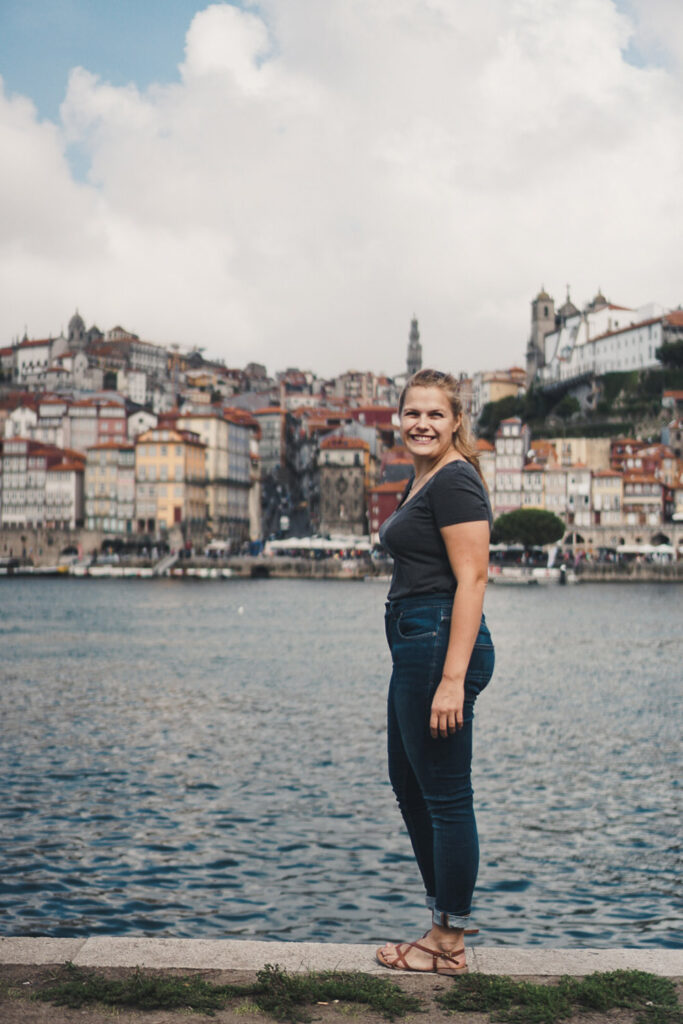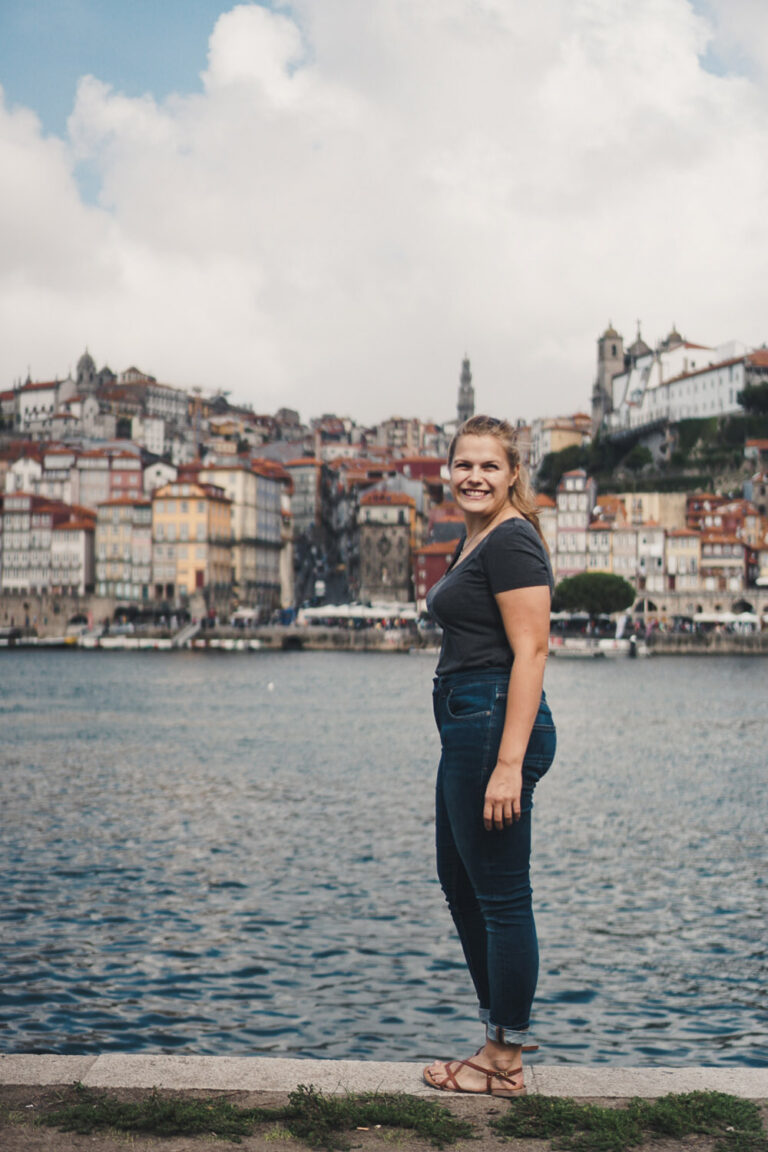 Talking about Harry Potter, another inspiration to JK Rowling's world, there is yet another place that will give some nostalgic feels! The book shop was voted one of the most beautiful book shops in the entire world and the red stairs inside are something super special! It is always super crowded, so if you go there to buy some books or take pictures make sure to be the first one to enter!
Also, you need to pay 5€ to enter the library as it gets too crowded. You will get the ticket in a store around the corner and the ticket will turn into a voucher if you spent it on a book.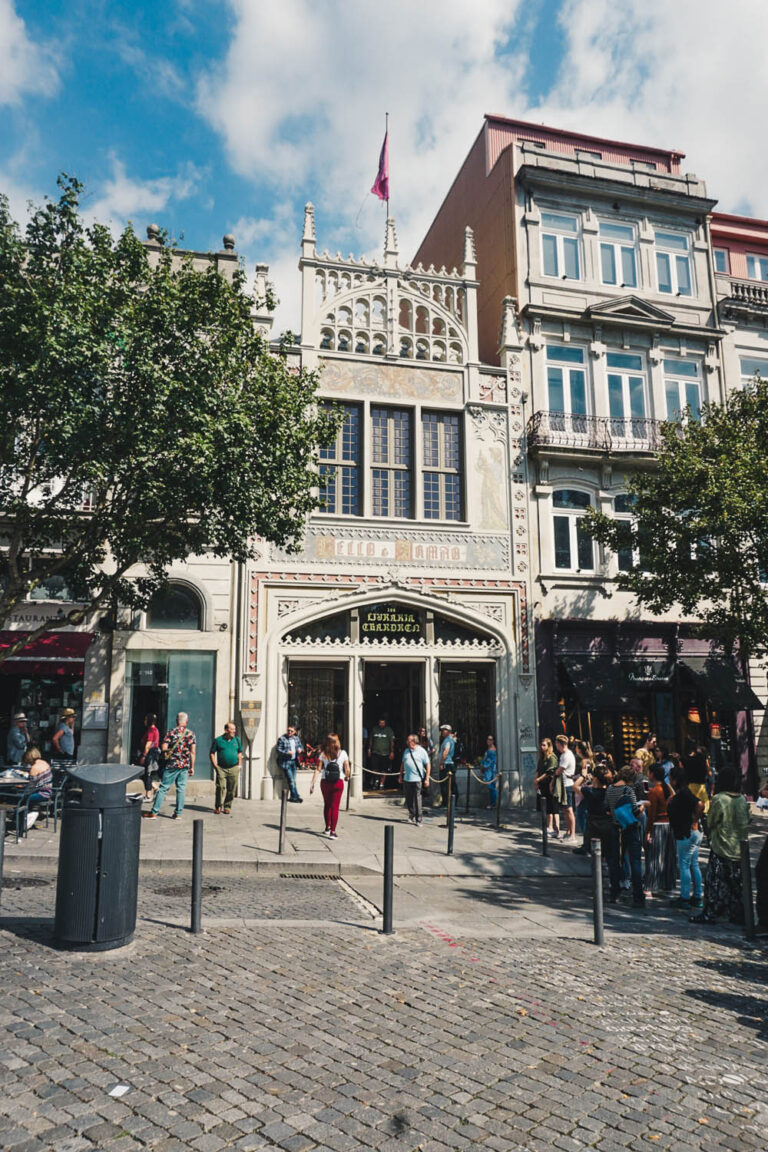 Igreja do Carmo
My favorite blue-tiled church! When you walk past Livraria Lello you will see it from the distance and that's a really impressive look. But the most beautiful thing is the side. It will blow you away!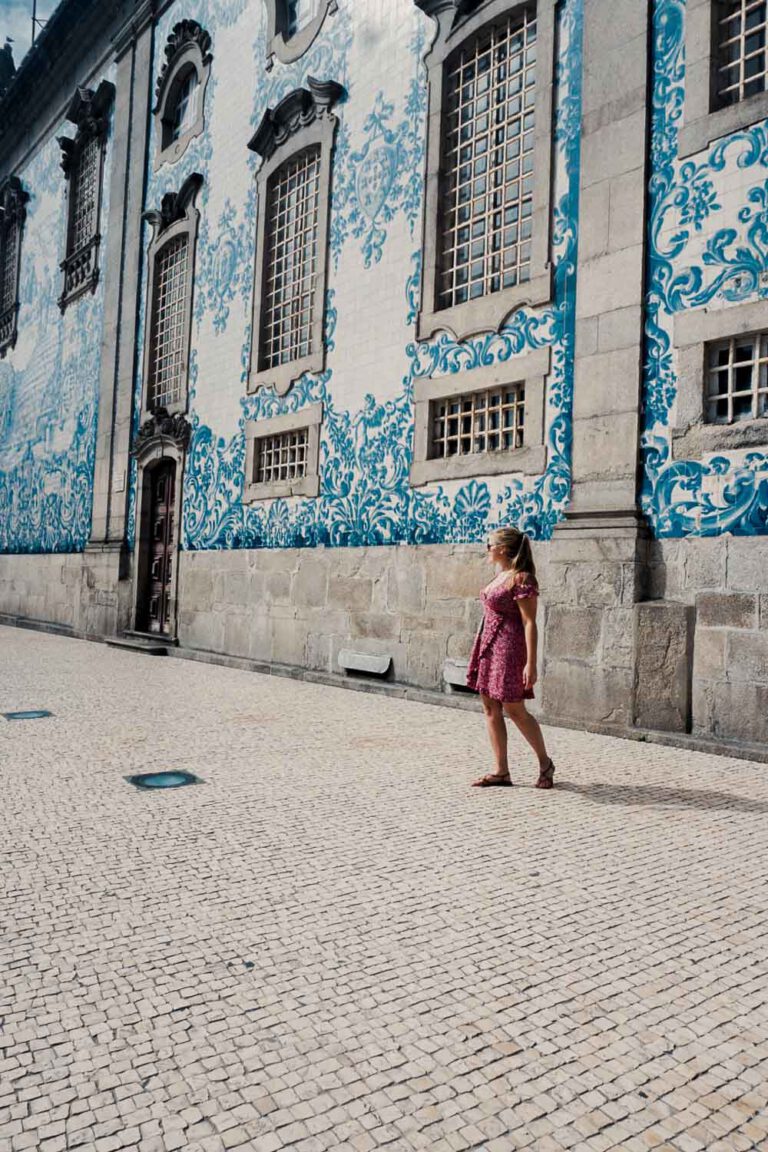 Jardins do Palácio de Cristal
Hands down the single best place to watch the sunset in Porto. The Jardins do Palácio de Cristal are one of the most serene and calm places that I came across in Porto. I can only guess that everyone is watching the sunset at Ponte Dom Luís I and therefore they skip the Jardins and therefore it is as empty as it is. But that's what I loved about the Jardins. It was so beautifully calm and not an overcrowded place that you often find nowadays. Just a perfect little place where you could see a wonderful day ending.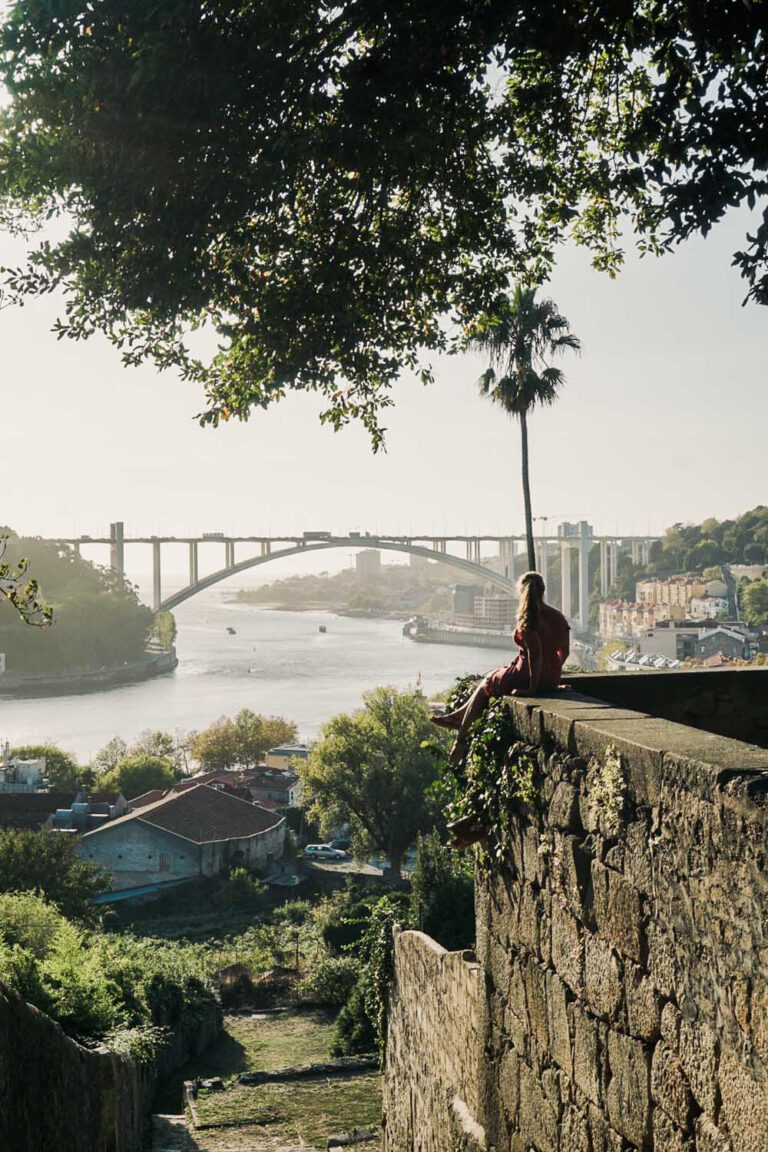 The Tram & The Ocean
Porto is famous for its historical tram and driving with it is a must-do when visiting it. If you like the ocean, take the tram to the Passeio Alegre to get to the ocean. Riding the tram is an exciting experience, very loud and nostalgic.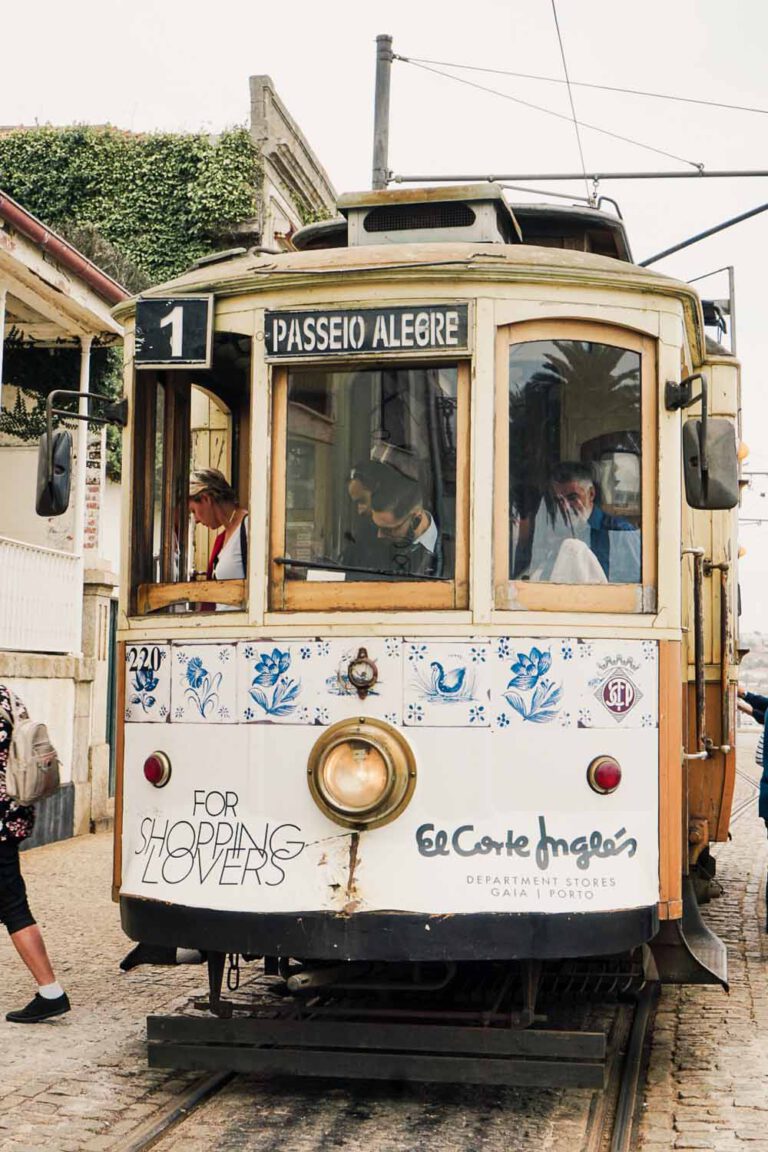 At the Passeio Alegre, you can walk straight to two lighthouses and a rocky beach. When I was there, the sea was rough and waves were crashing so hard, you could get wet, even when you stood on the esplanade and not on the beach. It was completely fantastic at a moment I could really use a day on the beach.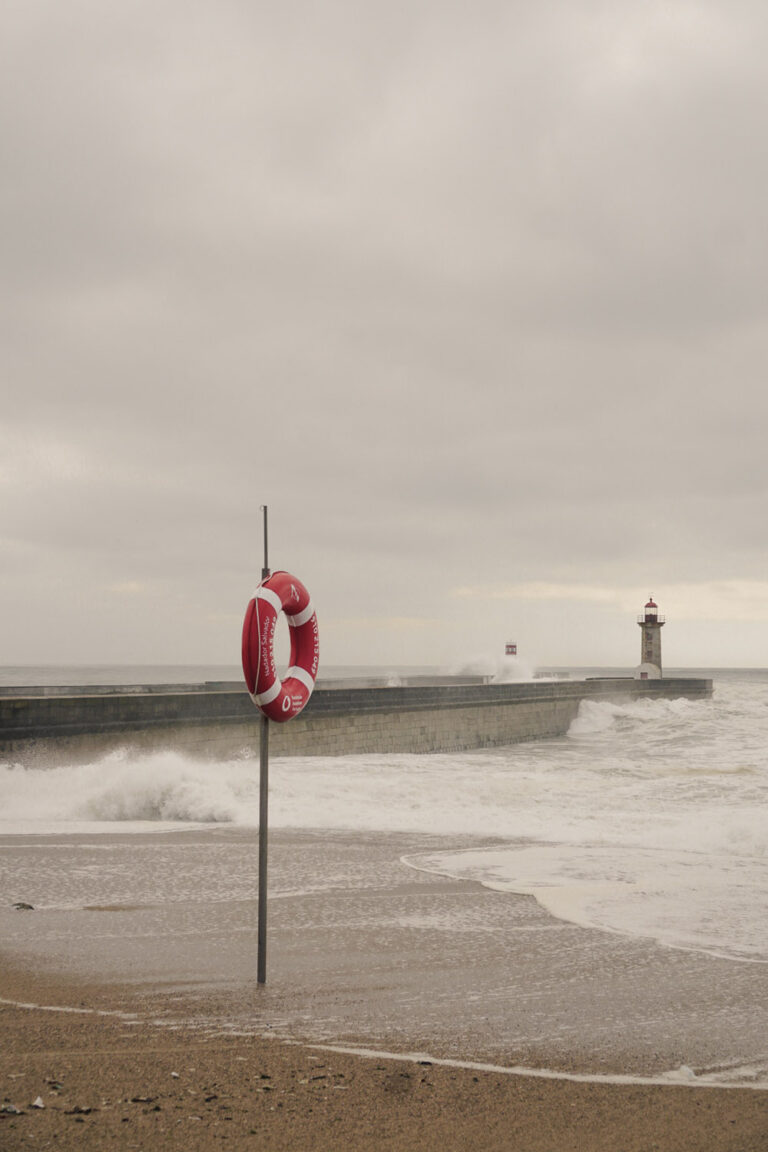 Mirador da Vitória
While looking for the best viewpoints in Porto, one of them was clearly the Mirador da Vitória. From there you will get an awesome view above the city and if I had more time I would for sure visit it for sunset again!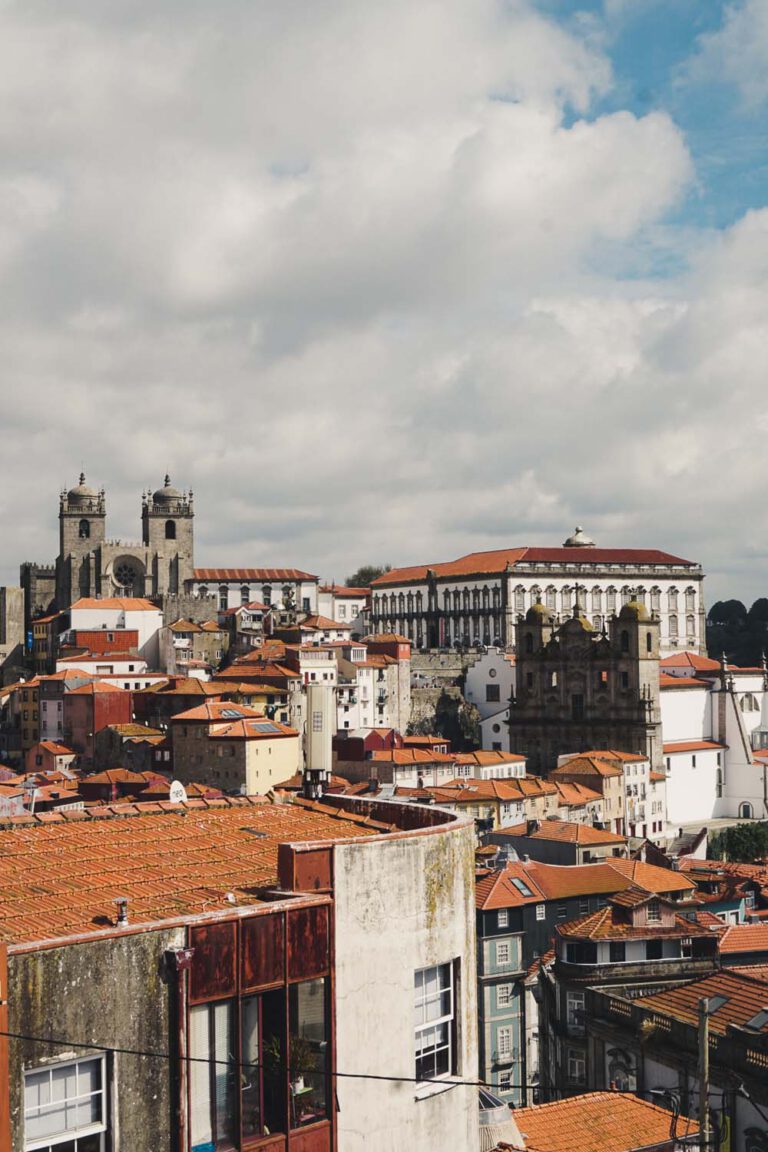 Daytrips
Porto isn't only a beautiful city, Porto is also the gateway to Northern Portugal, which is indeed wonderful. If you decide to stay there a little longer, I recommend you to go on some day trips to make more of your trip. I went on day trips to Miramar and Aveiro but there were so many more to try!
Related: Beach Day Trips From Porto
Extra tip: If you want to explore northern Portugal, I really recommend renting a car. Public transport won't allow you to explore all of the areas that I will talk about and I really feel that I missed so much for not having a rental car! So when you plan your trip to Northern Portugal, make sure to plan 3 – 4 days in the city and at least 2 -3 days for going on some day trips, like described below!
Braga
Braga is a pretty city in Northern Portugal. The most impressive landmark is the Bom Jesus do Monte with its impressive staircase. I didn't visit it but heard that it is a fantastic trip!
Miramar
Have you ever heard of a chapel that sits on a rock on a beach? No? Well, you can see one in Miramar. I was baffled away by the beauty of this place and can't recommend it enough!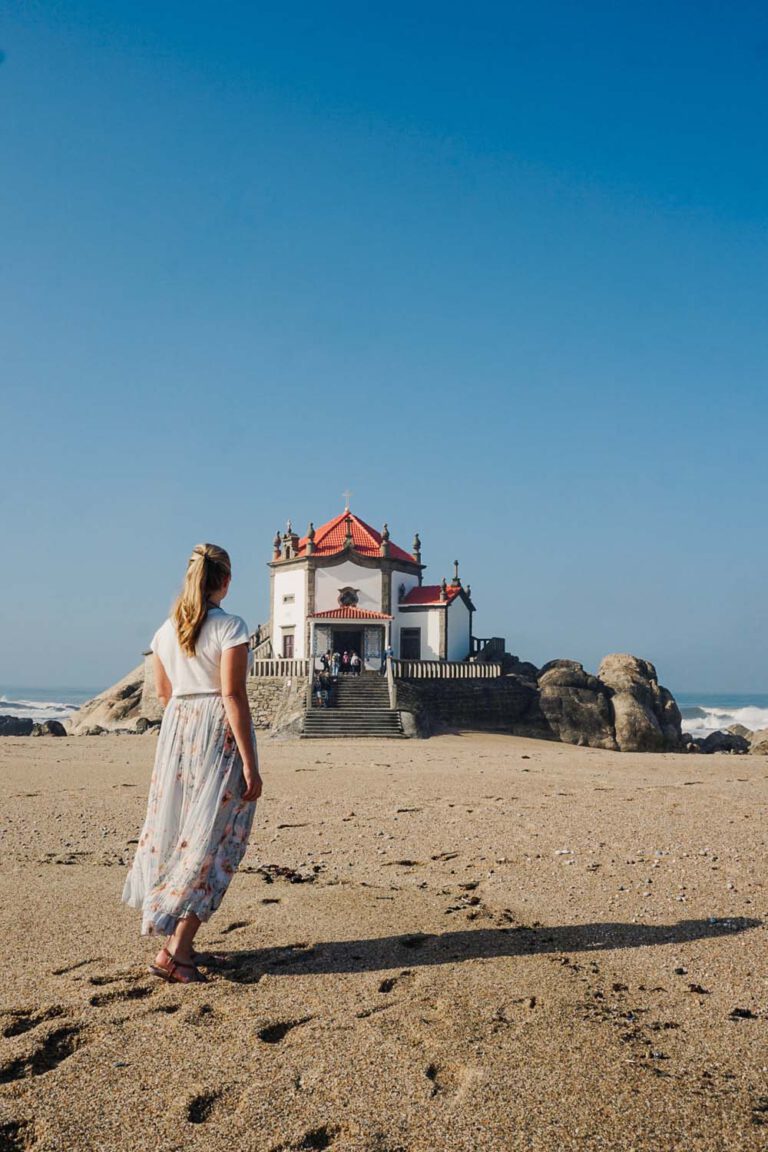 Douro Valley
Douro Valley is a romantic place! Vineyards, beautiful landscapes, and other incredible sceneries. This is one of the destinations that are worth visiting with a rental car, as you need to move around with greater flexibility!
Aveiro
I spent all my day trips going to a beach destination and so I loved to spend some time in Aveiro and in Costa Nova to see the colorful houses!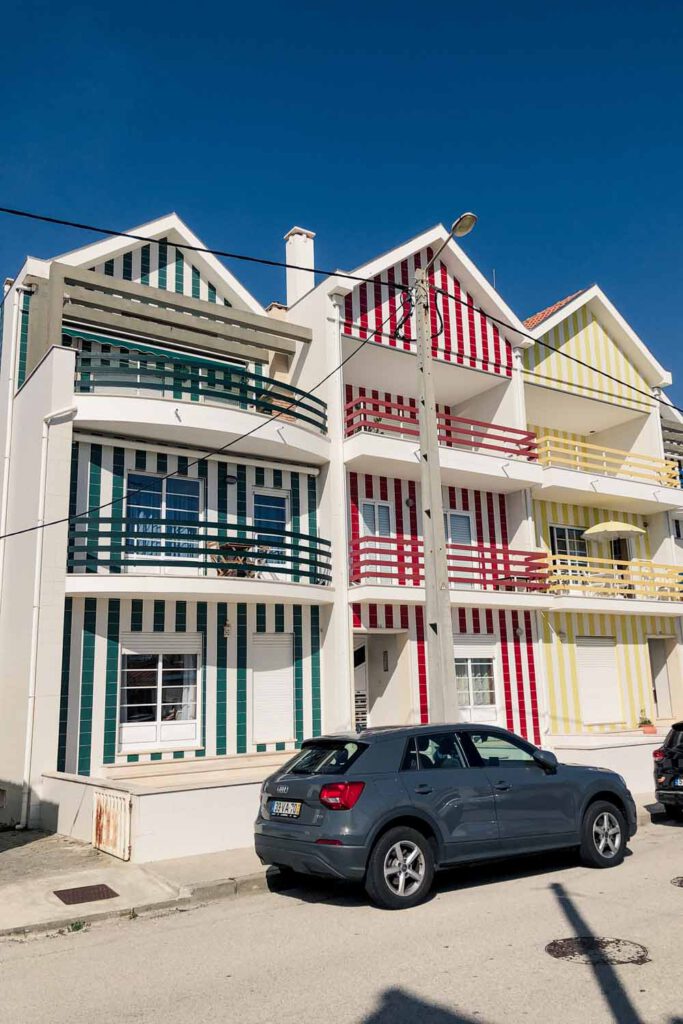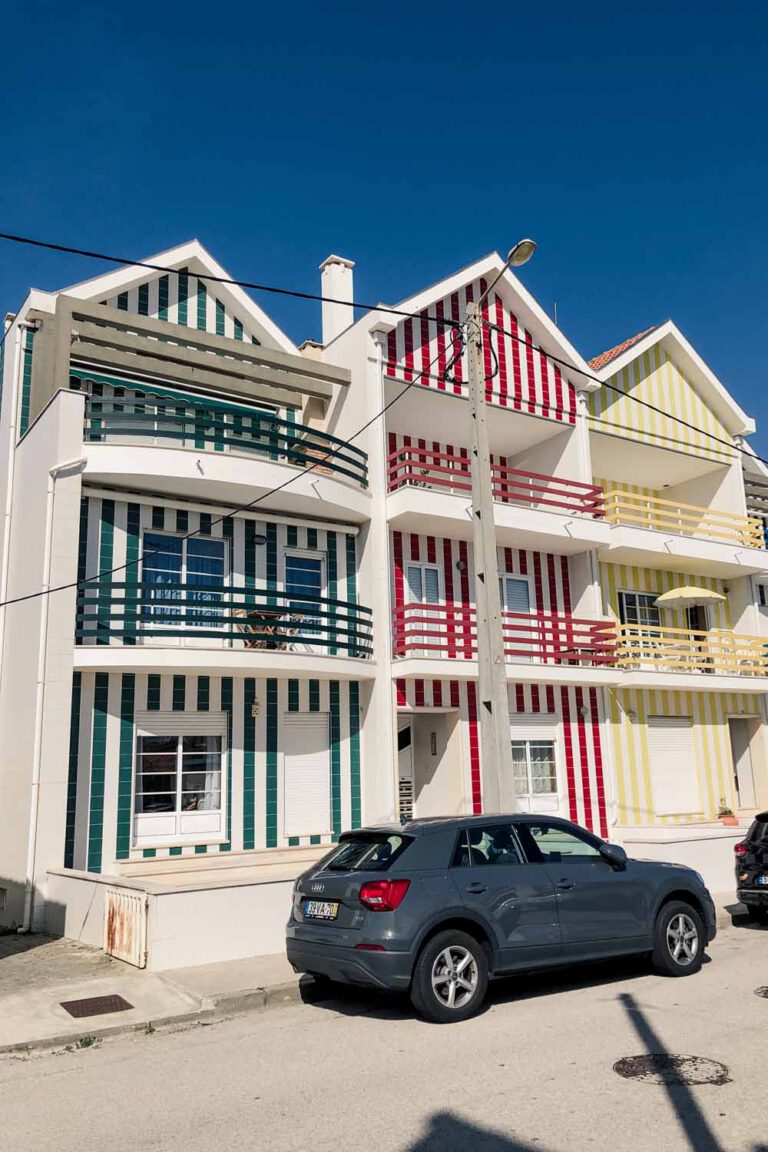 Peneda Geres
And that's the one-day trip that I wished to see but couldn't due to the lack of a rental car. Peneda Geres is the only national park in Portugal and the first place that I go when I return to Portugal.
In case you still want to go to Peneda Geres without a rental car, check out a guided tour by Get Your Guide.
Food
I ate many delicious things in Porto and I got to learn more about Portuguese cuisine a little bit. I will tell you more about my favorite place to have breakfast at and some dishes that you really need to try and that shouldn't be missing on a guide to Porto!
The Majestic Café
Ok ok I know, I have been talking a lot about JK Rowling and Harry Potter. But as she lived in Porto while she was writing the book, she took quite a lot of inspiration from the city! And during this time she was seen in the Majestic Café, which is just around the corner from the Travel & Live Hostel. I had my breakfast there and immediately felt inspired as I have ever felt before!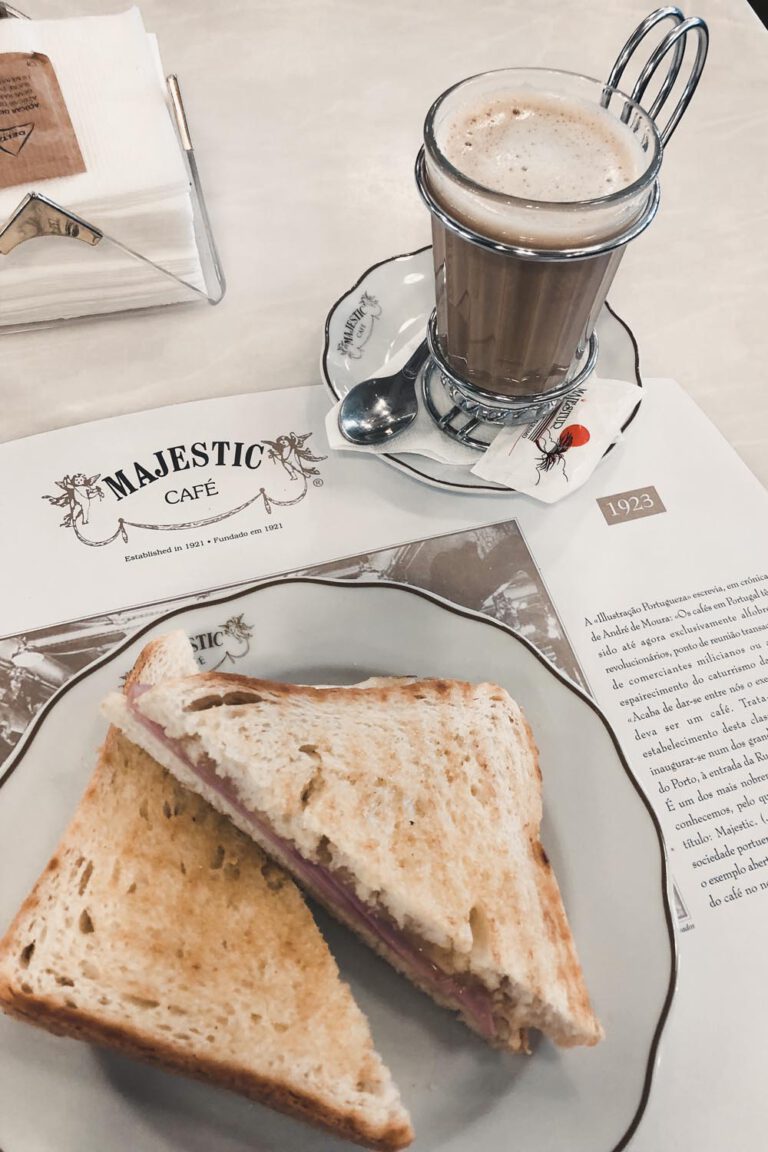 Port Wine
Have you ever heard about Port Wine? It is a rare sweet wine that comes from Porto. Furthermore, it can only be a real port wine when the grape came from Porto. Cool isn't it? As the wine is such a specialty for the region, you need to have at least one glass of Port Wine. The brewery of my choice was Ramos Pinto and you can find it on the Marginal de Gaia.
Francesinha
Ok, I have to be totally honest with you. Actually, I can't recommend having a Francesinha, as I think it is super gross. But a close friend of mine said to me that you can't leave Portugal without trying a Francesinha. I did it and I wasn't swept off my feet but I think that you should always try different dishes, as that's my favorite way to get familiar with different cultures. A Francesinha is basically a variety of different meats, hugged my toast with cheese and a beer tomato sauce. As I said, I wasn't quite into it but well…that's just how you get to know traditional Portuguese cuisine!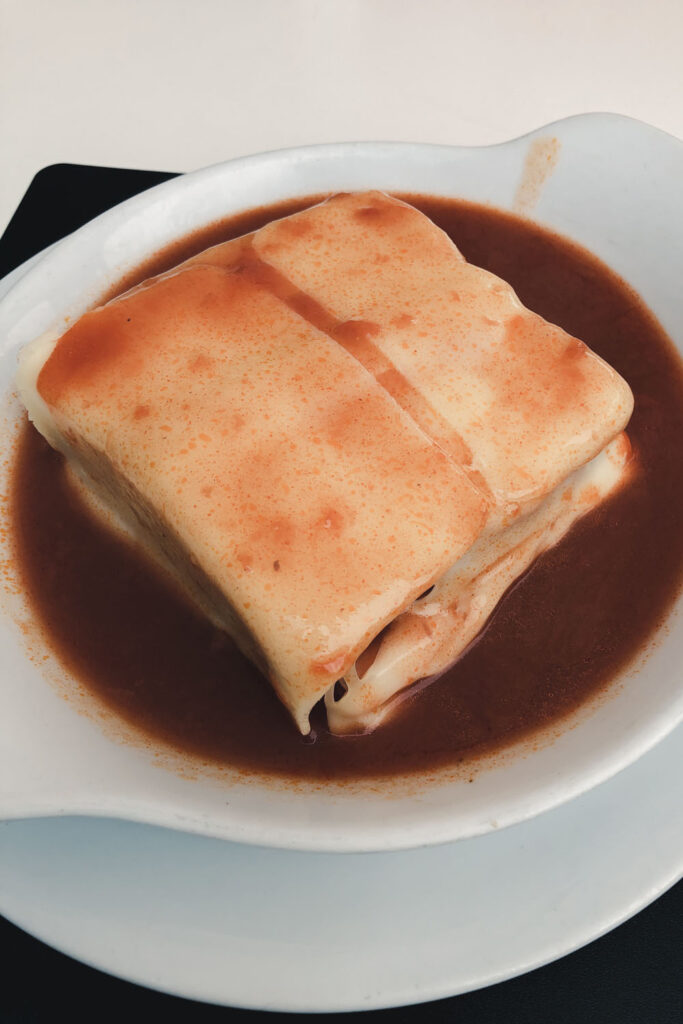 Nata, Nata, Nata, Nata and more Nata!
If you walk through Porto with open eyes you can not not stumble upon dozens of cafés that serve the delicious little pastries. I ate quite a bunch of them while I was in Porto and when I left I wasn't mentally prepared to stop doing this. They are just too damn tasty! If you are staying in the recommended hostel, there is the so-called "Nata" directly in front of you, being the perfect place to fulfill your Nata cravings. The world simply needs more nata!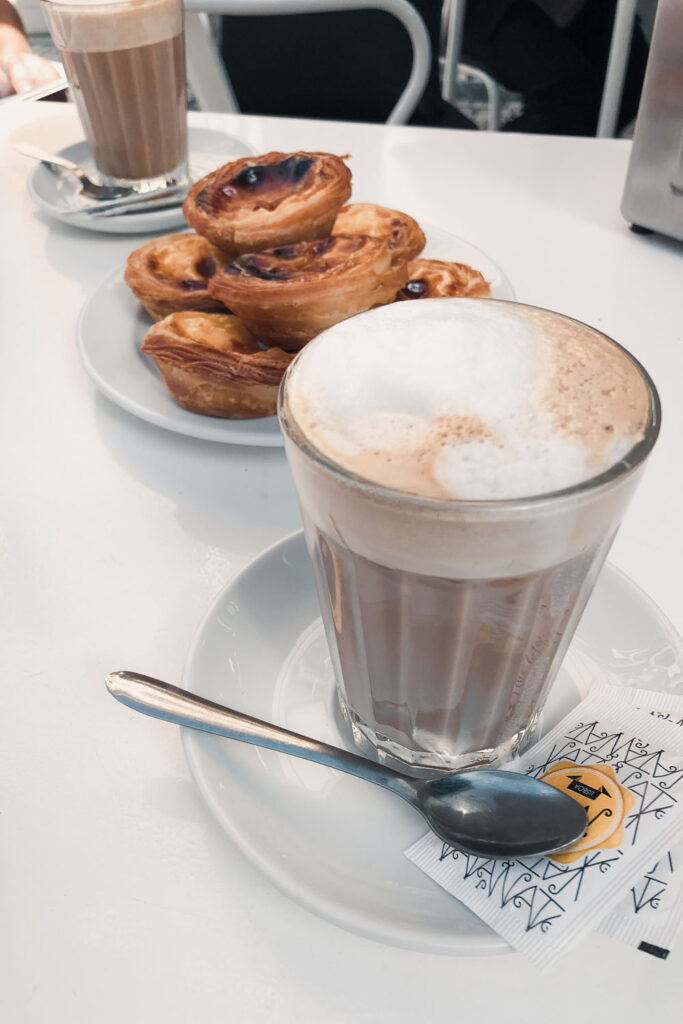 Liked This Post? Pin it For Later!