Are you looking for some amazing places to explore in the Netherlands? For me, traveling is not only visiting the main sites of a country, but also exploring beyond that. That's why I loved to seize the corona time to explore more of my own backyard (which is usually Germany, but I could extend it to the Netherlands too, as my boyfriend is living there). This resulted in me discovering some of the coolest places in the Netherlands, also know as the Dutch' best kept secrets! Here's to the best hidden gems in the Netherlands.
If you are too busy to read it now, make sure to pin it, so you won't forget it later!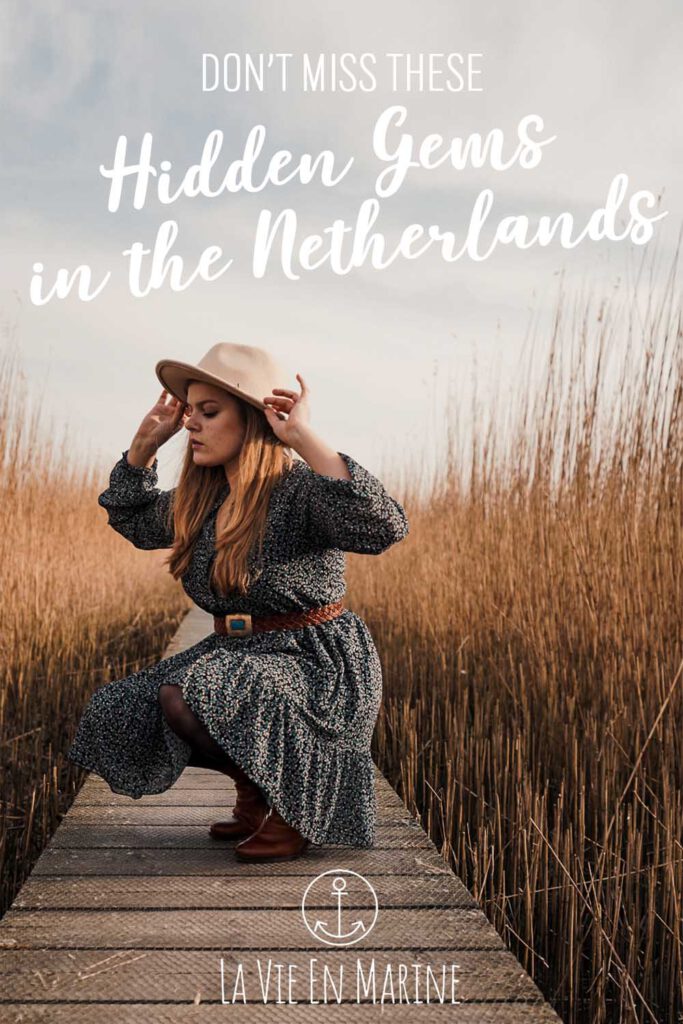 Marina Reitdiep
Let's start with a hidden gem, that was also the first on this list that I was able to discover! The Marina Rietdiep is definitely one of the best highlights of Groningen. The funny thing about it is that you really wouldn't expect a place like this, exactly where it is. That sounds a bit mean, but in the end, it is basically just a small harbor. With some ships and houses. What makes it so special is that these small cute houses all come in stunning colors. They are blue, brown, yellow, and orange, creating a wonderful scenery. In my opinion, these colors make it incredibly picturesque and inspired us to do a little photoshoot. My special recommendation for visiting this place is to go there for sunset. The golden light will make the house's colors pop out, even more, giving you some popping bangers and footage! Also if you want to learn more about Groningen, check out these 5 things not to miss in Groningen!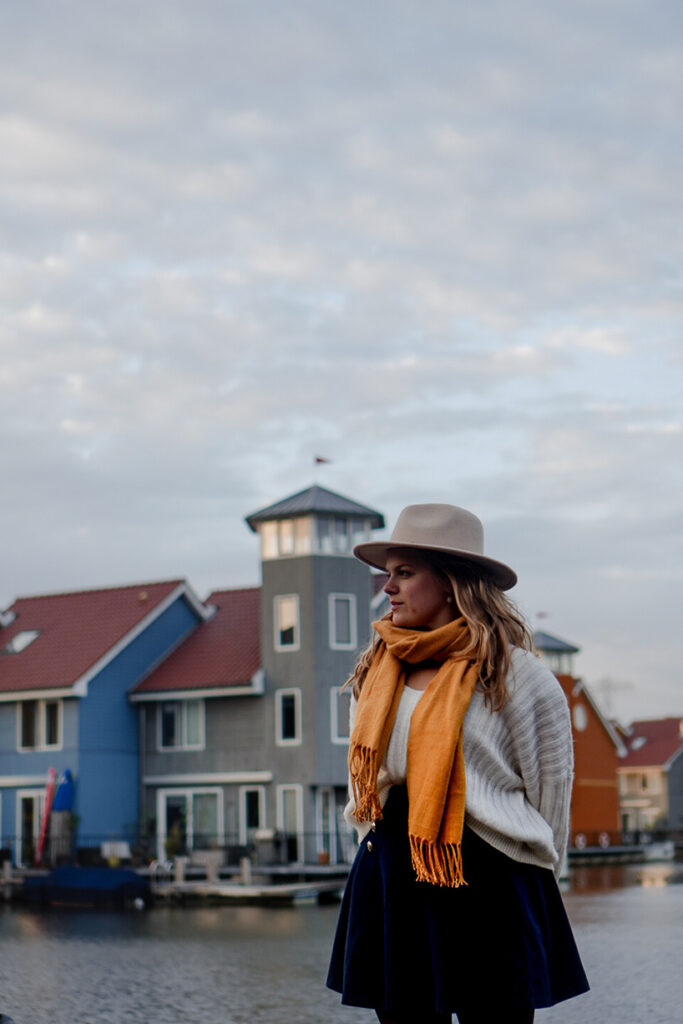 How to Get to Marina Reitdiep
You can find the Marina tagged below. If you get there by car, check out the parking lot of the supermarket close by. Of course make sure to buy something from the supermarket too, if you are using their parking lot. You could buy some Tony's chocolate for example.
Kieikkasten
I love to discover places that are off the grid and this place is so far off the grid it might be one of the best hidden gems in the Netherlands just per definition. I had never heard of the Kieikkasten ever before which is a shame. The Kiekkaaste is a cute little house that was built for you to observe birds in the Wattenmeer. It is surrounded by a wide area of wild grass and when you get there on a sunny day, it creates magical scenery. The small black house is just a wonderful backdrop for cute pictures. To get there you need to walk over a small path which is made from wooden planks.
How to get to the Kiekkaaste
It is very easy to get to the Kiekkaaste. All you have to do is to get to the parking lot and do a little walking until you reach the wooden path that will lead you to the Kiekkaaste. On the way, you might also find a food truck that sells coffee and small pastries. A perfect after-walk snack. However, the only thing missing is a toilet, don't come unprepared.
Marken Lighthouse
As you may know, the Netherlands is called the Netherlands because only 50% of the country are actually more than one meter above sea level and 26% are actually below sea level. That being said it is no surprise that the Netherlands comes with an extended amount of shorelines. One lovely place I stumbled upon on Instagram is the small island of Marken, close to Amsterdam. So far this might be my favorite hidden gem in the Netherlands.
This small little island has a beautiful town with the prettiest small wooden houses painted in dark green. It is incredibly picturesque and wonderful for a small walk. But the actual reason I wanted to visit Marken is their pretty lighthouse! The so-called Horse of Marken Lighthouse is a super small and cute place, directly next to the sea and I just had to pay it a visit! To get to the lighthouse you need to walk a little bit but to be honest it is the perfect walk on the seaside. The landscape is amazing, there are many birds and sheep to watch and there is nothing I adore more than the scent of the ocean.
How to get there
The island Marken is connected to the mainland via only one street. There is parking available close to the town center. From the parking lot, you can walk to the lighthouse and walk a big round on the dike. You can find toilets at the parking lot and next to the lighthouse.
Did you like to learn more about the best hidden gems in the Netherlands? Pin It for later!